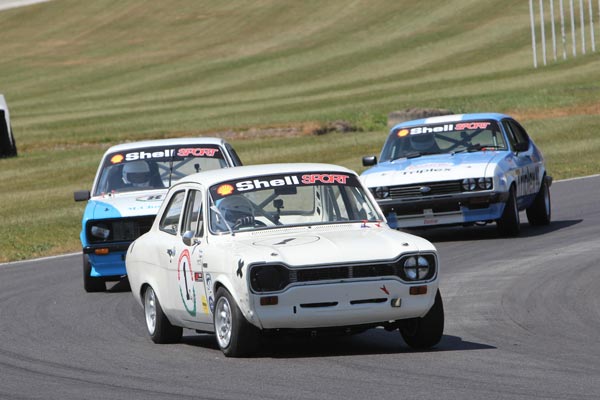 July 08
by Kerry Dunlop
The club's flagship event – the only one where we organise the whole meeting ourselves and where the entire programme is made up of CTCRC events – proved a great success with an array of entertaining races held under sunny skies. Stephen Primett was clearly the most successful driver of the day: not only did he win both Pre '83 races in fine style but he also won a race against time to repair his car after a shunt during qualifying when he skidded off on an oil slick and hit the tyre wall at Chesson's Drift.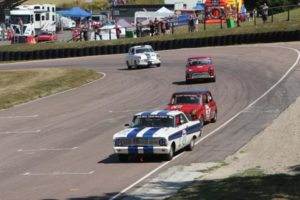 Pre '66 – race 1: Despite the tight and twisty turns at Lydden Alan Greenhalgh and his mighty Ford Falcon reigned supreme throughout qualifying and the race. But Tim Harber put up a brave fight and was never more than a couple of lengths behind the leader until lap 7 when his Mini suddenly slowed and pulled off the track. That left the Minis of Neil Bray and Andy Messham to battle bravely in pursuit before Bray eased away to finish less than three seconds down on the big V8. Behind them there was an entertaining Anglia duel between Michael Sheraton and Martin Reynolds until Michael lost second gear and Martin went on to finish a fine fourth. Patrick Harris (Minor) and Luc Wilson (A40) rounded out the top six. Class winners: Bray, Harris, Michael Loveland (Imp).
Race 2: Greenhalgh led from the start, but his Falcon soon began to sound like a V4 and he eventually retired. Bray inherited the lead and once again he was chased by Messham until Andy half-spun at Paddock when he clipped the high kerb at the apex. Meanwhile Jim Burrows, whose Mini had started from the back of the grid due to his retirement from the first race, was making up ground fast and when Messham careered across the grass at Paddock he slipped past and went on to secure second place behind Bray. As Messham recovered he was also passed by Reynolds, but on the next lap the Anglia suddenly swapped ends and so Martin was forced to settle for fourth place behind Andy. Class winners: Harris, Loveland.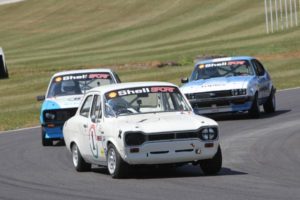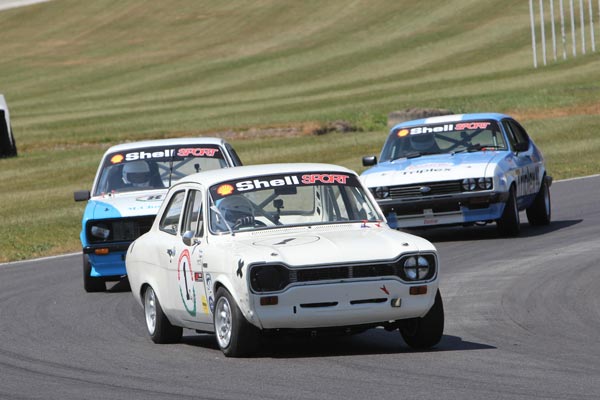 Pre '83 – race 1: Primett managed to secure pole position, despite his practice accident, ahead of the Escorts of Mark Cholerton and Steve Cripps and the Capri of Stuart Caie. But it was Cholerton who led into the first corner, chased by Primett and David Howard (XJ12). Two laps later Primett was in front and easing away to victory. Meanwhile Cripps, who had made an even worse start than Primett, was really on a charge: his black Escort plunged down Hairy Hill to pass Howard's Jaguar and next time around he pulled the same move on Craie's Capri. Then Cripps set his sights on second place and Cholerton: for the next few laps the pair were neck-and-neck until Steve found a tighter line at the exit of Paddock, pulled alongside and then slipped ahead as they skittered into Chesson's. So that was the podium sorted. Simon Jeffs (Golf GTI) finished a fighting fourth with a late charge that carried him past Howard, Caie and fifth finisher Pete Winstone (Escort). Simon's effort earned him the Pre '83 Driver of the Day award. Class winners: Caie, Howard, Tony Crates (Cortina Lotus).
Race 2: As if to make up for his earlier start Cripps really did the business this time and stormed away from the start to lead into Chesson's from Primett, Cholerton, Winstone and Caie. And the black Escort led for four laps before Primett prised the lead away with a really classy, slick outbraking move on the inside at the Devil's Elbow. "I knew he was there" said Cripps "but I couldn't believe he would be able to do it." Undeterred, Steve continued to chase Stephen until they took the chequered flag just 1.2 seconds apart – brilliant driving by both drivers. Cholerton held third place throughout, with another fine fourth place from Jeffs ahead of Winstone and Caie. Class winners: Caie, Howard, Crates.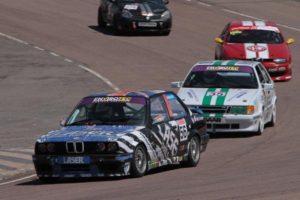 Pre'93/'03/'05 – race 1: Most of the action occurred on the opening lap. As polesitter Luke Allen (Civic Type R) led away from Rod Birley (Honda Integra) and novice Ian Bower (BMW M3) Steve Barden's Civic Type R was pushed wide onto the grass at Chesson's and dropped back. Then Steve Barber was nerfed off at the Elbow, prompting a long safety car period to enable his stricken Clio to be recovered. The 15-minute race duration allowed time for just three more racing laps until Allen took the chequered flag ahead of Birley and Bower. The battle-scarred Hondas of Ross Craig and Barden finished fourth and fifth after a fraught feud. Allen took top hours in the '03 category, Bower was the best of the '93s and Neil Bray won the '05 category. Class winners: Andrew Sheraton (BMW E30), Theodore Bridgeman-Williams (Alfa 145).
Race 2 – Rear wheel drive helped Bower's BMW beat Allen's Honda to the first corner and a lead which he never lost. Allen kept up the pressure and finished as the Pre '03 winner only five seconds down, despite an unfortunate clash as he lapped Anna Barden. The Clio driver required medical treatment afterwards but fortunately she was released with nothing worse than a sprained neck. Her husband Steve, Trevor Keates and James Alford completed a 2-3-4-5 for Honda. Despite her collision Anna bravely battled on to finish second to Josh Barber in the Pre '05 category. Class winners: Allen, Sheraton, Bridgeman-Williams.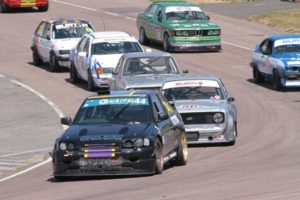 Classic Thunder & BOSS – race 1: A healthy entry was bolstered even further by several significant survivors from Lydden's SEMSEC era, especially Rod Birley and Bill Richards. Birley's recently rebuilt Escort WRC seized the lead for four laps until he was forced to retire due to a broken throttle pedal bracket. Richards, whose Mini Clubman had been harrying the leader anyway, went on to win by five seconds from the best BOSS runner, Piers Grange (Escort Mk.2). A little further back a similar Escort driven by Nigel Craig, another SEMSEC winner, finished third ahead of Malcolm Wise (Sapphire Cosworth). Fifth overall and a welcome addition was former Lydden FF1600 and Formule Libre champion Peter Thurston who enthusiastically drove a self-prepared Jaguar XJ6. "It's got fantastic turn-in but it's a scrap engine with no power" he said. Class winners: Grange, Craig, Chris Brown (Fiesta XR2), Ben Dewen (BMW 323i).
Race 2: Birley had to start from near the back of the grid due to his earlier retirement so Grange seized the lead from the start while Richards waited for an opportunity to pass. Next time around Richards dived past on the inside at Chesson's and began to ease away from Grange, Craig, Tom Abbott (Capri) and Wise. Meanwhile Birley was romping through the field and after only three laps he took the lead at North Bend. Conversely, there were two notable retirements: Richards, whose Mini had flattened its battery and Thurston who had rooted his rubber so that his former precision tool now slid about like a beached seal. So Birley went on to win by half a minute from Grange, Craig and Abbott. Everyone else was lapped by the winner, including fifth finisher Mary Grinham (Maguire Mini) who put in a late charge to pass Brown and Wise. Class winners: Grange, Craig, Grinham, Brown, Dewen, Graham Myers (BMW M3).