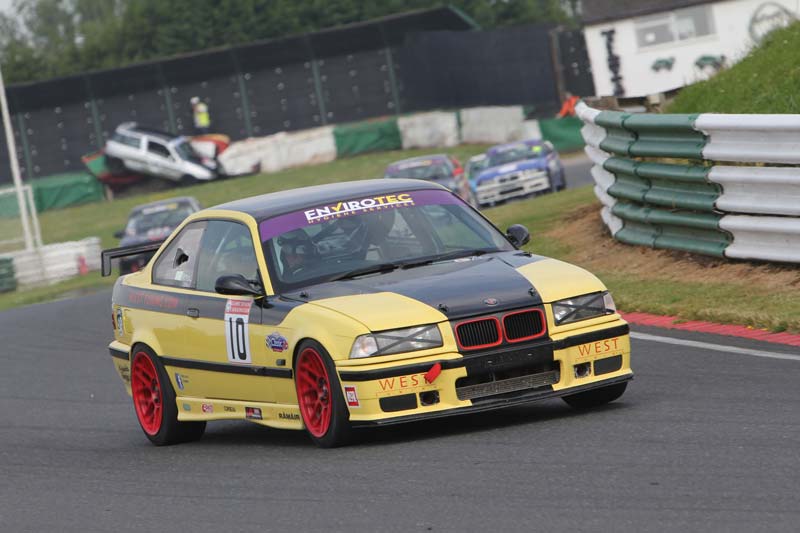 May 28
by Kerry Dunlop
Over a bank holiday weekend of extreme weather conditions the sun eventually shone through, just like the talent of Dale Gent and Ray West who were the only double winners at a meeting punctuated by some spectacular, but fortunately injury-free, accidents.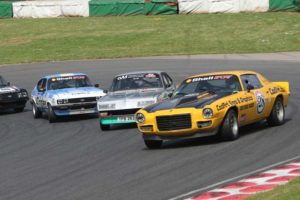 Pre '83 – Race 1: David Howard's Jaguar leaped off the line to lead until Mark Osborne's Dolomite slipped past and started to pull away. Then Stephen Primett (Escort) found a way past as well and the current champion was clearly driving right on the limit as he set about reeling in the leader. By half-distance Primett was noticeably closer, but Osborne held on to win by less than one second. Mark Cholerton came through to finish third ahead of Howard who was honest enough to admit later that he had lost concentration as the race unfolded. Stuart Caie (Capri) fought long and hard until he found a way past Peter Winstone and David Hall to finish fifth. Class winners: Howard, Caie, Peter Millington (Hillman Avenger).
Race 2: Once again Osborne led for most of the race until Primett's extra pace paid off; he squeezed by on lap 11 and then raced on to victory. Cholerton and Howard chased them home again, well clear of a cracking, race-long battle for fifth. Allan Weyman (Chevrolet Camaro) defended well under intense pressure to claim the place ahead of Caie, Cripps (whose Escort had started from the back of the grid) and Hall. Class winners: Howard, Caie, Millington. Driver of the Day: Hall.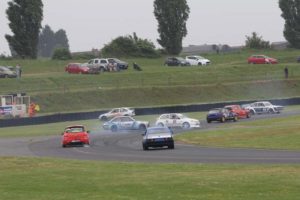 Classic Thunder & BOSS – Race 1:  Although Dale Gent qualified on pole his Subaru Impreza set a time only one-tenth better than the Escort-Cosworth of Dave Cockell, so the stage was set for a classic battle. But on the second lap Cockell's car dumped its oil smack in the middle of Gerards triggering total mayhem behind him. As Cockell gyrated onto the verge Paul Nevill, Neil Argrave and Paul Finney all slid to a stop, broadside across the track, and many more had to brake severely. So Gent raced on to victory with nothing in his mirrors. Adrian Hawkins made the best recovery and his Alfa 33 scored an impressive second place. All the others, even including Lee Penn (Alfa 33) and Andy Robinson (Ford Falcon) who finished third and fourth respectively, were lapped by the winner. Piers Grange (Escort Mk.2) finished fifth overall and was a clear winner of the BOSS category. Class winners: Hawkins, Penn, Grange, John Edwards-Parton (Fiesta XR2), Malcolm Wise (Sierra Cosworth), Ben Dewen (BMW 323i), Keith Harding (Capri 3.1).
Race 2: Once again Gent led from start to finish although Hawkins kept him honest throughout with another exciting display. This time the Aussie V8 style saloons were more to the fore as Andy Robinson (Ford) finished third ahead of Andy Wilson (Holden). Escorts dominated the BOSS event as Grange won again ahead of Scott Matthias and Neil Argrave. Class winners: Hawkins, Penn, Grange, Matthias, Edwards-Parton, Dewen. Drivers of the Day: Penn (Thunder), Ralph Higson (BOSS).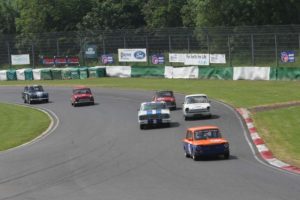 Pre '66 – Race 1: The incredible 998 Imp of David Heale starred in a three-way thriller of a battle for the lead with Alan Greenhalgh (Ford Falcon) and David Hall (Lotus Cortina) – three very different cars with similar performance. Greenhalgh led all the way while the other two swapped places regularly. The Falcon developed a slight misfire over the last couple of laps and at the finish all three were covered by just a second with Hall just ahead of Heale. Class winners: Hall, Heale, Neil Bray (1293 Mini), Patrick Harris (Morris Minor), John Everard (Alfa Sprint GT), Michael Loveland (Imp).
Race 2: Greenhalgh was a non-starter this time so Heale's press-on style paid off when he managed to build up a winning margin of five seconds over Hall. Once again Bray was the best of the rest. The Anglia attack for fourth place was led this time by Michael Sheraton from Alex Williams in a reversal of their earlier result. Andy Messham (1293 Mini) fought back to finish sixth after his retirement from race one. Class winners: Hall. Bray, Steve Dunne (Morris Minor), Everard, Loveland. Driver of the Day: Loveland.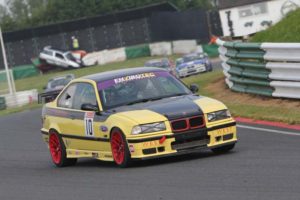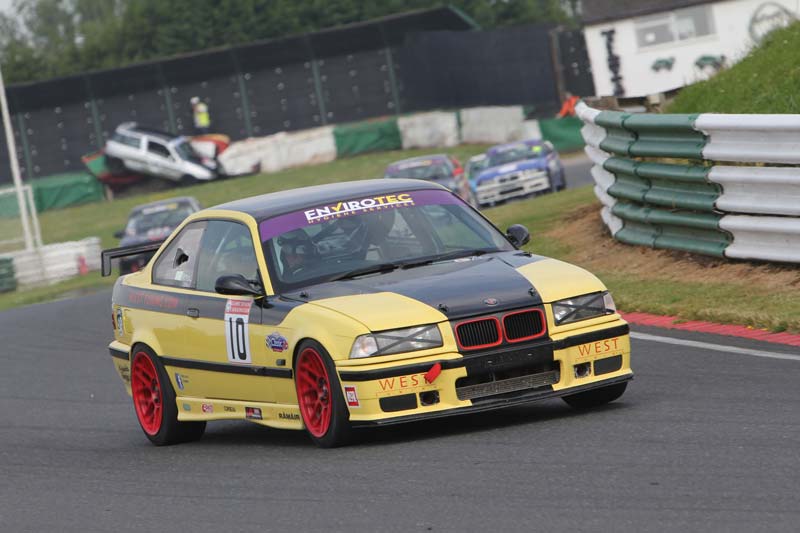 Pre '93/03/05 – Race 1: Ray West has been winning CTCRC (nee CSCC) races for a long time now and after a few years of "retirement" he bounced back with a BMW M3 to claim pole position and resume his winning ways. He led from start to finish with apparent ease, although Steve Barden, the best of the '03 runners, pushed him hard and his Civic was just over a second adrift at the finish. Simon Ward (Astra GTE) fought off a strong challenge from David Hunt (BMW E36) to finish third. Jason Brooks defeated Neil Bray and Anna Barden in the Clio contest for '05 honours. Class winners: Barden, Ward, Gail Hill (Jaguar XJS), Brooks, Andrew Sheraton (BMW E30), Kevin Smiles (Hyundai).
Race 2: Once again West led all the way: in fact the leading quartet stayed the same as in Race 1 until the closing stages when Ward squeezed past Barden to snatch second place. Hunt finished fourth again, Luke Allen (Civic) improved to finish fifth and Graham Myers, returning to the sport with an unfamiliar BMW E36, was rewarded with sixth place. Barden again beat the other '03 boys and this time it was Bray who picked up '05 honours. Class winners: Ward, Barden Hill, Bray, Sheraton, Peter Kalpakiotis (Hyundai). Drivers of the Day: Myers ('93), Alford ('03), Steve Barber ('05).
Now what was that in the introduction about spectacular accidents? The unfortunate winner of this particular category must be Theodore Bridgeman-Williams who was lucky to walk away from the wreckage after his Alfa 145 lost its brakes at the hairpin, charged up the bank and buried itself in the barrier. Commiserations go to him.