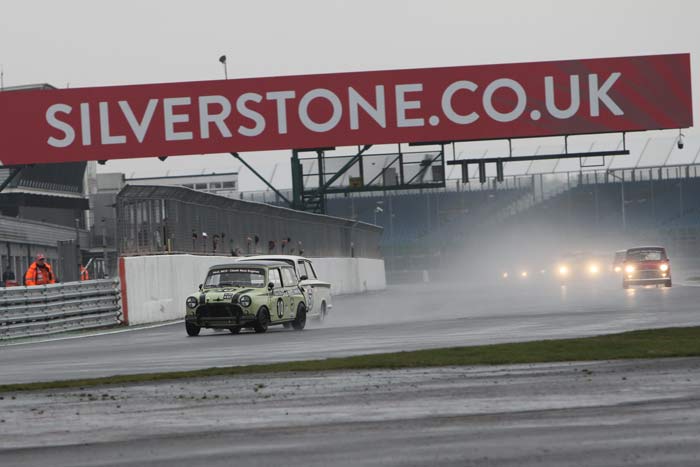 March 24/25
by Kerry Dunlop
Our opening meeting of the season was a great success with eight cracking races fought out through changeable conditions which varied form cold and very wet to cold and dry. Mini maestro Jonathan Lewis, a man who has dominated the category for decades, was the only double winner overall.
Paul Inch Pre '66 – Jonathan Lewis and his 1293 Cooper S, ably assisted in the pits by former F1 driver Martin Donnelly, set the pace during a very wet qually, led from the start and then went on to win both races. After Race 1 Lewis said "It was very tricky out there. Someone dropped some oil on Lap two and I had to change my line completely. On Saturday Lewis might have been challenged by fellow front row starter David Hall but the Lotus-Cortina struggled for traction and the Mini nosed ahead as they slithered into the first corner together. Thereafter Hall steadily lost ground and he eventually lost second place to Tom Bell. Series sponsor Paul Inch (1293 Cooper S) finished a fine fourth. Class winners: Hall, Inch, Alan Greenhalgh (Ford Falcon), John Everard (Alfa Sprint GT), Mark Cross (Morris Minor).
On Sunday Lewis again led throughout, chased on the opening lap by Dan Lewis (1293 Cooper S), Bell and Hall. But then on the second lap Hall began to fall back and two laps later Bell was forced to retire. Roger Stanford started steadily with his revamped Lotus-Cortina but he soon wound up the wick and went on to finish a strong third. Michael Sheraton (Ford Anglia) raced home in fourth place, despite a five-second penalty for exceeding track limits. Class winners: Stanford, Greenhalgh, Freddie Brown (1040 Imp), Everard, Patrick Harris (1330 Morris Minor).
MRF Tyres Classic Thunder/Burton Power BOSS – The track was still streaming wet for Saturday's race and Dale Gent's Impreza led all the way despite a relentless chase by Dave Cockell (Escort-Cosworth) who was only six-seconds adrift at the finish. Ilsa Cox's Cupra Cup car was down in eighth place at the end of the first lap but she skilfully slithered past the Escorts of Stuart Day and  Scott Matthias, Matthew Booth (Astra), Alistair Camp (Fiesta) and Paul Hand (Audi TT) to seize an impressive third place. After a fraught and tense battle Hand was handed fourth place when Matthias and Booth were penalised one second each. But Matthias was still the best of the BOSS runners, ahead of Camp and Laki Christoforou (Escort). Class winners: Cox, Matthias, Day, Camp, John Edwards-Parton (Fiesta), Richard Askham (Jaguar XJR), Paul Eaton (Holden).
The following day Gent may have started from pole but he was down to fifth by the end of the first lap and the Subaru eventually retired on lap five. Cockell made the most of the opportunity and led thereafter, going on to win by 2.3 seconds from Cox who managed to pass Booth in the closing stages. Day and Hand finished fourth and fifth, ahead of Laki who was the best of the BOSS boys, well clear of Camp and Paul Nevill (Escort RS2000). Class winners: Cox, Day, Christoforou, Eaton, Matthias, Demetris Neophytou (Fiesta), Askham.
Group One Pre '83 – Current champion Stephen Primett reigned (rained?) supreme during a very wet qualifying session so it was no surprise when his Mk.1 Escort led Saturday's race all the way. David Howard's Jaguar XJ12 was only sixth at the end of the first lap, but the Big Cat was able to stretch its legs on Silverstone's straights and over the next few laps he picked off Alan Greenhalgh's Firenza, Pete Winstone's Escort, Mark Osborne's Dolomite Sprint and then Mark Cholerton's Escort before he went on to finish a secure second. Cholerton retired on lap nine leaving Osborne to finish third ahead of Greenhalgh and Steve Cripps (Escort RS2000). Class winners: Howard, Mike Haynes (3.1 Ford Capri), Scott Rust (Escort RS1600i), Jonnie Kent (1293 Cooper S).
On Sunday the track was dry and so the sharp end was also Howard's End as the Jaguar led from start to finish. Osborne and Primett fought a tremendous, race-long battle for second place but the Dolly was singing like a soprano on the straights and despite Primett's best efforts he had to settle for third place. "For once the Dolomite's gearing was just right" said Osborne. Cripps drove well to fend off Cholerton for fourth place. Class winners: Osborne, Haynes, Rust.
Pre '93/'03/'05 – Hondas ruled the roost during a wet qualifying session as Steve Barden claimed pole position ahead of Garry Barlow, Ross Craig and Luke Allen. Come the race Barden led the all the way despite relentless pressure from Craig, but it was Mike Dugdale (BMW E36) and Howard (XJ12) who took up the chase. Then Howard retired on lap eight, leaving Dugdale to fight a losing battle with the fast-closing David Hunt (E36) who went on to finish third overall. Roger Stanford finished fifth to make it a 3-4-5 finish for BMW. Hunt also won the '93 category, while Steve Barber (Clio 182) was the best of the '05 Production Saloons. Class winners: Hunt, Stanford, Alex Nuttall (Golf GTI), Barber, Colin Gibbons (Alfa 156), Ken Adlard (Honda CRX), Kevan Hadfield (Ford Puma).
It was a different story in the dry on Sunday though, when Hunt and Dugdale fought it out at the front once they had disposed of front-row starters Barden and Craig. Hunt went on to win by 2.5 seconds, while Roger Stanford's E30 moved up from fifth to finish third, right behind Dugdale. Barden was the best of the '03 category and held on to finish fourth overall, just ahead of the current '03 champion, Allen who had a much better race than on Saturday. The '05 category was won by James Wilson (Peugeot 206GTI) after a close battle with Barber's Renault. Class winners: Stanford, Barden, Howard, Nuttall, Gibbons, Wilson, Adlard, Hadfield.