A simply stunning Pre-'66 Touring Car race won by Michael Sheraton was arguably the highlight of a fantastic weekend of racing among all the Classic Touring Car Racing Club championships on the Brands Hatch Indy circuit.
With an excellent turnout, even Sunday's wet weather did little to dampen spirits as Colin Philpott (Jaguar Challenge), Stuart Waite (Pre-'93), Ross Craig (Pre-'03) and Bryan Bransom (Classic Thunder) all recorded double wins.
Off track, the paddock enjoyed a hog roast on Saturday night, as the CTCRC showcased its convivial atmosphere as the place to race classic touring cars.
Poultec Pre-'66 Touring Cars
With a terrific entry of 26, the oldest cars on show had their own standalone race. The first, an absolute thriller, was won by Michael Sheraton's Ford Anglia, before James Ibbotson (Hillman Imp Super) took the honours on Sunday.
First time out in a Lotus Cortina, Ian Thompson stunned himself as much as others by taking pole position. Thompson was competing for the first time since breaking his back in a Caterham seven years ago. He pipped Piers Grange's Ford Mustang by just 0.03 seconds.
That the Cortinas of Pat Kenneally, Tim Abbott (also making his first appearance) and Robyn Slater, the Anglias of Billy Kenneally and Sheraton, plus Mike Davies's Mini and Ibbotson were all within 0.8s of pole was a signal of what was to come.
The first race featured a clean-fought multi-car scrap for the lead throughout its duration. Billy Kennally made the best start to lead away before his dad Pat took over. But Kenneally Sr's Cortina would produce some fireworks (almost literally) as it exited spectacularly at the end of lap three of an eventual 12.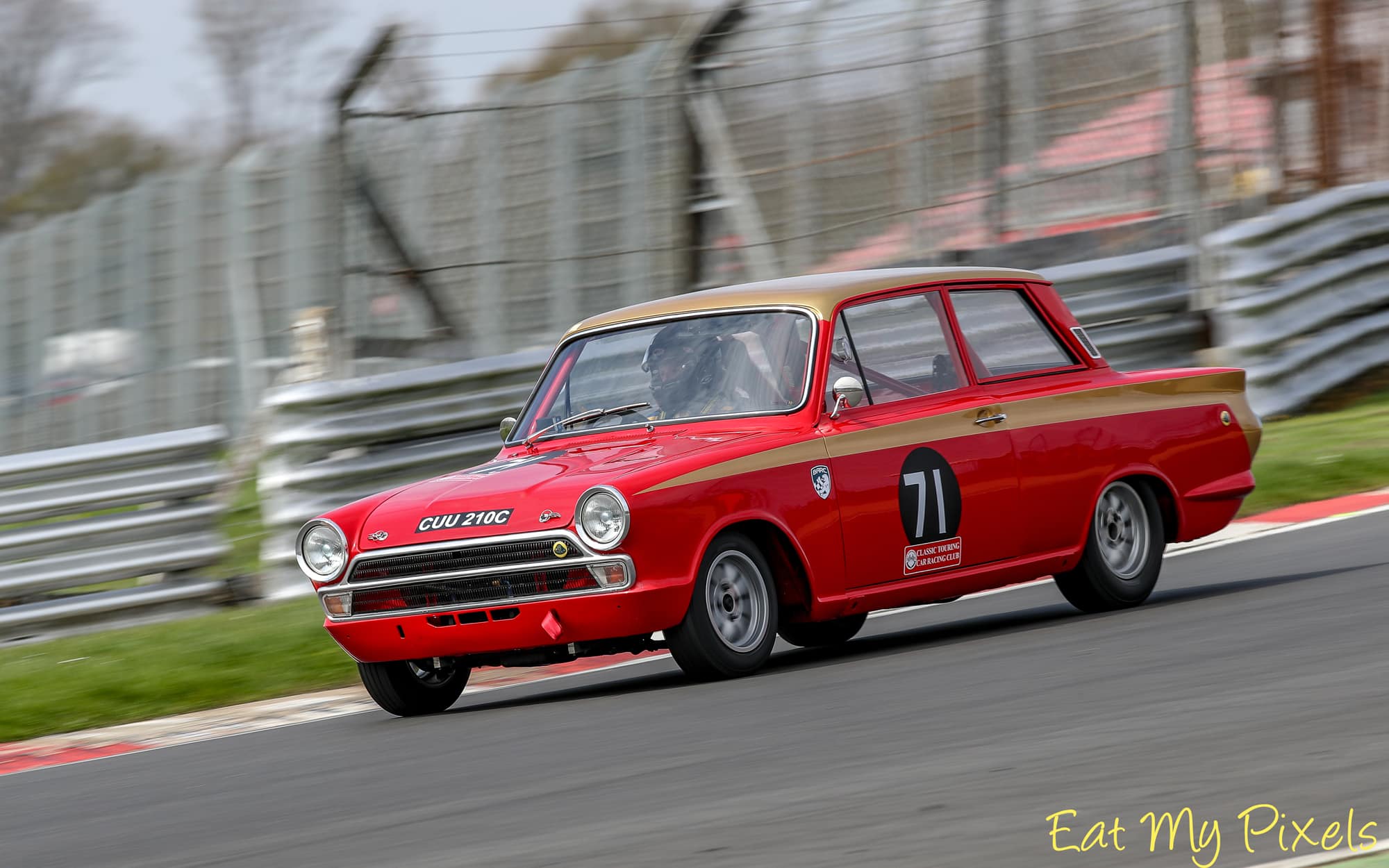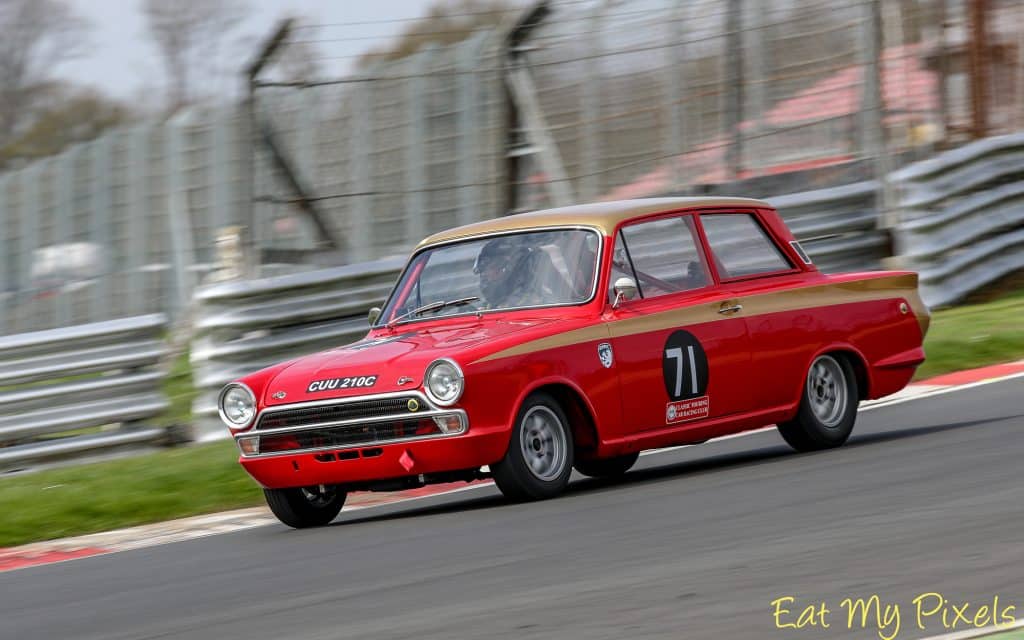 Its flywheel let go spectacularly, ripping through the engine bay and out the bonnet, showering debris in its wake. Thankfully, no-one was hurt by the wreckage but a puncture and broken wheel forced Slater out.
Kenneally Jr was next to lose touch with the lead group as he took a trip through the gravel after attacking Ibbotson on the outside line at Paddock Hill Bend.
Meantime, Grange was doing his best to fight off the swarm of smaller cars, powering back in front each time he was passed. It was Sheraton who managed to get ahead a number of times with spectacular moves under braking at Druids and Graham Hill Bend in particular.
His technique of watching for brake lights and then stamping on his own middle pedal "two seconds later" was clearly working!
Grange managed to eke out a small lead mid-race only to then grind to a halt with the exasperating cause of a wire coming loose from the coil. With the big car not far off the circuit, an early end was called.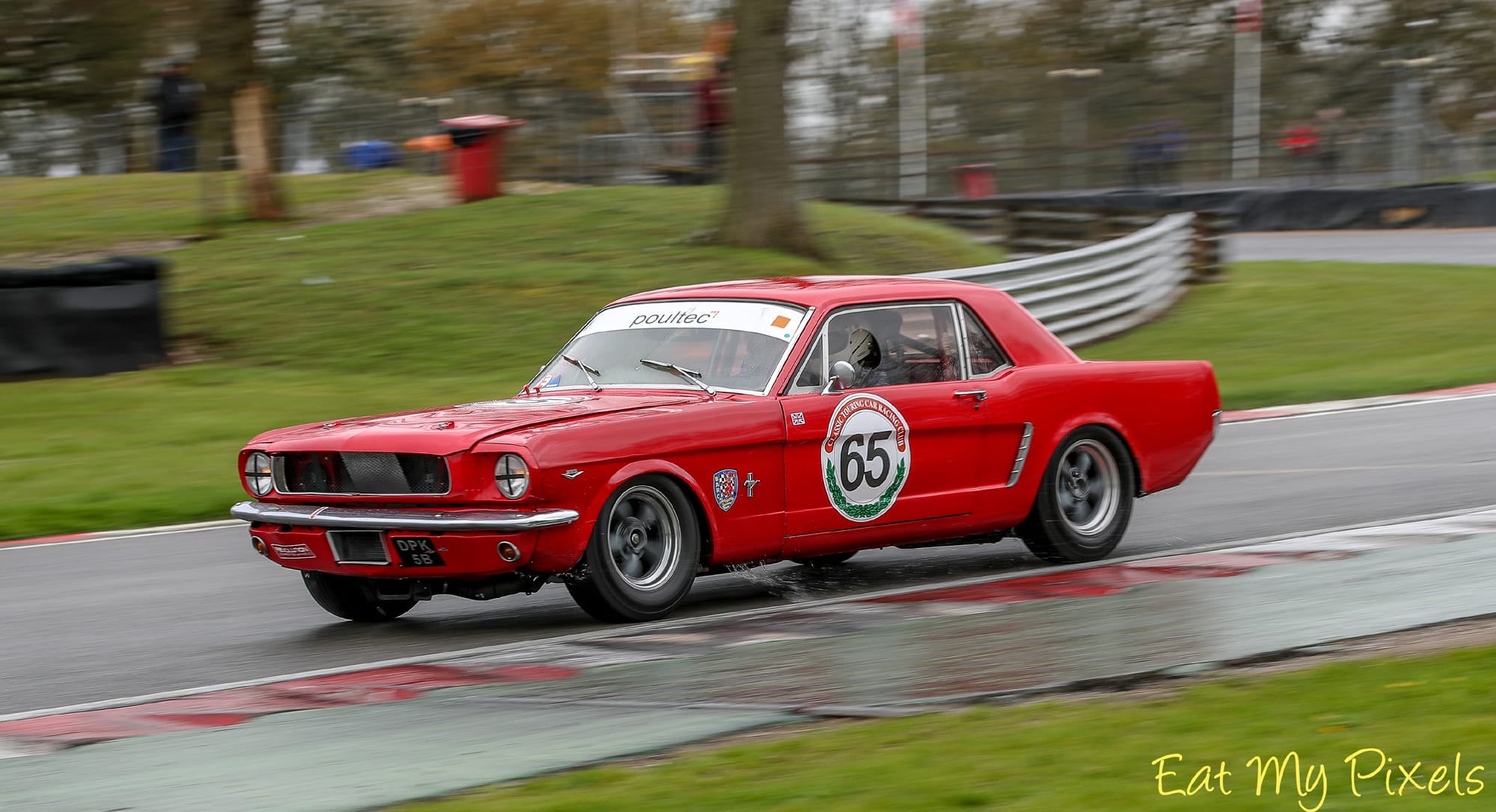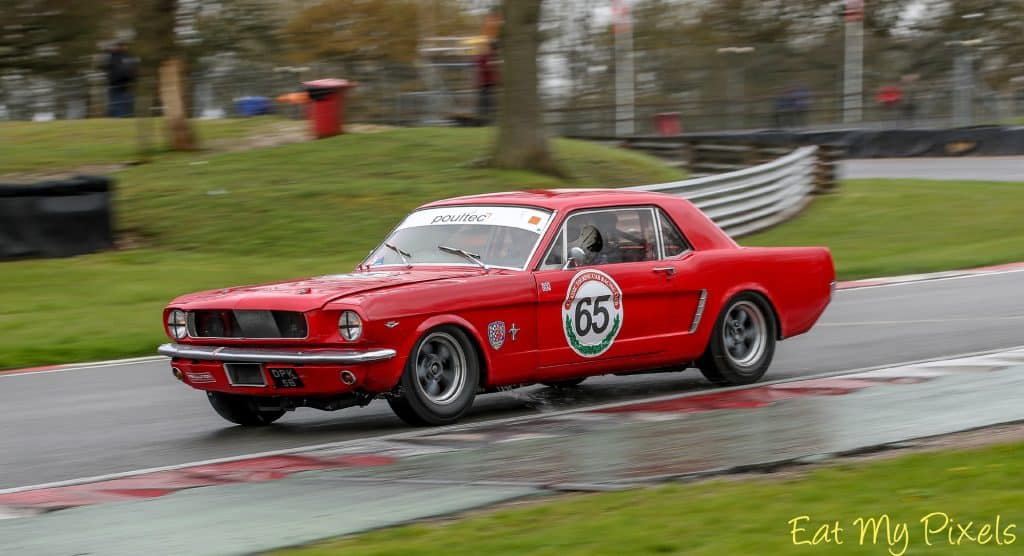 After a frustrating spell of unreliability, Sheraton was elated with a well-deserved victory, with Abbott and Thompson – recovering from a slow getaway – scoring fine debut podiums. Abbott won Class F in the process, while fourth-placed Ibbotson took Class E.
The predicted rain arrived for Sunday's racing, for which Ibbotson and Kenneally Jr were promoted to the front row of the grid as Saturday's podium finishers were all non-starters.
With his baby daughter born only weeks earlier, Sheraton had always intended to be away from home for only one day. The Cortina duo, meanwhile, were wary of risking their newly-acquired machines in difficult conditions that they had no experience of.
Having been awaiting his rebuilt engine, 2021 champion Ibbotson was making his seasonal debut and targeting what, for him, would be a fourth overall victory in six starts. The rear-engined Imp made a good getaway and managed the low-grip conditions with aplomb.
But Ibbotson wouldn't have an easy ride. Fellow Imp driver Will Egby, in only his second race weekend, was making eye-catching progress from the fourth row. Egby was the quickest on track as he closed up to second-placed Kenneally and snatched the position when the Anglia was baulked in backmarking traffic.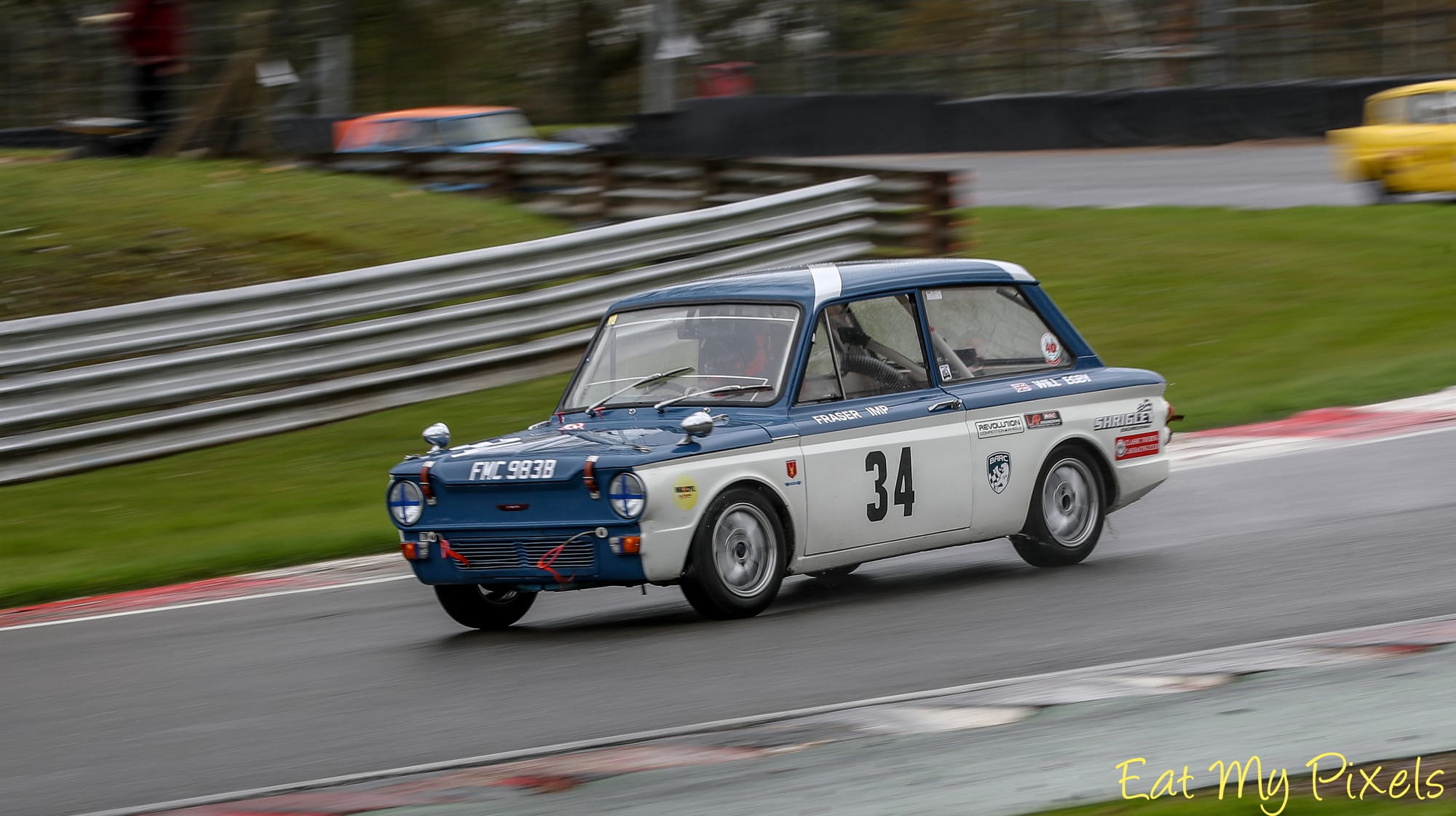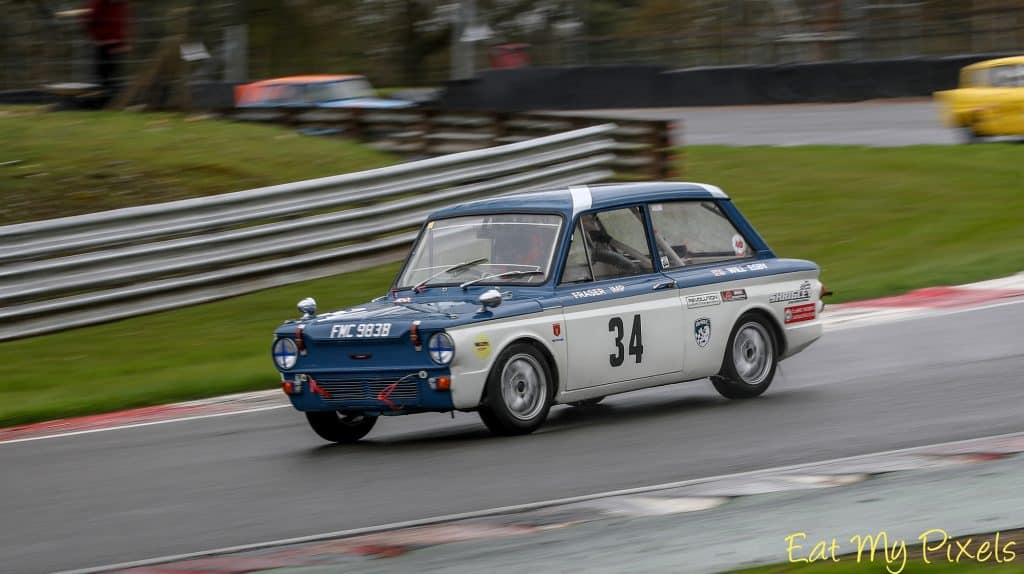 The newcomer then reeled in the leader too, and Ibbotson was powerless to stop Egby making his move and going on to take victory by 5.5s. "Will's just rapid in the wet so he deserves it," Ibbotson said graciously. But sadly for Egby, the fairytale win wasn't to be as he failed post-race scrutineering for a problem with his helmet.
So Ibbotson inherited victory, with second going to Kenneally, who had time for a quick pirouette by the pit entry and still close to within 1.3s of the Imp as he won Class C. Third place and Class F victory went to David Hall's Cortina.
Another to shine in the race was Ed Gibbs who showed a rapid turn of pace in his Anglia but also suffered a couple of spins on the way to fourth position.
Unsuited to the conditions, the big V8 of Grange slipped out of the top 10 but still claimed Class A honours. Brian Bedford was unopposed to a Class D double in his Austin A40 after Luc Wilson's similar car hit trouble in qualifying.
Berkshire Jag Components Jaguar Challenge
The Big Cat drivers were more than happy to have their own grid too, as Colin Philpott bounced back from the differential woe that kept him out of the season opener to record a double win in his Powerbell XJS.
Polesitter Philpott made a clean getaway and was never headed on his way to race one victory. Mike Seabourne, again piloting Derek Pearce's XK8, had a poor start from the outside of the front row.
He briefly lost out to Guy Connew before the Group 44-inspired XJS ran wide at Druids and let Seabourne back through. Seabourne was pleased to be able to match Philpott's pace for the remainder of the race, albeit without managing to challenge for the win.
Philpott was 6s clear at the flag. Connew was a further 8s back but unfortunately both he and Seabourne were then excluded for coming in underweight.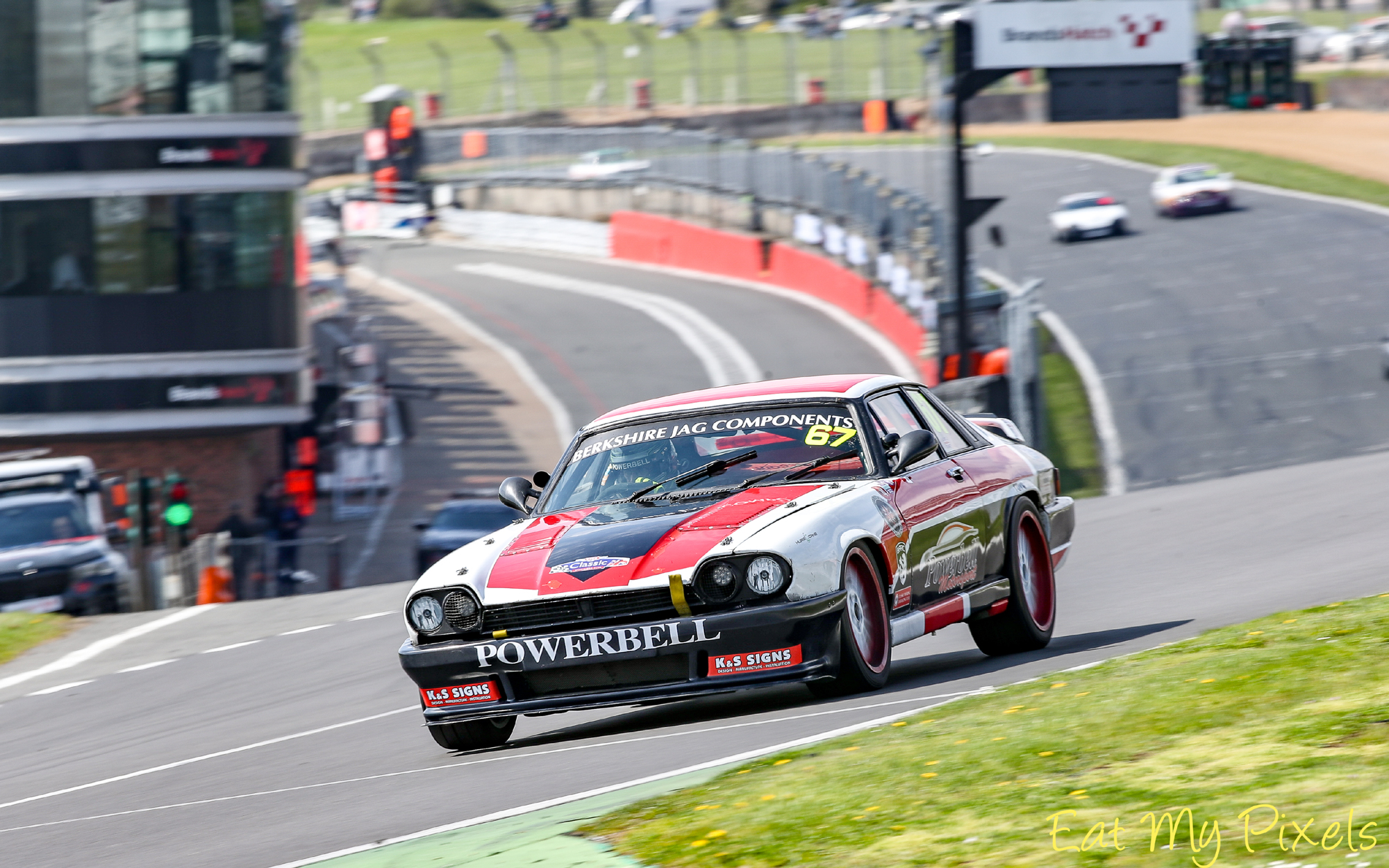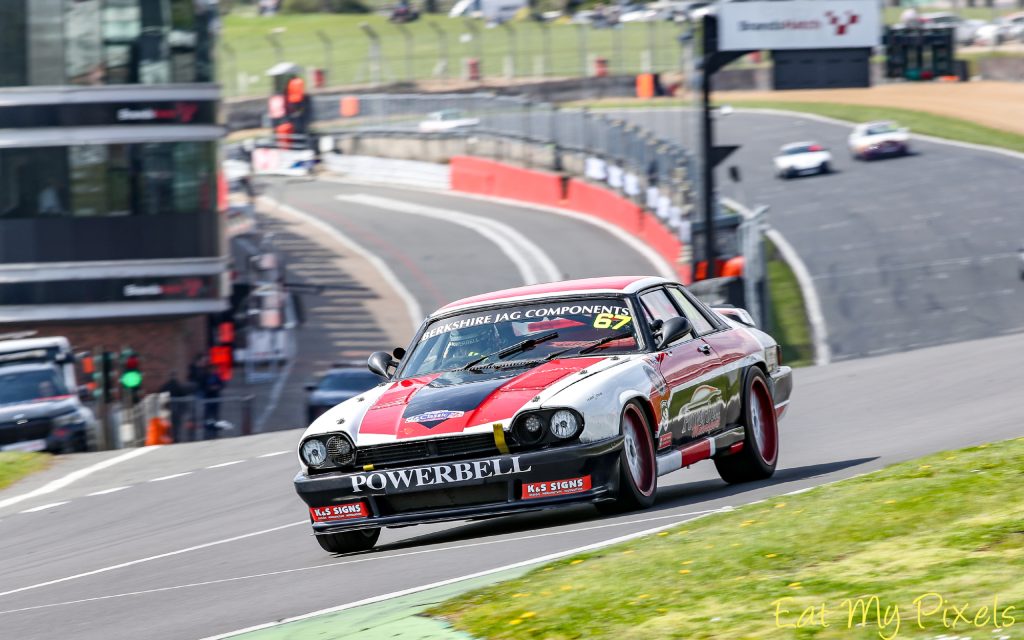 That promoted Tom Lenthall's XJS to second after it survived contact with Chris Boon's XKR, which ended the latter's race with bodywork and exhaust damage. Lenthall held off Jack Robinson's Class C-winning XK, while fourth – and Class A honours – went to Andrew Harper's very smart supercharged S-Type R which he had debuted at Silverstone.
The wet conditions of race two made the big machines even more of a handful than usual. Once again, Philpott got off the line well, but it was Robinson who made the best start as he jumped to second.
Just half a lap later it all went wrong for the sophomore driver as his XK fishtailed under braking for Surtees before snapping into a lurid spin.
Lenthall lost time taking to the grass in avoidance and thus Harper was promoted to second followed by guest James Wall, piloting the diesel X350 Harper raced last season. The pair of Silk Cut-coloured cars made for a fine sight before Lenthall split them mid-race.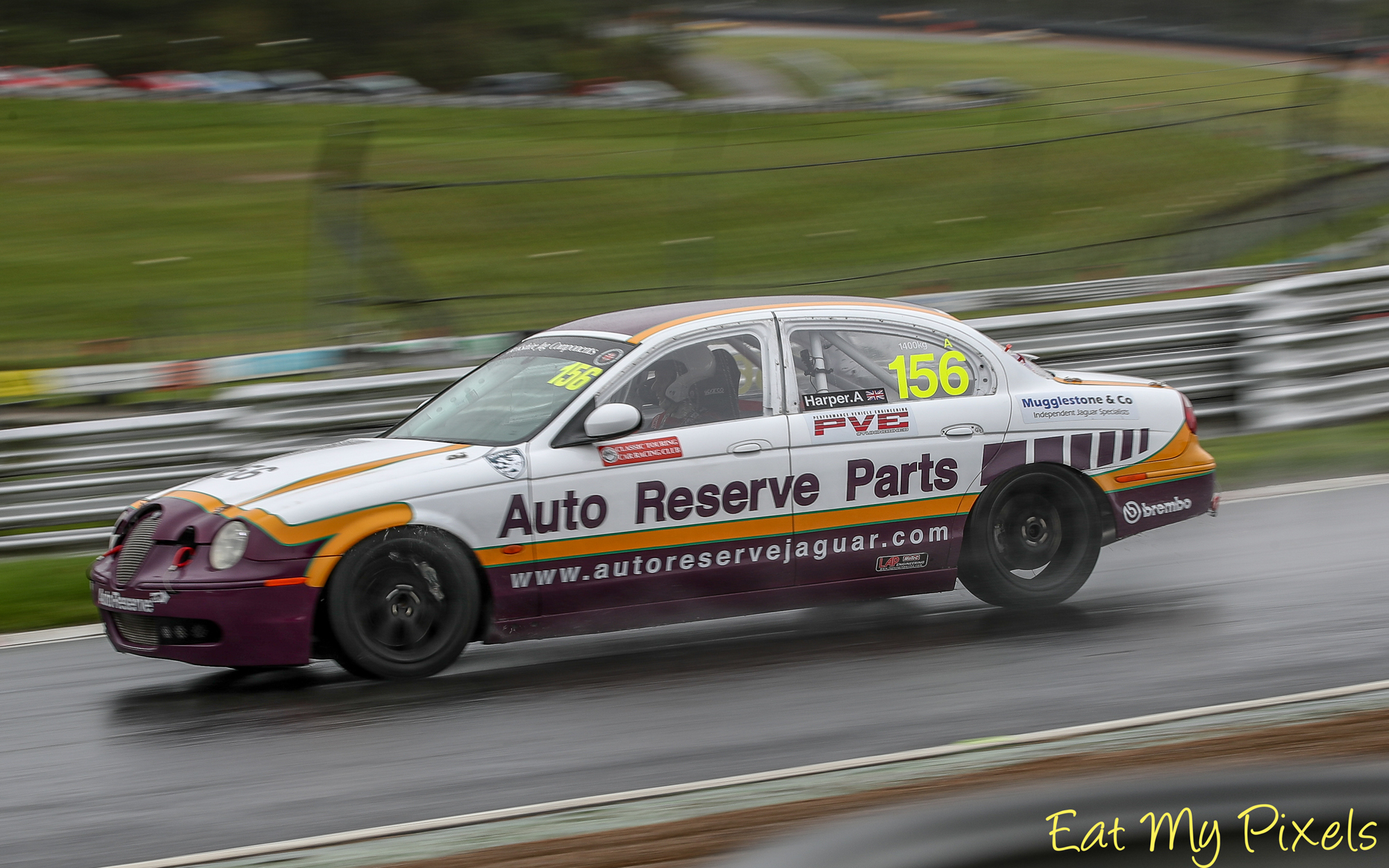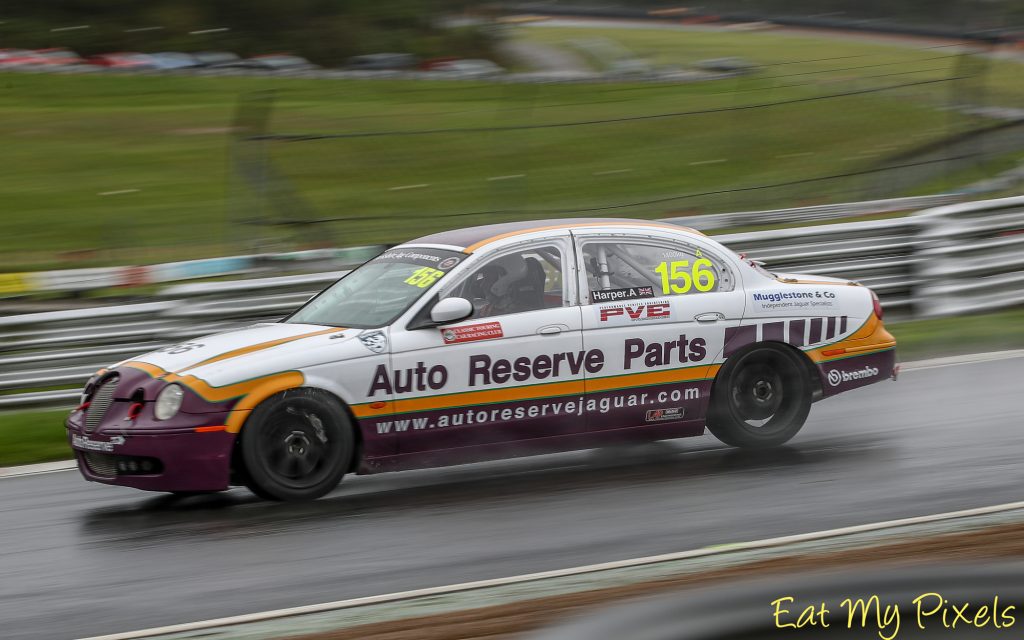 Fastest man on track was Seabourne, who not only had to start from the back but with a 10s penalty too. On lap 10 of 17, he passed Lenthall and Wall in one move to snatch third. A backmarker had spun in front, with Lenthall's XJS rotating in sympathy and Wall also delayed while doing well to avoid them.
But just a lap later, Seabourne lost power and ground to halt. It was a disappointing end for the Swindon racer who was left with nothing to show for his strong pace.
The resulting safety car cost Philpott his 10s lead, but his did have the cushion of a backmarker at the restart. Again, the action came behind the unflappable racer.
Wall dived inside his Auto Reserve Parts team-mate at Druids only to spin it away later in the lap at Surtees. Meanwhile, Robinson's recovery drive ended when he was caught out at Paddock Hill Bend.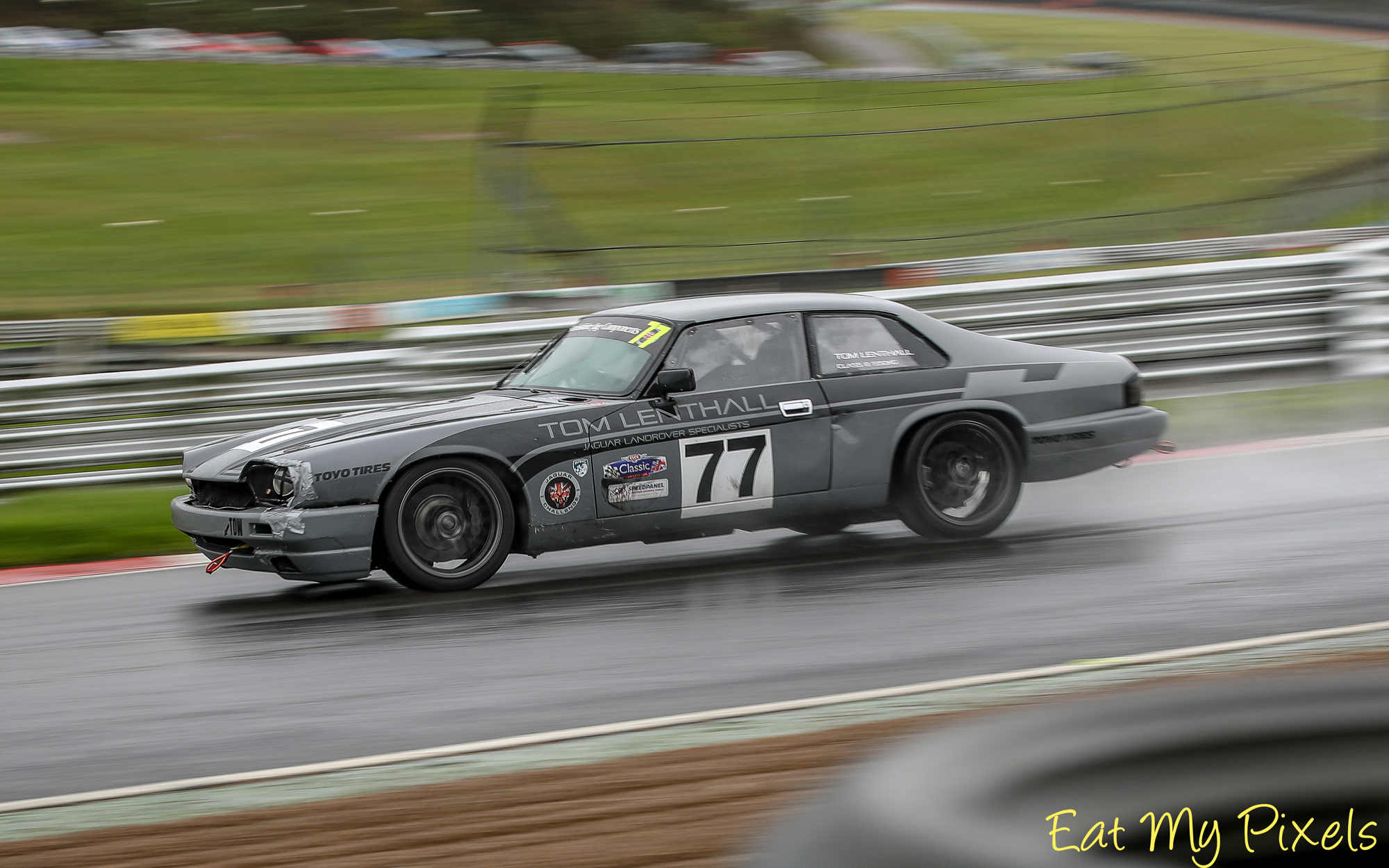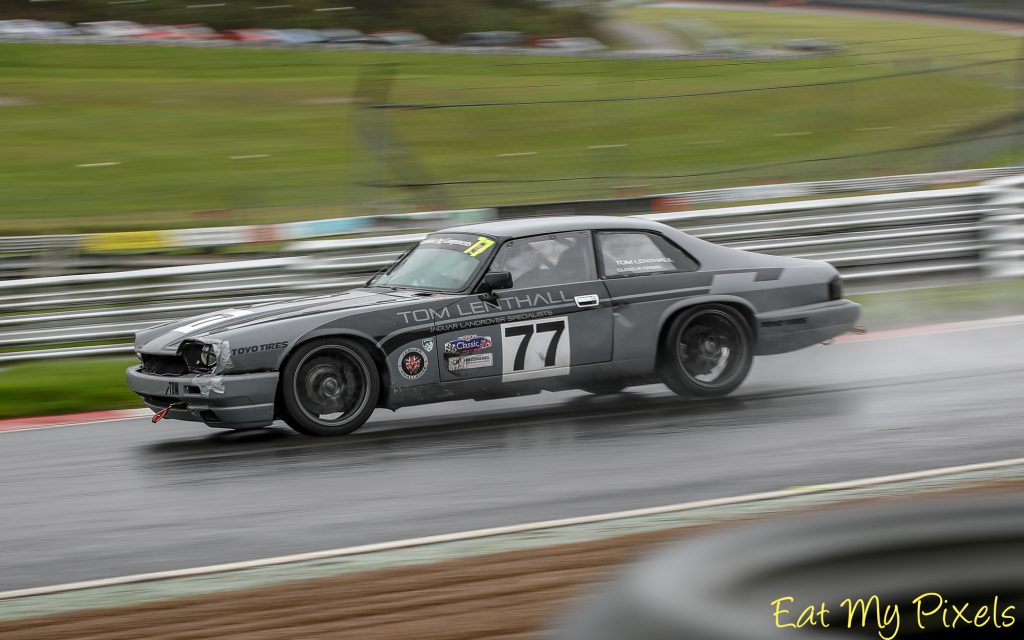 Red flags ensued, which might have reprieved Wall and returned him to third but, stuck on the wet grass, he was not running at the time of the stoppage and so not classified. Thus Harper scored a maiden podium in second, with Lenthall third ahead of Boon.
Winner Philpott was very satisfied to have taken two comprehensive wins in very different conditions. Harper was relieved to have brought the car home safely for such a strong result, while Lenthall beamed: "The most fun I've had in the wet for a long time!"
Andrew Maynard's smartly repanelled XJ40 took Class C honours in fourth, while newcomer Charles Jackson completed a Class D double in his XJ.
Orange Aero Pre-'83 Group 1 Touring Cars
Various problems meant that only 15 of the 20 qualifiers were able to start the first race, but they again put on a show across the weekend as the Ford Escorts of Mark Cholerton and Stephen Primett ran out winners.
Ten-time champion Primett had beaten Cholerton to pole by a quarter of second but moments after dropping the clutch he had a halfshaft fail and was forced to crawl to safety.
So Cholerton's Mk2 RS2000 led from the Mk1 versions of Jason Christie and Tom Harvey, with Don Hughes's 1.6-litre Volkswagen Golf running fourth as the Ford Capri of Stuart Caie plummeted down the order.
Hughes's one-time championship-winning Golf then demoted Harvey for third overall only for a recurrence of his Silverstone electrical issues to sideline him on lap five of 16.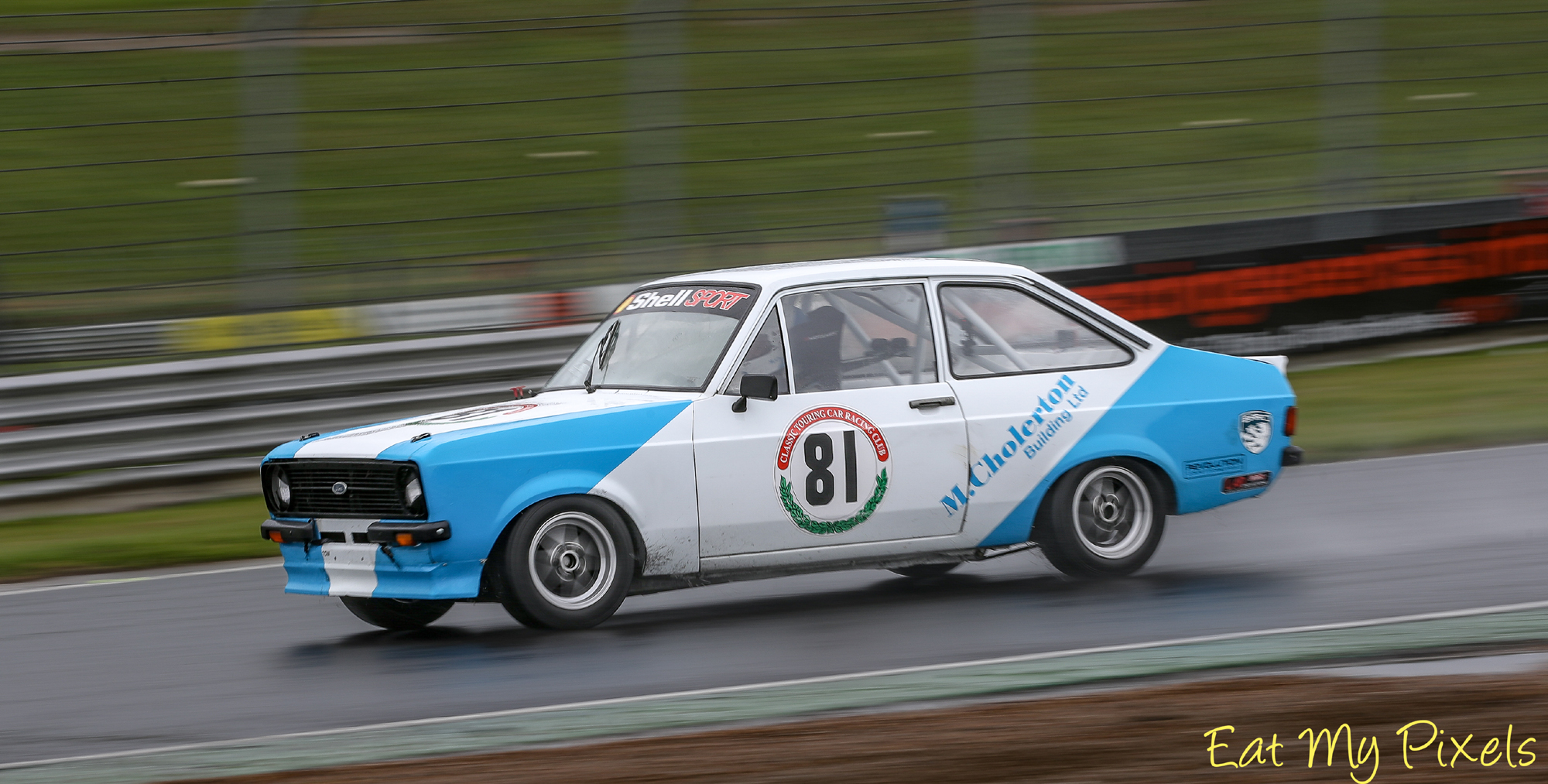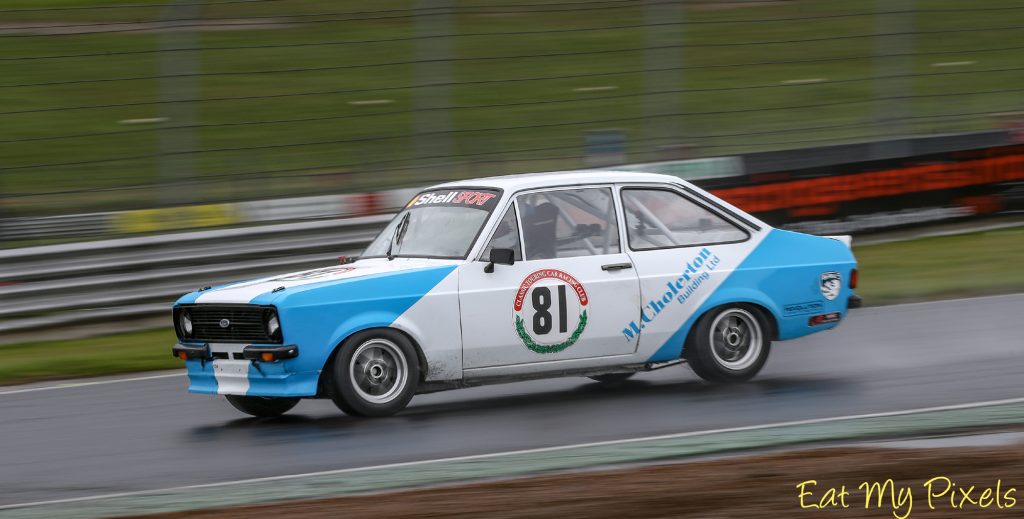 By that stage, Jonathan Corker (Datsun 510) had risen to fifth from the back of the grid after contact in qualifying severely hampered his running. The little Datsun got inside Harvey for third at the Druids hairpin, before closing in and demoting Christie similarly.
Corker set the fastest lap as he closed to within a second of race leader Cholerton but had taken too much out of his tyres and had to settle for second, 3s down.
It was only Cholerton's second overall win and it had been a long time coming for the Norfolk man. His first came at the same circuit in 2017 on a day when, coincidentally, Primett had suffered another halfshaft failure.
Behind Corker, there would be no podium for Christie who was forced out by a jubilee clip coming off his fuel line mid-race. Harvey was chuffed with a podium finish for his smart ShellSport-liveried Mk1 but he would be another to fall foul of the scales, promoting Essex racer Bradley Bosdet's Mk2.
Caie was set to take Class B honours only for a lack of brakes to give him a big scare at Graham Hill Bend, after which he brought the Triplex car in to retire. Malc Best's similar Mk3 Capri inherited the class win, while Class D honours went to Anton Martin's Escort RS1600i.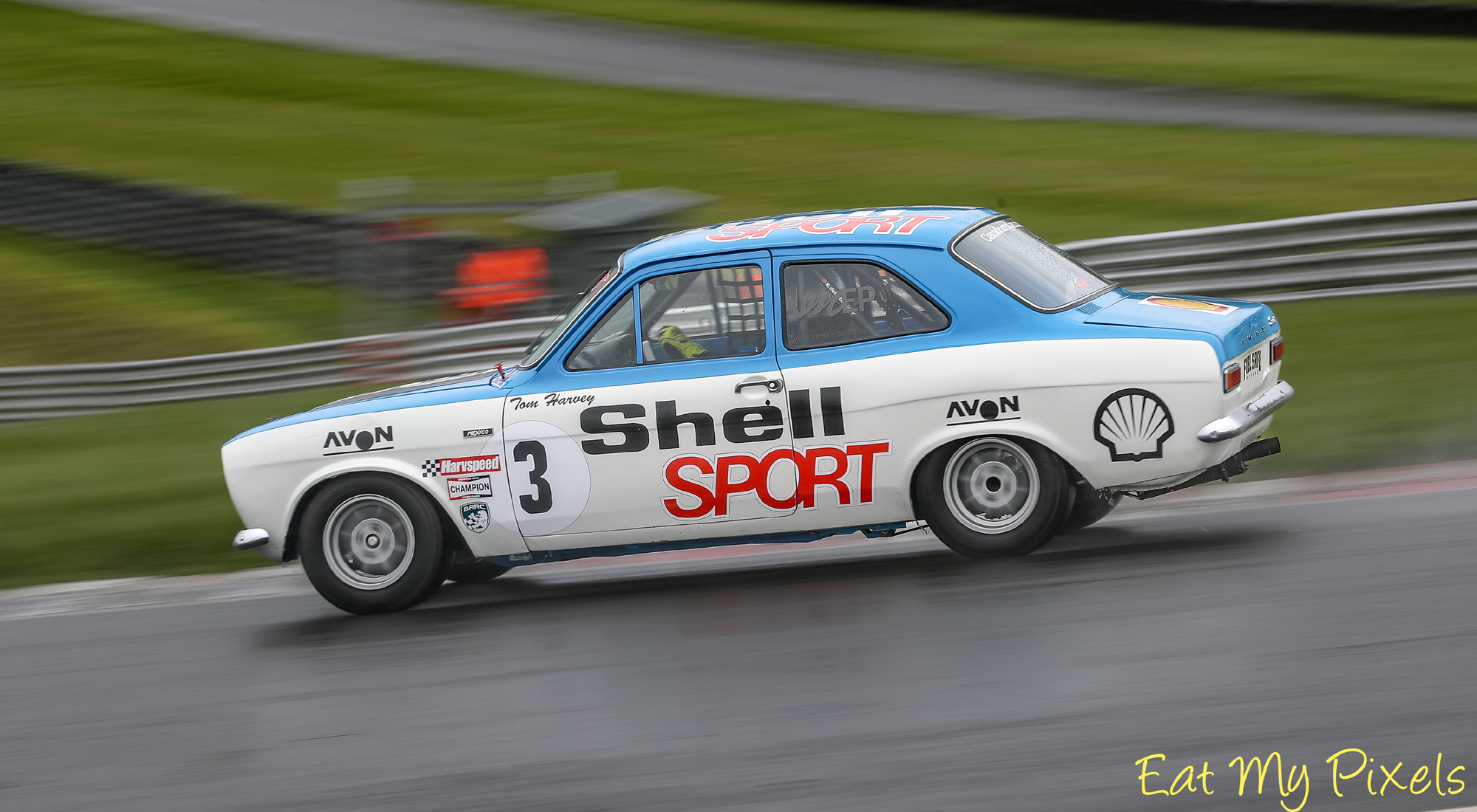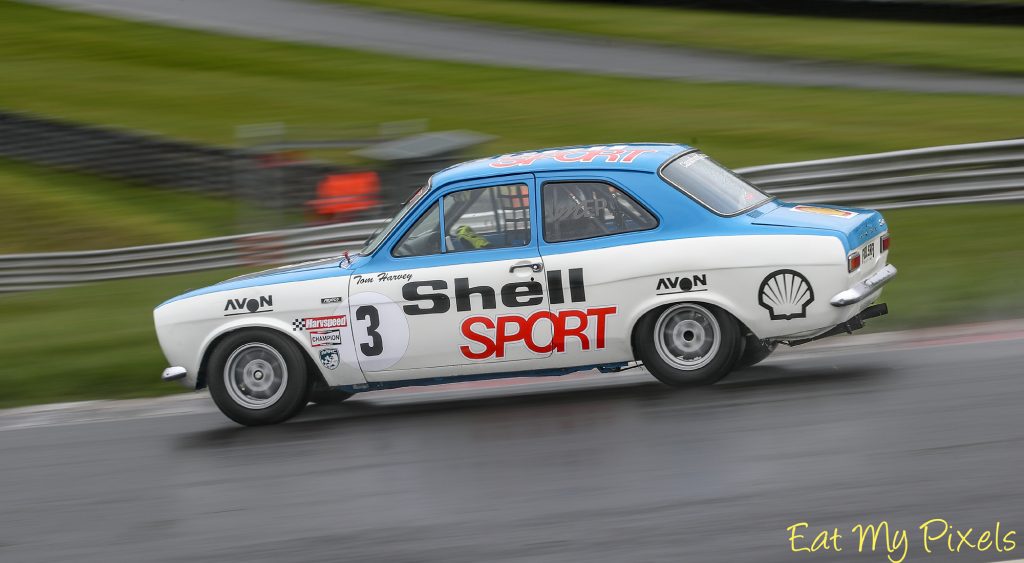 A number of non-starters, including all four Triumph Dolomite Sprints, reduced Sunday's field further. Slightly redressing the balance was Dave Thomas, who was able get his Mk1 Capri running again after it threw a rocker in qualifying.
Corker got away well to lead the opening three laps but was struggling for grip in the wet conditions. The ones to watch were the Escorts of Primett and Harvey. One clean and tidy, the other in sideways style, the pair were trading fastest laps as they worked their way through the order from the lower reaches of the grid – Harvey with an additional 10s penalty to overcome.
Primett passed the flying Martin's front-wheel-drive Mk3 into Surtees for fourth on just the second lap and drove past Duncan Leftley's 1848cc Golf as they crossed the line.
He then charged past Cholerton, who found he didn't have suitable tyres for the conditions, and drove around the outside of Corker to take the lead at the end of the third lap.
Leftley, like Martin, was making the most of front-wheel drive to get the power down exiting corners and further demoted Corker a lap later. He was then able to match Primett's pace for a time before dropping off.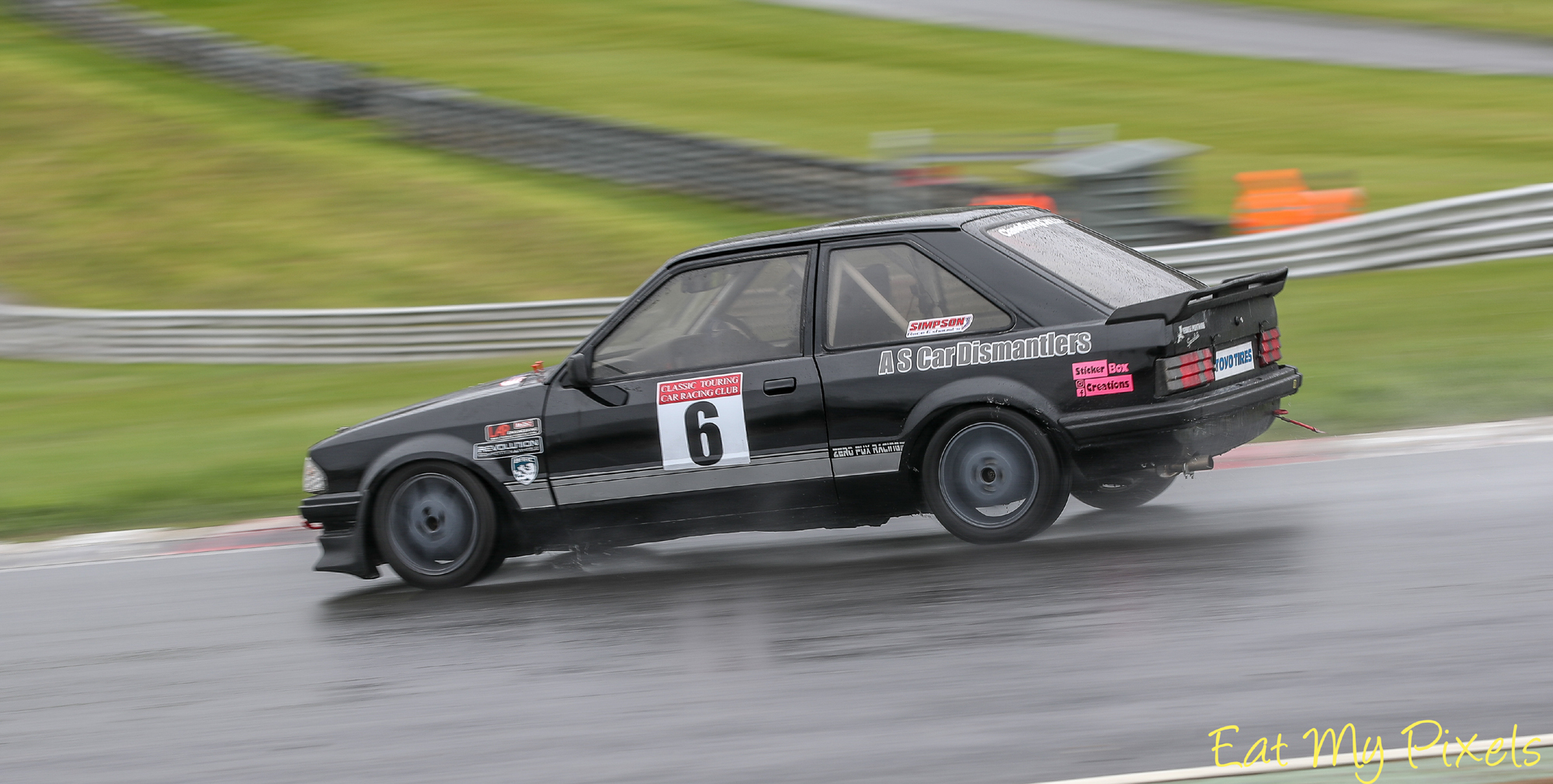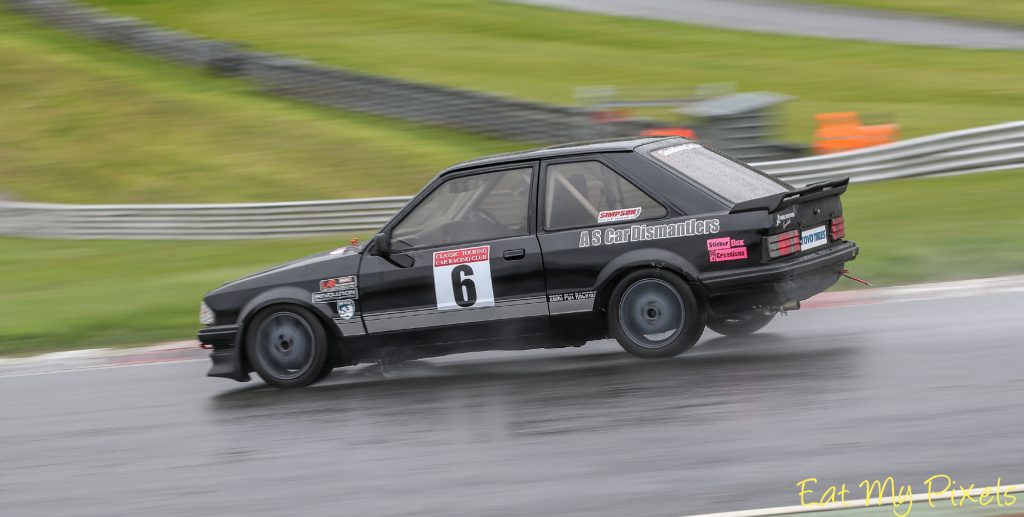 Meantime, Martin was enjoying a great dice with Cholerton, driving past him in the corners only to have the favour returned on the straights. As the pair battled, they were caught by Harvey. And when Cholerton suffered a big slide at Surtees, it was enough for both Martin and Harvey to get through.
The Mk1 and Mk3 Escorts stayed together, the pair driving past Corker as he had a moment on Clark Curve. Harvey eventually managed to break free of Martin but not before having to correct an enormous slide as he momentarily faced the pitwall.
Next target for the local man was Leftley's Golf but, seeing the blue-and-white Escort in his mirrors, Leftley upped his pace to secure a maiden podium. Primett was long gone, finishing 18s up the road for his third win of the season, but it was smiles all round afterwards as all had enjoyed another thriller.
Martin's fine fourth place earned Class D honours once more, as Hughes's gremlins struck again, while Corker and Cholerton brought their cars home fifth and sixth. Completing the only runners left on the lead lap were Class B's top two, the Capris of Thomas and Caie who didn't enjoy the tough conditions.
Burton Power Blue Oval Saloons Series
The BOSS Fords joined up with the Pre-'93 and Pre-'03 series on this occasion. Away from their usual partners in Classic Thunder, they enjoyed more of the limelight and had two first-time winners in Sam Daffin and James Dunkley.
It was reigning champion Dunkley who qualified fastest of the BOSS runners in his Zetec-powered Fiesta Mk2 ahead of Sam Daffin's newer Ecoboost-engined version, the Class C champion having switched to the slicks class this year, like third-fastest qualifier Craig Owen's Sierra Cosworth.
An early red flag led to a complete restart but Dunkley continued to hold sway over Daffin as the pair mixed it among the Pre-'93 and Pre-'03 runners.
For much of the race, the duo were separated by Ross Craig's Pre-'03 machine but once Daffin cleared the Civic on the final lap, he latched on to Dunkley and successfully made his move into Surtees.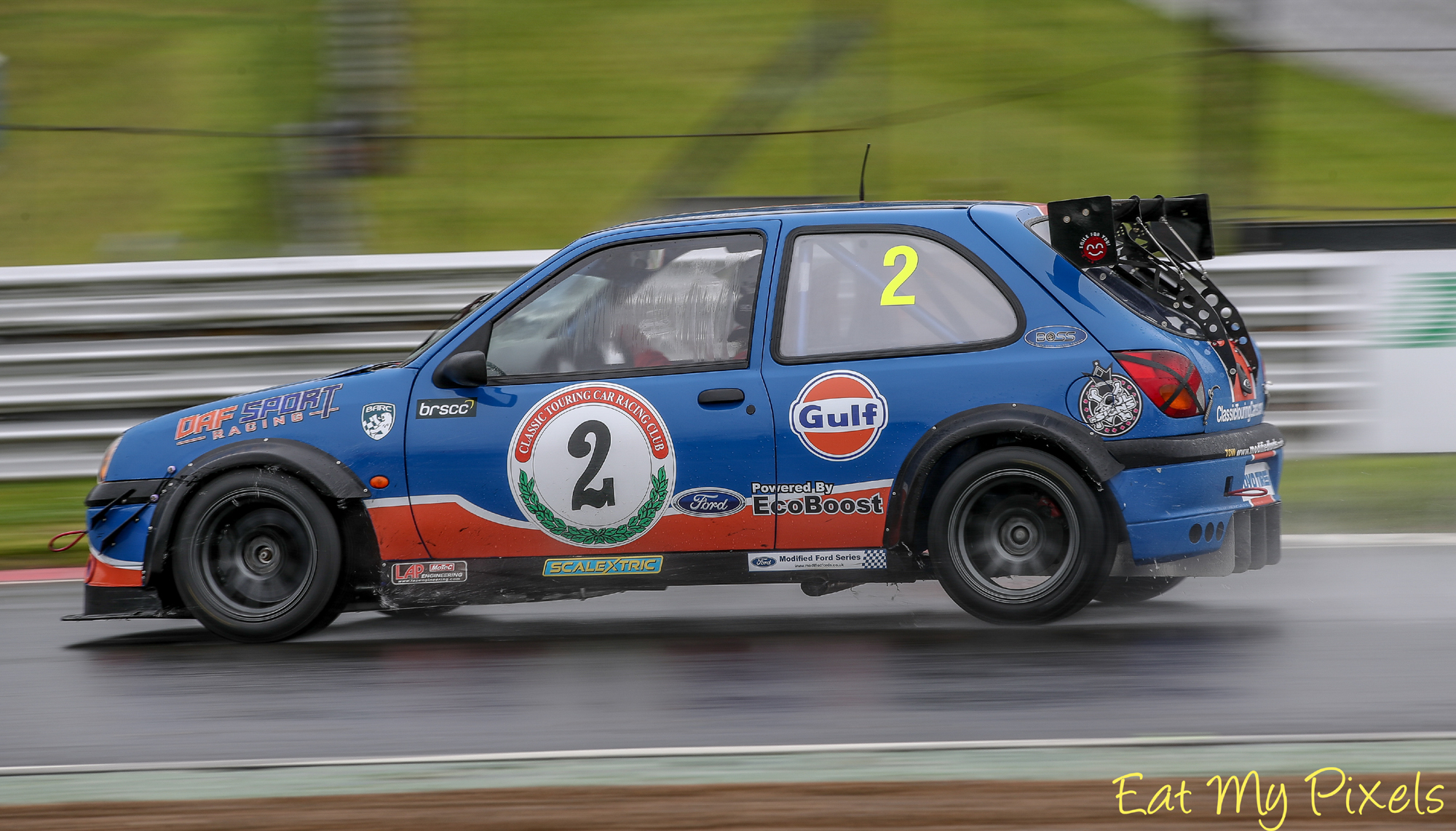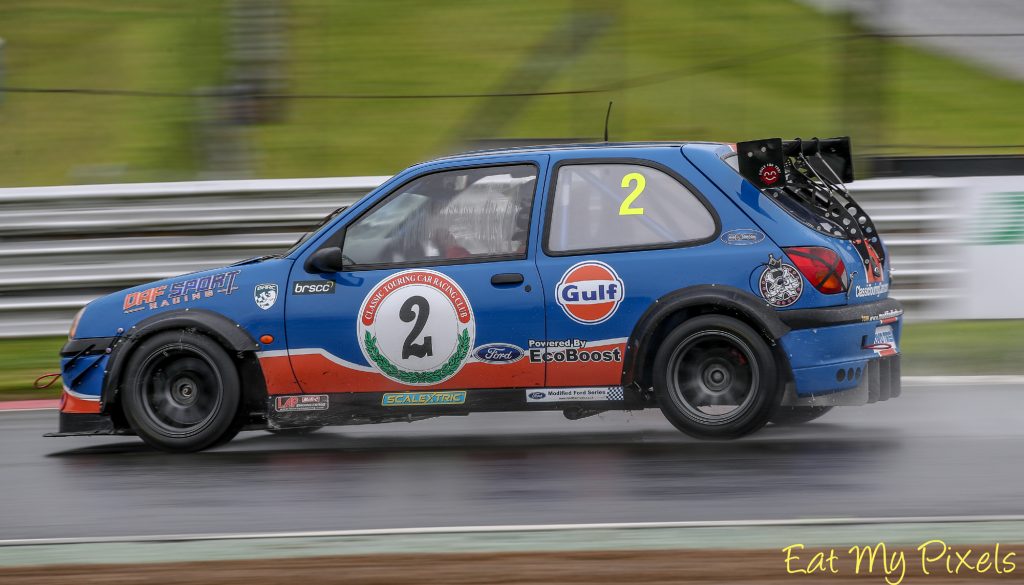 Both had enjoyed the race. Daffin was revelling in the increased grip of his slicks and a remap that was enabling him to extract the full potential from his pretty Gulf-liveried car, while Dunkley promised to turn the tables with rain expected for Sunday's second race. Owen completed the BOSS podium ahead of Will Hunt's Mk6 Fiesta and the Mk3 XR2i of Tim Mizen.
The forecasted rain duly arrived for Sunday's race which was another that was red-flagged. Daffin had just managed to pass the Pre-'93 leader to be in front on the road but was put back on countback for the restart.
It didn't take Daffin long to get ahead again, and he was followed through by Dunkley, the pair benefiting from front-wheel drive and better wet tyres.
True to his word, Dunkley found a way through at Surtees on lap three of the shortened distance, with his less powerful normally-aspirated engine better suited to the conditions than Daffin's turbocharged motor.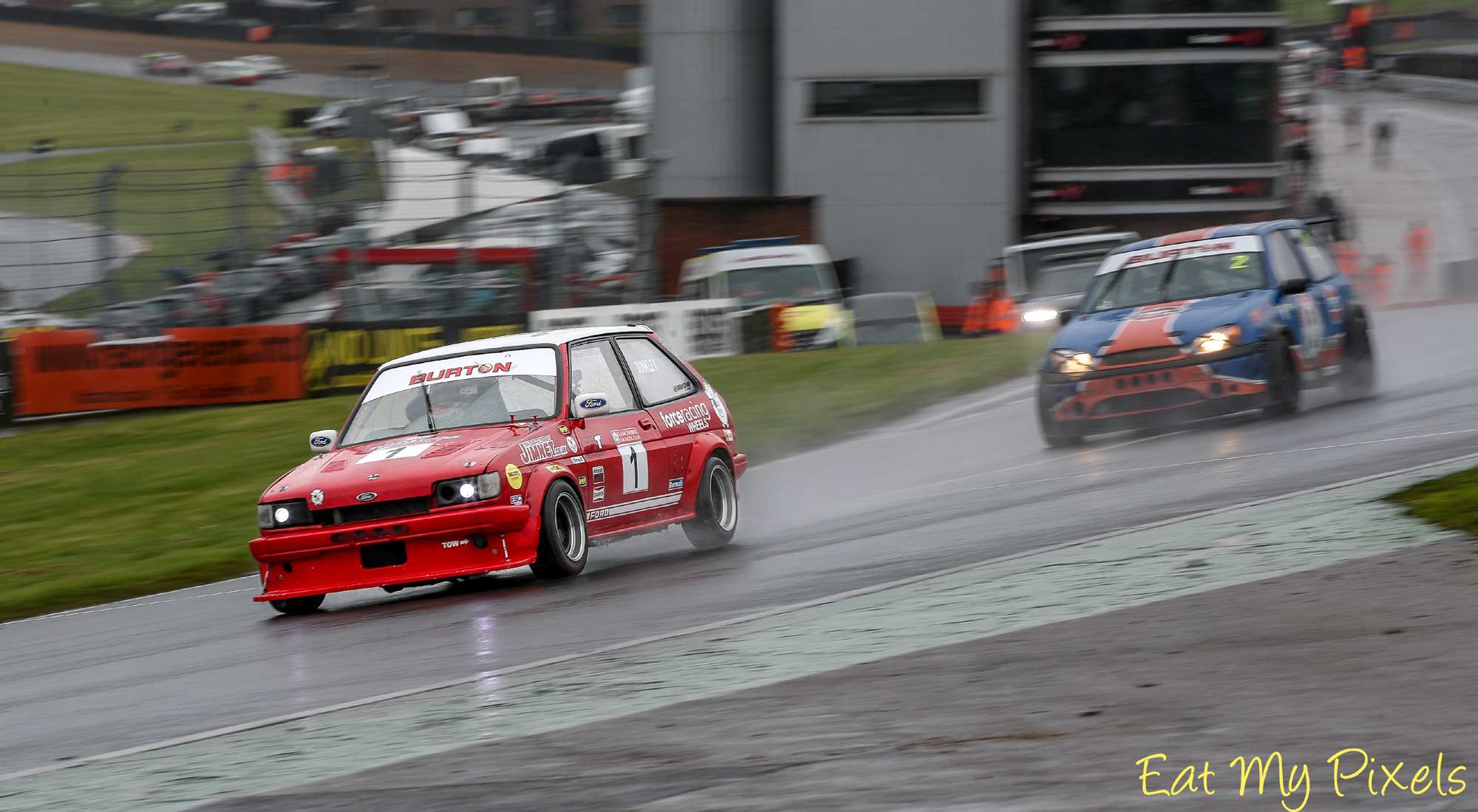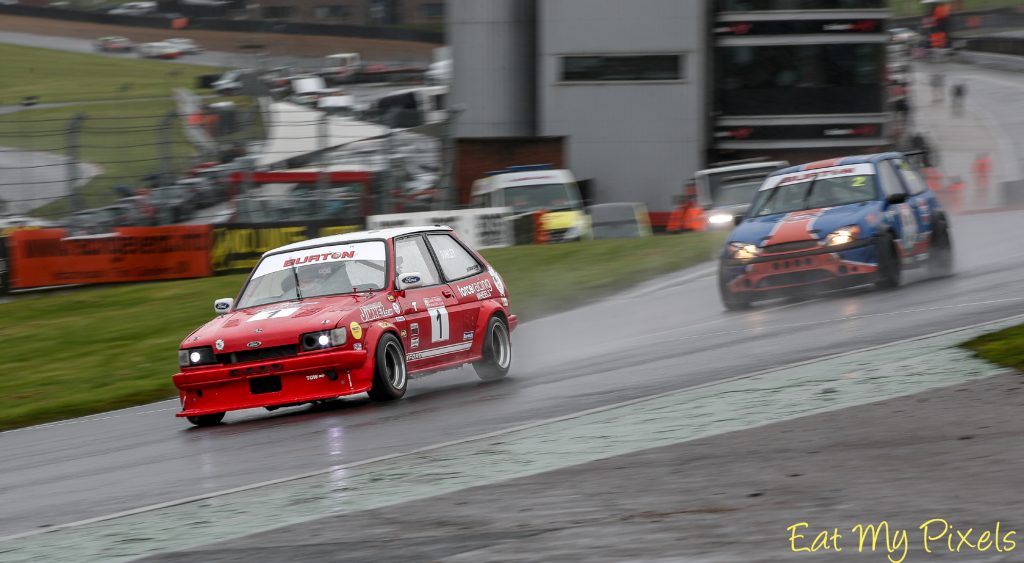 Daffin stayed with the successful ex-Jason Watkins Fiesta but could not get back through, so it was Dunkley who won by just 0.3s. It was Dunkley's first overall win since his 2016 MG Midget title-winning days, made all the more special by the surprise appearance of his children to watch the race.
"I was a bit nervy when I got out in the front," admitted Dunkley. "But when I got there I did think, 'Come on, you've done this before, just keep it calm!'
"I was using [the different engine characteristics] to my advantage out of Clearways and out of Graham Hill Bend. It meant I could get a little gap on him and then stick it in the middle of the track."
Owen was again third, with Mizen this time beating Hunt to fourth and Class D honours.
Laser Tools Pre-'93 Touring Cars
Stuart Waite picked up where he had left off at Silverstone with another pair of imperious victories in his BMW M3 E36. With some regulars missing, the entry was a little down and was hit further when James Everard's E30 M3 blew its gearbox in practice.
Everard's misfortune might have led to an E36 walkover but for David Clark's Class D Renault 5 GT Turbo getting among them. He qualified second fastest behind only Waite, ahead of the E36s of Oliver Owen, Kevin Willis and Clint Le Chalmers.
After joining the fray at Silverstone in his Texaco-liveried Ford Sierra, Jamie Waites was back for more. But sadly his race didn't last long as a mistake on the outside line at Druids left the Sierra in the tyre wall.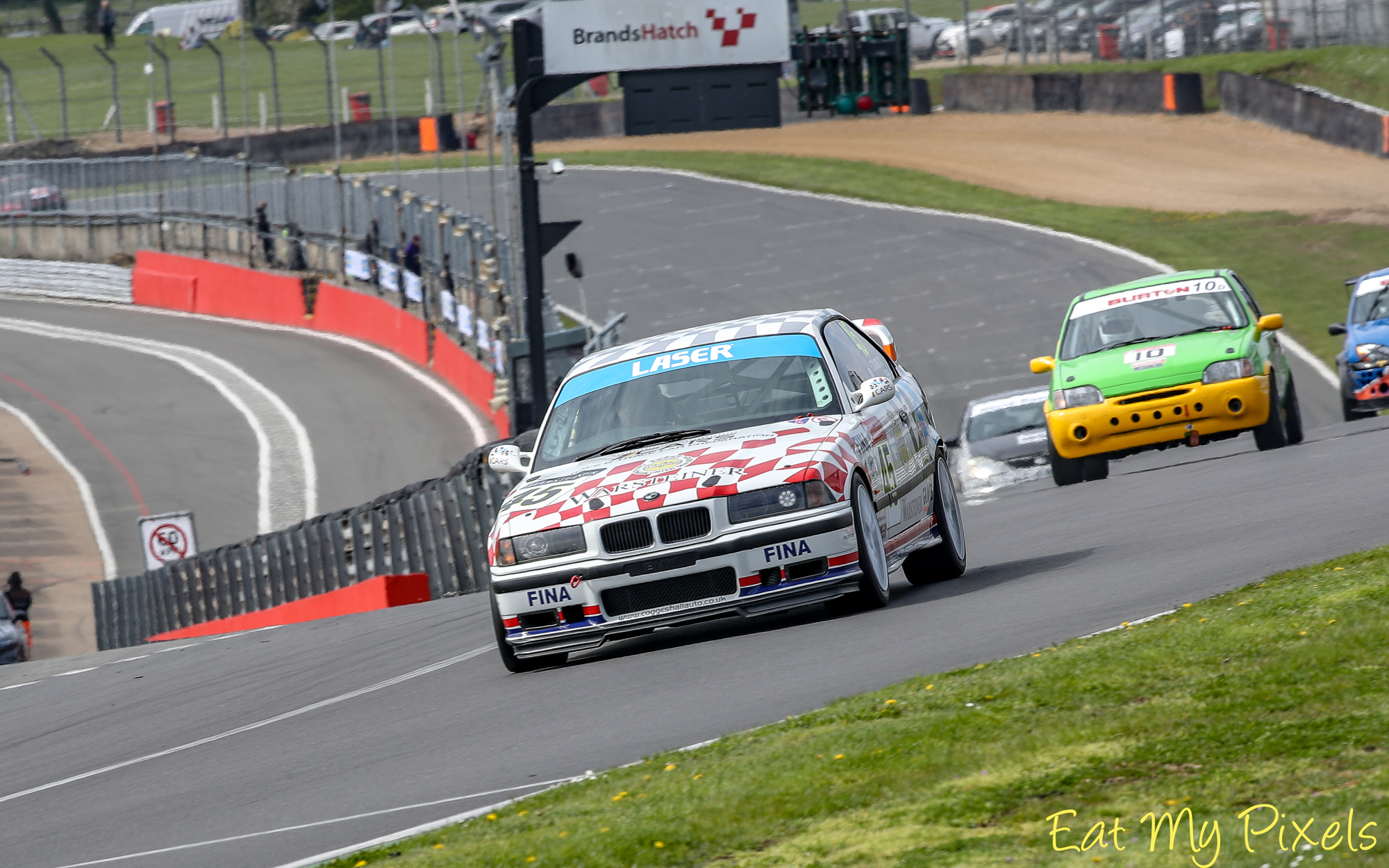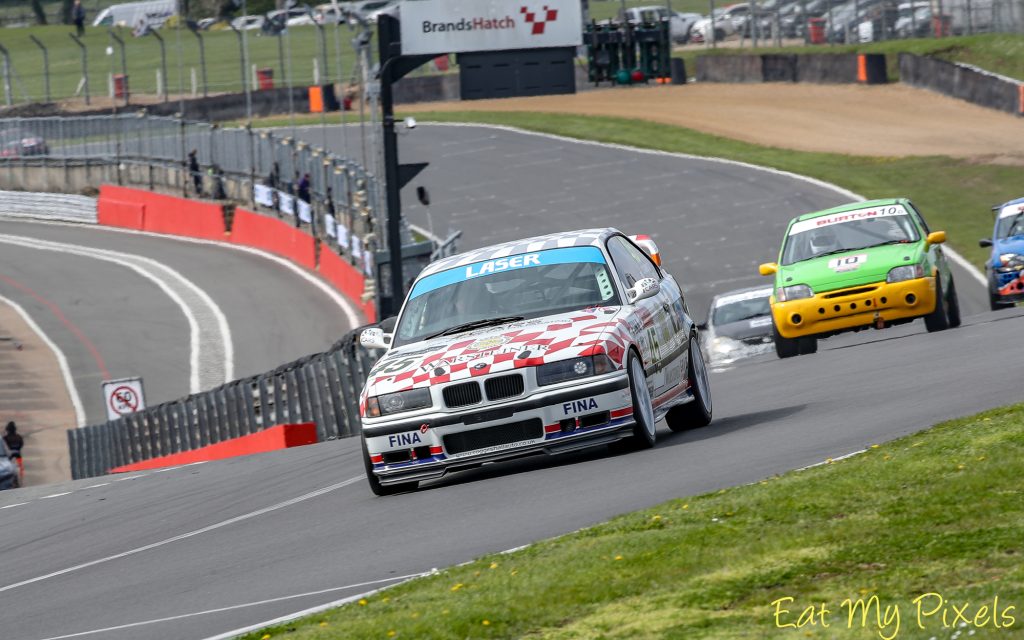 That led to a complete restart, which Waite dominated. The Salisbury driver cleared off to win by over 6s despite his car beginning to smoke from mid-race.
Behind him, the other Pre-'93 frontrunners were embroiled in battle with the Pre-'03 leaders but Owen was able to chase down and pass the fast-starting Willis for second.
Sophomore racer Le Chalmers was fourth ahead of Class D winner Clark, who lost out at the start and then had a trip through the Paddock gravel as he challenged Le Chalmers.
While Waite didn't have the wet pace to keep the leading BOSS pair behind him in race two, he nevertheless enjoyed the conditions on his way to a 4s win over the non-scoring Owen. Third in Pre-'93, Clark again won Class D as Willis and Le Chalmers dropped back in the tricky conditions.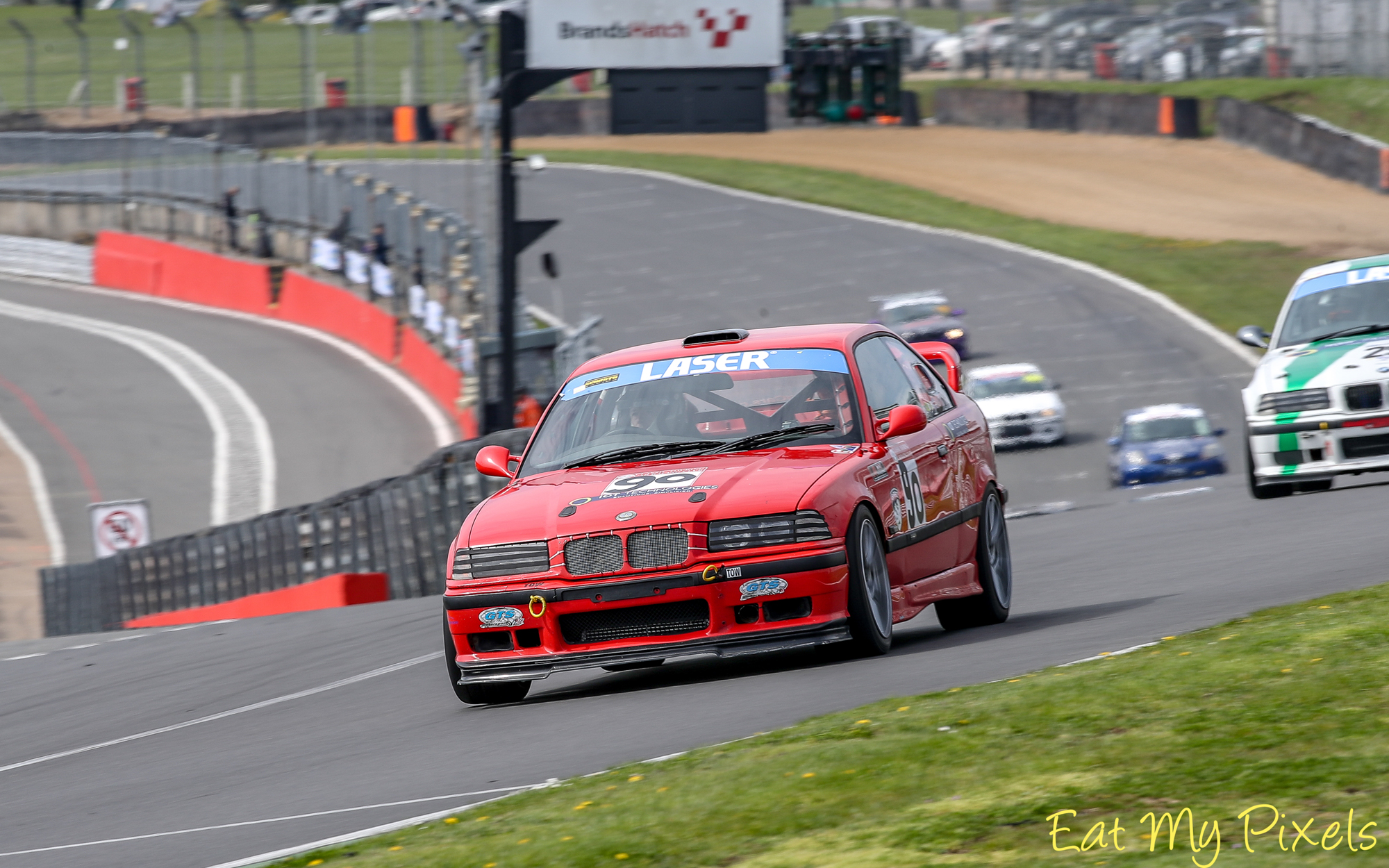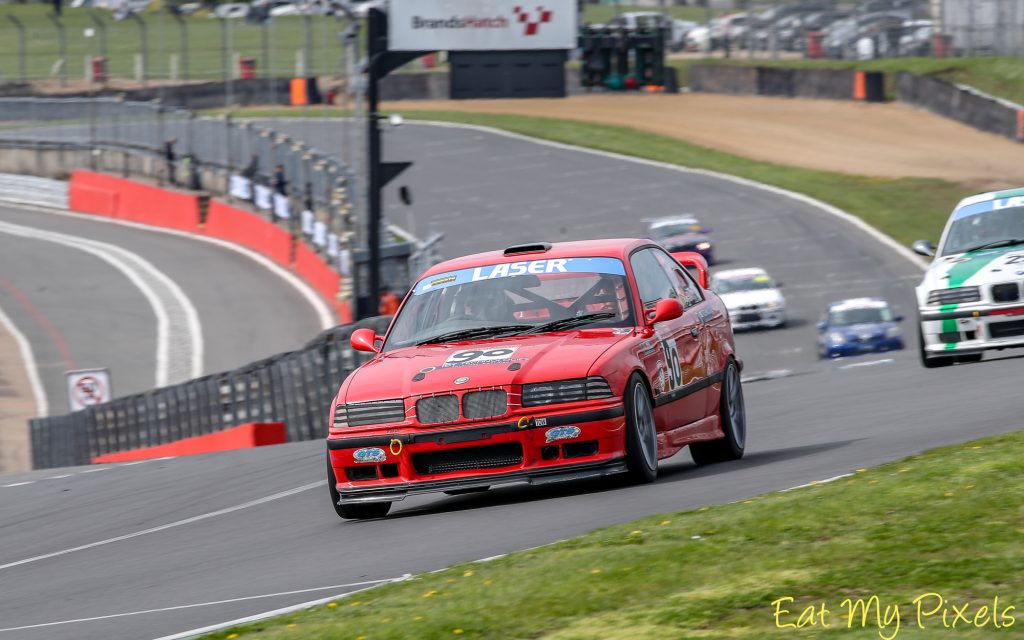 The race had been brought forward to allow for a second Classic Thunder thrash to be slotted in, but the early start did not suit Ian Bower. The 2021 champion was attempting an extraordinary feat over the weekend.
A keen runner, Bower took part in the London Marathon on Sunday morning with the intention of rushing back in time for the second race. Completing the famous event in less than three hours meant he would have been on target to fulfil his mission, but for the timetable change – and mechanical failure on Saturday.
After his own E36 M3 blew a head gasket at Silverstone, Bower was kindly lent the spare of newcomer Jay Olliff-Cooper, only for its gearbox to fail in Saturday's race.
"It was a fun plan and I kind of gave myself a 30% chance of it working, but I didn't account for the car breaking down or the races changing," smiled Bower, with Marathon medal around his neck. "Maybe next time."
Burty Haulage Pre-'03 Touring Cars
While Chris Southcott and Gary Prebble were the pacesetters, it was Ross Craig who came away with two Pre-'03 first-place trophies.
Southcott's Honda Civic EK3 pipped 2021 champion Prebble's EG version by just 0.003s in qualifying, with Craig a further 1.6s back. But Prebble was the first to hit trouble as he slowed with a misfire before the race was red-flagged.
That gave Southcott some breathing room to enjoy a scrap with the Pre-'93 cars in the restarted race. He initially dropped behind the fast-starting Kevin Willis before being passed by Oliver Owen too. But Southcott managed to demote Willis at Druids on lap 11 of 17 to take a clear third on track, some 25s ahead of Craig's Civic Type R EP3.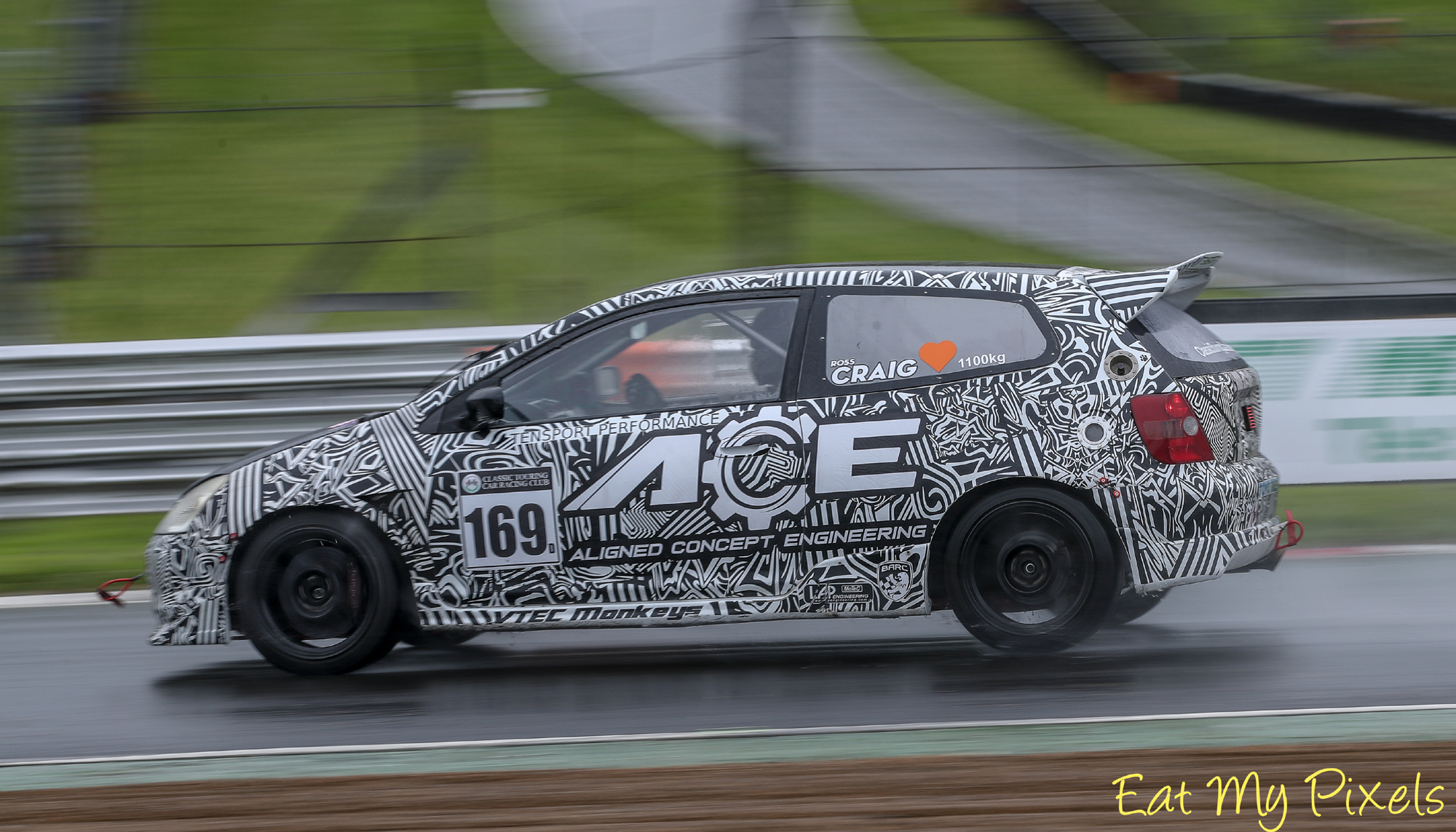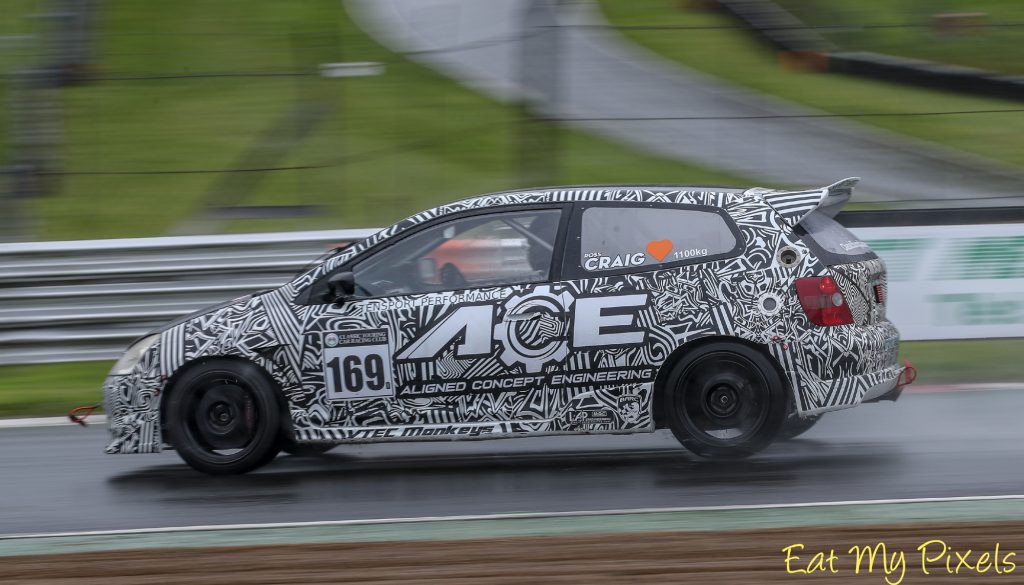 Southcott would not keep his win, however. With no catalytic converter fitted, he was excluded and sent to the back of the grid for race two, with a 10s penalty and transferred to the non-scoring guest class.
Craig, who spent the race among the BOSS frontrunners, thus inherited Pre-'03 victory from Class A winner Cavan Grainger (BMW E46 330ci) and James Alford's EK-shape Civic.
With both Prebble and Southcott at the back of the grid, Craig had a relatively easy run to complete his brace – if driving in those conditions could ever be described as easy!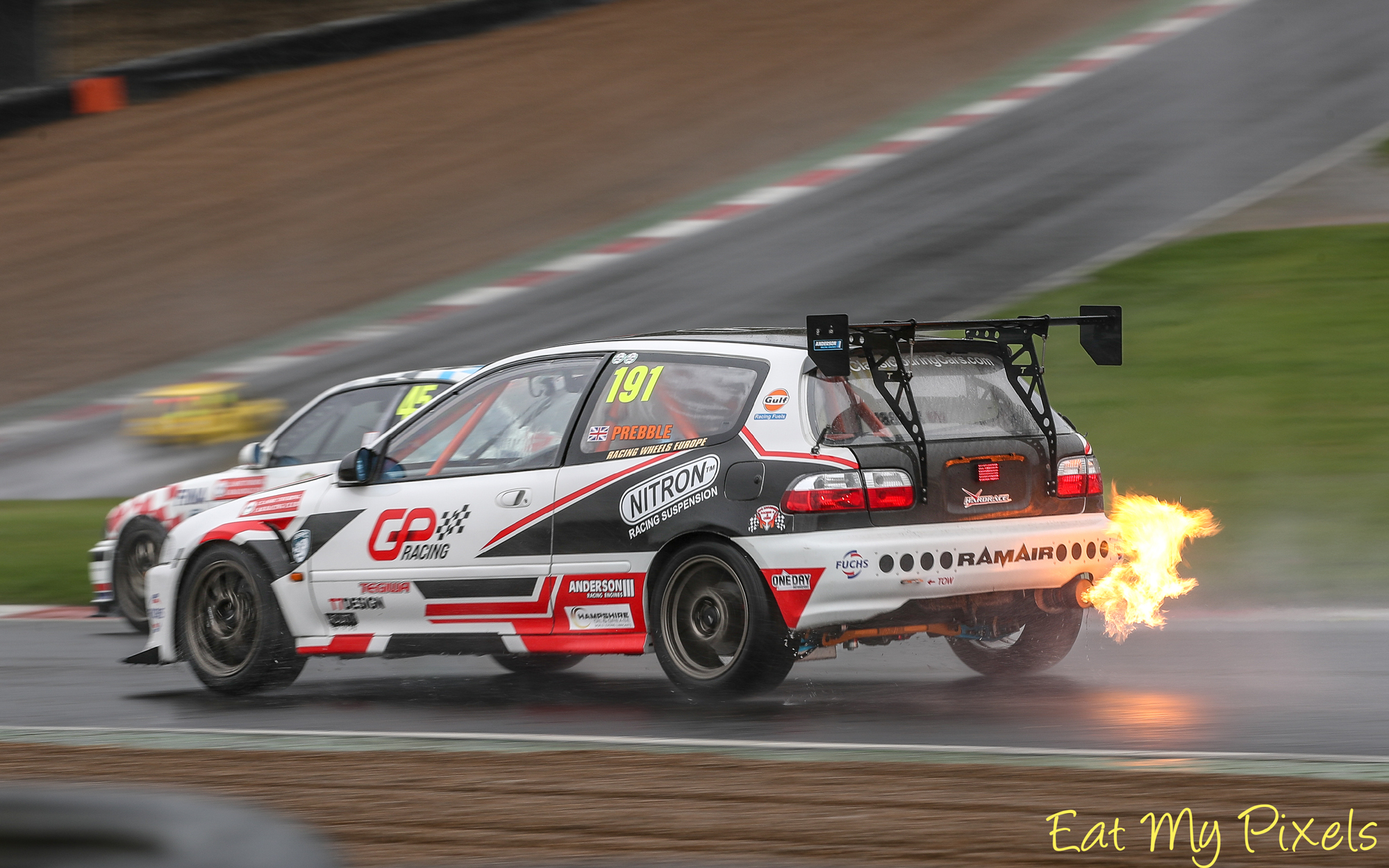 The Peterborough driver made a lightning start to give himself even more of a cushion to his pursuers and would go on to drive a strong race and put himself in a strong position in the points at this early stage of the season.
There was plenty of incident behind Craig, beginning with Southcott shooting into the gravel at Druids, causing a safety car. It wasn't a case of simply being too eager to make up ground; rather, he had been caught out by the timetable change and, in the rush, forgot to alter his brake bias to suit the wet conditions.
The Civic was dragged out of the gravel and rejoined the race two laps down but received a reprieve when octogenarian Pre-'93 racer Andy Smith suffered a heavy crash on Hailwood Hill, bringing out red flags.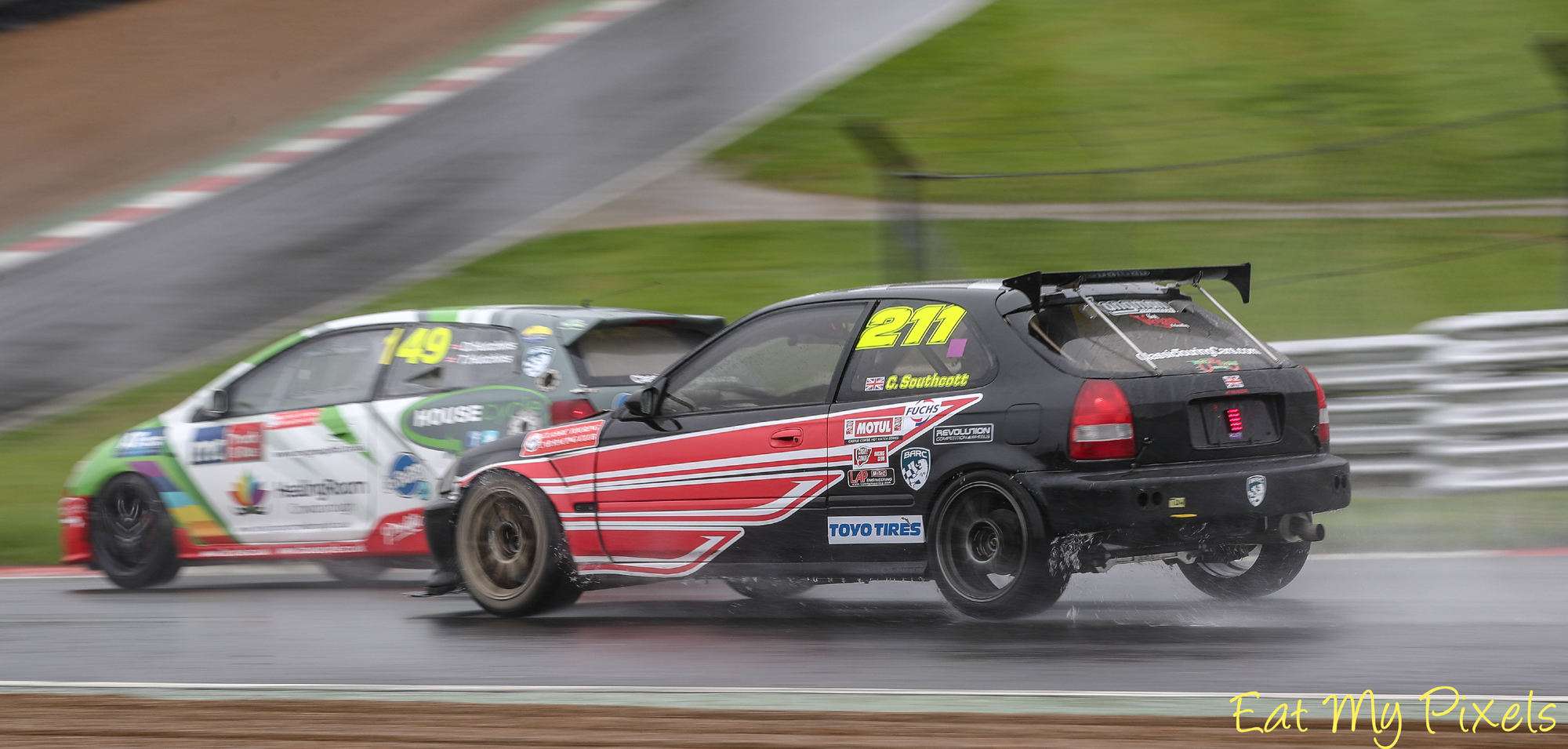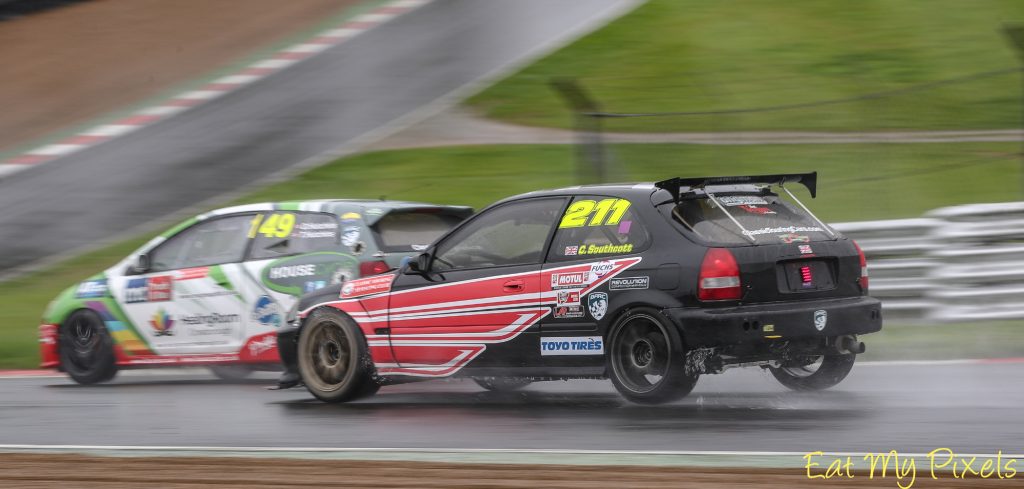 Southcott began the shortened restart from the pitlane but, crucially, back on the lead lap. He scythed through the field, setting fastest lap on his way to third in Pre-'03, just 0.3s behind second-placed Alford at the flag.
While Prebble's weekend got even worse with an engine blow-up, fourth in Pre-'03 – repeating his Saturday result – was Dave Hutchins' Civic, on his first appearance in the series.
Class A laurels went to Leigh Spencer (BMW 328i Sport), while Vic Hope (Civic) completed a Class B double.
Edmundson Electrical Classic Thunder
A fantastic 32-car Classic Thunder field made for a packed track. As well as the continued influx of BMWs, it was pleasing to see more unusual cars join the series too. But it was BMW-powered Bryan Bransom who scorched to a double in his E46 M3.
Bransom was edged to pole by Silverstone double winner Jason West's similar car. But the first attempt to run the race didn't last long. Behind West, Bransom and Jasver Sapra (E46 M3), Malcolm Harding (Ford Escort Mk2) and Rod Birley (BMW E36) made contact at Druids and Birley spun into the gravel, bringing out a safety car.
As the pack slowed, Joe Collier's spaceframe Peugeot 206 burst into flames on the grid hatchings. The first-year driver managed to extract himself, with only some melting to his race suit, allowing marshals to focus on quelling the inferno.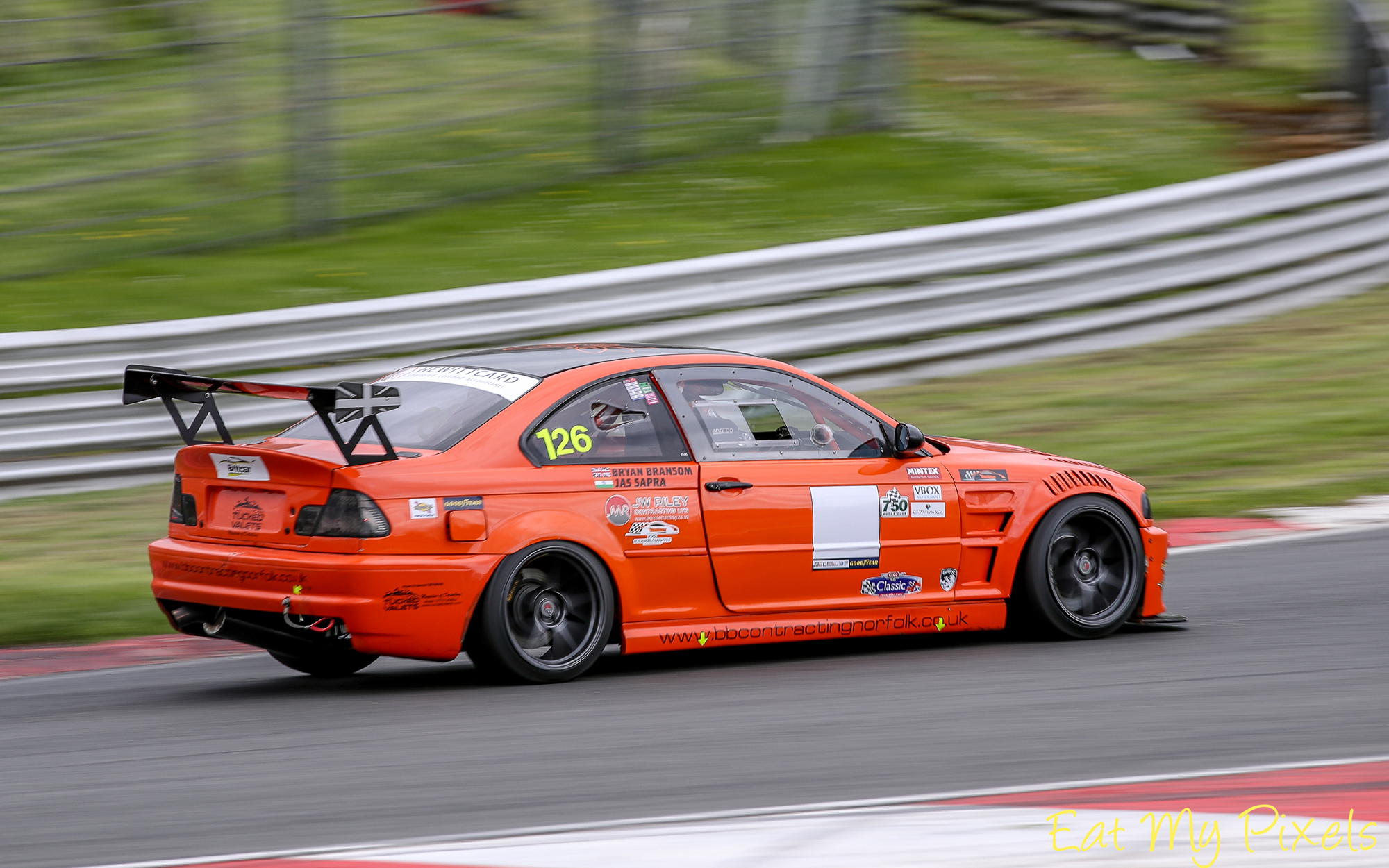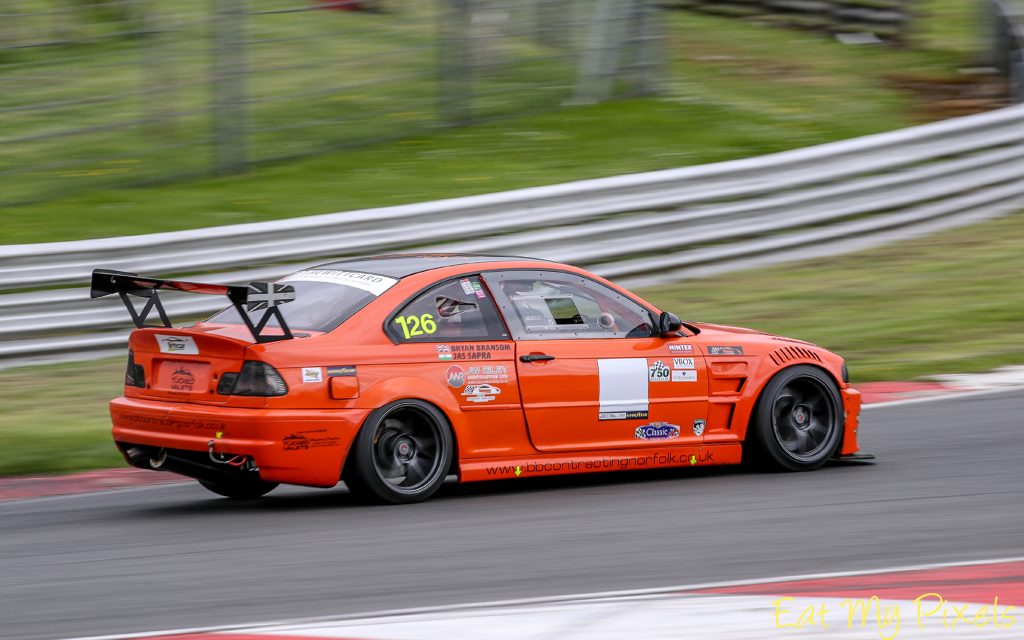 Collier had suffered a transmission failure which ripped through a fuel line. It took some time to extinguish the blaze and with further clear-up required, the decision was made to postpone the race to Sunday's schedule.
It meant that both Classic Thunder races would be run in wet conditions, which West's car seemed to take exception to. His hopes of further success went up in smoke on the grid when a head gasket blew and his car had to be pushed away.
When the field received the green lights for their rolling start, Sapra took advantage of the gap in front to get inside his mate Bransom and take the lead. But Sapra could not get his car to work in the conditions and began to slip back, eventually pitting after a spin on Clark Curve.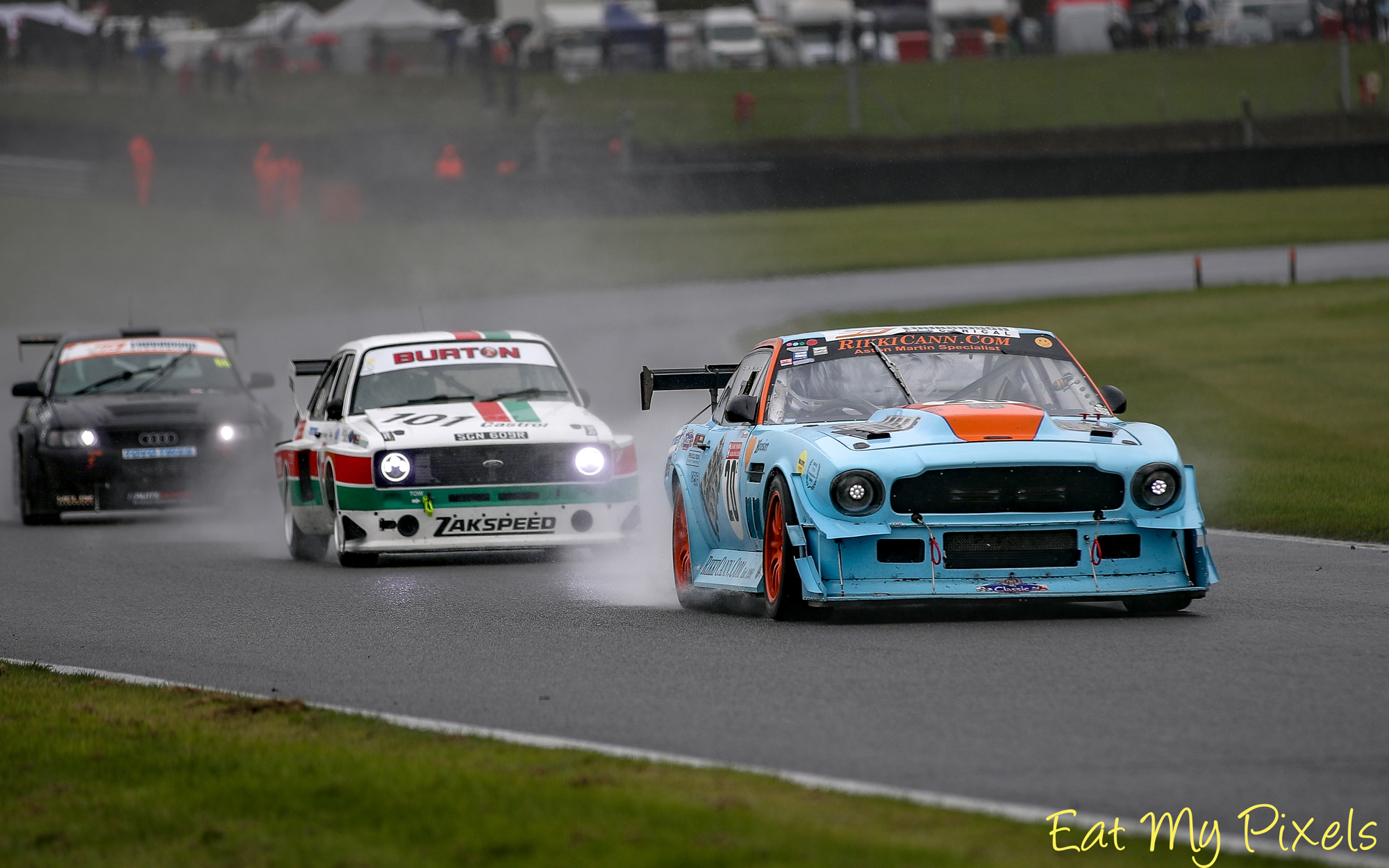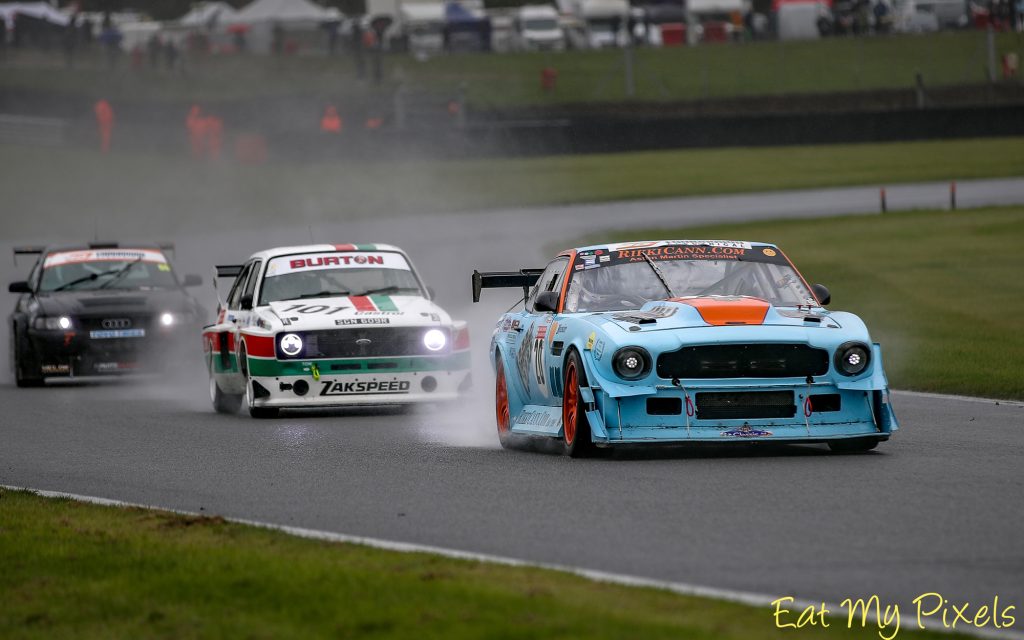 Bransom pulled clear and never looked threatened on his way to victory. Behind him, Harding, Sam Wilson (in Rikki Cann's Aston Martin V8 Vantage) and Nick Vaughan (Audi A3) enjoyed a close battle to decide the other podium spots. Wilson eventually got inside Harding to take second at Druids, with Vaughan repeating the move among traffic a lap later.
Unfortunately for Vaughan, Neil Oakley's Transporter-engined Volkswagen Beetle had fallen into the Clearways gravel causing a red flag which meant Vaughan lost the place on countback. Birley won Class A, despite slipping to eighth, just ahead of AJ Owen's Class C-winning sideways Civic.
Wilson got the jump at the start of race two but Bransom was quickly back in front and untroubled on his way to a 15s win. As Harding appeared to struggle, the battle for second became a dual between Wilson and Vaughan and it was Wilson who again prevailed in his historic-class Aston.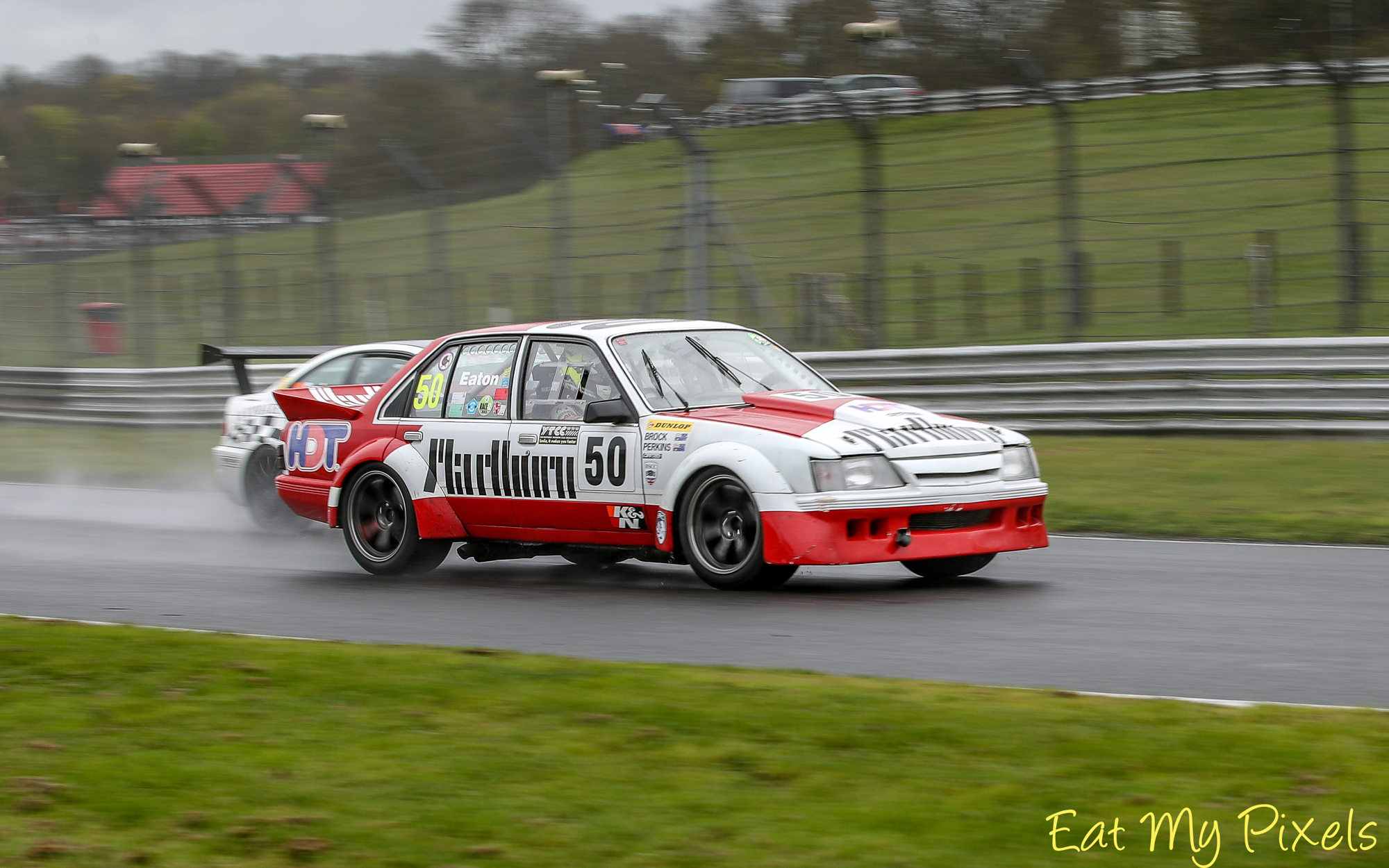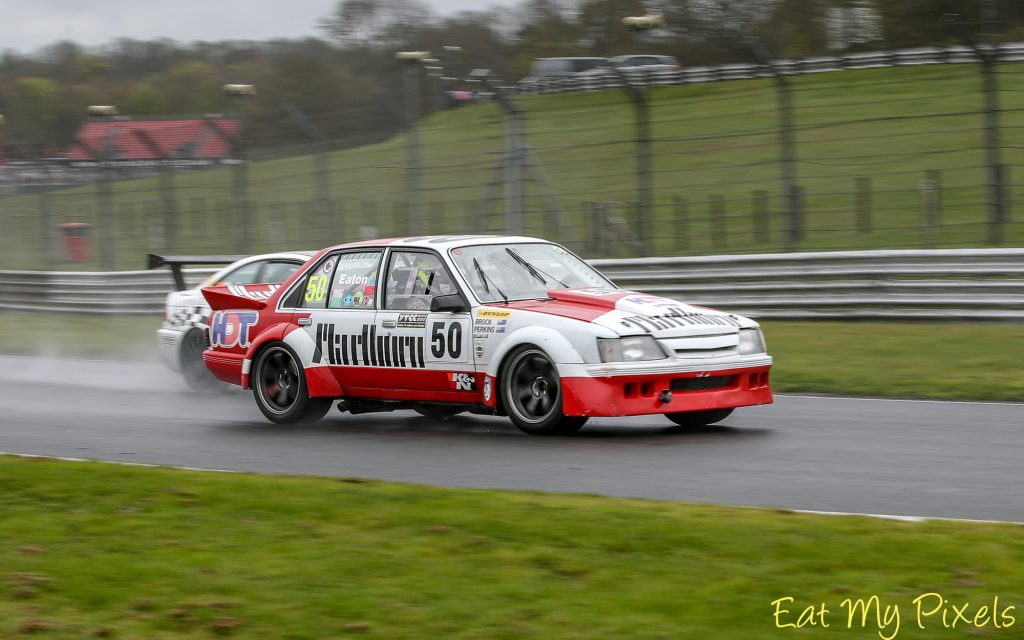 The Vantage's new-for-2023 big rear wing, as well as other fettling, look to have made it a contender in all conditions.
But the most eye-catching performance came from former British GT and W Series racer Abbie Eaton, once again piloting dad Paul's classic Holden Commodore VH. After struggling for grip in the morning, they fitted new wet tyres for the afternoon race.
Abbie made the most of them, flying through the field and taking fourth overall by passing Harding at Graham Hill Bend.
Sapra was sixth, ahead of an almighty scrap between the BMWs of Bradley brothers Adrian and Ronan. In Class C, David Jefferson (M3) edged Andy Thompson's Super 2000 SEAT Toledo to the honours as Owen struggled for grip.
Full results are available via the TSL website.
All images courtesy of CTCRC official photographer Steve Jackman/Eat My Pixels