Season 2023 kicked off with a fantastic opportunity for Classic Touring Car Racing Club to experience the famed Silverstone Grand Prix circuit.
Amid tricky conditions, especially on Sunday, it was a weekend enjoyed by all with plenty of drivers getting their championship campaigns off to fine starts. They included 10-time champion Stephen Primett who took a Pre-'83 double.
Orange Aero Pre-'83 Group 1 Touring Cars
Stephen Primett began his quest for what would be an astonishing 11th title with a pair of wins in his Ford Escort RS2000 Mk1 but he was given a thorough workout by Will Davison (BMW E30) and Jonathan Corker (Datsun 510).
Primett set the pace in qualifying on the 3.66-mile circuit, with Corker joining him on the front row of the grid. Corker's little Datsun, a winner on the Brands Hatch Indy circuit last year, was making a welcome return to the fold with a new engine sourced from Japan after it blew its previous motor last summer.
The second row comprised Davison and Mark Cholerton (Ford Escort RS2000 Mk2), and it was Davison who got the jump to lead away.
Primett was back ahead by the end of the lap though and, following a safety-car period when the fuel pump on Mark Osborne's Triumph Dolomite Sprint failed, Primett and Davison engaged in a battle royale.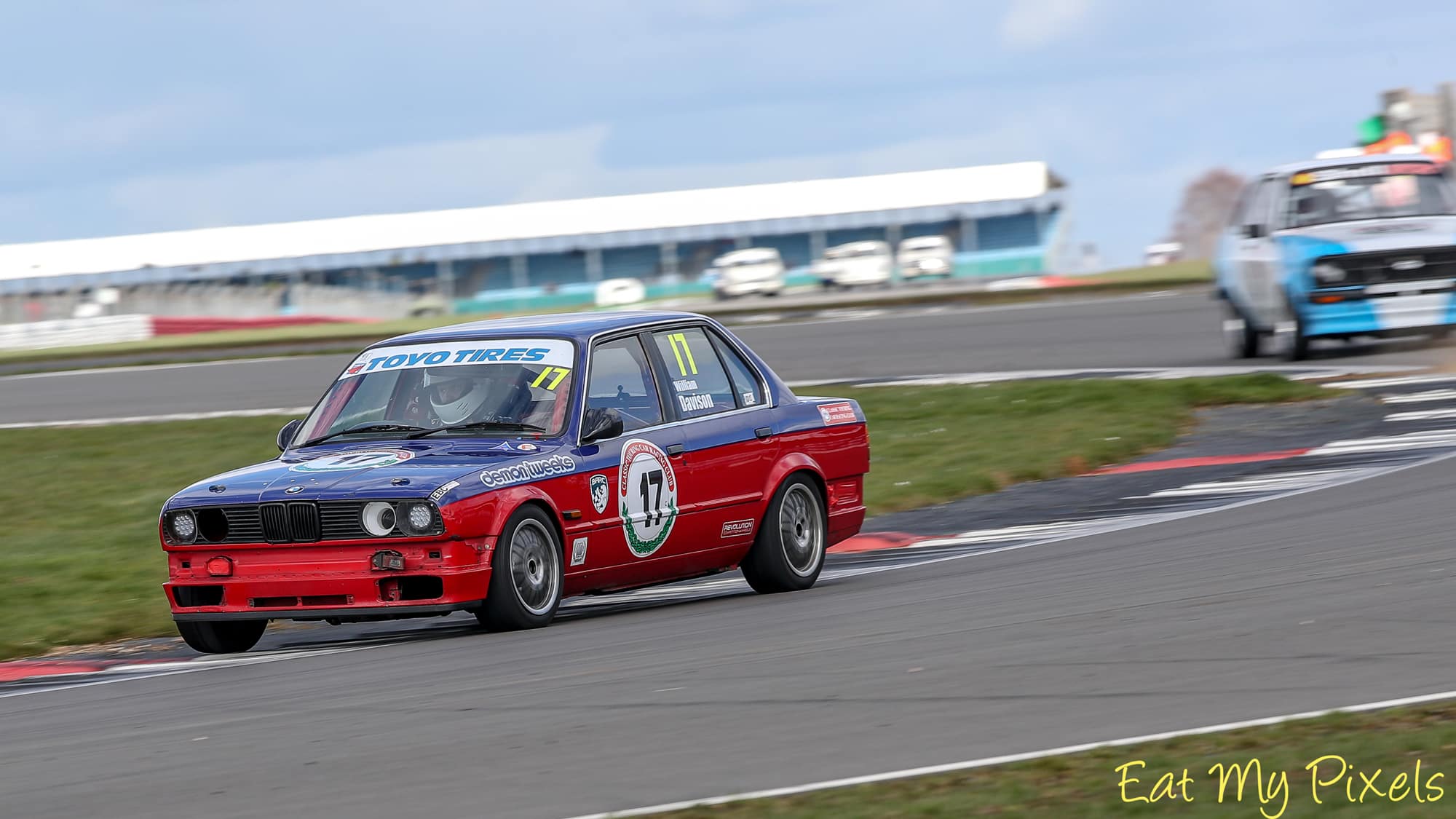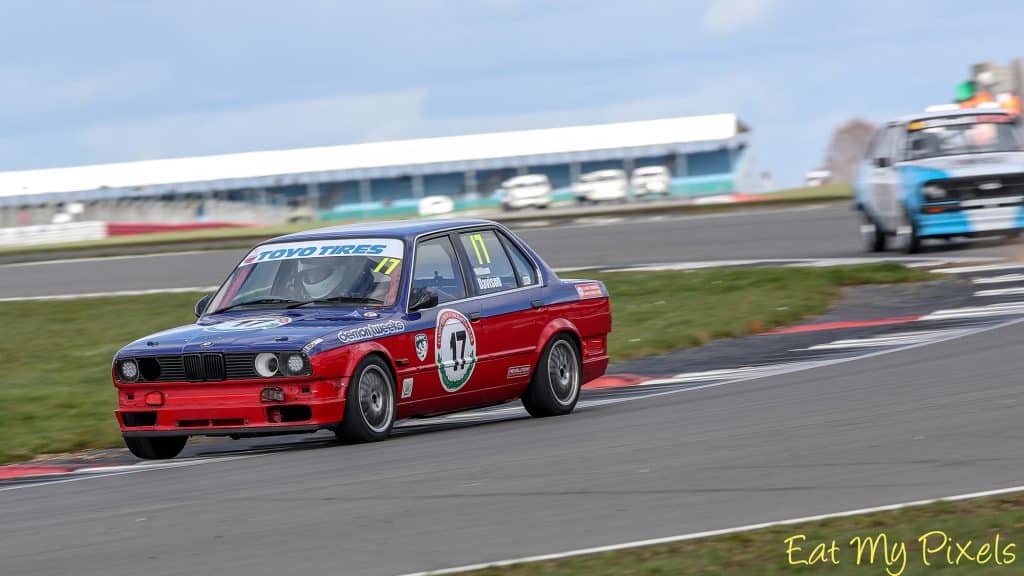 The duo traded places multiple times, including on the penultimate lap when Davison got a run through Club and passed Primett on the Hamilton Straight.
Primett got back alongside on the Wellington Straight and made the move stick at Brooklands. Davison then ran slightly wide at Woodcote to relieve the pressure and Primett brought the Escort home to win.
Behind them, Corker dropped back as he struggled to select fourth and fifth gears. He then mounted a stirring recovery, setting multiple fastest laps and throwing it inside Cholerton at Brooklands on the final lap to clinch third. The Escorts of Graham Smith and Jason Christie completed the top six.
Corker fitted a spare gearbox on Sunday morning which allowed him to join Primett and Davison in the lead battle for the 25-minute race. The trio put on a fine show with multiple position changes, including Corker jumping from third to first in one move at Abbey, before Davison began to fall back.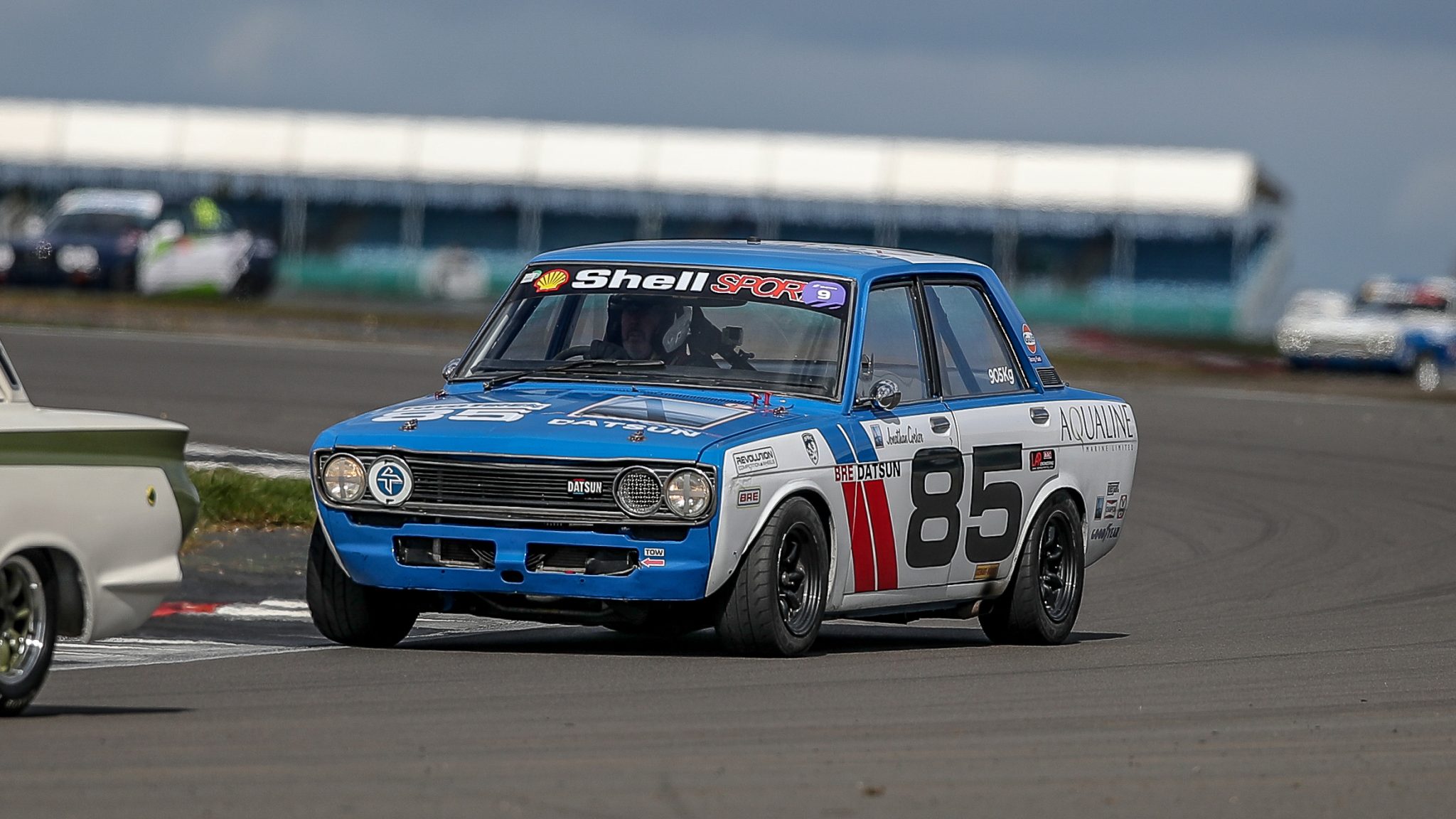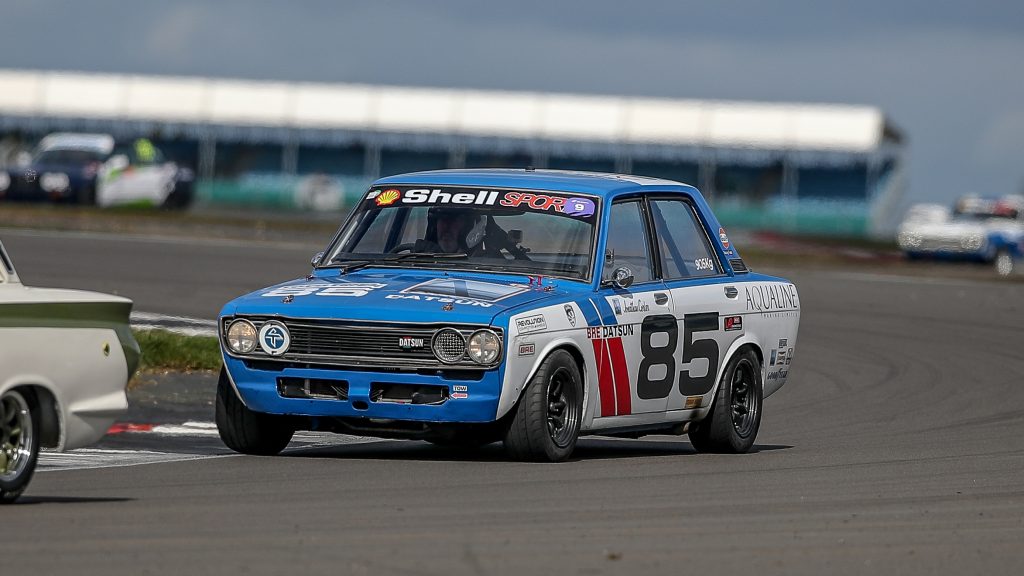 Primett and Corker continued to exchange the lead but it was Primett who won via a move at Stowe after Corker had just squeezed ahead at Becketts. Davison completed the podium ahead of Cholerton, with Christie this time getting the better of Smith for fifth.
Carl Shreeve (Dolomite) had been running in sixth but unfortunately wasn't carrying enough fuel to complete the longer race. Osborne also again hit trouble in his 'Dolly', a lack of oil pressure the culprit this time.
2006 champion Don Hughes drove to an impressive seventh in Pre-'83 in Saturday's race as he won Class D, but a Sunday misfire prevented a double.
Anton Martin therefore took the honours despite a windscreen damaged by debris the day before. Dave Thomas twice prevailed in the Ford Capri battle for the laurels in Class B in his Mk1 complete with new engine after last year's blow up.
Poultec Pre-'66 Touring Cars
Running alongside the Pre-'83 cars was a healthy field of Pre-'66 runners including a pair of American V8s that were able to stretch their legs around the Grand Prix circuit's expanses.
Canadian Pete Hallford (Ford Mustang) twice prevailed over former British Touring Car racer Alan Greenhalgh (Ford Falcon Sprint) as the pair battled with smaller Pre-'83 cars around them.
"It's a good spectacle when it's sliding around a lot," said Hallford.
In Saturday's encounter, Greenhalgh only just edged Class F winner John McGurk (Lotus Cortina) but McGurk was sidelined on Sunday, giving the Falcon an easier run. So it was Billy Kenneally's Ford Anglia, fourth overall and Class C winner, that came closest to a giantkilling in race two.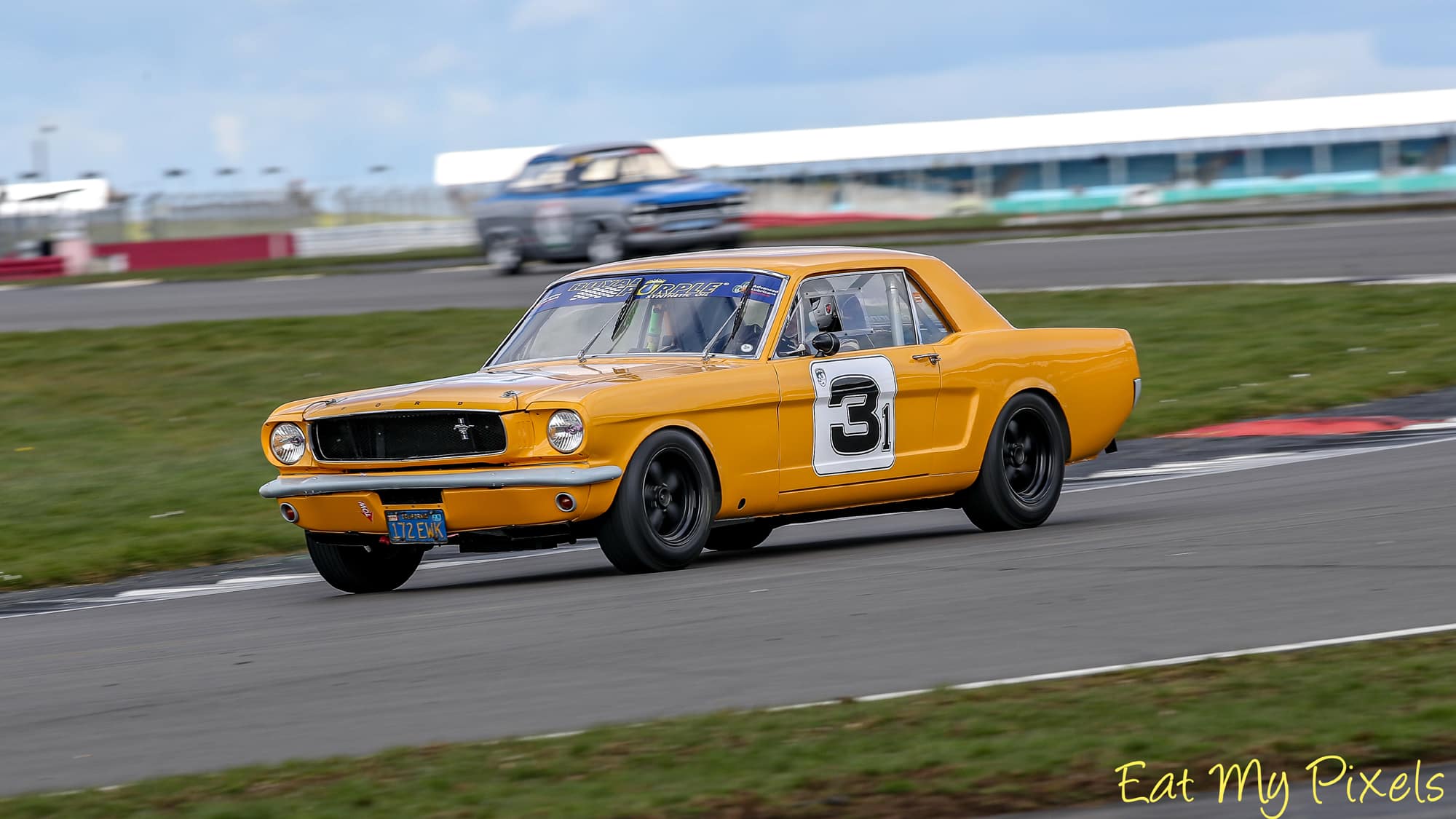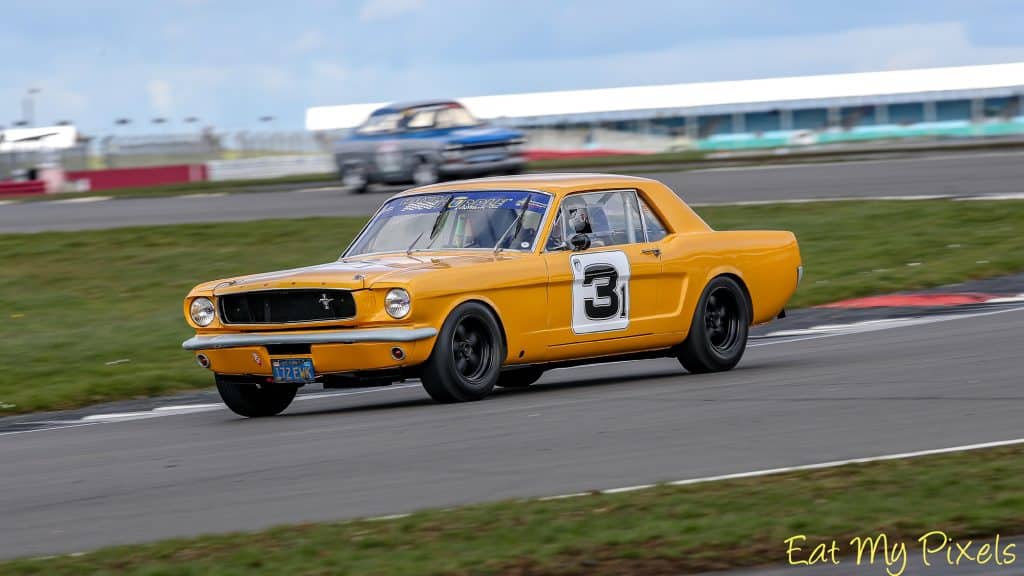 Billy's father Pat, who had been shadowing his son in the opener before spinning off at Becketts, took Class F honours in fourth overall. He was beaten on the road by Garry Townsend's similar Cortina only for the Rugby man to be slapped with 15 seconds of track-limits penalties.
Newcomer Will Egby (Hillman Imp) won Class E as the sole starter on Saturday but did not manage to finish a day later.
In Class D, Luc Wilson's overall championship defence got off to a bad start when his Austin A40's water pump failed, but he returned to take the honours on Sunday after Jim Henshaw's Morris Minor had done the day before.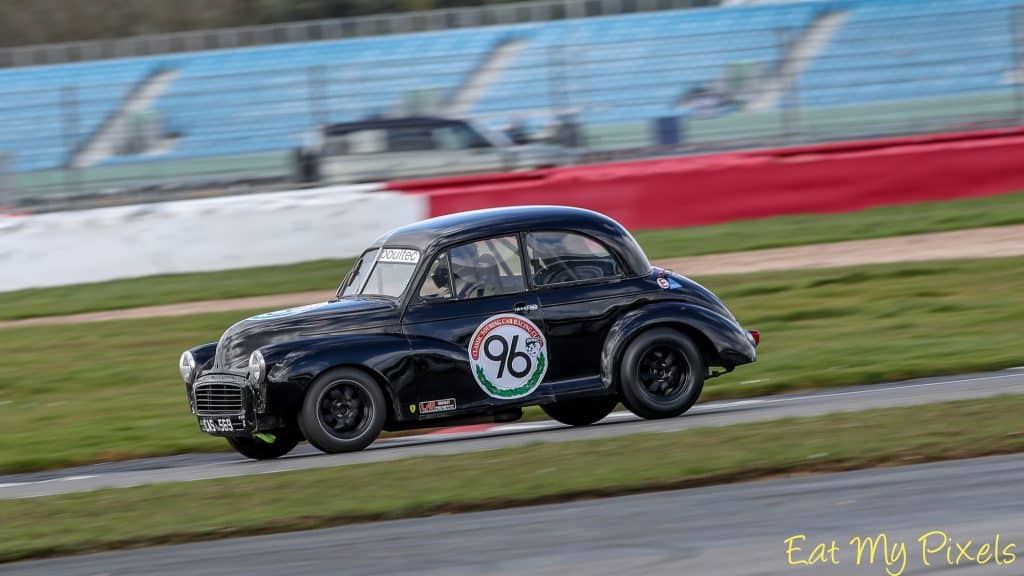 Edmundson Electrical Classic Thunder
A terrific entry of Classic Thunder machinery included a large number of powerful BMWs in Classes A and B. It was one of those, the E46 M3 of Jason West who streaked to a victory double on his first appearance since last season's opener.
West was beaten to pole position by the mighty Ford Falcon V8 Supercar of Andy Robinson, who had also been sidelined for a year. But West streaked away on the rolling start and, when Robinson locked up at Becketts, it gave him a small buffer over the Falcon and Nick Vaughan (Audi A3).
Vaughan's Audi, now with a new engine after its Snetterton demise last year, managed to find a way past the big Falcon. A recovering Bryan Bransom (M3), who had had a moment at Copse, and Sam Wilson (in Ricky Cann's historic-class Aston Martin V8 Vantage) then did likewise.
The race was interrupted by a lengthy safety-car period after contact at Vale between Neil Philpotts (Mitsubishi Starion) and Kirk Armitage's E36 M3, during which Joe Collier's spaceframe Peugeot 206CC also expired.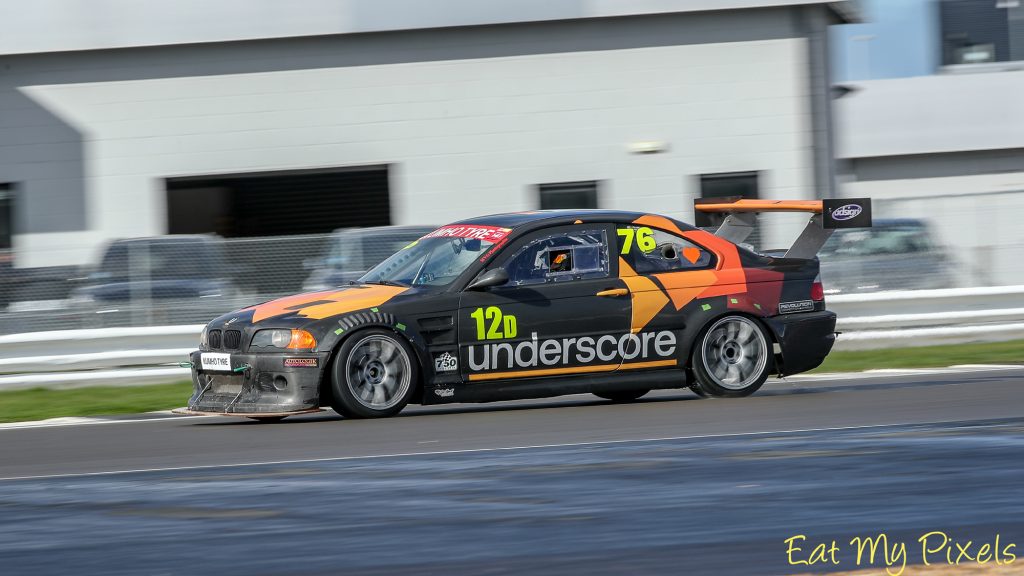 On the resumption, Vaughan sniffed his chance and a made a move at Copse but overdid it and ended up in the gravel. West and Bransom were then able to stretch their Beemers' legs before a red flag ended the race early as marshals dealt with the smoke billowing from Collier's car.
Robinson was fourth, ahead of Jasver Sapra (M3) and Simon Light's mighty V8-powerd Ford Capri.
Bransom got the better start in Sunday's wet rematch and just held off West's run down the Hanger Straight and into Stowe. But a lap later, West drew alongside on the outside line at the fast right-hander and made the move stick into Club.
West held firm under race-long pressure from Bransom – who reckoned too-long gear ratios were hampering his drive out of corners – to secure a brace, the pair not far off a minute up the road from third-placed Wilson who once again won the historic class.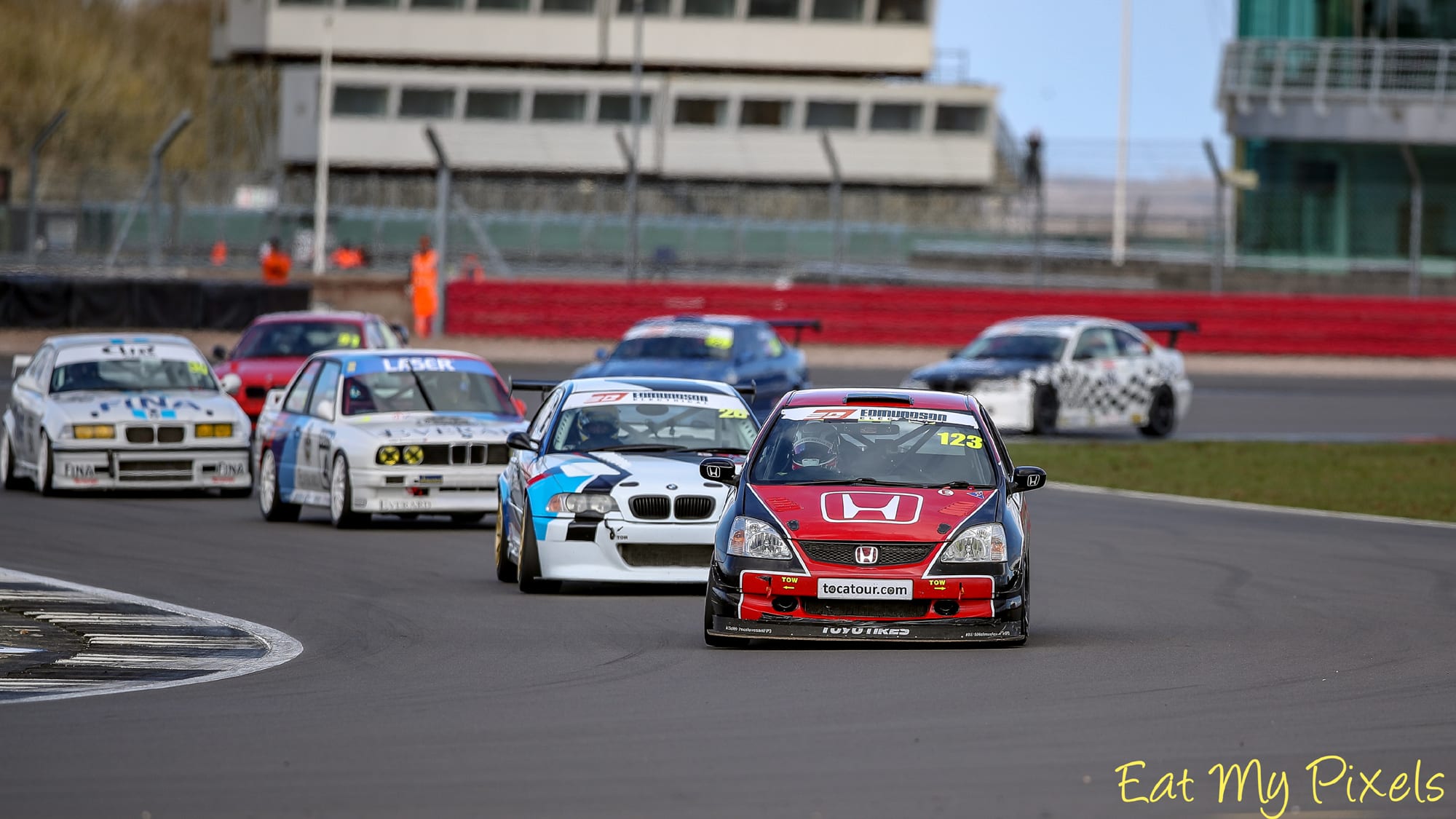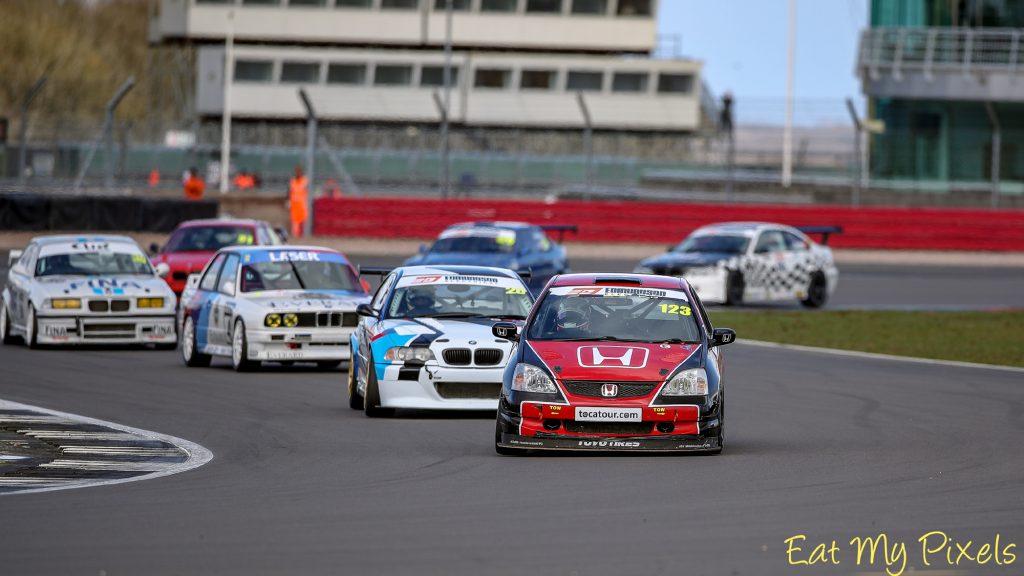 "That was brilliant," beamed West, who after his fine start to the season, looks set to mount a championship challenge this year. "Bryan kept me very, very honest."
Wilson's closest challenger Light had to pit when his windscreen steamed up and visibility became too poor. A similar fate befell Robinson who got oil on his screen too, with the jovial north-easterner unwilling to take further risks in his valuable machinery.
Sapra was fourth ahead of AJ Owen who completed a Class C double, his little Honda Civic revelling in the conditions to defeat much more powerful machinery. After their Saturday retirements, Vaughan and Armitage both charged through from the back of the combined 40-car grid but were only able to reach the fringes of the top 10.
Berkshie Jag Components Jaguar Challenge
On the same grid as Classic Thunder, the Jaguar Challenge got its second season as a fully-fledged CTCRC championship under way with a double win for 2021 JEC champion Mike Seabourne.
With reigning champion Tom Robinson having parked up his supercharged XJR6 for the time being, James Ramm having not finished an engine upgrade on his XJS, and Colin Philpott hitting issues in testing, the door was open for some different drivers to set the pace in the category.
The charge was led by Robinson's younger brother Jack at the wheel of Swallows Racing's new XK. The 4.2-litre V8-powered machine was built up from scratch over the winter by the Somerset squad with exquisite attention to detail.
Plenty of work has been done on the chassis to perfect its weight distribution and balance while keeping the engine standard.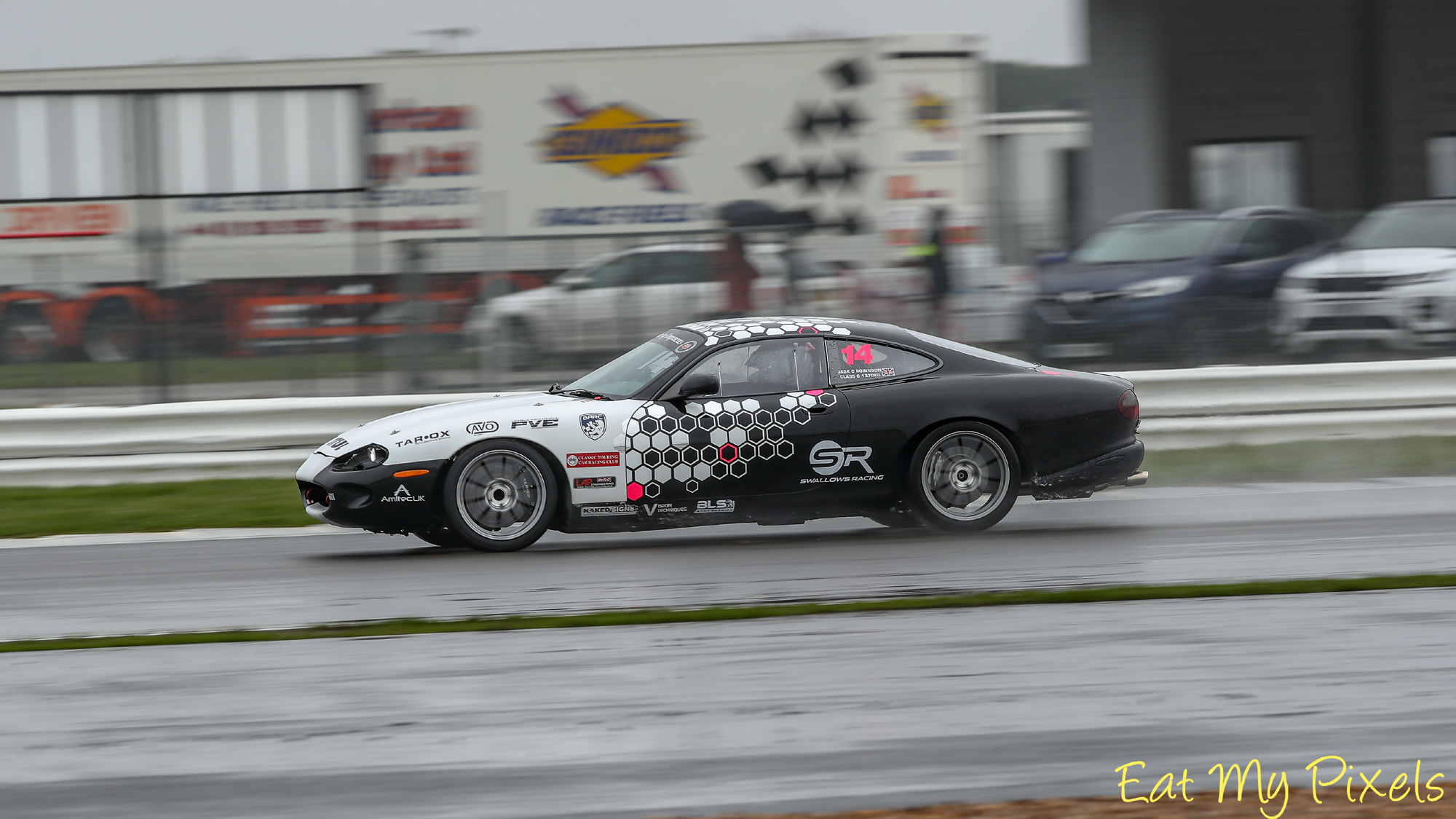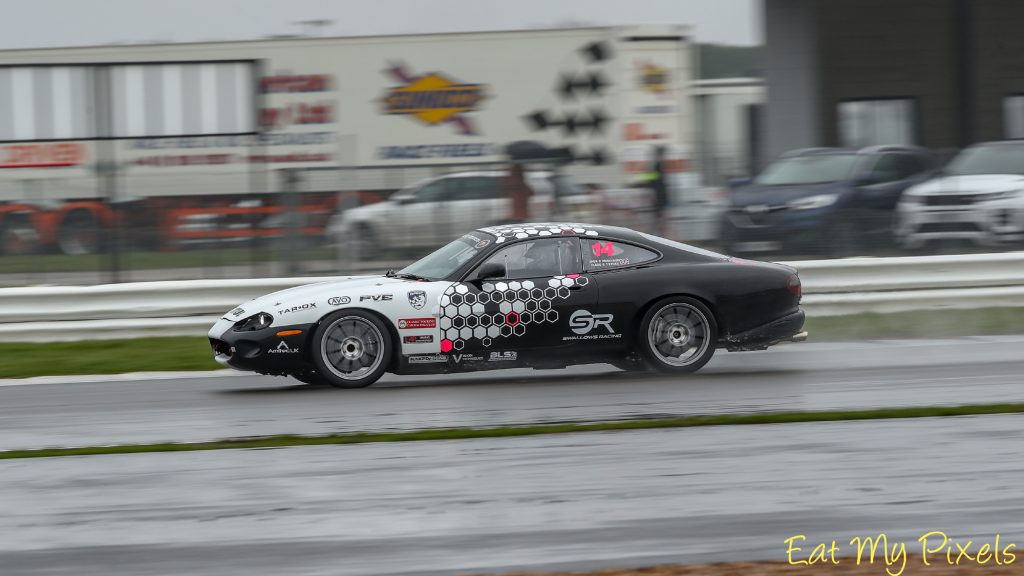 Robinson Jr rewarded the team's hard work by qualifying fastest. In the race, the sophomore driver had to settle for third, albeit a class win, beaten by Seabourne and Connew.
Seabourne, borrowing the sadly sidelined Derek Pearce's XK8 while his own XJS continues to undergo work, was delighted with his maiden overall victory ahead of Connew's more powerful Quaker State-inspired version.
"I'm not going to be disappointed to have beaten the Swallows 'spaceship' because they're reinventing the wheel again," smiled Seabourne. "That car's not going to be beaten many times this year, I'm sure."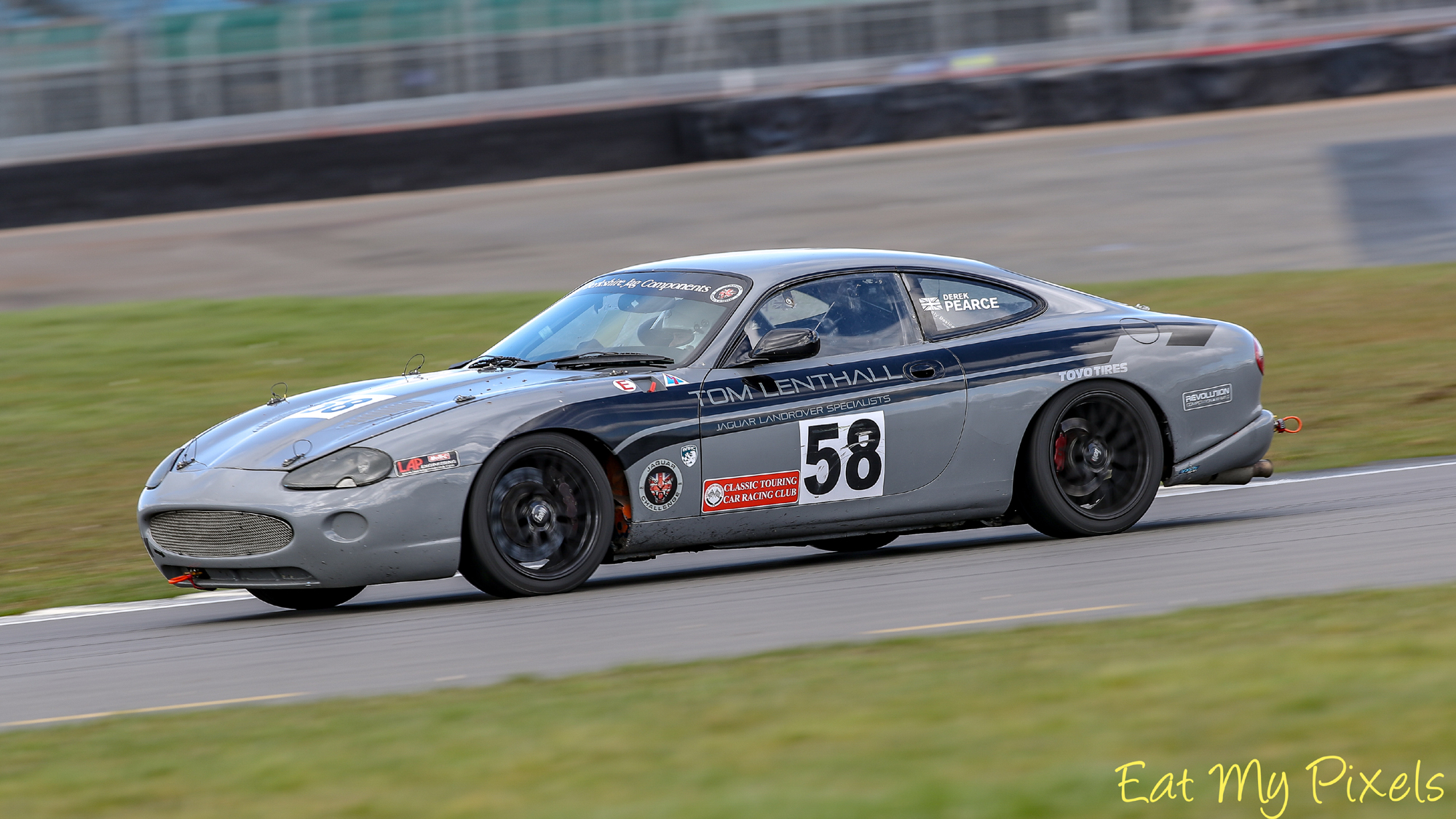 Robinson, still seeking to optimise the set-up on his XK, as well as getting himself used to a very different car than the XJ40 he piloted last year, reckoned Sunday's wet conditions would suit him better.
And so it proved as Robinson got the jump and held firm to beat Seabourne across the line by just half a second.
He wouldn't keep the win, however, as he was adjudged to have overtaken under yellow flags and handed a 9s penalty. That dropped him to second with Connew completing the podium, all three winning their classes again.
Burton Power Blue Oval Saloons Series
The BOSS field also shared track time with their regular counterparts in Classic Thunder although their entry was somewhat thinner than usual for a variety of reasons.
It meant that Mike Manning had relatively little competition from among the BOSS ranks as he powered to a dominant double in his Sierra RS500. The Welshman instead enjoyed tussling towards the front of the Thunder pack.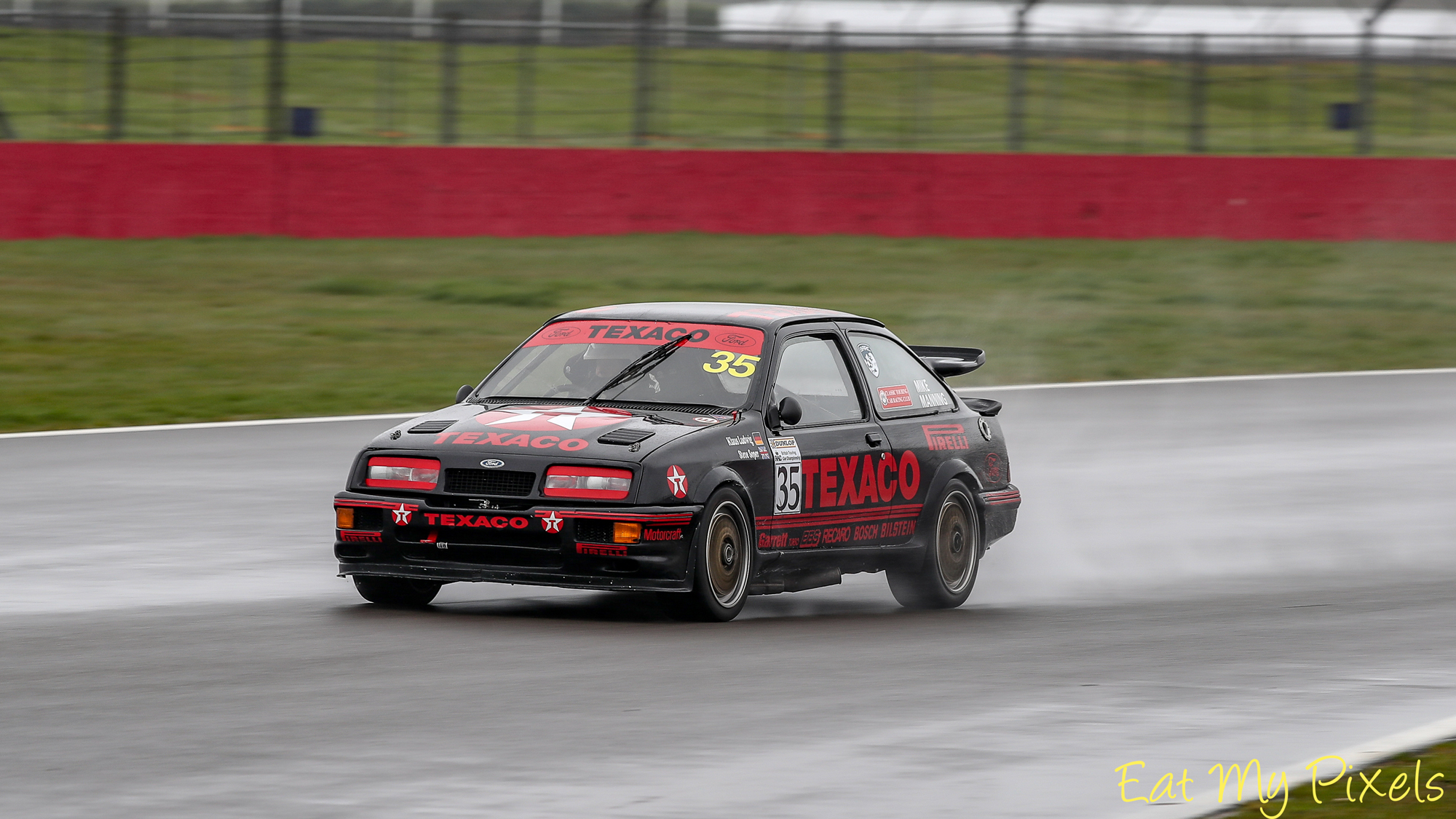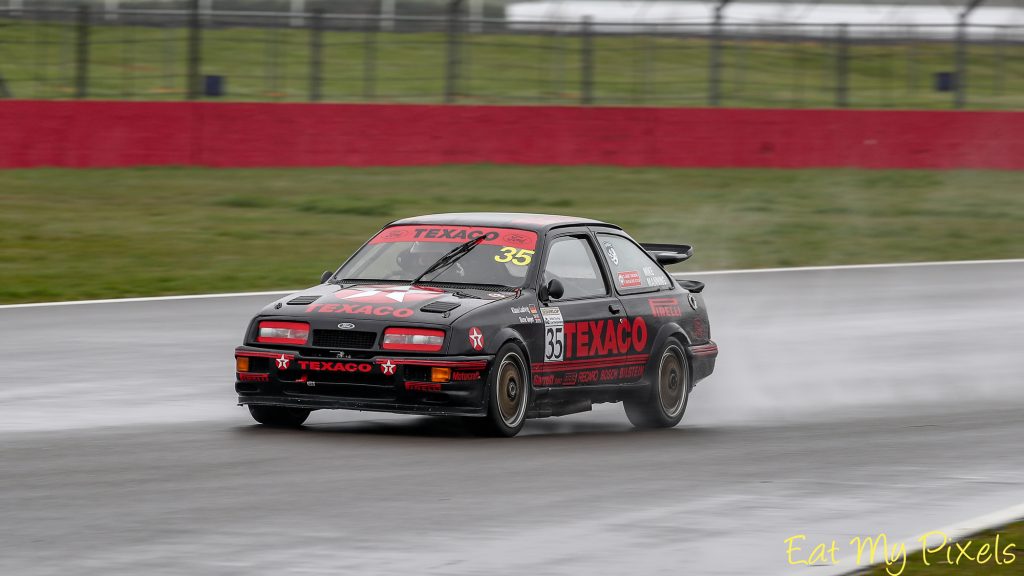 Behind the glorious Texaco-liveried machine, Craig Owen was second on Saturday in his long-serving Sierra Cosworth, while Sam Daffin (Fiesta) won Class C and was third in BOSS. Will Hunt was 10s clear of reigning champion James Dunkley to win Class D.
In the sequel, while Manning was again a long way up the road, Dunkley showed his wet-weather prowess to finish second in BOSS ahead of Owen, Daffin and Hunt.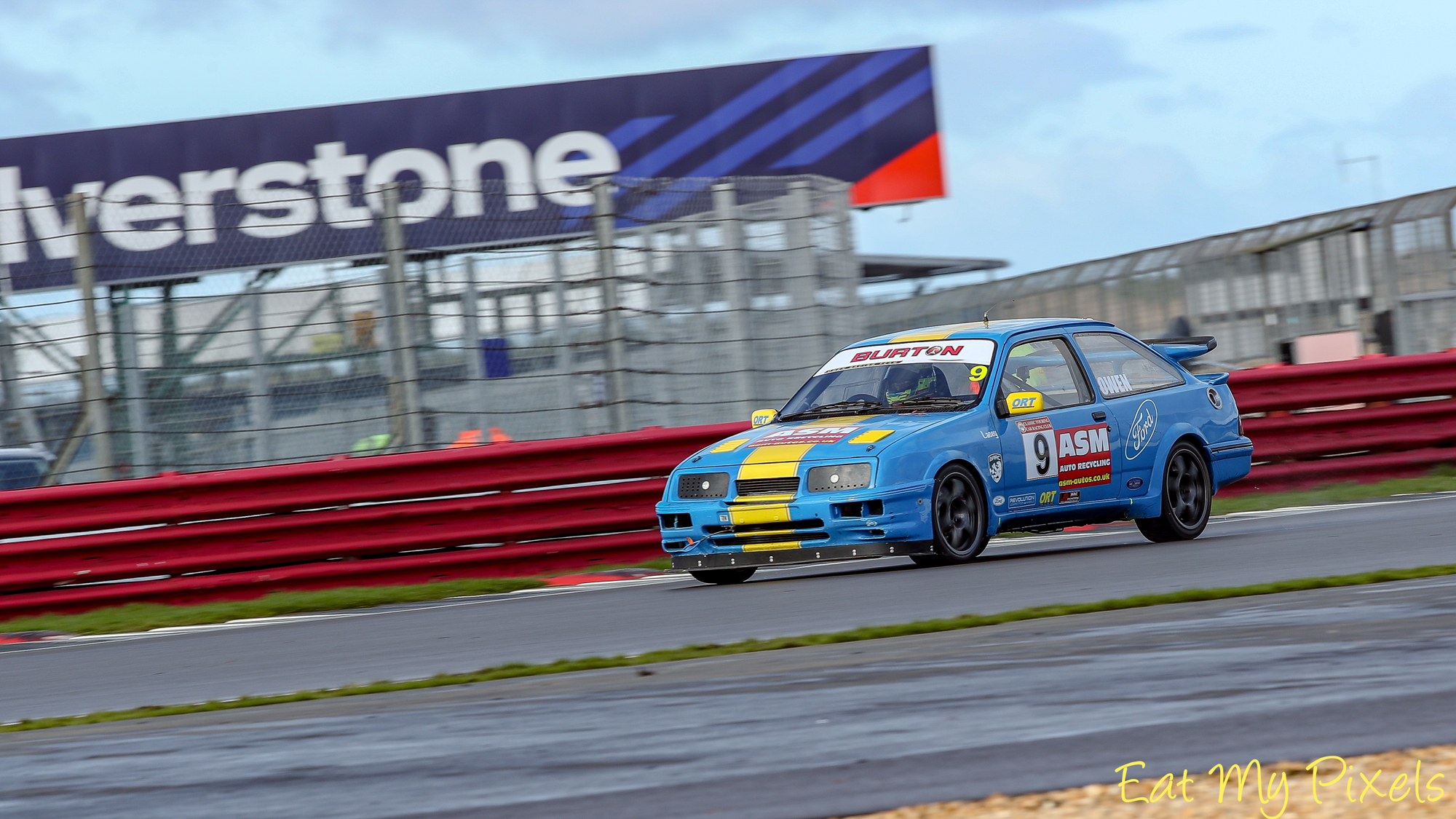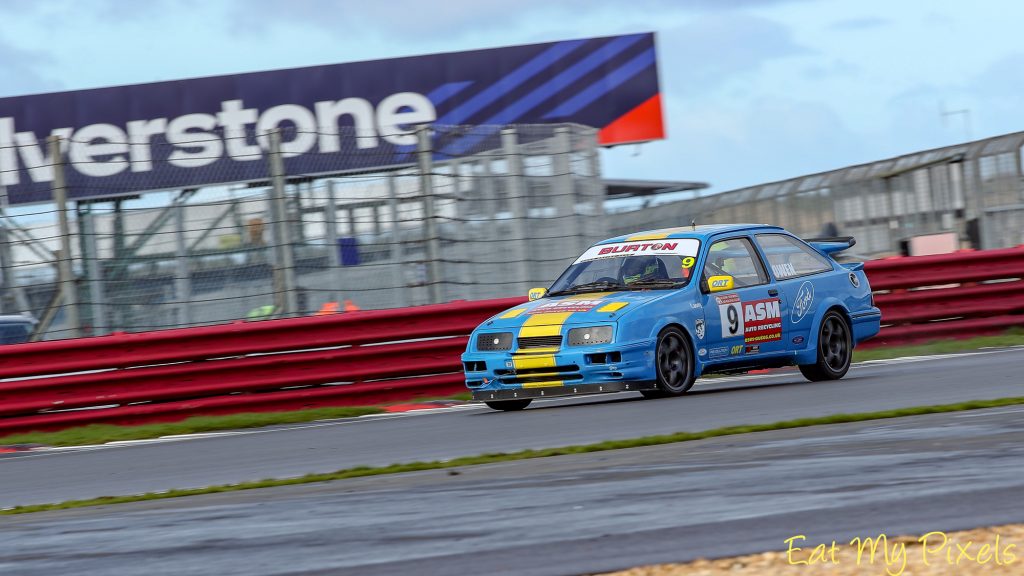 Laser Tools Super Tourers
Various mechanical issues, including for at least one car set for its series debut, combined with some drivers not wishing to risk their precious machinery before July's much anticipated festival at Brands Hatch, disappointly made for a very thin field of Super Tourers.
Saturday's rainfall was poorly timed for the high-tech slick-shod masterpieces of 1990s engineering. Drops of rain as the race got under way quickly gave way to heavier precipitation and tricky conditions.
Polesitter Jason Hughes (Vauxhall Vectra) ran side-by-side with Richard Wheeler (Nissan Primera GT) through the first corner at Copse.
The Vauxhall then edged ahead of Wheeler and the sister Nissan of period star Anthony Reid into the Maggotts/Becketts complex and the trio stayed in that order for the remainder of the first lap.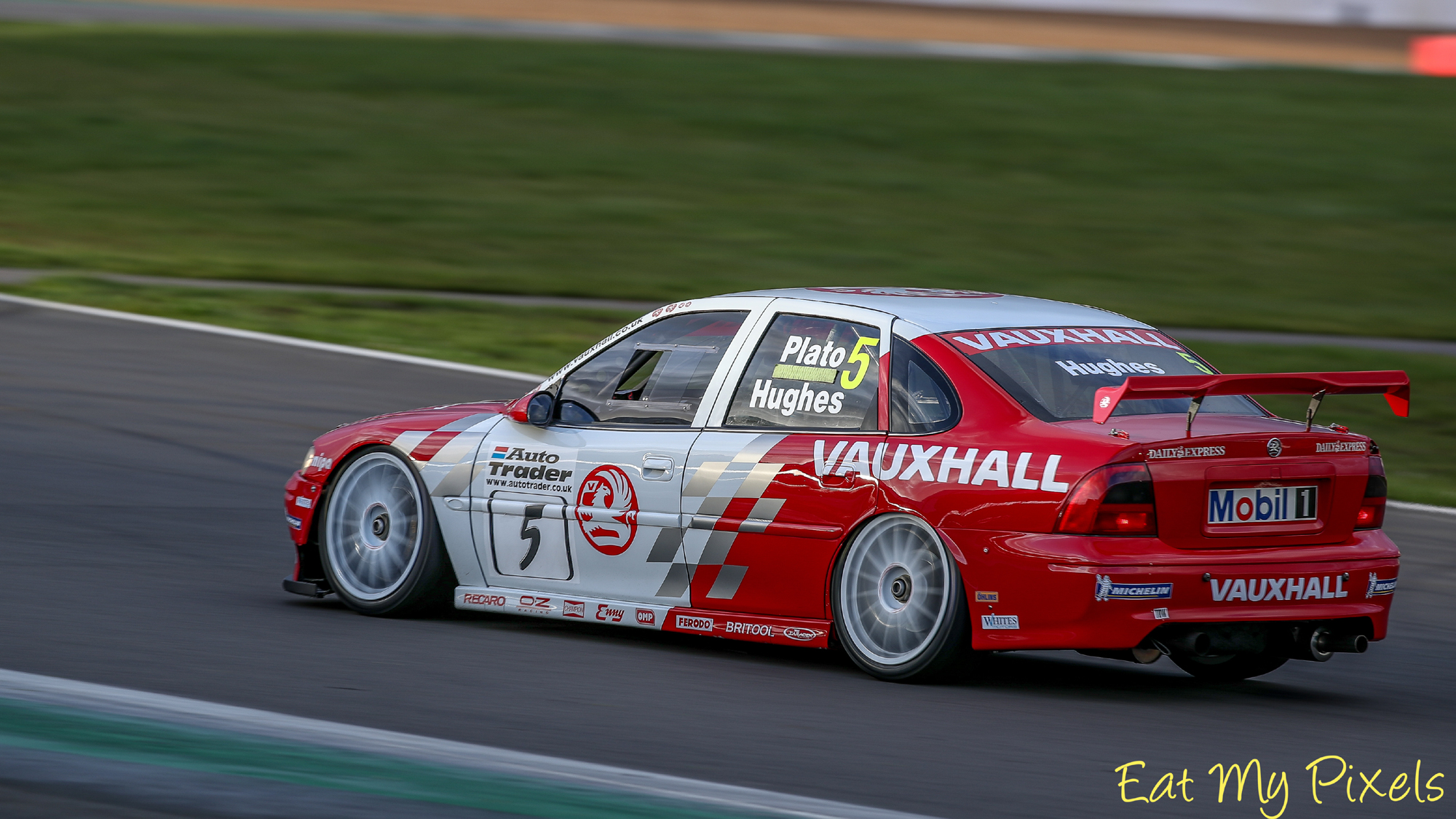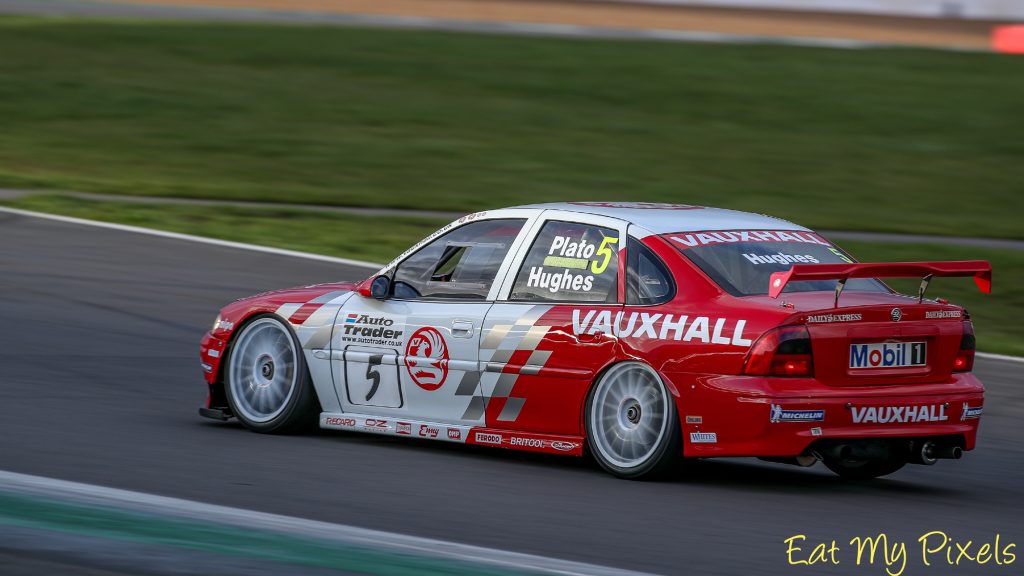 Then it all went wrong for the Nissans. With a lack of grip, Wheeler spun into the gravel at Copse before Reid pulled off into the Wing pitlane with a suspected blown valve.
The resulting safety car did not help Hughes keep temperature in his rapidly cooling slicks and he lost out to the leading runners from the Pre-'93 and Pre-'03 categories on the restart.
But Hughes brought the car home safely to record a second win in the series he played a major role in getting off the ground.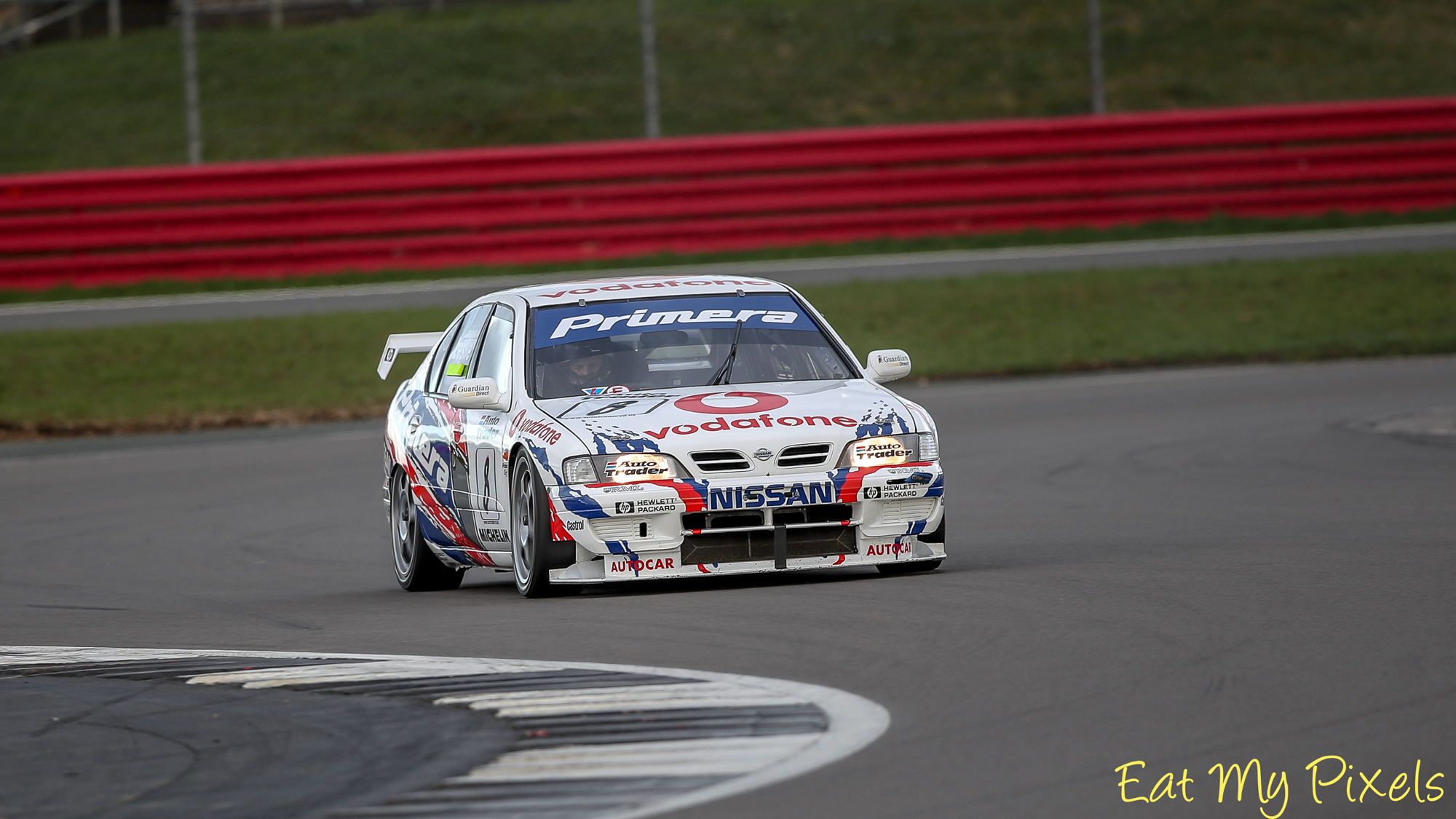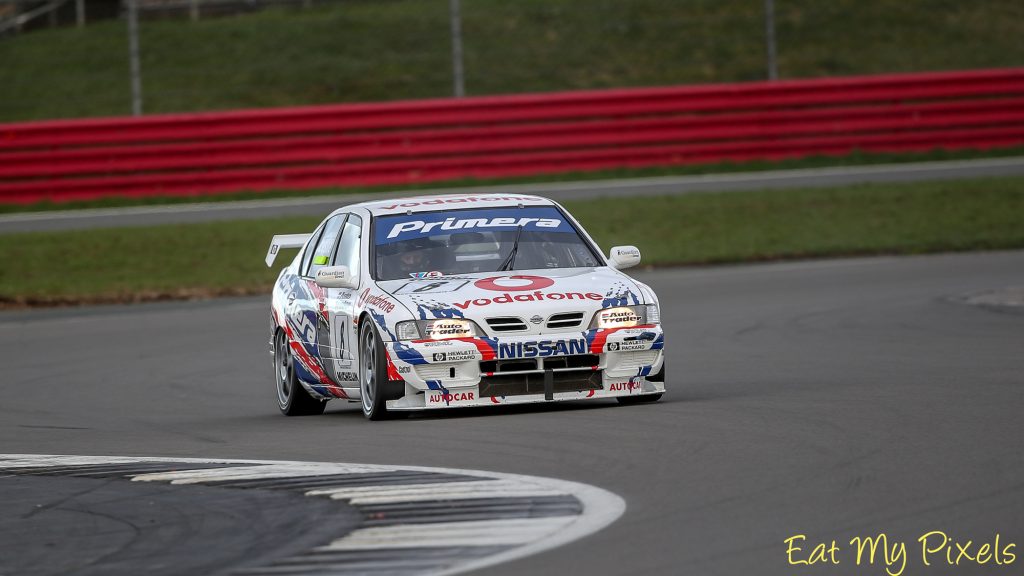 With the wounded Nissans returning to base and Hughes also sitting out, Sunday's outing for the Super Tourers was called off.
Attention now turns to the Super Touring Power festival at Brands on 1/2 July when the series regulars are set to be joined by a large number of additional entries including from overseas, as well as even more demonstration-only cars. An event not to be missed.
Laser Tools Pre-'93 Touring Cars
Joining the Super Tourers on track were their near-contemporaries from the Pre-'93 and Pre-'03 categories, with Stuart Waite impressing on his way to a pair of wins in the former.
Having dipped a toe in the water at his local Thruxton circuit last summer, Waite has brought his BMW E36 M3 back for what should be a full campaign.
The car has also gone on a diet over the winter, as well as being endowed with uprated suspension, and looks set to be a championship force.
The Salisbury driver pipped the magnificent Group A-spec E30 M3 of James Everard to pole position. E36s filled the next four places, headed by non-registered newcomer Oliver Owen and last year's championship runner-up Mike Dugdale.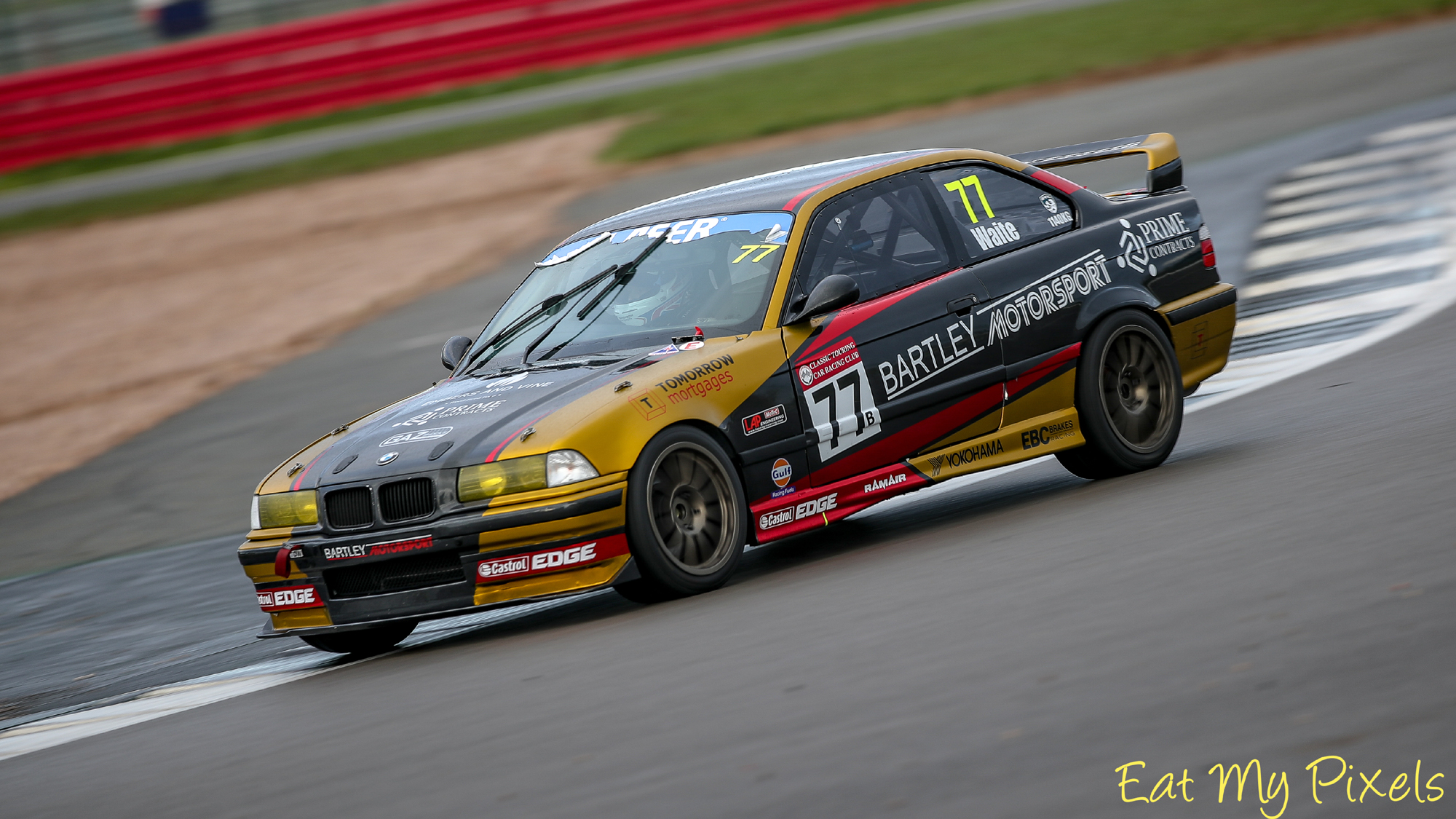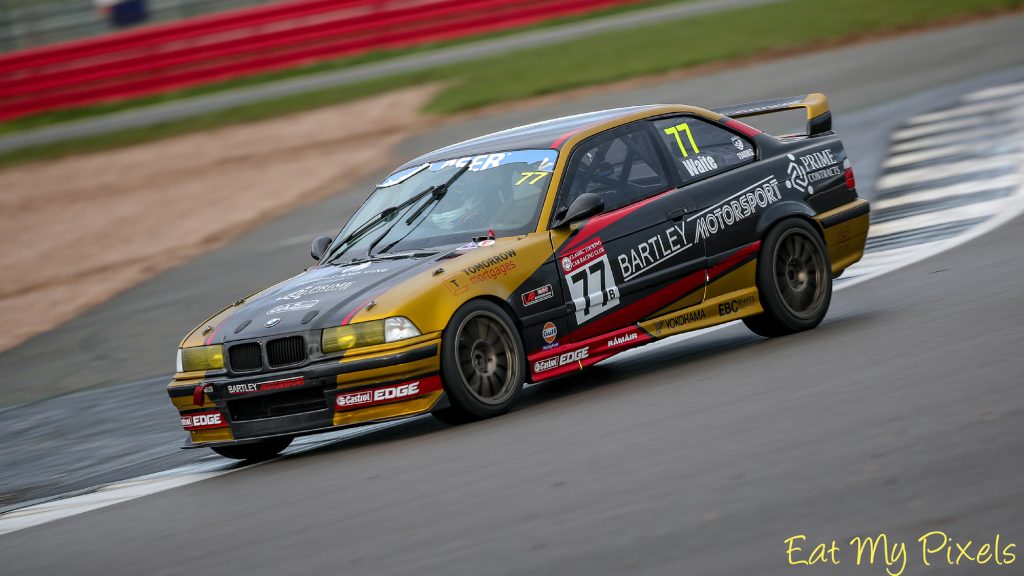 It was all about Waite and Everard in the battle for victory in Saturday's thrash, the pair enjoying a good scrap with Pre-'03 interloper Gary Prebble.
After the early safety car, Waite and Prebble pounced either side of Jason Hughes's Super Tourer to lead the race outright, with Everard quickly following.
With the track wet but not drenched, Everard was finding his full-wet Uniroyal tyres to be struggling for grip, and so Waite edged clear to take a maiden win.
"I love these conditions," said the victor. "When the rain came, I thought: 'We'll have some of this!'"
Behind the leading pair, Dugdale came out on top of a very tight battle between the next four E36s which were separated by just a second at the chequered flag. Clint Le Chalmers was fourth, ahead of reigning champion Andy Cripps and Owen.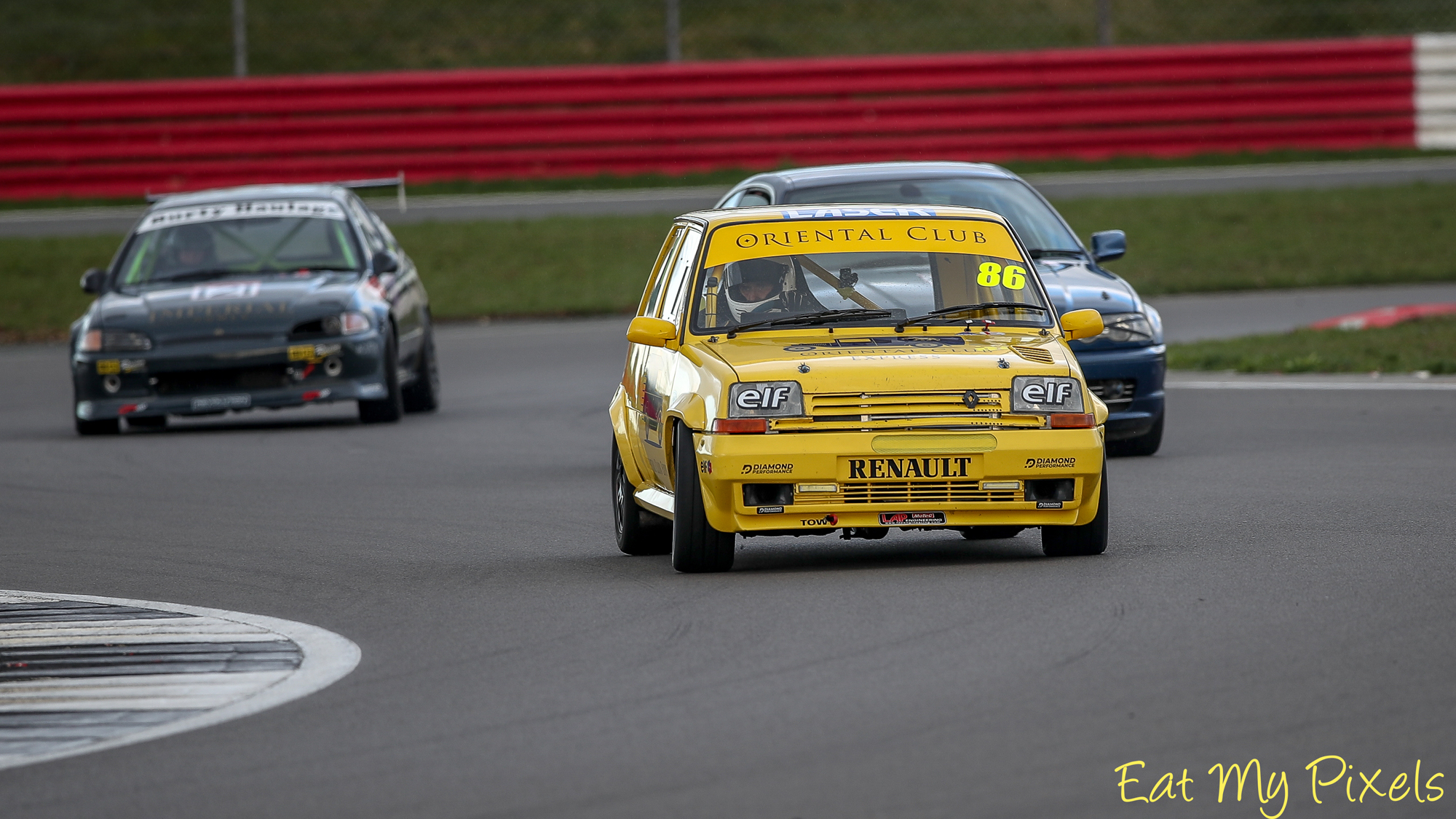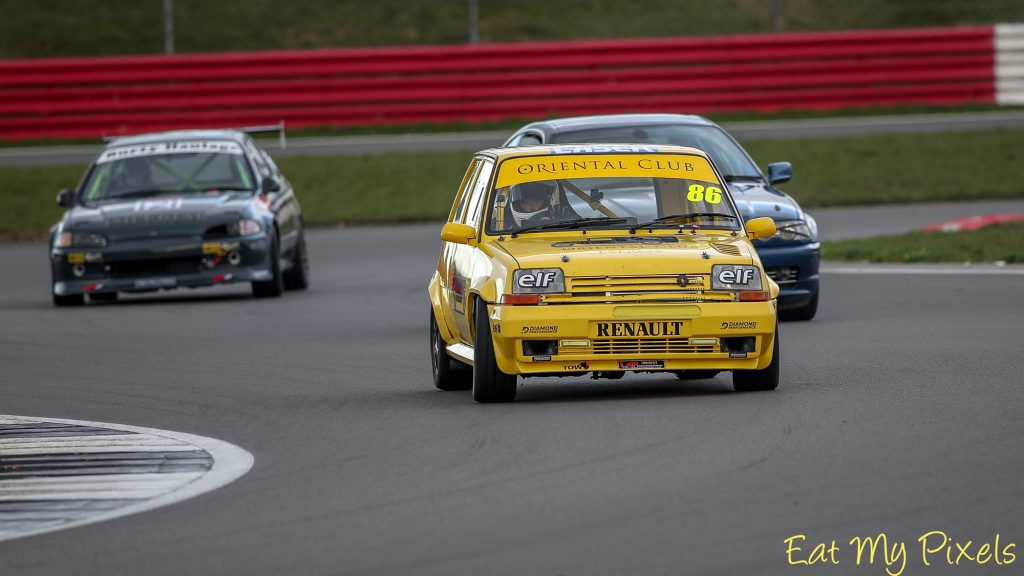 Seventh overall in Pre-'93 and first in Class D – despite a qualifying oil leak consigning him to the back of the grid – was David Clark's Renault 5 GT Turbo, a terrific new addition to the field.
Sunday's rematch, scheduled for 25 minutes but reduced to 20 after a delayed start, brought consistently wetter conditions that better suited Everard's rubber. With a lightning start, Everard split Waite and Prebble to lead into Copse.
But Waite wasn't going to let the Hull driver get away. Having dispatched Prebble exiting Stowe, he closed up to the DTM-liveried car before a majestic move around the outside of Luffied to take the lead at the end of the second tour.
Everard initially stuck with the new leader but as the track began drying he struggled once more and ran wide at Brooklands. A failed wiper motor also didn't help!
"He [Waite] was avoiding the puddles," said Everard. "I was thinking, 'He doesn't know he's doing me a favour!'"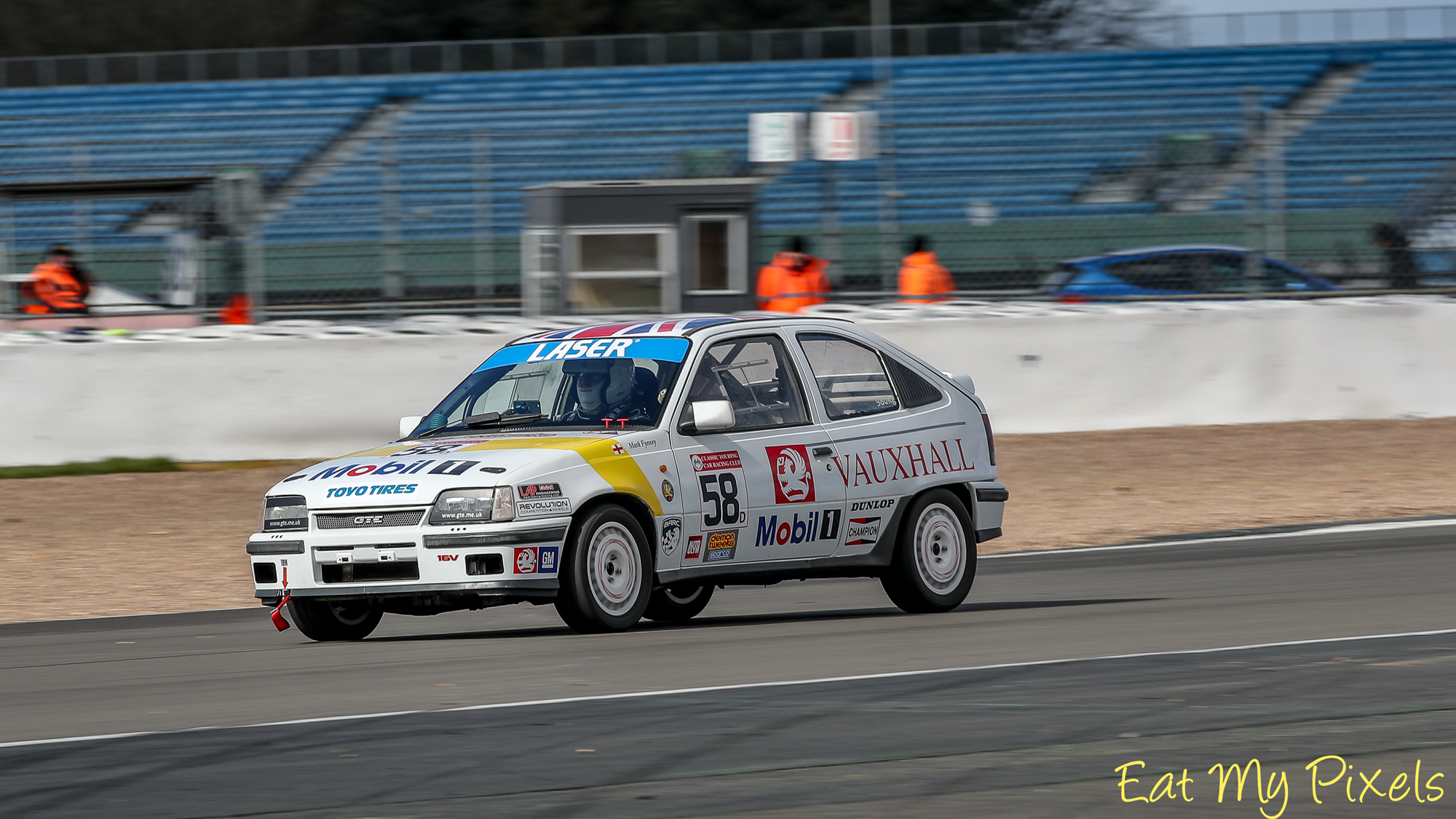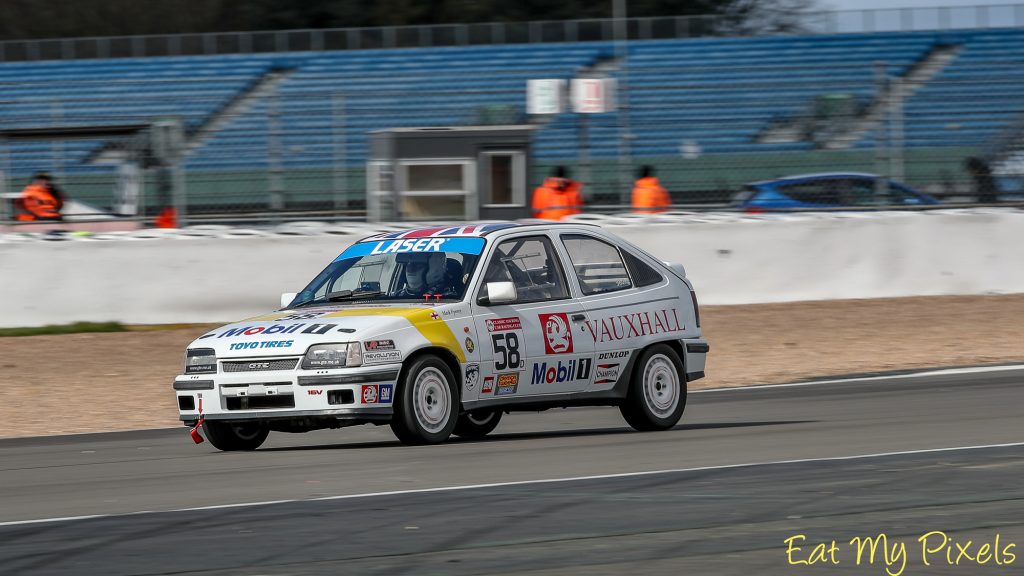 But that gave Waite some breathing space and he went on to record his second win of the weekend.
The race was sadly brought to a premature halt after Mark Fynney's very smart Vauxhall Astra GTE rounded the first section of Becketts and was faced with the spun Pre-'03 car of Joe Dorrington.
Fynney could not avoid ploughing into the stricken machine, leaving both cars heavily damaged but the drivers thankfully OK.
There was plenty of twitchiness among the other E36s in the tough conditions but Owen prevailed to take third from Le Chalmers, with Clark showing well on his way to fifth and another Class D triumph.
Burty Haulage Pre-'03 Touring Cars
The Pre-'03 section of the races was dominated by 2021 champion Gary Prebble in his immaculate Honda Civic EG.
Prebble qualified fastest by an incredible 8.5s over Ross Craig's Civic EP3, itself looking much healthier after the battering it took at Snetterton last year.
Prebble was then well involved with the Pre-'93 lead battle on his way to a pair of commanding victories as he seeks to regain his title.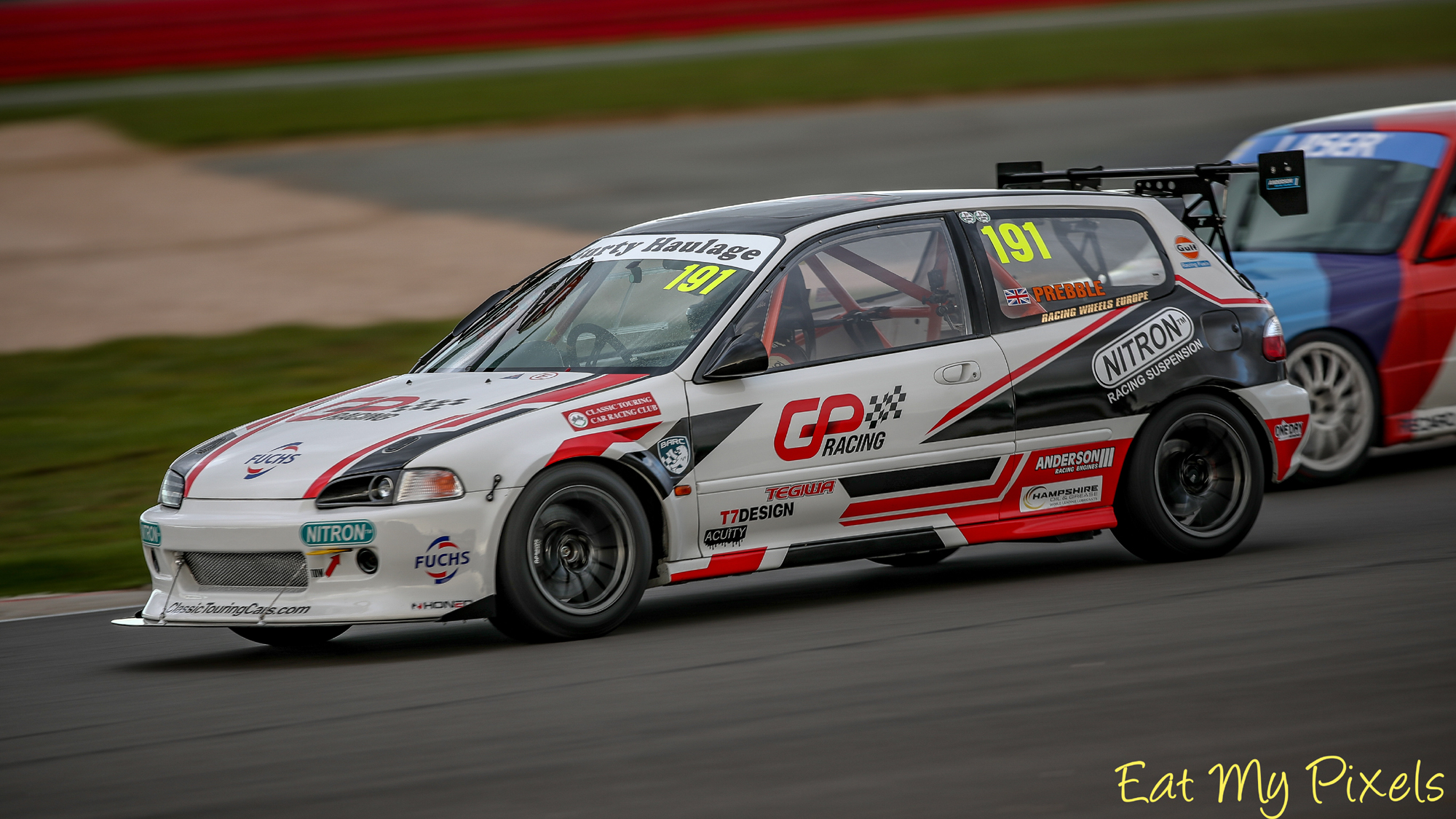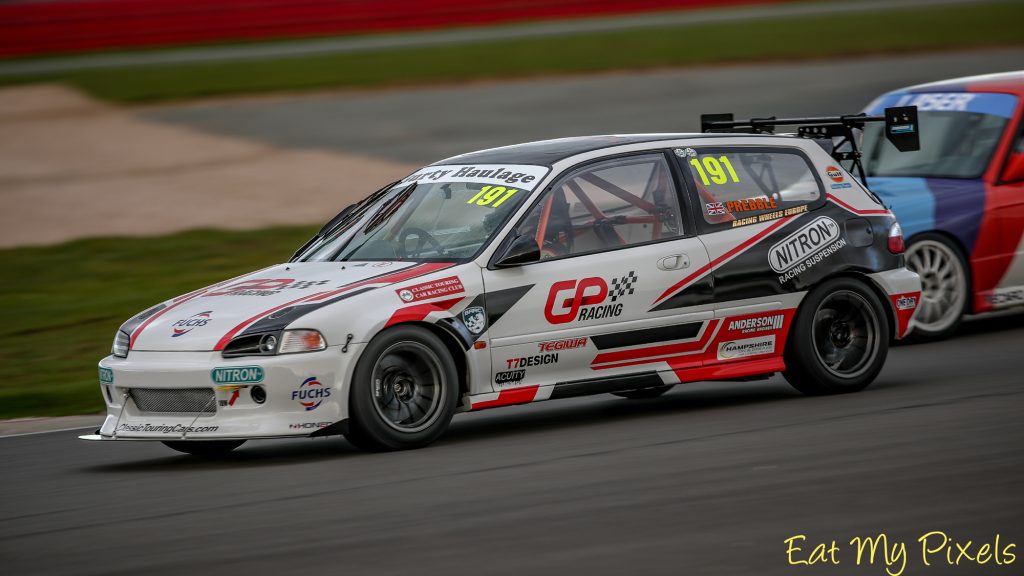 In the wetter second race, Prebble began to struggle with a misted up windscreen and failed wipers so eased back from the Pre-'93 frontrunners while still comfortably winning Pre-'03 despite the red-flag countback after his team-mate Joe Dorrington's unfortunate smash.
While he couldn't live with Prebble, Craig ran strongly throughout both races and was more than happy with a pair of second-place finishes ahead of newcomer Matthew Hollier's rapid Renault Clio.
Doubling up from BOSS, Will Hunt twice took the spoils in Class B, while reigning champion Cavan Grainger (BMW E46 330ci) did likewise in Class A.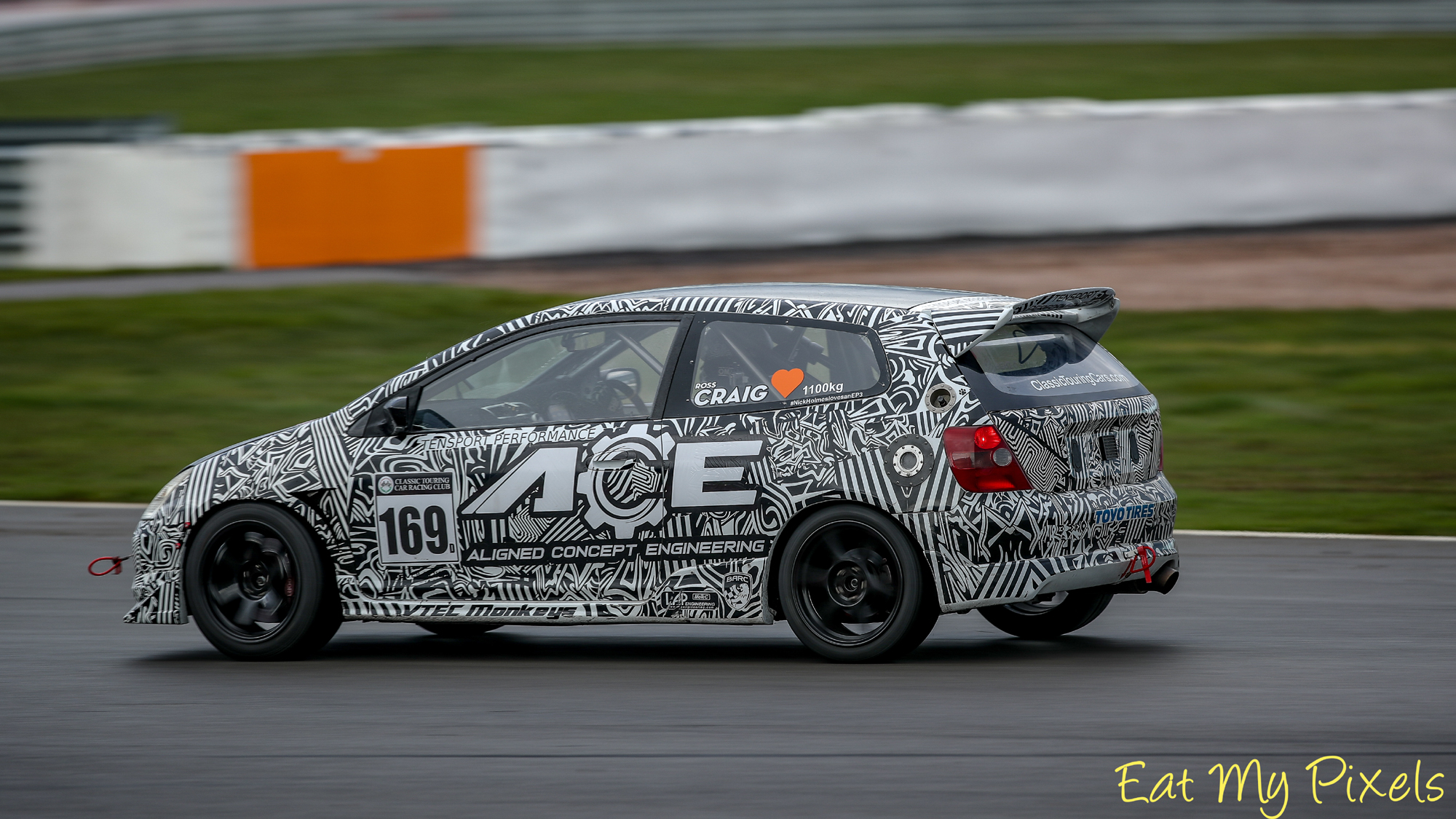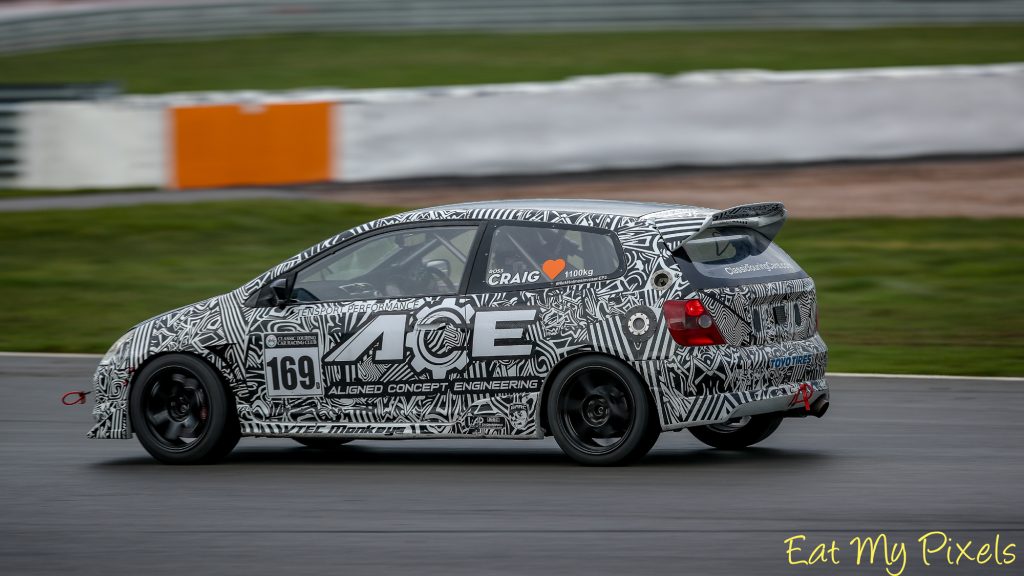 Hard luck stories of the meeting go to Simon Mann and Chris Southcott. Cornishman Mann twice blew a fuse on his BMW 328's fuel pump, completing only half a racing lap.
Hampshire racer Southcott had intended to race his Peugeot 205 while his new steed remains in build, but did not fancy the vast amount of ballast it required to meet the minimum weight sitting next to him in the car. So his Civic EK3 was hastily pressed back into service, only to suffer clutch problems all weekend.
Full results are available via the TSL website.
All images courtesy of CTCRC official photographer Steve Jackman/Eat My Pixels