Guy Connew's big V12 XJS roared to victory in the Jaguar Challenge as the Classic Touring Car Racing Club enjoyed a visit to Castle Combe's Summer Spectacular.
It was another weekend of mixed weather, as scorching Saturday heat gave way to a showery Sunday. It made for an additional challenge, with Jason West's Classic Thunder brace being the only double success.
Berkshire Jag Components Jaguar Challenge
Guy Connew and Tom Lenthall became the third and fourth different drivers to win a Jaguar Challenge race this year with fine drives in their XJSs.
Connew thundered his V12-powered Group 44 tribute machine to pole position by just over a second, from the Class B straight-six versions of Colin Philpott and Tom Lenthall. Mike Seabourne, again at the wheel of Derek Pearce's Class C XK8, was only a fraction slower, ahead of class rival Jack Robinson's sublime XK and Andrew Harper's supercharged S-type R.
The lead quartet of Connew, Philpott, Lenthall and Seabourne then put on a show around the challenging circuit. Seabourne initially propelled the XK8 to run second until it ground to a halt, a recurrence of his Brands Hatch issue.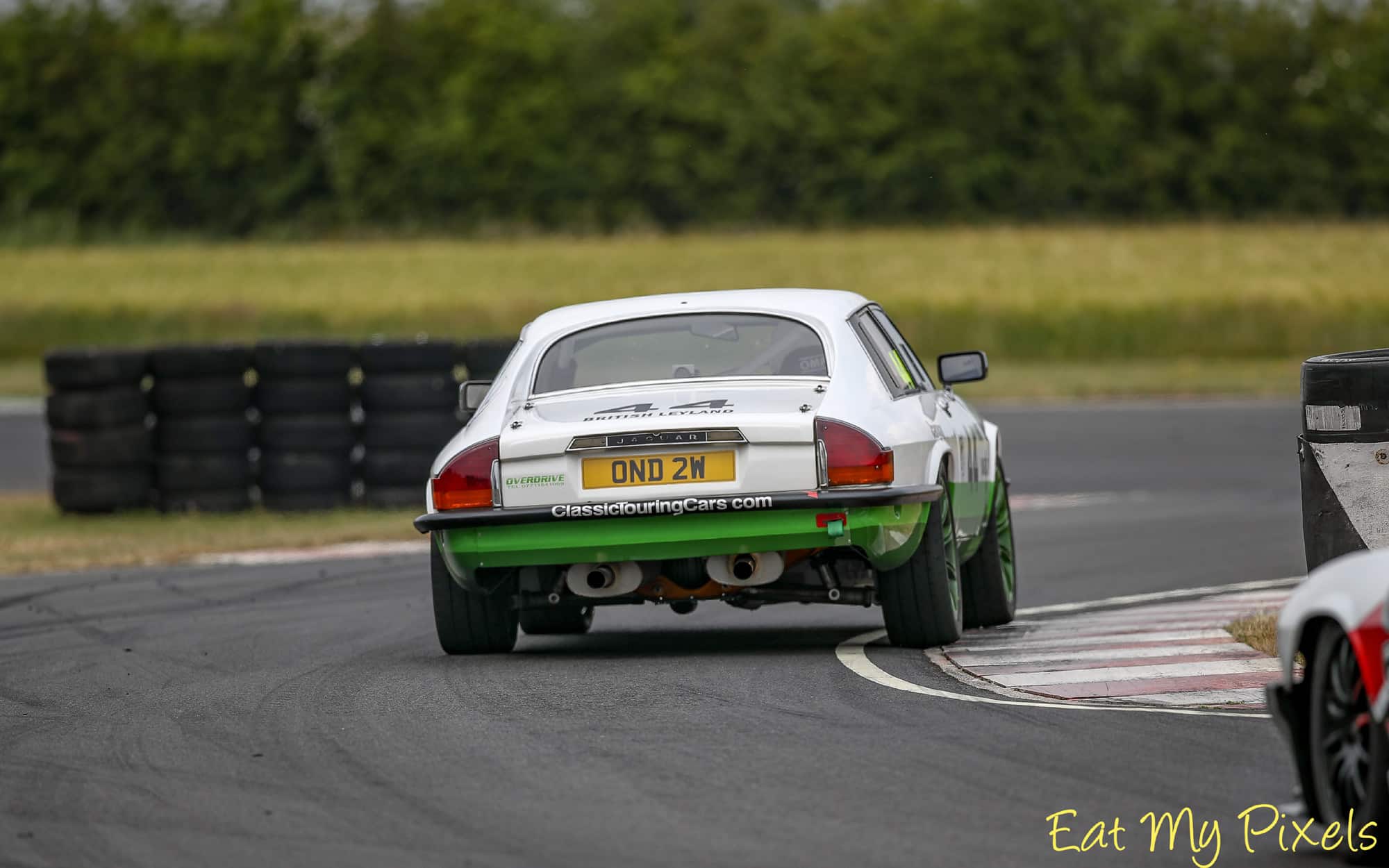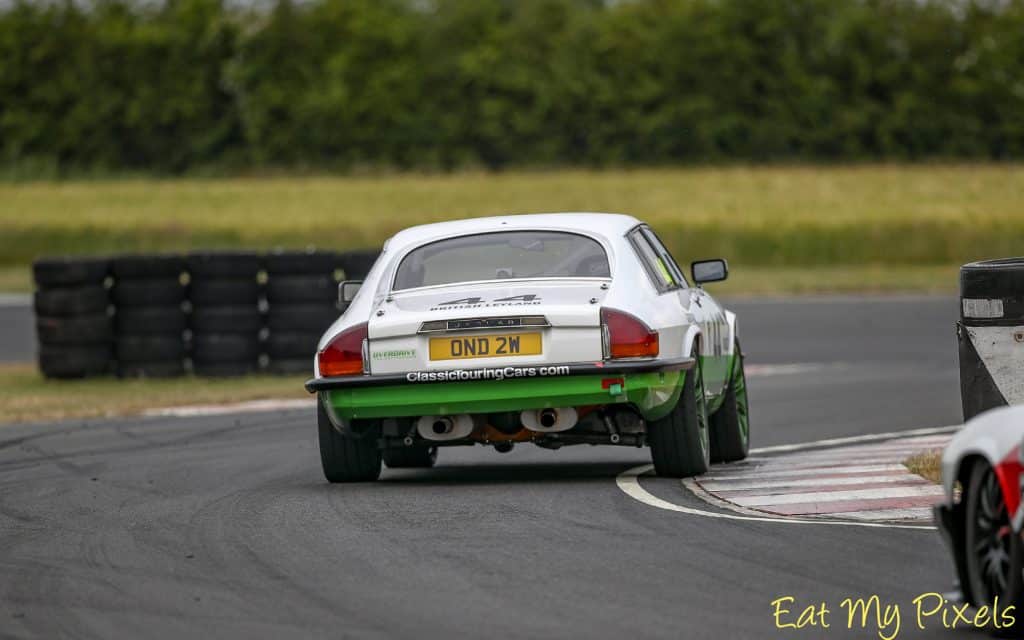 That left a trio of XJSs out front with rarely more than a second covering them. But Connew held firm, and Philpott's chance of a last-lap challenge ended with a sticking gear selector that also gave Lenthall the chance to snatch second.
Unfortunately, Philpott was disqualified from his third place on the road after weighing in slightly too light on the Castle Combe scales. So Robinson inherited the overall podium position (and Class C honours), edging Harper by just 0.2s after a close battle.
Borrowing Ian Drage's Class B XJS with his own car still not quite ready, James Ramm was fifth, ahead of Simon Lewis's XJ6. Damian Gray (XJ40) and Tim Morrant's Daimler Sovereign (Series 1 XJ) were another pair to be separated by less than half a second at the flag.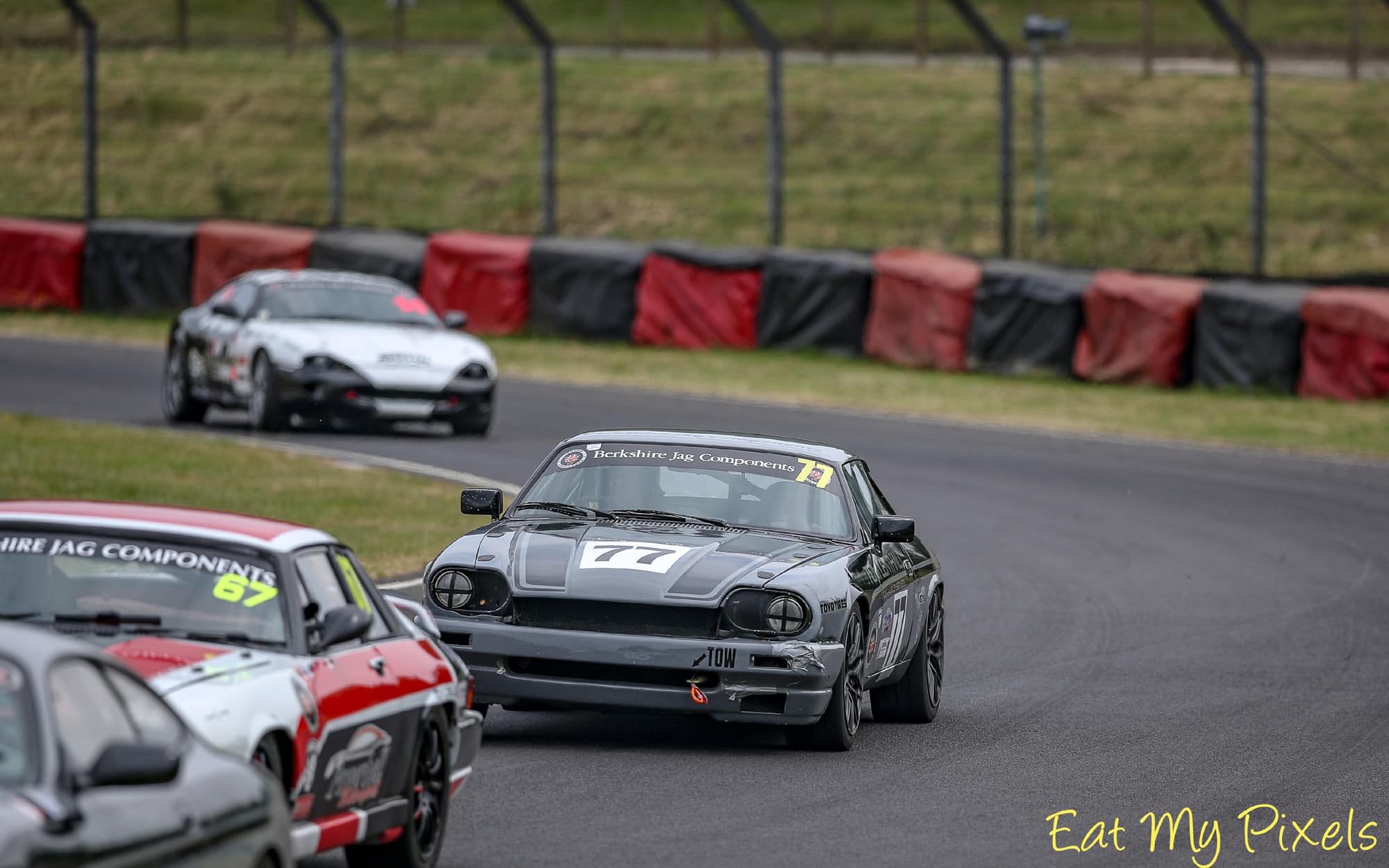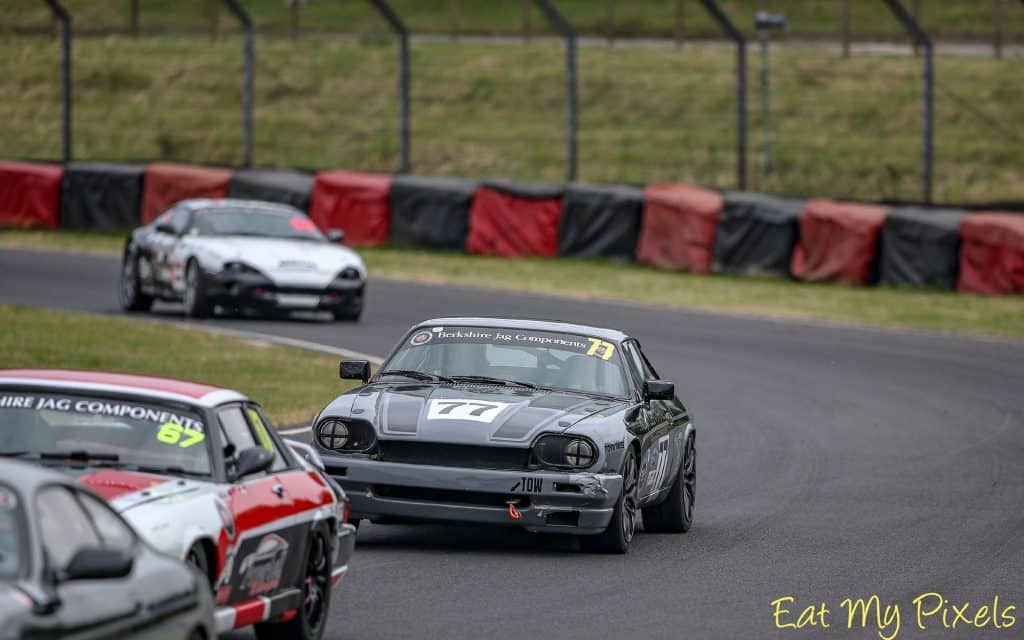 The Big Cats were back out on Sunday morning, with the race starting before rain arrived. Despite having to start from the back, and with an extra slab of lead bolted in, Philpott immediately charged through to reprise Saturday's three-way scrap.
Connew was leading from Lenthall, but Philpott's part in the battle proved short-lived when a loose alternator wire led to his retirement.
As rain began to fall, lap times increased and Connew's heavy car became even more of a handful. Lenthall found he could carry more speed through the corners and got ahead into Tower mid-race. The Hook-based driver edged clear and went on to take what was, in fact, his first-ever overall victory.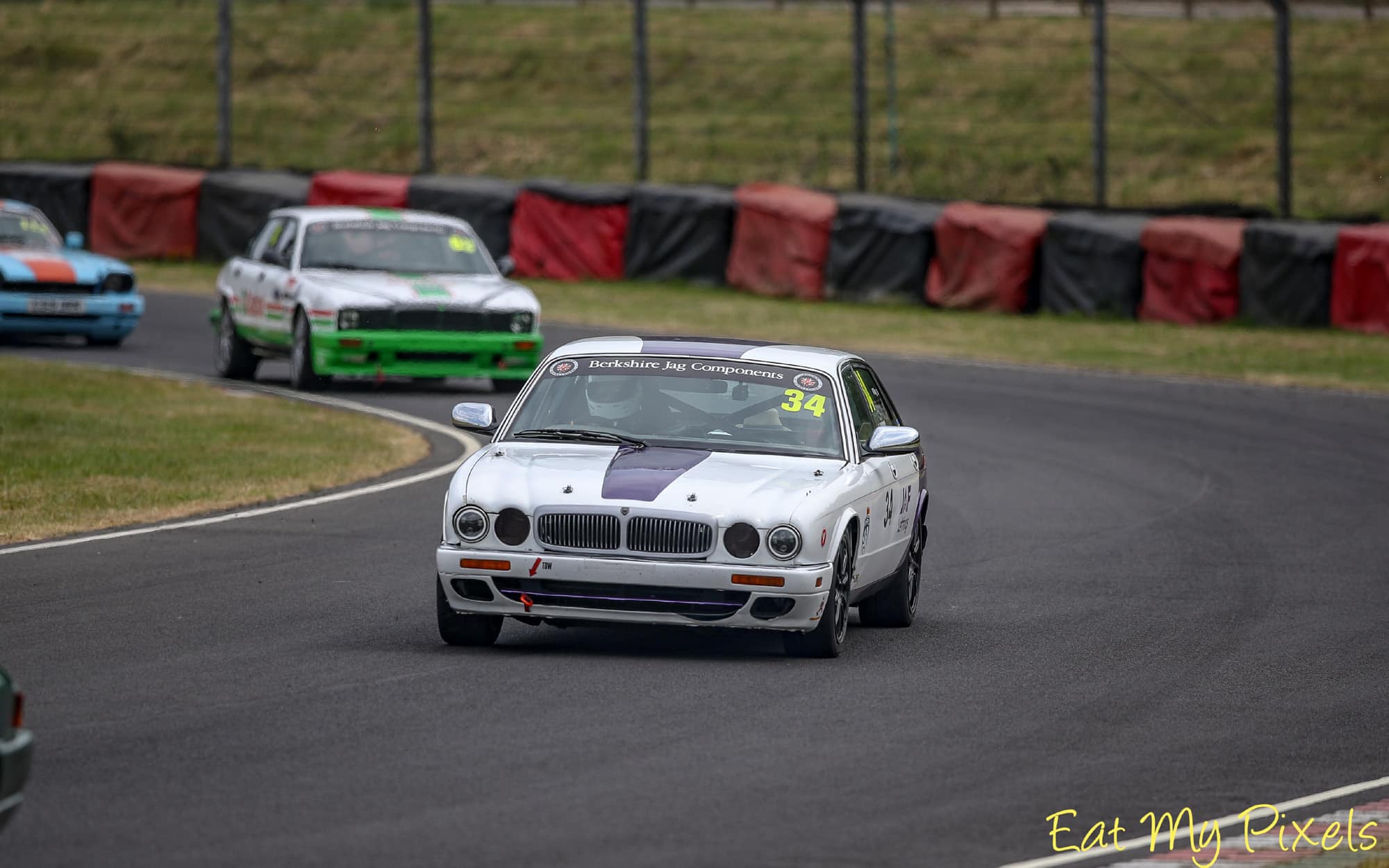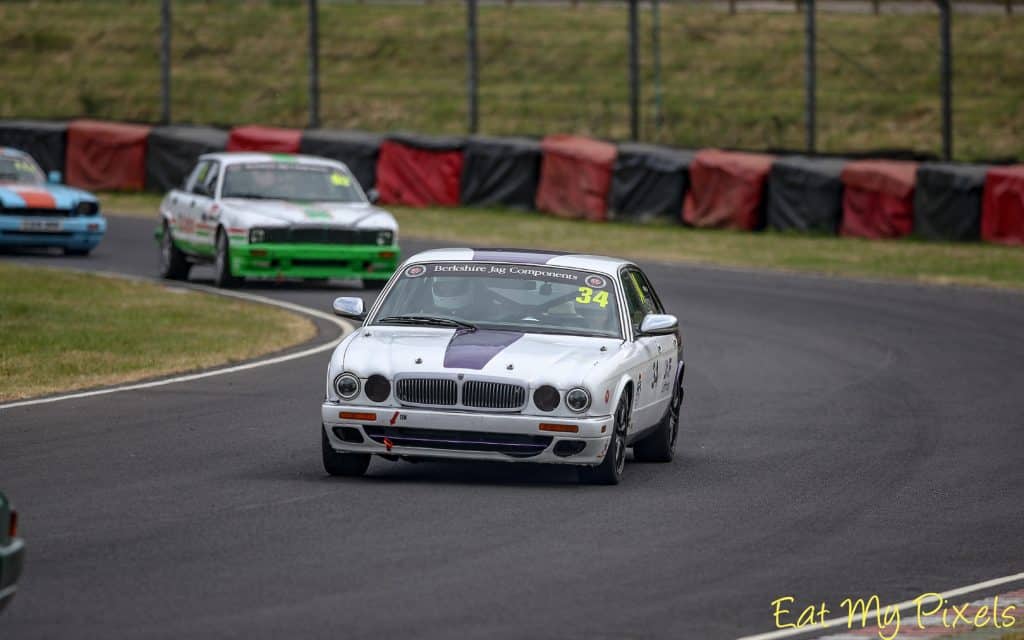 Connew was heading for a safe second until the final lap. His glorious Quaker State-liveried machine lost drive and required a reset to bring it back to life, by which time Guy had dropped to fifth.
Past Connew came Harper, Robinson and Ramm. Harper had eventually managed to pass Robinson on lap five of 12 and was some 5s clear at the flag, taking Class A honours to boot. Robinson was again the winner of Class C.
The standard cars of Class D were headed by Charles Jackson's XJ in both races, repeating his Brands successes.
Edmundson Electrical Classic Thunder
Classic Thunder numbers were down a little on the terrific turnouts of the first two rounds but were still healthy enough for their own grid and again included some drivers doubling up from the Kumho BMW series that was also at Combe.
It was one of those, Jason West, who recorded a double victory (and likewise in Kumho BMW) in his E46 M3. But he had to work hard for his victories.
With back-to-back qualifying sessions, a number of the BMW drivers chose to complete only a handful of laps in the Classic Thunder session. They therefore perhaps didn't reach their ultimate potential.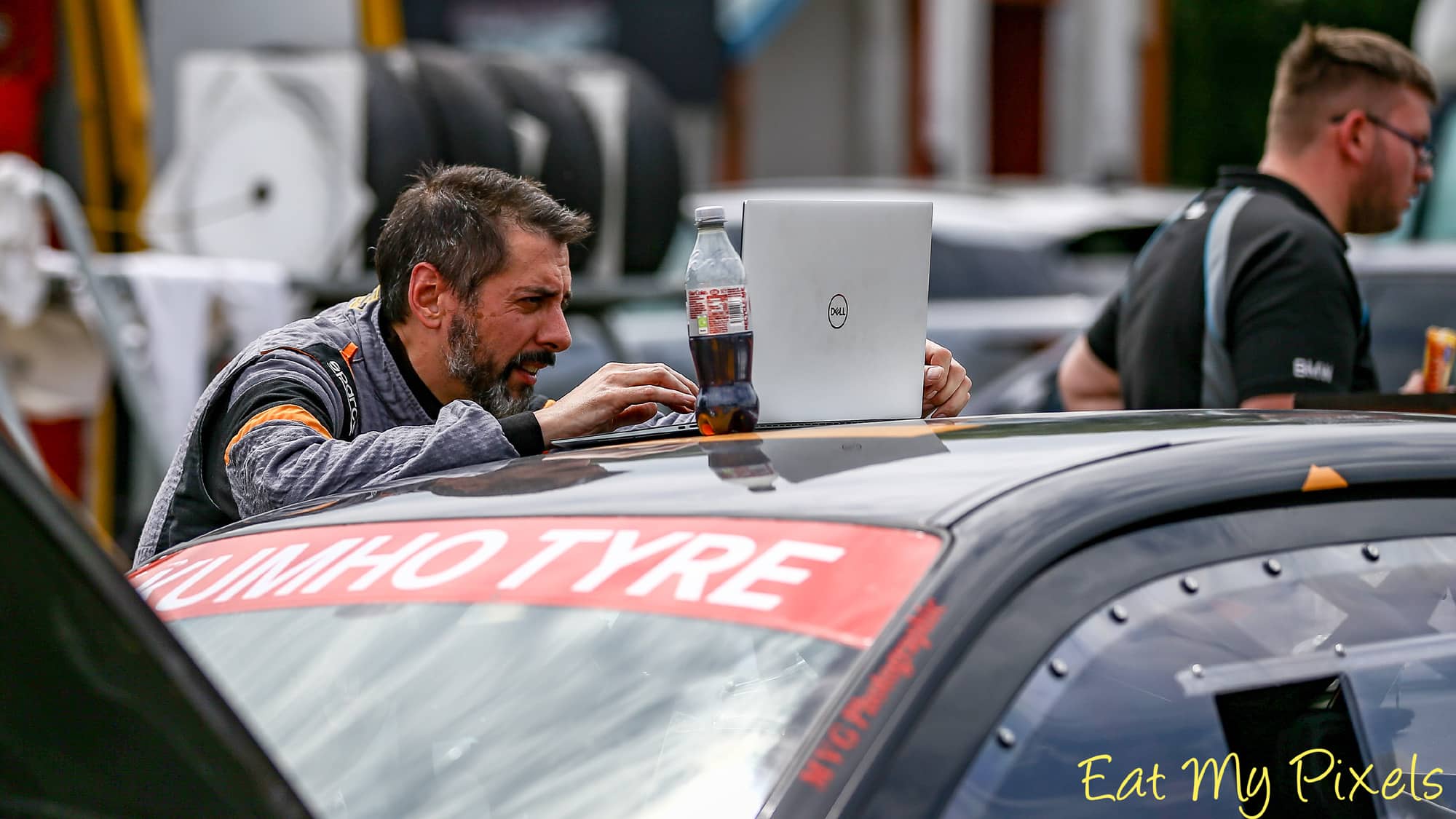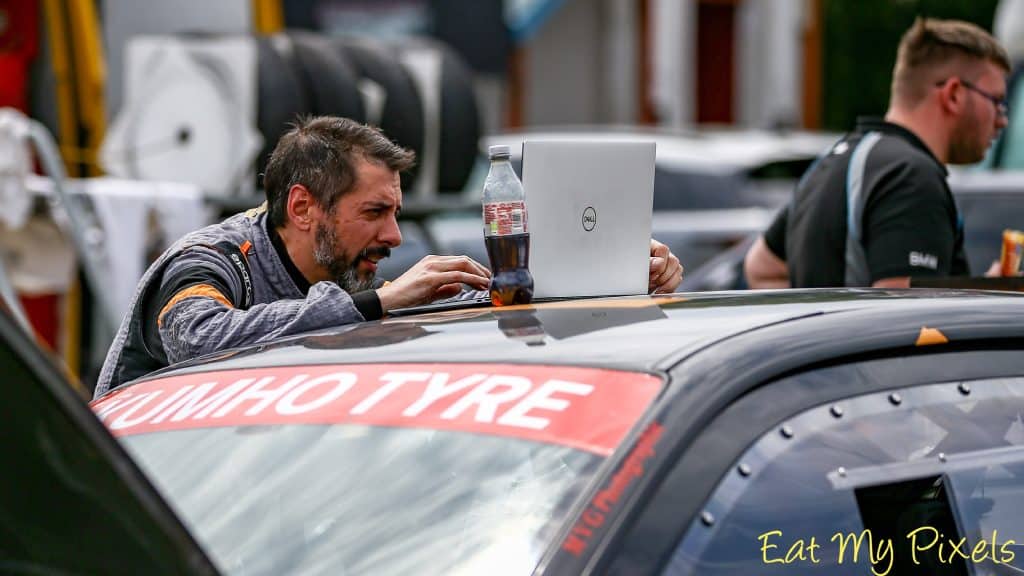 But the limited running did little to affect Jasver Sapra, who scorched to pole position with a 95mph lap in his E46 M3. Nick Vaughan's Audi A3 would join him on the front row, ahead of Brands Hatch double winner Bryan Bransom (E46 M3) and Simon Light in his mighty V8-engined Ford Capri. West lined up on row three alongside Sam Wilson (Aston Martin V8 Vantage).
Come the race, it was Vaughan who set the pace until a pipe blew off the A3's turbo and caused him to pit. West had been working his way through the order and passed Sapra to inherit the lead. Sapra initially stayed with his fellow BMW driver but wasn't able to fight back and had to settle for second.
On his first appearance at the circuit for 29 years, Light was also keeping in touch until a spin in the closing stages dropped him down to eventual sixth overall. He hadn't raced on the circuit since its chicanes had been installed and, building his pace, eventually strayed slightly over the limit.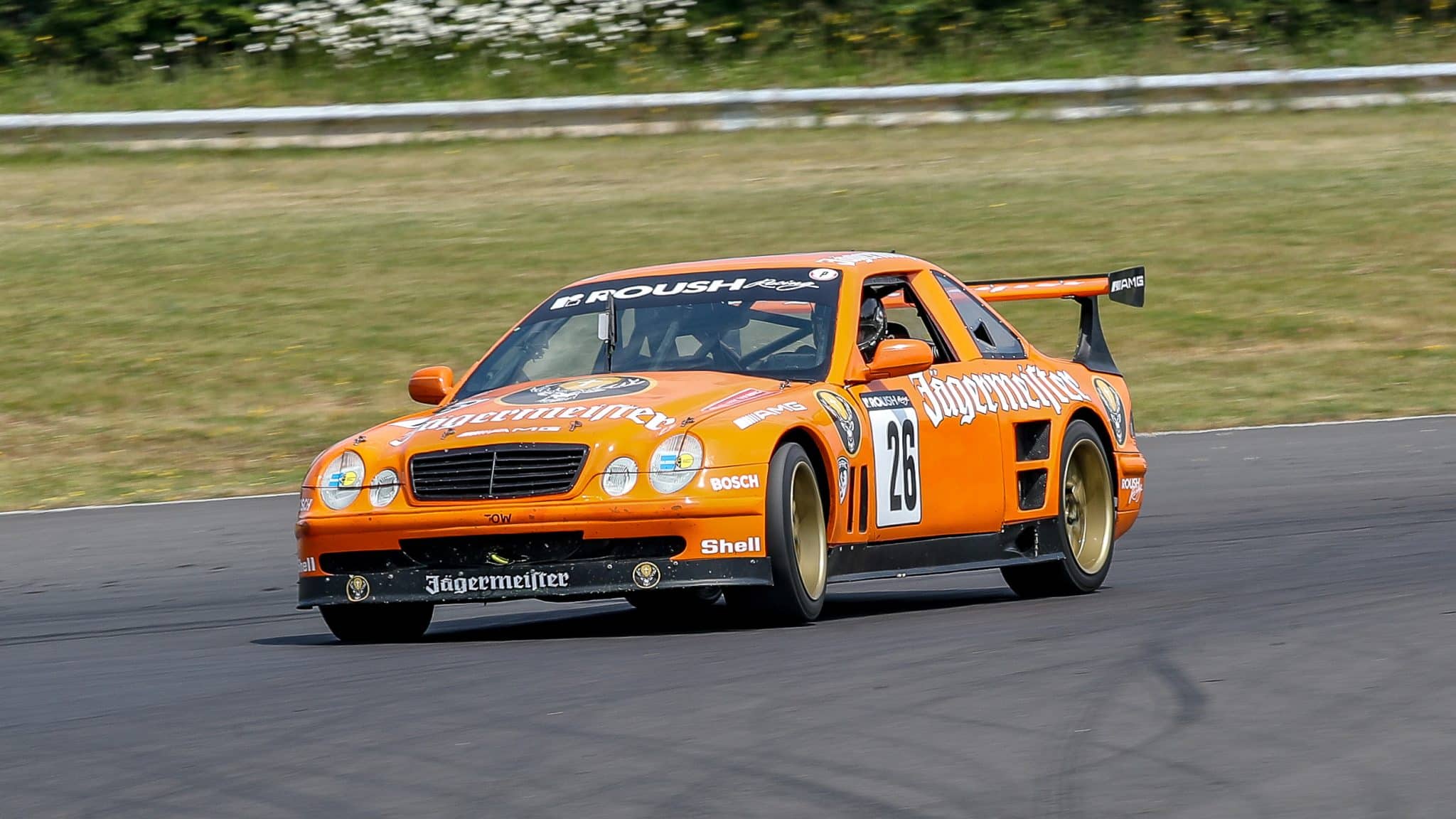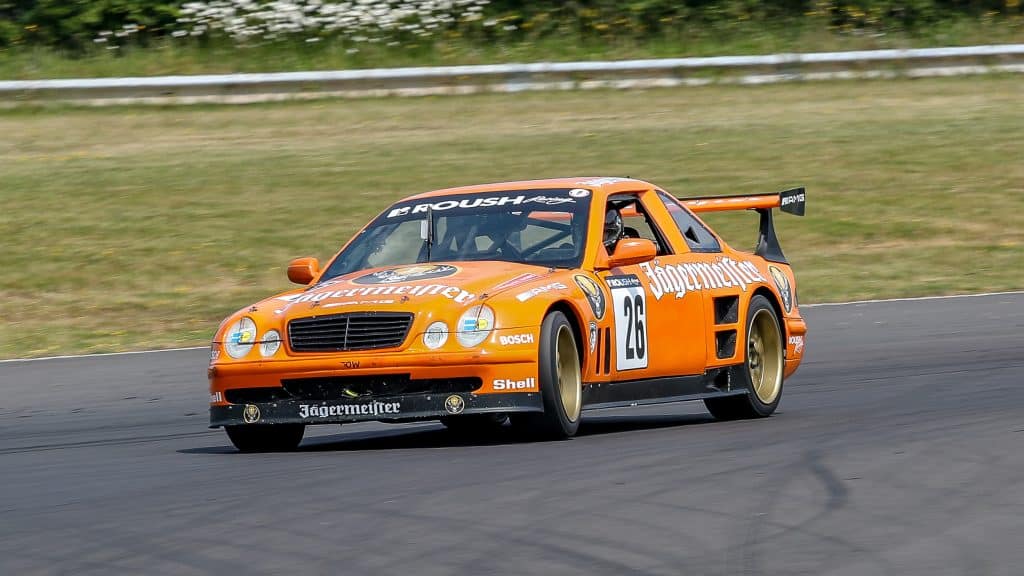 So it was Wilson, in Rikki Cann's Aston, that finished third overall and first of the historic runners. He was shadowed by debutant Gary Hufford in an E46 M3 newly built by Ali Bray. Fifth, and first in Class H2, was Neil Philpotts's Mitsubishi Starion.
Not taking place until late afternoon on Sunday, the second race was held on a largely dry track. Wilson made a terrific start in the Aston to power into the lead, with West giving chase ahead of Sapra and Hufford.
But from the back of the grid, Bransom – who missed the opener after hitting trouble in Kumho BMW – and Vaughan were flying. As the front two pulled clear, the duo joined the multi-car scrap for third before half-distance.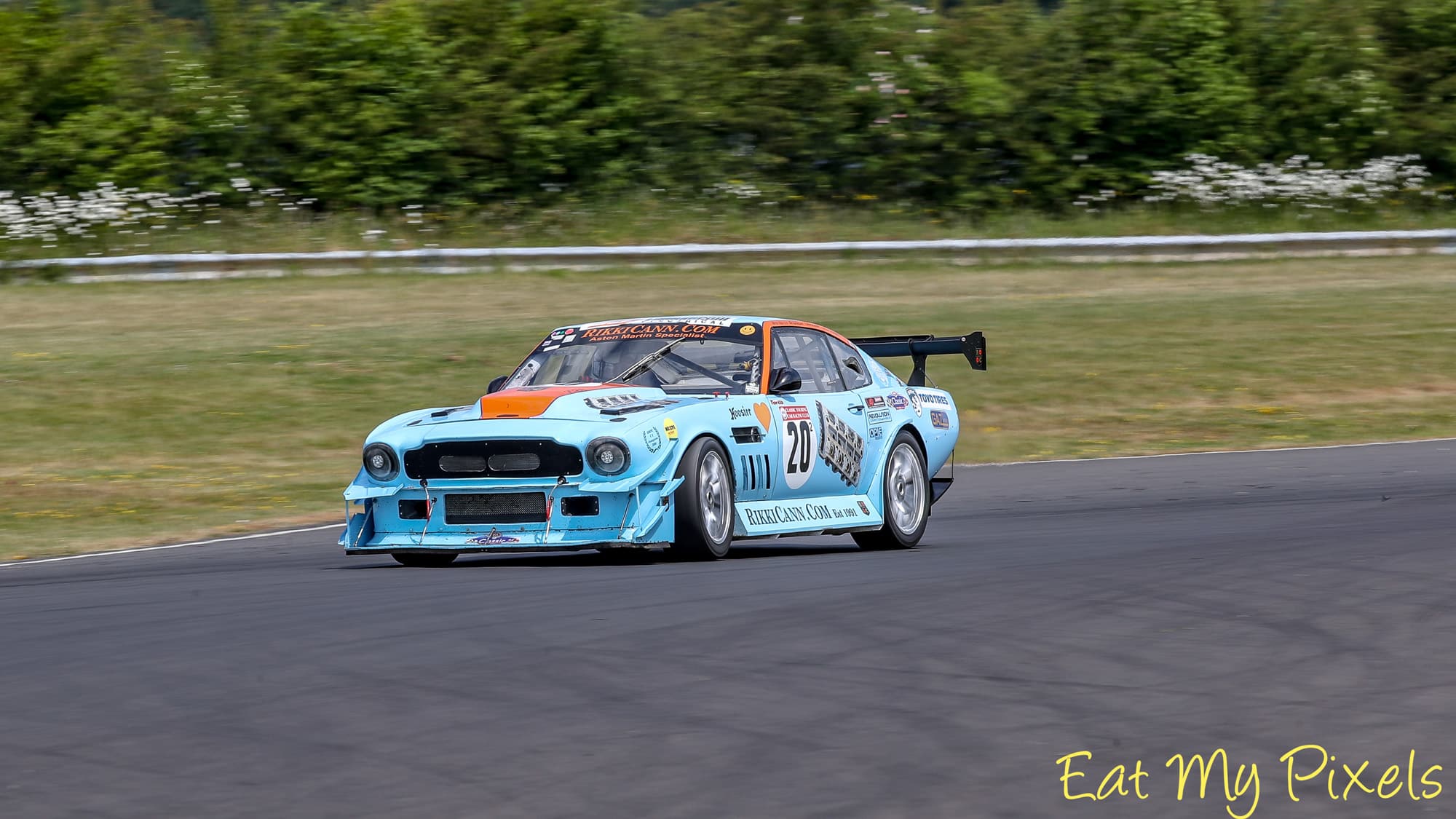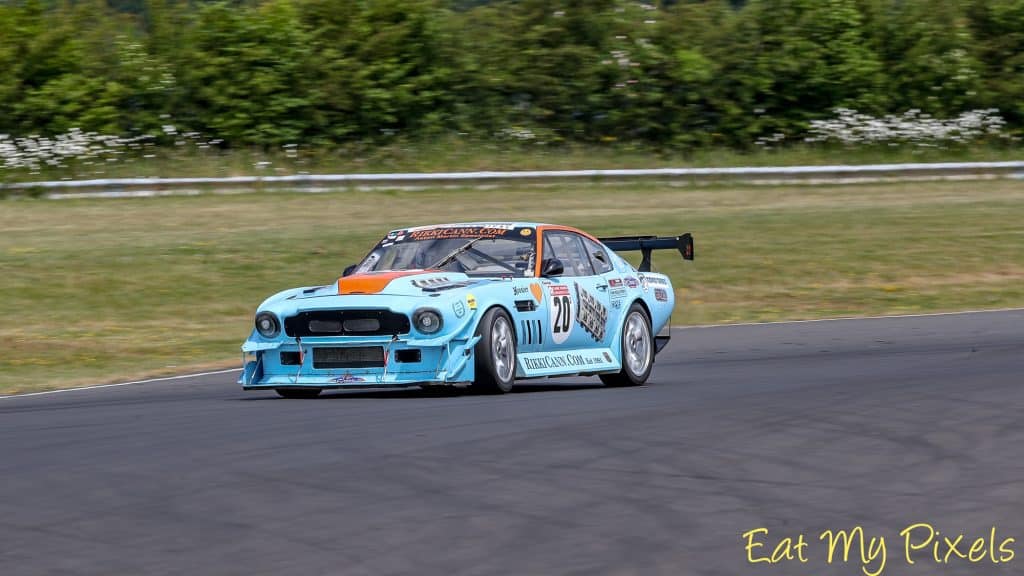 A couple of close calls in the battle persuaded Bransom to pit but Vaughan cleared Hufford and then made a move stick on Sapra to secure third position.
Out front, West's pressure on Wilson eventually told as he managed to carry enough speed while taking a tighter line through the final right-hander at Camp to edge alongside on the straight. The two ran side-by-side before West completed the move into Quarry on the penultimate lap.
Behind Vaughan, Hufford could be pleased with another strong drive to fourth, passing Sapra on the final lap, while Paul Wood (E46 M3) did likewise to Light.
AJ Owen (Honda Civic Type R) won Class C in both races, as did Jason Rudge in Class H3 on the debut of his wide-arched, Zetec-engined Ford Fiesta.
Orange Aero Pre-'83 Group 1 Touring Cars
After having to miss the previous round at Brands Hach, Salisbury-based Will Davison returned in his BMW E30 and promptly claimed a maiden Pre-'83 victory. Stephen Primett resumed normal service with victory in the second race.
Davison had run very well at the Silverstone opener and continued that form in Wiltshire, snatching pole position in the final throws of qualifying. Jonathan Corker's little Datsun 510, running new lightweight wheels, was second fastest, with Mark Osborne (Triumph Dolomite Sprint) third.
One-time champion Don Hughes had his VW Golf running well to qualify fourth fastest, ahead of Mark Cholerton (Mk2 Ford Escort RS2000) and a slightly subdued Primett (Mk1 Escort).
There was also a most welcome return for Mostyn Rutter in his long-serving Vauxhall Firenza. Making his first appearance for a year, Rutter qualified seventh fastest.
Davison led the opening race from Osborne and Corker. But, as they encountered traffic on the fifth lap of 11, the 'Dolly' and Datsun tangled. Corker spun while Osborne was also delayed, which let Cholerton into second.
Davison had plenty of breathing space to stroke it home in the second half of the race and take his first win in the championship. Behind, both Osborne and Corker were mounting strong recovery drives. The Welshman re-caught and passed Cholerton for second, pipping the Escort by 0.4s.
Corker set the fastest lap on his way to fifth ahead of Primett and Rutter. Mixing it with the Class C frontrunners, Hughes impressed on his way to fourth overall and first in Class D. Class B honours went to Dave Thomas's venerable Ford Capri Mk1.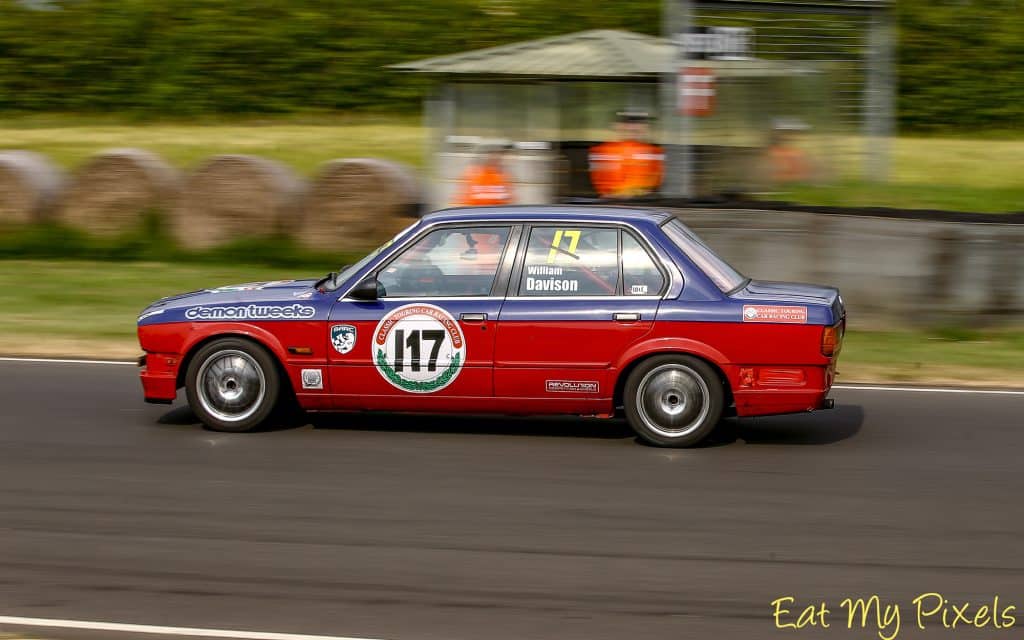 The rematch came in wet conditions just before Sunday's lunch break. Running wet tyres and having changed his differential overnight, 10-time champion Primett returned to form. He immediately jumped from sixth to second before demoting Davison from the lead on the second lap.
While Davison found he hadn't softened his car enough for the conditions, Primett pulled clear, setting a succession of fastest laps as he revelled in the wet weather. Behind them, Hughes had made a good start to run third. Hughes latched on to Davison's tail once Primett had taken the lead before himself moving into second in the front-wheel-drive Golf.
Sadly, Thomas's Capri let go exiting Camp on the fourth lap and he was only able to park it next to the pitwall. That led to a lengthy safety-car period, during which the field split into two crocodiles, the majority caught behind a Pre-'66 backmarker.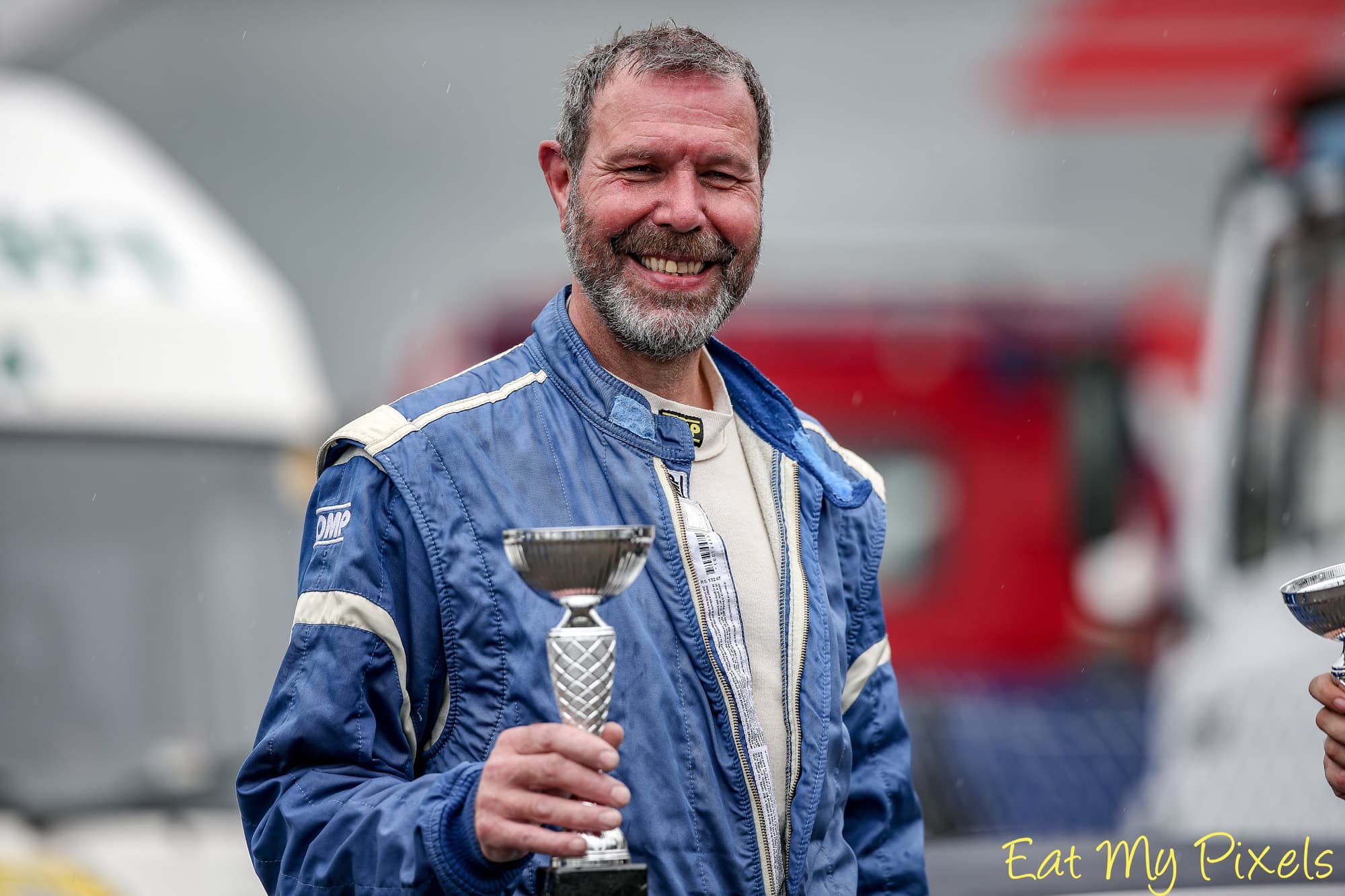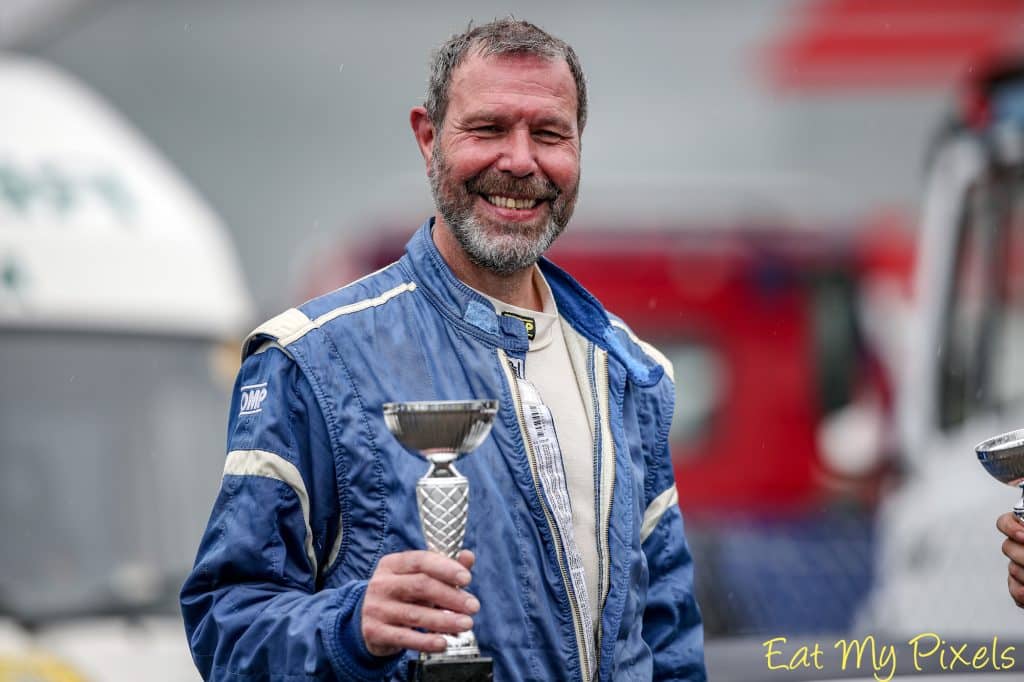 Once the clear-up was complete, the race clock had just ticked past 15 minutes and, disappointingly, the race effectively ended under safety-car conditions, Primett winning from Hughes (Class D winner again) and Davison. Corker was fourth ahead of Cholerton.
The closed-up field meant that Osborne paid a heavy price for creeping at the start. The resulting 10s penalty dropped him to the back of the Pre-'83 field. Clutch failure prevented Rutter from taking the start, while Thomas's retirement meant there were no Class B finishers.
Poultec Pre-'66 Touring Cars
The CTCRC's oldest cars ran alongside their Pre-'83 counterparts, with Alan Geenhalgh (Ford Falcon Sprint) and Billy Kenneally (Ford Anglia) scooping the honours in Pre-'66.
It was guest driver Dan Lewis who set the pace though, taking his Austin Mini Cooper S to Pre-'66 pole by nearly a second from Greenhalgh's big V8. Kenneally's Anglia and 2021 champion James Ibbotson (Hillman Imp Super) were next quickest.
A little further back, it was great to have Billy's father Pat back in action so soon after his Lotus Cortina had incurred heavy damage when its flywheel exploded at Brands Hatch. Sadly, it wasn't for long as his engine blew.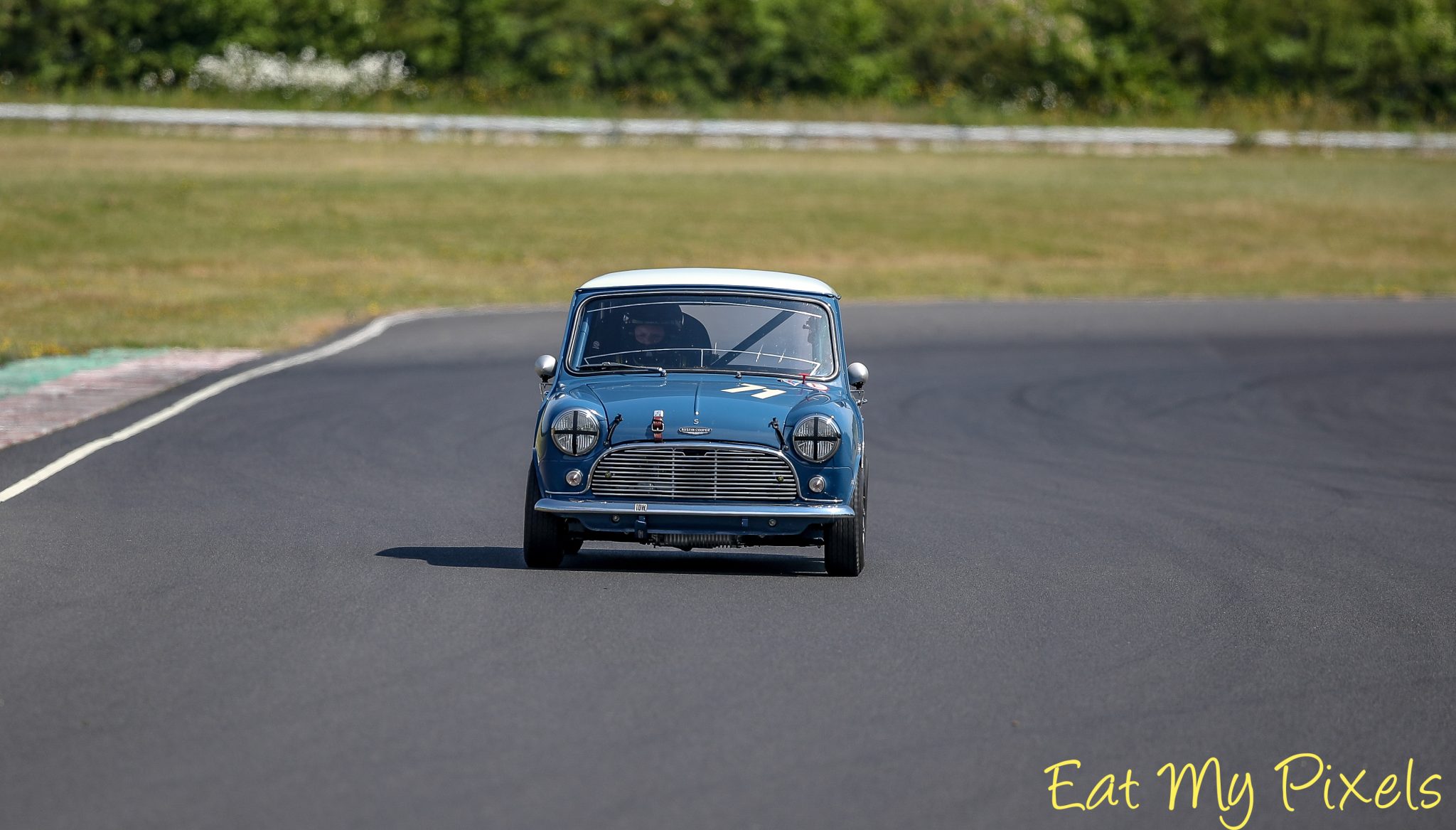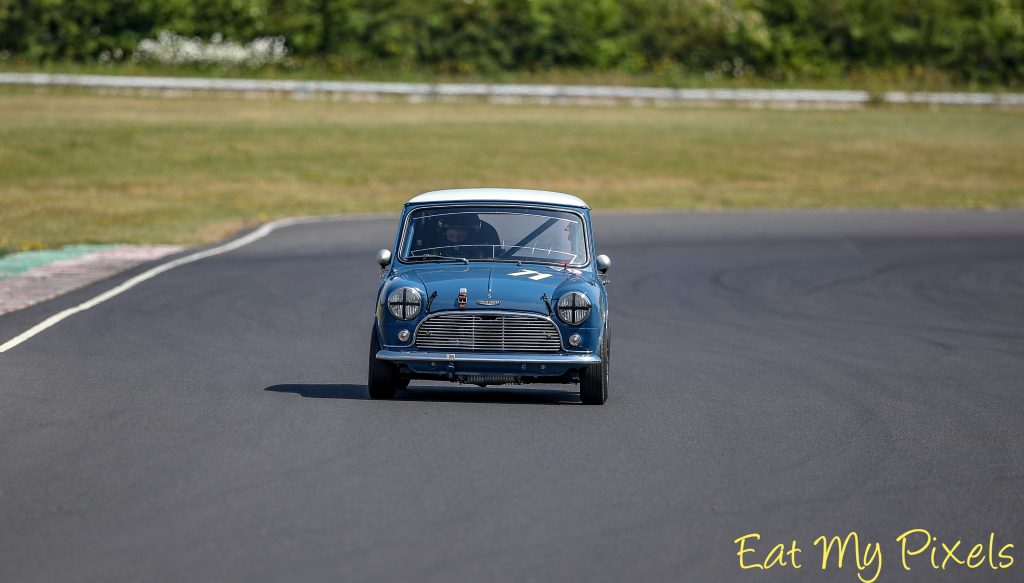 The race didn't last long for Lewis or Ibbotson either. Lewis was sidelined by a CV joint, while Ibbotson's Imp suffered a massive blow-up. It liberally coated Kevin Swann's Anglia with oil, with the Cambridgeshire man having to pit to restore vision through his windscreen.
With two opponents eliminated, Greenhalgh was able to keep some Pre-'83 cars between himself and the chasers, led by Kenneally Jr, on his way to a first win for 11 months. Less than a year into his racing career, Kenneally impressed on his way to second.
James Burrows completed the podium in his Mini, with Mike Davies's similar example fourth despite suffering a misfire in the closing stages. Ibbotson's demise helped Mike Loveland's Imp to victory in Class E.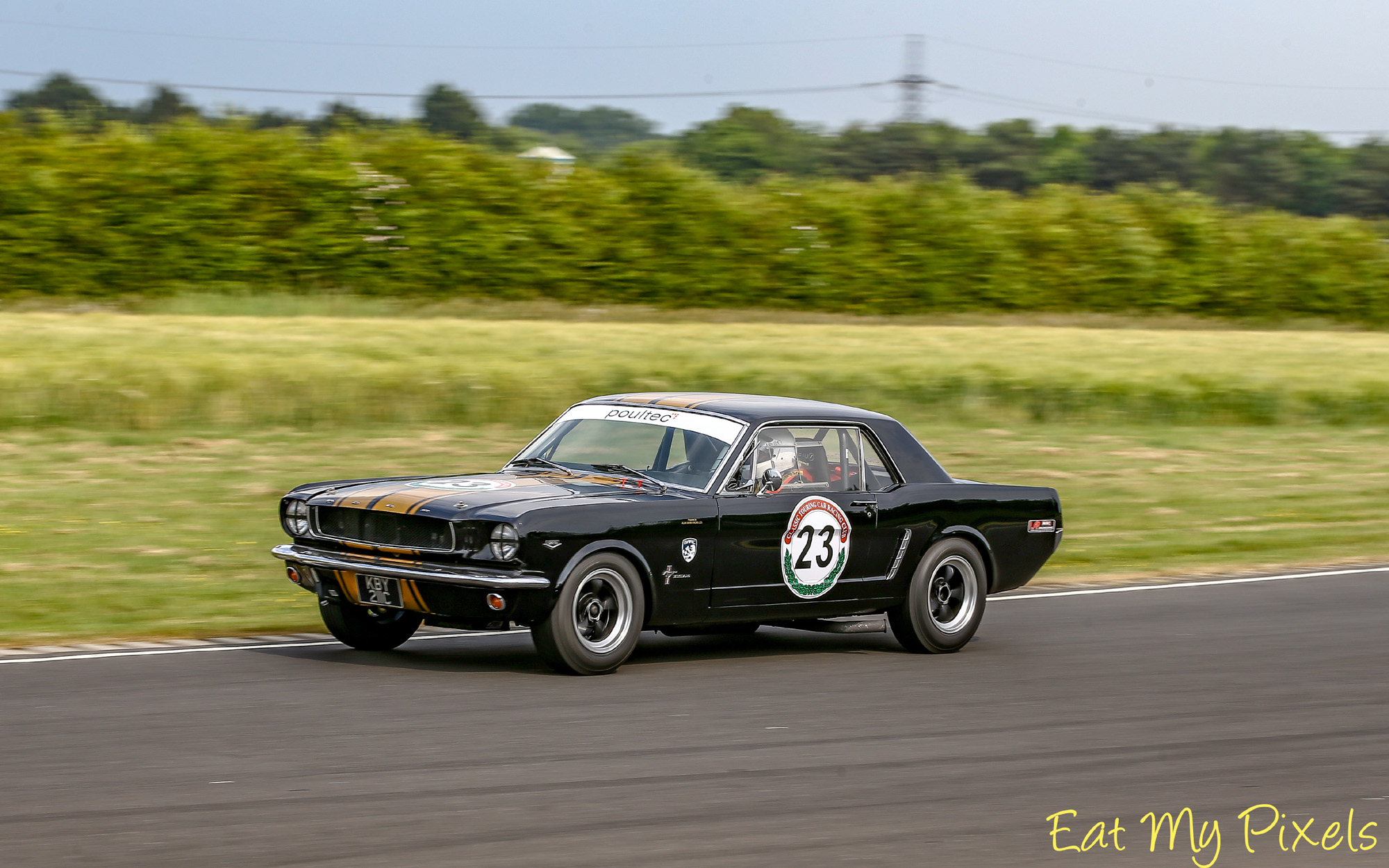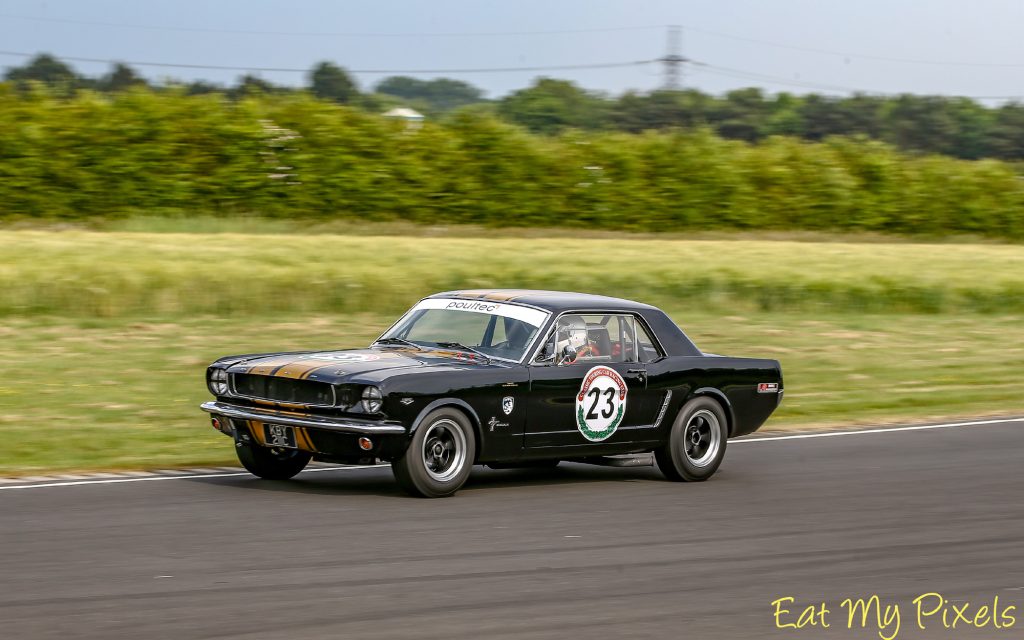 Sunday's wet conditions did not favour Greenhalgh's Falcon and he unsurprisingly slipped down the order during the limited green-flag running, finishing as the fourth Pre-'66 car home.
Conversely, the smaller cars revelled in the rain, and Billy Kenneally was delighted to take a maiden Pre-'66 victory, beaten by only five Pre-'83 cars.
Drive of the race was undoubtedly Lewis's though, as he carved his Mini through the field to second in Pre-'66 before the safety car prevented any further progress.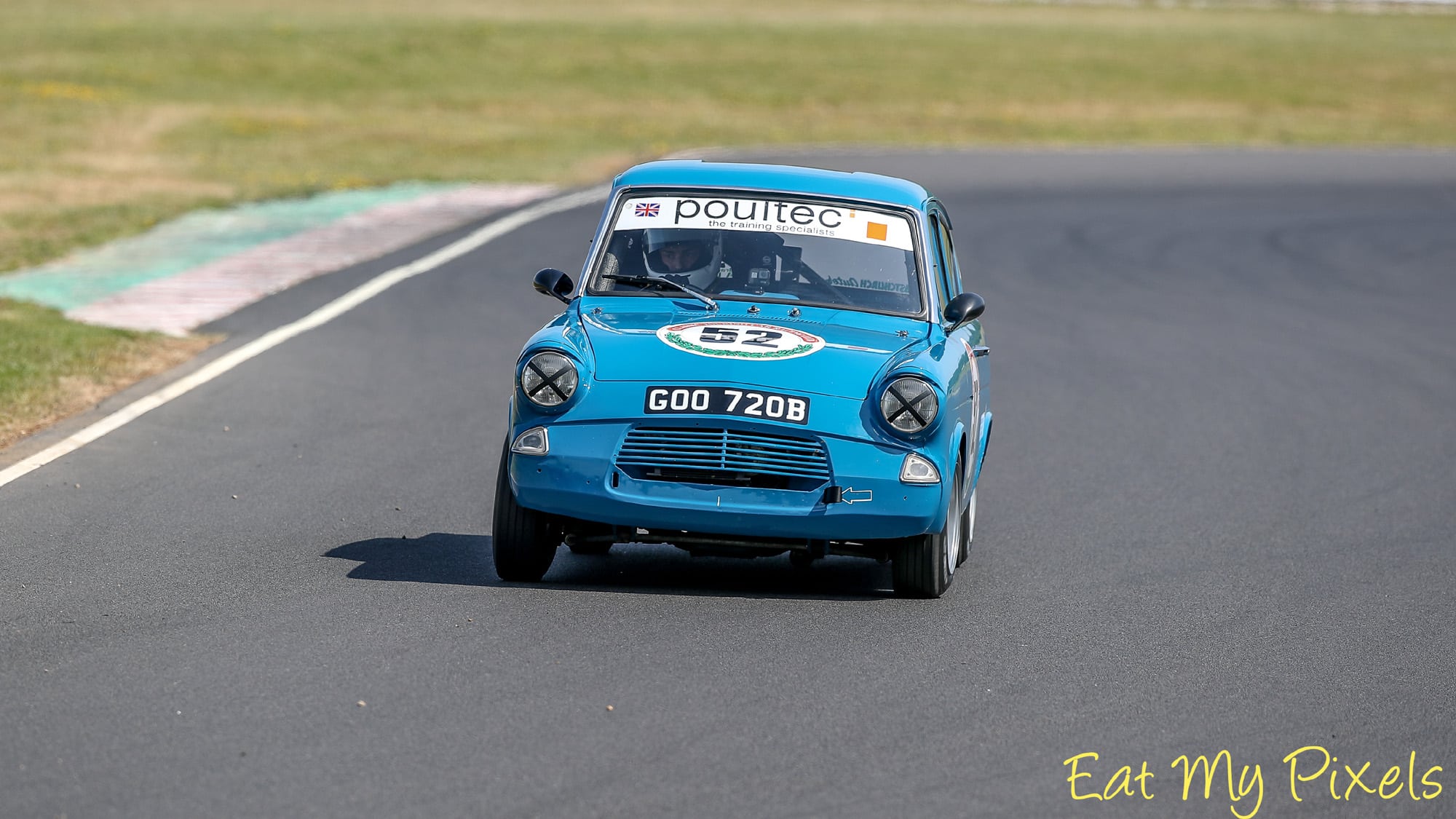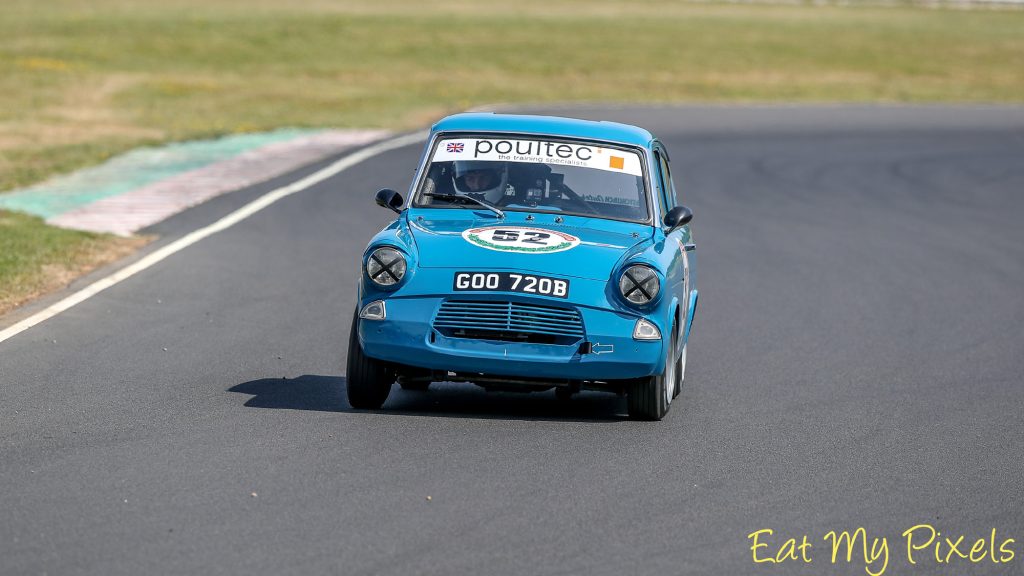 Loveland also impressed on his way to a Class E-winning third in Pre-'66. Having rushed home to collect a spare engine, and fitted it that morning, Ibbotson climbed to fifth in his similar car before it ran out of a electrical juice on the final lap – a loose alternator wire the culprit.
So Burrows was fifth ahead of Tony Davies, who was enjoying a rare appearance in the family Mini before his thunderous Vauxhall Firenza is back in action. An unusually slim entry of Lotus Cortinas meant that sole finisher Keith Wright twice took the honours in Class F.
Laser Tools Pre-'93 Touring Cars
Championship leader Stuart Waite and 2021 champion Ian Bower shared the Pre-'93 spoils as their BMW E36 M3s headed the Castle Combe pack.
Waite was fastest in qualifying, just 0.03s ahead of Bower, back in his own car with its uprated engine after blowing a head gasket at the season-opener.
The similar cars of Kevin Willis, reigning champion Andy Cripps and Mike Dugdale were next, with David Clark's Renault 5 GT Turbo sixth fastest, although all were interspersed with Pre-'03 machinery sharing the track.
Come race time, Bower pounced to take the lead but found his car's handling to be not quite on point after the engine work had taken priority. Waite was soon back in front and gradually extended his advantage with impressive pace. He took the flag with more than 12s in hand, securing his fifth consecutive Pre-'93 win.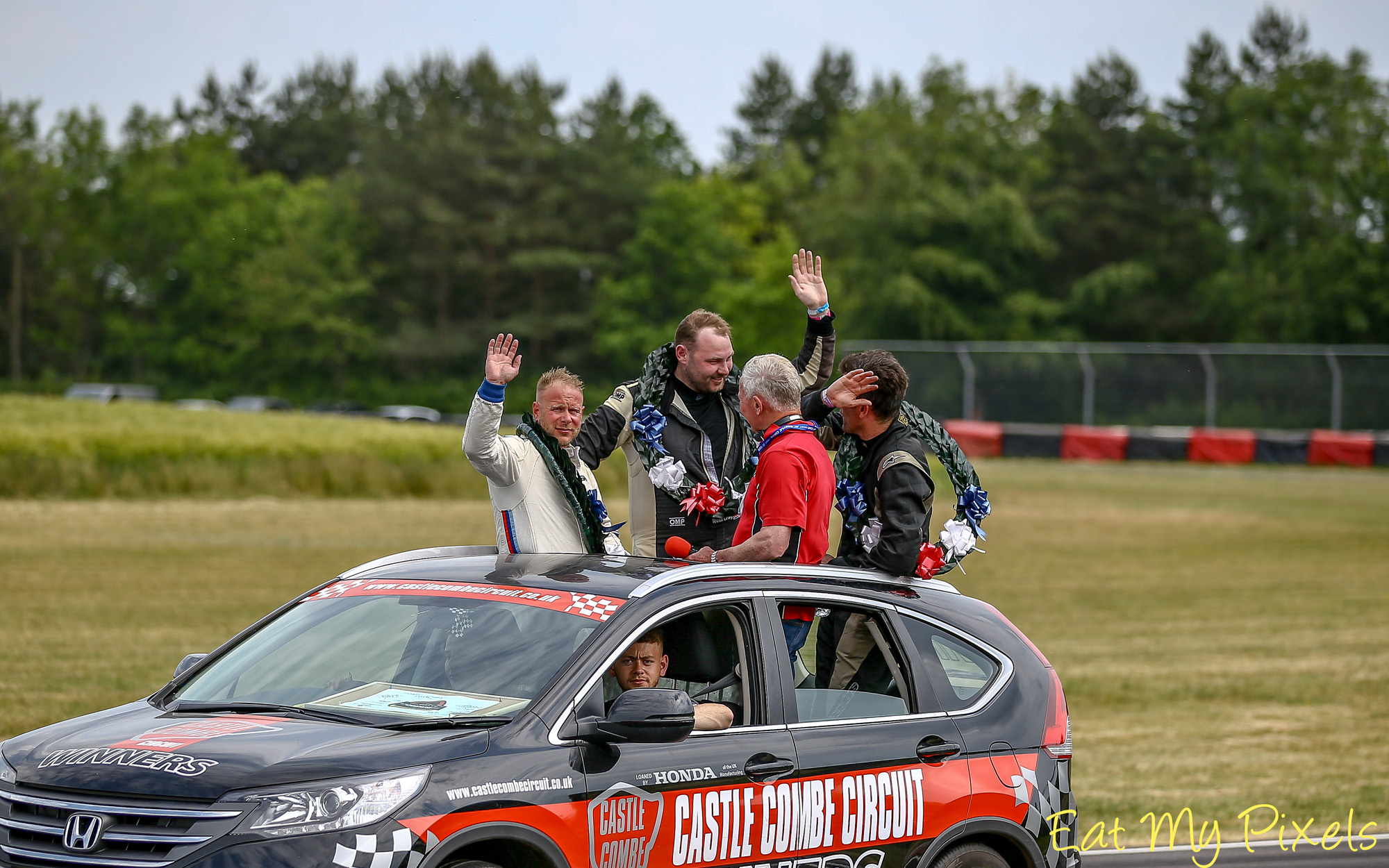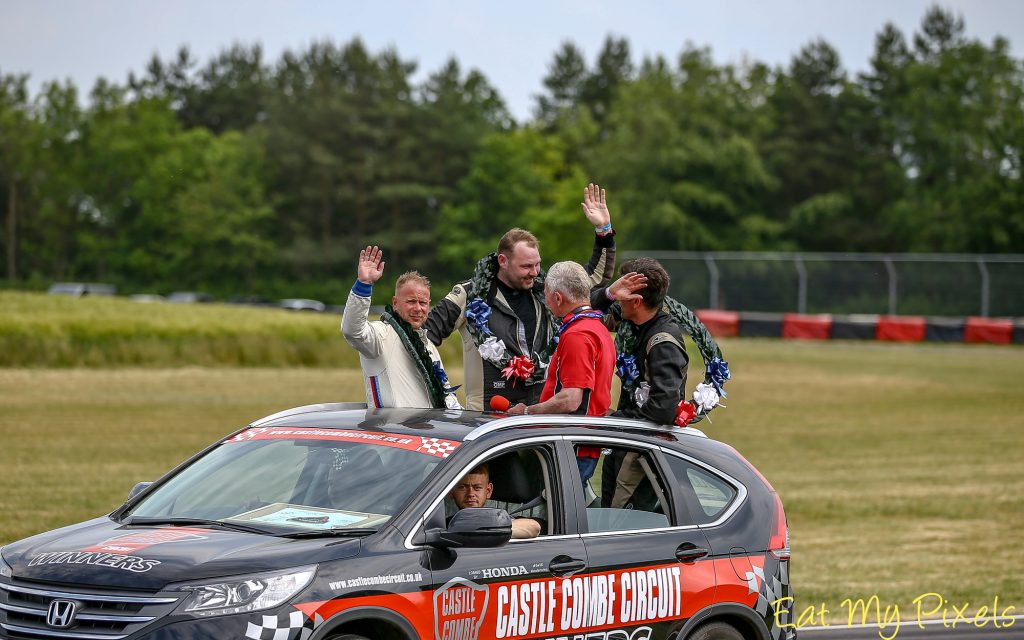 Bower was satisfied with second, his first finish of the season, more than 20s clear of Cripps and the similar car of Clint Le Chalmers who was getting to grips with the circuit. For Cripps, who missed April's meeting at Brands Hatch, it was a first podium of the year.
Jamie Sturges's smart E28-shape BMW M535 won Class C, but Class D runner Clark was a non-finisher after holing the little Renault's sump.
Bower had made some suspension set-up tweaks for Sunday morning's re-match. Waite kept him behind at the start but Bower's CibiEmme-liveried car was able to stay with the black-and-gold machine as the pair set a searing pace.
Le Chalmers passed Cripps for third but the duo were more than 30s down on the leaders when a mid-race safety car closed the field back up.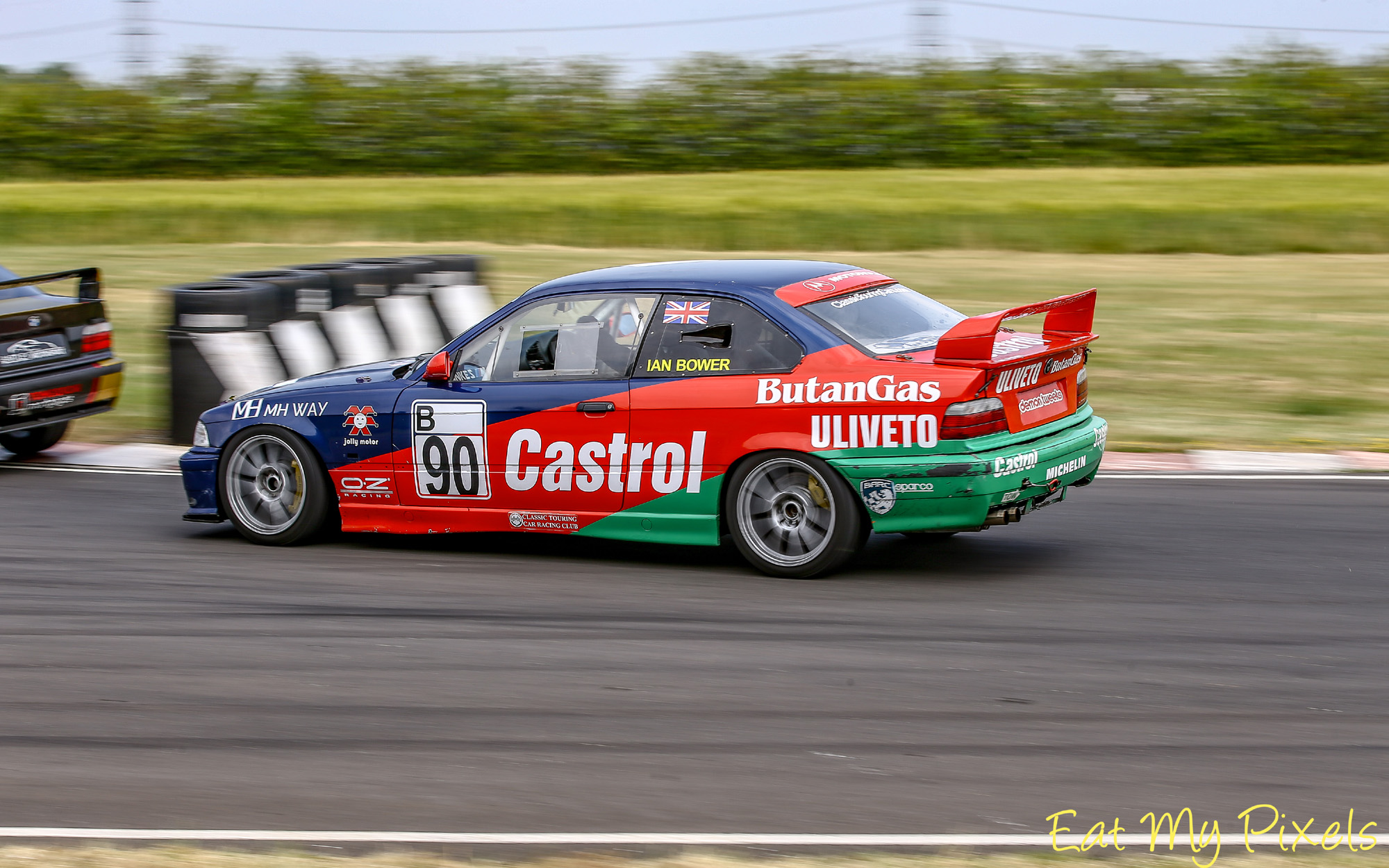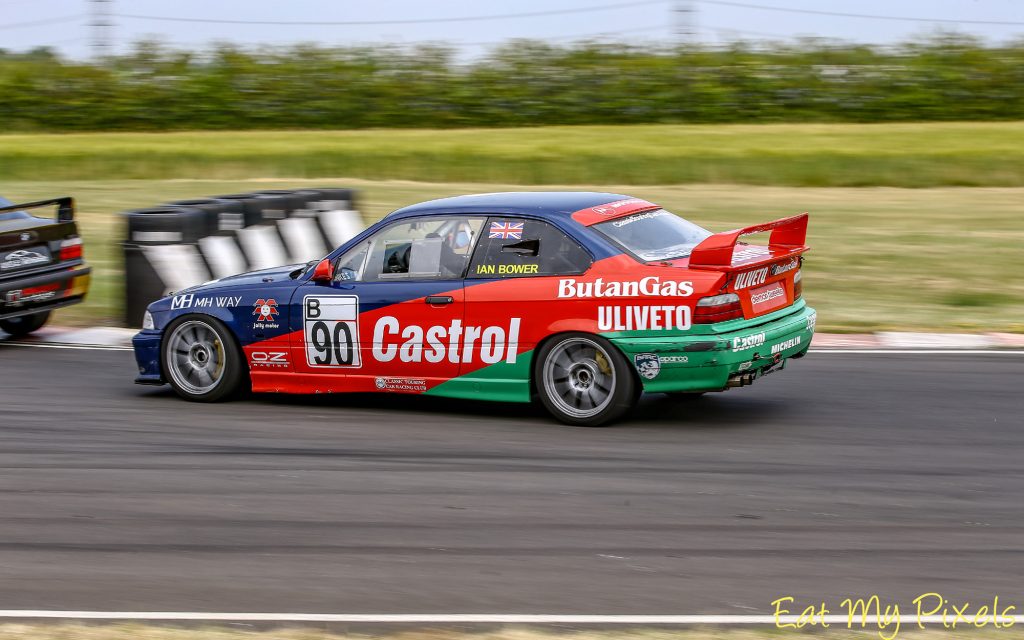 While Waite and Bower both lost out to charging BOSS runner Mike Manning after the restart, Waite looked able to resist Bower's pressure.
That was until the final lap when his gear selector broke, leaving him stuck in gear. Bower flew past on the exit of Quarry and charged to his first win since Thruxton last summer.
Waite was able to bring the car home still in second and earn more decent points for his championship challenge, with Le Chalmers third and Cripps fourth. Sturges again won Class C, while Clark brought his car home for Class D honours, hampered by a misfire.
Burty Haulage Pre-'03 Touring Cars
Ross Craig kept his Pre-'03 title bid on track with victory on Saturday before 2021 champion Gary Prebble struck back with a charge from the back to win on Sunday.
Prebble's Honda Civic EG was pipped to pole position by regular rival Chris Southcott's EK9 version, which went just 0.09s quicker around a circuit they both know very well.
Reigning champion Cavan Grainger was more than 3s further back in his Class A BMW, ahead of Craig (Civic EP3), James Alford (Civic EK) and James MacGregor's Honda Integra.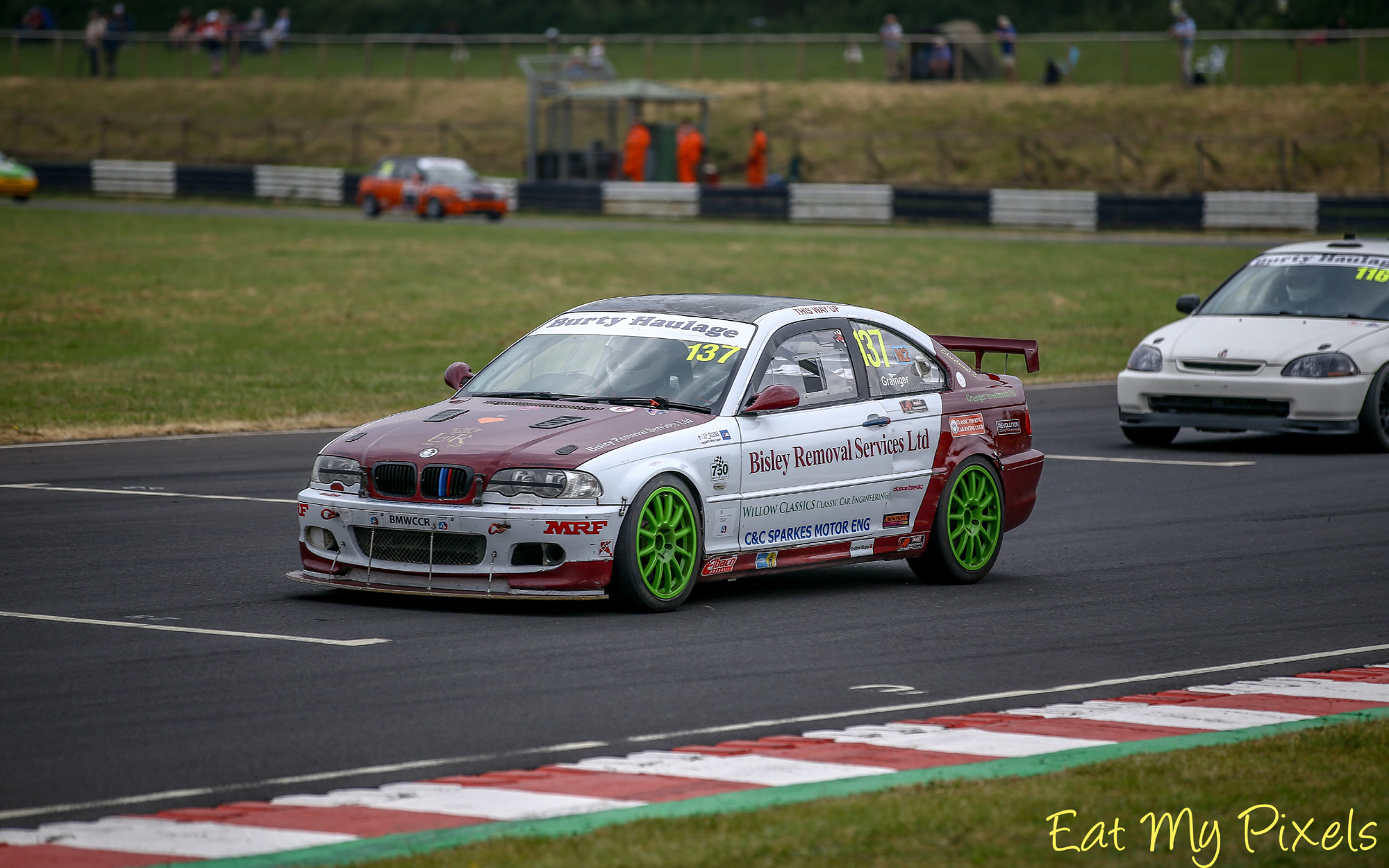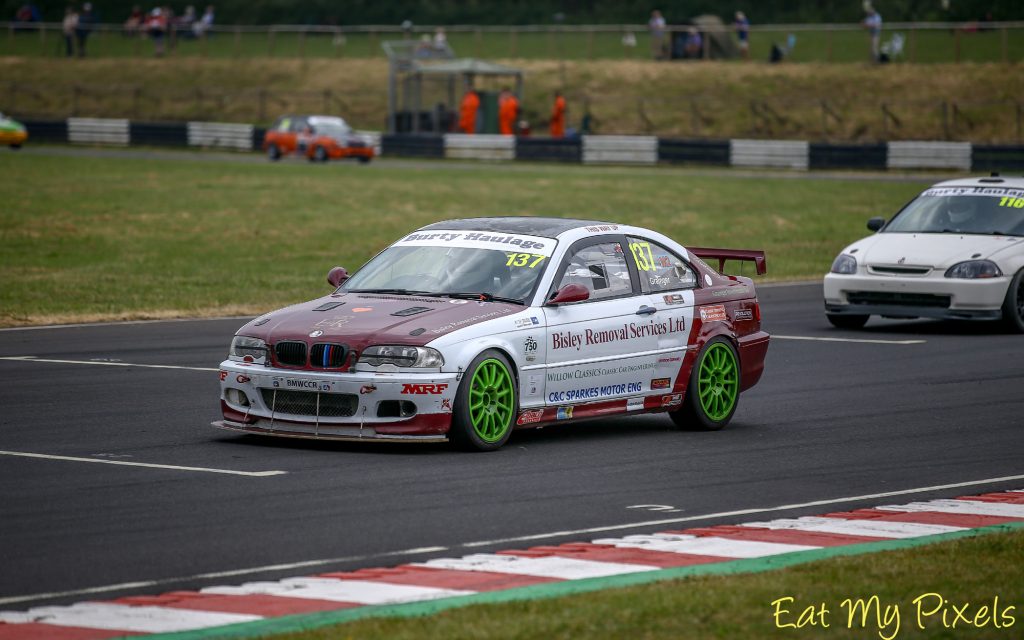 In the first race, Southcott and Prebble were passed by the leading Pre'-93 runners, but both remained at the head of the Pre-'03 field, albeit initially with another Pre-'93 car between them.
But the pair soon hit trouble. First Southcott lost fourth gear and slipped down the order. Then Prebble's recurrent gremlins returned and put him out of the race.
Grainger initially led the chasers and took over as Pre-'03 leader when Prebble was forced out. But Craig, who had passed Alford, was closing him down.
Craig made his move on the final lap to take his third consecutive Pre-'03 win, but Grainger still won Class A in second, with Alford third. Southcott limped home fourth ahead of the Civics of Andy Abrams and Ian Knight.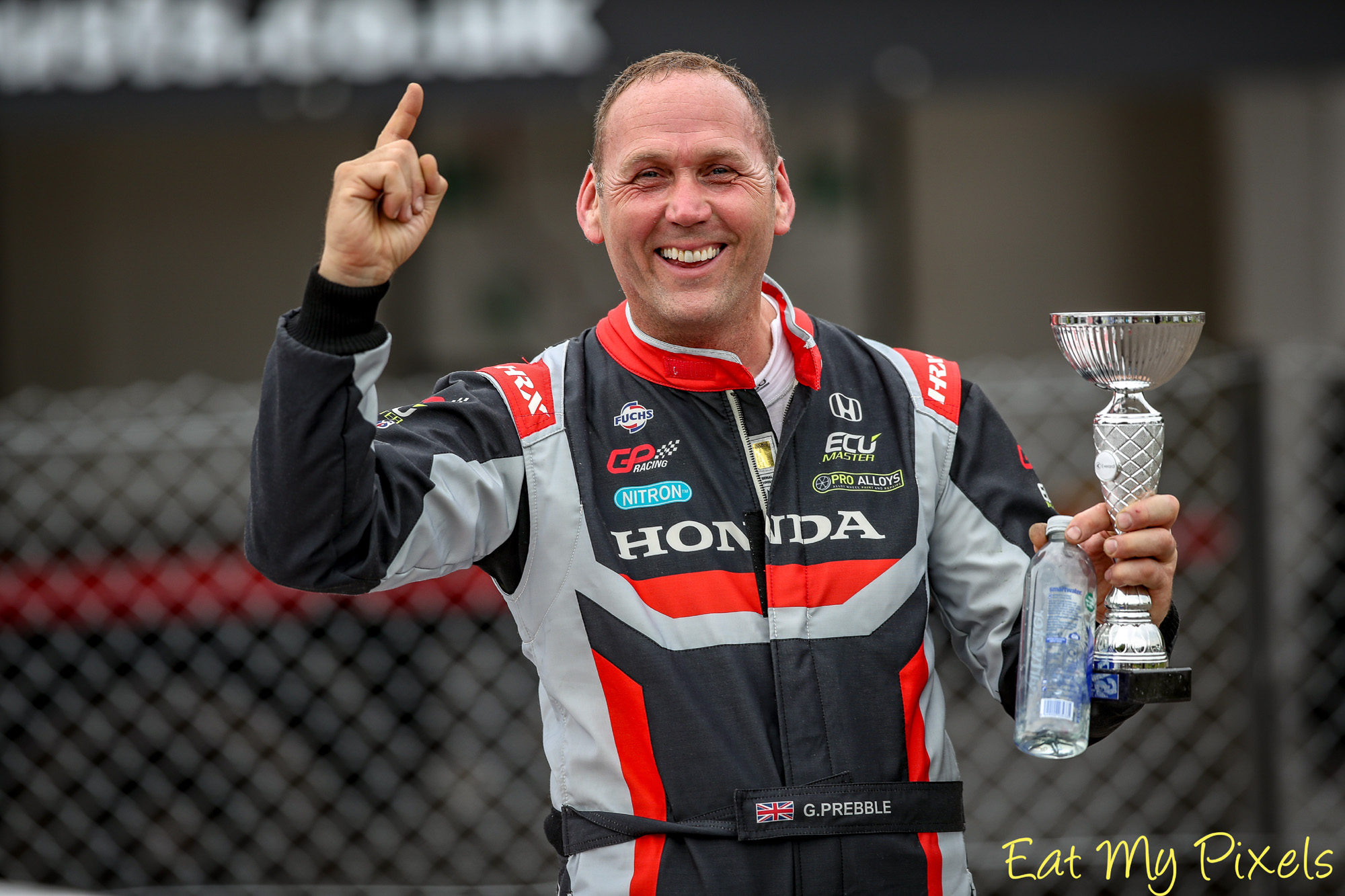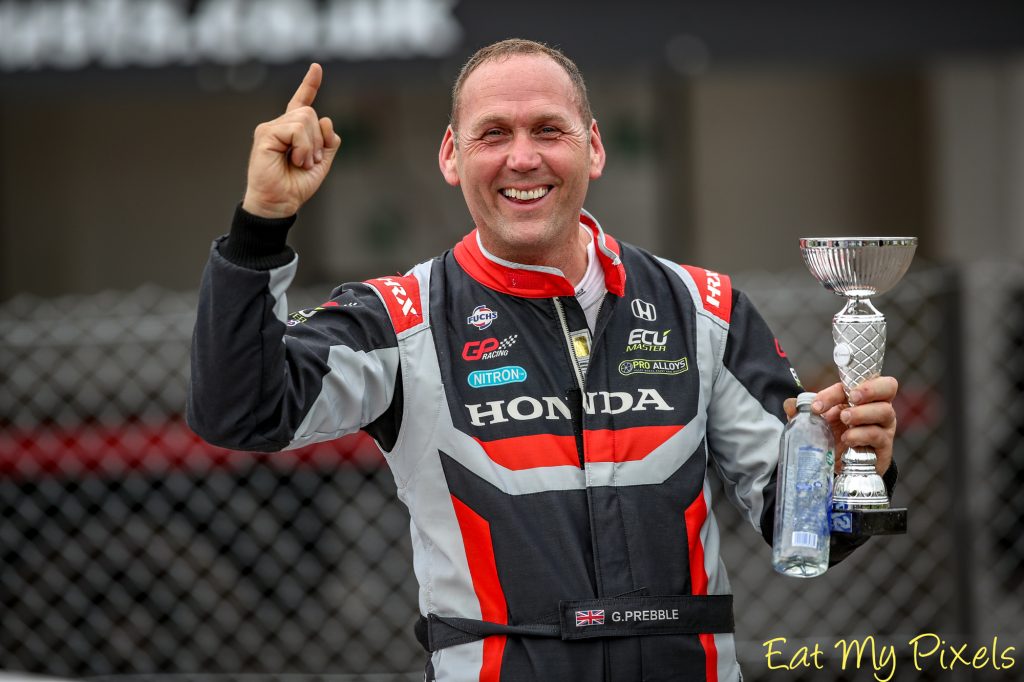 Grainger again got ahead of Craig and Alford on the opening tour of race two, before points leader Craig got back in front. But Prebble was on a charge from the back of the grid. He carved through the field and passed Craig for the Pre-'03 lead just before a mid-race safety car.
With the gremlins banished, it was then plain sailing for Prebble, who took a commanding victory from Craig, Class A winner Grainger and Alford. With Southcott missing, while completing his gearbox change ahead of racing in Combe's local championship, MacGregor and Abrams managed fifth and sixth.
Burton Power Blue Oval Saloons Series
The BOSS Fords once again joined the Pre-'93 and Pre-'03 Touring Cars on track. Their number included welcome returns for Mike Manning's stunning Texaco-liveried RS500 (after missing the previous round due to clash), Malcolm Wise's Sierra Sapphire and Alan Breck's Jagermeister-liveried Capri, with its V8 now bored out to an enormous 6.8 litres!
With Manning sidelined, Sam Daffin's slick-shod Fiesta was fastest in qualifying ahead of reigning champion James Dunkley's Zetec-engined XR2. Daffin led the way in the first race too until his Ecoboost motor blew.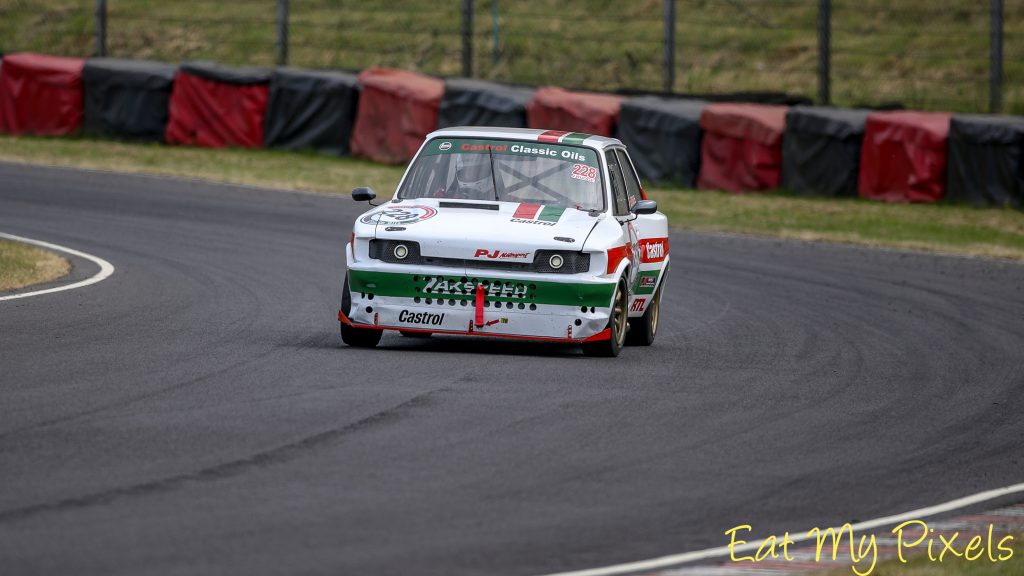 That allowed Dunkley to take a relatively comfortable victory ahead of Class B winner Wise. Michael Rudge (XR2) just beat brother Jason's smart new wide-bodied version to the final podium place.
Alternator issues fixed, Manning was on a mission in Sunday's sequel, while Daffin joined him at the back of the grid having performed an overnight engine change.
The pair both made rapid progress, with Daffin initially ahead, and were already second and third behind Dunkley at the end of the first lap.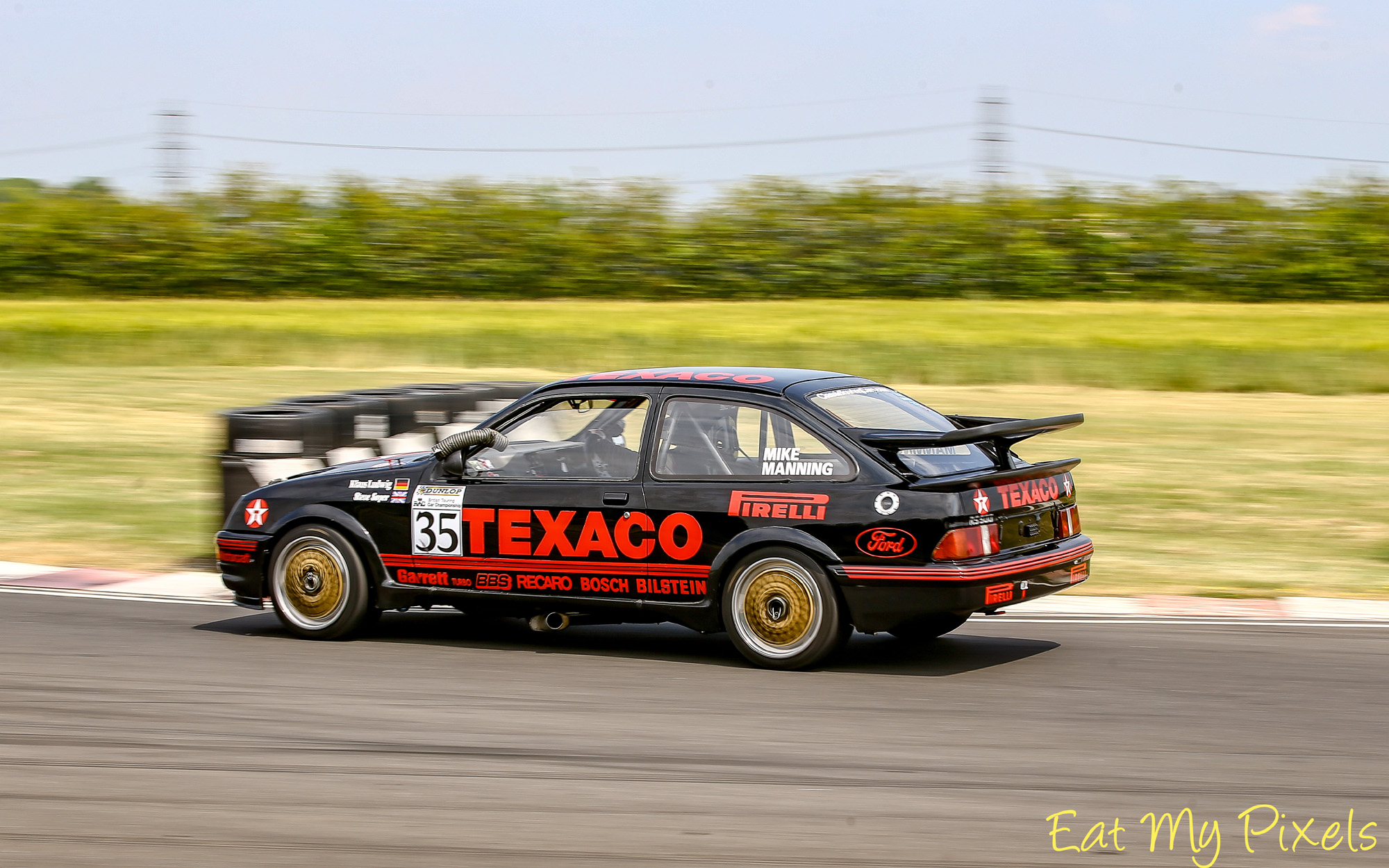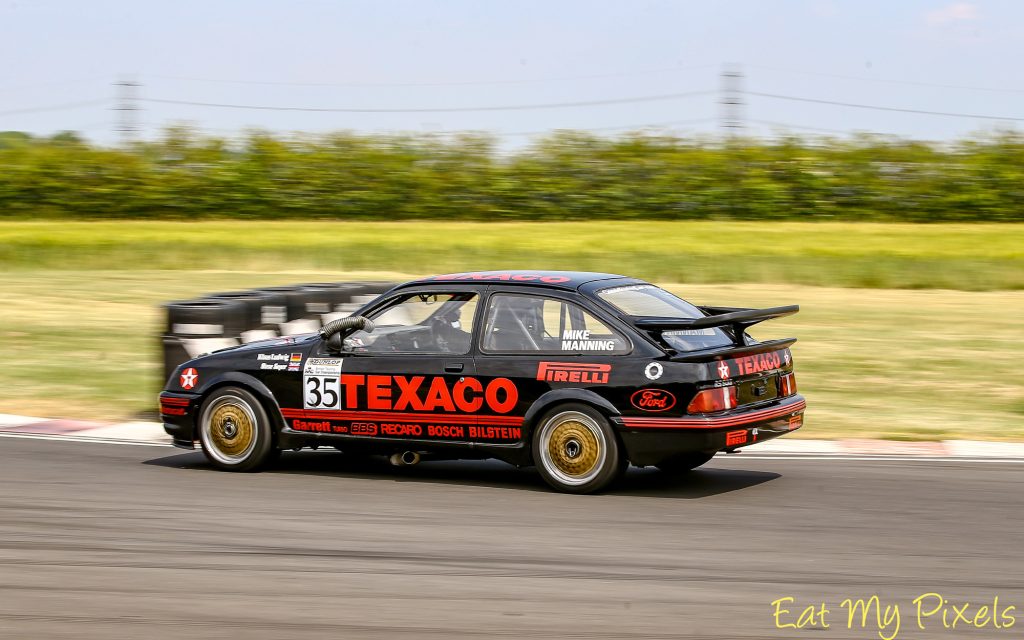 The Gulf and Texaco-liveried machines both passed Dunkley's red XR2 on lap two of 11, before Manning moved ahead on the next tour. The Welshman wasn't done there, though. He cleared all of the Pre-'03 drivers and all but two Pre-'93 runners before a mid-race safety car.
The two leading Pre-'93 BMWs were then easy meat for Manning once racing resumed. He powered clear to win the race overall by 2.5s and BOSS by 15s. Daffin was second, with Dunkley a Class D-winning third.
Wise again took the spoils in Class B, and Nick Mizen (Fiesta) added a second Class F success of the weekend.
Full results are available via the TSL website.
All images courtesy of CTCRC official photographer Steve Jackman/Eat My Pixels