The much-anticipated Super Touring Power festival lived up to all expectations – and more – in a truly wonderful celebration of touring cars at Brands Hatch.
The 65-year history of the British Touring Car Championship was embraced by packed Classic Touring Car Racing Club grids of fantastic cars and star names on both the Grand Prix and Indy circuits. And there was almost as much to see off-track, with a huge number of cars on display (some of which were demonstrated on track), and many personalities from BTCC history.
Laser Tools Super Tourers
The headline category featured a superb entry of cars, including five that had been brought all the way from New Zealand as well as several others new to the series.
The CTCRC was delighted to be joined by multiple Bathurst 1000 winners Greg Murphy and Steven Richards, two-time Touring Car World Cup winner Paul Radisich and current BTCC ace Jake Hill.
It was Hill that led the way, winning all four races in Richard Wheeler's third RML-built Nissan Primera – Laurent Aiello's championship-winning car from 1999.
Minimising his running, Hill was beaten to pole position for Saturday's first race on the Grand Prix circuit by Stewart Whyte (ex-Tom Kristensen Honda Accord). Whyte managed a 92mph lap around the challenging, undulating 2.4-mile circuit – host to 14 World Championship Grands Prix – that was 0.1 seconds quicker than Hill's benchmark.
Period star (and CTCRC regular) Anthony Reid ('98 Primera) was third fastest and would be joined on row two by Porsche Carrera Cup GB frontrunner James Kellett in Allan Scott's Roger Dowson-built 1995 Mazda 323F.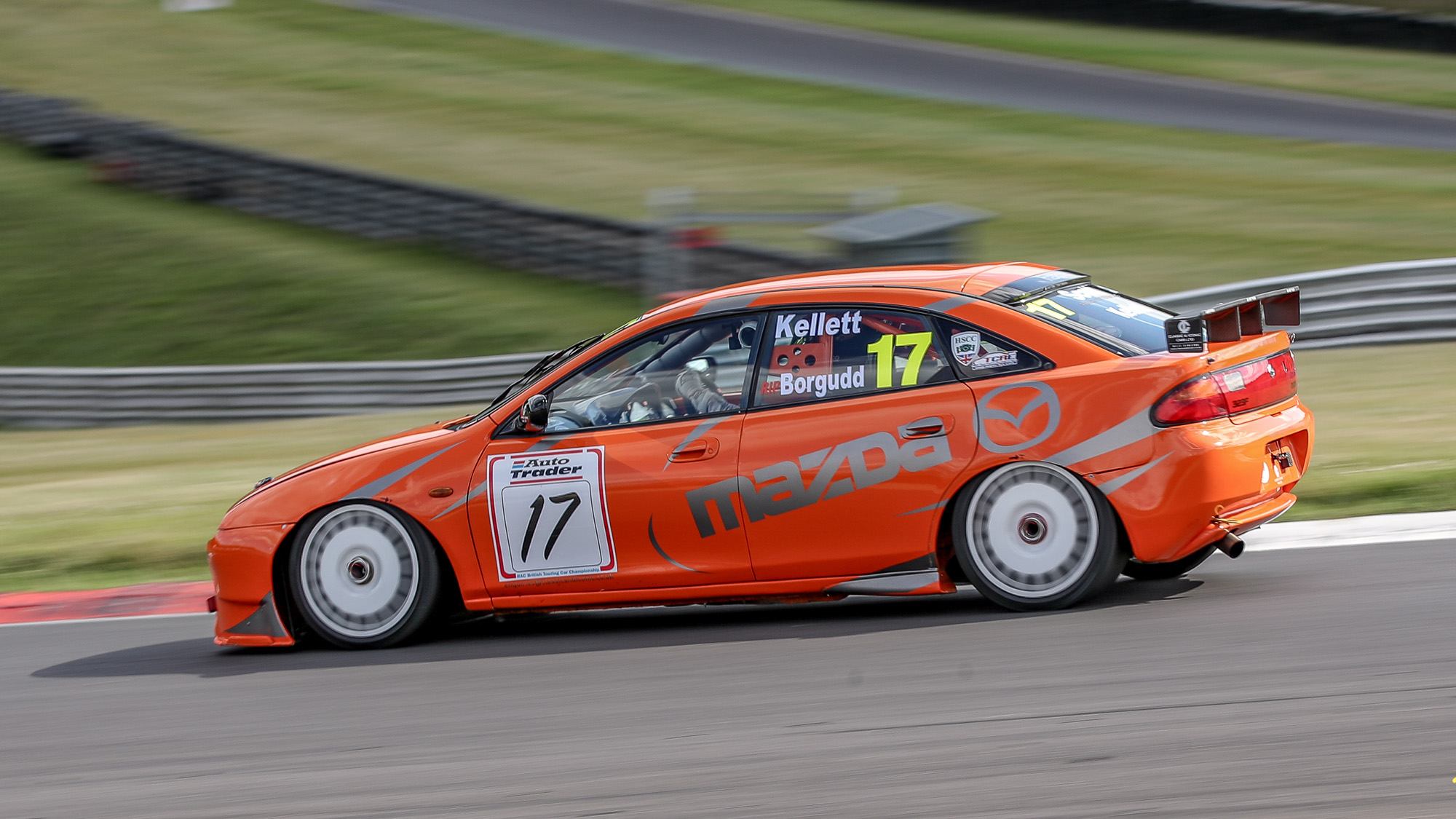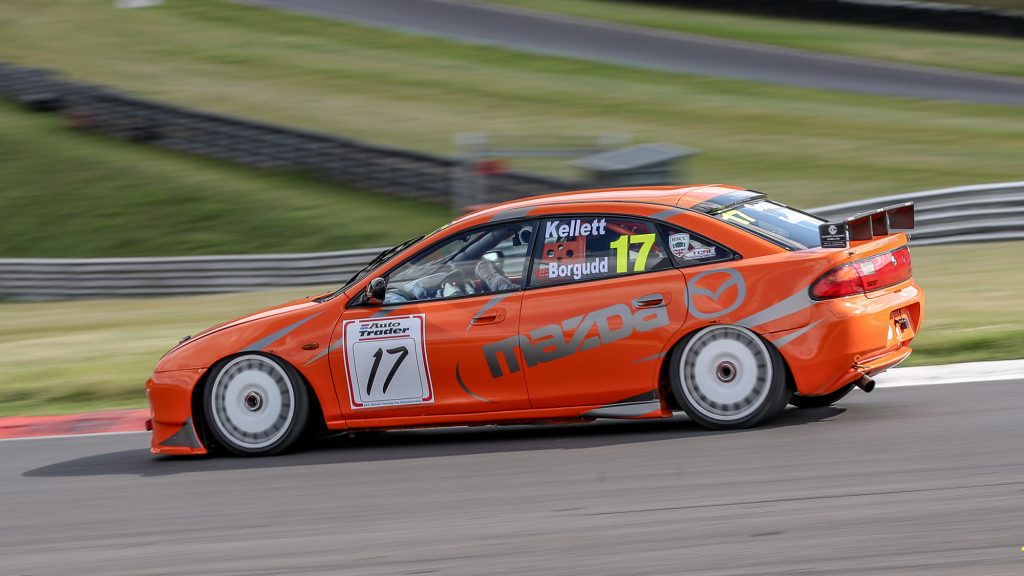 Jason Hughes (Vauxhall Vectra) was next, ahead of Kiwi greats Richards ('97 Volvo S40) and Murphy (ex-Matt Neal Nissan Primera) who were both having their first runs on the legendary circuit.
Former Renault UK Clio Cup and TCR driver Alex Morgan (ex-Colin Turkington and Tom Chilton Vauxhall Astra Sport Hatch) completed the top eight ahead of Wheeler ('99 Primera) and Mark Jones (ex-Jason Plato Renault Laguna).
Radisich was just outside the top 10 in his much earlier car, the 1994 Ford Mondeo that he took to World Cup success at Donington Park 29 years ago.
On the rolling start, Hill made a better getaway than Whyte to lead away the first race. Reid slotted into third, and Hughes claimed fourth after the fast-starting Kellett tried to hang on around the outside of the Druids hairpin. Murphy also jumped his old rival Richards in the battle of the Antipodean greats.
While Hill built an immediate lead, Whyte was able to chip away and close back in, only to lose time in traffic. By that time, the Scotsman had taken too much out of his tyres and so local man Hill could ease to a 3.6s victory.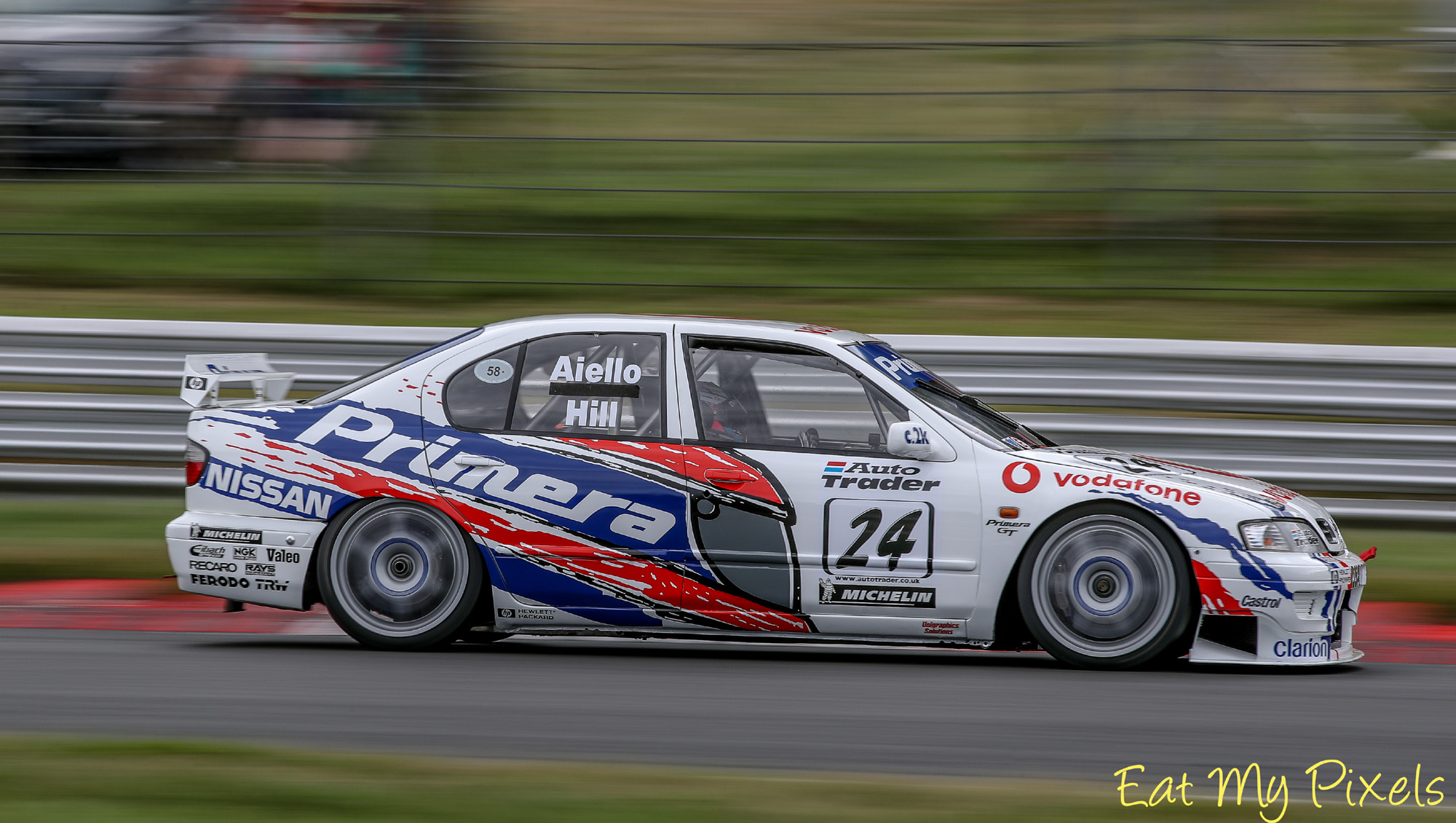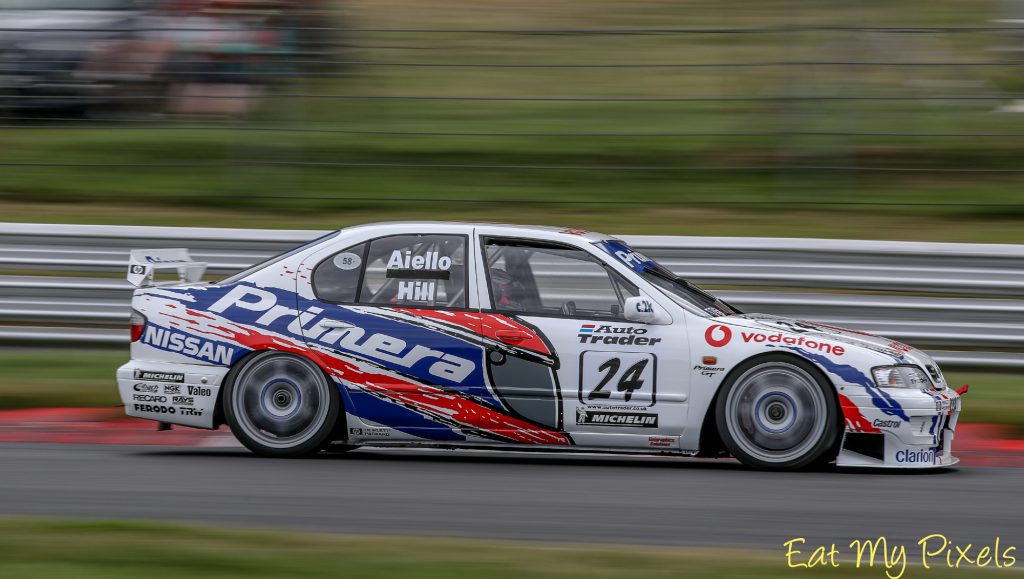 Some way further back in the slightly older Primera, Reid was a comfortable third, after fending off Hughes, until his car cut out and he had to pull up.
We had already lost New Zealander Conrad Timms's ex-Kelvin Burt Mondeo in the gravel at Druids. Sadly, multiple Pre-'03 Touring Car champion AJ Owen's earlier Mondeo was also forced out when its Duratec engine blew on the car's first race start for 12 years.
Kellett therefore inherited fourth but had to withstand plenty of pressure from Richards in the closing stages, earning praise from Richo for his efforts in the older car. Richards had passed Murphy exiting Druids a couple of laps from home as the ex-Team Dynamics car began to misfire and intermittently drop cylinders.
Morgan also passed Murphy to finish an impressive sixth overall in the less powerful BTC-T spec car. Murphy brought the Primera home seventh ahead of Wheeler – also making his GP circuit debut – Radisich and Jim Pocklington in his 1990-vintage ex-John Cleland Vauxhall Cavalier.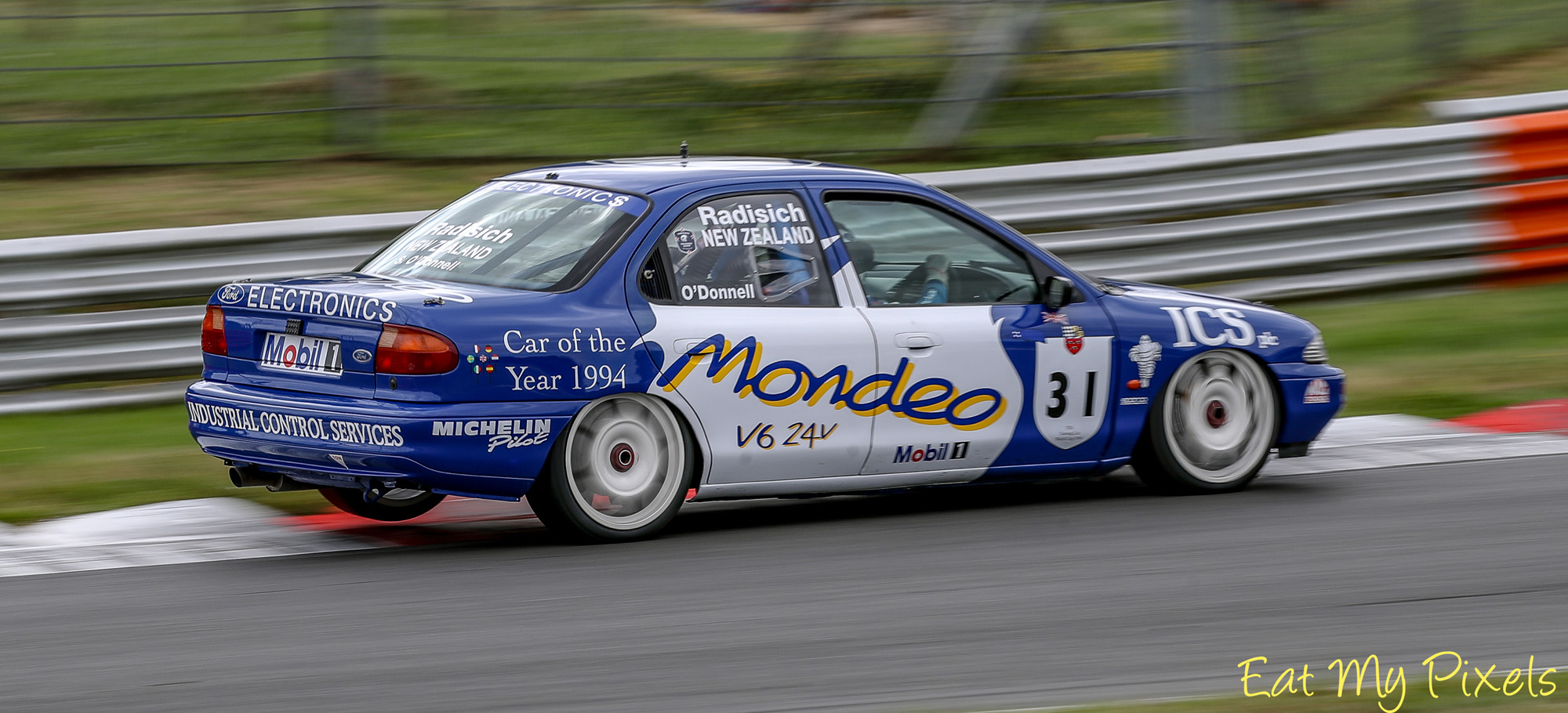 The second race panned out similarly – at least at the front. Hill made an early break before Whyte closed in – aided by a safety car – and set fastest lap. Hill was having to manage a problem where the gearbox sometimes jumped between third and fourth, but held off Whyte to secure victory by less than 0.7s.
Kellett jumped Hughes to run third, and the Vauxhall driver was then further demoted by Richards and Murphy with nice moves at Paddock Hill Bend and Surtees, respectively.
A safety car for Stuart Caie's beached 1994 Vauxhall Cavalier GSi bunched up the field but not before Wheeler and Hughes both passed Murphy as the race was brought under caution. After racing resumed, Wheeler ran wide and dropped down the order, and Murphy's gremlins returned, sadly forcing him to retire.
While the top two streaked clear, Kellett consolidated third and Richards held off Hughes for fourth. Another strong drive brought Morgan sixth, and Wheeler recovered to seventh after a close scrap with Radisich. Pocklington and New Zealander Nigel Arkell (1996 Honda Accord) completed the top 10.
The action switched to the shorter Indy circuit for day two, with a large crowd thronging the spectator banks to enjoy the convivial atmosphere of the event – as well as collecting autographs and getting up close to the stars and cars in the free pitlane walkabout that opened the day.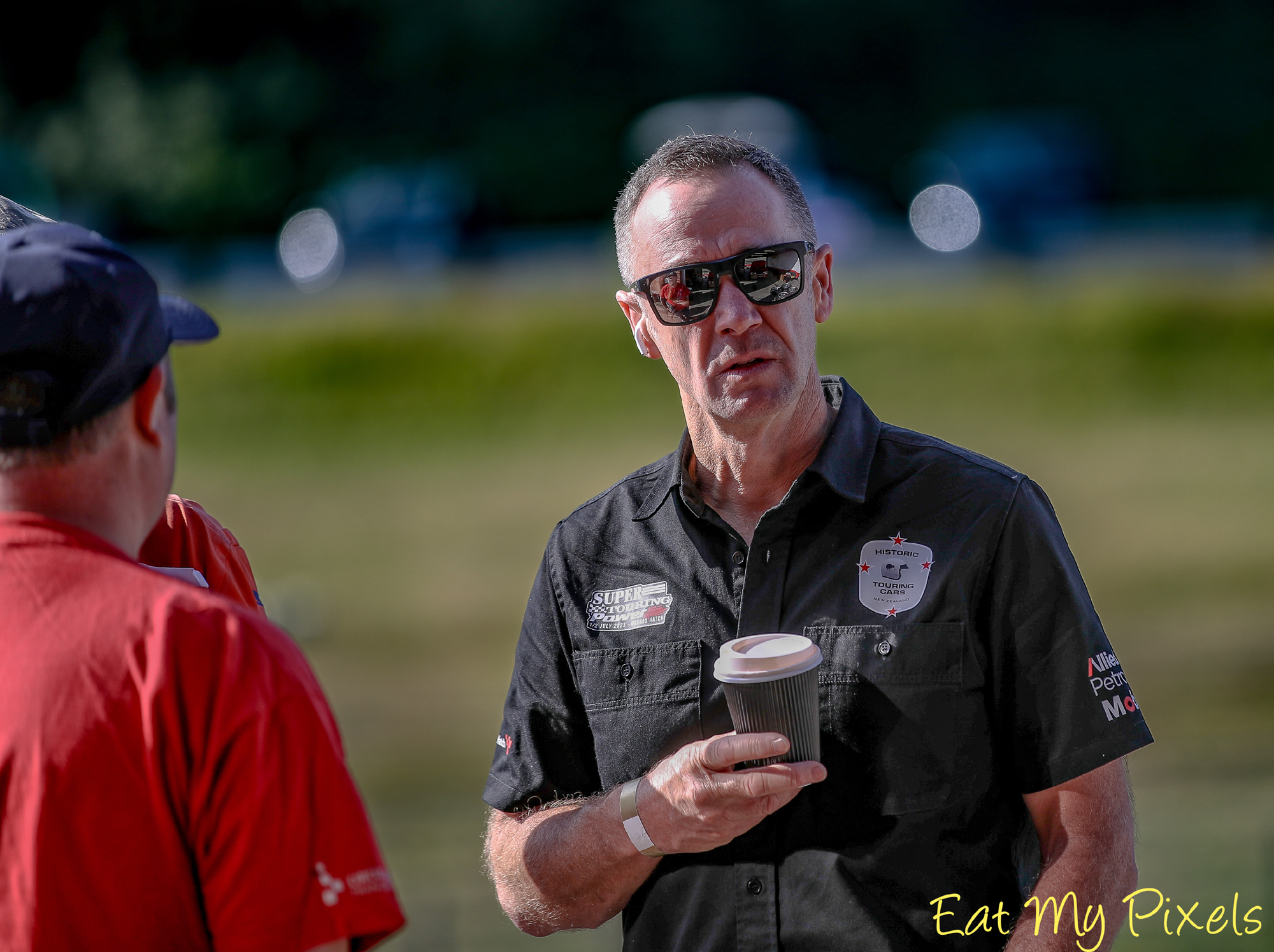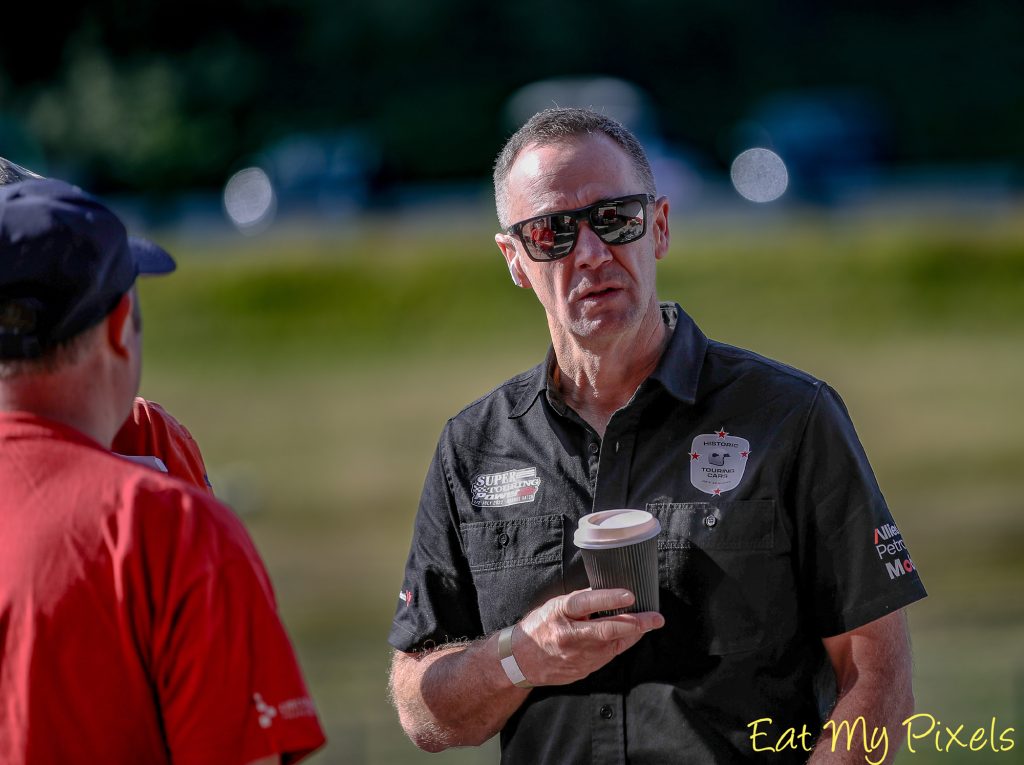 This time Hill did secure pole position, by almost a second from team-mate Reid. Whyte was disappointed to qualify third after shortening his gear ratios too much overnight, which meant the Honda was hitting its rev limiter on the Brabham Straight. Hughes was fourth, while old buddies Richo and Murph were once again in close company filling row three of the grid.
Race fans packed out a hugely popular grid walk before the Super Tourers' third race. It also featured a touching tribute to Team Dynamics founder Steve Neal who had died the day before; Murphy's car, resplendent in 100+ Alloy Wheels Team Dynamics livery, was wheeled to the head of the grid before the drivers gathered around it to show their respect.
When the race started, Whyte immediately passed Reid. Richards also made use of the inside line to demote Hughes to fifth, while Kellett snatched sixth from Murphy who had made a good start but found himself boxed in.
As the top two again broke clear, Hughes and Richards traded fourth, the Vauxhall driver eventually securing the place with a move through Graham Hill Bend. Murphy also regained sixth by getting inside Kellett at Druids.
A heavy accident for David Power's 1996 German-built Mondeo on the exit of Paddock Hill Bend led to red flags and a restarted race that became a six-minute dash. As it got underway, Whyte tried to round Hill before tucking back in behind the Nissan.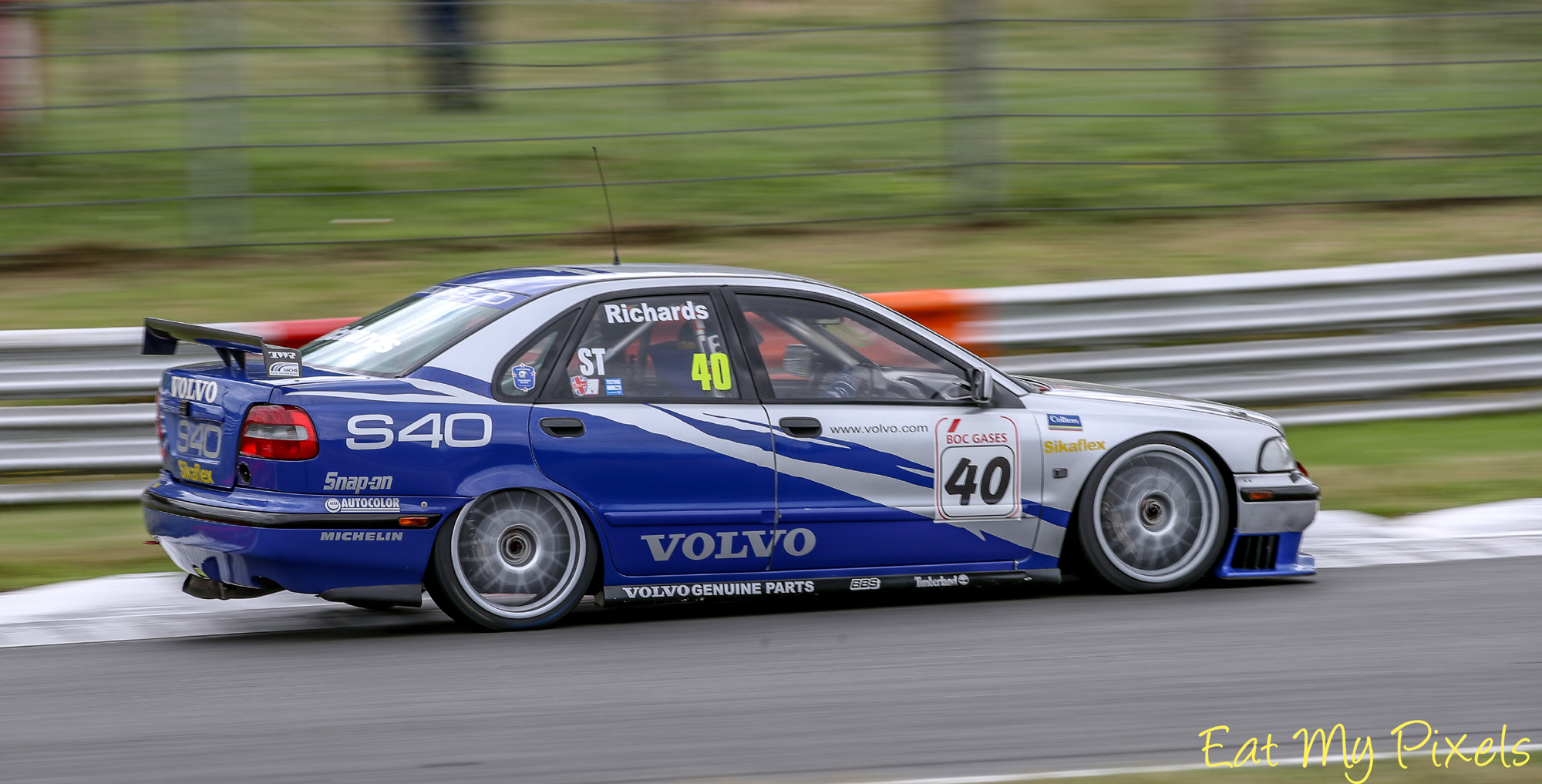 Hughes and Wheeler, who had qualified ninth, provided much of the excitement over the remaining distance. Hughes was giving Reid a hard time and managed to steal third into Paddock Hill Bend.
Wheeler, drawing on his much greater experience of the shorter layout, followed Murphy past Richards, making his move at Graham Hill Bend. He then harried the lead Kiwi, and dived inside at the same corner with a late-braking move.
Murphy hung on and the dice continued down the Cooper Straight and into Surtees, where a sideways moment for the red Primera allowed the Vodafone-backed version to complete its move.
Wheeler wasn't done there. As Hill held off Whyte for victory, Wheeler dived inside team-mate Reid for fourth at Paddock and almost managed to snatch third from Hughes on the line. Reid was fifth, ahead of Murphy – now with a better functioning car – and Richards.
Kellett was eighth and, after Morgan was swamped at the restart, Jones came through to ninth, a nice reward for his team's efforts to change the Laguna's engine overnight after its failure on Saturday. Radisich completed the top 10.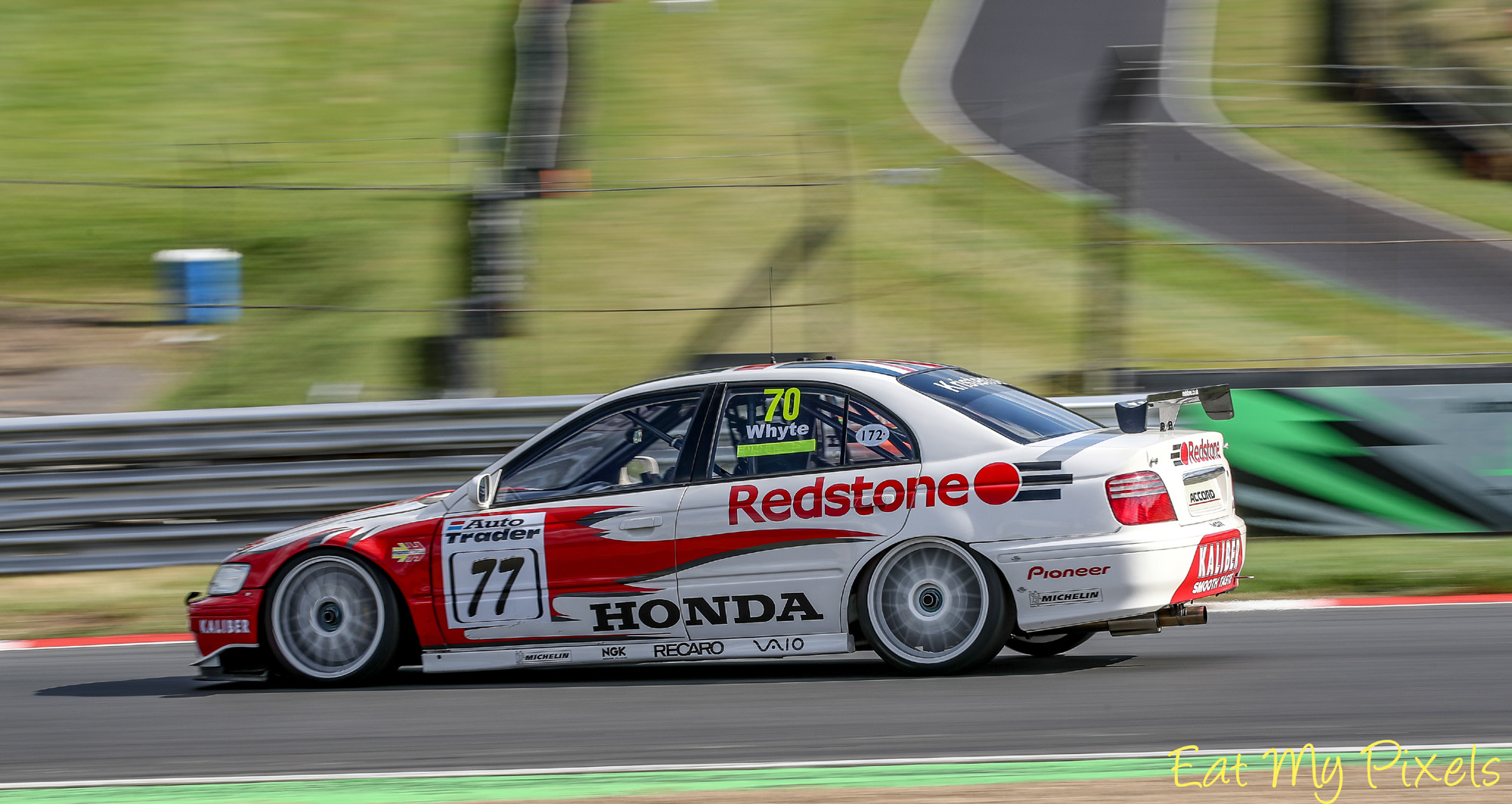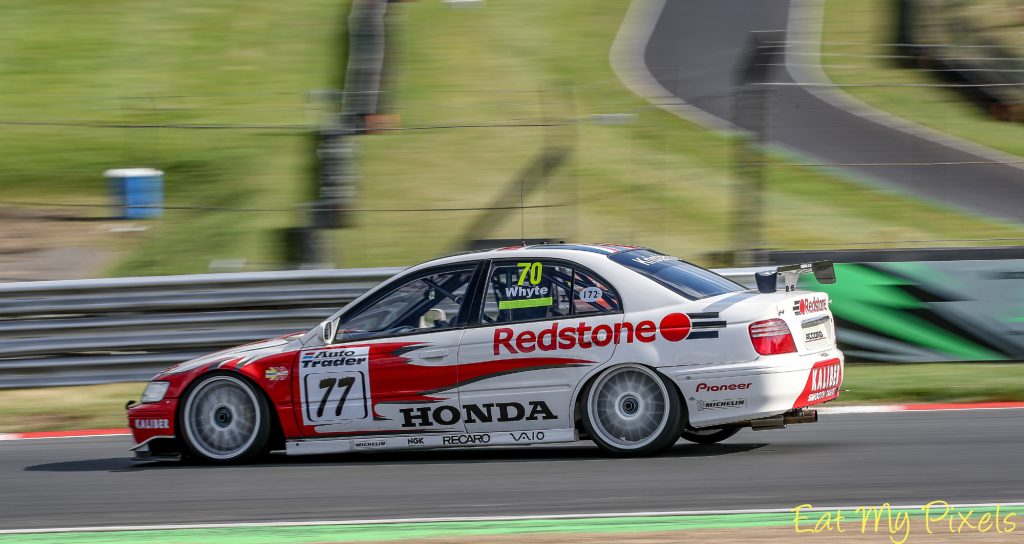 Whyte made further tweaks to his car ahead of the finale in an attempt to dial out understeer and finally get ahead of Hill. He was successful – but only briefly. Whyte jumped Hill at the start and cut across to take the inside line at Paddock and lead the race.
But, less than a lap later, as Hill showed his nose to challenge into Surtees, Whyte's car snapped sideways and pitched him into the gravel.
The Scotsman managed to extract his Accord but brought into the pits to retire. He was desperately disappointed with the way it had ended but could be proud of his performance over the weekend, keeping one of Britain's best on his toes. The ever-enthusiastic Hill even admitted later that he was "gutted for him".
Behind them, Hughes was promoted to second but Wheeler dropped behind Reid, Murphy and Richards. Trying to recover lost ground, Wheeler dived inside at Paddock but lost the car and spun into the gravel.
Richards did well to see it coming and avoid getting collected. A safety car was called and the marshals got to work trying to push the stricken machine back on track, receiving a huge round of applause when they were successful.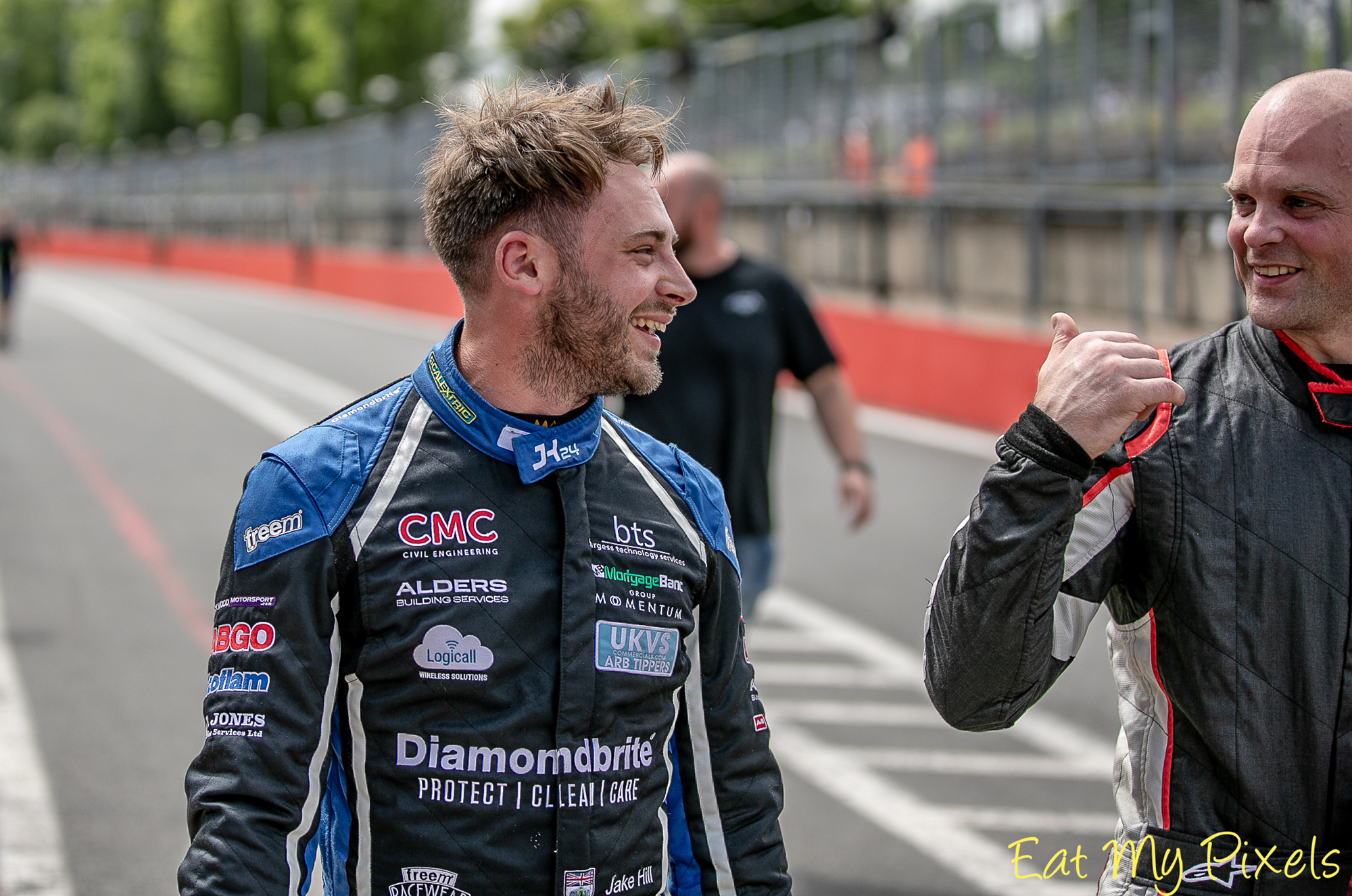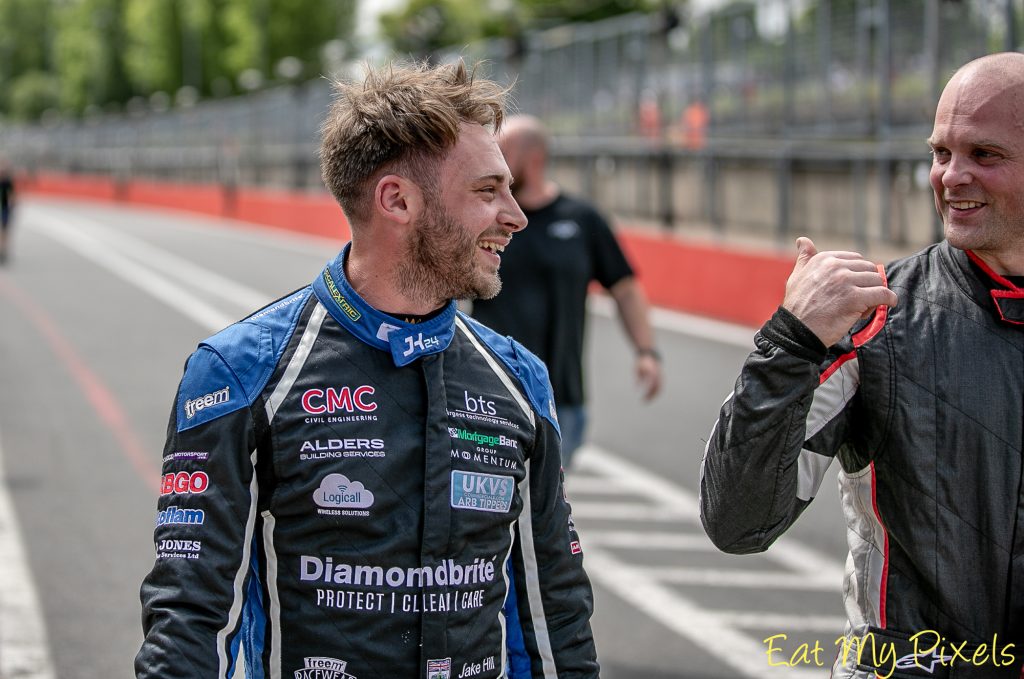 On the resumption, Hughes tried to challenge Hill, but the incumbent BTCC driver held on to complete his clean sweep of four wins from four races. Hughes was less than a second back at the flag, with Reid a further 6s adrift.
The mechanical issues with Murphy's Primera sadly returned, its engine shutting down and forcing him to retire. That left Richards in fourth, just missing out on a first Kiwi podium finish of the weekend.
Kellett was some way further adrift in fifth, unable to repeat his Saturday pace after breaking the rear anti-roll bar. Morgan passed Radisich and then Jones to take fifth, contact with the latter unfortunately leaving the Renault in the gravel.
So Radisich was seventh ahead of Timms, as Arkell's Honda slowed to retire after the safety-car period. Completing the top 10 were Adam Woods, who was debuting his ex-Tom Chilton BTC-T Honda Civic Type R, and Colin Sowter, whose ex-Radisich Peugeot 406 had been plagued by brake trouble over the weekend.
It had been a fantastic showing by the drivers and cars from the BTCC's most fondly remembered era, prompting plenty of calls for a Super Touring Power II next year!
Check back on the CTCRC website for a full rundown of all the Super Tourers, which will appear in the coming days.
Edmundson Electrical Classic Thunder
A fantastic – and typically eclectic – entry of 29 thunderous cars produced four exciting races with championship leader Sam Wilson taking his maiden overall victory.
Having claimed a double on the Brands Hatch Indy circuit in April, Bryan Bransom set himself up to target a repeat on the Grand Prix layout by powering his BMW M3 E46 to pole position on a damp but drying track after earlier rain.
The times tumbled late on, but Vaughan's Audi A3 – complete with new turbo – secured second on the grid despite running on road tyres. Hometown driver Rod Birley (BMW E36) and the returning Ryan Steel's lightweight 2.2-litre Citroen Saxo completed the top four.
Fancied runners Wilson (Aston Martin V8 Vantage) and Alex Sidwell (Holden Commodore VF) were down in 16th and 22nd, the latter suffering a brush with the pitwall after getting out of shape through Clark Curve.
Come the race, Bransom converted pole into the lead ahead of Vaughan, while newcomer Josh Lawton jumped from fifth to third in his ex-Time Attack Honda Civic. Wilson and Sidwell were both on a charge and had were separated only by Andy Robinson's Ford Falcon AU in fifth (behind Birley) and seventh by the time of a mid-race safety car.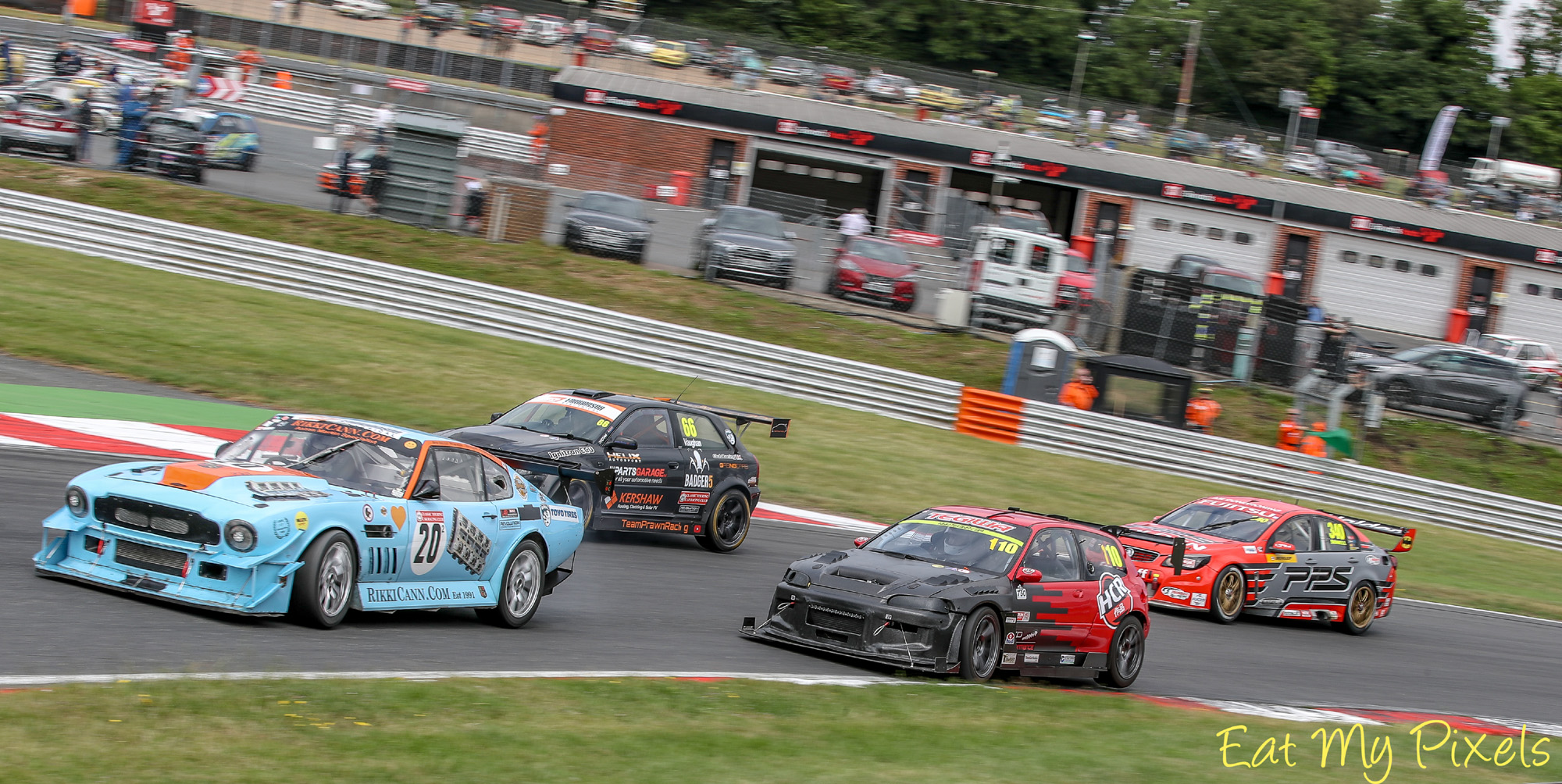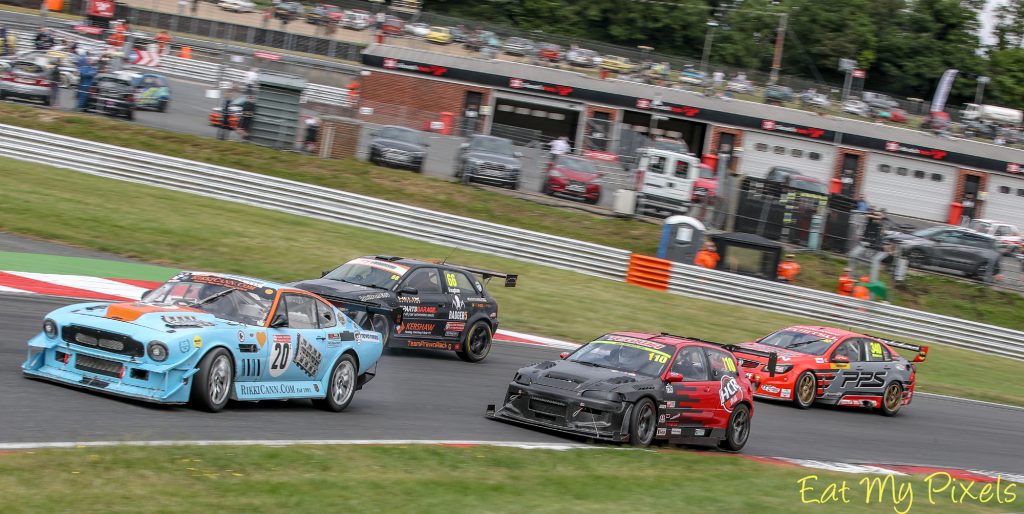 The pair's rapid progress continued on the resumption. Wilson passed Birley and then got inside Lawton for third. He then inherited second as Vaughan's pace dropped when his power-steering failed after overheating. Sidwell followed through into third.
The trio produced a fantastic finish. Wilson snatched the lead into the fast right-hander at Hawthorns on the final lap to secure a maiden overall win in Rikki Cann's historic-class car. Then Sidwell used his Aussie V8 grunt to pip Bransom to second on the line.
Lawton impressed on his way to fourth ahead of Robinson and Birley, while Vaughan manhandled his A3 to seventh, which was still second in Class B behind Bransom.
Wilson's hopes of securing a double in the afternoon race ended with a driveshaft failure on the green-flag lap. Sidwell was therefore unchallenged as he shot into the lead and then powered clear.
Lawton again made a good start and passed Bransom for second on the first lap, before the BMW driver eventually reclaimed the position around the outside of Druids mid-race.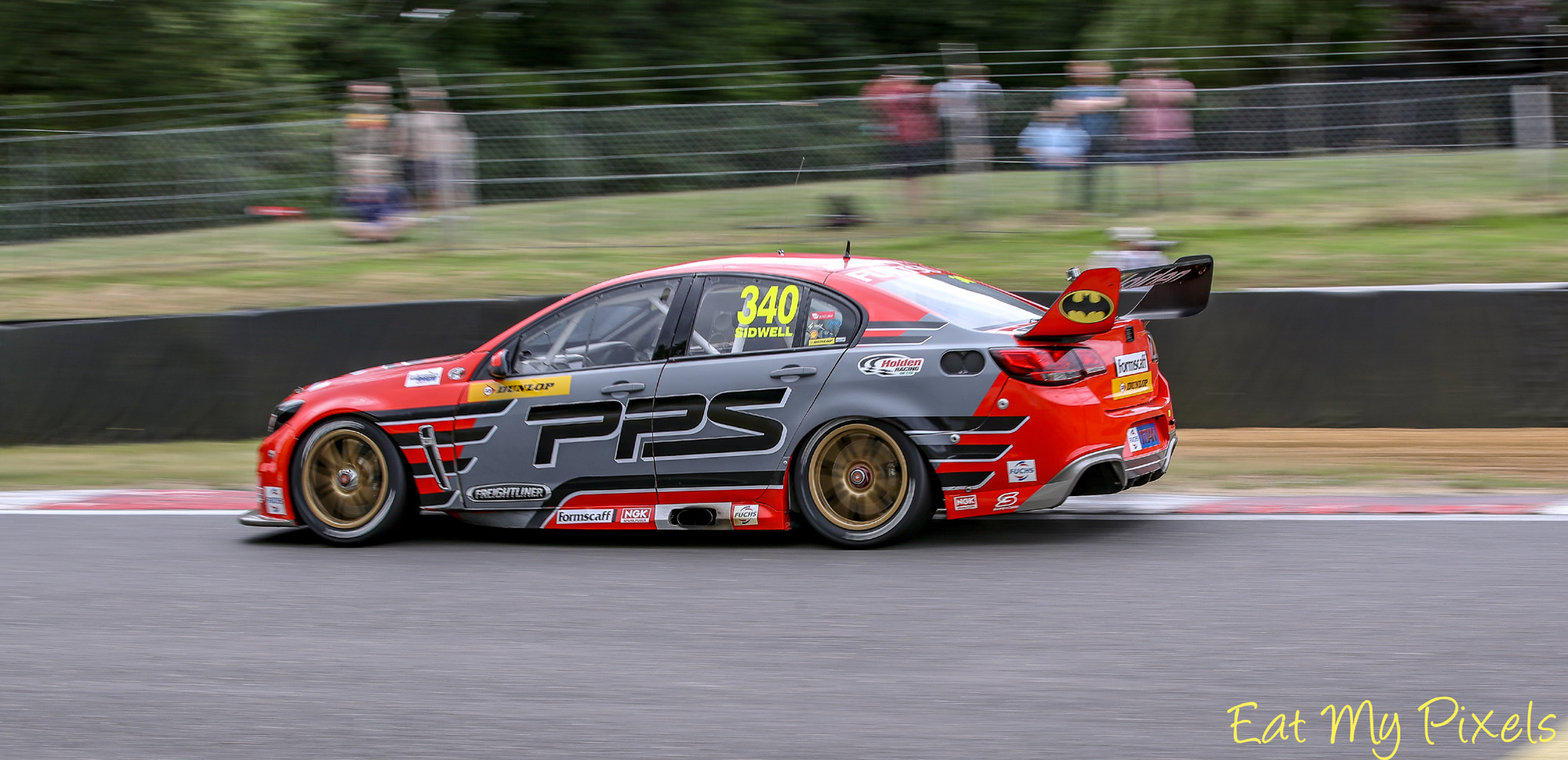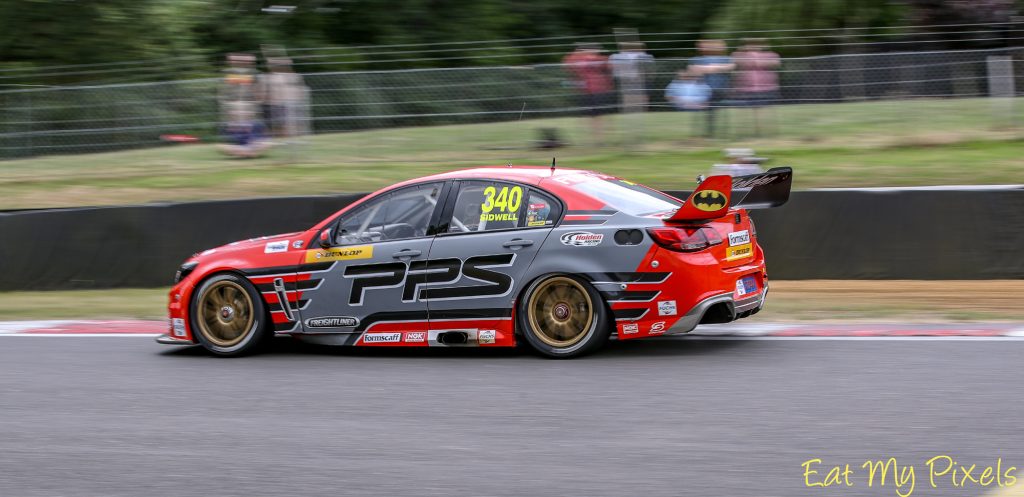 Sidwell appeared to have victory in the bag but was perhaps too cautious in traffic which allowed Bransom to catch. Seeing the danger, Sidwell upped his pace once more to clinch victory, adding to his GP circuit successes from last year.
Vaughan pressured Lawton into a mistake at Paddock Hill Bend to claim the final podium place but the Hull driver could still be satisfied with another fourth position on his championship debut. Birley was fifth after enjoying a good scrap with Kirk Armitage's similar car.
Rikki Cann's crew worked until 3:30am to diagnose the Aston's problem and get it ready for Wilson to return in Sunday morning qualifying on the Indy circuit. Wilson rewarded them by taking pole position, less than 0.1s ahead of Bransom.
Sidwell and Vaughan were on row two, ahead of Lawton and Abbie Eaton, who had returned from racing at Spa the day before to take over dad Paul's historic-class Holden Commodore VH.
Vaughan looked to have made the best start but couldn't make a move stick as he tried to squeeze between the front-row men. Instead, Bransom hung on around the outside of Druids and claimed the race lead into the left-handed Graham Hill Bend.
Bransom couldn't shake Wilson off though and the pair put on a show as Wilson had a power advantage but Bransom was supreme on the brakes and through corners.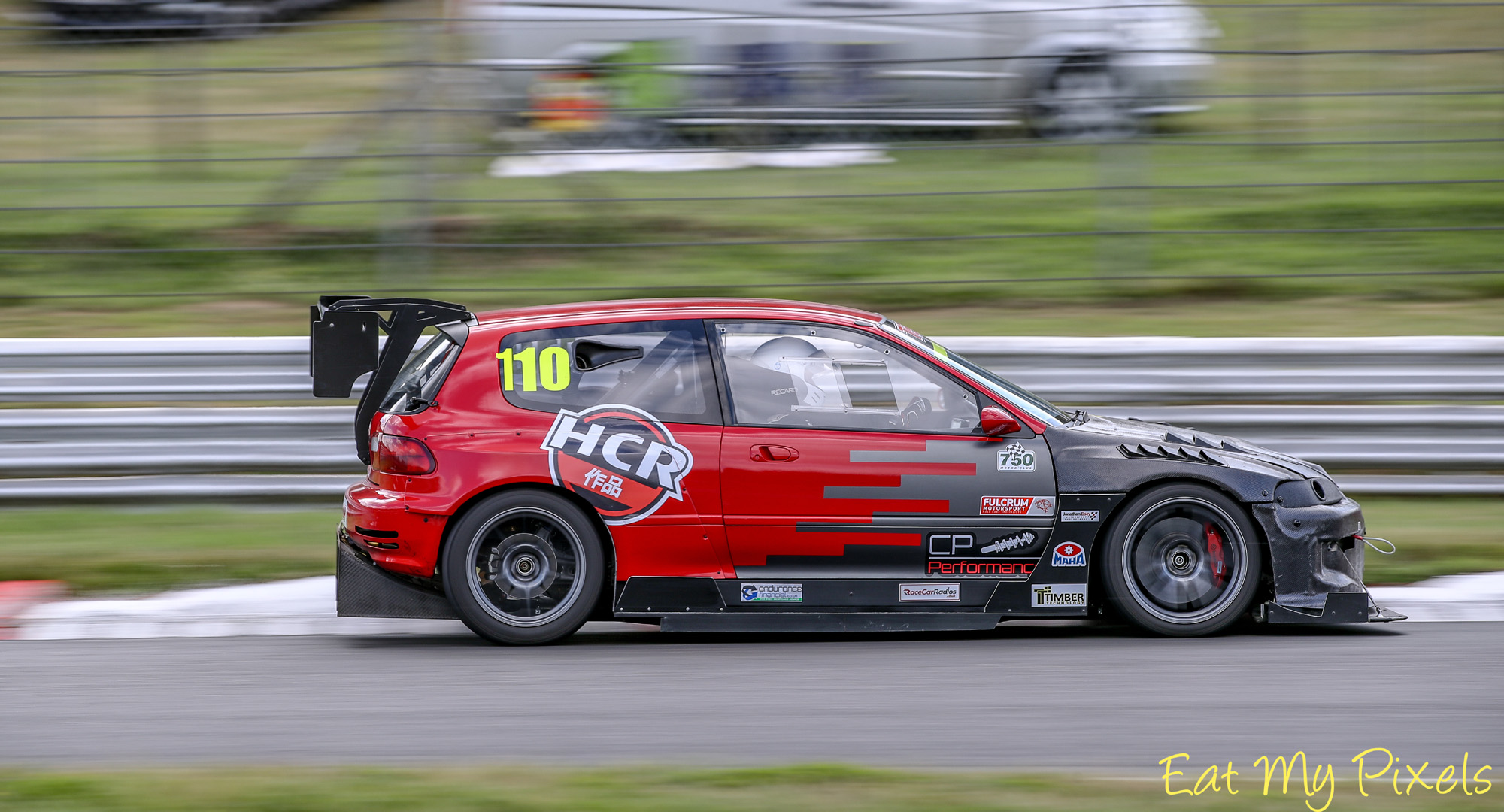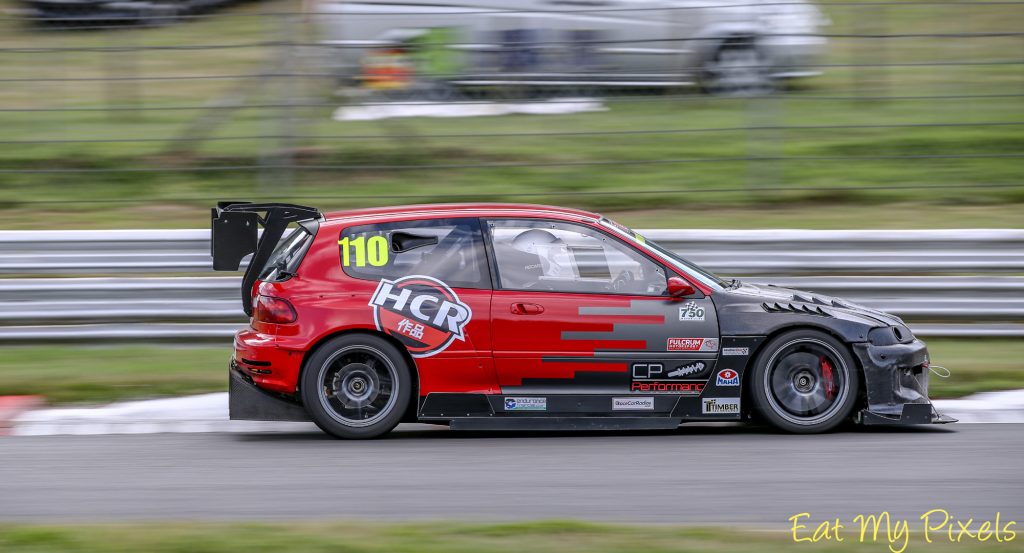 Several times they ran side by side before the Essex driver eventually made a move stick, powering out of Clark Curve around a third of the way through the race.
Now it was Bransom's turn to hound the leader. But the Norwich racer fell foul of backmarking traffic from the concurrent Jaguar race. He was clobbered into a spin at McLaren, which broke the BMW's power-steering pump and precipitated retirement.
That put Vaughan into second, chased by Sidwell who was recovering from getting swamped at the start. Sidwell caught Vaughan and tried to round him at Surtees into McLaren, only to collect an unfortunate backmarker.
Released from watching his mirrors, Vaughan closed up to Wilson before losing a little ground in traffic and having to settle for second. Behind them, Sidwell resumed and climbed back to third ahead of the Bradley brothers' E46.
Eaton managed fifth, despite the car's handling suggesting something was wrong with its suspension, ahead of Lawton who fought back from an early excursion.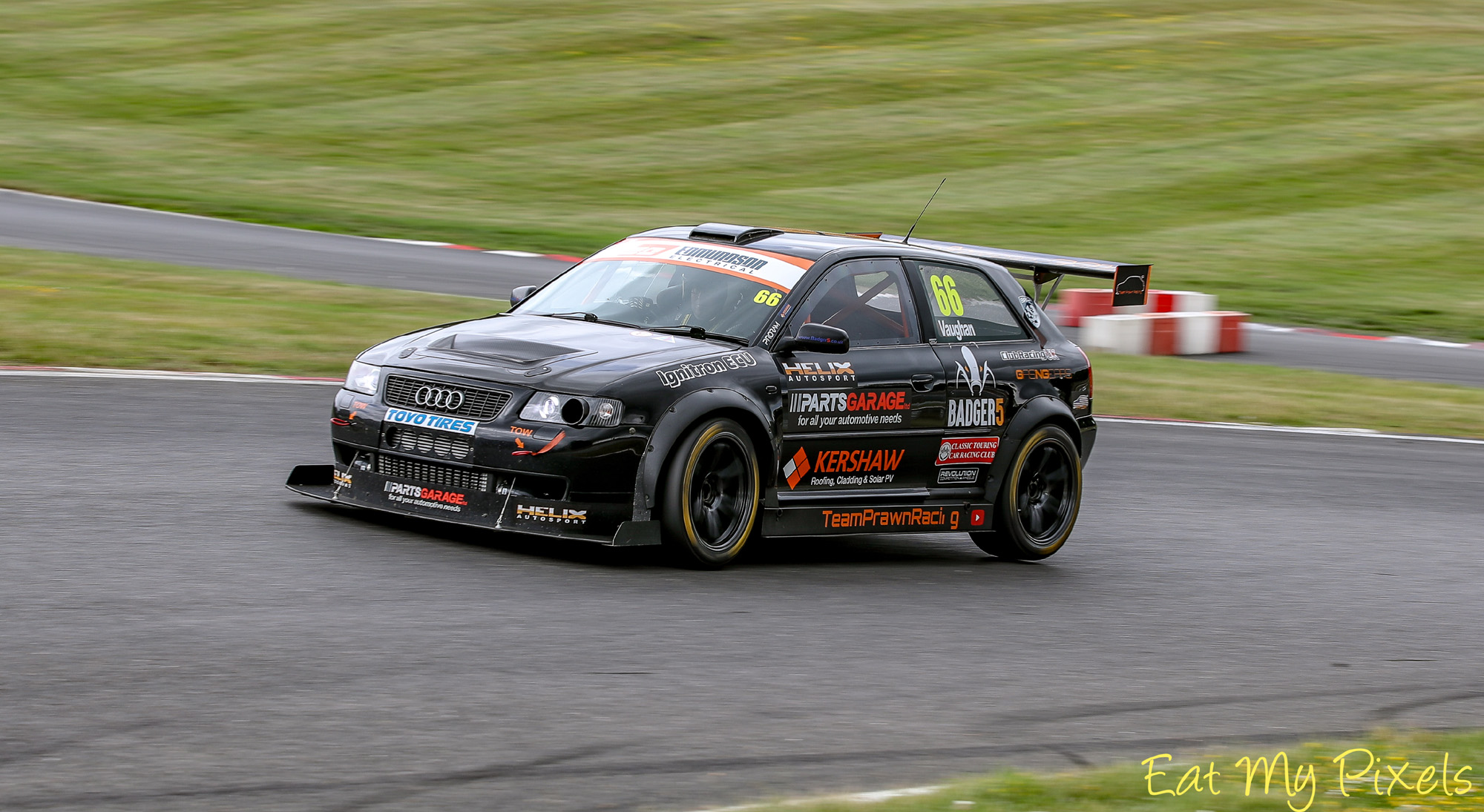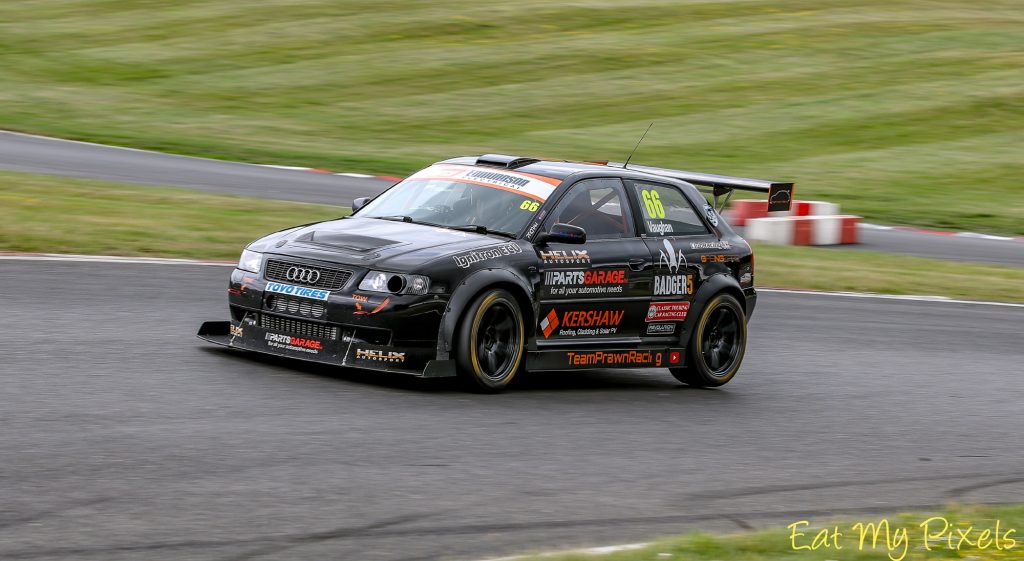 Following a number of near misses, Vaughan looked to have scored his maiden victory in the finale. He hounded Wilson for the lead but was unable to make a move without the unwitting help of Eaton.
The Grand Tour test driver had been still struggling with the Holden until its race was ended by an electrical issue, forcing her to park up on Hailwood Hill. That brought out yellow flags at Paddock Hill Bend and meant any move Vaughan made would have to be completed before they reached the corner.
After a couple of laps of trying, Vaughan managed to edge in front and take the chequered flag. "The yellow flag was extremely tricky," he told circuit commentator Alan Hyde. "Obviously we race up to the yellow, so if I could get a nose ahead before… It's just been the best weekend. I could not be more happy."
However, in the week following the event, the result was overturned, with Vaughan deemed to have made the pass in the yellow-flag zone and penalised 3s, dropping him back to second.
Wilson would have been satisfied with second, further extending his points lead, while Lawton secured a maiden podium in third. Sidwell was fourth ahead of Bransom, who scythed through from the back of the grid, and Armitage.
Burton Power Blue Oval Saloons Series
The all-Ford BOSS category raised its largest entry of the season. It included a return for 2021 champion Martin Reynolds in his potent Escort Mk2, the debut of Dave Bartrum's Sierra RS500, and a first CTCRC appearance for Paul Mensley in another RS500. Mensley was the man to beat as he took a hat-trick of wins, but Reynolds managed to deny the Leicester racer a clean sweep.
Mensley drew first blood by scorching to GP circuit pole, 4.5s faster than the next quickest BOSS runner on the grid shared with Pre-'93 and Pre-'03 Touring Cars.
That was Neil Argrave's Warrior-engined Mk2 Escort ahead of Reynolds and Bartrum's RS500 which looked terrific in the livery of Dick Johnson's 1988 Silverstone Tourist Trophy entry.
The first race had to be re-started after a multi-car tangle among the huge field of over 40 cars on the way to Paddock Hill Bend. Sadly, the restart did not include Bartrum, whose RS500 shut itself down to avoid overheating as the grid was reformed.
Unused to making standing starts in his mean-looking beast, Mensley made a tardy getaway, which let Argrave and Reynolds head the BOSS runners. But it didn't take long for Mensley to power back through as he romped to victory.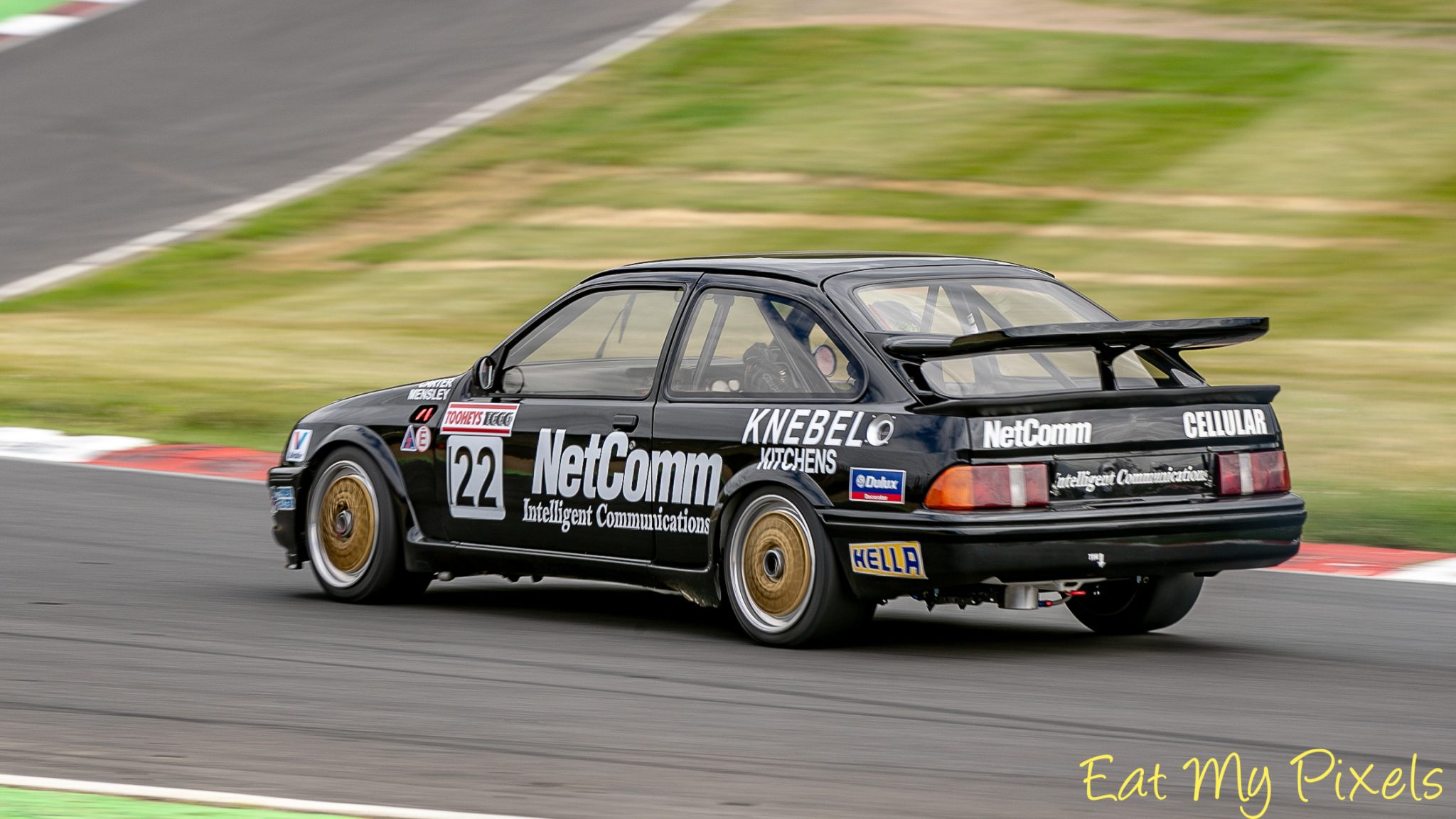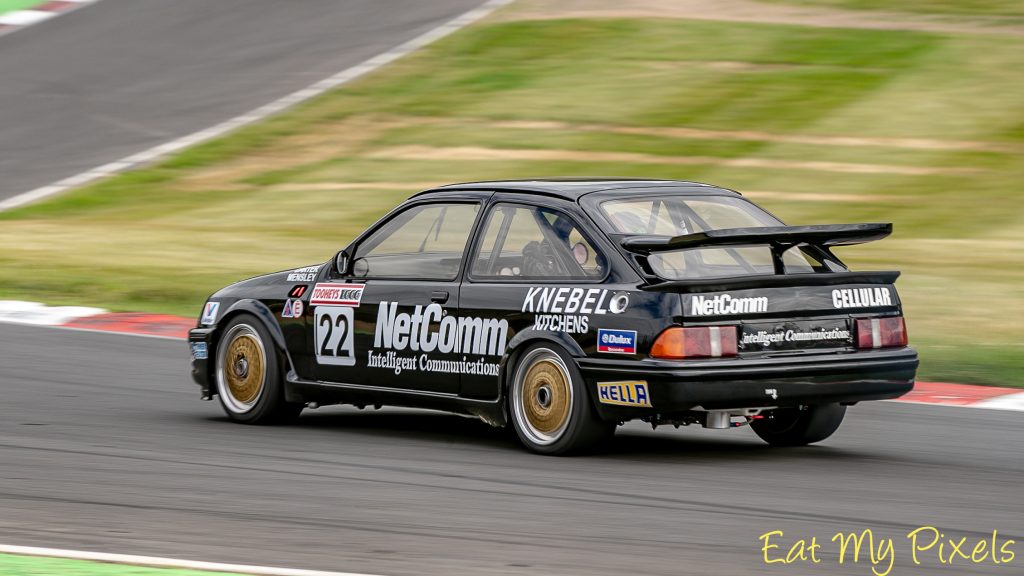 Reynolds passed Argrave for second on the penultimate lap of the reduced-length race, but Argrave held on to third ahead of the Millington-powered Mk1 Escort of Jack Gadd.
Fifth in BOSS was Sam Daffin following a terrific effort to change engines between qualifying and the race after suffering a second Ecoboost failure on his Mk3 Fiesta in as many meetings.
Mensley made a slightly better start later in the day and was leading before the end of the first lap. But, nursing an issue, he wouldn't have it all his own way thereafter. A safety car wiped out his healthy advantage and, as his car faltered approaching the green flag to restart the race, Reynolds got a better run and pounced into Paddock.
Slightly counterintuitively for the GP circuit, a change to shorter gear ratios had improved Reynolds's pace by giving him better acceleration out of corners. It helped him to victory on his return to the BOSS fold having expanded his horizons into regular European racing this year.
Mensley also lost out to Colin Tester's flying RS500 on the line. Gadd, Argrave and Bartrum – from the back of the grid – completed the BOSS top six.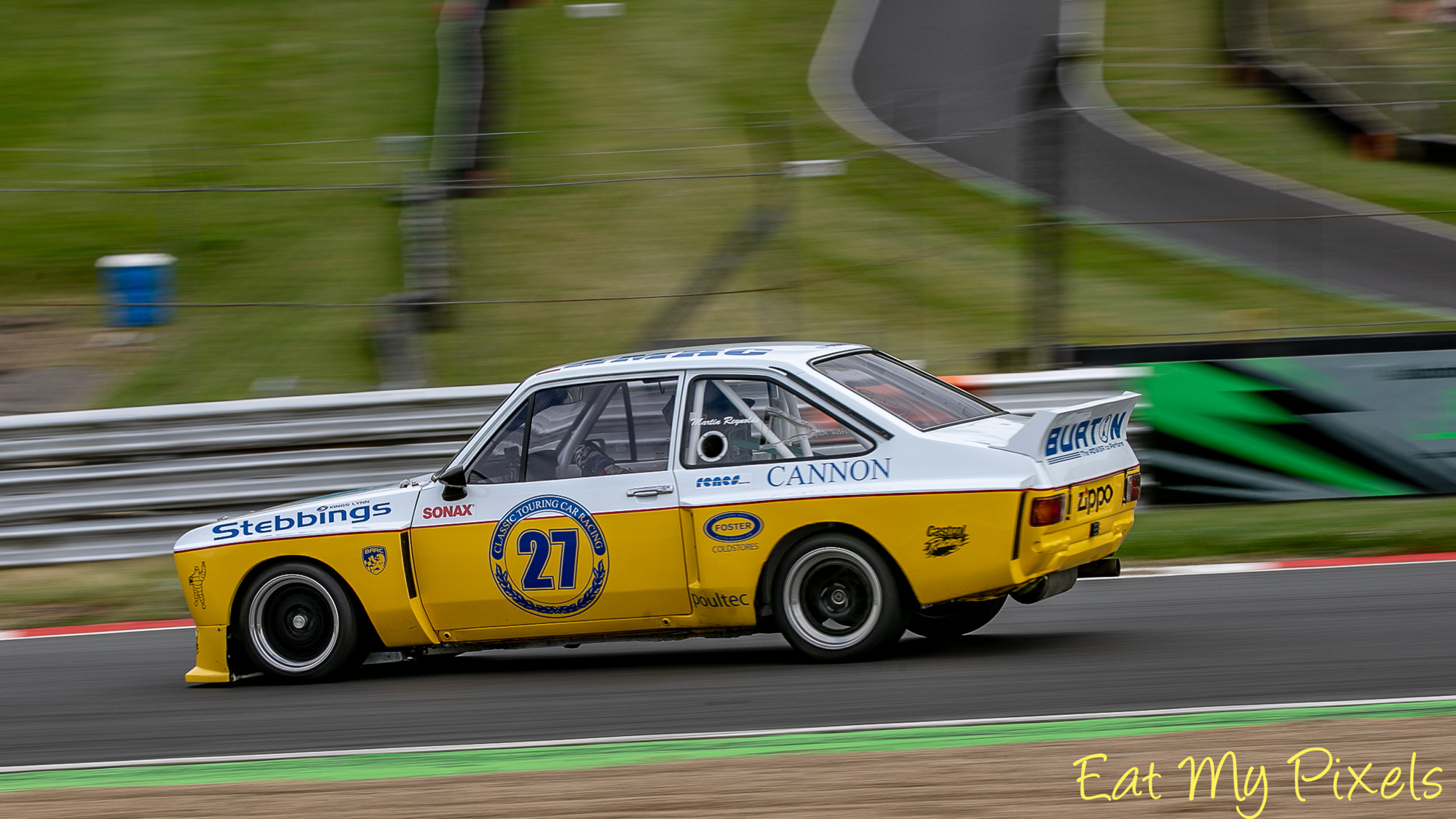 Sunday's qualifying session on the Indy circuit was impressively topped by Bartrum, ahead of Gadd, Mensley and Argrave. But the Motorbase Performance founder continued his rollercoaster weekend, stalling on the startline (and thankfully being avoid by the whole field).
Gadd took the lead but only held it for a couple of laps before Mensley powered past and onward to win number two. Reynolds also demoted the Mk1, on the inside into Druids, a couple of tours later and then set the fastest lap as he reeled in the leader.
But Reynolds could not find a way past and had to settle for second, just 0.7s back. Both men exited their cars beaming having enjoyed the duel.
Gadd crossed the line third, but received a 10s penalty for jumping the start, which dropped him behind Argrave. Behind them, Bartrum again produced another burn from the stern as he charged to fifth ahead of Daffin.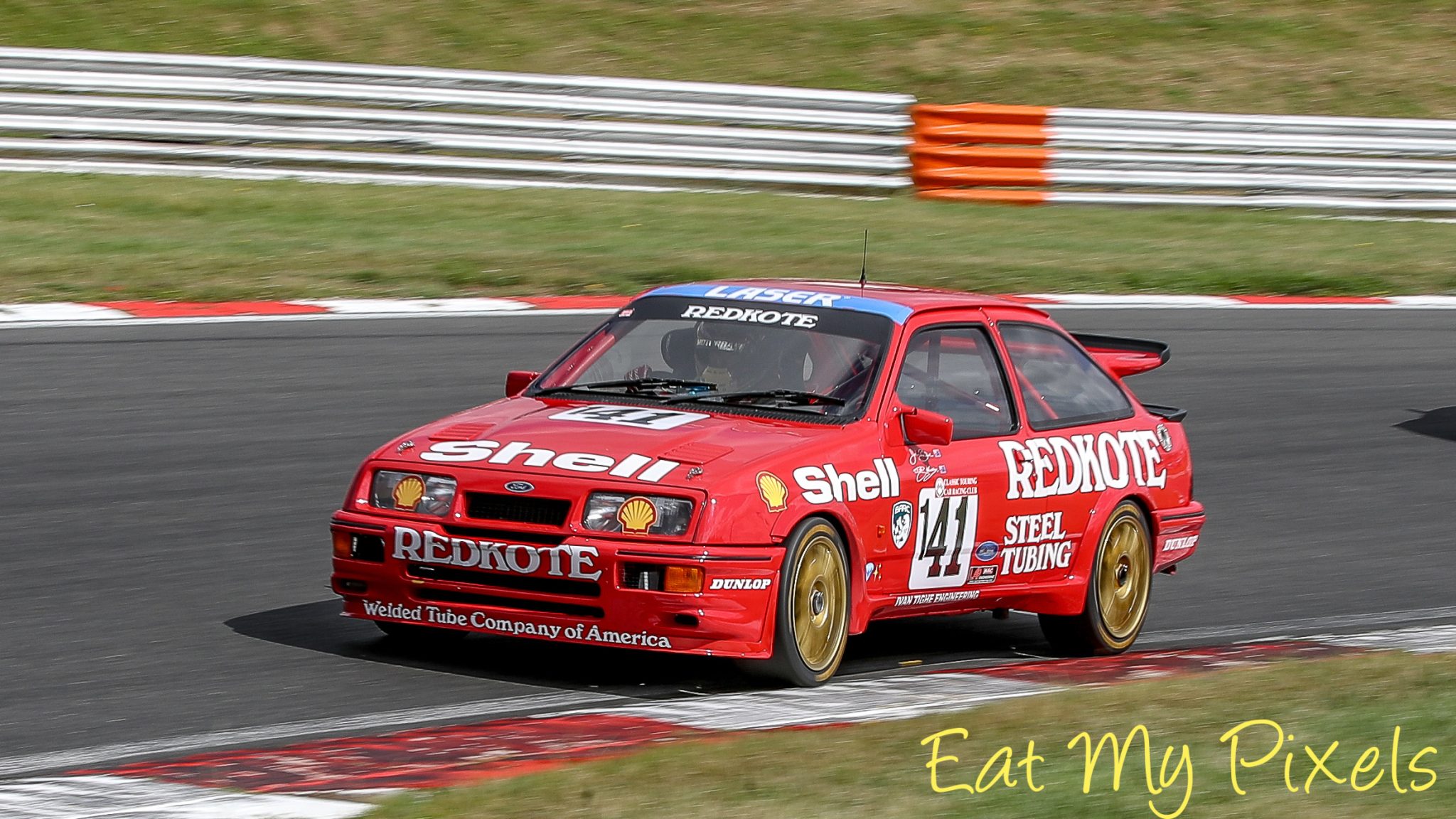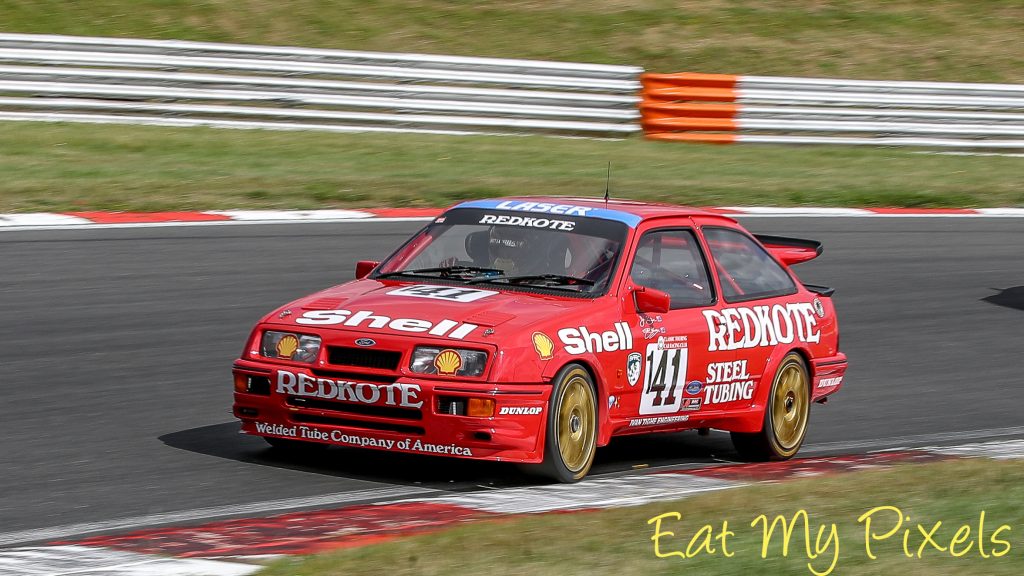 Mensley's Achilles heel struck again in the fourth race as he was slow off the line. As Reynolds led, it took Mensley until lap four to reach second, cutting back on the exit of Paddock to pass Gadd. Gadd then lost out to Bartrum, who set the race's fastest lap, at around half-distance before his engine blew.
With Gadd's oil making things tricky at Graham Hill Bend, Reynolds continued to lead but getting slightly baulked in traffic at Surtees allowed Mensley to power past and secure his hat-trick.
Reynolds was second, and Bartrum was delighted to finish third – despite a quick gyration at Clark Curve – albeit nearly 30s in arrears. The former Ford Saloon champion, who hadn't raced regularly since winning that title in 1998, thoroughly enjoyed his BOSS debut and was full of praise for the series' driving standards.
Daffin was fifth and James Dunkley sixth, making it a clean sweep of class wins for the reigning champion, which puts his title defence onto a very solid standing.
Poultec Pre-'66 Touring Cars
A large entry of Pre-'66 Touring Cars ran alongside the Pre-'83 machinery on the Grand Prix circuit on Saturday before getting their own standalone races on the Indy configuration on Sunday.
The event attracted a number of guest entries, and it was they who set the pace. Victories were split between the Minis of Ian Curley and Nick Paddy, and Grant Williams's storied Jaguar Mk1, in a classic battle of little and large that captivated the big crowd.
Long-time Mini expert Curley qualified fastest in his Austin Cooper S ahead of Paddy's Morris version. Tim Abbot's Lotus Cortina also outpaced Williams's incredibly original Jag that has been in his family for 60 years, having previously been raced by works driver Roy Salvadori.
On his 51st birthday, Curley led the way in the first race and was chased by Ford Mustang driver Peter Hallford, making another appearance on his favoured Grand Prix circuit.
While Curley threw his Mini around in entertaining fashion on his way to victory, Paddy was able to keep his ahead of Williams and also got ahead of Hallford with three laps to go.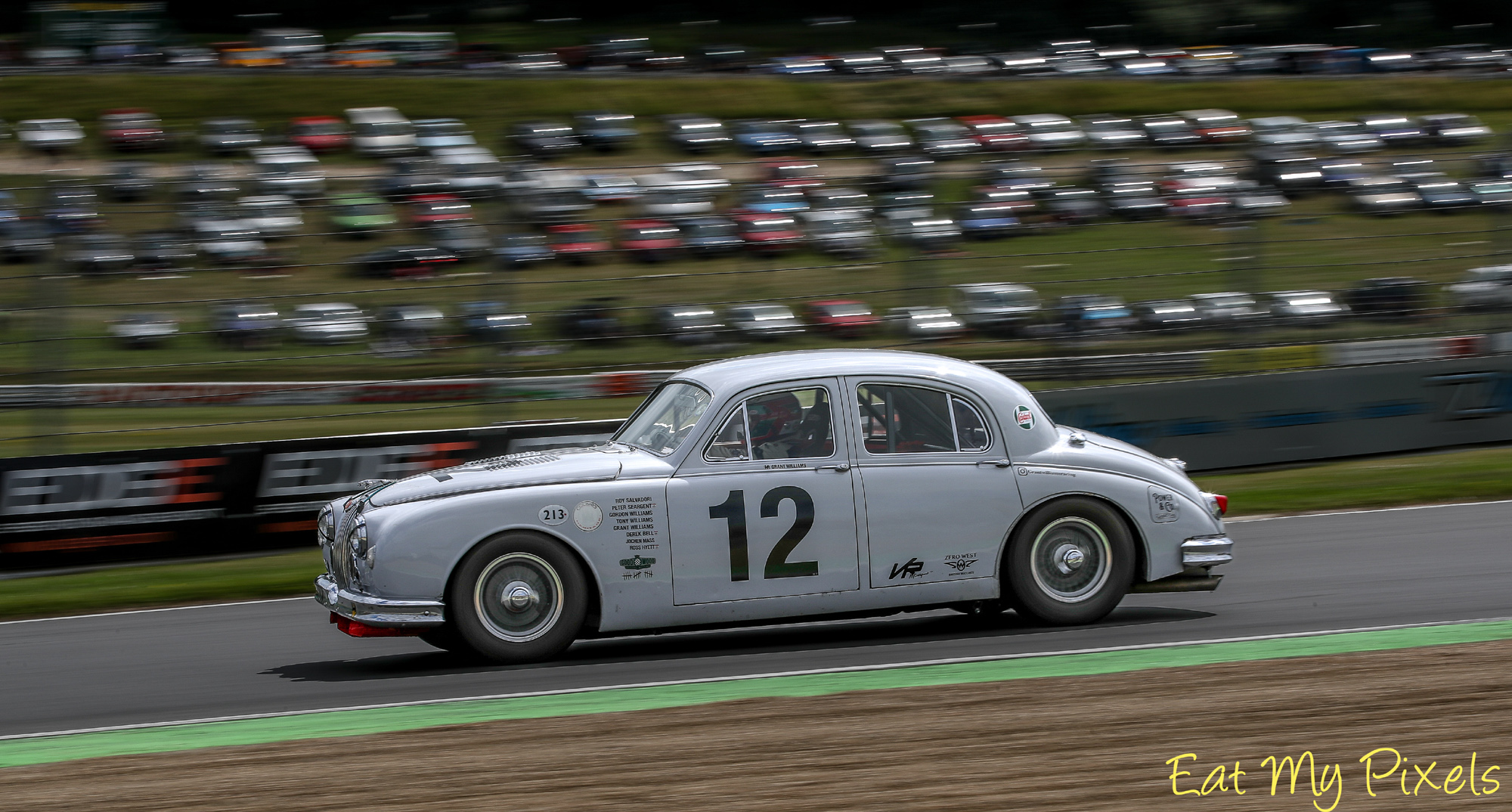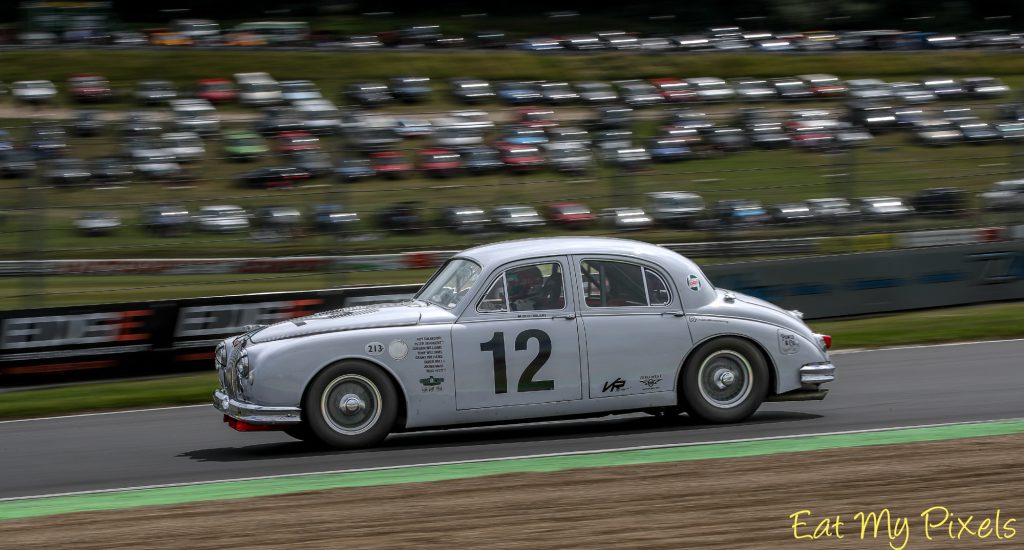 Paddy completed a Mini 1-2 but it was Abbott who eventually took third, and Class F laurels, after Hallford misjudged the race time and shut off too early, dropping to fifth. Hampered by a misfire, Williams was fourth.
At the start of the second race, a concertina effect on the exit of Druids left Curley's car picking up plenty of war wounds as it bounced around among the Pre-'83 runners. He got going again but was unable to overhaul Paddy who made it 2-0 to the Minis over the larger cars.
A Clark Curve spinner led to a safety car period, and then with more Pre-'83 cars in the gravel an early halt was called limiting the green-flag running to just three laps. Behind Curley, Williams completed the podium with Abbott a class-winning fourth.
With the shorter Indy circuit likely to be more favourable to the Minis, Curley and Paddy would have fancied their chances of completing a 4-0 whitewash on Sunday. Indeed, Curley secured pole position.
But it wasn't to be. Williams joined the Maidstone man on the front row, leaving Paddy to start alongside the Morris Mini Cooper S of Barry Sime on row two.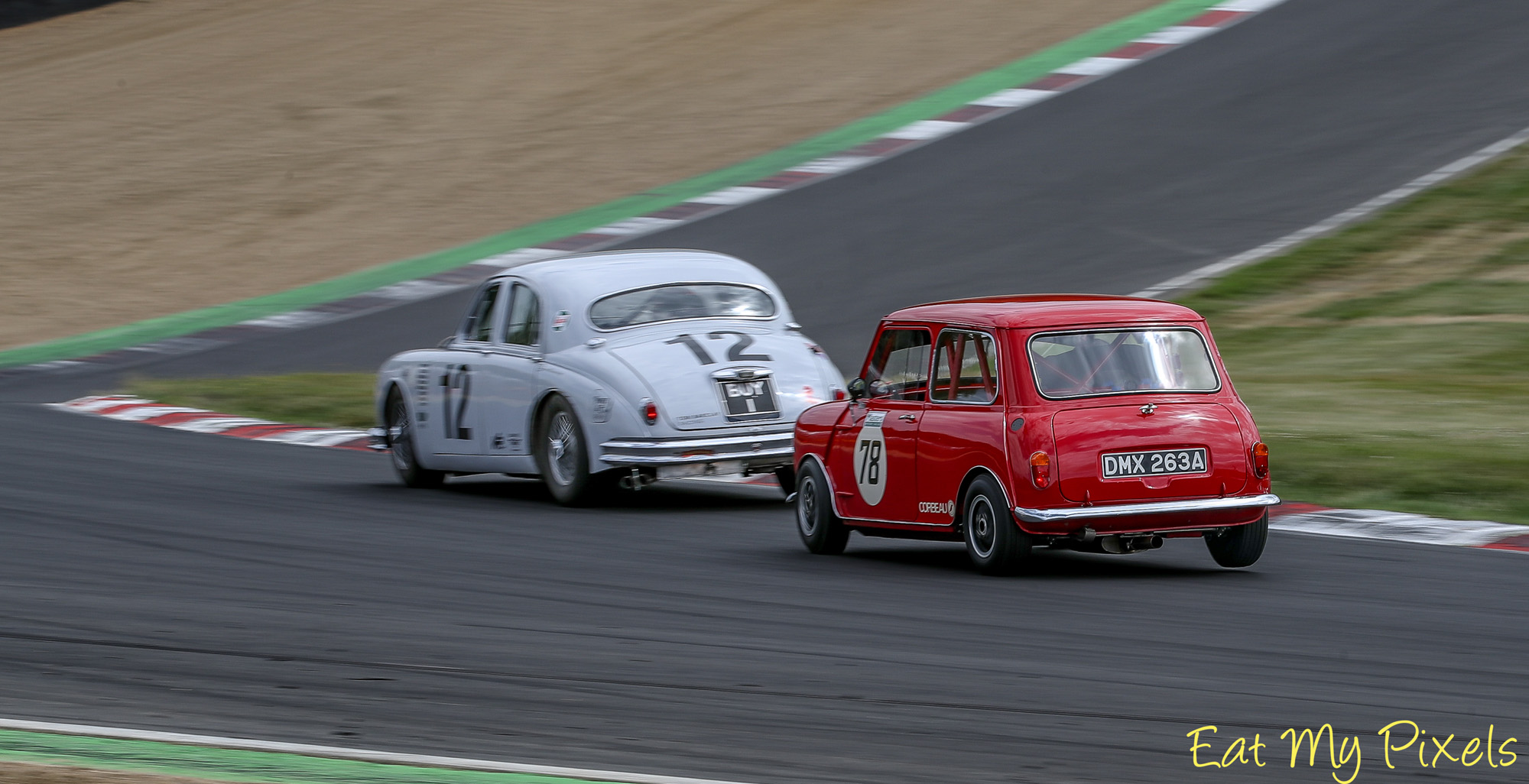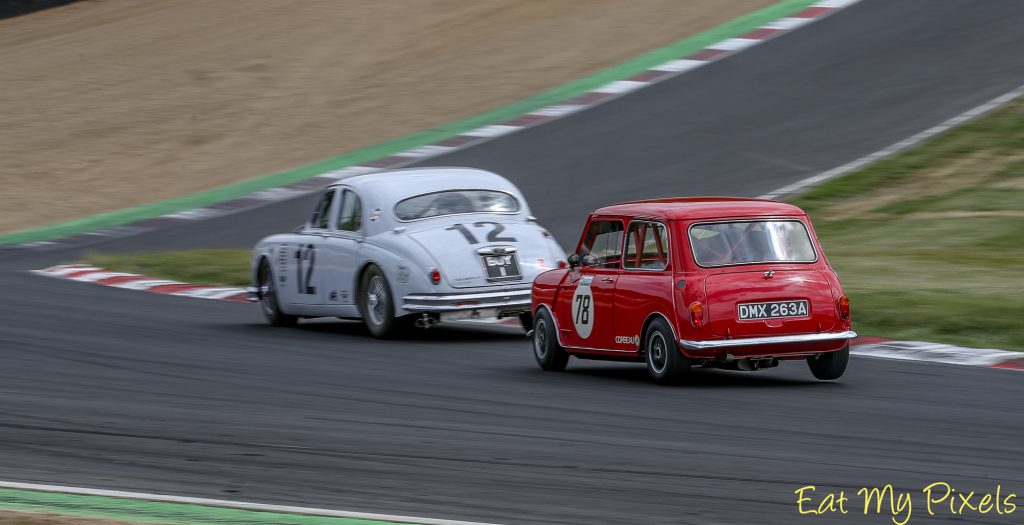 Williams powered off the line to lead but Curley stuck with him. The pair put on a mesmerising display as Curley buzzed around looking for a way through and Williams powered away on the straights.
In a terrific spell mid-race, Curley briefly got ahead at Clearways, was immediately demoted, got through again at Paddock before losing out up to Druids, then chucked the car sideways to lead yet again at Graham Hill Bend only to run wide and allow Williams back in front.
The pair exchanged the lead more but Williams eventually held on for victory as the crowd applauded a fantastic race. "That was absolutely epic," grinned Williams. "I had more pace but he drove a fantastically defensive race," admitted Curley.
Paddy was third ahead of the Ford Anglia of points leader Billy Kenneally (who beat Hallford to fifth in race two), with Pat Kenneally's Lotus Cortina fifth after losing out in a terrific scrap with his son.
However, the pair were adjudged to have continued racing under yellow flag conditions and were both excluded, promoting Abbott, Tim Sims (Mini) and Sime to complete the top six.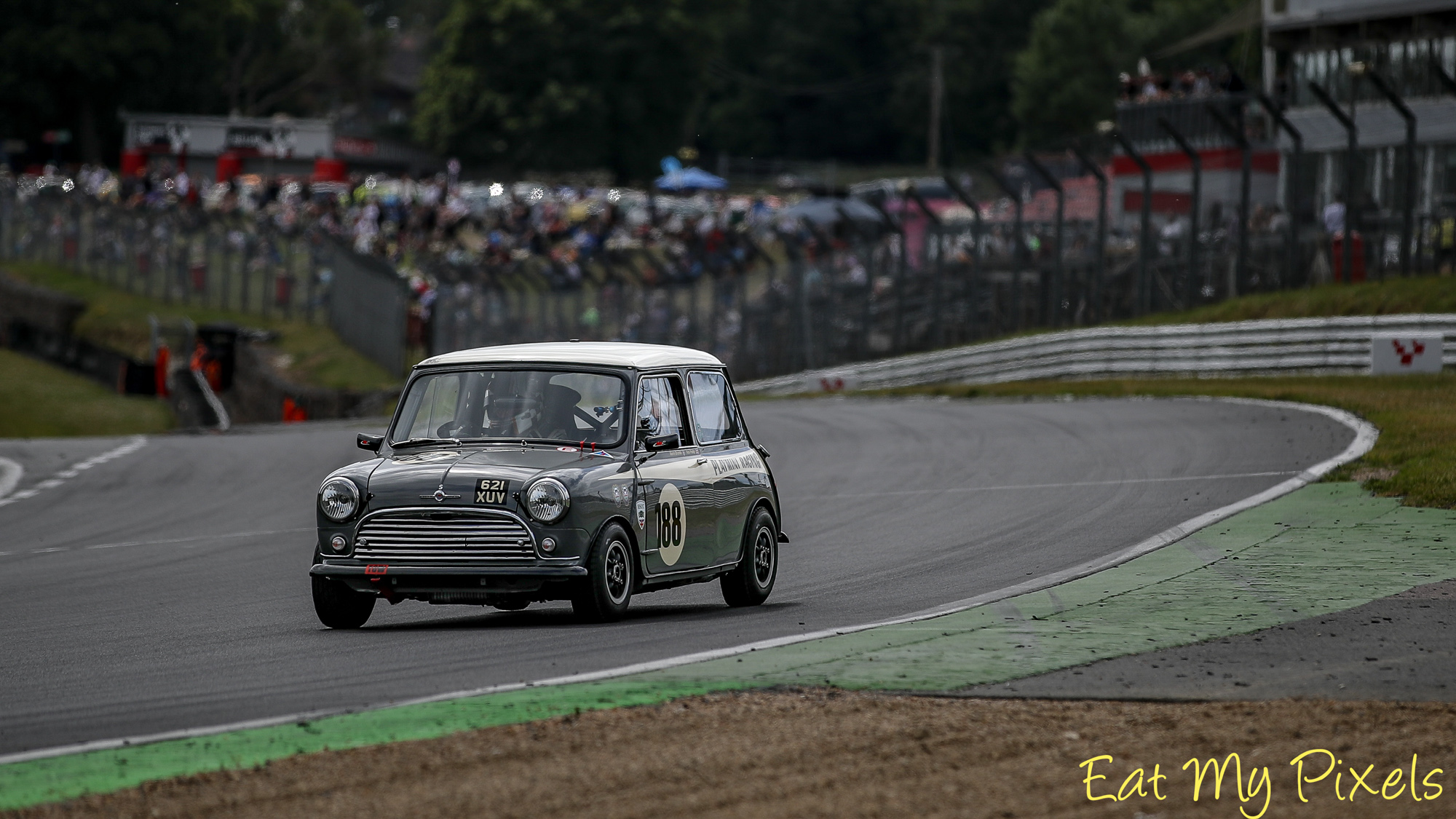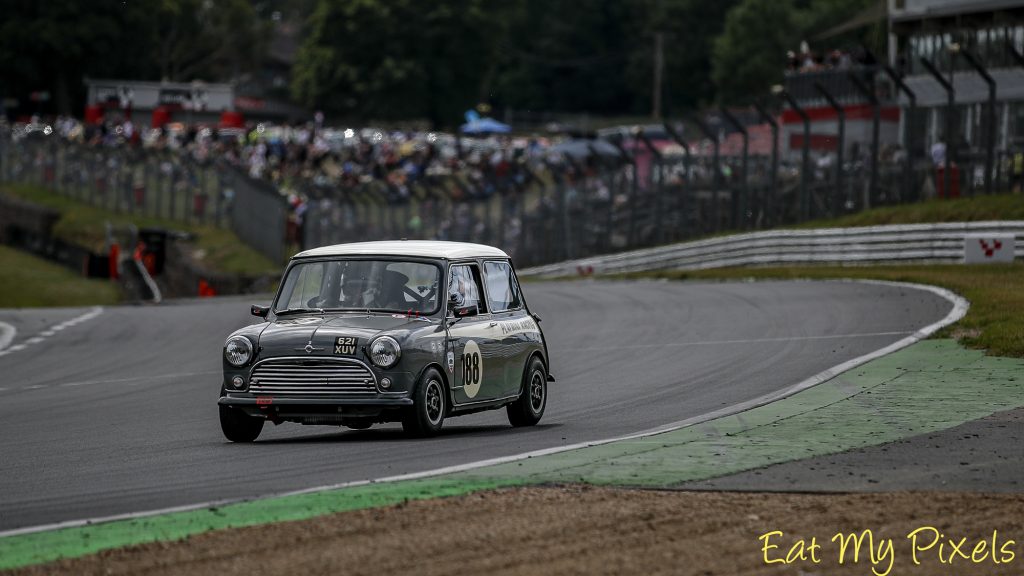 Battle resumed in the final race of the weekend, with Curley swarming all over the back of Williams's Jag. Their scrapping allowed Paddy to catch. But neither Mini could find a way past, so Williams took his second win ahead of Curley and Paddy.
Sime and Sims made it four Minis in the top five when the race was prematurely ended after a heavy accident for Kenneally Jr who had been unable to avoid the spun Hillman Imp of Simon Knight. The Imp was T-boned in the passenger side. Rescue crews extracted Knight from the wreck but he thankfully not seriously injured.
With his son removed from the results as a non-runner at the time of the red flag, Pat Kenneally took a Class F-winning sixth ahead of a trio of Anglias headed by Kevin Swann.
James Ibbotson's Hillman Imp Super won Class E, as it had done earlier in the day. The 2021 champion was rightly proud of his efforts, having rebuilt what was previously his spare engine on Friday, fitted it on Saturday (missing the GP circuit races) and raced on Sunday. His fellow Imp runner Michael Loveland had twice won the class a day earlier.
Steve Evans (Austin A40) triumphed in Class D in Saturday's first race, before handing over to Brian Bedford, who took the honours in the Sunday finale. In between times, reigning champion Luc Wilson beat Bedford to class honours in race three, but there were no finishers in Saturday's second race.
Orange Aero Pre-'83 Group 1 Touring Cars
A field of more than 20 Group 1 racers shared the Grand Prix circuit with their Pre-'66 counterparts on Saturday, with debutant Charles Rainford scorching to a pair of victories in his gorgeous Faberge Ford Capri. When the action switched to the Indy circuit, the Pre-'83 machinery joined up with Pre-'93 and Will Davison (BMW E30) scored a double.
Rainford, piloting the Lovell brothers' newly-acquired Ric Wood-built Capri, scorched to GP circuit pole by more than a second from points leader Stephen Primett (Ford Escort Mk1). The pair stayed in that order, while a terrific opening lap put Jason Christie (Escort Mk1) into third from seventh on the grid, chased by Davison.
The BMW was putting Christie under pressure and, when the Escort locked up into Paddock, Davison snatched third. He quickly closed up to the leading duo but while Primett was giving Rainford a thorough workout, the multi-champion couldn't overcome the guesting Porsche Carrera Cup GB star's power advantage.
The top three took the chequred flag line-astern. "It's quite fun what we get up to on our weekend's off," smiled Rainford, admitting: "Stephen pushed me really hard."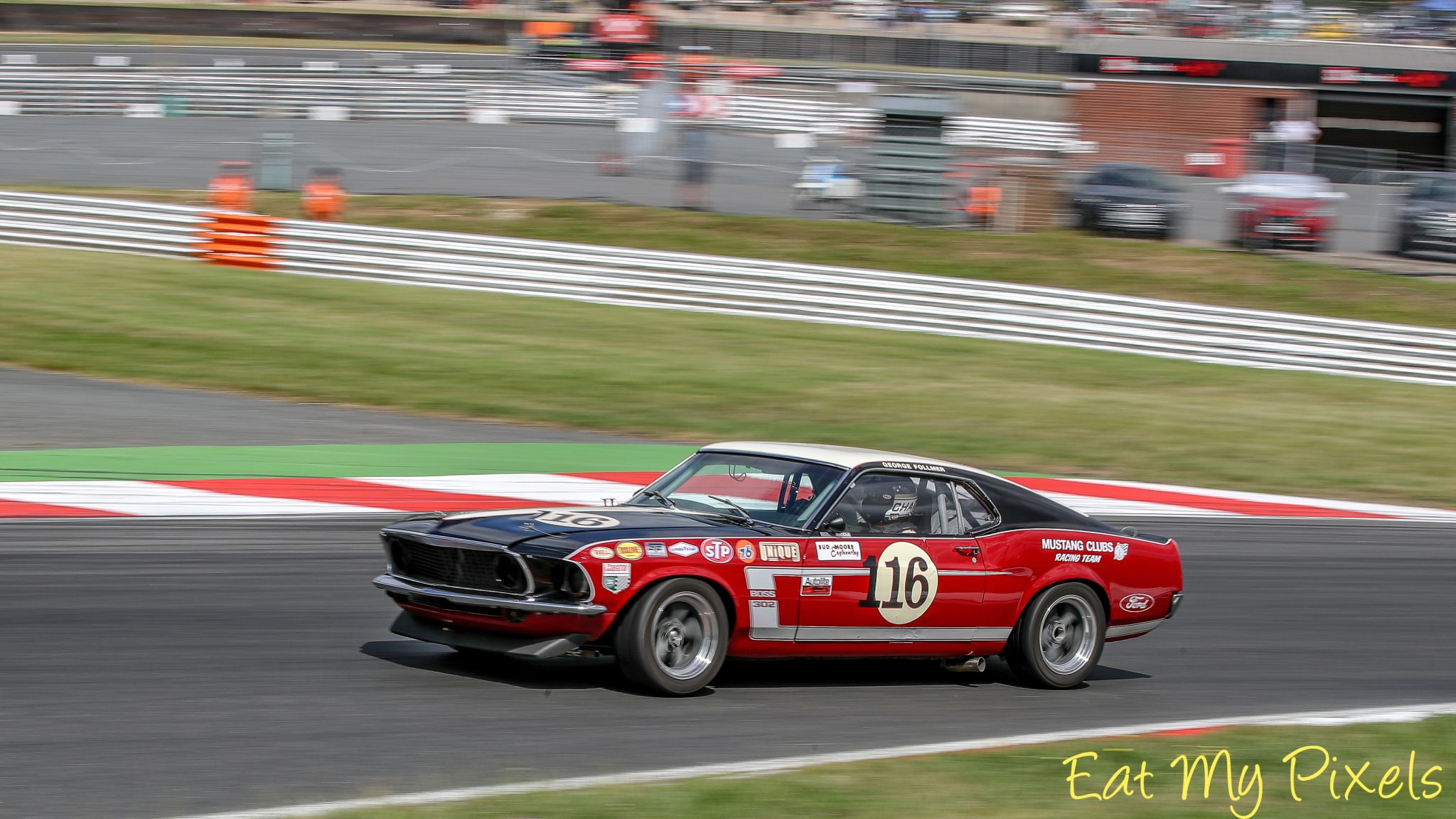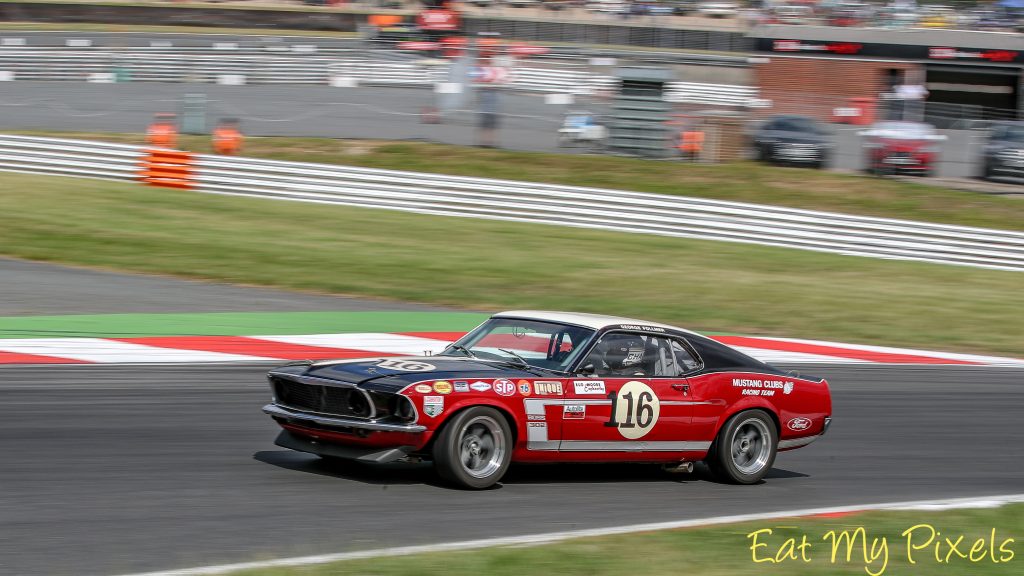 Another guest runner making his first appearance with the CTCRC, Chad Donner impressed the 1969 Ford Mustang Boss he shares with father Ray on the way to fourth.
Fifth was Christie, ahead of Jonathan Corker (Datsun 510), birthday boy Don Hughes, who won Class D in his Volkswagen GolfGTI, and Mark Cholerton's Mk2 Escort RS2000.
Rainford, Primett and Davison again had the edge in race two, although this time Davison jumped Primett off the line to run second. Primett's tardy getaway also allowed Christie ahead, the front trio running virtually three abreast into Paddock Hill Bend. Primett was soon back ahead before a safety car was required with Ray Donner's Mustang in the gravel at Clark Curve.
Rainford had been managing a tired engine, on what was effectively a shakedown run-out for the car, all weekend. Its head gasket let go after racing resumed and pitched the Capri off. That released Davison and Primett, who made a bid for the lead at Paddock on the next lap.
Despite a lock-up, Davison held on. But immediately, behind them, Corker spun off into the gravel leading to red flags and the race result being called based on the previous lap.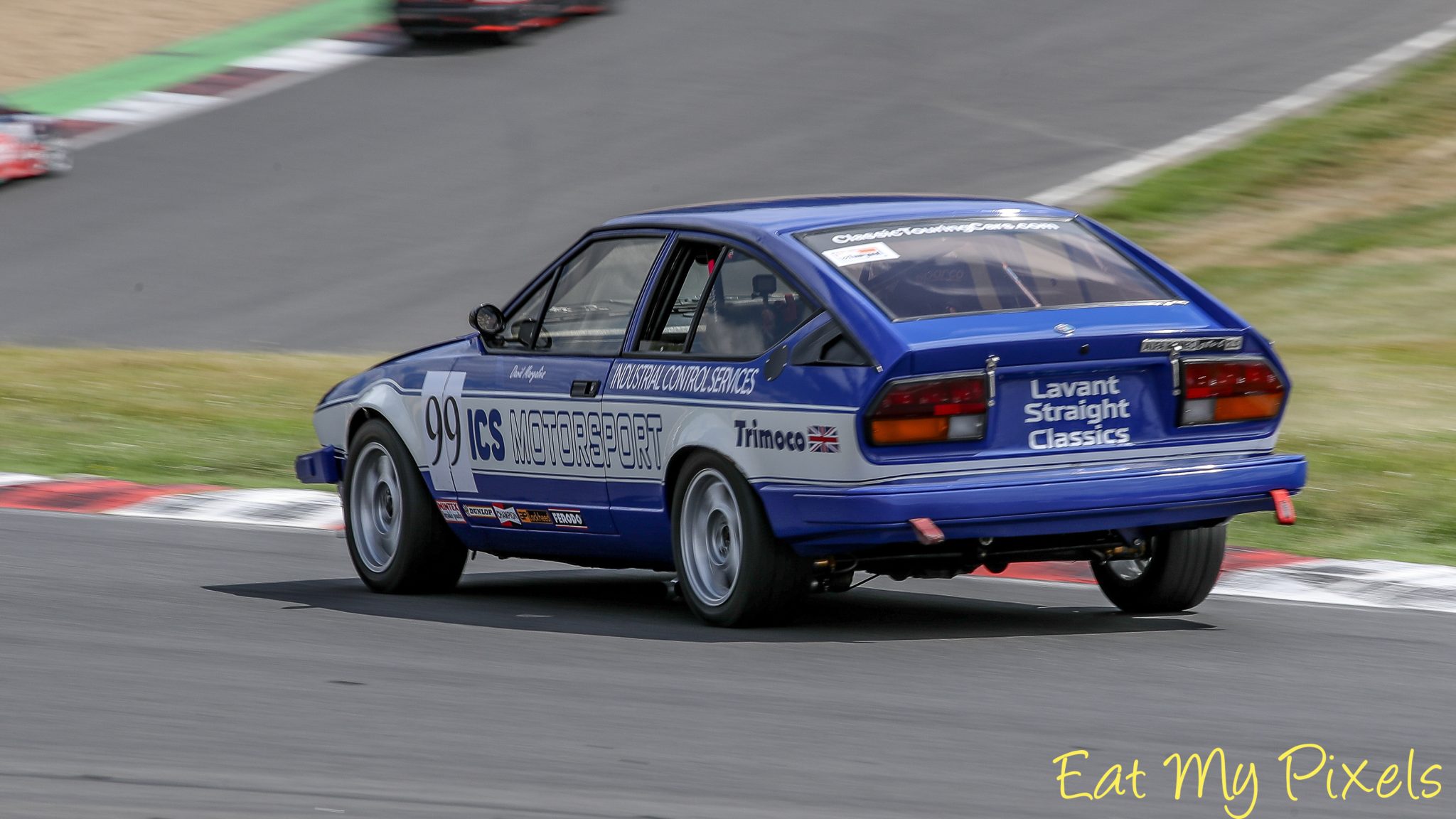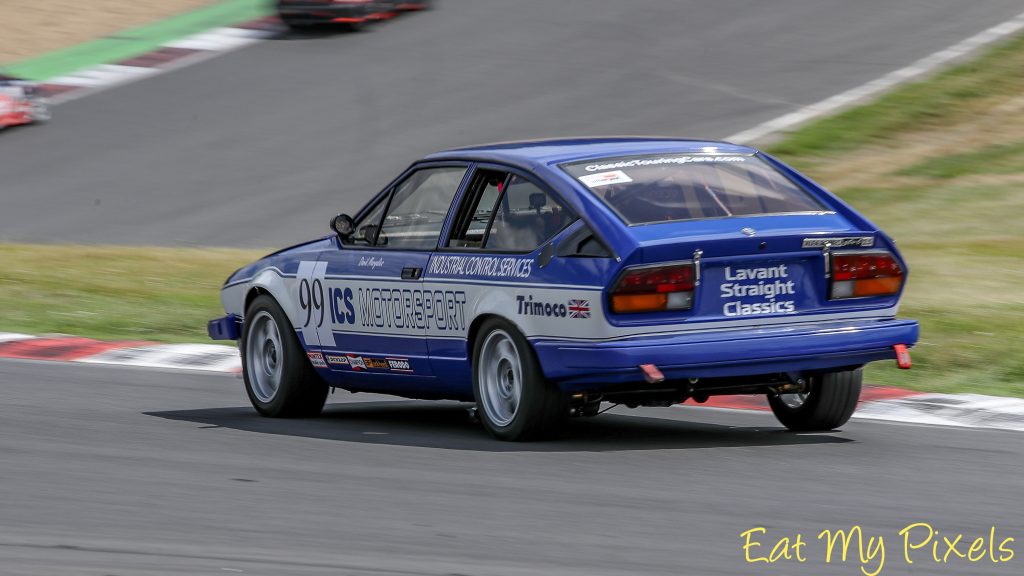 That handed Rainford a slightly fortuitous win ahead of Davison and Primett. Christie and Cholerton were classified fourth and fifth, ahead of Tom Harvey's Mk1 Escort.
Sadly, Hughes's Gold was eliminated as the innocent victim of a first-lap accident exited the Druids hairpin, leaving it with damage to front, rear and passenger side. That allowed Stephen Yates's Mk3 Escort to secure Class D honours.
With neither Rainford nor Chris Snowdon's Alfa Romeo GTV scoring points on their guest outings, Class B laurels twice went to David Margalies GTV6 – resplendent in its reworked livery paying tribute to Andy Rouse's 1983 BTCC-winning machine.
Rainford's patched up engine was still leaking oil on Sunday morning so was forced to sit out the Indy circuit races. But Mostyn Rutter's Vauxhall Firenza joined the fray and promptly qualified fastest, ahead of Corker, Cholerton and Davison.
Fifth fastest, Primett reckoned he was perhaps over-driving in the qualifying session. Come the race, he dropped further positions at the start, before a stirring fightback.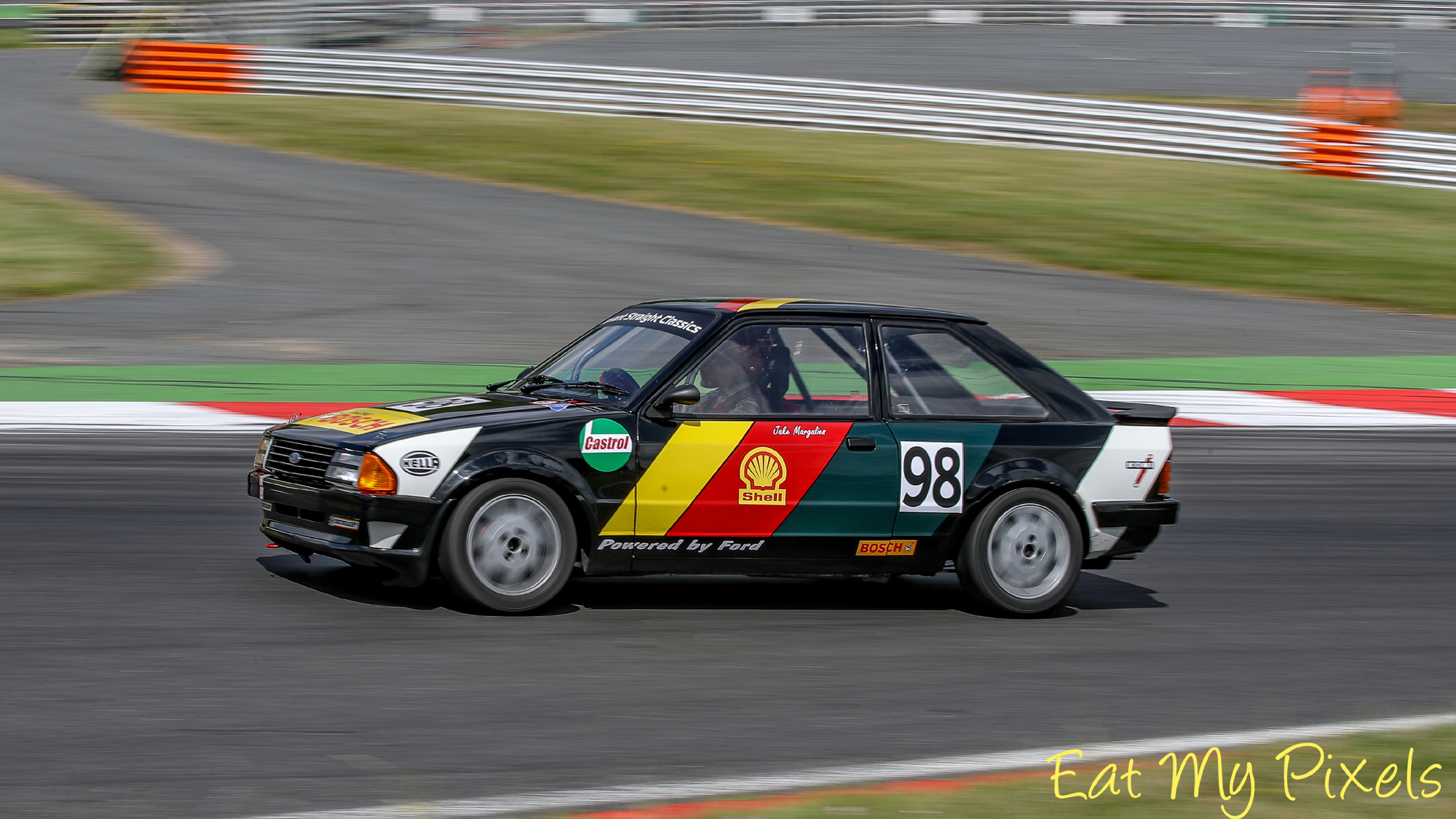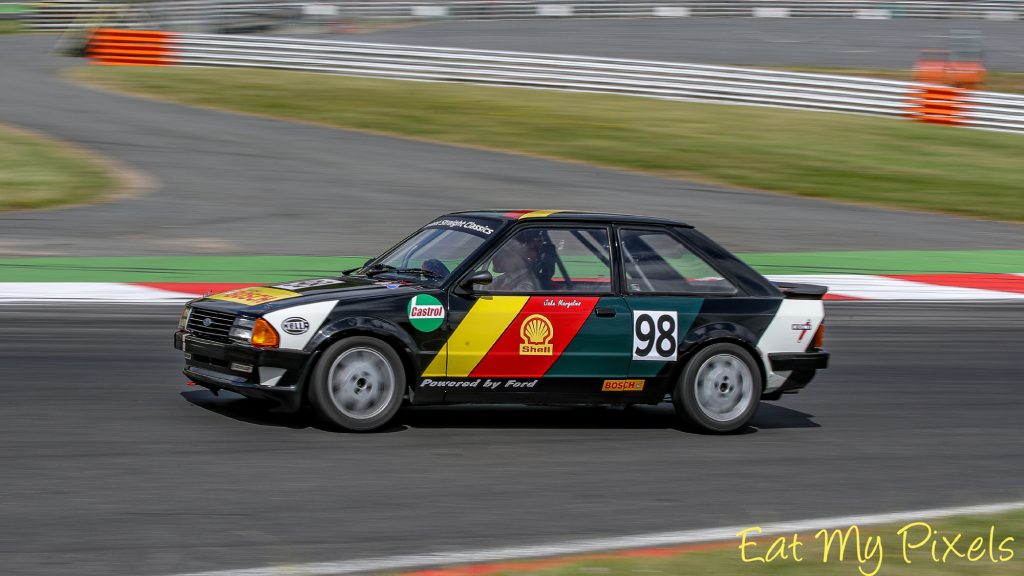 It was Corker who made the initial break, chased by Chad Donner and Davison, as Primett found himself ninth in Pre-'83. As gremlins hampered Donner, Davison moved into second and began harrying Corker for the lead.
Losing fifth gear for the final few laps hampered Corker on the Brabham Straight, and Davison successfully managed to squeeze inside into Paddock three laps from home.
This Davison took his second Pre-'83 win, while Corker held onto second and Primett took third from Cholerton at Druids. A fine battle between Christie, Hughes (who managed to knock his Golf back into a fairly straight shape) and Harvey went Christie's way but Hughes still won Class D.
Davison made it a double in the final race of the weekend, shadowed by Primett. With the Mustang now running more smoothly, Donner Jr secured a first podium ahead of Snowdon and Christie.
Sadly, Corker was a non-starter, and Cholerton made an early exit, so Hughes was Class D-winning sixth in Pre-'83. Margalies was again the first registered Class B runner home in both Sunday races.
Laser Tools Pre-'93 Touring Cars
Championship leader Stuart Waite and twice previous champion Ian Bower picked up from where they had left off at Castle Combe as they battled for supremacy in their similar BMW M3 E30 Pre-'93 Touring Cars.
It was one-all on Saturday, before commitments elsewhere forced Bower to skip Sunday's action. That allowed Waite to take a largely unchallenged double on the Indy circuit.
Waite qualified fastest on the Grand Prix circuit by 0.4s, the pair in the thick of the leading BOSS and Pre-'03 cars, well clear of Kevin Willis and Clint Le Chalmers's similar cars.
A chaotic start to the first race led to a few bumps and scrapes heading into the first corner, with Willis's car getting tipped across the pack. A chain reaction left several with damage as red flags were called.
Willis was the only Pre-'93 non-starter for the restart but Oliver Owen's E36, sporting heavy front-end damage, unsurprisingly didn't last long. Out front, Waite and Bower headed the race overall before BOSS runner Paul Mensley's more powerful machine came through to take the overall victory.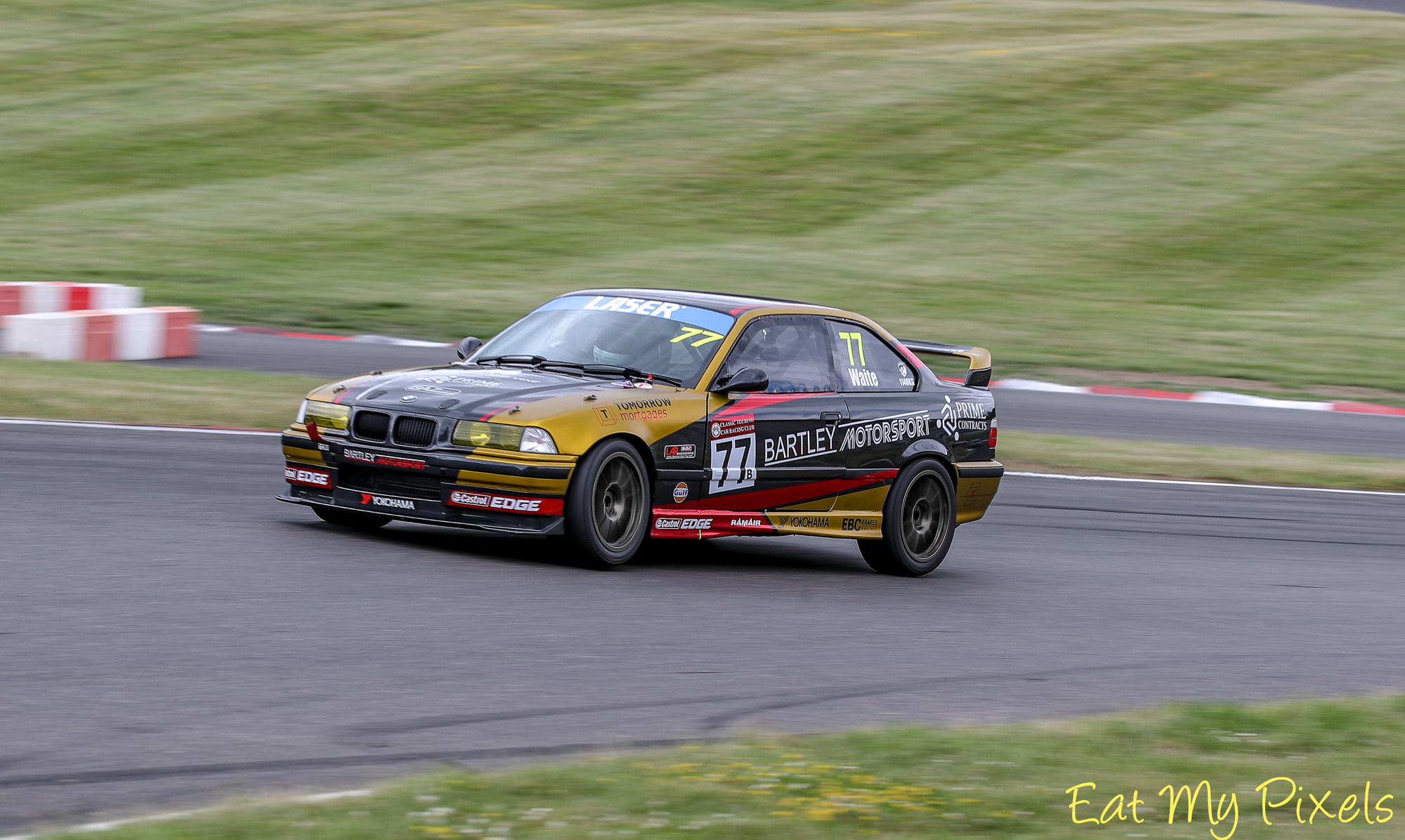 But Waite took a comfortable Pre-'93 victory over Bower, with Le Chalmers's BTCC-liveried E36 M3 completing the podium ahead of Mike Dugdale's example.
Race two looked to be heading in the same direction before Waite suddenly lost pace on the fourth lap. A broken shock absorber was the culprit and forced the Salisbury driver to pull in a couple of laps later.
Bower therefore took a commanding victory, with Dugdale and reigning champion Andy Cripps completing the podium in another E36 M3 lockout.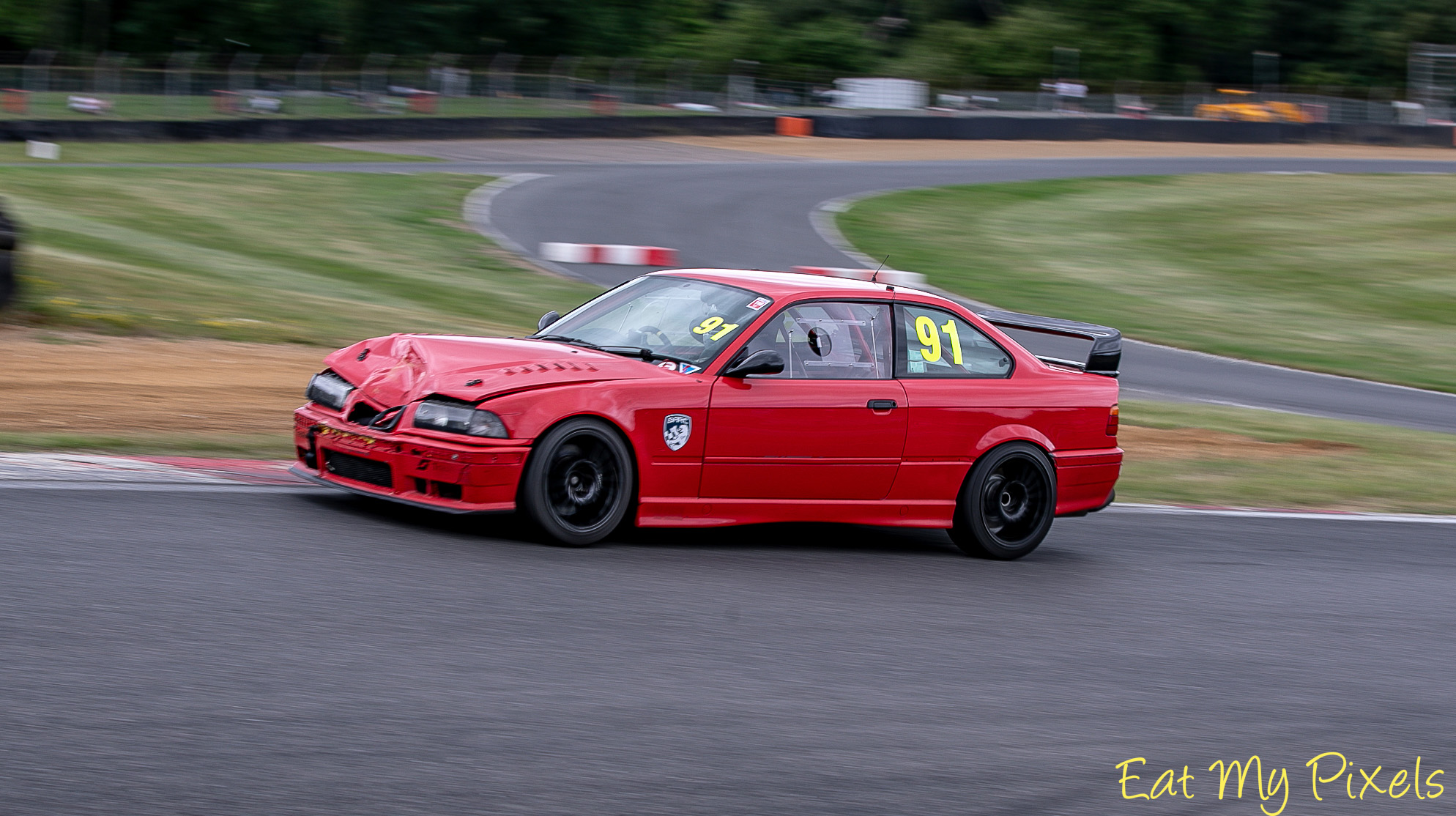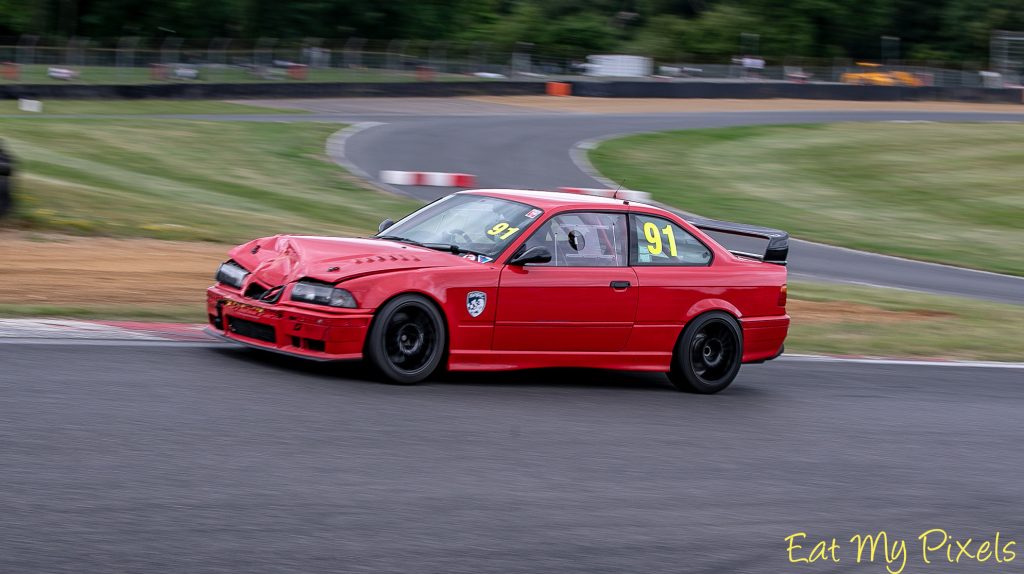 Bower handed his CiBiEmme tribute car to Ray West for Sunday's Indy circuit action, although the veteran driver was hampered by brake troubles.
So Oliver Owen's repaired car became Waite's closest challenger, but the championship leader was able to go at least 0.5s faster than anyone else as he powered to a convincing double.
Owen managed second in race three, ahead of Le Chalmers and Willis, but did not make the grid for the finale. Willis got the jump on Le Chalmers in that to claim second.
A little further back, David Clark found his little Renault 5 GT Turbo was unable to live with the BMWs this weekend, but he still won Class D in both Saturday races before retiring with gearbox failure on Sunday. Jamie Sturges's BMW E28 M535 took a Class C clean sweep.
Burty Haulage Pre-'03 Touring Cars
Pacesetters in the Pre-'03 Touring Cars were old rivals Gary Prebble and Chris Southcott in their Honda Civics. Southcott's slightly newer EK9 had the edge on the Grand Prix circuit, although the pair took a win apiece. After Southcott hit trouble in Sunday's Indy opener, Prebble was untroubled as he added two more wins to his tally.
Southcott qualified fastest by 1.3s on Saturday, and led the majority of the first race as he and Prebble battled among some of the fastest BOSS cars. But Southcott was baulked by a backmarker at Stirlings, the final left-hander on the GP circuit, on the last lap.
Prebble pounced to snatch the win, with Southcott a disappointed second. Ross Craig's EP3 Civic was third ahead of Alfie Jones's similar car.
Southcott got ahead at the start of the rematch and kept a BOSS car between himself and Prebble for most of the race.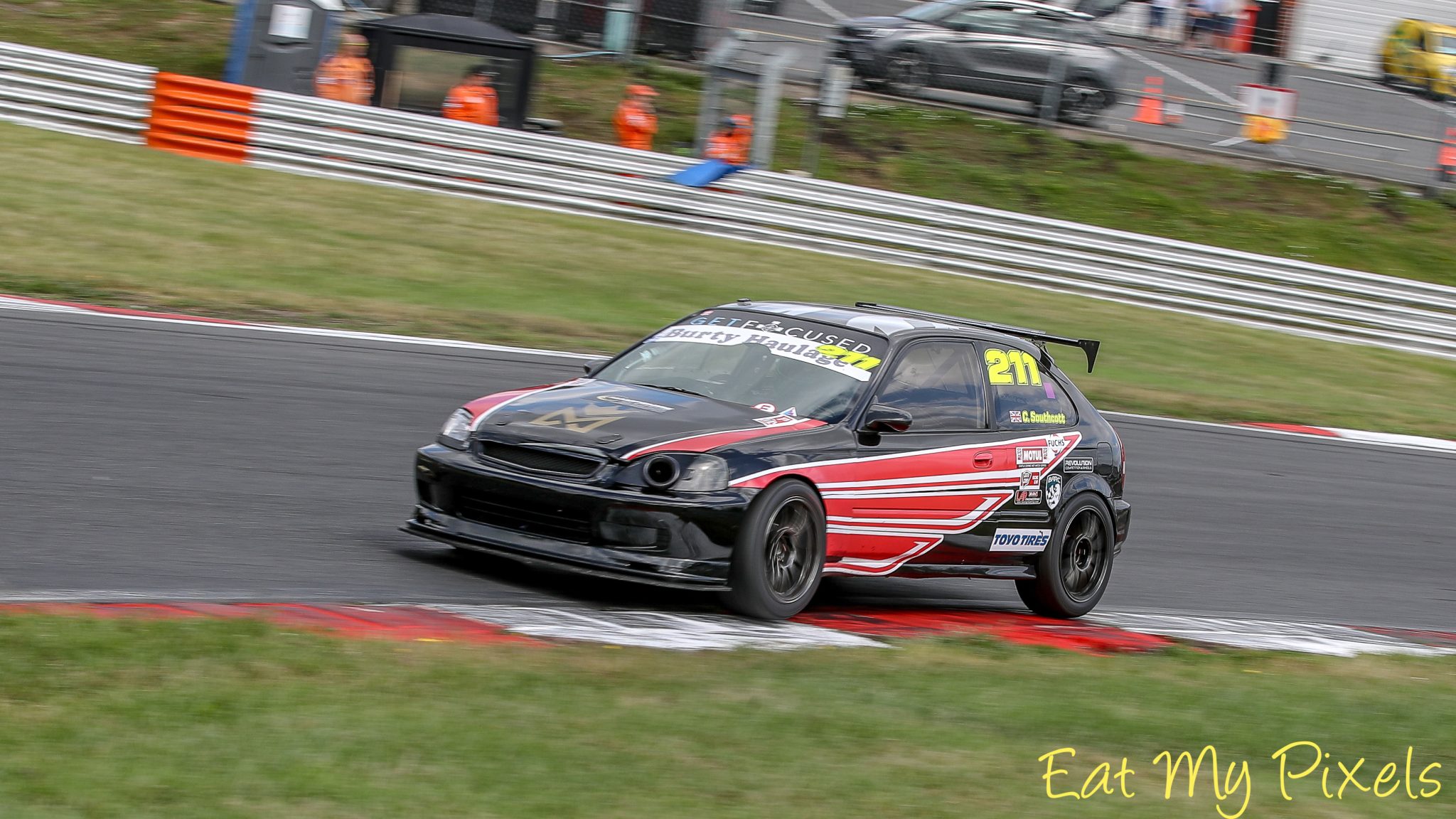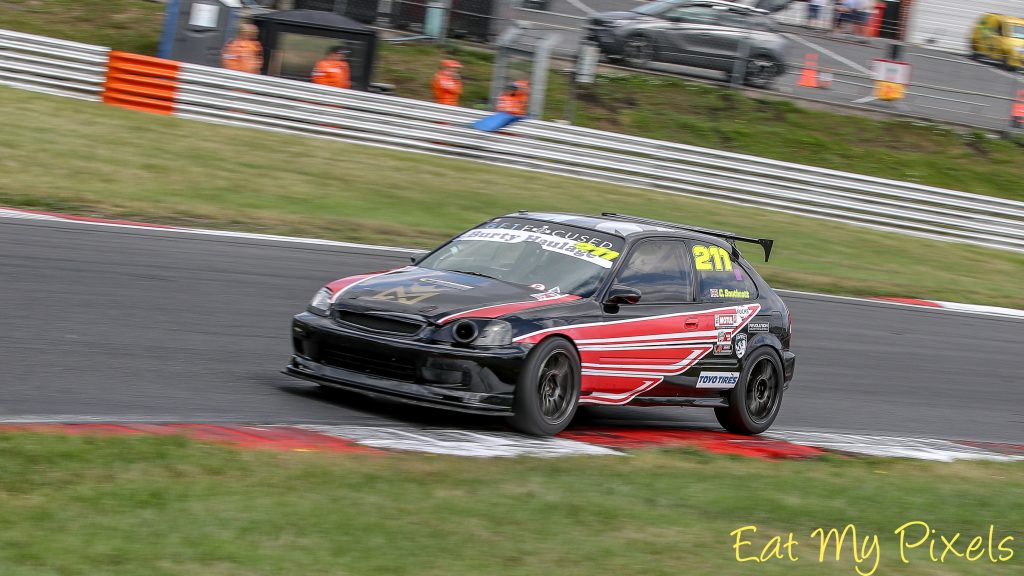 While both found themselves a little swamped after a safety-car restart, Southcott prevailed by just 1s ahead Prebble. Craig drove another strong race to third, with James Alford's EK Civic this time beating Jones to fourth.
Southcott was hit by a gear-linkage failure early in Sunday's qualifying session, leaving him well adrift of Prebble and just behind Craig. Further trouble struck in the race, leading to his retirement and an early bath for the weekend.
Craig made a better start than Prebble to lead Pre-'03 but was unable to keep the one-time champion behind, Prebble going on to win by 11s, with James MacGregor's Honda Integra completing the podium.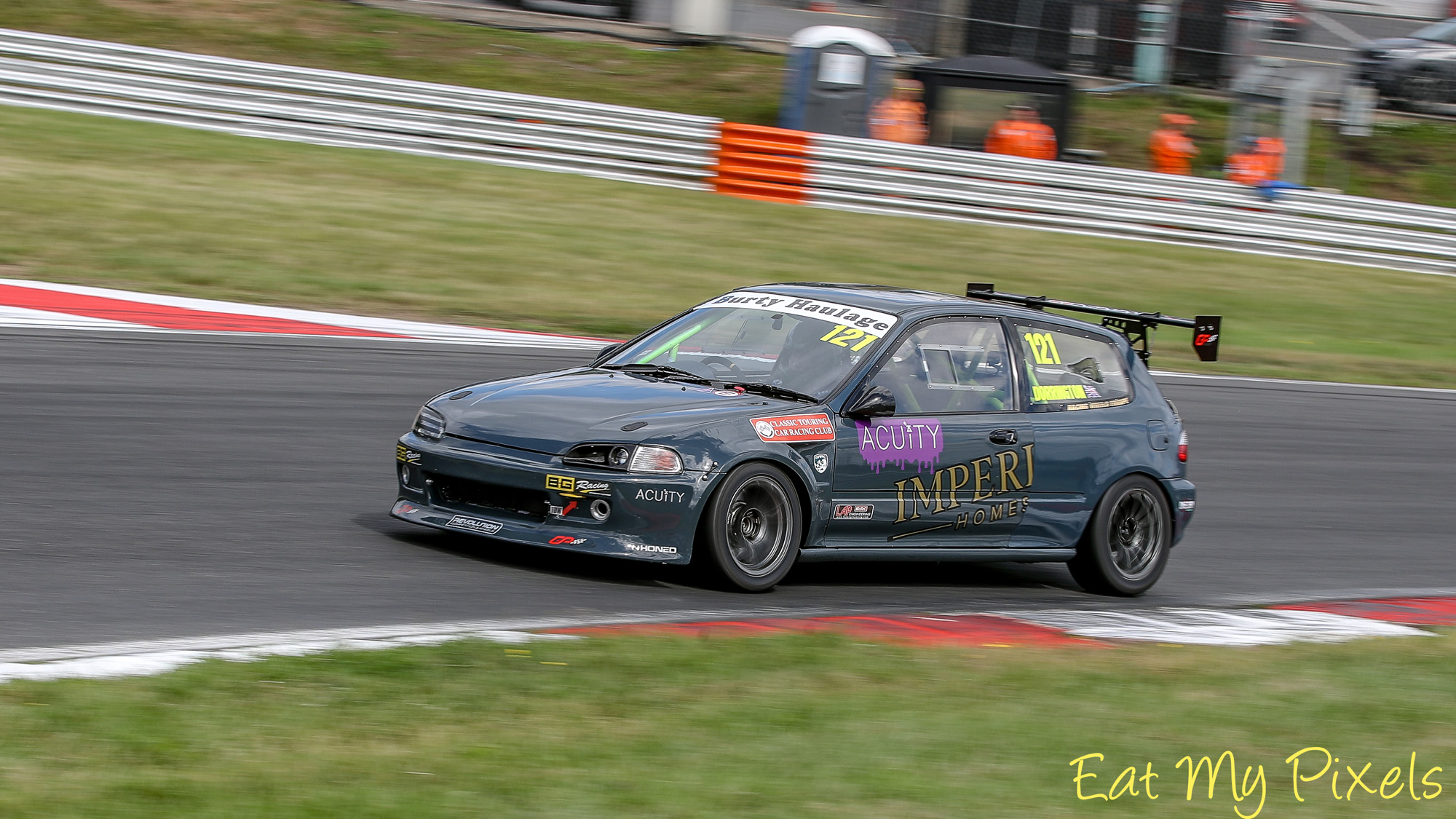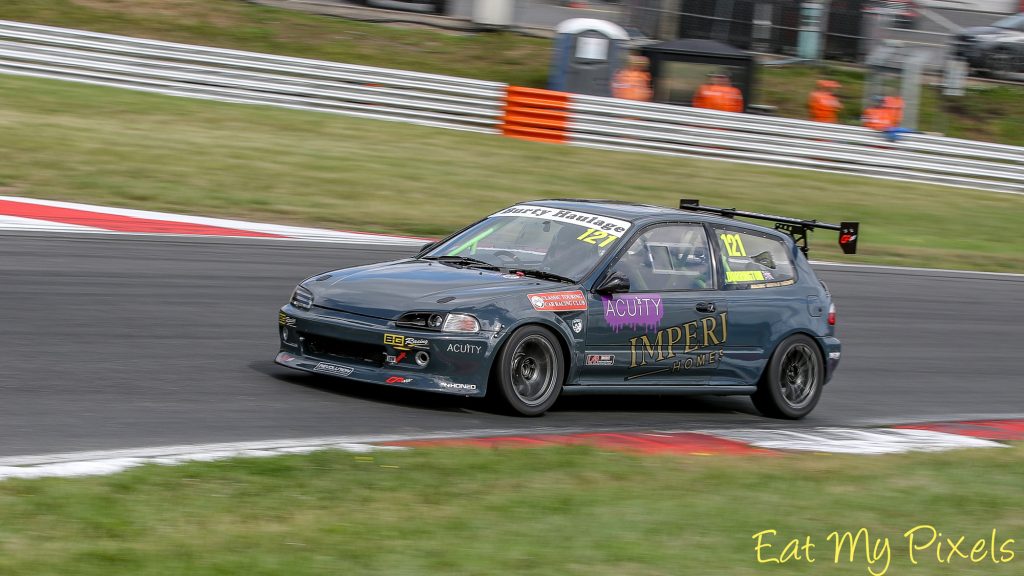 Prebble was pleased to make a better start in the fourth and final race of the weekend, and was untroubled on his way to win number three.
Craig, running on a particularly tight budget for this season, was again second, before being hailed by Dave Bartrum for his part in the development of Motorbase Performance's BTCC-leading Ford Focuses.
Alford was third, ahead of Prebble's team-mate Joe Dorrington who made a successful return after his heavy Silverstone smash.
In Class A, reigning champion Cavan Grainger won three out of four in his big Bimmer, but his retirement from race four allowed Leigh Spencer's BMW 328i Sport in to take the honours.
Berkshire Jag Components Jaguar Challenge
The different characteristic of Brands Hatch's two circuit layouts played a major role in determining the outcome of the four Jaguar Challenge races. Guy Connew's V12-engined XJS twice took the honours on the Grand Prix configuration before Colin Philpott did the double on the Indy circuit.
Sharing the track with Classic Thunder, it was Philpott who qualified fastest on the longer circuit in his straight-six XJS, in an interrupted session on a drying track.
But Connew's extra power prevailed in the race, as he moved ahead on the first lap and was never headed. Philpott looked set for second until thwarted by a fuel-pump failure.
So Andrew Harper's supercharged S-Type R took the position ahead of Jack Robinson's class-winning XK. Philpott nursed his XJS home sixth.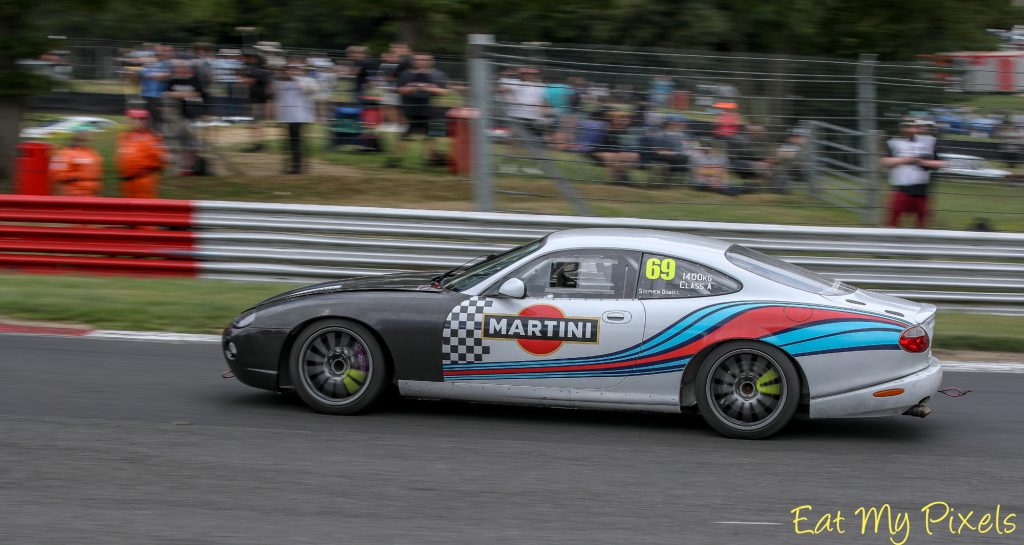 Fuel pump replaced, Philpott quickly worked his way into second in race two. But under pressure for much of the race, Connew held firm to take his second win.
In the battle for third, Harper headed Robinson until forced to retire when his car cut out, so Robinson's Class C car took the position, well clear of Damian Gray (XJ40).
Philpott's Class B qualified fastest on the shorter, tighter layout on Sunday, ahead of Connew, Harper and Mike Seabourne – who this weekend was borrowing Harper's diesel-powered XJ after experiencing trouble with Derek Walker's XK8 at the past two meetings.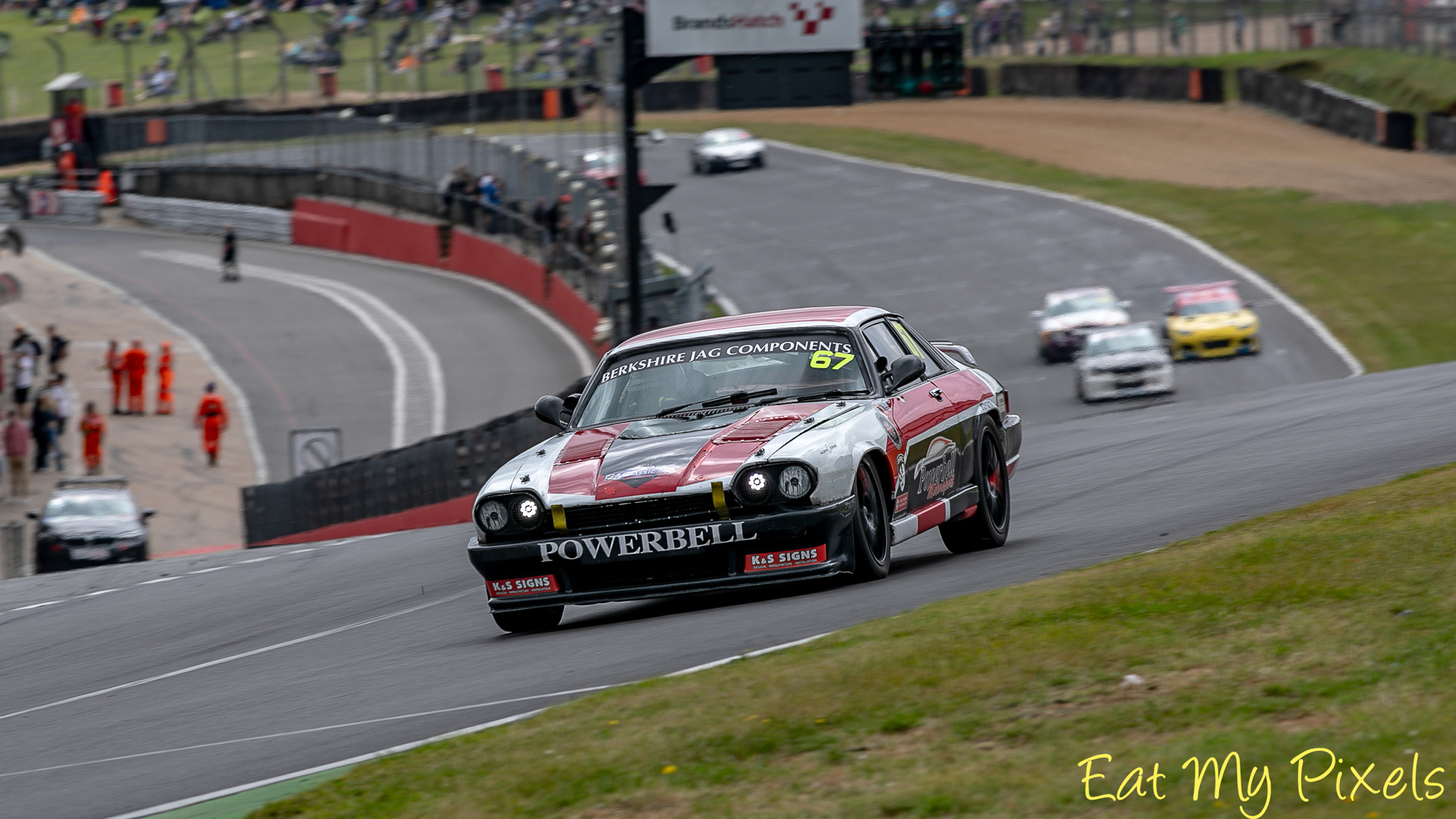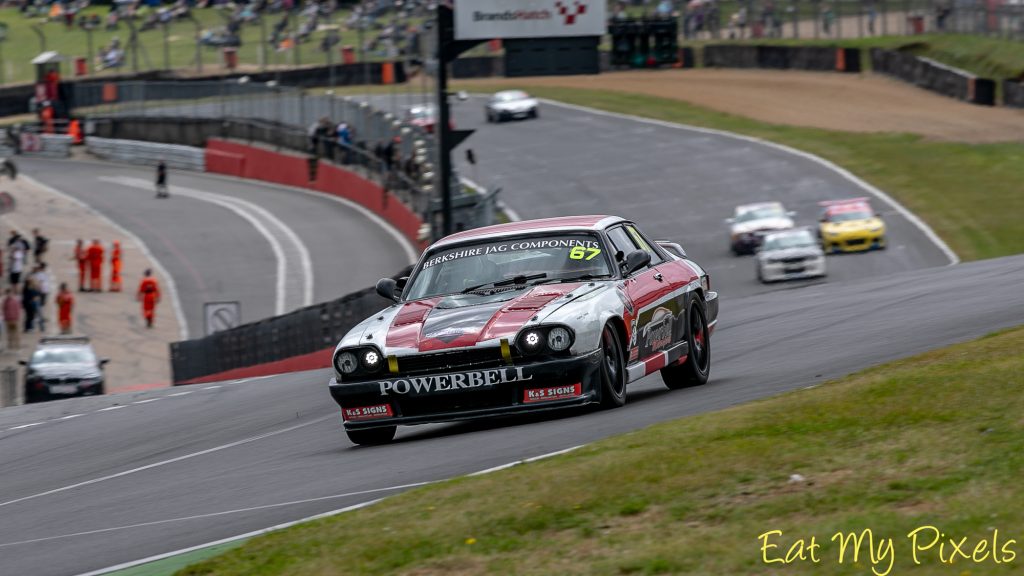 Connew couldn't quite match Philpott's pace in either race so the Powerbell machine repeated its April Indy circuit double, with Connew second on each occasion.
James Ramm, once again in borrowed machinery – Gary Davis's XJS – while his V12 awaits its debut, came through to third in race three. With a head gasket on the way out, it was the end of Ramm's weekend, having already been afflicted by brake master cylinder failure on Saturday.
In the battle of the two Silk Cut cars, Seabourne pipped Harper to fourth by just 0.04s in race three before the positions were reversed in the finale, albeit with now racing for third.
Robinson's XK came through for fifth from the back of the grid after missing the midday race when Swallows Racing discovered a broken water-pump bracket as the cars were being called to assembly.
Full results are available via the TSL website.
All images courtesy of CTCRC official photographer Steve Jackman/Eat My Pixels