The Classic Touring Car Racing Club's season finale at Donington Park included magnificent machinery like Geoff Steel Racing's BMW 635i Gerhard Berger tribute car, pedalled by Howard Spooner, and thrilling races.
There were no better finishes than Sunday's Pre-'66 thrash where the lead changed three times in the final two corners.
Orange Aero Pre-'83 Group 1 Touring Cars
Three drivers remained in contention for the Pre-'83 title heading to Donington, but it was a familiar name who came out on top (provisionally) as the races were won by two very different cars.
In wet conditions, it was a new name who secured pole position. Howard Spooner was making a guest outing in the championship at the wheel of Geoff Steel Racing's magnificent Gerhard Berger tribute BMW 635i after his own Group 5 version has been beset by problems this year.
Spooner flew to a lap 6.5 seconds clear of the rest of the field which was headed by reigning champion Stephen Primett's Ford Escort RS2000 Mk1. Don Hughes's front-wheel-drive VW Golf GTI punched above its weight to go third fastest, and was joined by another new name on row two: David Hickton.
The Opel fanatic wheeled out his glorious 1979 Kadett GT/E for only its second race outing, after a troubled debut some two-and-a-half years earlier. Prepared by Hickton himself from a 1.2-litre road car acquired in 2016, the coupe now runs the 2.0-litre GT/E engine built by German specialist Gerent.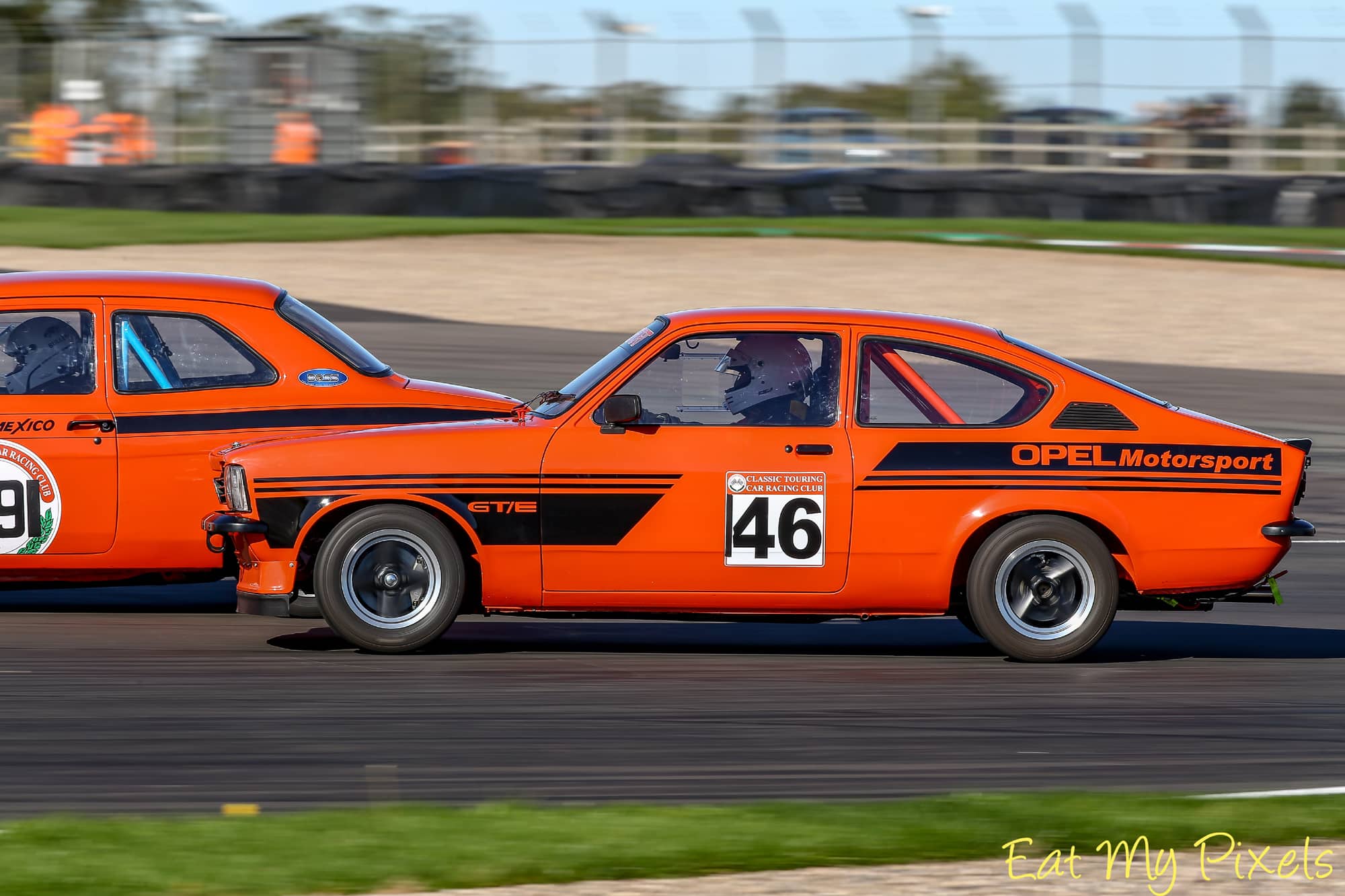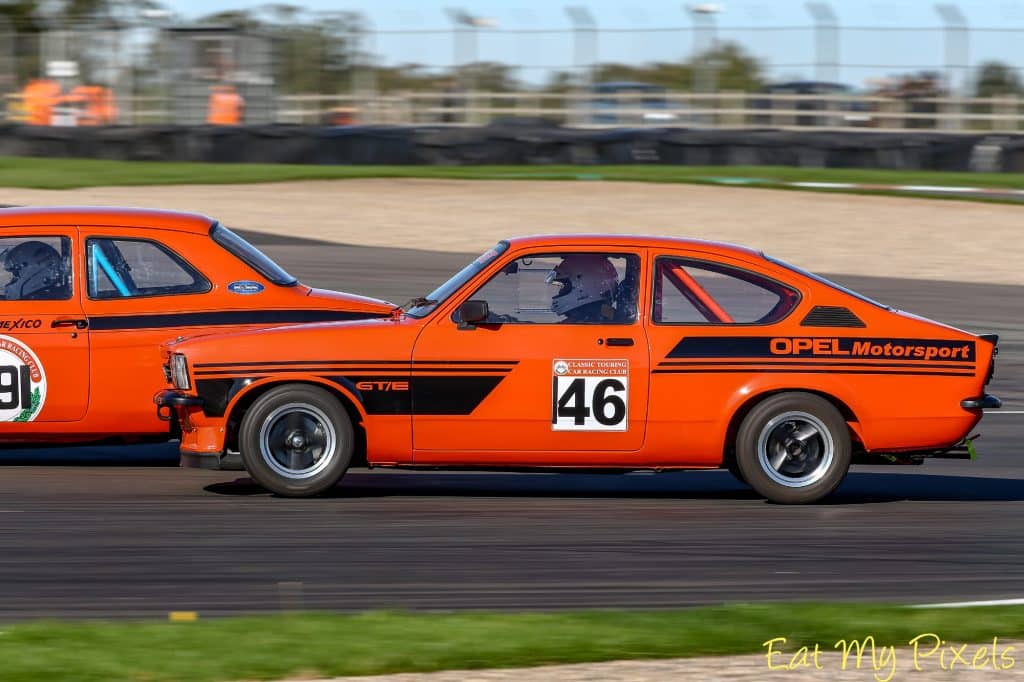 Primett's championship challengers, Will Davison (BMW E30) and Jonathan Corker (Datsun 510) would have to make do with starting positions on row five and four, respectively.
After torrential lunchtime rain, Saturday's race began behind the safety car before the field was released. Spooner then simply cleared off to victory by more than 10s.
"It's such a well-balanced car that Geoff's set up here, it's just a pleasure to drive," reported the Marlborough-based hotelier.
Having performed a swift precautionary gearbox change between qualifying and the race, Primett initially held second. But he was coming under increasing pressure from Hughes, who made a move stick into Redgate on lap six of seven.
The top three then remained the same, as Hughes and Primett both won their classes. It was enough to put Primett's points tally out of reach and (provisionally, subject to official confirmation by the CTCRC) clinch an incredible 11th title.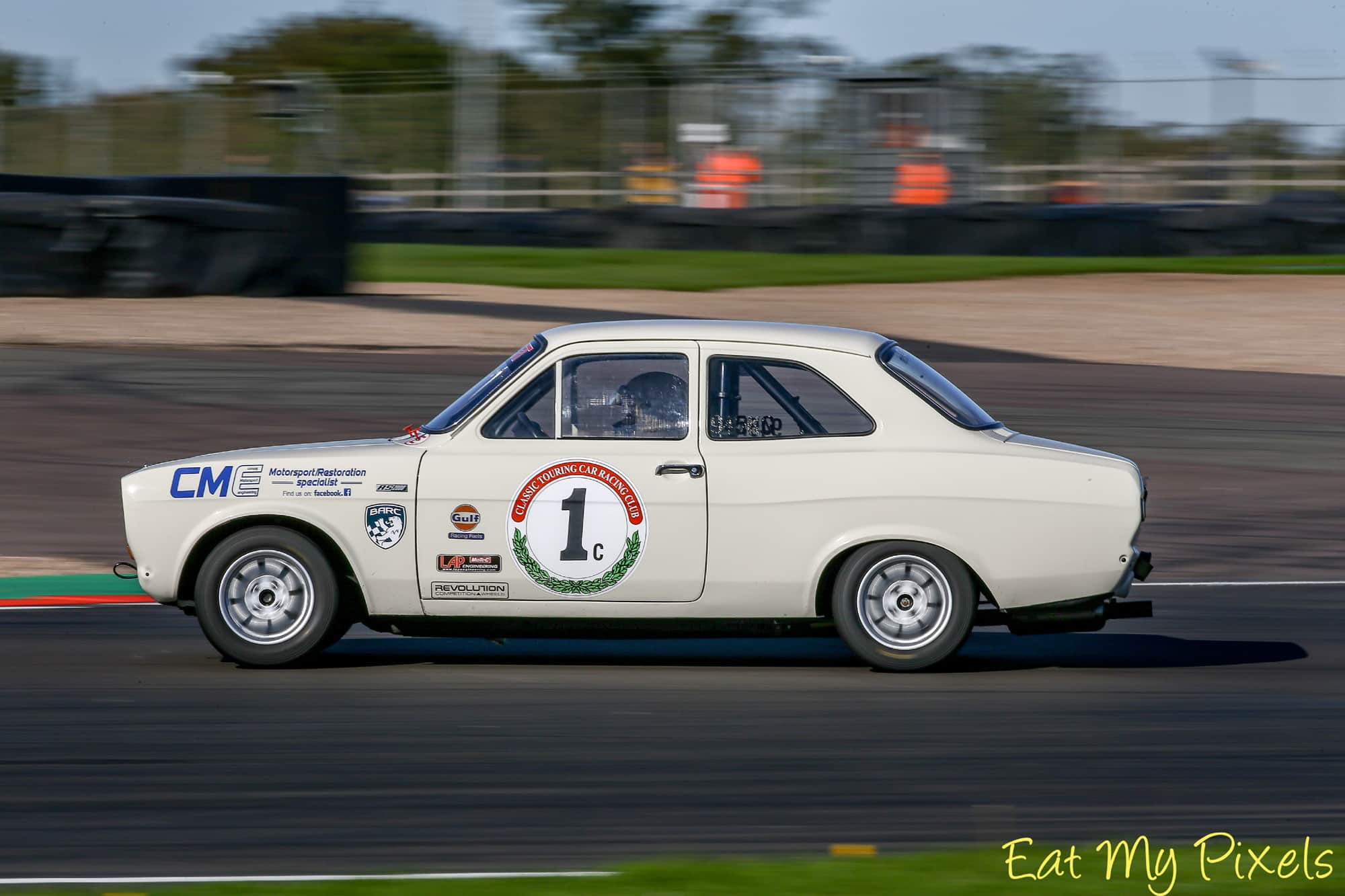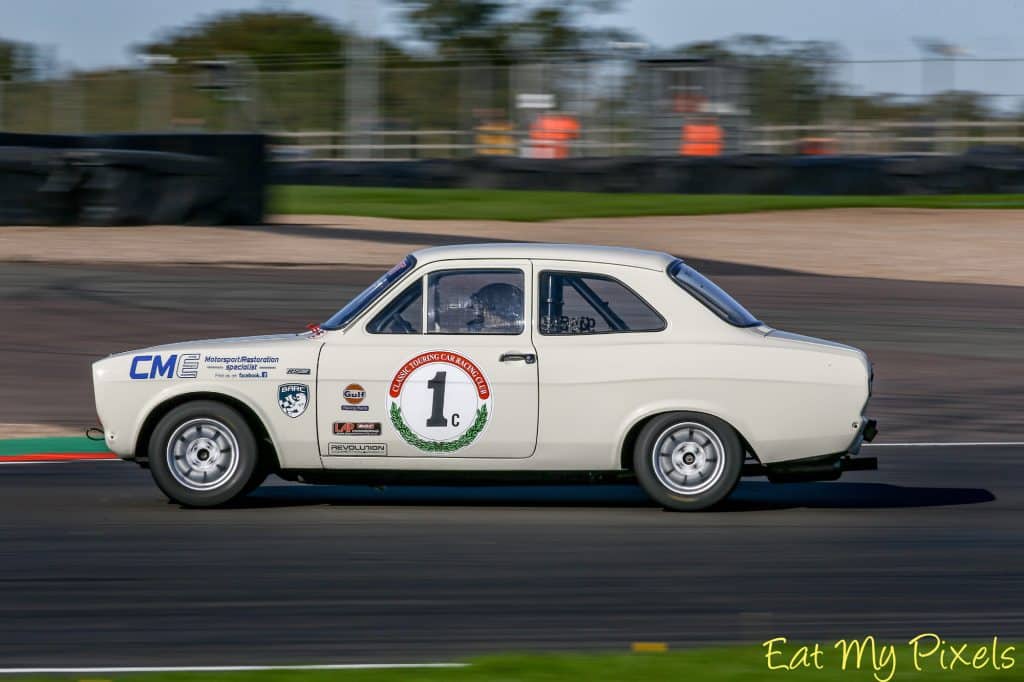 Corker managed fifth, behind Simon Jeffs's left-hand-drive Richard Lloyd tribute Golf. Davison, a late entry for the weekend after missing the previous round through work commitments, sadly saw his title challenge go up in smoke. Five times an overall winner this year, the Wiltshire racer had risen to sixth in the race before the E30 dumped its oil due to a suspected head-gasket failure.
With unsuitable tyres, and giving what was in effect a brand new car its first run out, Hickton slipped down the order before parking up to save his Kadett for another day.
Sunday's race took place in much better conditions. But, from a standing start, Spooner struggled to get his 6-series off the line and slipped down the order. It was a fast-starting Jeffs who jumped into the leader ahead of Corker, Primett and Mark Osborne (Triumph Dolomite Sprint).
Primett and Osborne worked their way past Corker before the end of the lap, with the Hull man also losing out to Mark Cholerton (Escort RS2000 Mk2) at the Esses on lap two of six.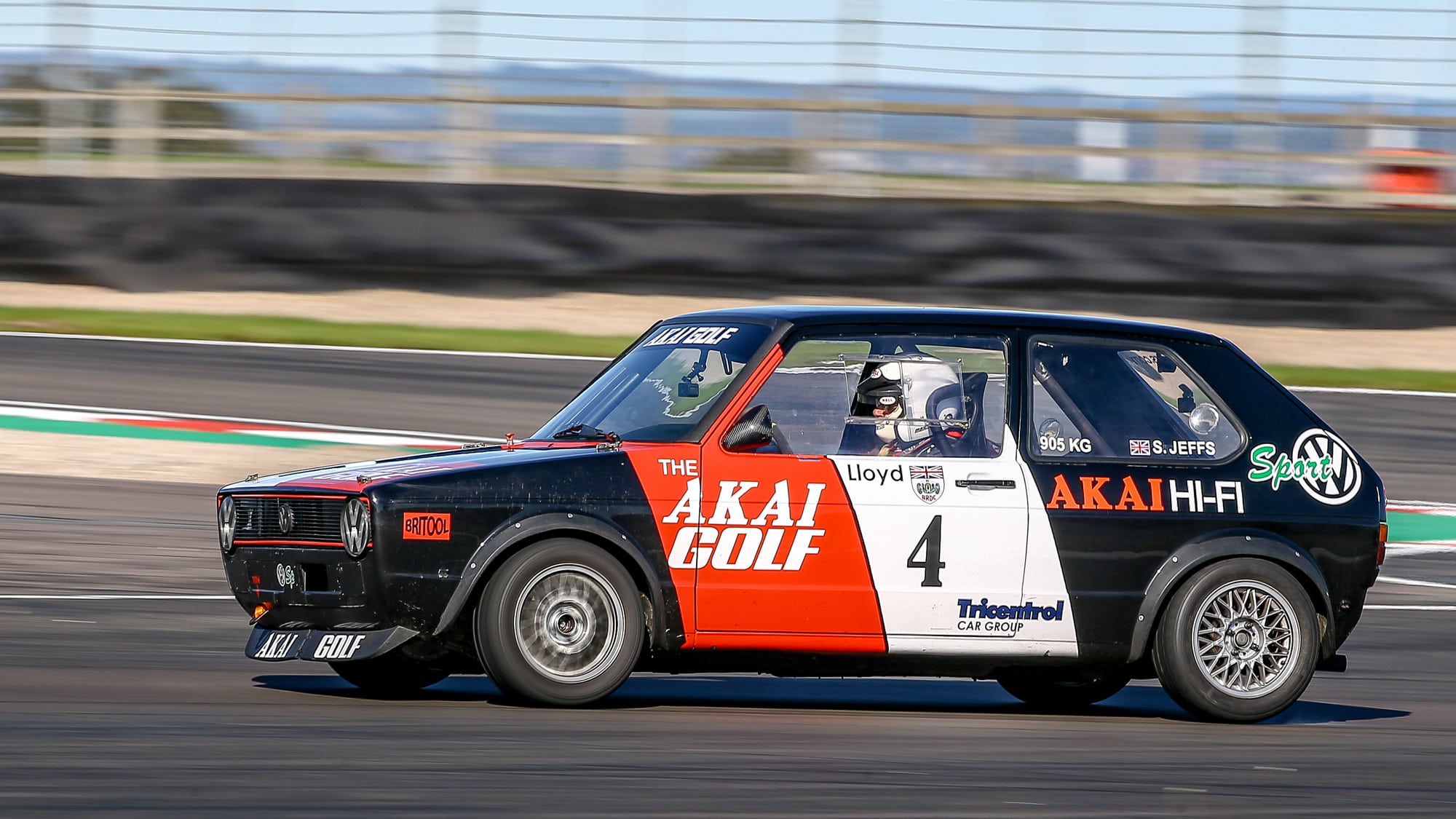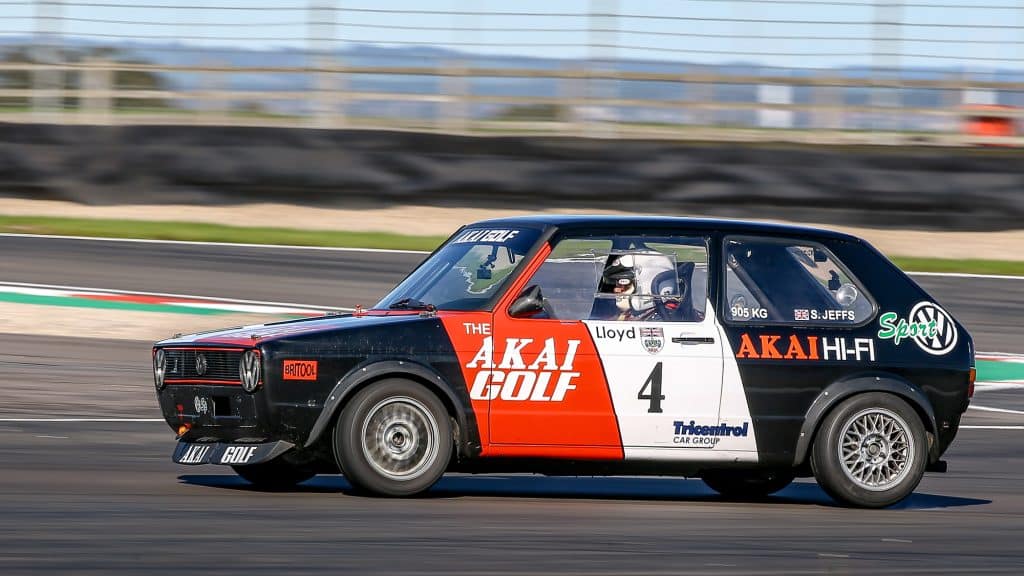 By that stage, Primett had relieved Jeffs of the lead by cutting back exiting the Old Hairpin. Cholerton's unsuccessful challenge on Osborne at the Esses a couple of laps later allowed Corker back into fourth, followed by Hughes.
The field was then brought under caution after an incident at Schwantz Curve. Mark Spence spun his beautiful little Mazda RX7, with David Margalies (Alfa Romeo GTV) and Mostyn Rutter (Vauxhall Firenza) swiftly taking to the grass in avoidance. Unfortunately, the Firenza clipped the RX7 and while both drivers were OK, the resulting clear-up meant the race finished under safety-car conditions.
So Primett won from Jeffs and Osborne. Hughes won Class D in fifth overall and Spooner's BMW was the first Class B car home despite dropping several places to a 10s penalty for the bungled start.
"Will has dominated the championship all year really and he's been a lot quicker than me," said the ever-modest and gracious Primett. "But he's missed a few rounds and that's played into my hands."
Poultec Pre-'66 Touring Cars
Pre-'66 Touring Car honours were split between James Everard's Alfa Romeo Sprint GT and the Morris Mini Cooper S of Barry Sime as the pair provided a thrilling finish to their second race.
It was Sime who took pole position on a drying track, with Everard joining him on the front row of the grid. Piers Grange (Ford Mustang) and Phil House (Mini) were due to start on row two, although a loose wheel forced Grange to pull off on the green-flag lap of Saturday's race.
Everard made the better getaway and proceeded to pull away, securing a first overall victory in Pre-'66 for himself and the raucous Alfa that his father John had been rallying until a few years ago.
"We've been a long, long time getting this car to finally win, so that's for Dad," said Everard Jr.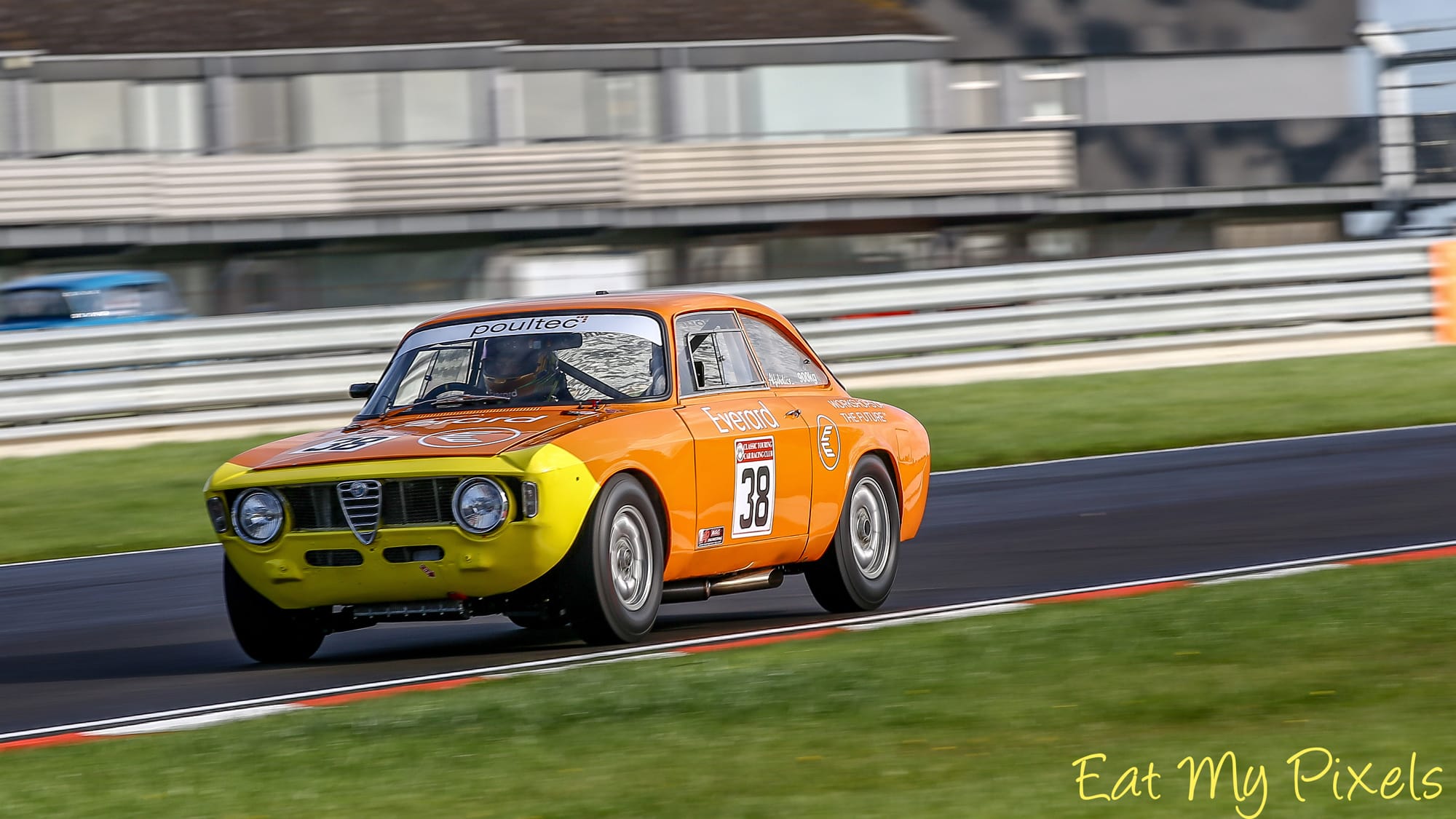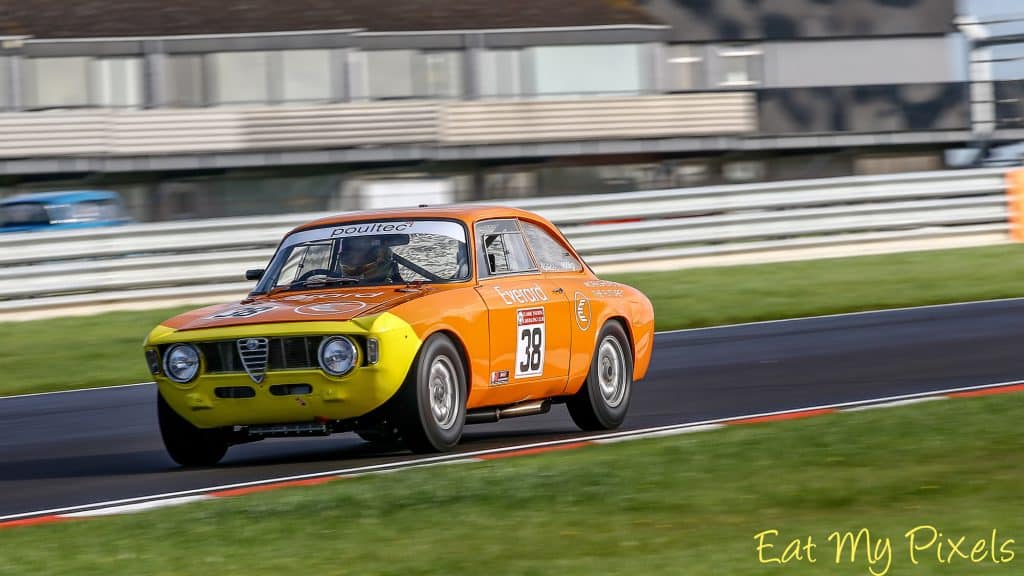 A fine start from row three lifted new champion (subject to official confirmation) Billy Kenneally's Ford Anglia briefly into third position before House got back ahead. House then put the pressure on Sime for second but was wary of make a risky move while suffering with fading brakes.
Kenneally finished fourth, well clear of Kevin Swann's similar Anglia and Class E winner James Ibbotson. The returning champion, debuting new dampers on his Hillman Imp Super, passed Class F winner Pat Kenneally's Lotus Cortina on the final lap.
There was a terrific scrap for Class D honours. The Morris Minors of Jim Henshaw and Patrick Harris were split on the final lap by guest driver Paul Clayton's Austin A40.
Everard wouldn't have things all his own way in Sunday's rematch. Again it was Billy Kenneally who made the best start, propelling himself into the lead until Everard powered past on the Exhibition Straight further around the lap.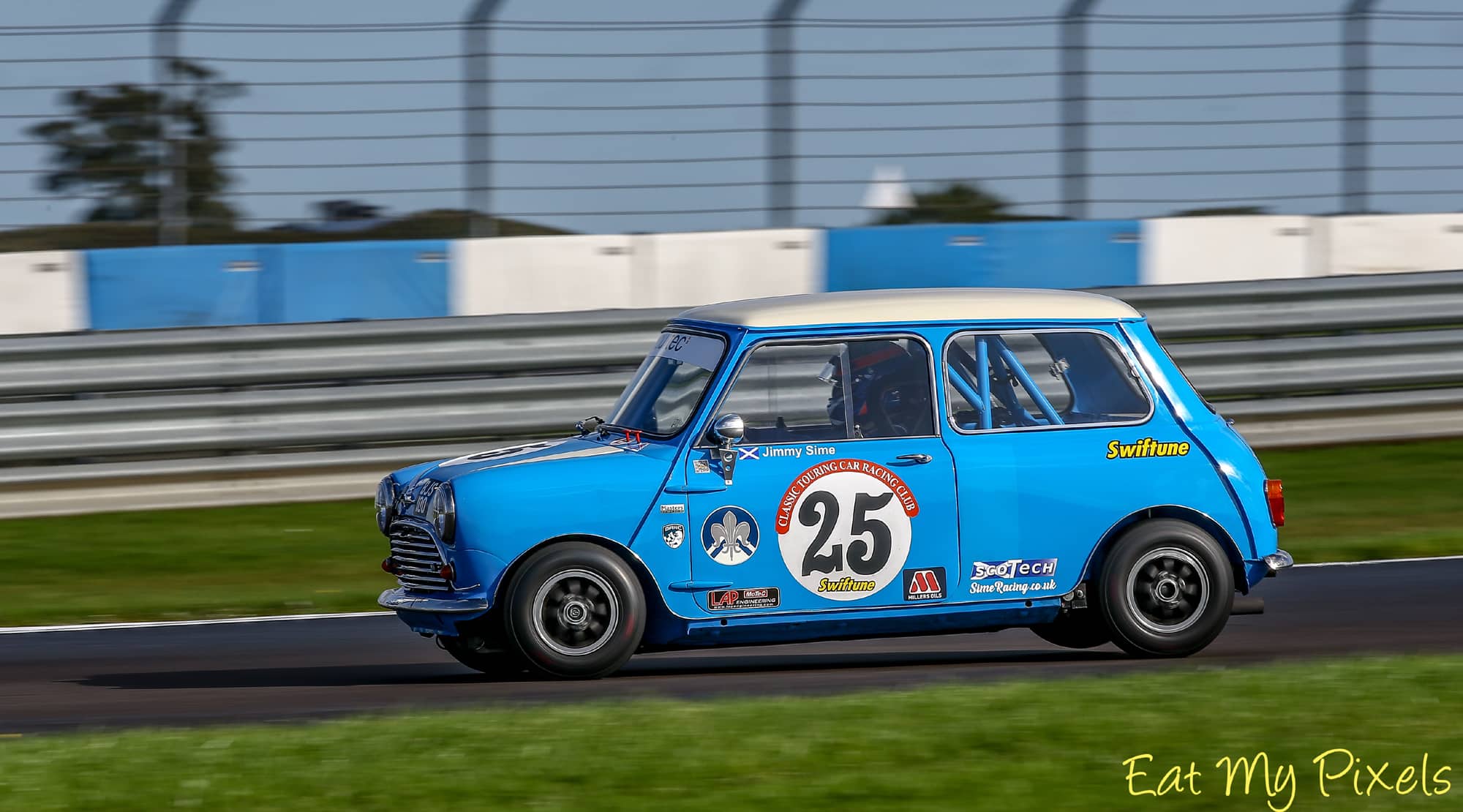 Sime had dropped to fifth but re-passed House and then demoted Kenneally father and son in one move at the Melbourne hairpin as he returned to second within a lap.
The Scotsman then lost out to House at the same corner a lap later as the duo traded second position before Sime made it his own. His next target was Everard, whose Alfa was getting more lairy as it increasingly locked its rear brakes.
Sime closed to within half a second but then bided his time until the final lap – not that he knew it actually was the last lap! In a battle of sons in their fathers' long-serving cars, Sime threw the blue Mini inside at the Melbourne hairpin to take the lead.
But Everard wasn't giving up that easy. He returned fire at the following Goddards hairpin – the final corner – but couldn't get the car stopped, and ran wide. A grateful Sime cut back inside to snatch his third victory of the season, enough to provisionally clinch second in the final points standings.
"I really wanted to win the last round of the season and beat James," admitted Sime. "We've done one apiece [in class] at Snetterton, I won both at Croft, so it's been a close battle."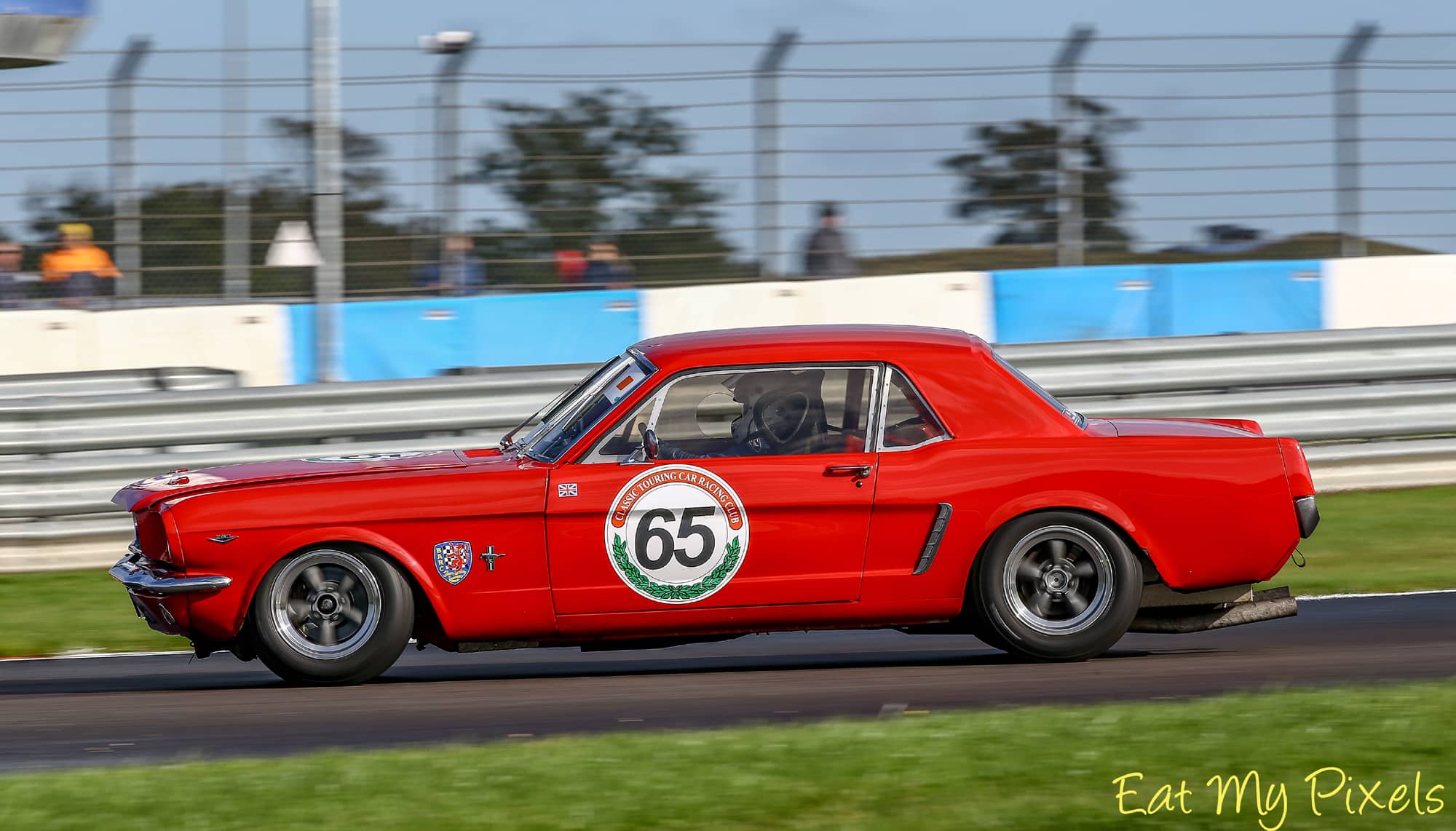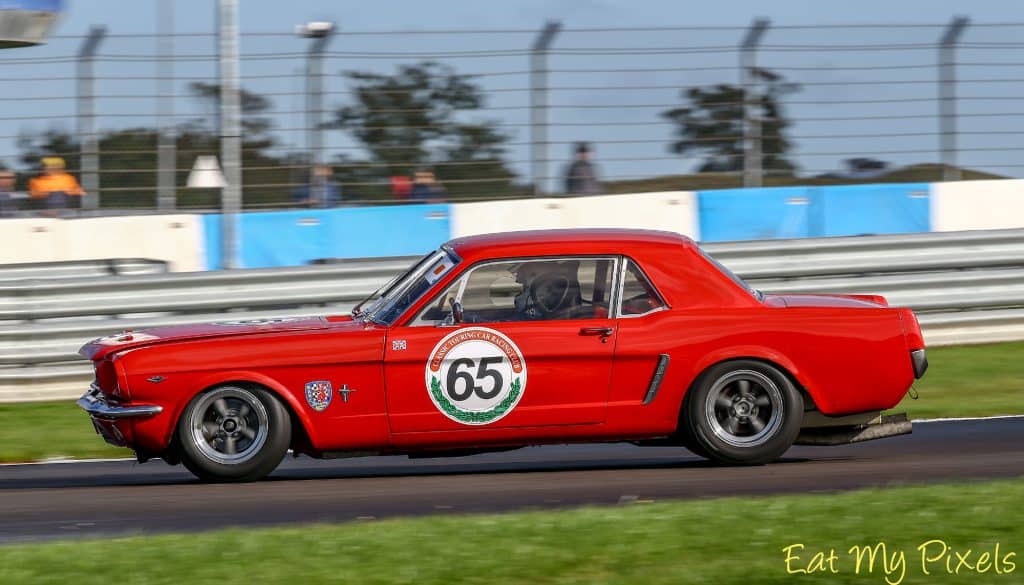 House completed the top three again, the three-time VW Cup champion appreciative of the help Barry and father Jimmy had given with his Mini.
A lap more and House would likely have been usurped by Grange who thundered through from the back of the field to take Class A spoils in fourth overall after Ant Astley's similar car had taken the honours a day earlier.
Billy Kenneally was fifth, ahead of his dad Pat, who won Class F. Ibbotson again won Class E, heading home Michael Loveland's similar Imp which James had helped get back on track after its driveshaft coupling failed on the grid for race one and took out the suspension.
Brian Bedford, back in his A40 after Steve Evans's run a day earlier, pipped Henshaw and Harris to the laurels in Class D.
Edmundson Electrical Classic Thunder
A typically eclectic Classic Thunder field lived up to its name as two big Holden V8s roared their way to a pair of 1-2 finishes for the Australian marque.
Andy Wilson's ex-British GT Holden Monaro was making its first appearance of 2023 after an extended 'winter' overhaul. After regularly stripping its crown wheel and pinion last year, the 7.0-litre machine had a more robust diff installed by Seaman Motorsport, along with uprated aerodynamics among other improvements.
Wilson put it to good effect by securing second on the grid, beaten only by former British GT and W Series racer Abbie Eaton in dad Paul's earlier generation of Holden V8. Their VH Commodore was also featuring new developments – a big rear wing and front diveplanes.
Row two featured title contenders Nick Vaughan (Audi A3 Turbo) and Sam Wilson (Aston Martin V8 Vantage), ahead of the BMW M3s of Kirk Armitage (E36) and Gary Hufford (E46).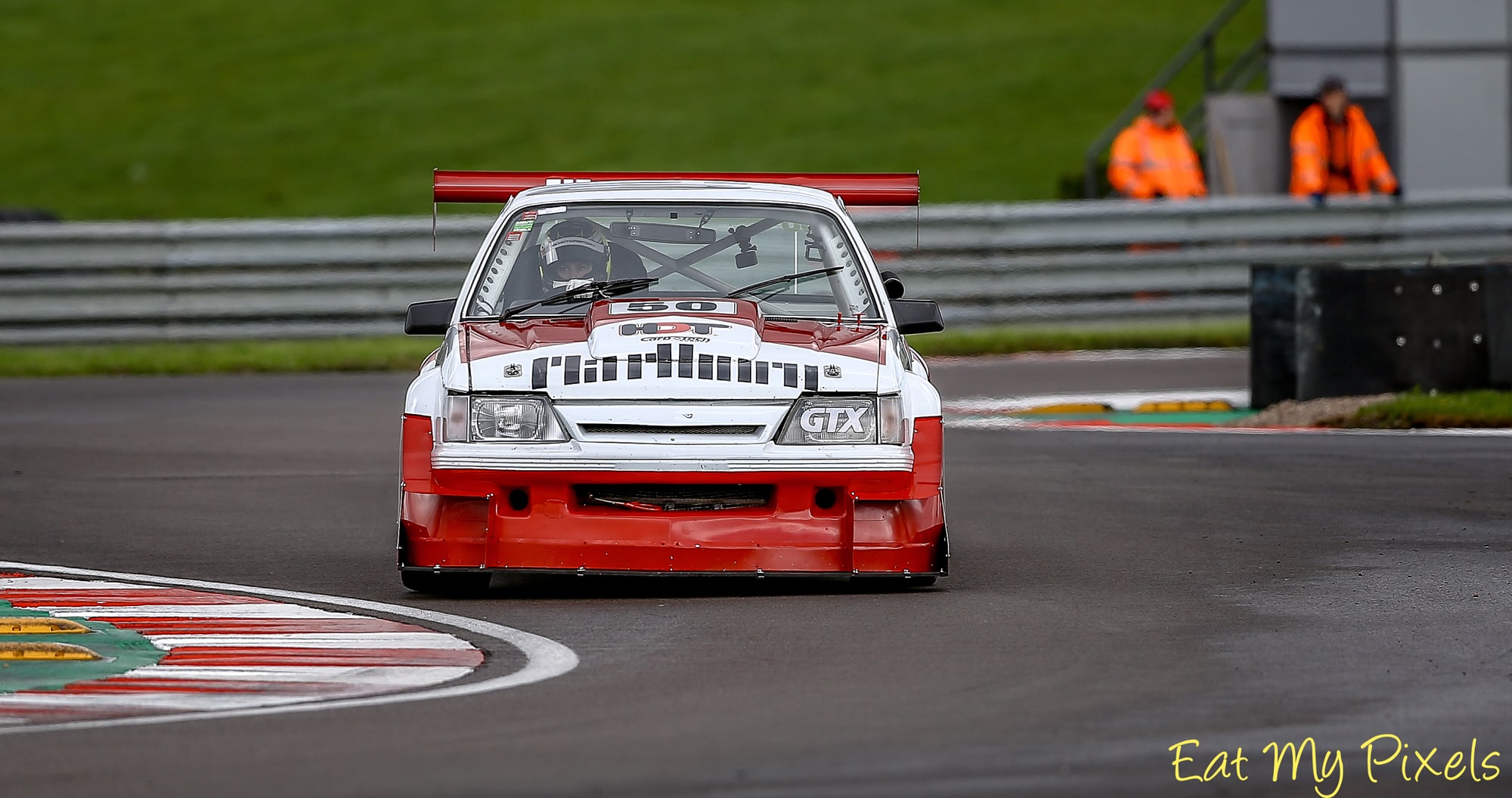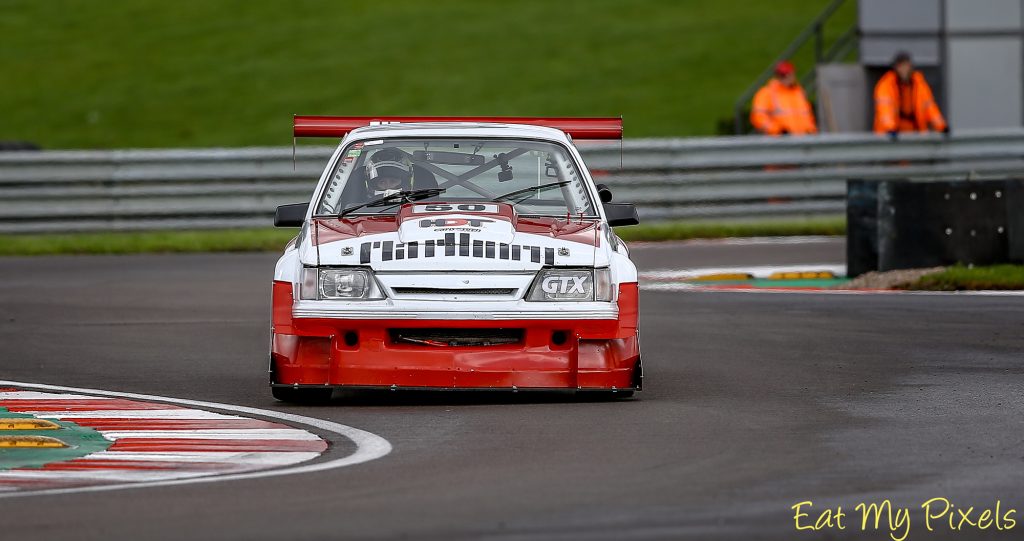 Andy Wilson thundered ahead at the rolling start, with Eaton slotting into second while a grassy moment for Vaughan dropped him down the order.
Eaton was putting Wilson under pressure and dived inside at Redgate at the start of lap two of six. But Wilson was able to cut back underneath the older car into Holly Wood and then kept just out of reach for the rest of the race.
It was still a fine drive from Abbie to secure second in the historic-class car, some 18s clear of Sam Wilson in third. The younger Wilson had had to drive a defensive race to hold off the pack that formed behind him, initially headed by Armitage who had done well to rebuild his heavily damaged car from its Croft smash.
It was another driver who had run well at Croft before suffering misfortune, Neil Philpotts (Mitsubishi Starion Turbo), who eventually took the place. Colin Voyce's Mountune-powered Ford Escort Mk1 was fifth as Armitage slipped to a still class-winning sixth.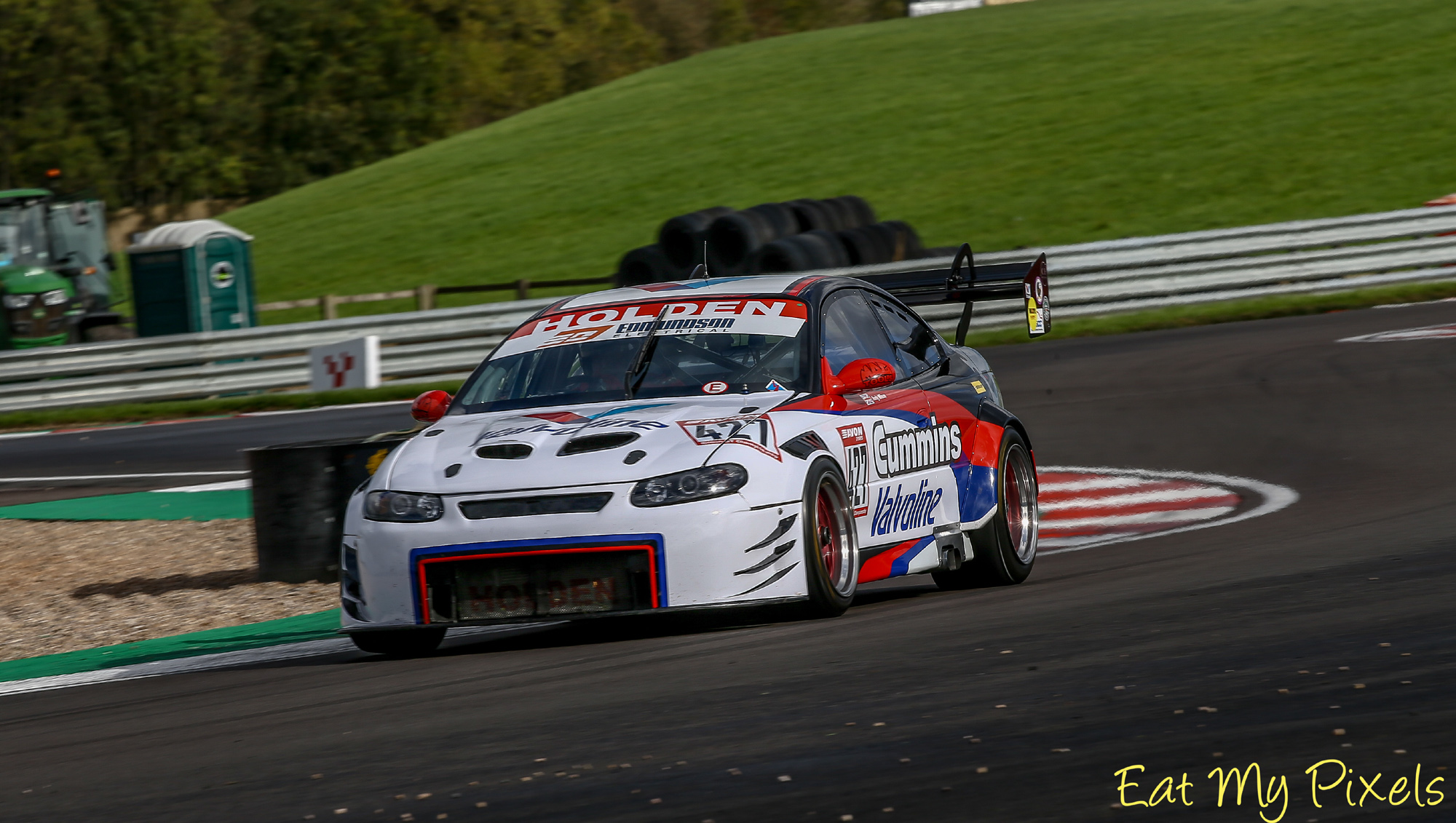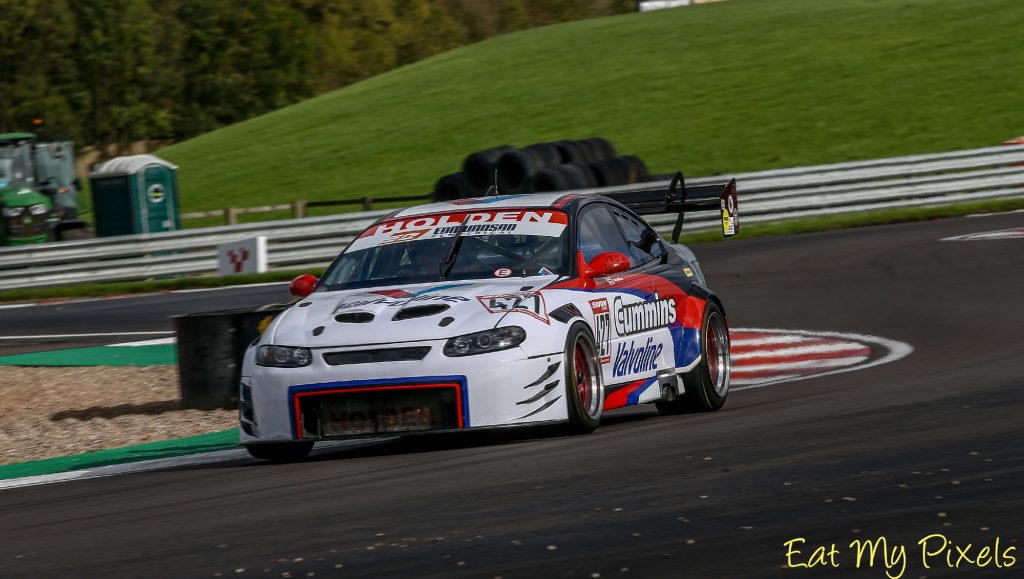 Vaughan could only recover to ninth, third in class, meaning that Sam Wilson had chipped into his championship lead ahead of the finale.
That took place on Sunday afternoon. Eaton, more confident on cold tyres, took the lead on the outside line. She then faced intense pressure from Wilson's Monaro, which drew alongside on the Exhibition Straight a couple of times, but Eaton held on.
Wilson finally got ahead at the Melbourne hairpin on lap three of nine but Eaton went back inside at Redgate, two corners later. But Wilson cut back on the exit to recapture a lead he wouldn't relinquish. He fired in a couple of fastest laps to exert his authority before winding back, having been shown a track-limits warning flag.
Sam Wilson again brought home Rikki Cann's Aston in third. He had slipped to fifth behind Voyce and Philpotts, but benefited from the latter's retirement and managed to overhaul Voyce's Castrol-liveried machine. Armitage was another to fall by the wayside, leaving Hufford a clear run to fifth.
Behind them, drama was unfolding. Vaughan needed a decent score to be sure of remaining above Sam Wilson in the points but with three laps remaining the Audi's gear-linkage broke, leaving him stuck in third gear.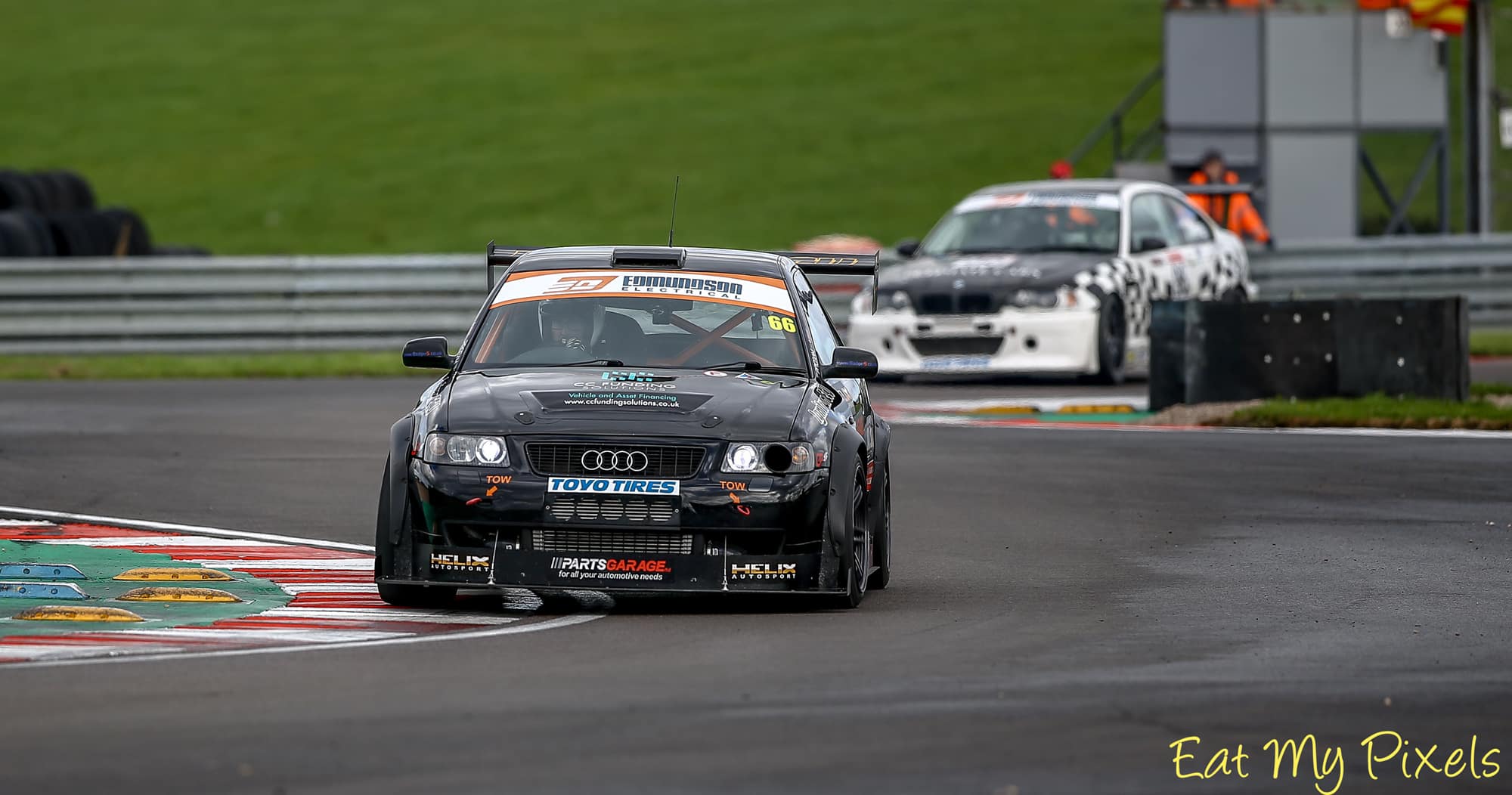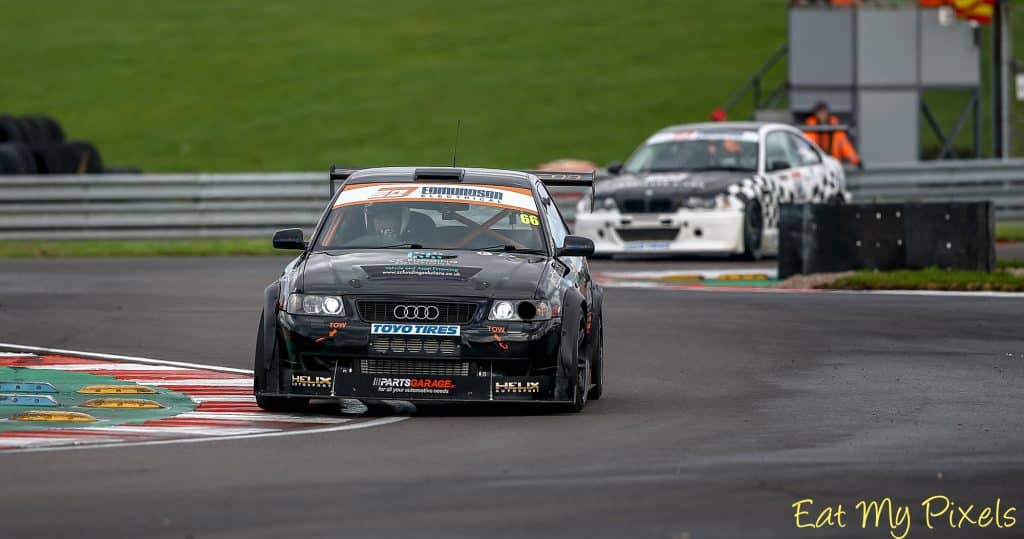 "I was holding it on the limiter the whole way round the lap, hoping it wouldn't blow up," said a mightily relieved driver, having made it home sixth, second in class. Crucially, it was enough to top the standings and provisionally take the title, subject to post-season checks and official ratification by the CTCRC.
Bryan Bransom and Jasver Sapra joined the fray on Sunday, having been racing at Oulton Park the day before. Their BMW M3 E46s powered through from the back of the field, Bransom's being the third fastest car on track. But they appeared to slow in the closing stages, Bransom slipping back behind Vaughan and losing out to Sapra at the final corner.
Class C wins were split between Oliver Owen's E36 M3 and David Hutchins's Honda Civic Type R.
Berkshire Jag Components Jaguar Challenge
Just one point separated Guy Connew and Jack Robinson in the Jaguar Challenge points going in to the weekend, setting up a nail-biting finish as the light faded on Sunday afternoon.
While they had their own grid for the races, the Big Cats shared the track with Classic Thunder for a very busy qualifying session. On a drying track, it was Robinson's Class C XK that went fastest, four tenths faster than Connew's V12 XJS which would start alongside in the first race.
Regular frontrunner Colin Philpott put his Class B straight-six version of the XJS third, ahead of the supercharged Class A machinery of Chris Boon (XK8) and Andrew Harper (S-Type R).
Sadly, a startline shunt red-flagged the first race. Fuel-pump failure prevented Tom Lenthall's XJS getting off the grid and James Ramm's borrowed version was also stranded on the hatchings.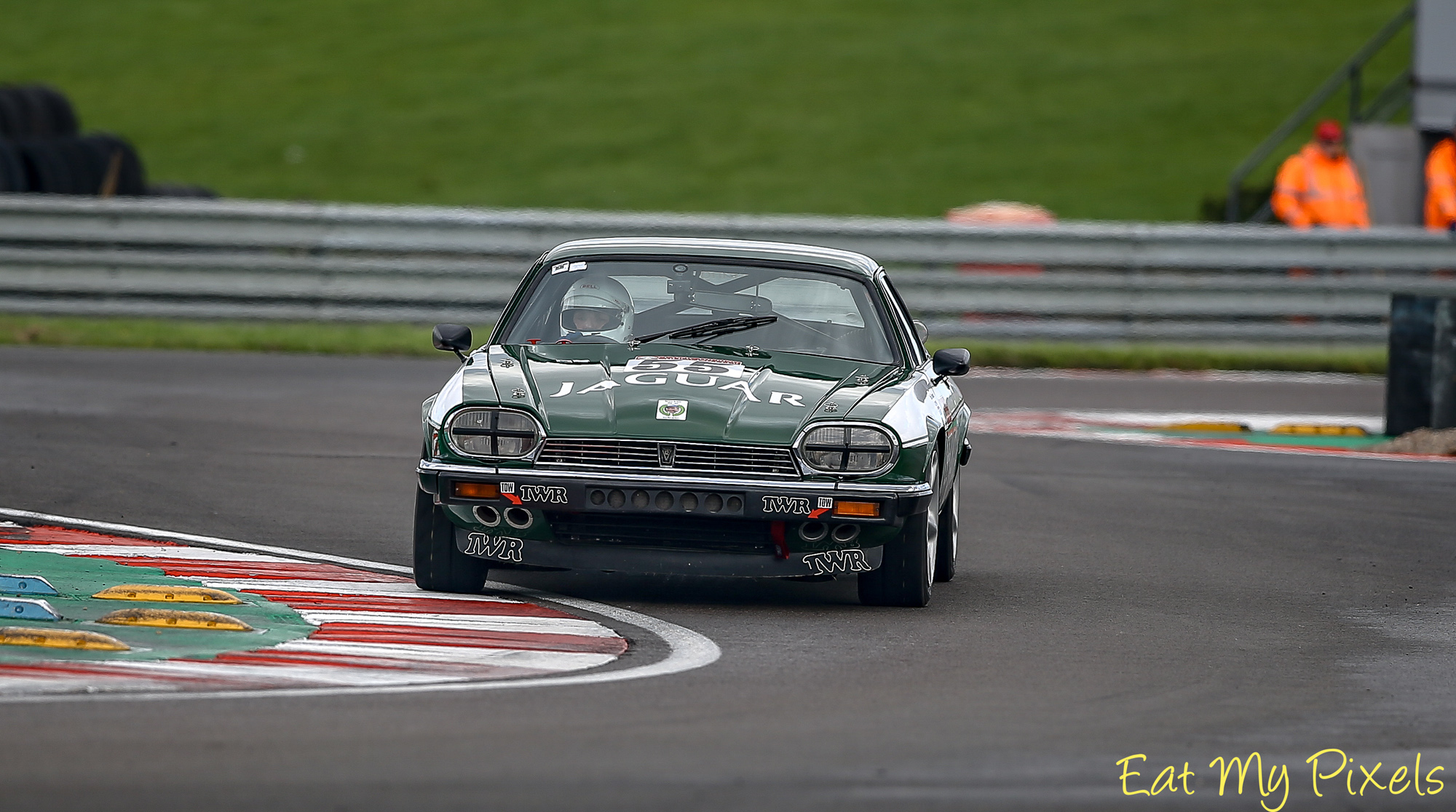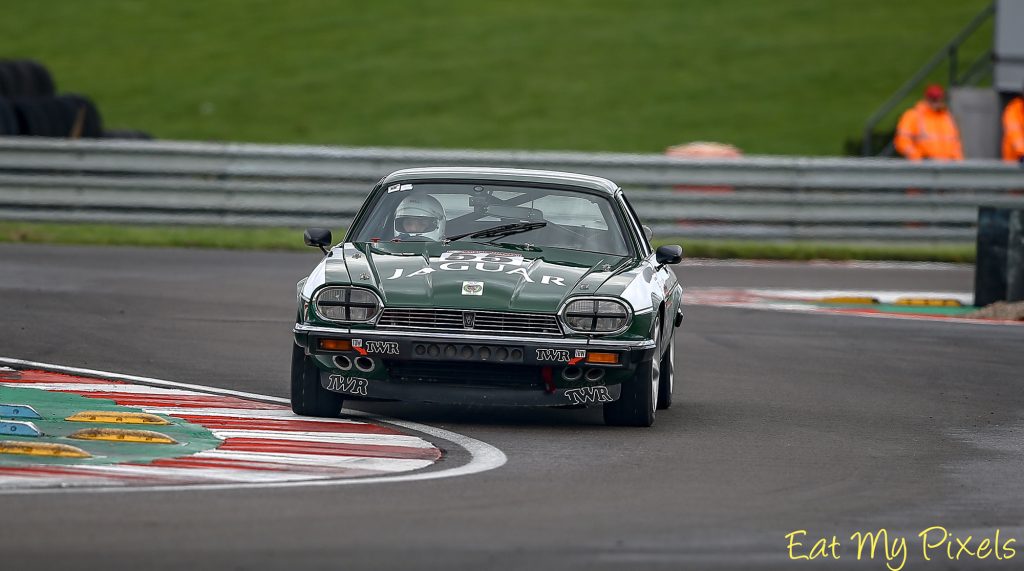 Everyone managed to avoid Lenthall's car but Andrew Maynard's XJ40 got boxed in behind Ramm where it was clobbered by an unsighted Damian Gray. Amazingly, Swallows Racing managed to get both cars back out for Sunday's second race.
The restarted opener was run over a shortened 10-minute duration, and sadly that had very little green-flag running. Connew made a good start to lead Robinson, and Harper also got away well, powering past Philpott and then Robinson through the Craner Curves.
As he did so, Philpott's car got away from him on cold tyres and had a lurid spin at the daunting downhill section. Thankfully the gravel trap arrested the big car's speed, albeit at the cost of its front bodywork. Philpott dislocated a finger in the incident, which sidelined him for the rest of the weekend. All at the CTCRC wish the Powerbell man a swift recovery.
At the end of the lap, in the middle of the pack, Andrew Rogerson (in Michael Holt's X300 this weekend) took a wide line towards the Goddards hairpin, as Mike Seabourne's XJS challenged. Both cars got squirrely in the wet off line and made contact, leaving Rogerson's stranded.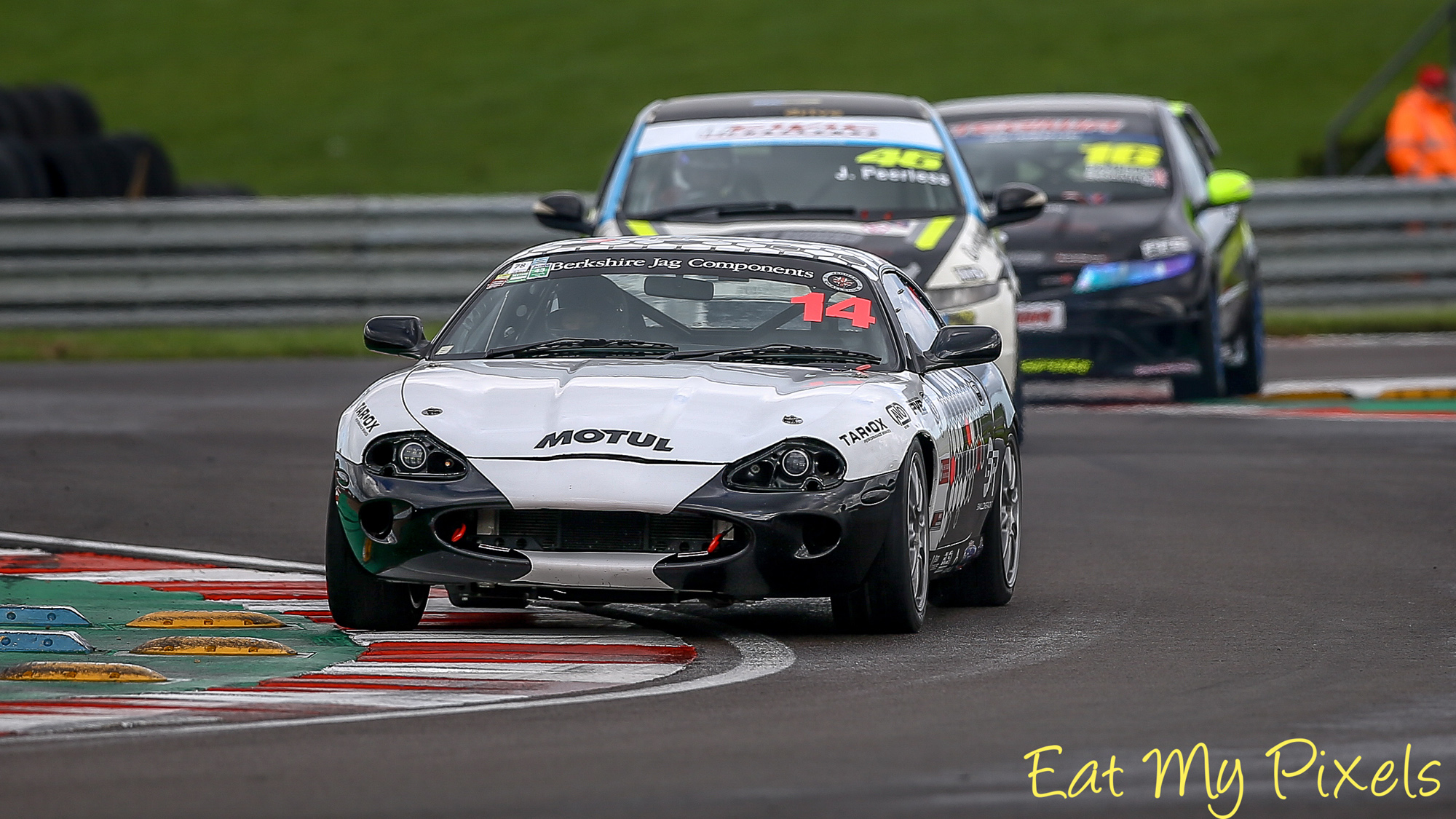 With two incidents now to clear up, the safety car came out and unfortunately time ran out before the race could be restarted. So Connew took the win from Harper, Robinson and Boon. Importantly, both Connew and Robinson had won their classes and, without a genuine flying lap, neither got the fastest lap point. Thus heading into the final race, it was 'as you were'.
Delays to Sunday's timetable meant that darkness was descending as the race began after 6pm, with the green-flag lap counting towards its duration. Stephen Dowell's XK8 was ordered off the grid after marshals spotted a loose exhaust, then the race got under way with Connew leading from Harper, Boon and Robinson.
As the time ticked down, Connew came under increasing pressure from Harper, who was seeking a maiden win and set fastest lap in the process. Connew had a big moment at the Melbourne hairpin but held on, then Harper got a run exiting Coppice, but the Group 44 tribute car once again clung on to the lead.
On to the last lap, Harper's Silk Cut-liveried machine got crossed up at Redgate, which gave Connew just enough breathing space to bring his XJS home for a sixth overall win of the season. Harper and Boon completed the podium.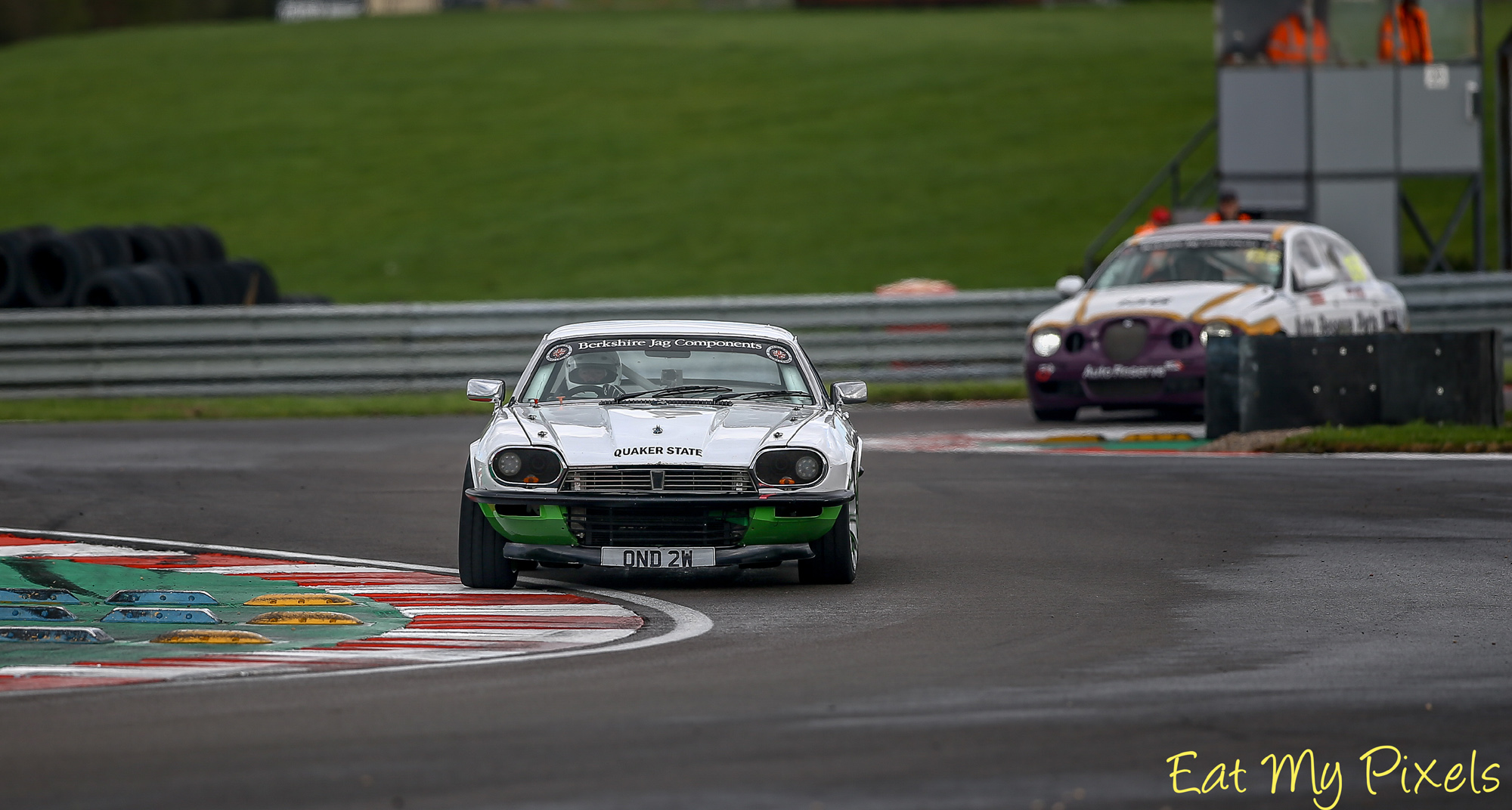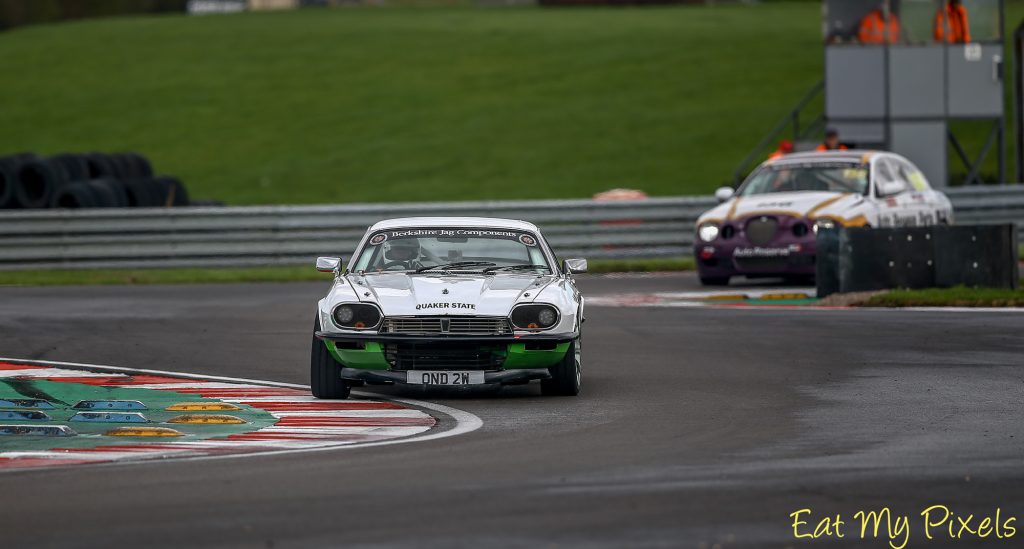 Robinson was a class-winning fourth, well clear of Seabourne and Mark Bennett, who was making his debut in the Auto Reserve diesel XJ, a car he had built. Crucially though, Robinson had recorded fastest lap in class, whereas Connew had not – leaving their scores level, subject to official ratification.
In such circumstances, the tiebreaker is number of class wins, which would favour Connew. The CTCRC will confirm the champion once all post-season checks are complete.
"Rock, paper, scissors!" Robinson suggested, before reflecting on a successful season of development on Swallows Racing's new-build car.
"It was non-stop right from the start," admitted a drained Connew. "Andy kept me honest. He was right on my tail and I couldn't afford any mistakes. He really did put the pressure on and I felt it."
Burton Power Blue Oval Saloon Series
The three remaining championships were on a combined grid, headed by the cars from BOSS's slicks class. Three-time champion Piers Grange powered to a double success in his Smith & Jones-powered Escort Mk2 after the Sierra Cosworths all hit trouble.
It was AJ Owen who put his dad Craig's Sierra on pole position ahead of Mike Manning's RS500 version. Malcolm Harding was third quickest in his Escort, ahead of Grange, Joey Binks (RS500) and another strong showing from champion James Dunkley (Fiesta XR2 Zetec).
Regular frontrunner Sam Daffin was absent after hitting yet more engine dramas in Friday testing. Hopefully 2024 will bring better fortunes for the Worcestershire racer.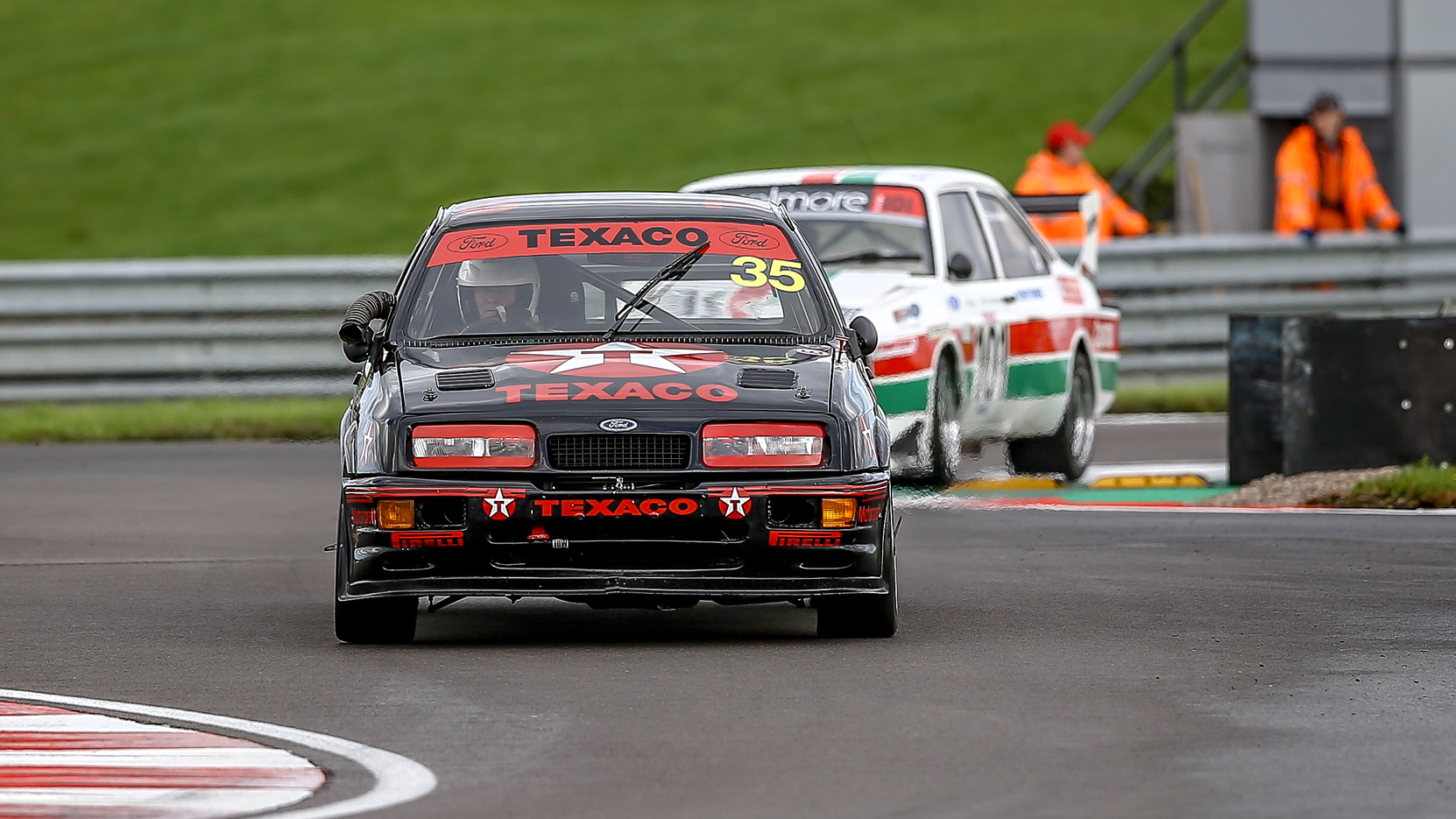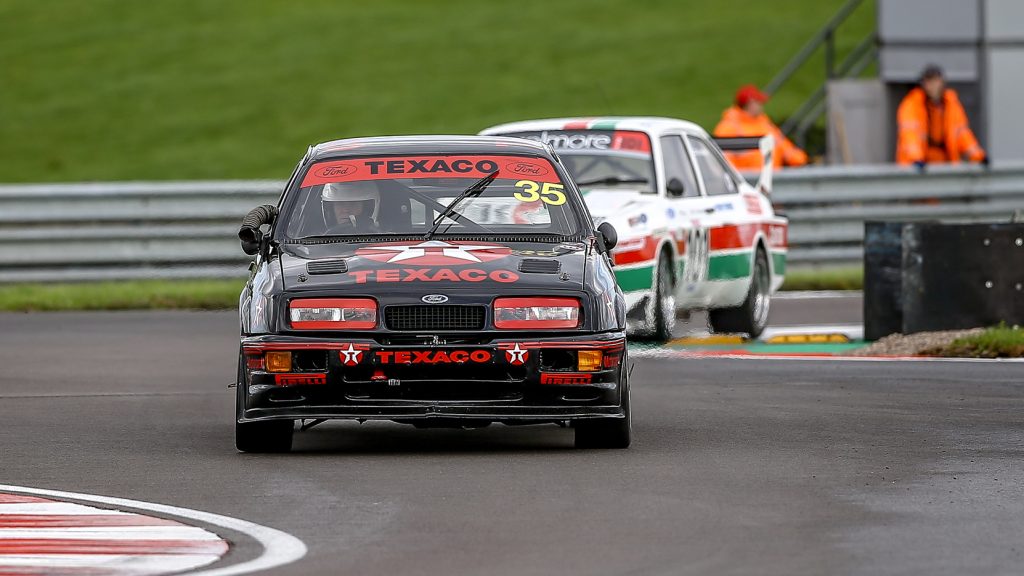 As the grid lined up for race one, Manning's diff exploded and a decision was made to delay the start until after the lunchbreak to allow a clean-up.
Typically, the heavens opened as the grid reassembled. Conditions were treacherous for the two green-flag laps, particularly for the slick-shod cars, with Binks aquaplaning into the barriers on the Craner Curves. Sensibly, the race was called off and rescheduled for the following day.
Sadly, it would be without Owen – another who seemingly can't buy any luck at present – who also suffered a diff failure on the warm-up lap.
Manning had fitted a spare, but its ratios weren't ideal, and then his clutch failed too, hampering him even further. Grange took full advantage as he shot into the lead and had a few laps respite out front before Harding also managed to clear Manning's Eggenberger tribute car.
Harding then closed up to Grange and put the Cheshire driver under severe pressure until a misfire struck on the last lap.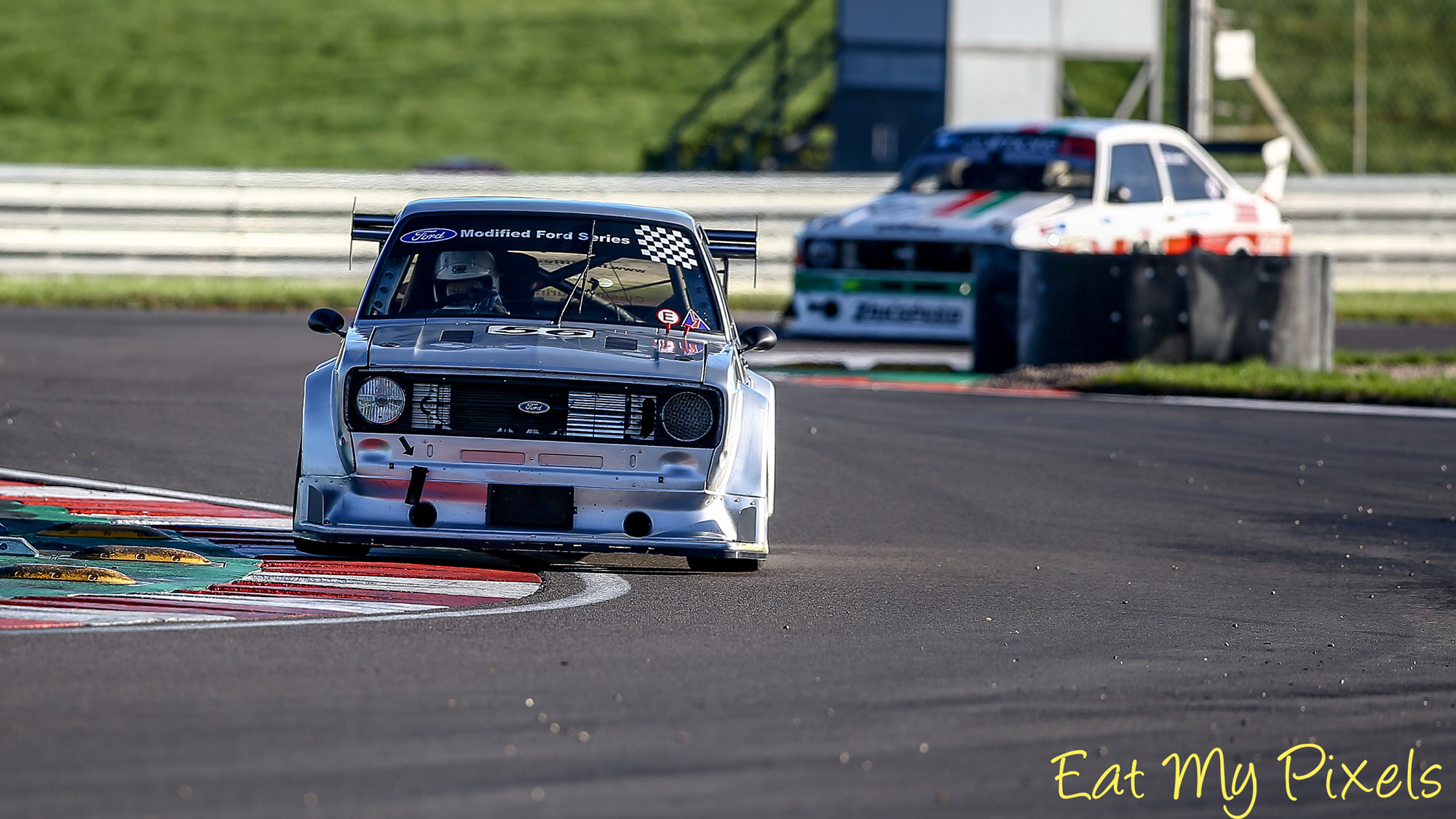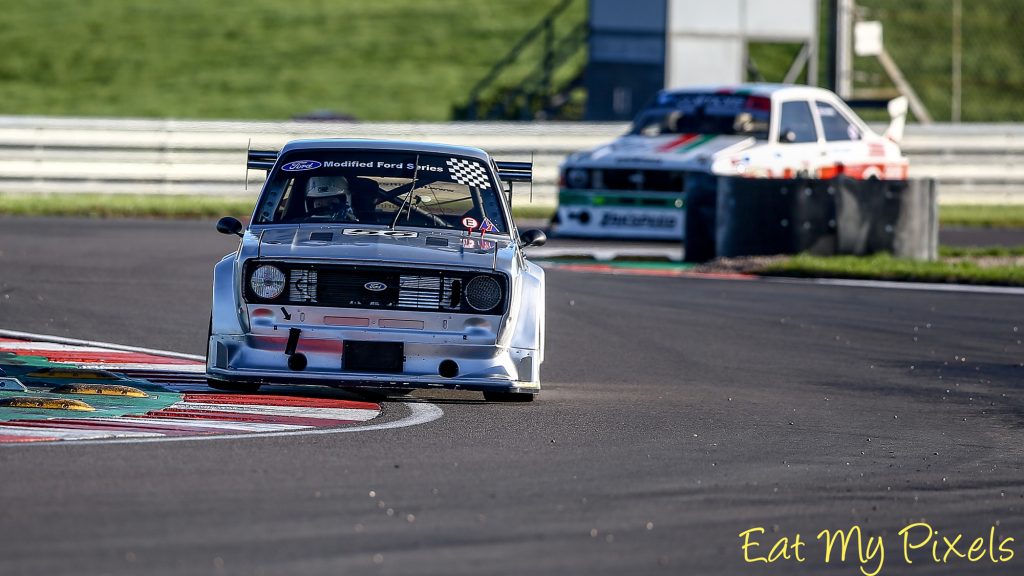 So Grange eventually took a comfortable win, his first in the series since May last year, with Manning second as Harding slipped to fourth behind 2021 champion Martin Reynolds's Escort.
Manning didn't make the afternoon's sequel, where Harding jumped straight into second and put the pressure on Grange. So much so, Grange admitted, "He made me overcook my back tyres, and I nearly lost it coming on to the pit straight. I had to lift and he got me there."
But Harding's gremlins returned and he slowed before pitting to retire. Grange escaped to his second win of the day, with Reynolds second. The attritional contest meant that it was Class D winner Will Hunt (his Mk6 Fiesta had been second in class to Dunkley earlier) who completed the podium.
Class B in both races was won by Colin Claxton's Mk2 Escort RS1800.
Burty Haulage Pre-'03 Touring Cars
Like the Jaguar Challenge, the Pre-'03 standings were incredibly tight going in to the weekend, with Ross Craig leading Gary Prebble by a solitary point. By the end of the weekend, Prebble had turned the tables to provisionally secure his second title, subject to official confirmation.
In tricky conditions, it was Prebble who qualified fastest in his Honda Civic EG, 4s faster than Chris Southcott's EK9 version, with the EP3s of Craig and David Hutchins third and fourth fastest.
Come Sunday morning's delayed first race, Prebble led the Pre-'03 section in the early stages but Southcott caught and passed into the Melbourne hairpin on lap three of nine.
Southcott went on to take his second win of the season while Prebble was content to hold second as Craig – who completed the podium – was his main focus.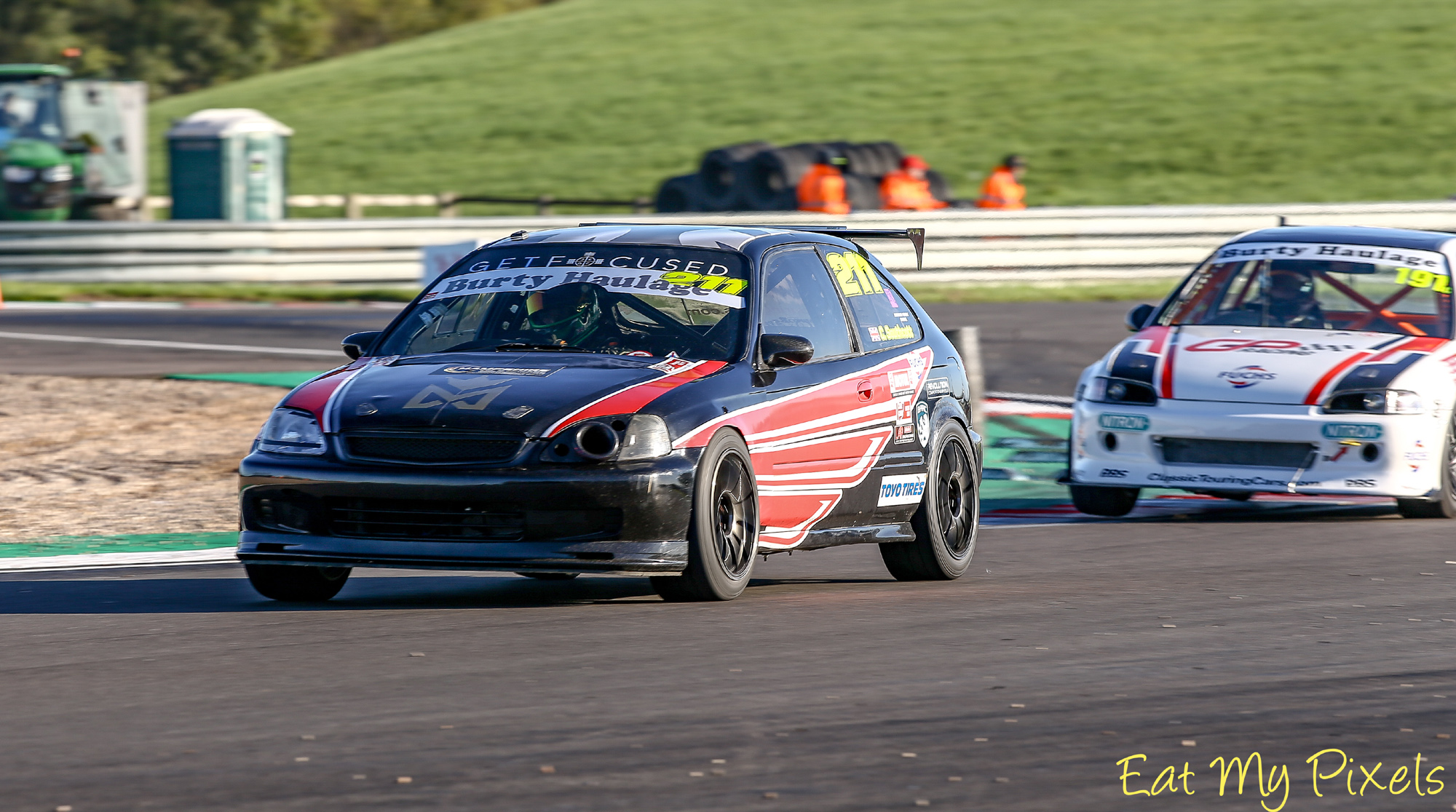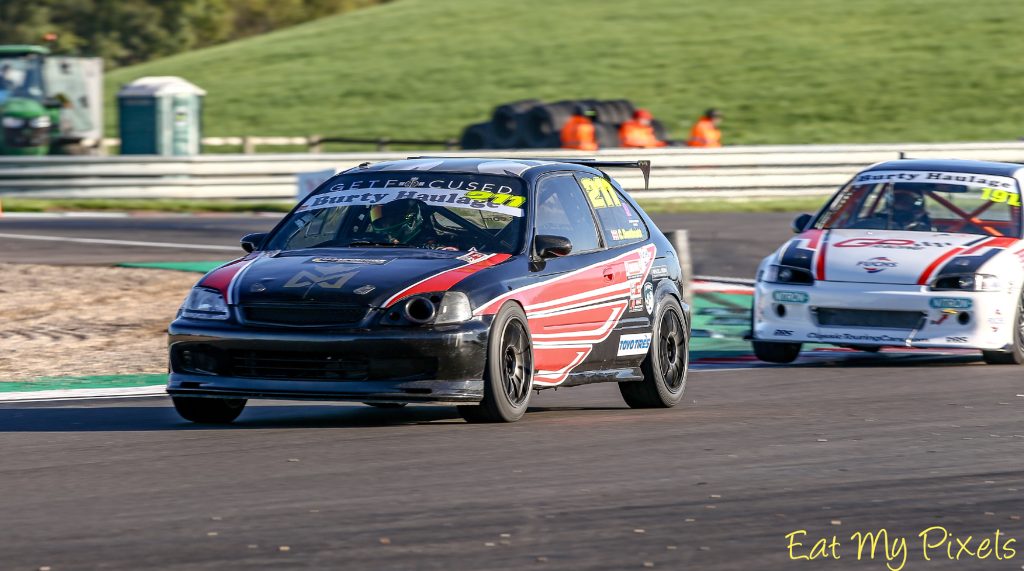 "I had to get my sensible head on," explained Prebble. "I saw Chris coming and I thought I don't want to get mixed up in a fight with Chris so I did the sensible thing, I waved him by going down to the hairpin."
Southcott bogged down at the start of the sequel and Prebble got boxed in, allowing Craig to pass them both. It was getting tense as the trio circulated together.
Prebble eventually found a way past Southcott mid-race, then set his sights on his title rival. The pair ran side by side, exchanging paint on the way up to McLeans, where Prebble got inside.
The battle didn't end there though, as Southcott also got ahead of Craig and then passed his fellow Hampshireman into Melbourne, only to run wide and let Prebble back ahead.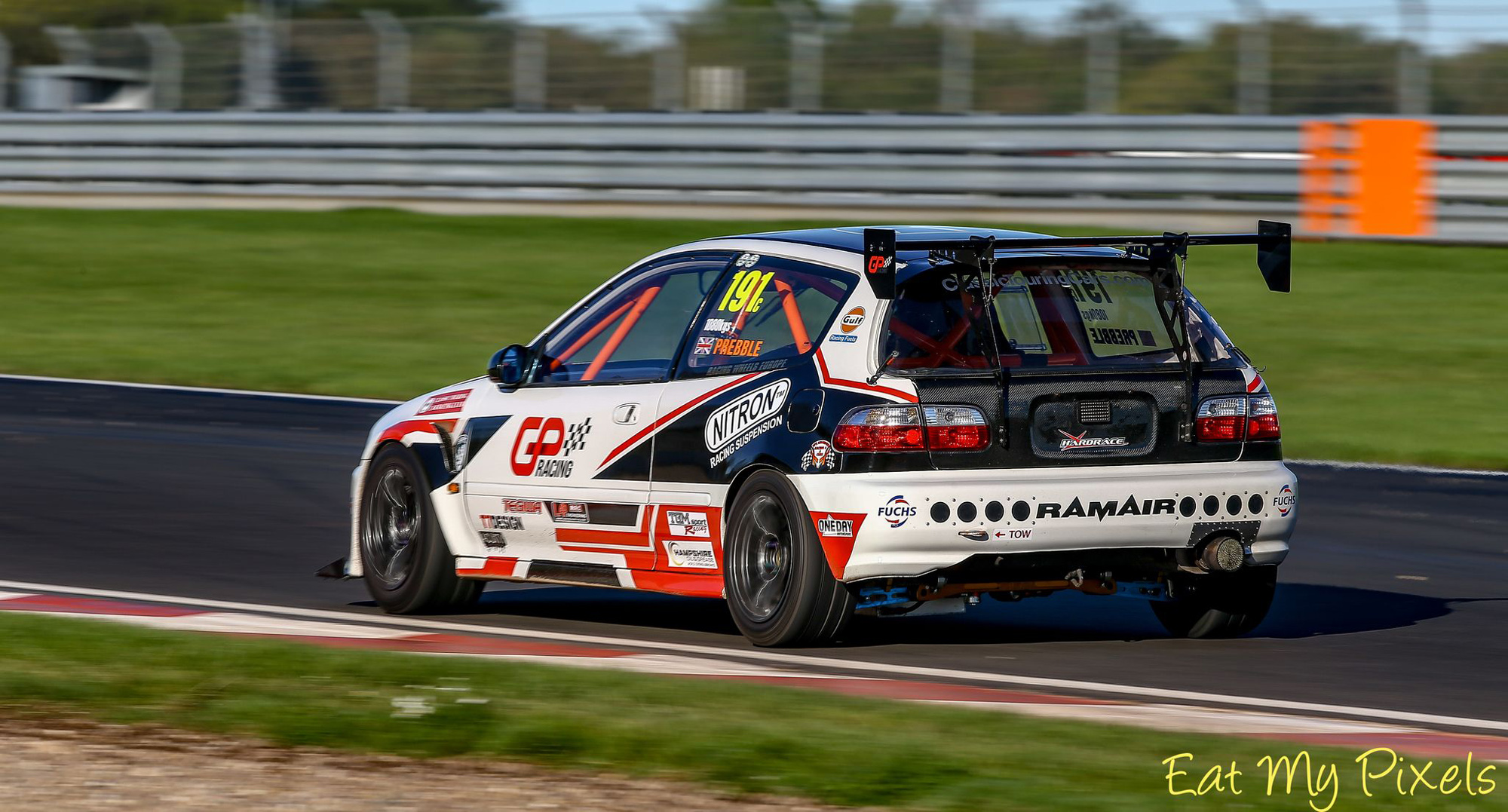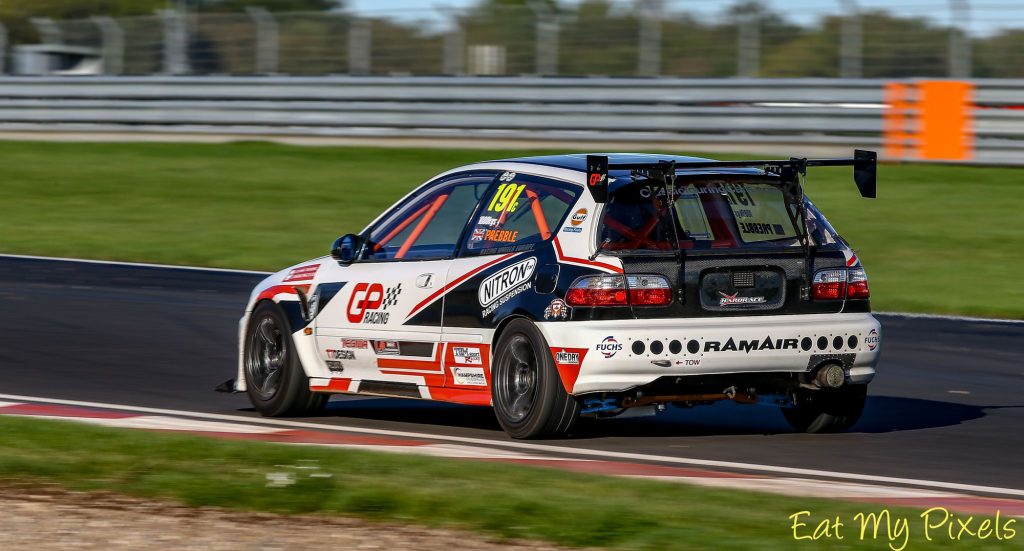 Prebble then eased clear as Southcott's EK9 slowed in the closing stages, allowing Craig back into second. That's how the order remained, enough for Prebble to top the standings and clinch the title, subject to post-season checks.
"It certainly wasn't easy, was it?" said Prebble. "I thought the only way I'm going to do it is to try and overtake the pair of them."
Among the other classes, outgoing champion Cavan Grainger (BMW E46 330ci) twice headed home Mike Nash (E46 M3) in Class A, and Alan Hersey (BMW Compact) was unchallenged for Class B laurels.
Laser Tools Pre-'93 Touring Cars
With enough points already in the bag, 2023 Pre-'93 dominator Stuart Waite sat out the season finale, leaving the way clear for two-time champion Ian Bower to take a double victory.
Bower's BMW M3 E36 was fastest in qualifying ahead of David Clark's Renault 5 GT Turbo. A guesting Josh Bromley (Rover 220 Turbo) and Howard Spooner (doubling up in the GSR BMW 635i) completed a top four full of variety.
In the races, Bower's CibiEmme tribute car was well clear of his pursuers, in among the leading BOSS and Pre-'03 cars. Two very comfortable wins were the result.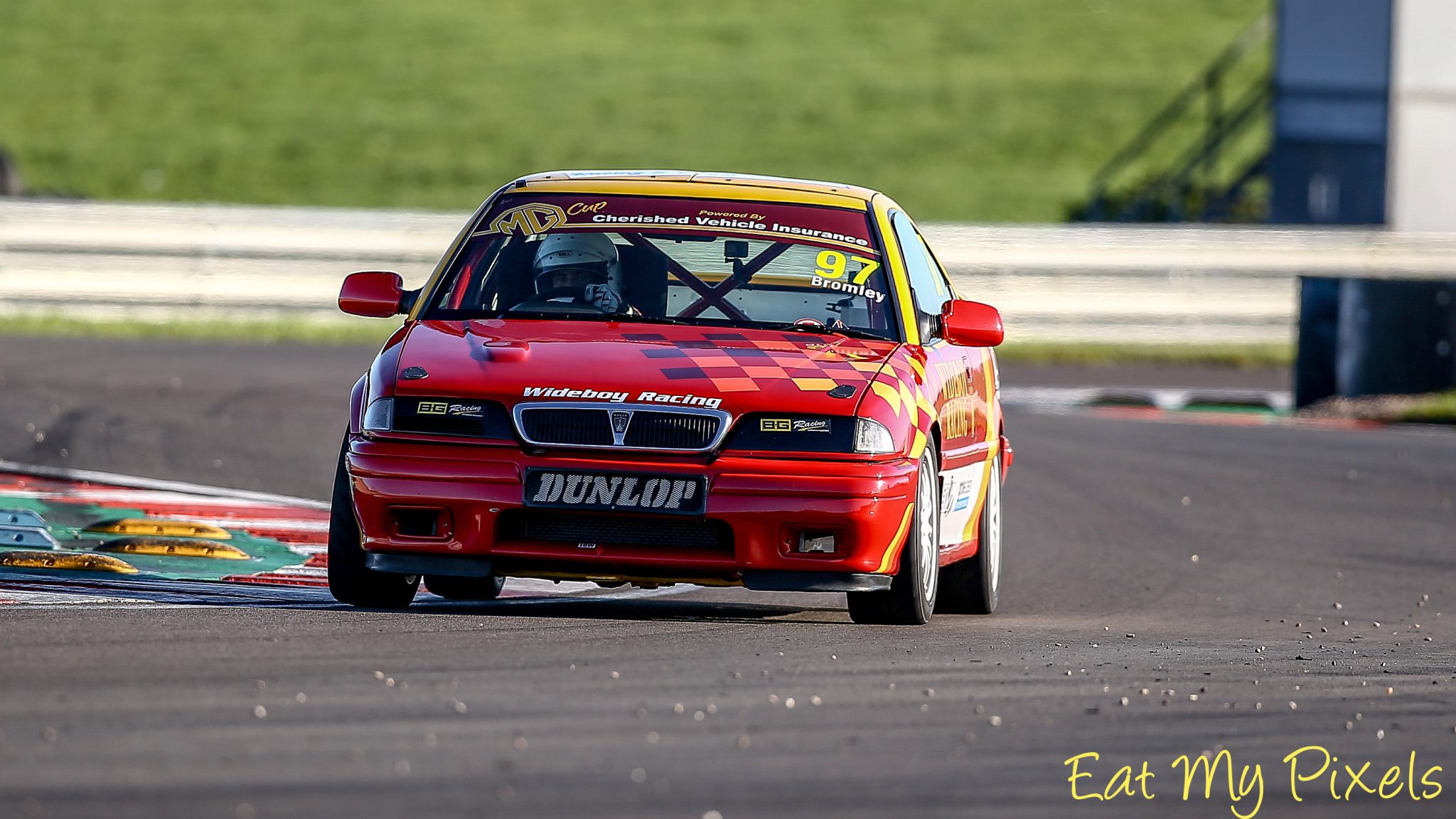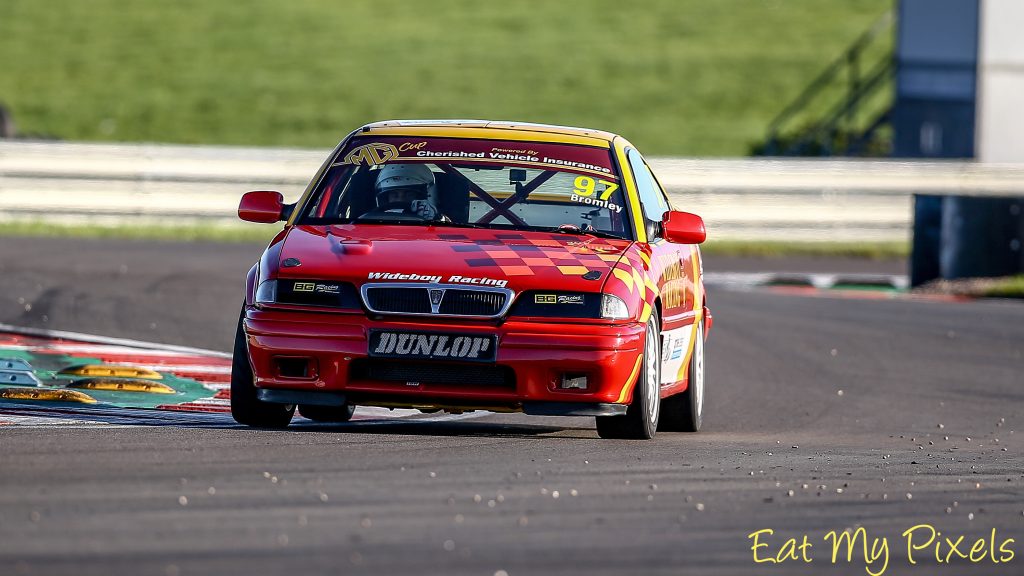 After an oil leak in qualifying, Clark's Renault hit further trouble in the races and had to tour round for a pair of class wins, unable to challenge the frontrunning pace.
It was left to the E36 M3s of Clint Le'Chalmers and Snetterton winner Kevin Willis to contest the remaining podium places, which they shared evenly between the two races.
Jon Olliff-Cooper's similar car twice finished fourth. In the opener, he was followed home by Shaun Morris's example, making a second guest appearance.
Morris's retirement in race two allowed 2019 champion Graham Myers, who was celebrating the 50th anniversary of his racing debut at Thruxton in October 1973, to take the place.
Spooner, whose beautiful car struggled to get off the line from standing starts, and Bromley both slipped down the order but had made very welcome additions to the field.
Full results are available via the TSL website.
All images courtesy of CTCRC official photographer Steve Jackman/Eat My Pixels