Local man Martin Reynolds showed who's boss on home turf with a double Blue Oval Saloons Series victory Snetterton.
As the Classic Touring Car Racing club made its annual visit to Norfolk, a strong entry led to some very busy grids on the three-mile former airfield circuit.
Joining Reynolds as double victors were Jonathan Corker, Alan Greenhalgh, Gary Prebble and Nick Vaughan.
Burton Power Blue Oval Saloons Series
Amid a busy season of racing on the continent, 2021 BOSS champion Martin Reynolds has only been able to race at two CTCRC events this year. But the Norfolk racer was in fine form at his local circuit, taking two wins in his potent Escort Mk2.
The Fords were sharing a grid with Pre-'93 and Pre-'03 Touring Cars, and it was AJ Owen who qualified fastest among the BOSS runners. Entrusted with dad Craig's Sierra Cosworth for the weekend, Owen went 0.6 seconds quicker than Reynolds who didn't run the full session.
Facing directly into the low early-evening sun, Owen was jumped by Reynolds at the start. Both then drove strong races and passed lead Pre-'93 runner Stuart Waite on successive laps. In a slightly shortened race, Reynolds took the flag 2.8s clear of Owen.
"Good to be back," smiled the winner. "No-one could see the lights [at the start]. I waited for AJ to move!"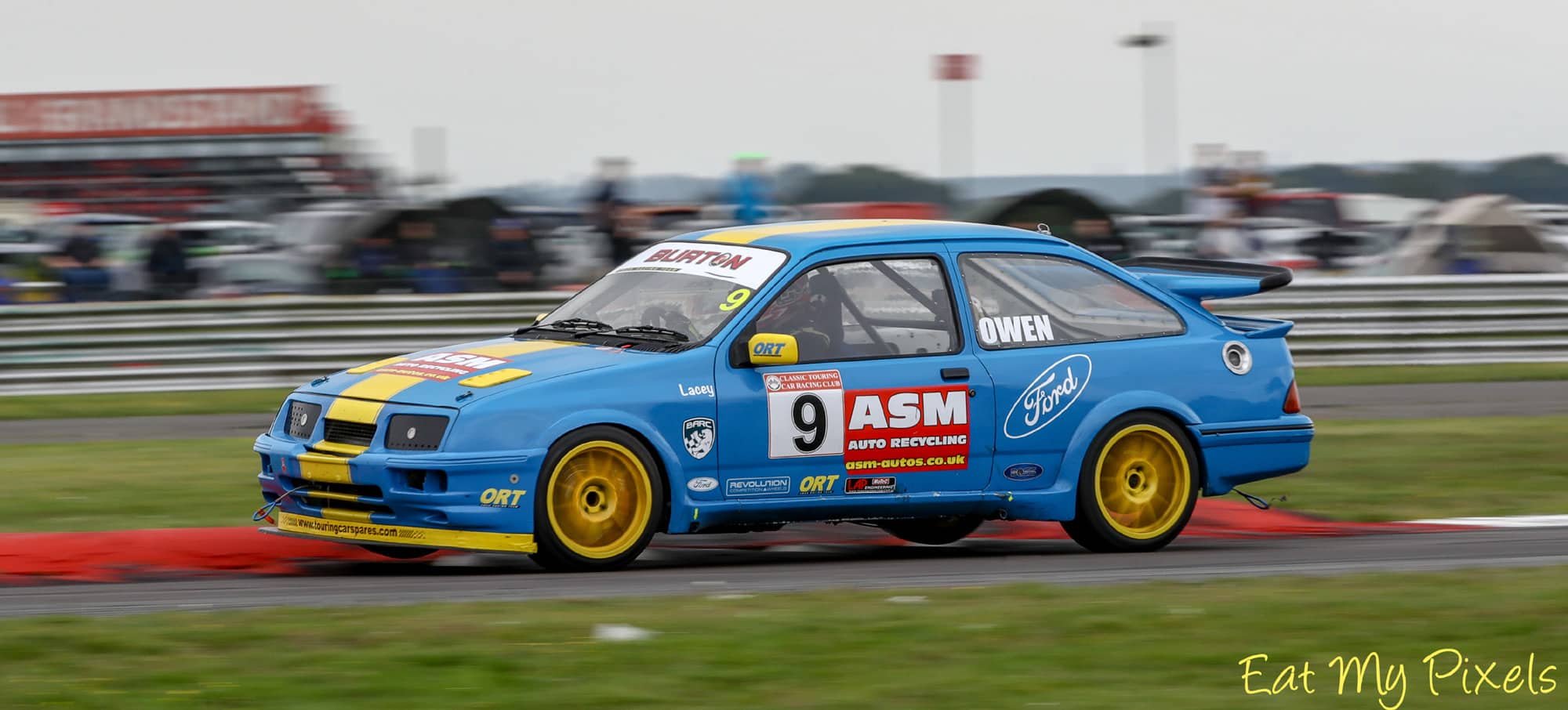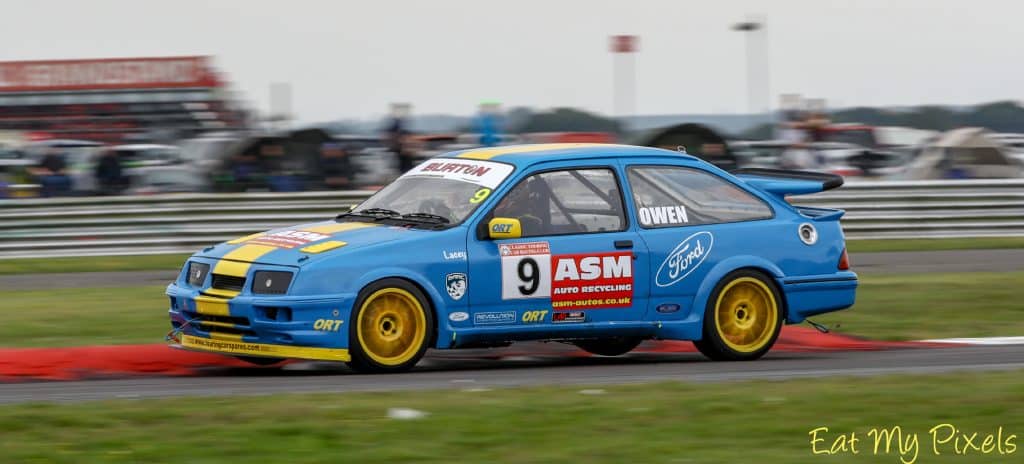 Owen was equally happy, having earlier suffered the disappointment of his Classic Thunder Honda Civic's engine blowing in qualifying. "That was brilliant," he enthused. "I was always going to mess the start up – I always mess the starts up. There was no way I was catching Martin."
The rest of the BOSS field was headed by Class D runner James Dunkley. The champion-elect hit clutch trouble on the final lap with his Zetec-powered Fiesta XR2.
He lost drive completely at the final corner but was able to coast across the line ahead of Colin Claxton's Escort and the Fiesta of Tim Mizen.
The smart Focus of Ralph Higson, carrying its Repsol-style livery, was another to suffer in the closing stages. Higson had been running third in BOSS, ahead of Dunkley, before his starter motor exploded and shorted the electrics, forcing the Berkshire driver to park up.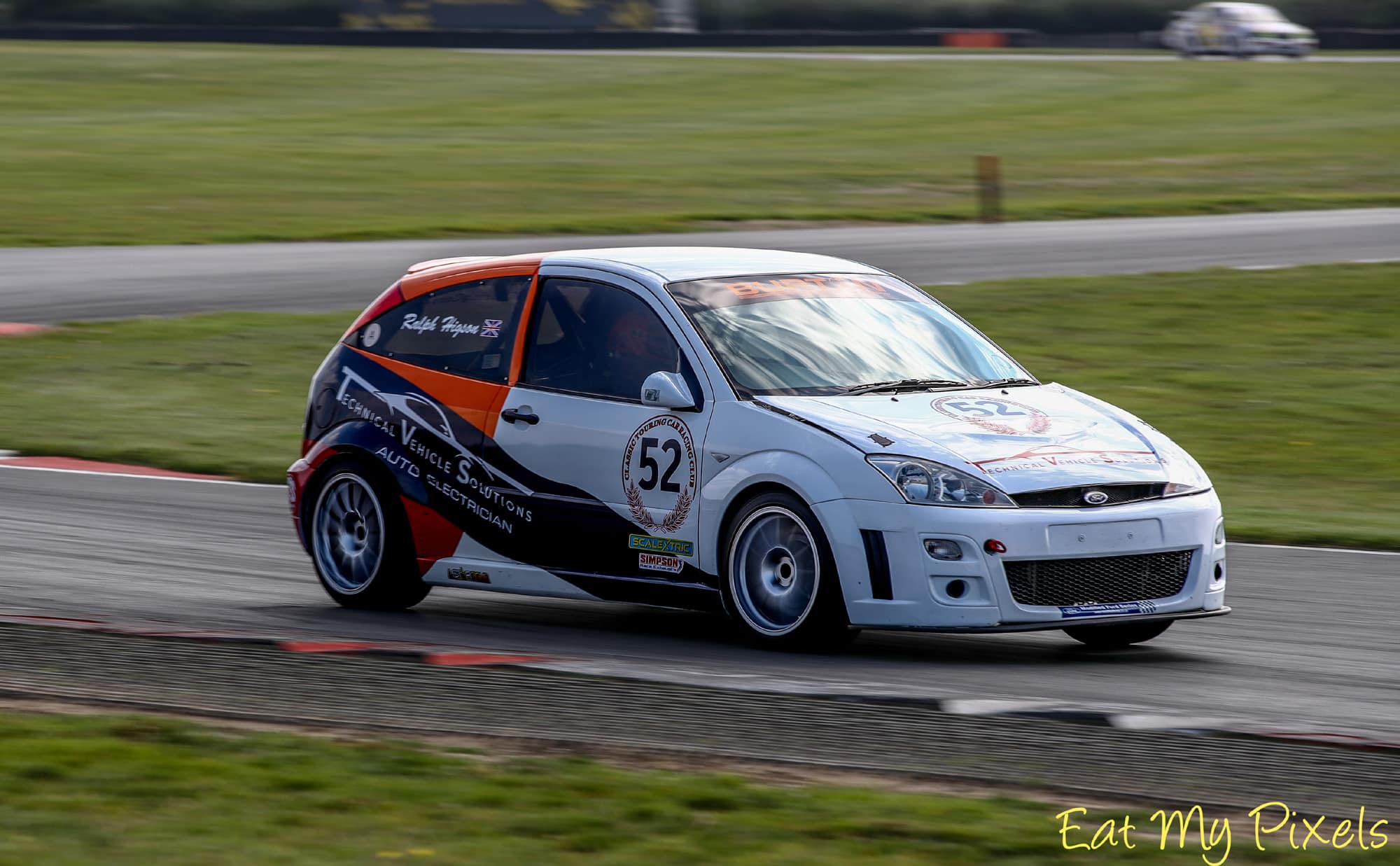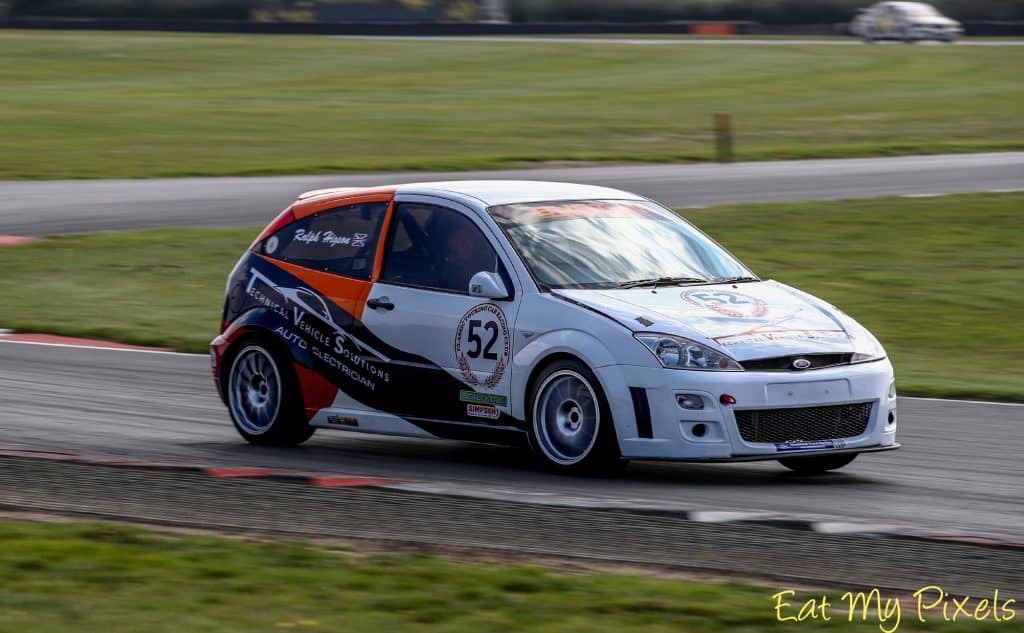 Sunday's race brought a repeat result, at least for the first two. Reynolds converted his pole position into the race lead, while Owen slipped behind the leading pair of Pre-'93 cars.
Once back in front of those, Owen was already a few seconds behind Reynolds who went on to win by a margin of 6.2s.
Dunkley had tried to fix his clutch woe but felt it slipping again on the green-flag lap and so pulled off to avoid being an accident waiting to happen on the starting grid. Higson was also a non-starter, unable to source a new starter motor in time.
Their absences assisted Joey Binks in completing the BOSS top three in his Karl Jones tribute Sierra RS500. Claxton and Mizen were again fourth and fifth.
Laser Tools Pre-'93 Touring Cars
The Pre-'93 Touring Cars wins were shared, champion-elect Stuart Waite triumphing on Saturday before Kevin Willis took the honours on Sunday.
Having scored enough points to provisionally secure the Pre-'93 title (subject to official ratification) last time out at Croft, Waite was looking forward to some pressure-free racing at Snetterton.
With new tyres bolted on, he duly took pole position, some 2.3s clear of guest entrant Oliver Owen's similar BMW M3 E36.
Croft double winner Ian Bower could only manage fifth fastest. The two-time champion was forced to switch to Jonathan Olliff-Cooper's less powerful E36 (who instead raced it in Classic Thunder) ahead of the weekend after his engine blew in testing.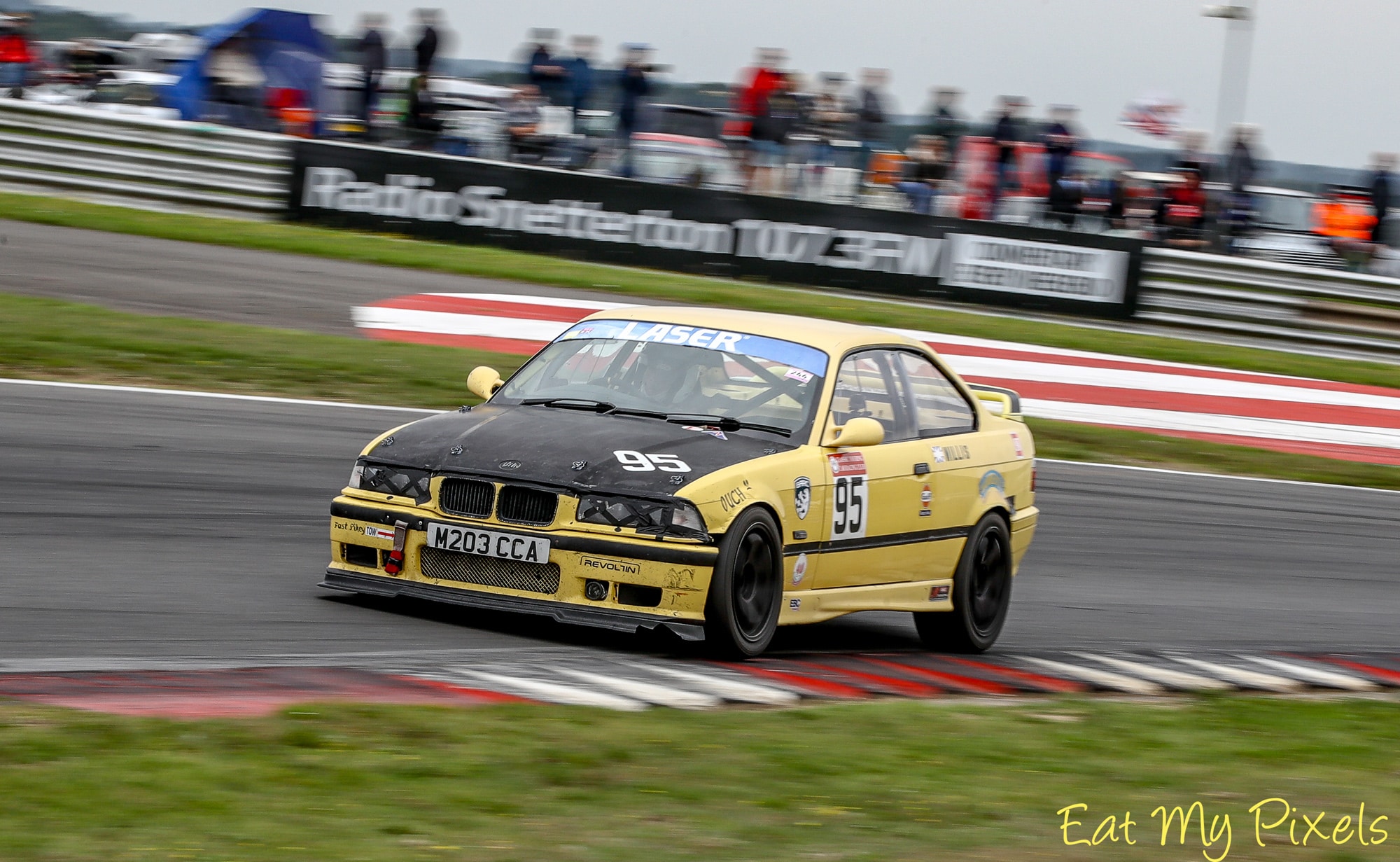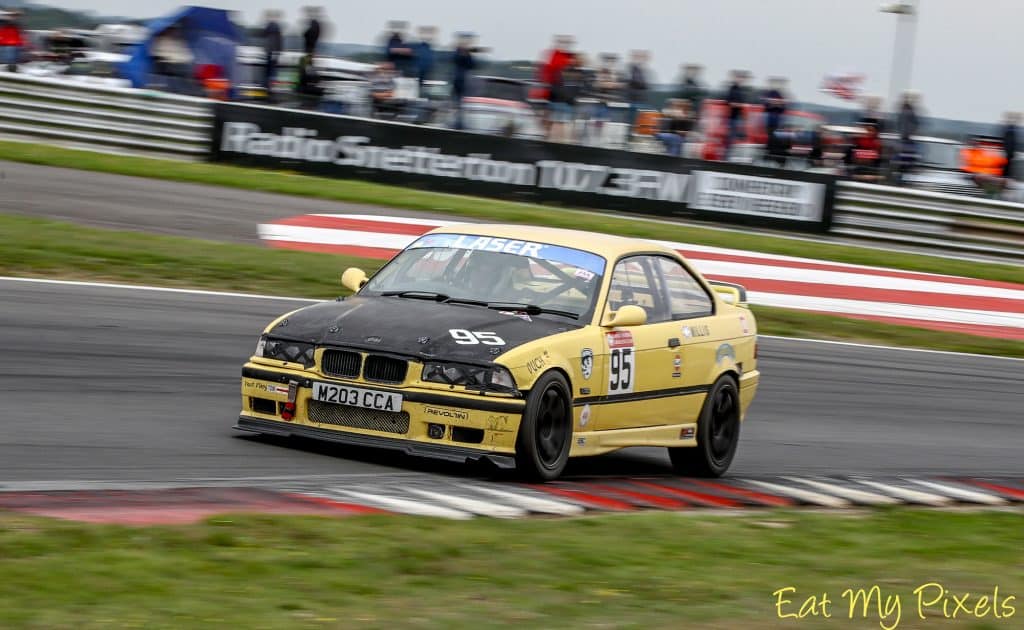 A mix-up over the startline flags and light signals meant Waite commenced a second green-flag as the rest of the field lined up on the grid. That led to a delayed start and a shortened race over an eventual five-lap distance.
But once the race got under way, Waite made no mistake. He mixed it with the leading BOSS duo before settling for third on the road for a comfortable Pre-'93 victory. Even a 10s penalty for the start procedure mix-up couldn't prevent Waite taking a ninth win of the season.
Behind Waite, Owen spun at the Wilson hairpin on lap two. Unfortunately, he was collected by Bower, ending both cars' races.
What looked set to be a four-way scrap for second therefore became a duel between Clint Le'Chalmers and Kevin Willis. Essex racer Le'Chalmers held off Wiltshire man Willis by just 0.3s.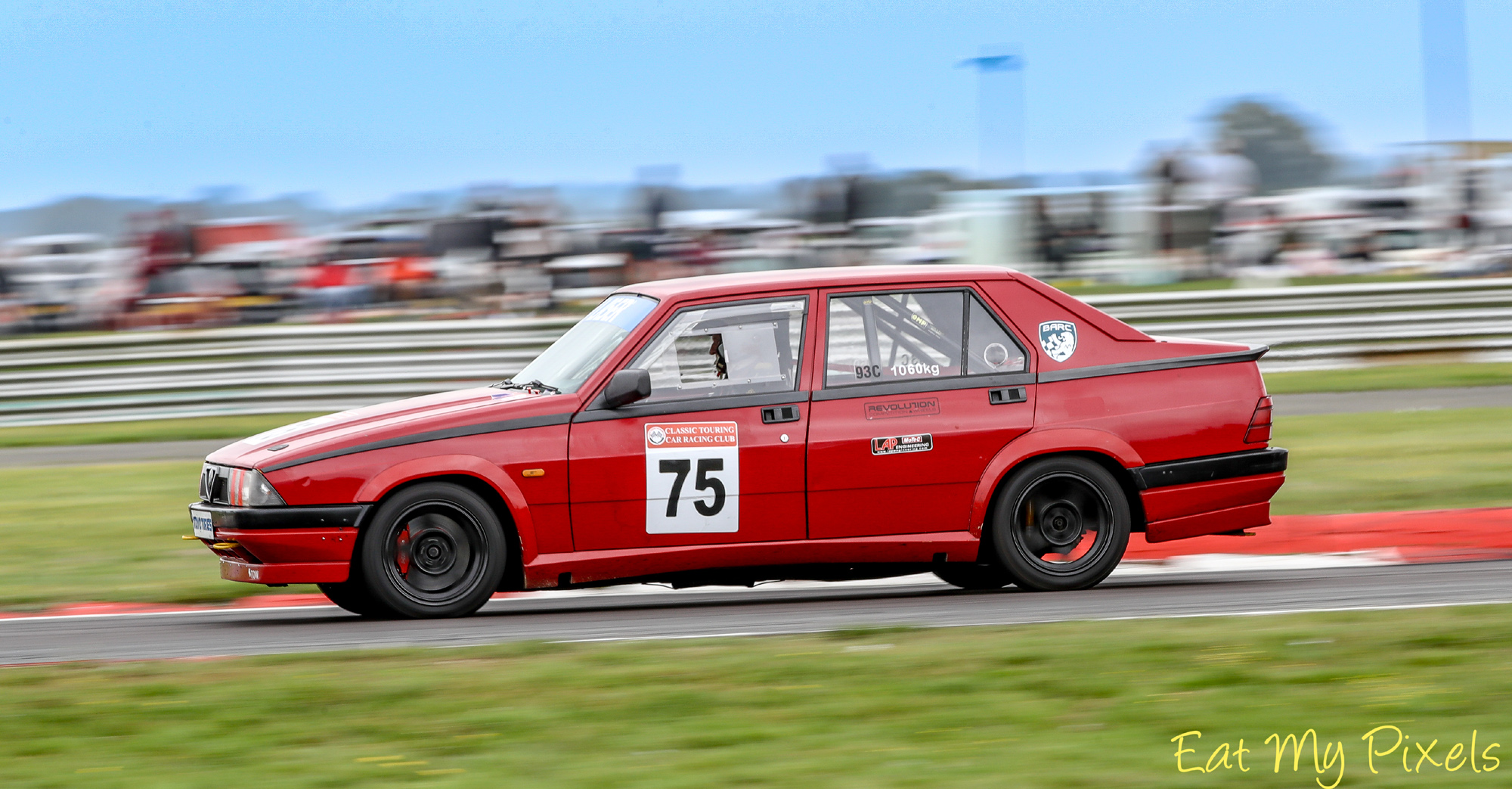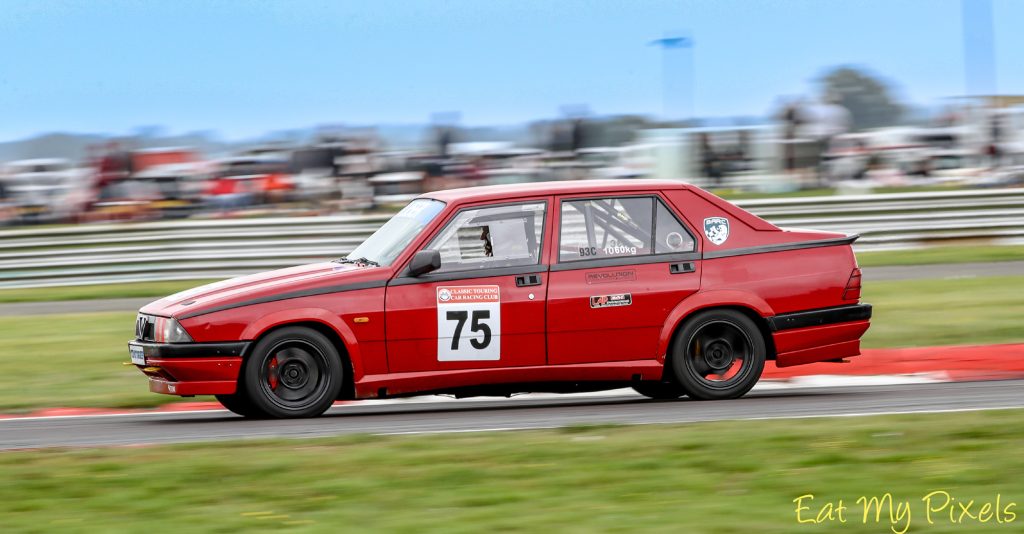 Waite's great start in Sunday's race catapulted him into the overall lead. But it wasn't to be a double this weekend as the black-and-gold M3 expired on the second lap.
Willis had jumped Le'Chalmers at the start, and Waite's demise therefore promoted him into the Pre-'93 lead. Le'Chalmers closed in to challenge for what would be a maiden Pre-'93 victory, but a big moment at Murrays on lap three of seven lost him a chunk of time and consigned him to second again.
So Willis took his first win in the category for over two years, Le'Chalmers was second, and Owen powered through from the back of the grid to complete the Pre-'93 podium.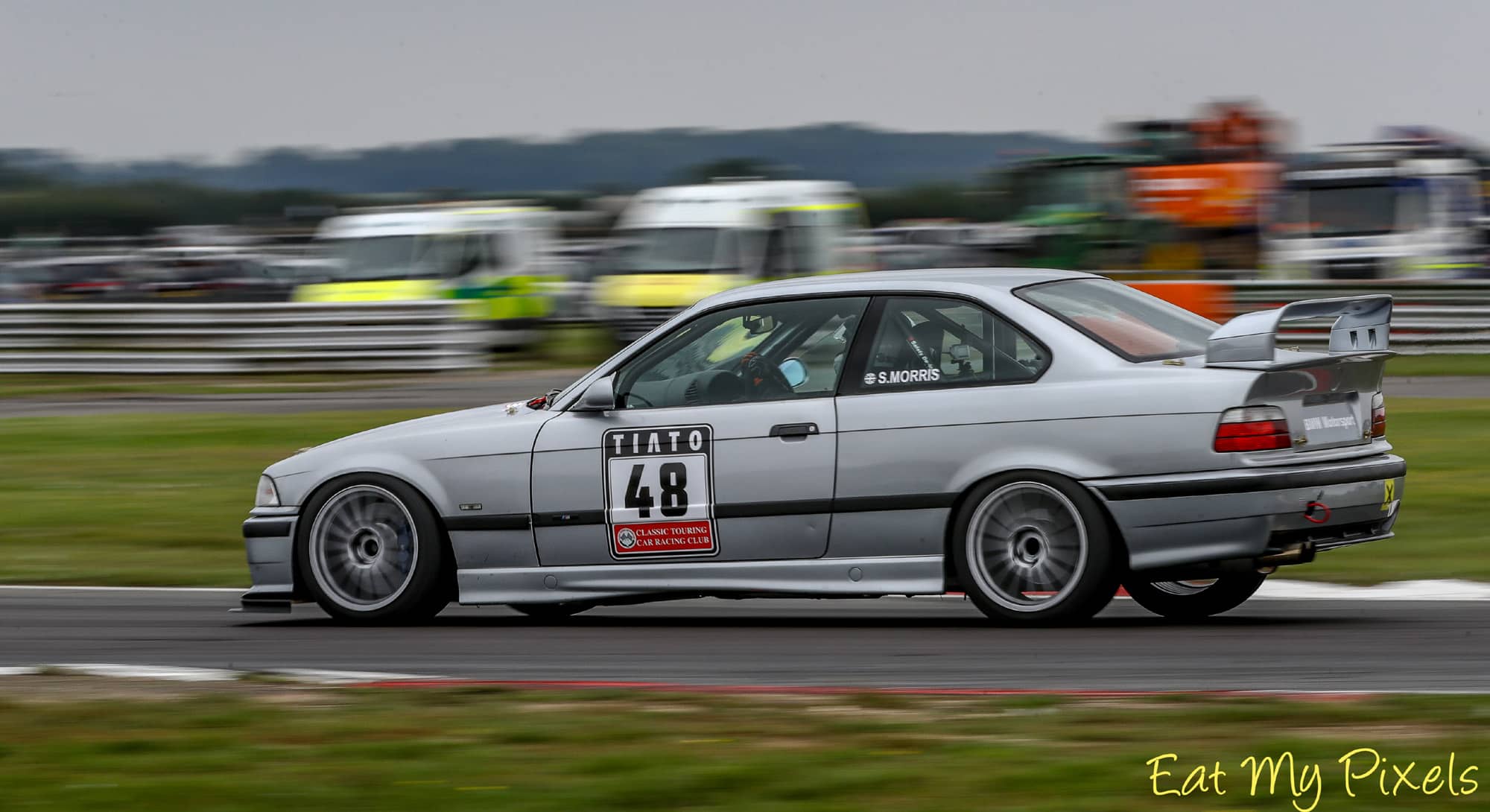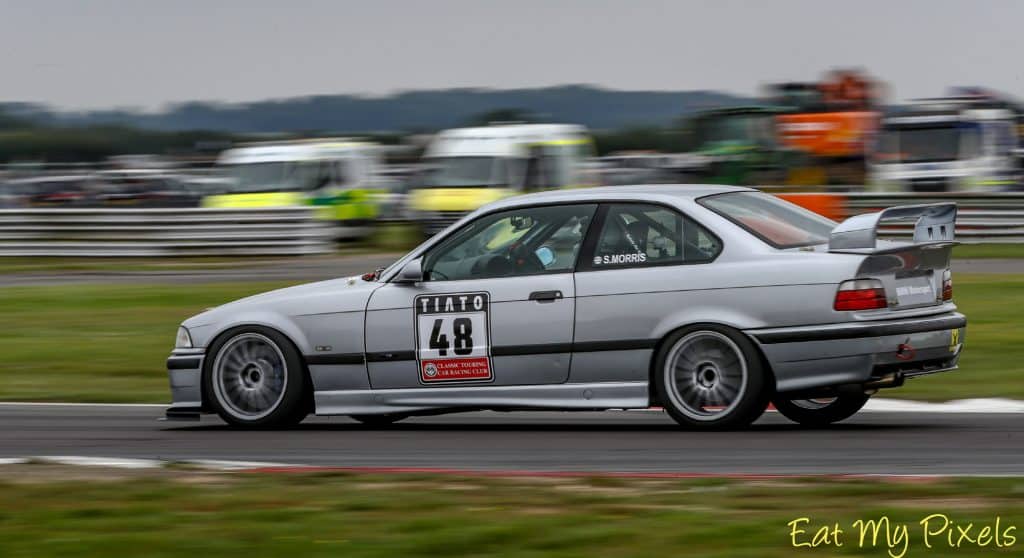 Outgoing champion Andy Cripps got the better of Mike Dugdale for fourth, repeating their Saturday results, just ahead of Bower who was another to climb through from the back.
Classes C and D each had only one runner. After two years out, Trevor Kyffin returned to add variety to the field in his Brunswick Motorsport-prepared Alfa Romeo 75 and duly took Class C honours.
David Clark struggled with a misfire at higher revs on his Renault 5 GT Turbo, but managed the issue to twice win Class D.
Burty Haulage Pre-'03 Touring Cars
One-time Pre-'03 champion Gary Prebble was in a class of his own, streaking to a pair of commanding wins as he seeks to regain his crown.
Prebble was fastest in qualifying by 3s over Scott Smith, who was making his regular guest appearance at his local circuit. It put Prebble fourth on the grid for the combined race and that's where he stayed, taking his Honda Civic EG to Pre-'03 victory by nearly half a minute.
The battle for second in the first race was much closer, with non-scoring Smith just edging points leader Ross Craig's similar EP3 by 0.5s.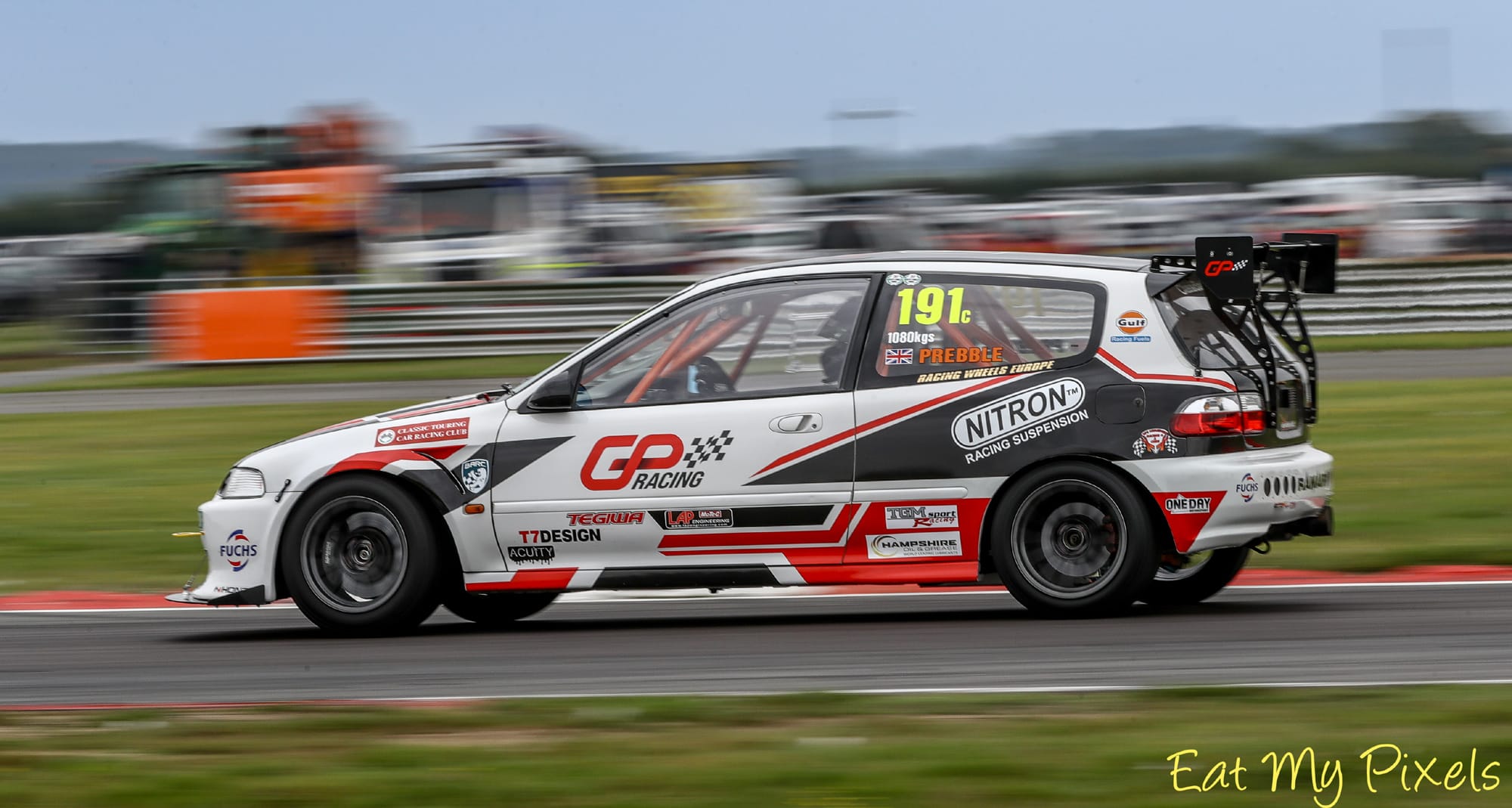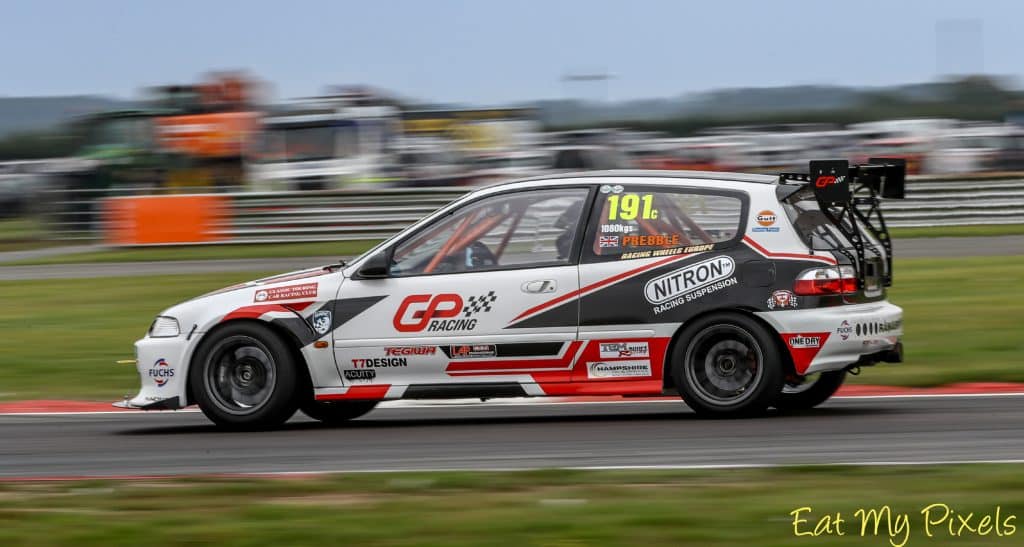 The track was slightly damp for Sunday afternoon's second race but that had little effect on the outcome as Prebble streaked to his ninth win of the season by half a minute once more.
Smith was an early casualty, which meant Craig's Aligned Concept Engineering car had an easier run to second. Third was Joe Dorrington in the second GP Racing Civic EG.
Class A enjoyed a three-car entry of BMWs, although reigning champion Cavan Grainger was not among them.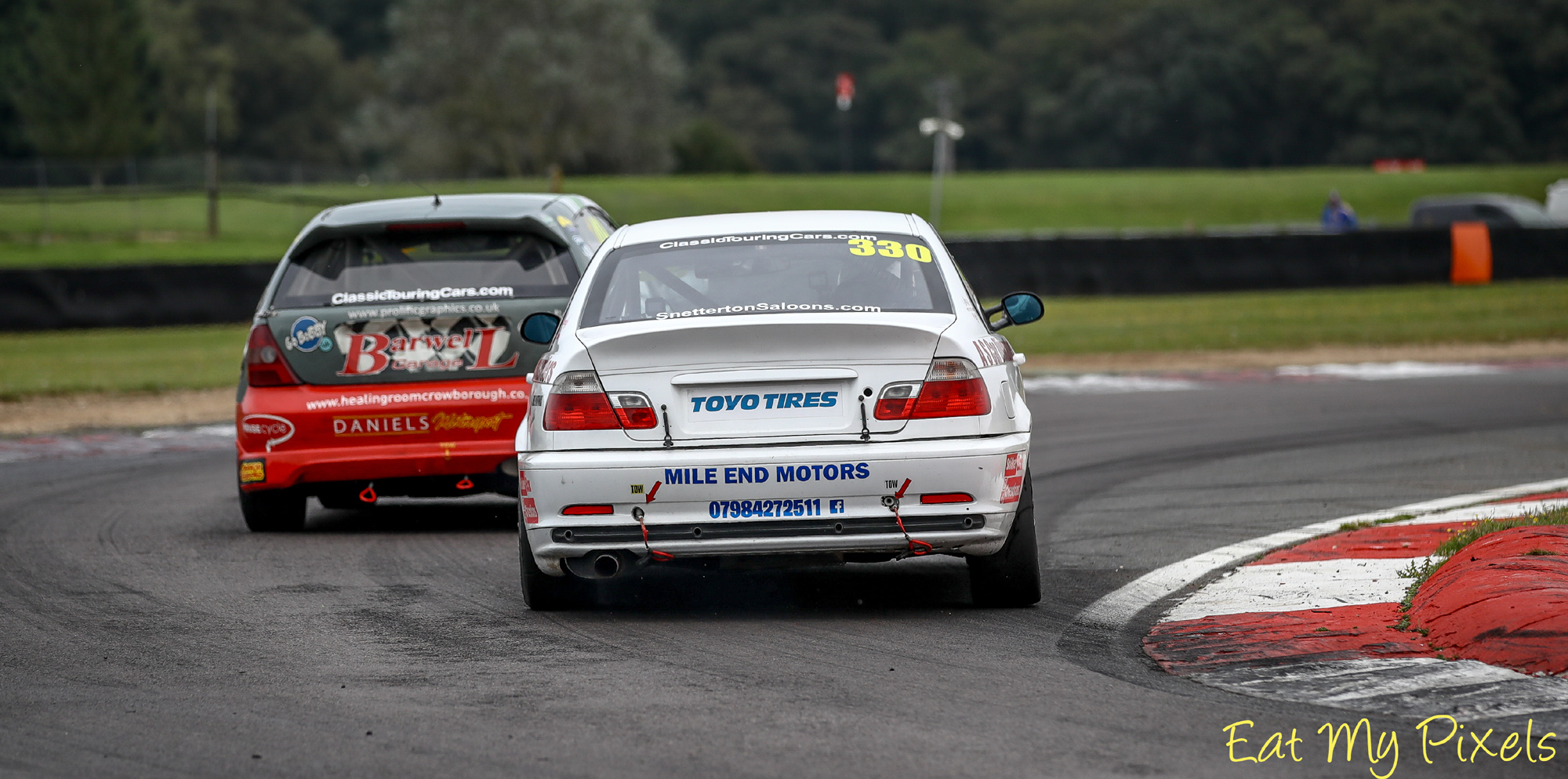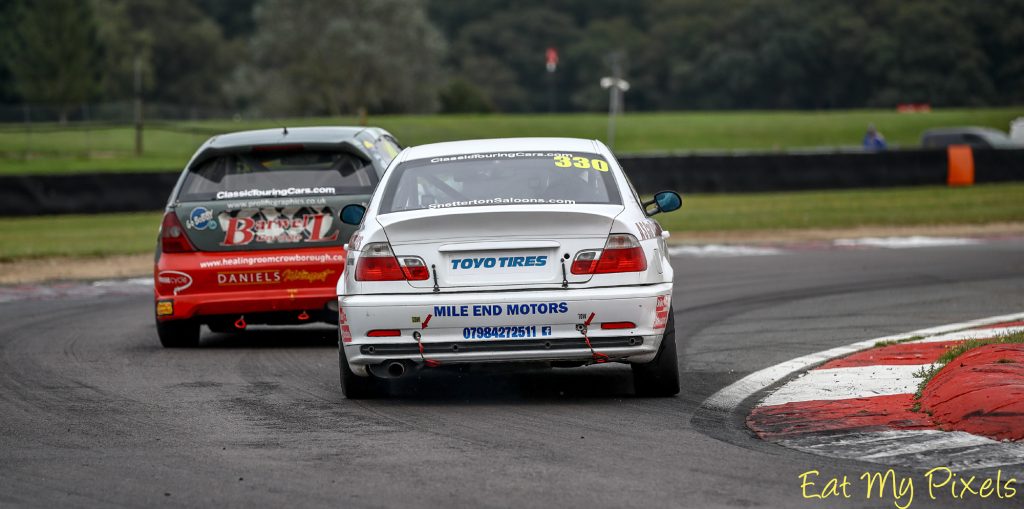 Local man Anton Martin scored a double in his 330ci, while Simon Mann and Leigh Spencer split second and third in class in each race.
An eight-point swing over the weekend leaves the championship battle very finely poised for next month's Donington decider, with (unofficially) just a point separating Craig and Prebble in the standings.
Orange Aero Pre-'83 Group 1 Touring Cars
A flurry of entries swelled the ranks of Pre-'83 Group 1 Touring Cars to a healthy field, which made for a packed grid when combined with their Pre-'66 counterparts.
After a number of near misses this year, Jonathan Corker added his name to the list of 2023 winners on Saturday and then repeated his success on Sunday.
With points leader Will Davison unable to make the trip east, it gave reigning champion Stephen Primett an opportunity to regain the upper hand in the title chase.
Primett's quest began perfectly as he took his Ford Escort RS2000 Mk1 to pole position, edging Corker's Datsun 510 by just 0.07s.
Primett converted that into the race-one lead, with Corker chasing as Mark Cholerton and Jason Christie ran side by side in their Escorts ahead of the Triumph Dolomite of Carl Shreeve.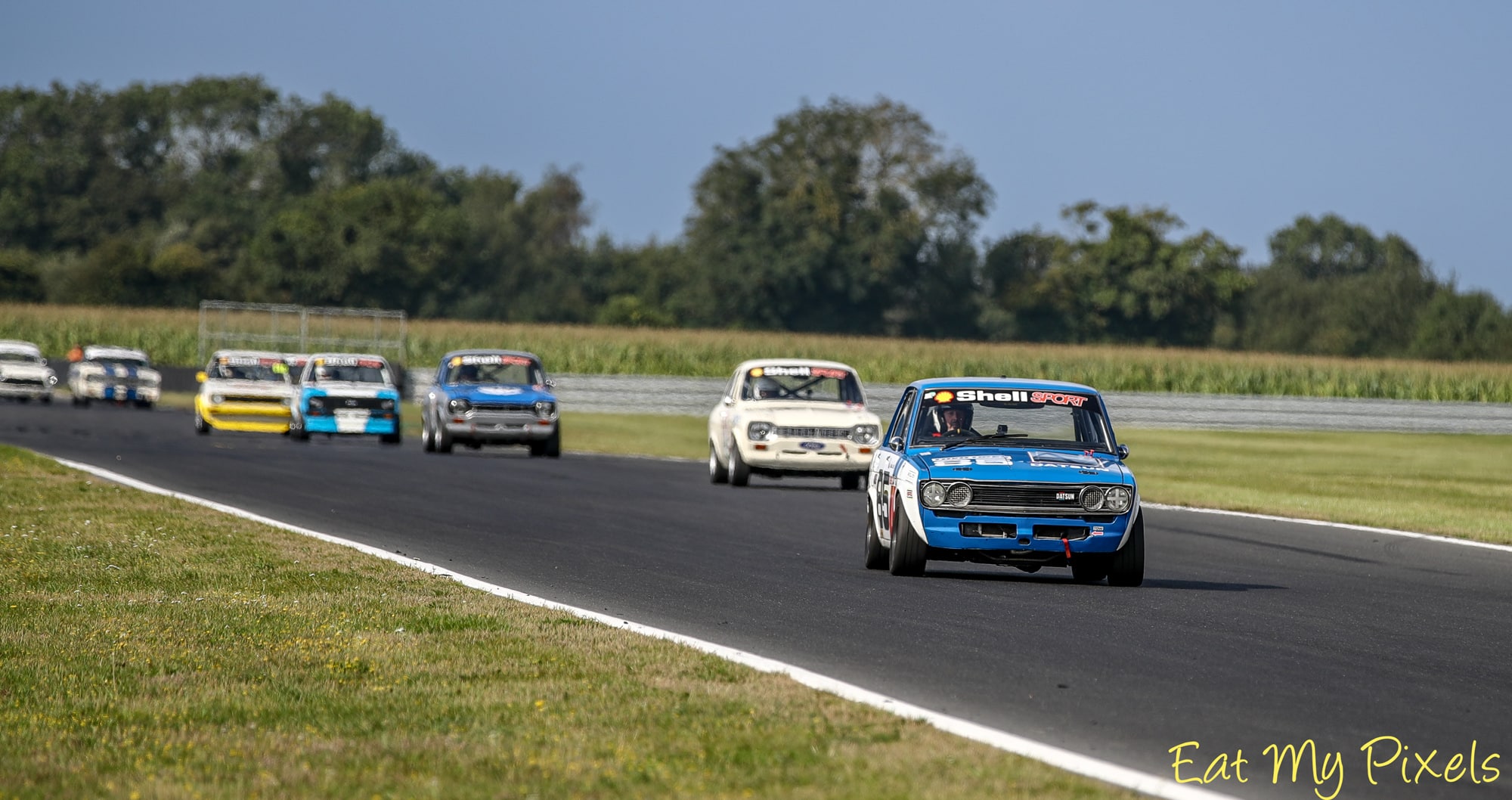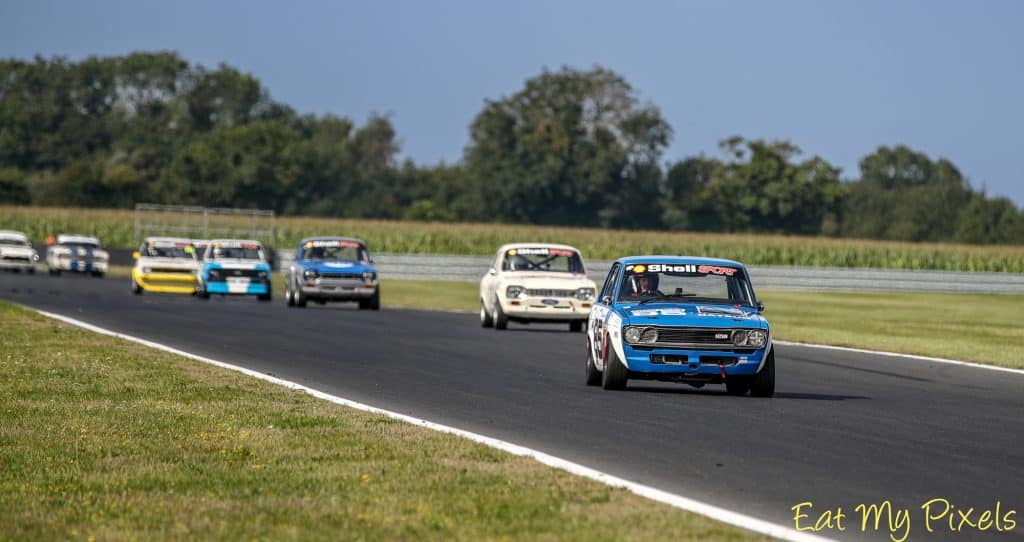 Corker was on the attack and grabbed the lead at the left-handed Agostini hairpin on lap three of seven, immediately pumping in the fastest lap.
A lap later, as he attempted not to let Corker escape, Primett made a mistake at Palmers, the corner between the two hairpins, which let Cholerton snatch second.
Ahead of them, Corker scampered to an 8s win, his second career victory. Cholerton held off Primett for second, with Christie completing the top four.
"I'm not really used to leading, and it's a different mindset to keep it all under control, not throw it off and try and put a gap on them," admitted Corker.
A fine drive by Don Hughes from the back of the grid – having come in underweight after qualifying – was rewarded with fifth place, and Class D honours in his Volkswagen Golf Mk1.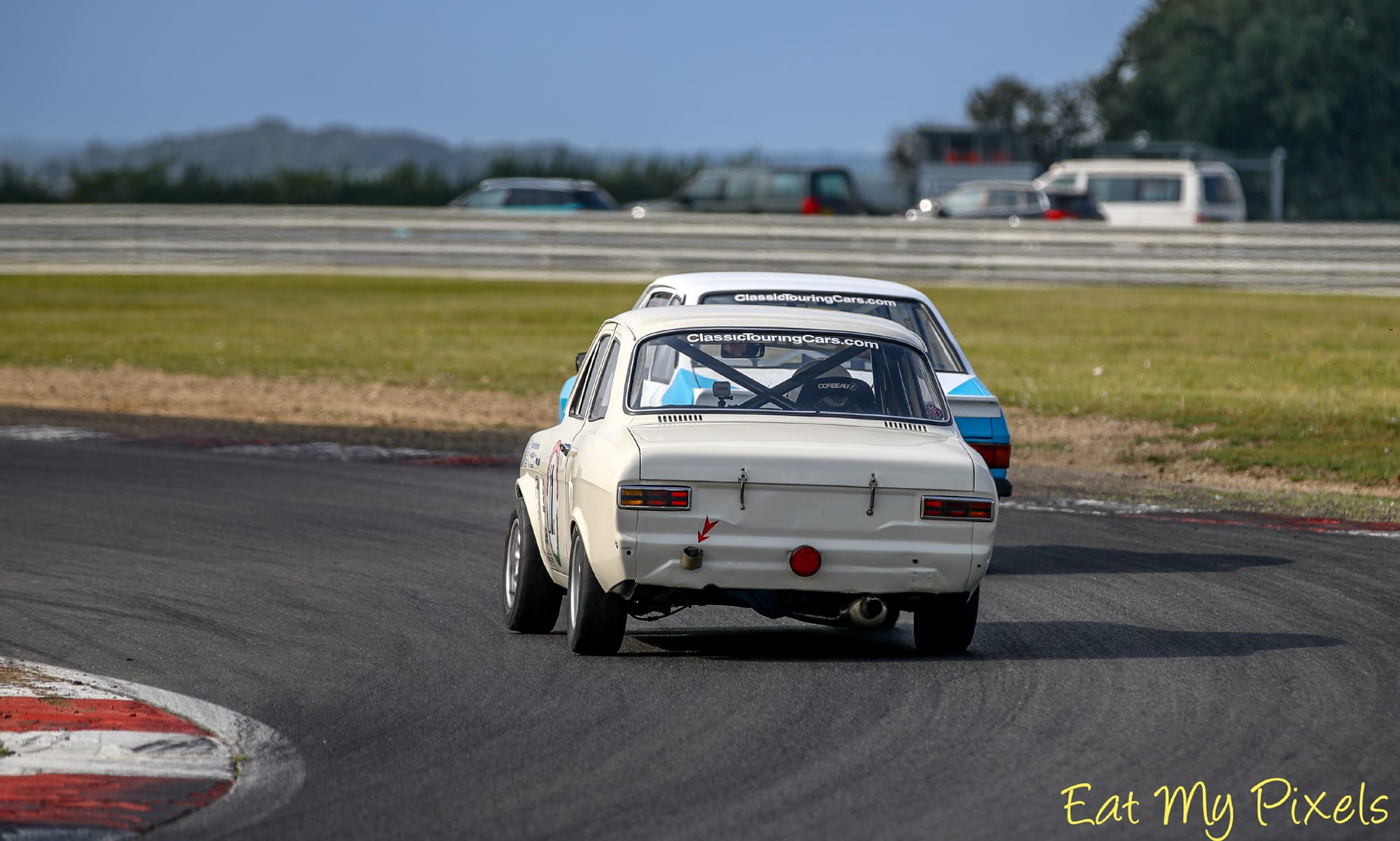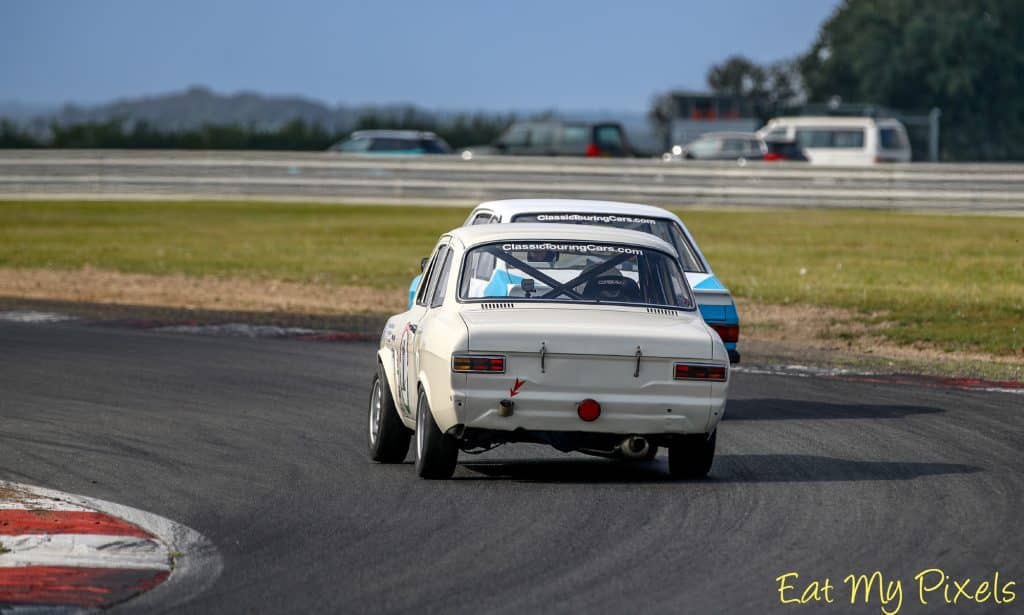 Second and third in class were the Mk3 Escorts of Jake Margalies (XR3i) and Anton Martin (RS1600i). The pair had a coming together at the start after David Claxton's Dolomite snapped its propshaft on the grid; Margalies slowed to avoid him and was hit from behind by the unsighted Martin.
As Cholerton made a slow getaway at the start of race two, Primett pounced to slot into second behind Corker. Christie and Hughes were next, with Norfolk local Cholerton slipping to fifth.
But having got the better of Hughes, Cholerton dived inside Christie at the Wilson hairpin then immediately demoted Primett to take second a little further around the infield complex at Oggies.
It was a terrific recovery from Cholerton and, having endured dreadful luck over the past couple of meetings, he sniffed an opportunity to make it even better.
He reeled Corker in, then dived inside to take the lead at the hairpin when Corker locked up and slewed sideways under braking.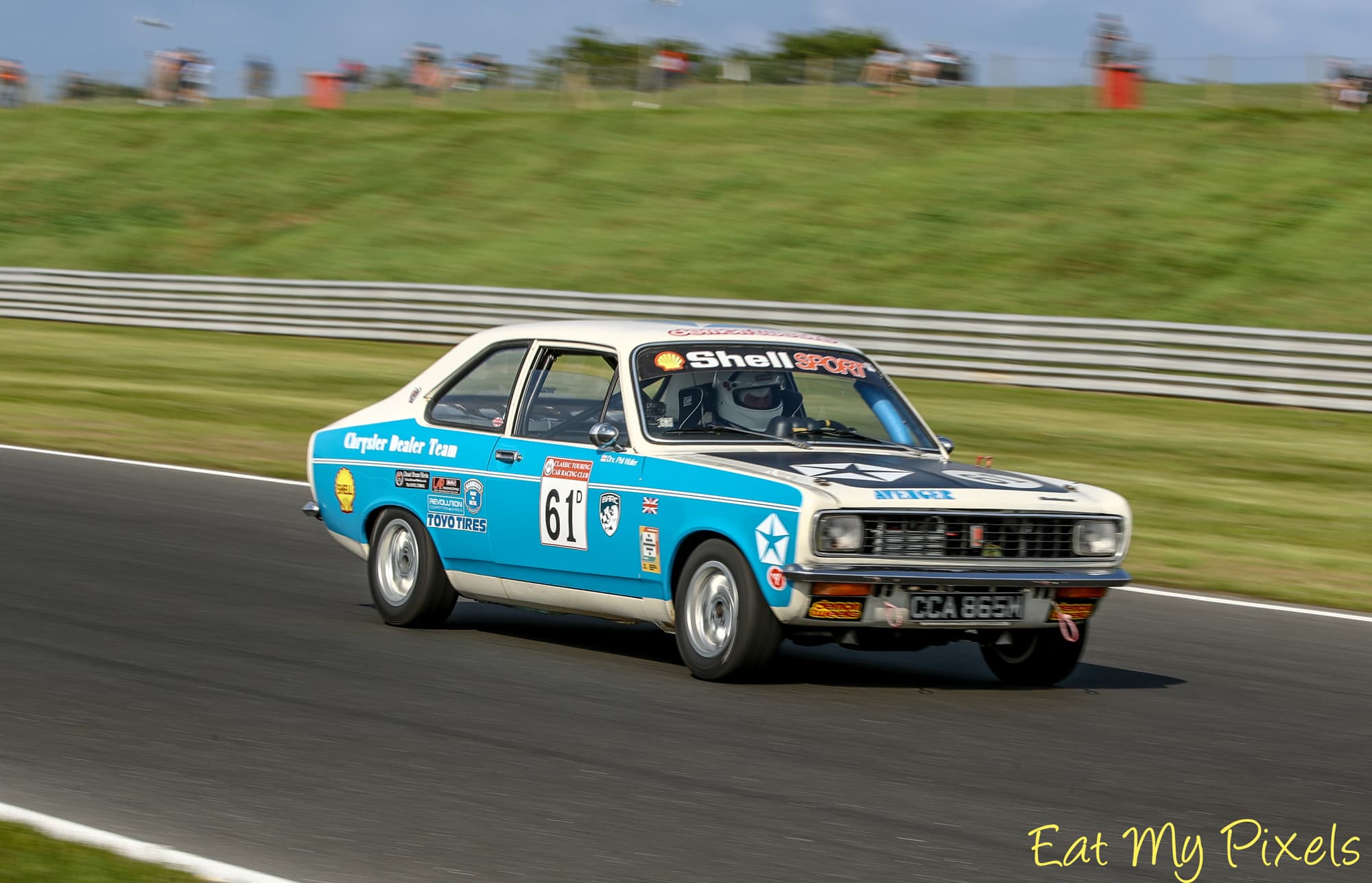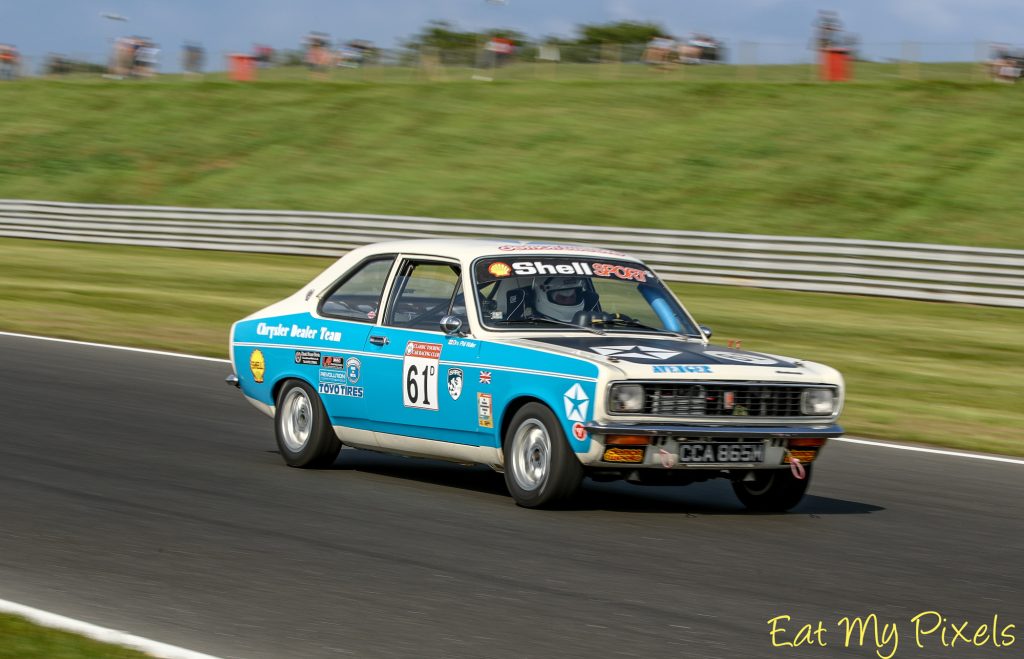 But Corker took full advantage of his Datsun's fifth gear to power back ahead on the Bentley Straight and held off Cholerton's challenge on the next lap before easing to a 2s victory.
Cholerton had to divert his attention to holding Primett at bay and he did so successfully to finish second. Third for Primett means he holds a small points advantage over Davison going in to the final round next month.
Class D winner Hughes was fourth ahead of Carl Shreeves's Dolomite and David Margalies, who enjoyed some good scraps with the Pre-'66 frontrunners as he twice took Class B honours in his Alfa Romeo GTV6.
A good drive from Mark Fowler took sixth in Pre-'83 from the back of the grid, his Escort now laden with sandbags after getting disqualified for being underweight in the first race.
Margalies's son Jake was again second in Class D in the smart XR3i he debuted in the summer at Brands Hatch, ahead of Martin.
Poultec Pre-'66 Touring Cars
A large field of Pre-'66 Touring Cars included the return of Alan Greenhalgh and his Ford Falcon Sprint, having missed the summer rounds due to other commitments. Stretching the V8-powered Falcon's legs down Snetterton's long straights, Greenhalgh took a double win.
Greenhalgh was the fastest Pre-'66 qualifier ahead of Tim Abbott's Lotus Cortina. Third fastest was Piers Grange, but his big Ford Mustang would be unable to start the races after its axle sheared from the diff.
Fourth qualifier Ian Thompson (Lotus Cortina) got the best of the opening exchanges, passing Greenhalgh at Agostini to lead, only to lose out again on the long Bentley Straight.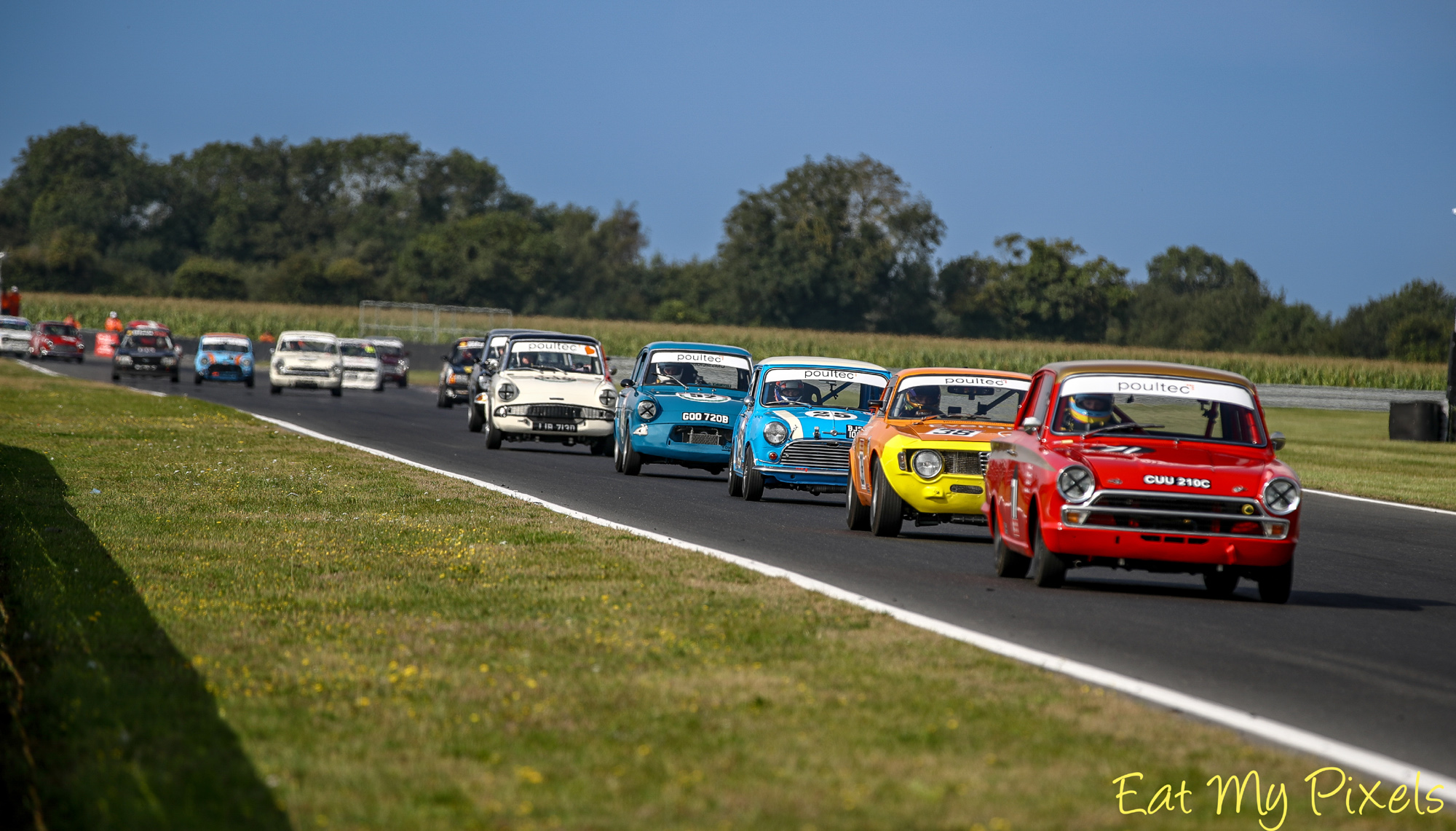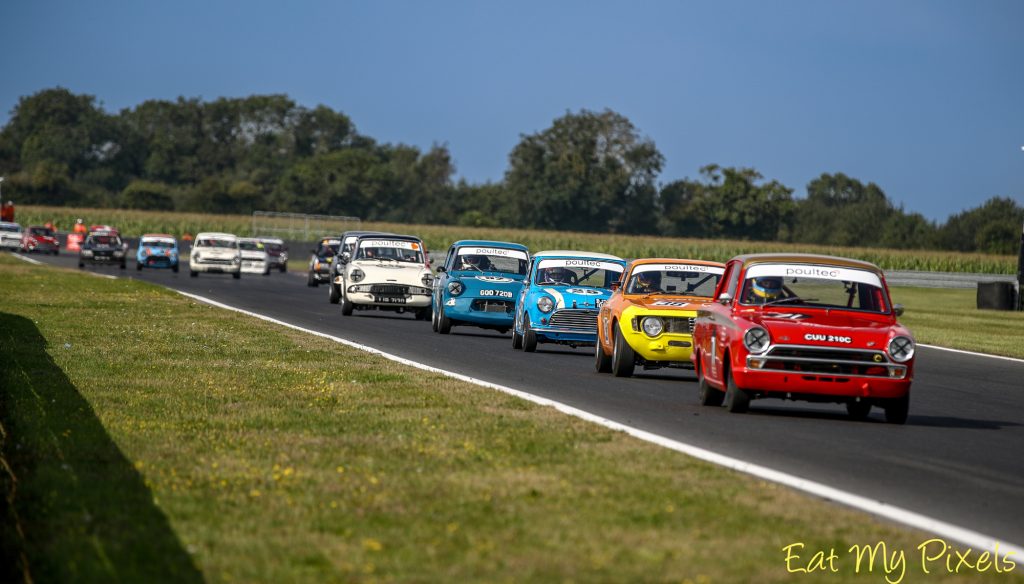 Thereafter, Thompson and Abbott duelled with Pre-'83 man David Margalies, while James Everard (Alfa Romeo Sprint), Mike Davies (Austin Cooper S) and Billy Kenneally (Ford Anglia) all managed to jump Croft double winner Barry Sime's Morris version of the Mini.
As Greenhalgh won by 7.5s, Abbott managed to get by Thompson to secure second and a win in Class F, while Class C winner Everard experienced an eventful race on his way to third in Pre-'66.
Everard ran wide at Coram as he challenged the Cortinas, bounced over the grass and then across the track at Murrays, thankfully being avoided by everyone else.
A strong recovery allowed him to take advantage of Thompson's mistake at Oggies to close in and then claim third, before the pair traded the place over the remaining couple of laps.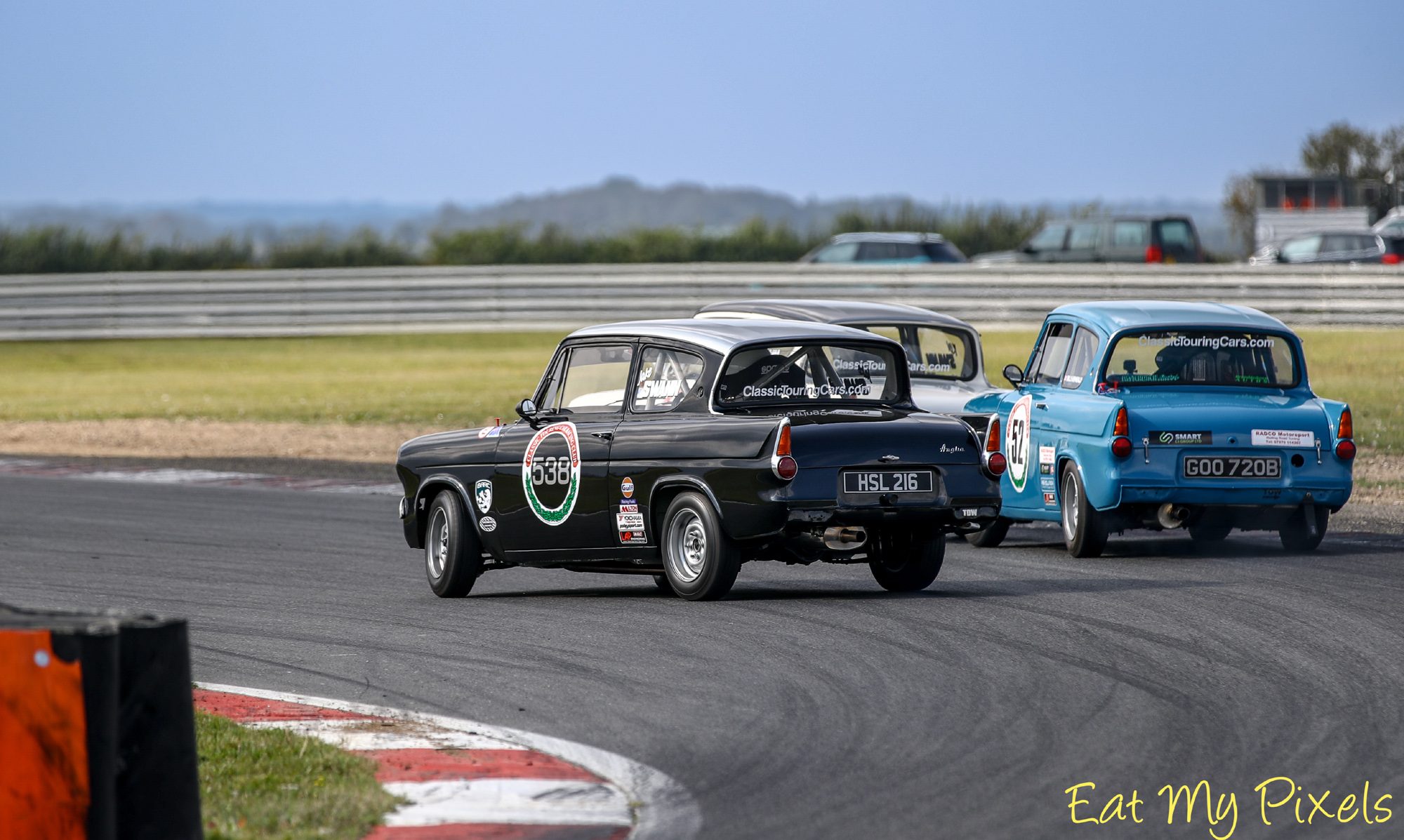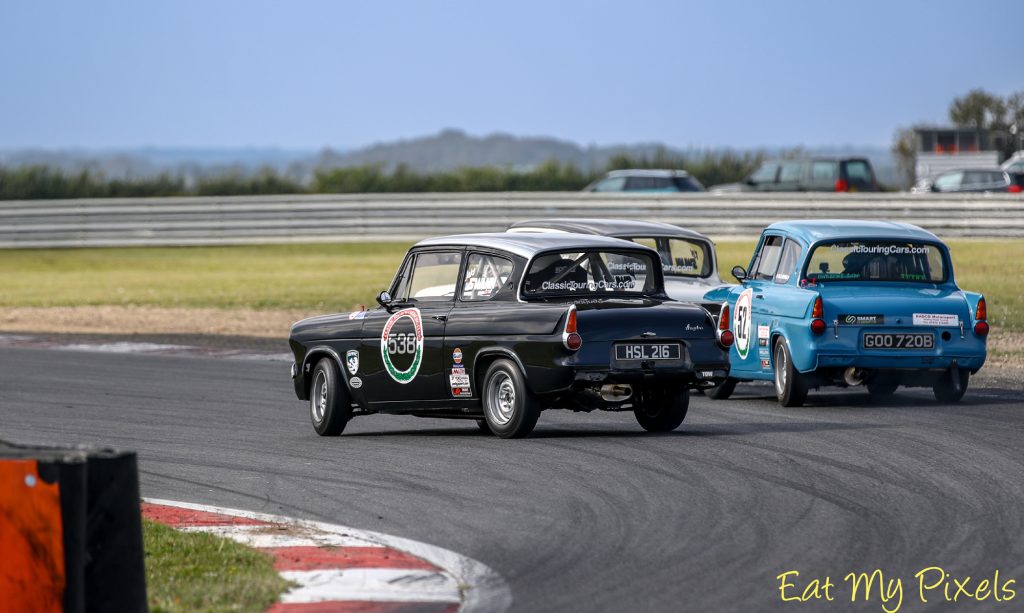 Thompson eventually had to settle for fourth, while Sime worked his way back up the order to take fifth. His moves included a brave on-the-limit pass of Davies around the outside of Brundle, the first part of the Esses, which also let Kenneally through for sixth.
The Cortinas of Abbott and Thompson both got in front of Greenhalgh at the start of race two before the Falcon thundered back ahead en route to its third win of the season.
Gearbox failure forced Abbott into retirement so Thompson took second, although at one stage he had dropped behind Everard. As Everard's Alfa slowed in the second half of the race, he lost more places, falling to fourth in Class C and seventh in Pre-'66 overall.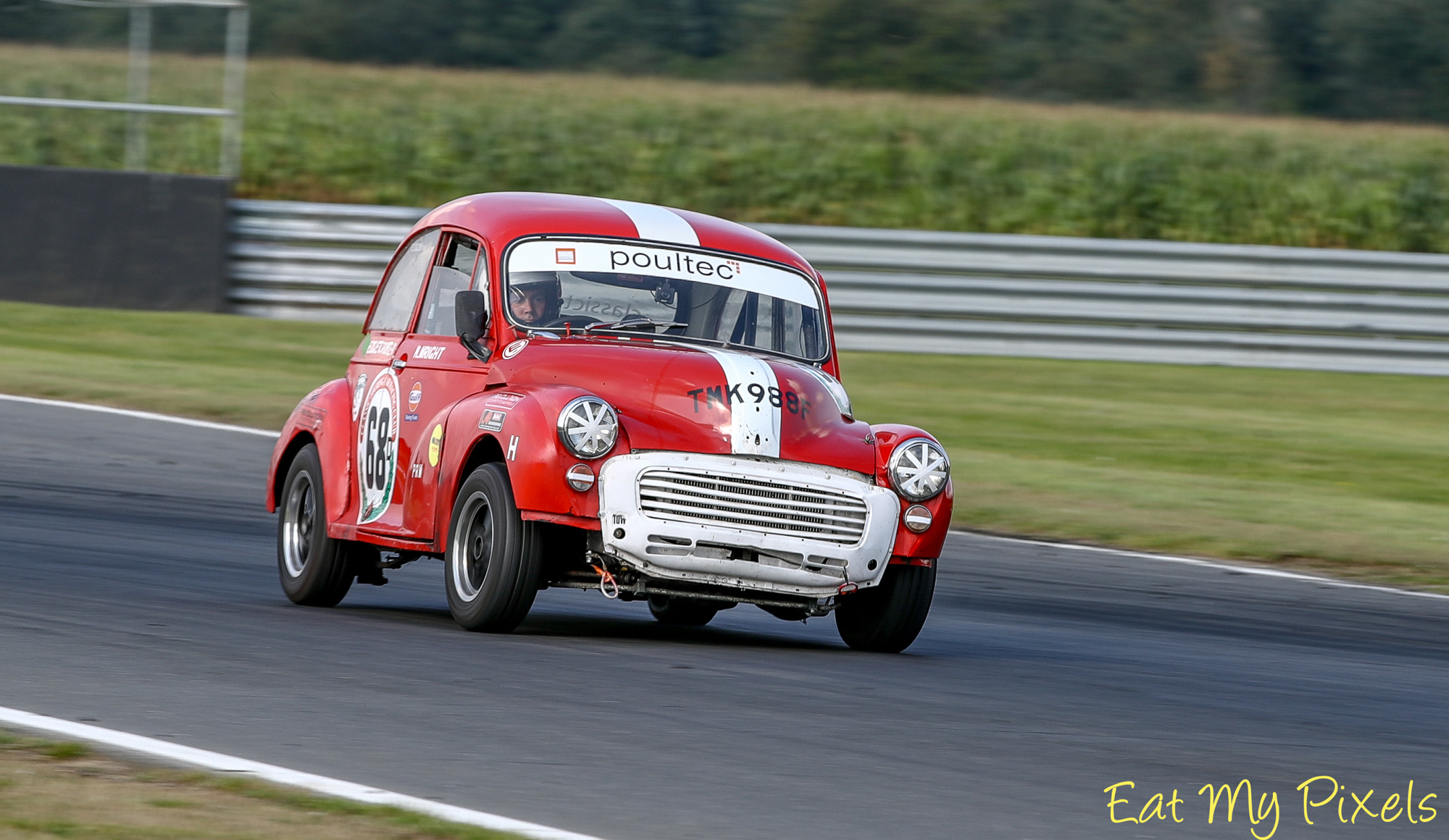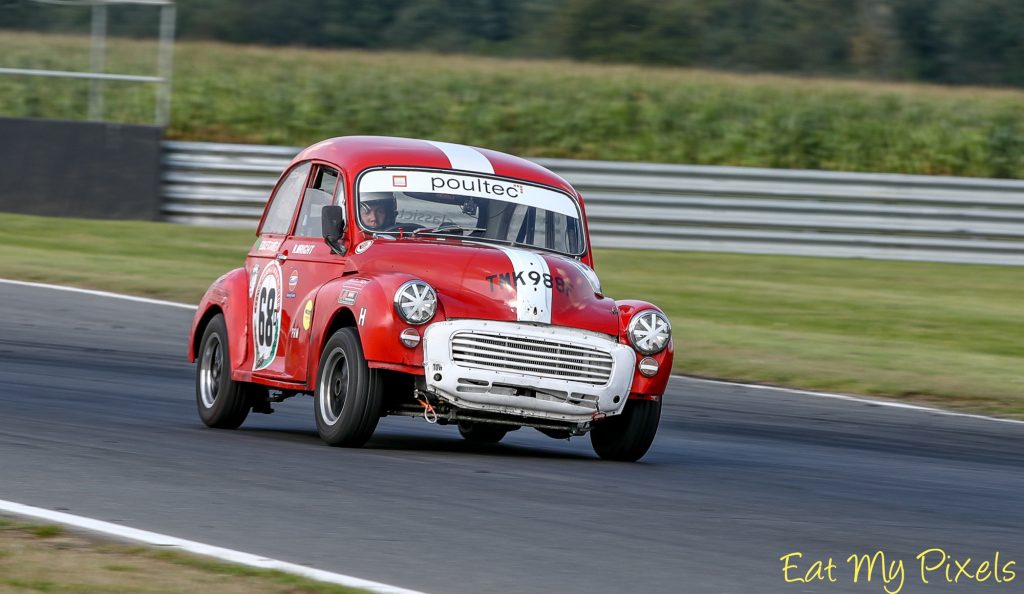 It was Sime who took third, ahead of Anglia trio Kevin Swann, his son Jake – debuting his new machine – and Kenneally.
While disappointed with his pace at one of the few tracks he's raced at before, Kenneally's points look to have provisionally (subject to official confirmation from the CTCRC) secured him the title.
There were no Class E entrants at the venue where last year James Ibbotson won twice overall, but Class D had its best turnout of the year with three Austin A40s and three Morris Minors (albeit one was a non-scoring guest).
Having endured engine trouble galore this year, reigning champion Luc Wilson had his A40 back on song and won the class in both races.
Edmundson Electrical Classic Thunder
Even without the Kumho BMW drivers who like to contest non-clashing rounds, a strong and typically varied Classic Thunder field put on two good races, both won by the turbocharged Audi A3 of Nick Vaughan.
Two red flags in a shortened qualifying session prevented drivers from setting representative lap times, and so they were given an extra one-lap shootout at the start of the lunch break.
Colin Voyce managed to set a blistering pace to secure pole position in his Ford Escort Mk1, ahead of Vaughan and Gary Hufford (BMW M3 E46).
Fourth fastest was Malcolm Harding, who was giving a Classic Thunder debut to his self-built spaceframe Mercedes SLK powered by a Mitsubishi Evo engine.
Voyce led the first race away but lost out to Vaughan through the Esses on lap two of eight. With Voyce's previous Duratec engine now replaced by a Mountune motor based on the company's BTCC unit, the Escort was proving to be something of a handful.
Installing the engine had required various other modifications, including to the diff which was running at such high temperatures it was fusing its plates together.
As Vaughan celebrated his birthday by escaping to a second consecutive victory, Voyce fell into the clutches of Hufford's AB Motorsport-prepared BMW. As they negotiated traffic in the closing stages, the pair traded places but it was Voyce who took second, with Hufford third.
Ian Craig continued his strong form from Croft by finishing fourth in his BMW M3 CSL ahead of Class C winner Oliver Owen's E36 M3.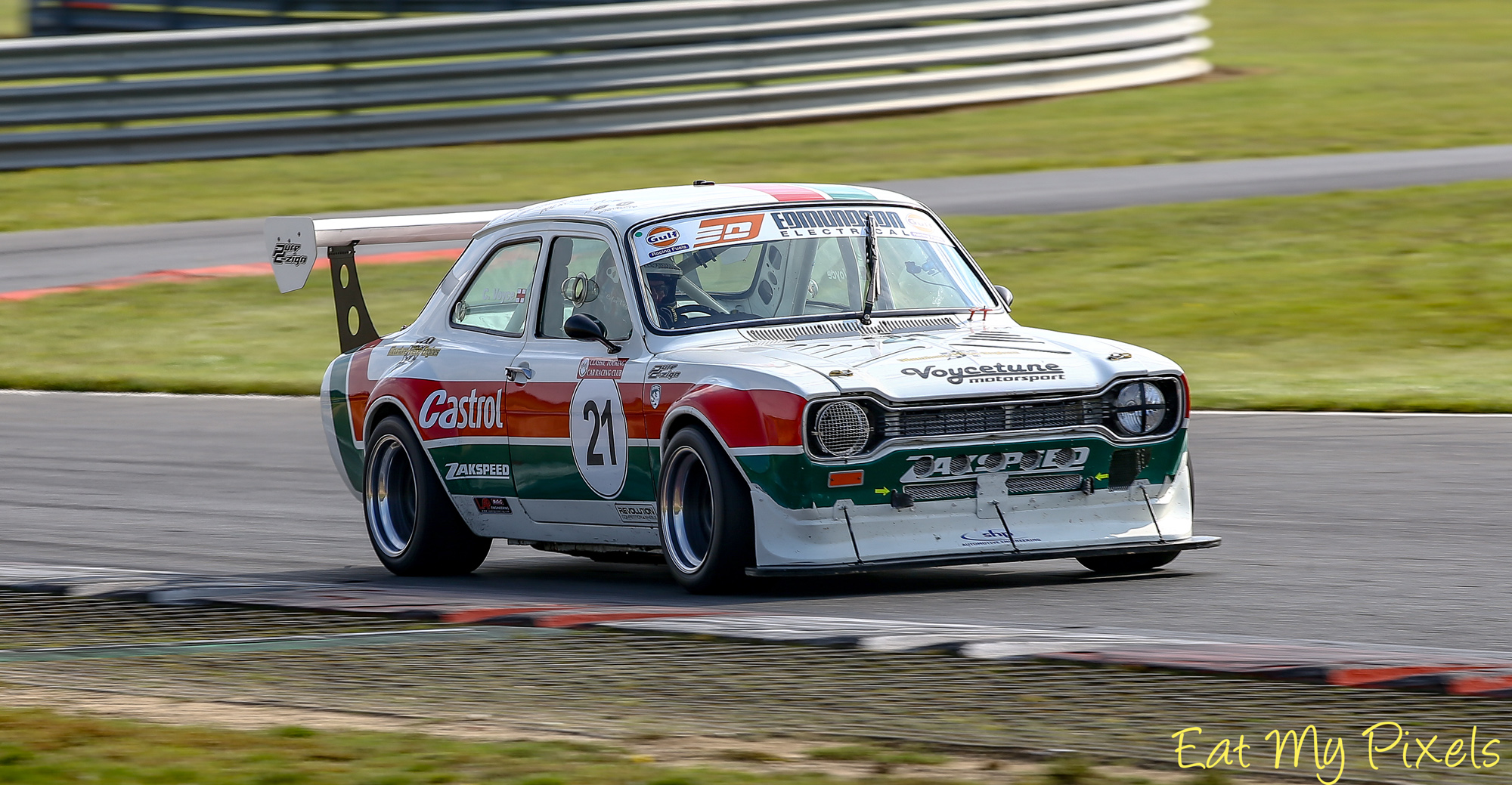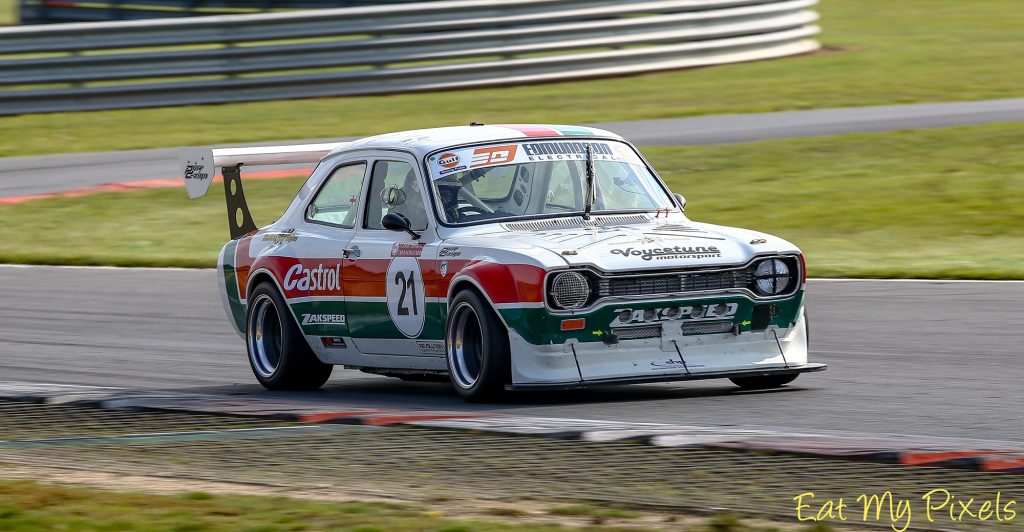 Behind Chris McGinley's factory-built E36 GTR in sixth, Harding was seventh and the top eight was completed by Tony Davies's Transpeed Firenza, an original Thundersaloon.
The second race on Sunday was hit by heavy rain, leaving the field to tiptoe around with their powerful cars on slick rubber.
As Voyce dropped down the order, Vaughan came under pressure from Hufford, who found he could take the corners quicker only to lose out to Vaughan's turbo power on the straights. Vaughan was grateful that the rain eased over the closing stages of the race and he held on to win by just 0.675s.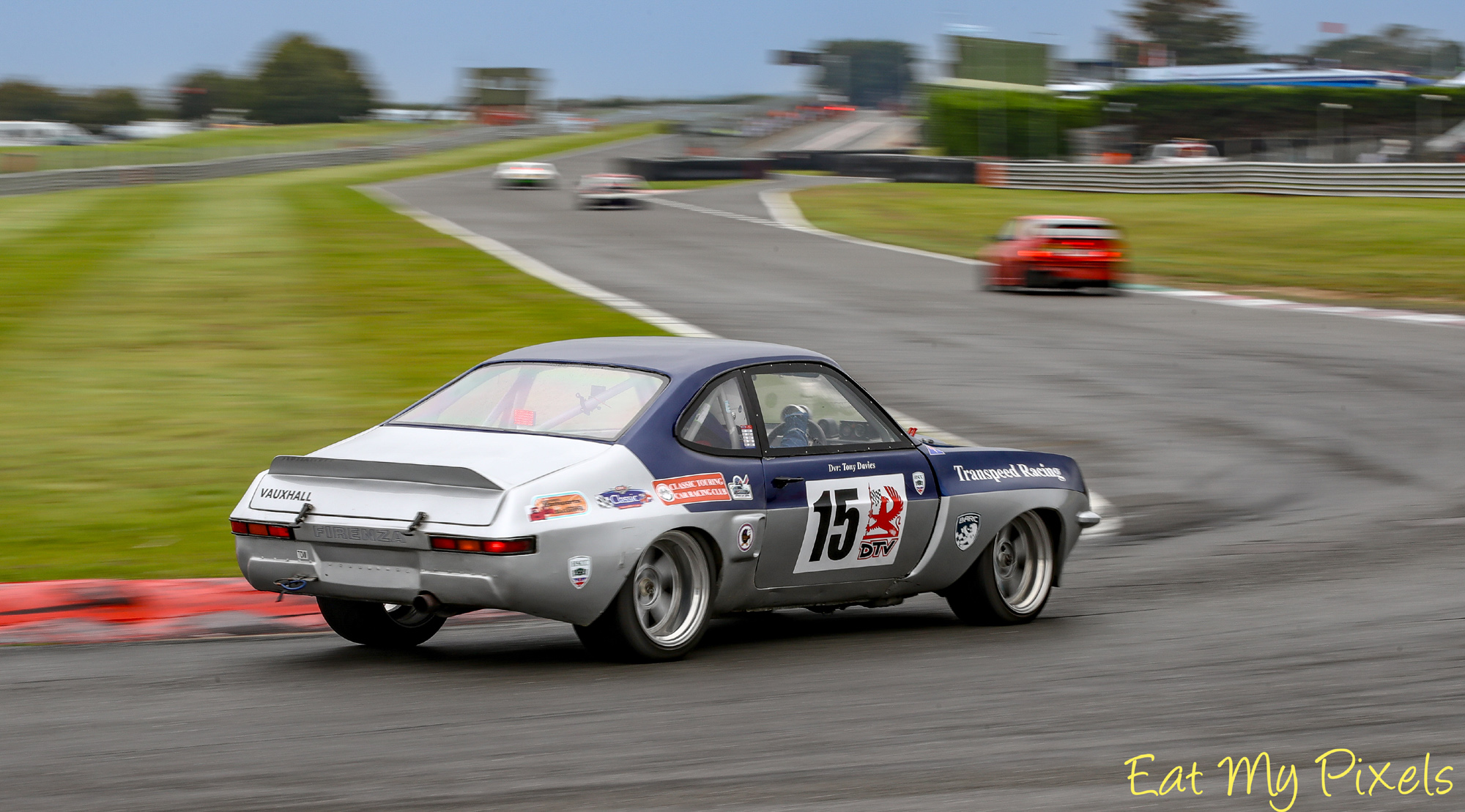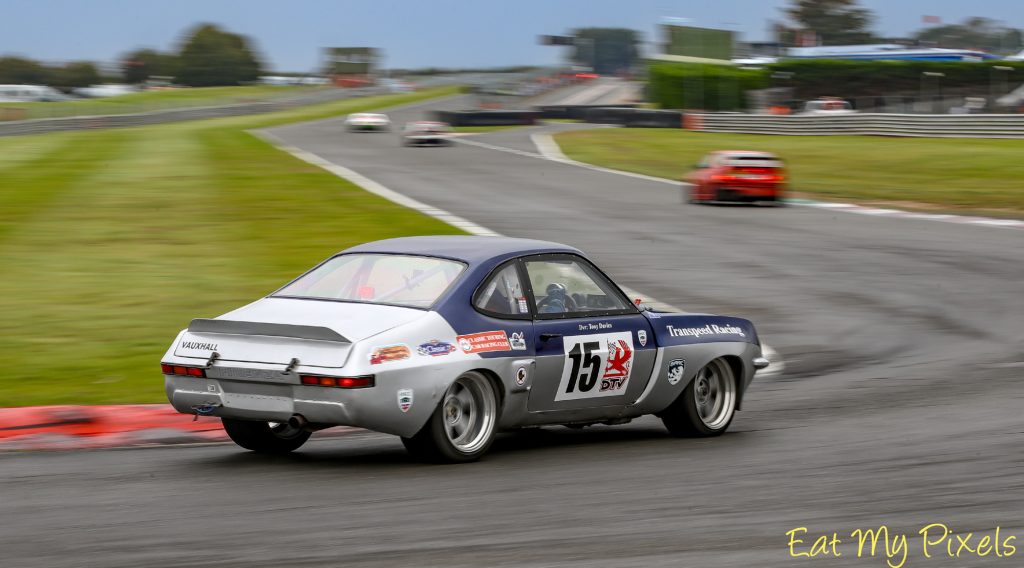 "That was terrifying," reported Vaughan. "We were about 25s down on dry pace to give you an idea. Gary was on me the whole way. It was just a case of keep it on the island, bring it home.
"But three on the bounce is beyond what I could ever have imagined so couldn't round out the weekend in a better way."
McGinley improved to third, while Jon Olliff-Cooper also impressed in fourth, both scoring their best results yet.
With pre-weekend championship leader Sam Wilson sidelined by engine trouble on Rikki Cann's Aston Martin V8 Vantage in Friday testing, Vaughan's big points haul has elevated him into the championship lead ahead of the finale at Donington Park.
Berkshire Jag Components Jaguar Challenge
Running alongside Classic Thunder, the Big Cats produced a pair of terrific races, with Colin Philpott and Guy Connew eventually sharing the spoils.
Philpott took pole position in the one-lap shootout from fellow Class B XJS driver Tom Lenthall, who was making his first appearance since claiming a maiden overall victory at Castle Combe.
Behind them, championship leader Jack Robinson was third fastest in his Class C XK, ahead of a trio of Class A machinery led by Andrew Harper's S-Type R.
The Jags started separately, behind the Thunder machinery, avoiding any issues at the start and ensuring that the field could battle each other.
Philpott's Powerbell car led them away but it was Harper who made the best start in his Auto Reserve entry. Harper got straight into second and briefly led before Philpott got back in front.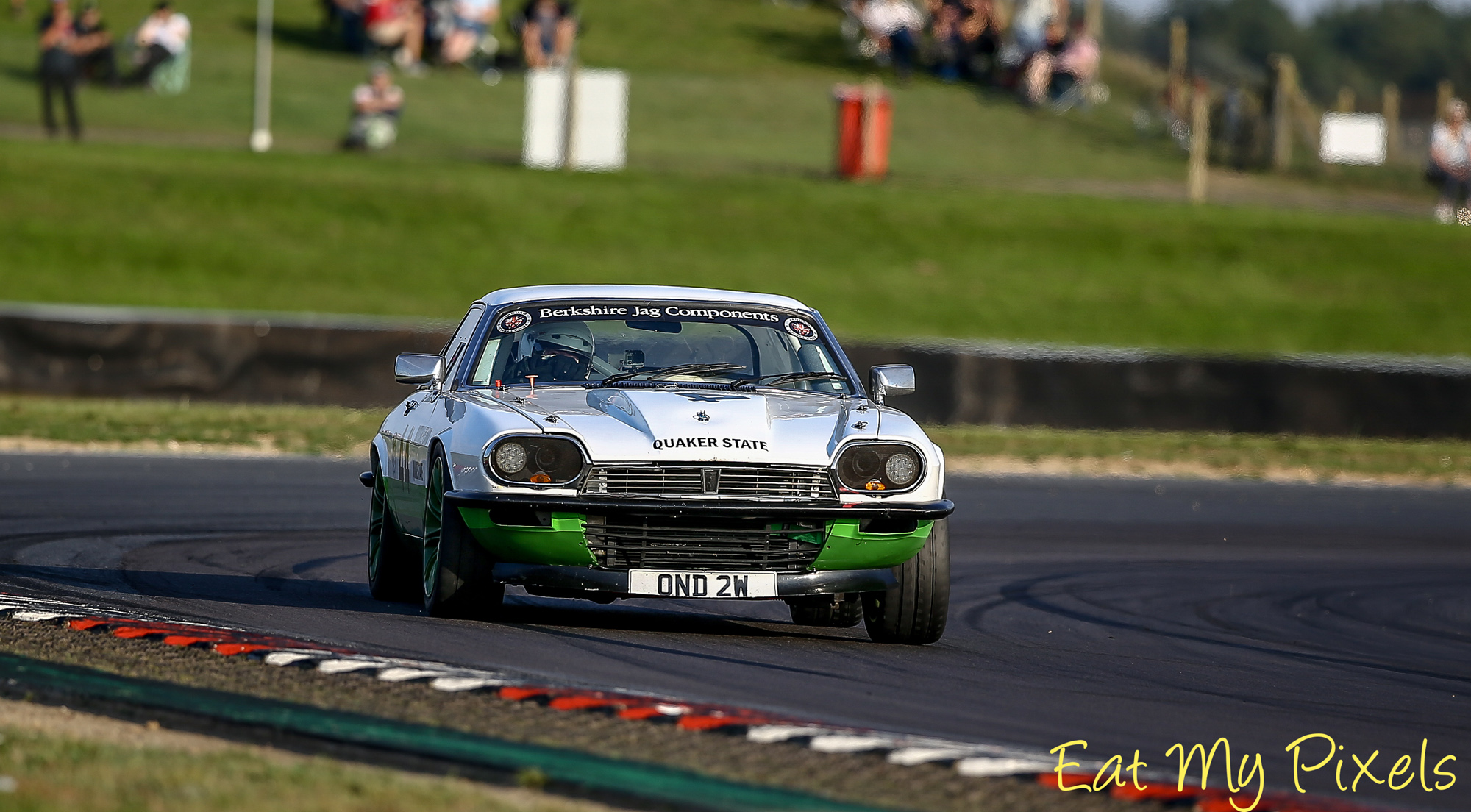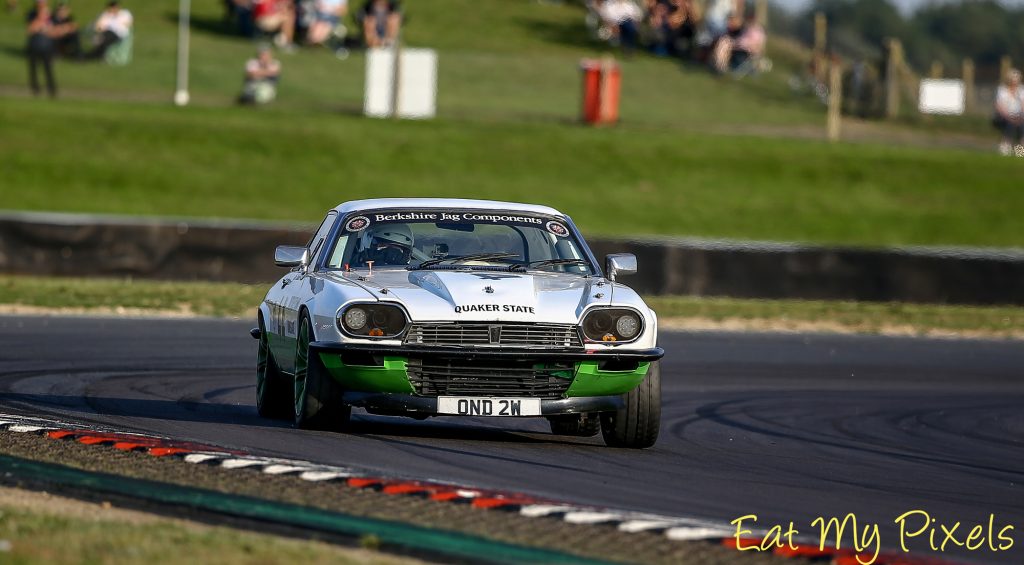 Connew, whose V12-powered XJS was only sixth fastest in qualifying, was working his way forward and demoted Harper at the Bomb Hole on lap three.
It didn't take long for him to wipe out the 2s advantage Philpott had built by that stage, and Connew moved ahead at the hairpin with a couple of laps remaining.
But Philpott hit back, and got inside at Agostini on the final tour to take his fifth consecutive win. A lack of Class B entries at most rounds has meant that Philpott is not in contention for the overall championship but Connew, who took maximum points for second, very much is – along with Robinson.
The Swallows Racing youngster was all over third-placed Lenthall in the closing stages but had to settle for fourth, still the class winner.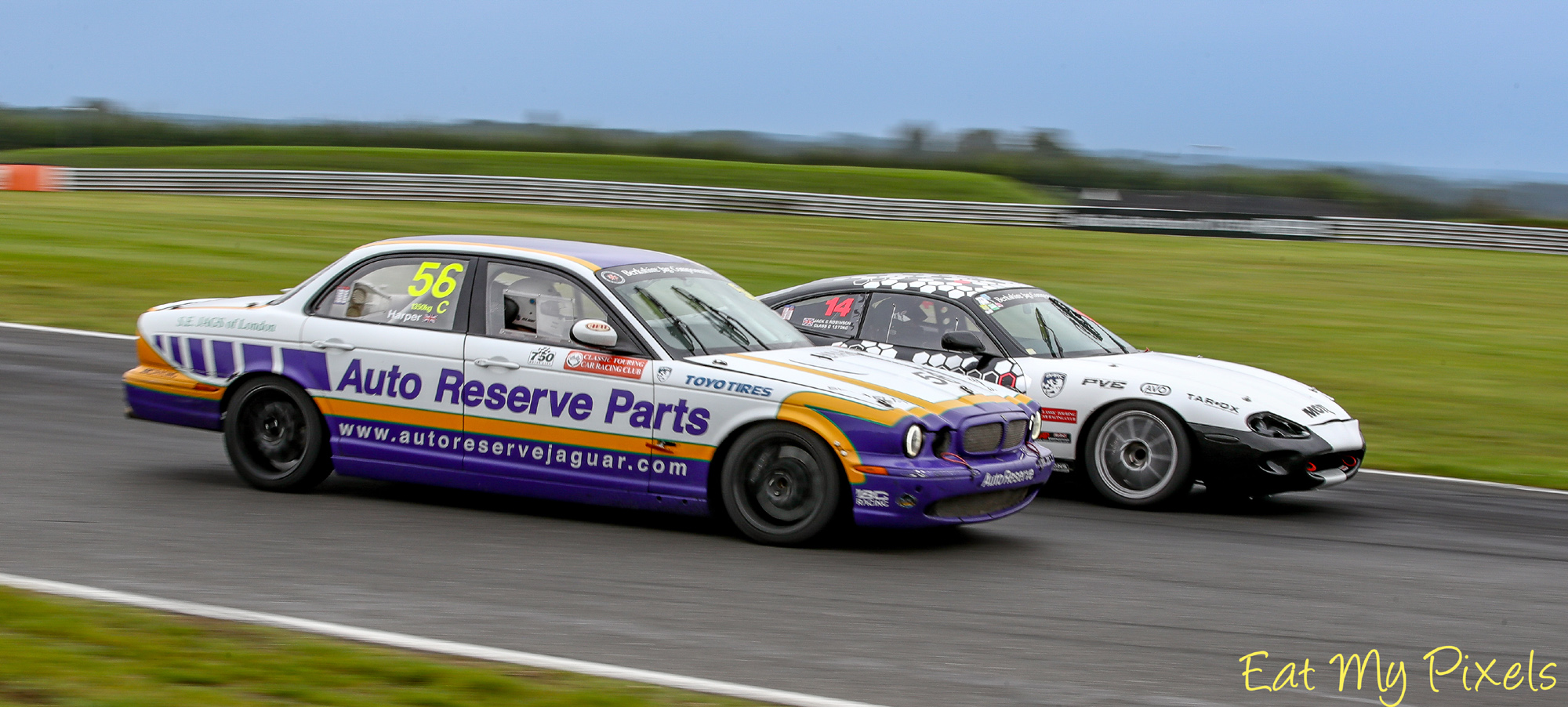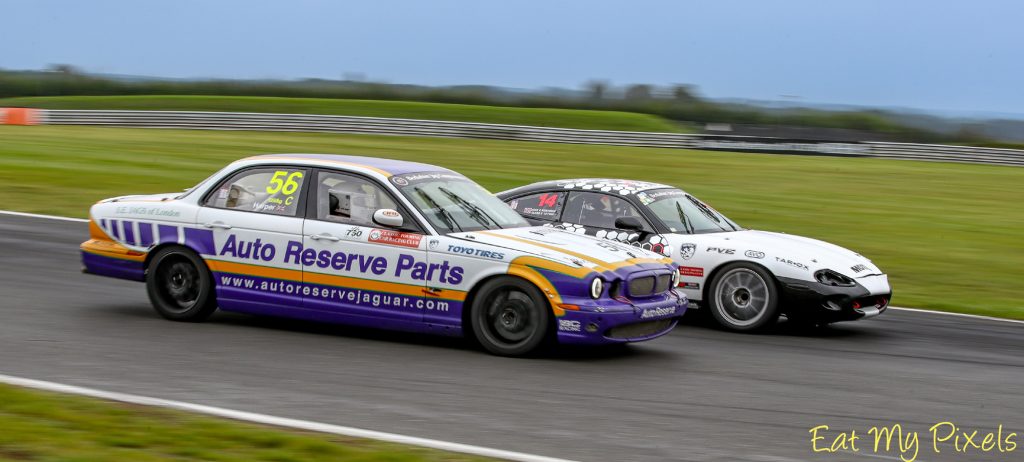 As Harper's engine went sick, he plummeted down the order so it was Chris Boon's supercharged XK8 that was second in Class A and fifth overall. Sixth was Mike Seabourne, finally back in his own XJS and getting it to run smoothly.
In the wet conditions of Sunday afternoon, Philpott and Connew found themselves struggling much less than the slick-shod Classic Thunder runners. They pulled away from the rest of the Big Cats and started carving through the Thunder cars while enjoying their own scrap.
Connew powered past Philpott on the second lap but the Powerbell car got back ahead as they negotiated the traffic. Connew wasn't giving up though and got his Group 44 tribute car back in front on the penultimate lap before easing away to a victory of more than 3s.
Lenthall completed the podium again, with Seabourne fourth on this occasion, each revelling in the conditions despite an early delay for the latter.
Robinson, however, was finding it tough going. After a couple of spins he could only manage eighth. More significantly, that was only third in class, which means it could hardly be closer going into the season finale.
Unofficial calculations suggest that Connew holds a one-point advantage over the Swallows Racing driver ahead of the title-decider at Donington Park next month.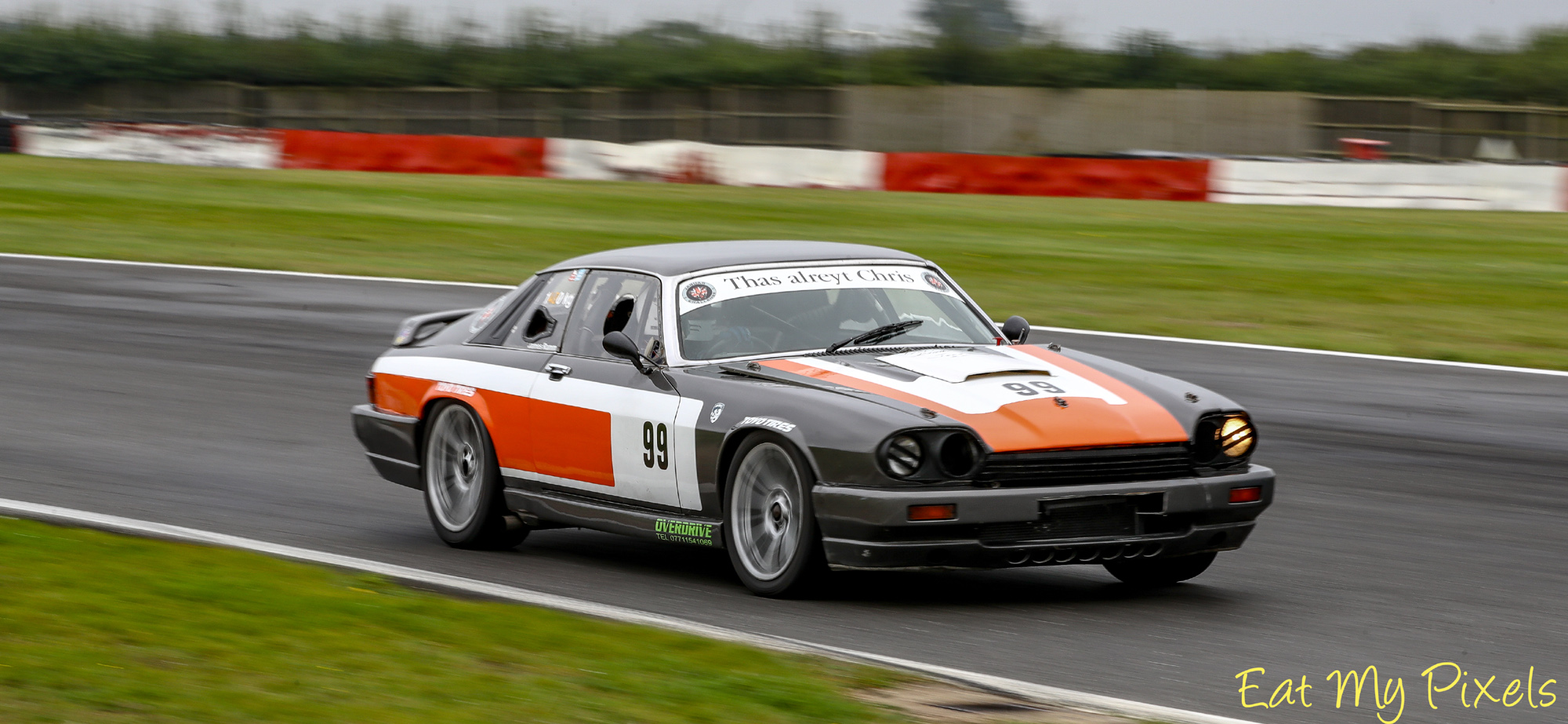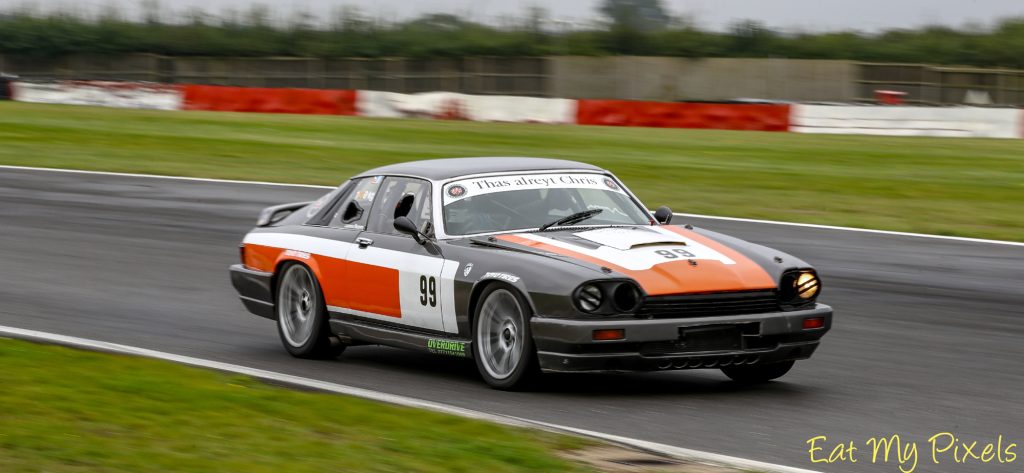 One man who knows a thing or two about winning championships is James Ramm. After numerous hitches so far this year, the long-serving racer was finally able to give a race debut to the new V12 in his XJS – but only on Sunday.
Rocketing temperatures in the original qualifying session were a concern, sidelining James for the rest of the day.
But, following some makeshift cooling modifications, Ramm started from the back of the grid on Sunday and powered his way through to fifth at the flag – second in Class A with both Harper (engine) and Boon (supercharger) sidelined.
Robinson will be hoping Ramm can do him a favour by taking some points off Connew at the season finale. Don't miss it!
Full results are available via the TSL website.
All images courtesy of CTCRC official photographer Steve Jackman/Eat My Pixels