Croft's Classic Touring Car Festival brought plenty of great racing to the high-speed North Yorkshire circuit, despite some lower turnouts due to clashes, summer holidays and the exertions of last month's Super Touring Power.
Headlining the action were the crowd-pleasing Super Tourers, where Stewart Whyte was in imperious form, while the Classic Touring Car Racing Club's other seven championships all served up plenty of excitement.
Laser Tools Super Tourers
The massive efforts that went in to making Super Touring Power the huge success that it was unavoidably had an impact on the Super Tourers entry at Croft. But those that were racing still stirred the emotions of everyone present.
Thanks must go to Jason Hughes and Jason Minshaw, who both brought non-running cars for race-goers to see. Hughes's MG ZS and Minshaw's iconic Volvo 850 estate put smiles on many faces over the weekend.
Series stalwart Hughes was also in action on track, with his familiar Vauxhall Vectra. The pairing's weekend started very well when he put the 2000 machine on pole position by a whopping 2.8 seconds. A heavy rain shower just before the cars went on circuit made for some tricky conditions but Hughes was up to the challenge.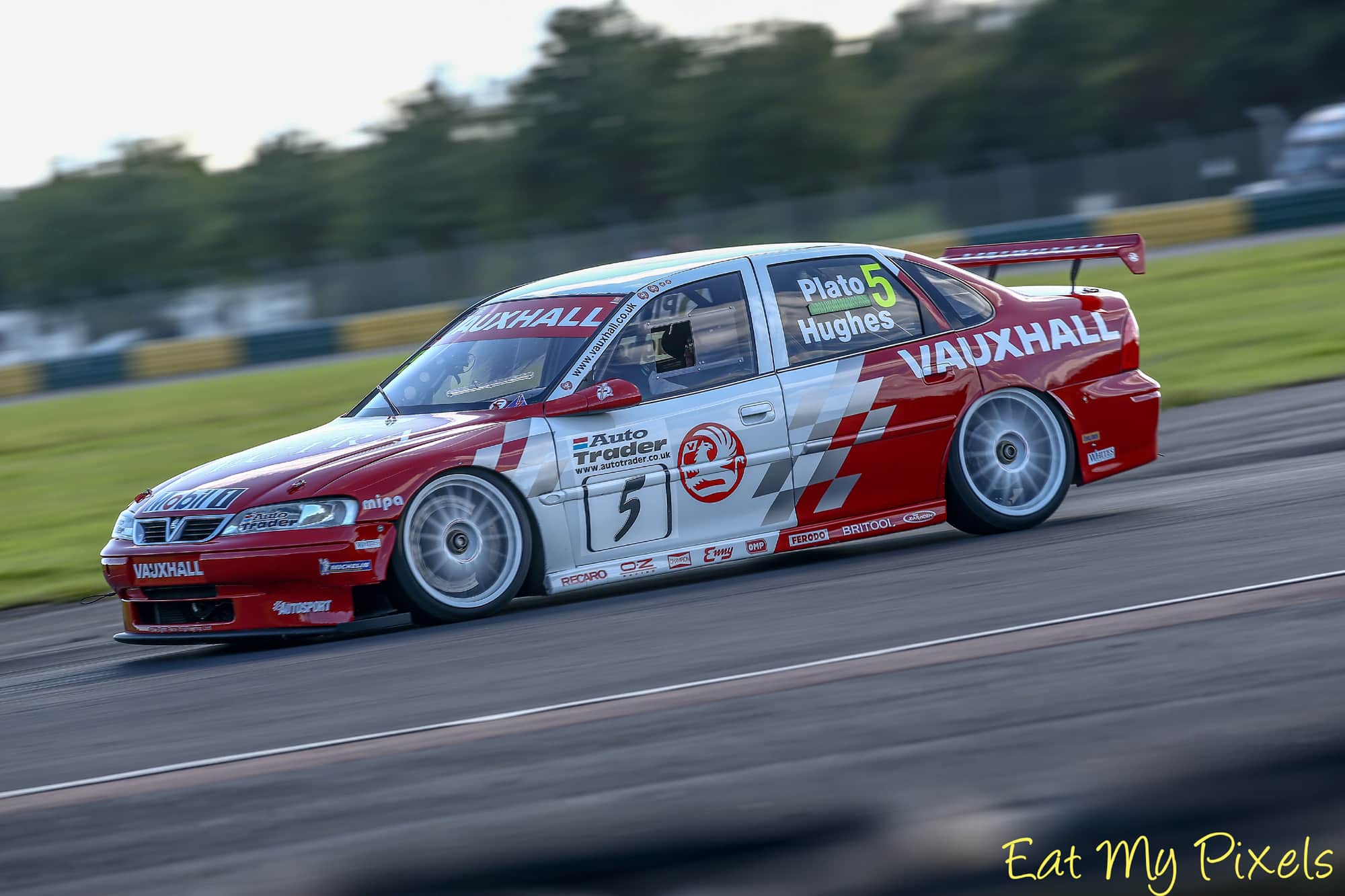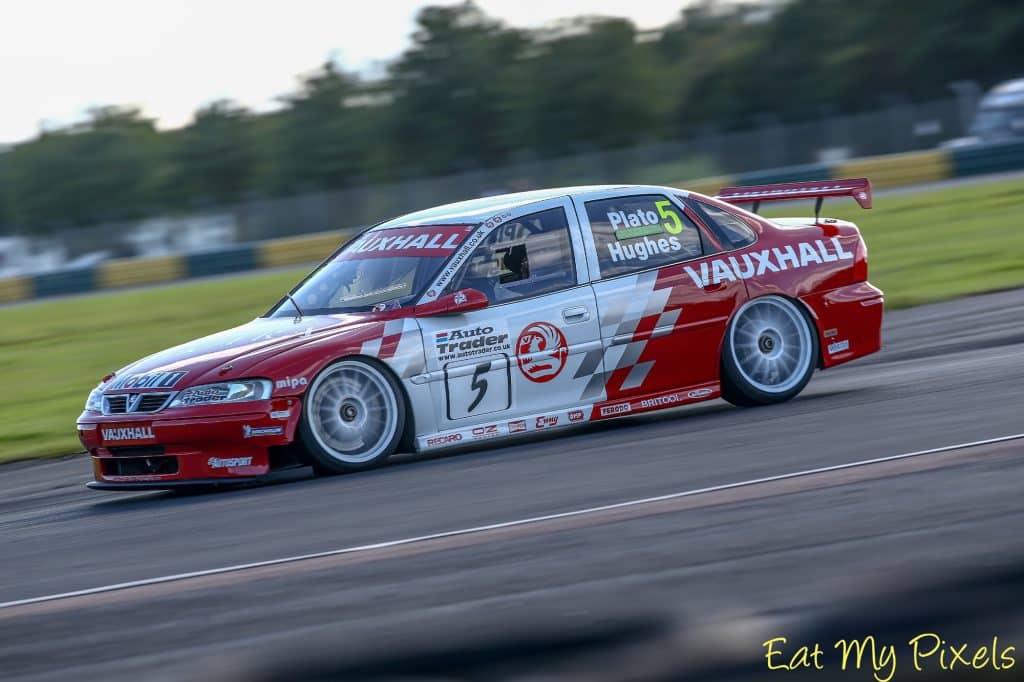 Second qualifier Stewart Whyte was left to rue having only a very old set of wet tyres for his ex-Tom Kristensen Honda Accord.
Mark Jones was third in his Renault Laguna, while Jim Pocklington (returning in his 1990 Vauxhall Cavalier after missing last month's event) and Adam Woods (ex-Tom Chilton Honda Civic) were headed by the quickest Pre-'93 and Pre-'03 cars that were sharing the grid.
Conditions were much improved by the time of Saturday afternoon's first race where an early safety car was required after Pocklington tangled with a Pre-'03 car at the first corner and ended up in the Clervaux gravel trap.
Upon the resumption, Whyte stuck with Hughes and briefly edged ahead on the run to the first corner before easing back. But he got another run exiting the chicane and made the move stick to take the lead into the right-hander at Tower.
Setting some very quick laps, Whyte pulled clear to take his first win in the series since last year's Donington finale. Hughes brought the Vectra home safely, 5s in arrears at the chequered flag.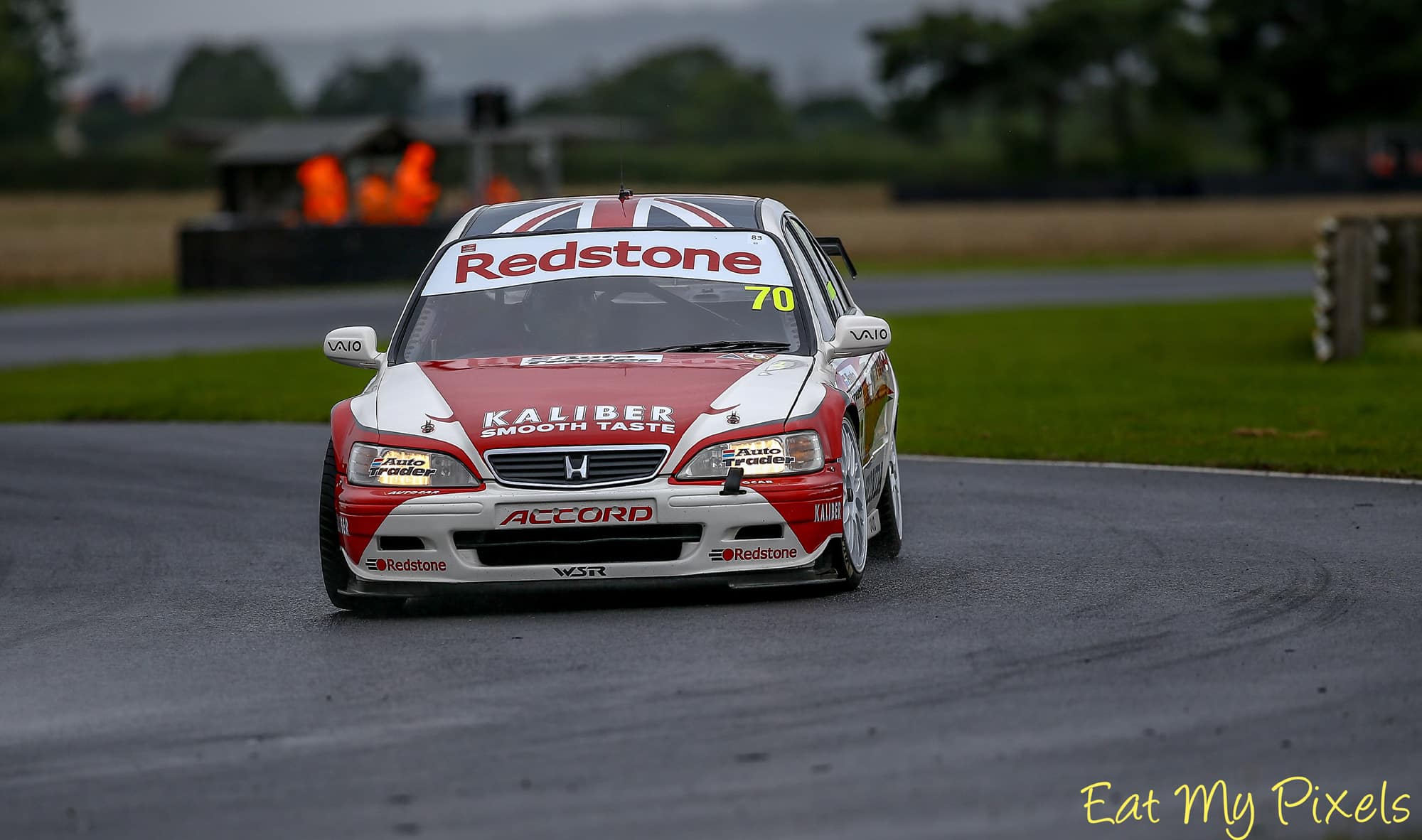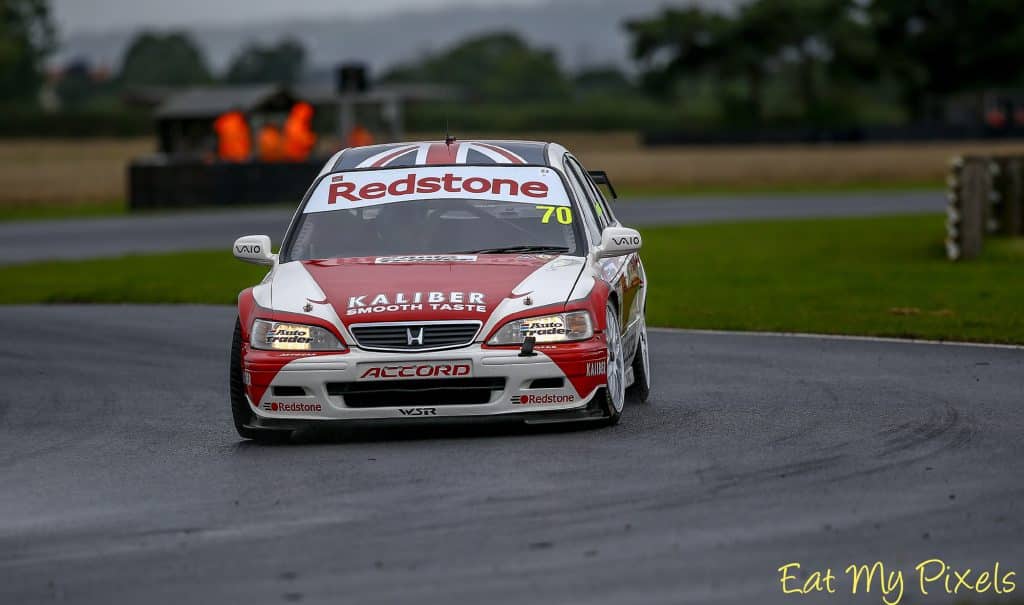 Jones initially dropped behind the leading Pre-'93 and Pre-'03 drivers but overhauled them as he got his tyres up to temperature to complete the podium. Woods was fourth (and winner of the TC3 class) after a strong run in his less powerful and less sophisticated BTC-T car.
In Sunday's rematch, Hughes and Whyte charged side-by-side towards Croft's tricky first corner at Clervaux. But any hopes Hughes had of turning the tables on Whyte were immediately scuppered by a front-right puncture that left him touring round for almost a whole lap to come in for a new tyre.
It wasn't much longer before Jones was also ruled out, pulling on to the grass at the end of the second lap with a suspected engine issue.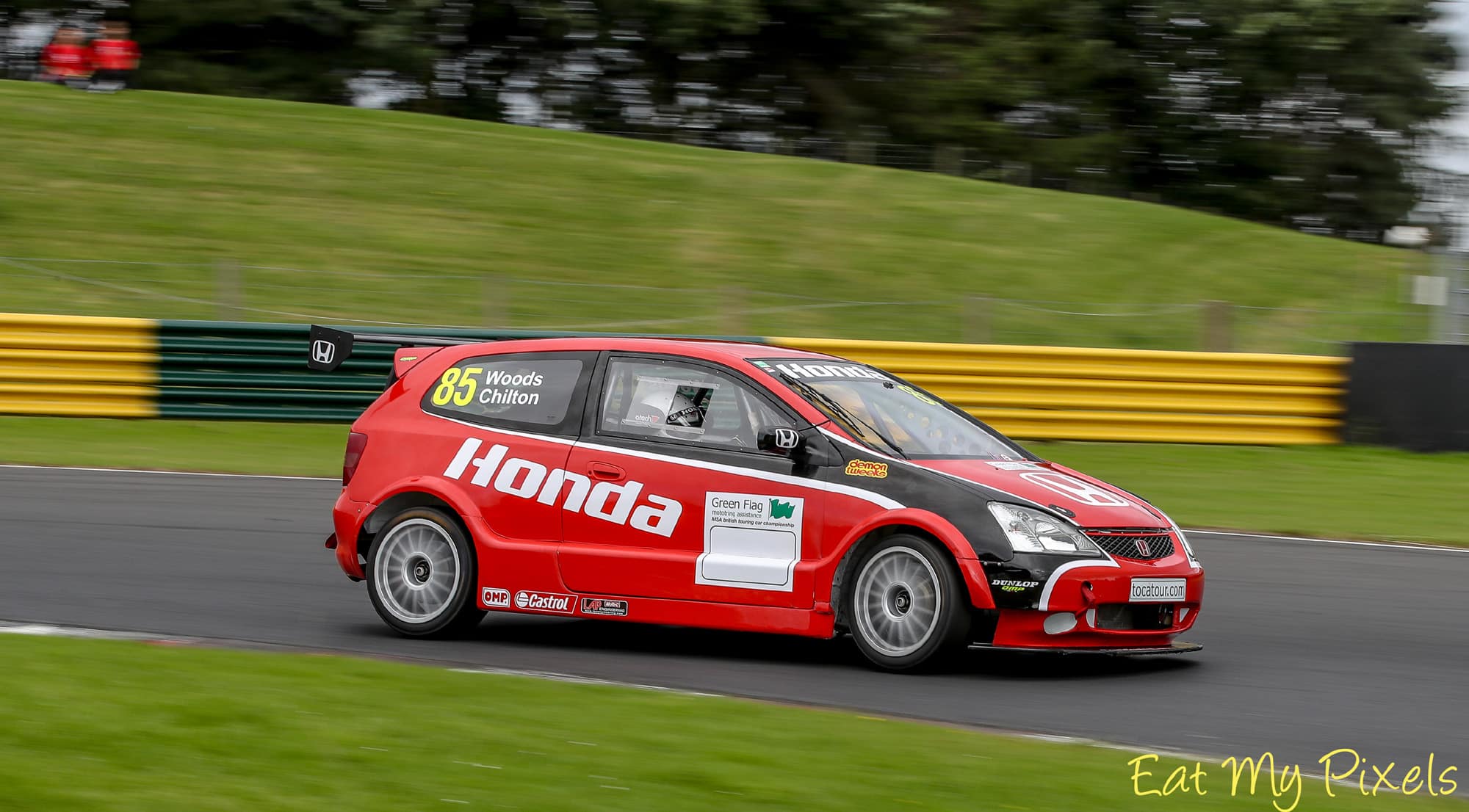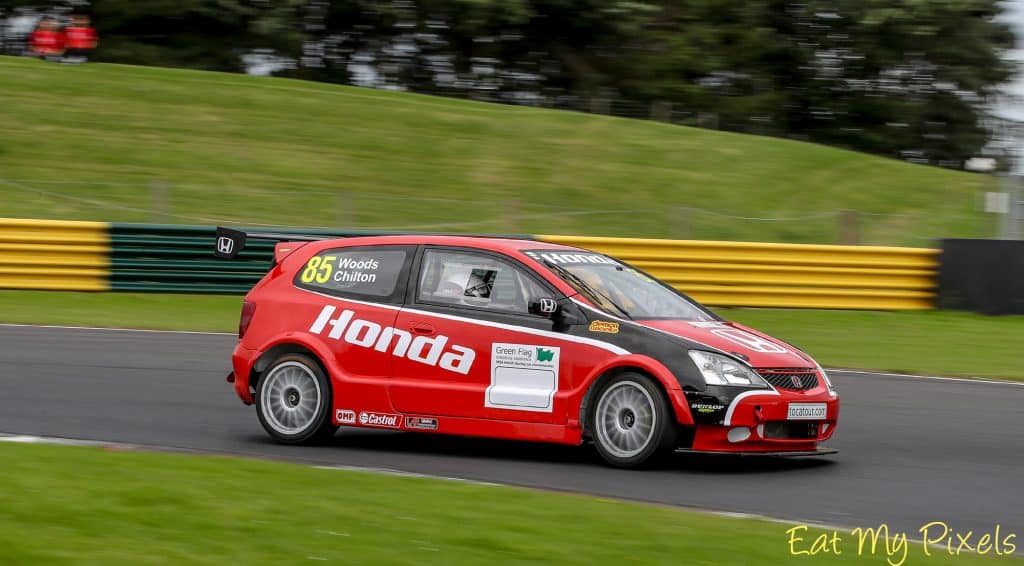 That left Whyte a clear run to take a dominant victory, more than 40s in front of the entire field and almost a minute ahead of the next finisher in the Super Tourers section.
After narrowly missing out to BTCC star Jake Hill throughout the weekend at Brands Hatch, Whyte was pleased to secure a double victory, but a little disappointed that he couldn't better – or match – his pace of the previous day.
Woods was second among the Super Tourers. He had to ease off as his tyres went past their best and while he managed electrical problems, allowing the leading Pre-'93 cars to finish ahead. Pocklington sadly notched up his second retirement of the weekend, after engine trouble struck.
Rejoining from the pits a lap down, Hughes was able to bring his Vectra home third in Super Tourers.
Laser Tools Pre-'93 Touring Cars
One of the championships to be missing some of its regular drivers, the Pre-'93 Touring Cars entry nevertheless featured all of the top four in the championship. Two-time champion Ian Bower took a double victory as points leader Stuart Waite focused on securing the points he needed.
Bower's BMW M3 E36 qualified fastest in the wet by some margin over Waite's similar machine. Another M3 E36 pair, Clint Le Chalmers and Jon Olliff-Cooper, were some way further back, while David Clark's Renault 5 GT Turbo failed to set a time after encountering electrical gremlins.
A blistering start to the first race put Bower into third, behind only the two leading Super Tourers. Over the first half of the race, he was worked hard by top Pre-'03 man Gary Prebble, until a mistake dropped Prebble back.
Bower was more than 45s clear at the flag in Pre-'93 and paid tribute to 2016 champion Ray West's diagnostics, after driving the car at Brands, that have allowed him to extract more of its potential.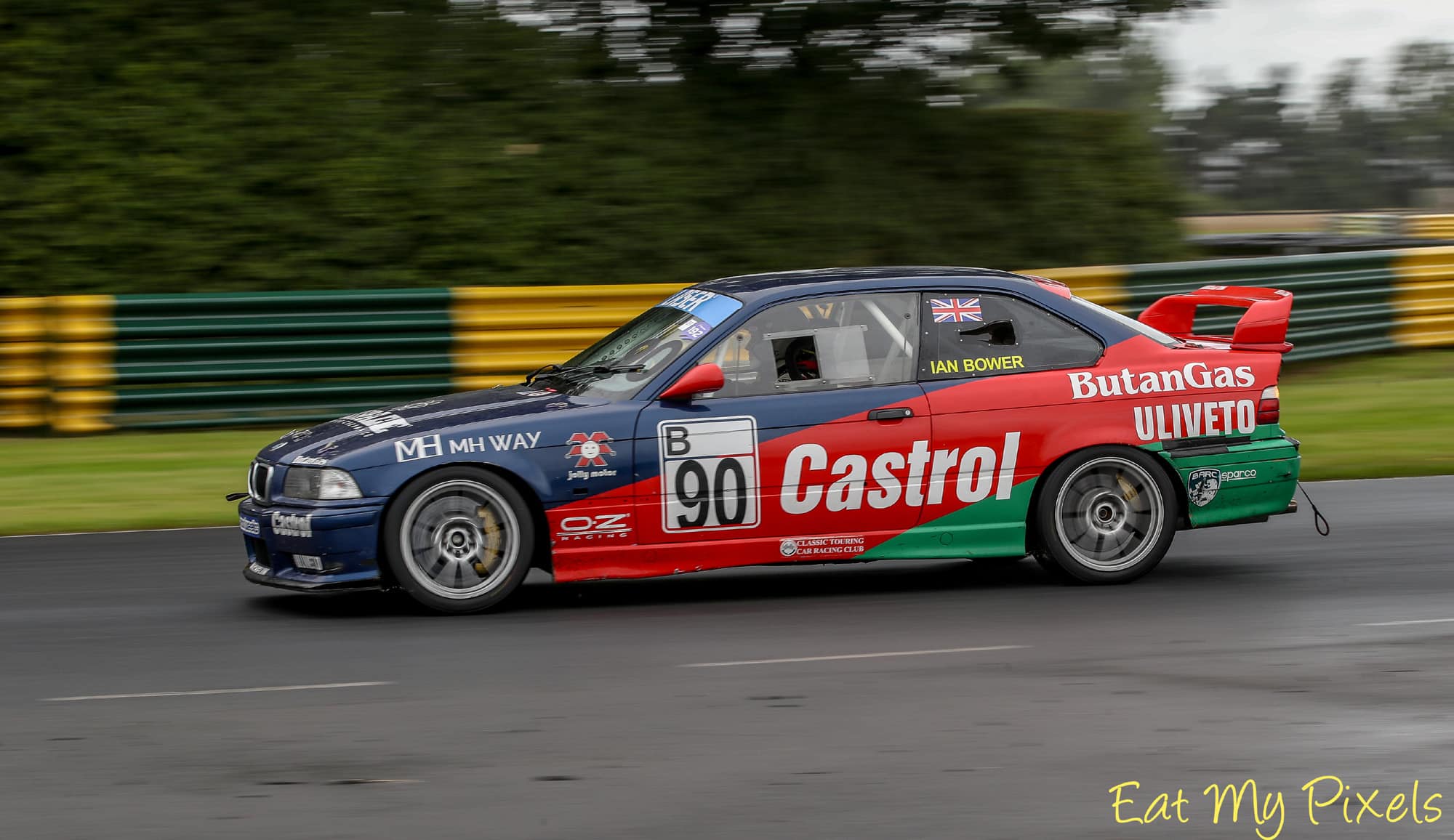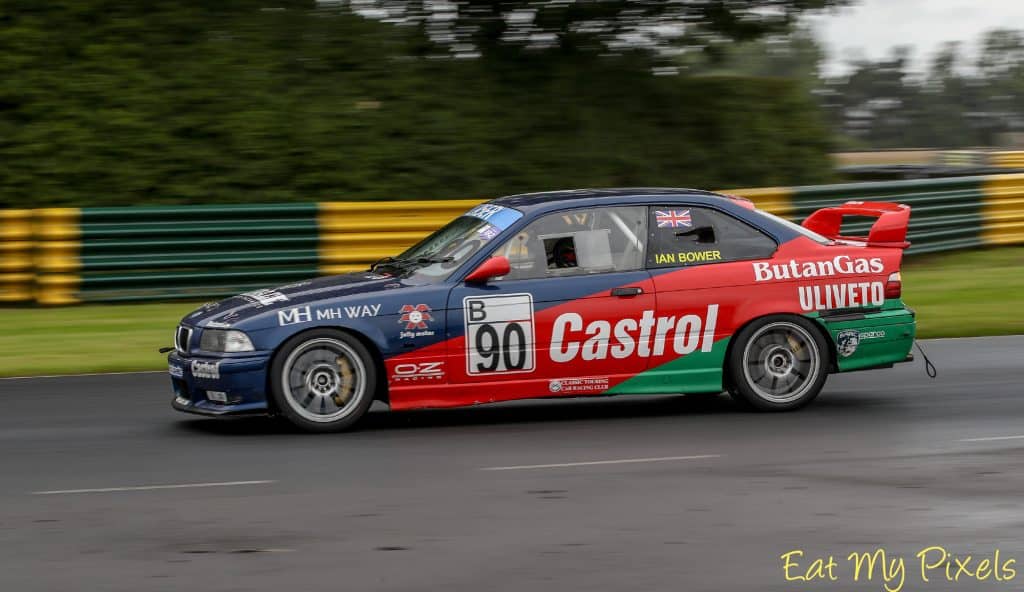 Waite was driving relatively cautiously, with championship points at the forefront of his mind. When his temperatures rose over the close stages – a problem that turned out to be simply a faulty thermostat, he backed off and settled for second.
Crucially, Waite remained just ahead of Le Chalmers and also managed to set the fastest lap before his issues.
In Sunday's race, Waite whittled down Bower's initial margin and put some concerted pressure on the 2021 champion over the closing laps. Bower withstood it to take his fourth win of a season that began on the back foot with mechanical issues over the first two weekends.
Waite again set fastest lap, believing he had done enough to put the title out of reach (subject to official confirmation by the CTCRC) of Le Chalmers – who was again third – and Bower, as well as Class D runner Clark.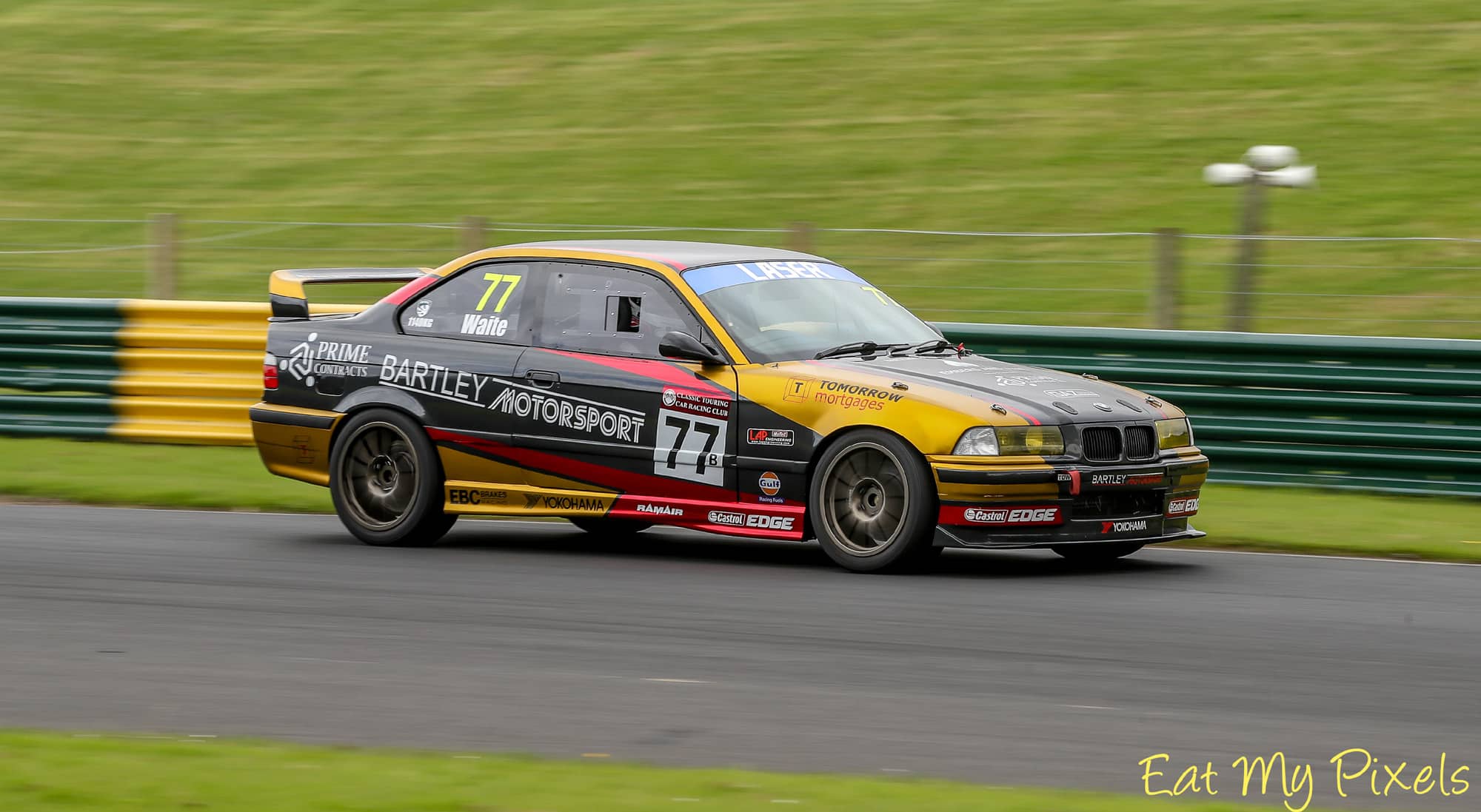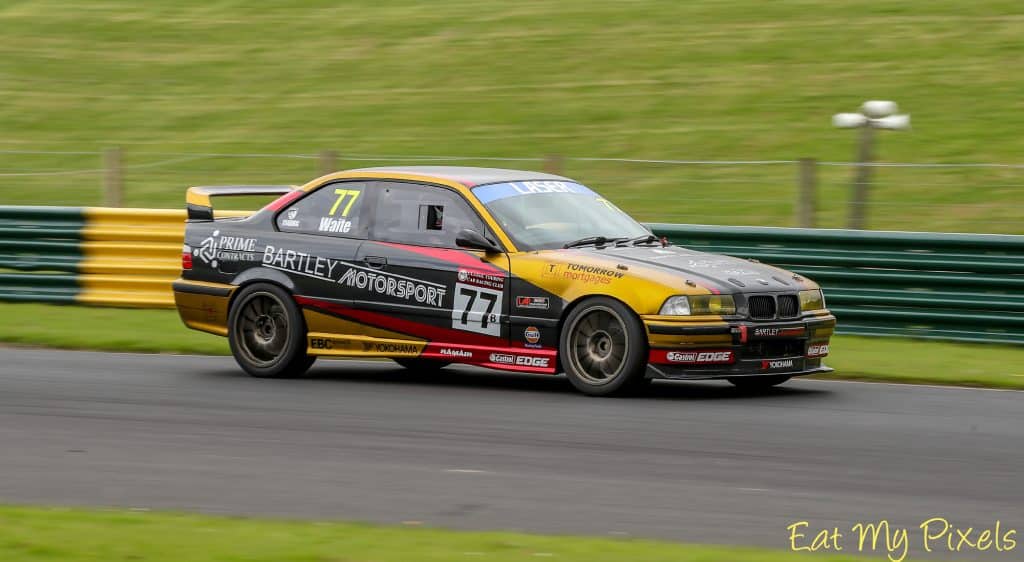 "I knew I didn't need to beat Ian in that race but I wanted to keep him honest," said Waite, who has run the same set of tyres all season so far. "He's got a bit more grunt than me in a straight line and I didn't have any tyres left, so where I could put the car alongside him, I just couldn't make it stick.
"I honestly didn't expect the car to be as good as it was [this year]," he reflected, "given what I did to it over the winter, because I was always going to be at a horsepower deficit. It just all seems to suit the car and it's set fastest laps and lap records all over the shop. So it's been a pleasant surprise.
"We can bolt some new tyres on at Snett and Donington and just go out and have some fun. See if we can win a few more."
Clark was able to fix his gremlins for the races to twice win Class D.
Burty Haulage Pre-'03 Touring Cars
The Pre-'03 Touring Car races provided a snapshot of their season. Gary Prebble set the pace and took a win before mechanical woes struck; Chris Southcott was also in the mix before being sidelined; and Ross Craig drove consistently well to take a win and rack up big points.
In tricky conditions in qualifying, Prebble's Honda Civic EG went fastest after being able to improve late on. Southcott's laps were limited in his EK9 version, but he remained ahead of Craig's newer EP3 model.
Come the race, Southcott tangled with Jim Pocklington's Super Tourer at the first corner, finishing in the gravel with a broken steering rack. It put him out for the weekend; a long way to travel from Hampshire for just a few hundred yards of race action.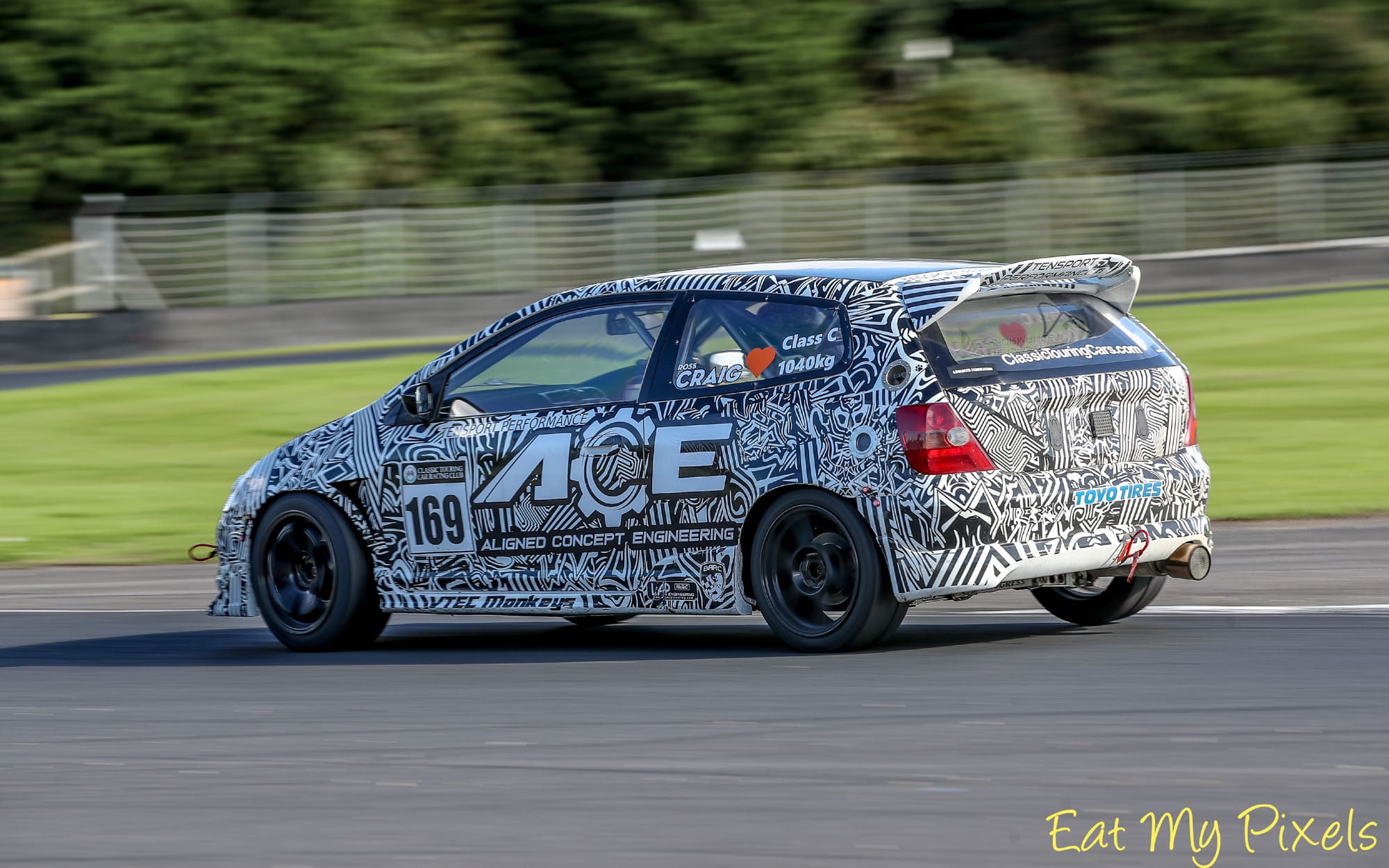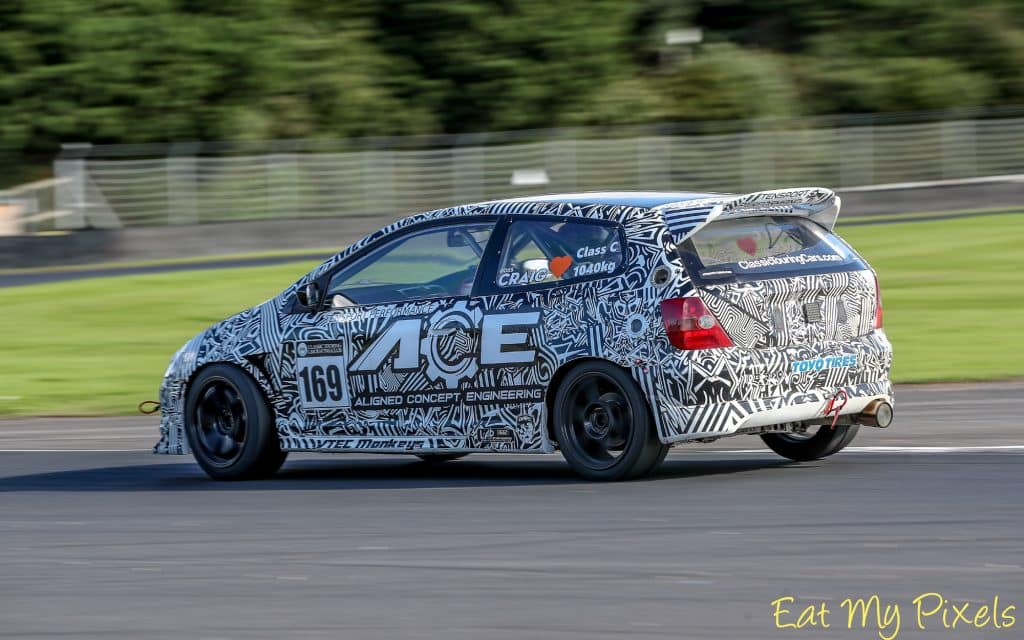 Prebble's pace was never threatened by the remaining Pre-'03 machinery as he instead battled with Ian Bower's Pre-'93 entry. A mistake on the way in to Sunny In mid-race cost him around 8s, but the 2021 champion brought the car home for a comfortable win in Pre-'03.
Craig was second, some 30s back, with Will Hunt's Ford Fiesta Mk6 completing the podium.
Prebble looked set for a repeat win in race two, only for his alternator cover to break and cause the electrics to short. Luckily, Prebble was able to coast into the pits and remove the offending item before rejoining two laps down. Finishing fourth in class, he at least salvaged some points.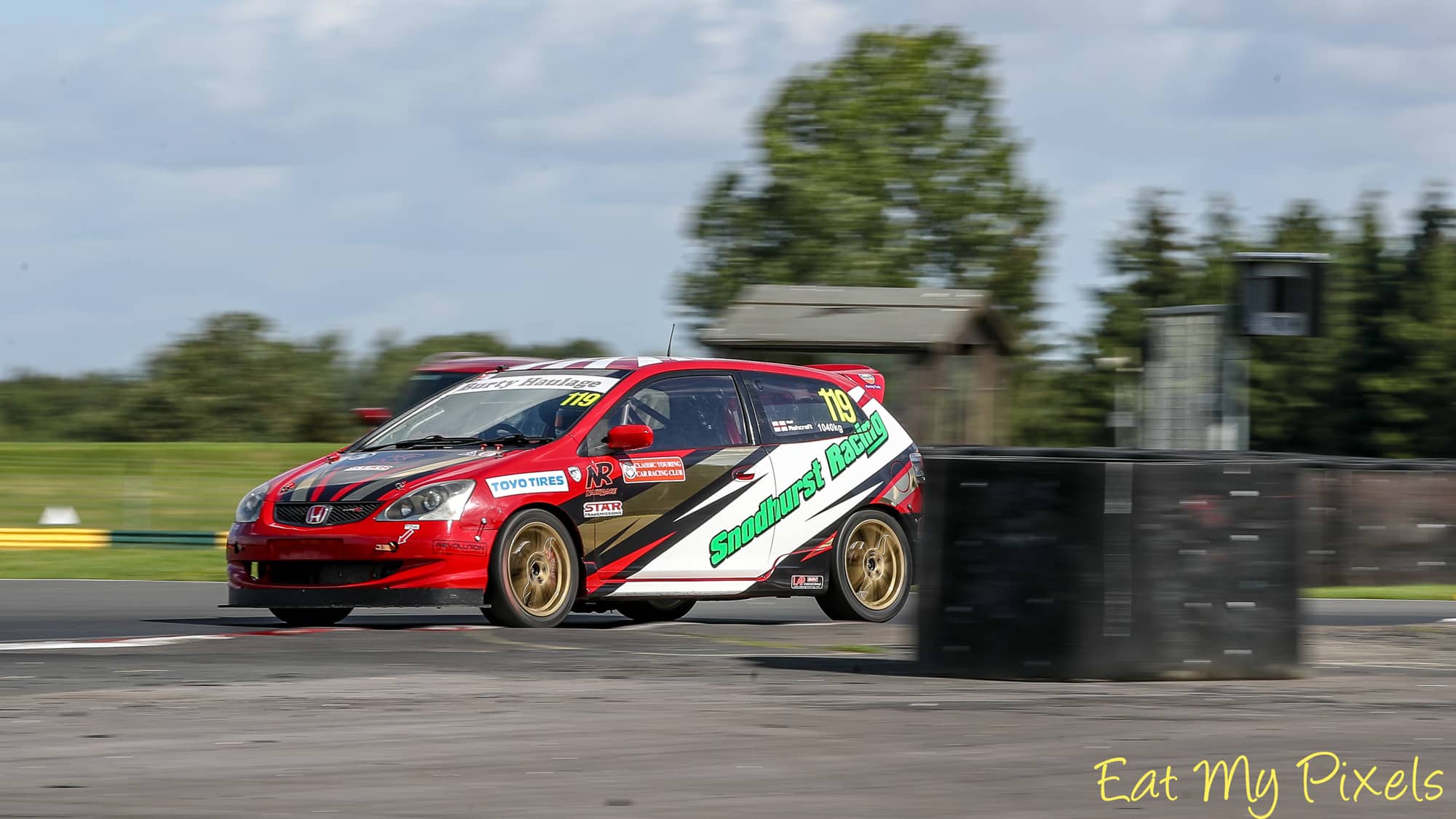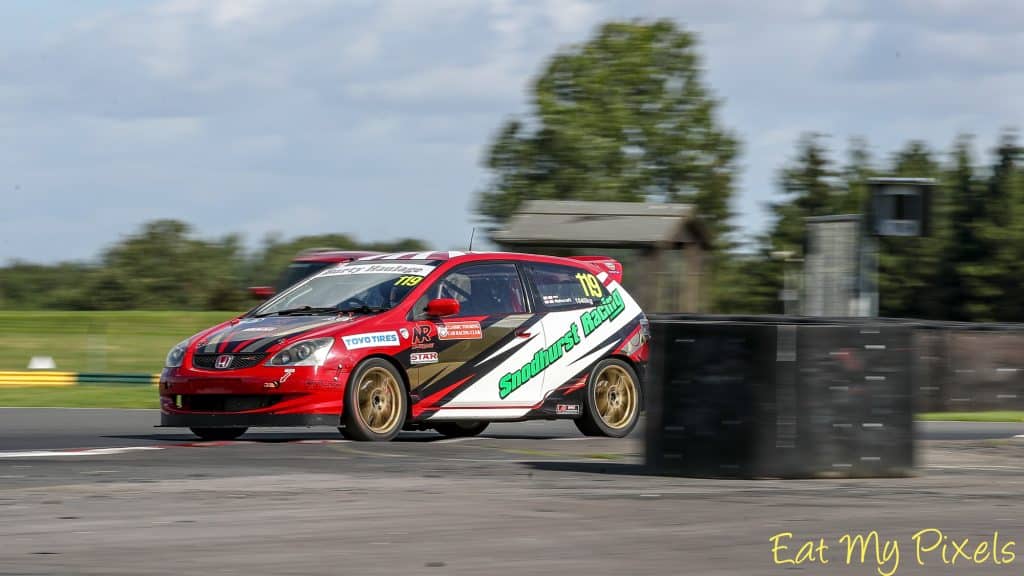 Craig inherited the lead and drove to a comfortable win, his fourth of the season, which allowed the Peterborough driver to extend his points lead over Prebble.
Hunt was second, with Neil Ashcroft's EP3 Civic third. With reigning champion Cavan Grainger absent, Leigh Spencer had a free ride to Class A honours with his BMW 328i Sport in both races.
Berkshire Jag Components Jaguar Challenge
The Big Cats in the Jaguar Challenge put on some incredibly close racing over the weekend, particularly among the frontrunners. Colin Philpott twice prevailed under intense pressure.
The tone was set in qualifying where the top three were separated by less than a tenth of a second. On a greasy track with some dry patches, Jack Robinson fired in a hot lap at the death that secured a first pole position for his Swallows Racing XK.
Robinson's flier denied Philpott's Class B XJS pole by 0.06s, while Guy Connew's Class A version was a further 0.3s adrift. The supercharged cars of Andrew Harper (S-Type R) and the returning Chris Boon (XKR) were next. Boon in particular enjoyed the challenging conditions, alighting from his steed with a beam on his face.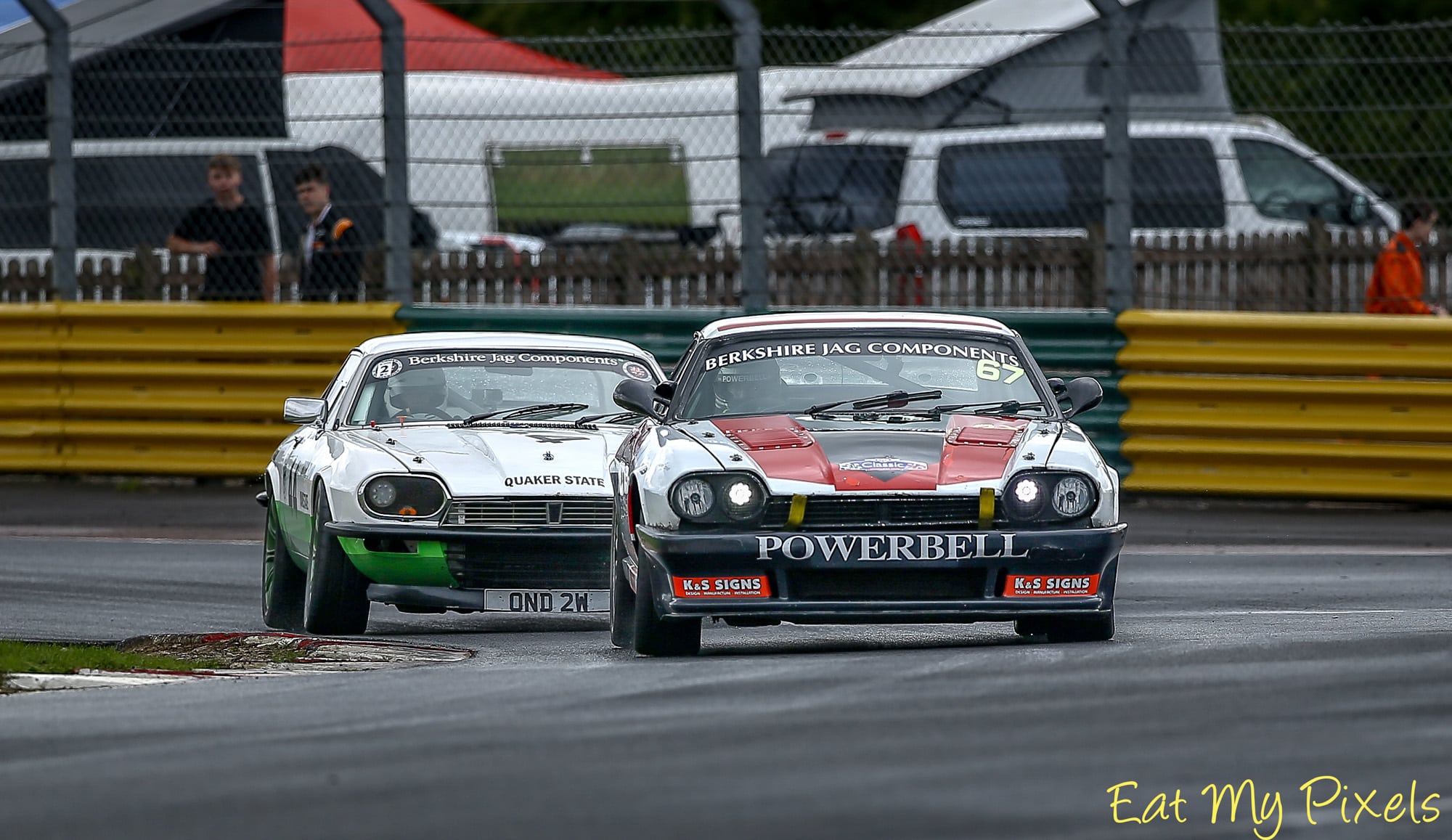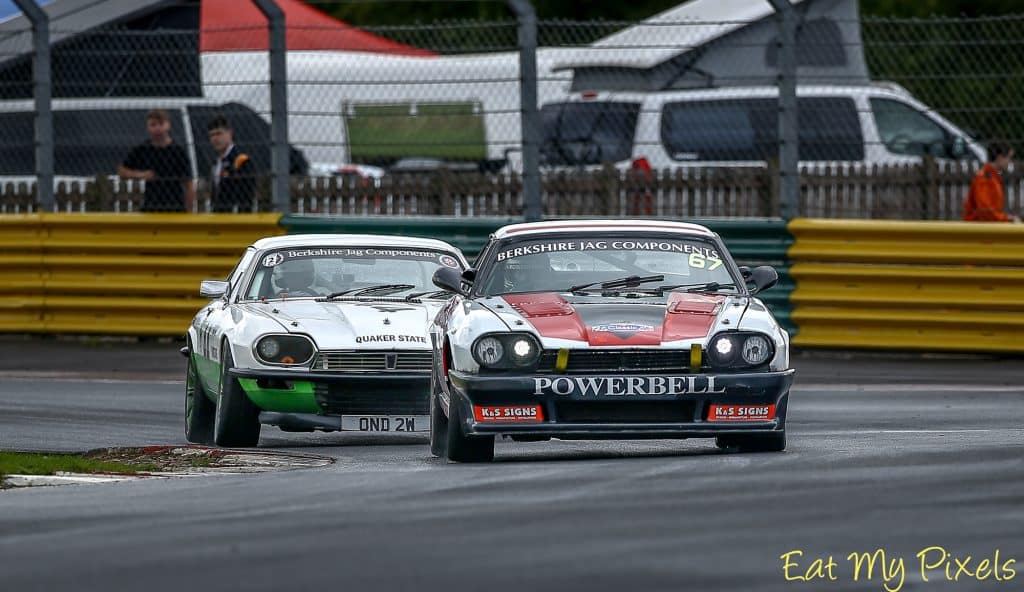 Unlike the other categories, both Jaguar Challenge races took place on Sunday. They opened the track action at midday, with Philpott leading away before Robinson got in front into Sunny In. Philpott however hit straight back, the pair running side-by-side through the Complex's left-hander, before the Powerbell XJS got ahead in the following right.
Connew then used the grunt of his V12-powered Group 44 tribute machine to further demote Robinson, only for the young gun to hit back into the hairpin.
The gaps between the lead trio then concertinaed, closing up as the laps wore down. Connew found his way back past Robinson, as gear-shift issues began hampering the XK.
But second place – or even a bid for victory – would not be Connew's as he spun at Tower on the final lap. "The tyres were going and so was I!" he admitted.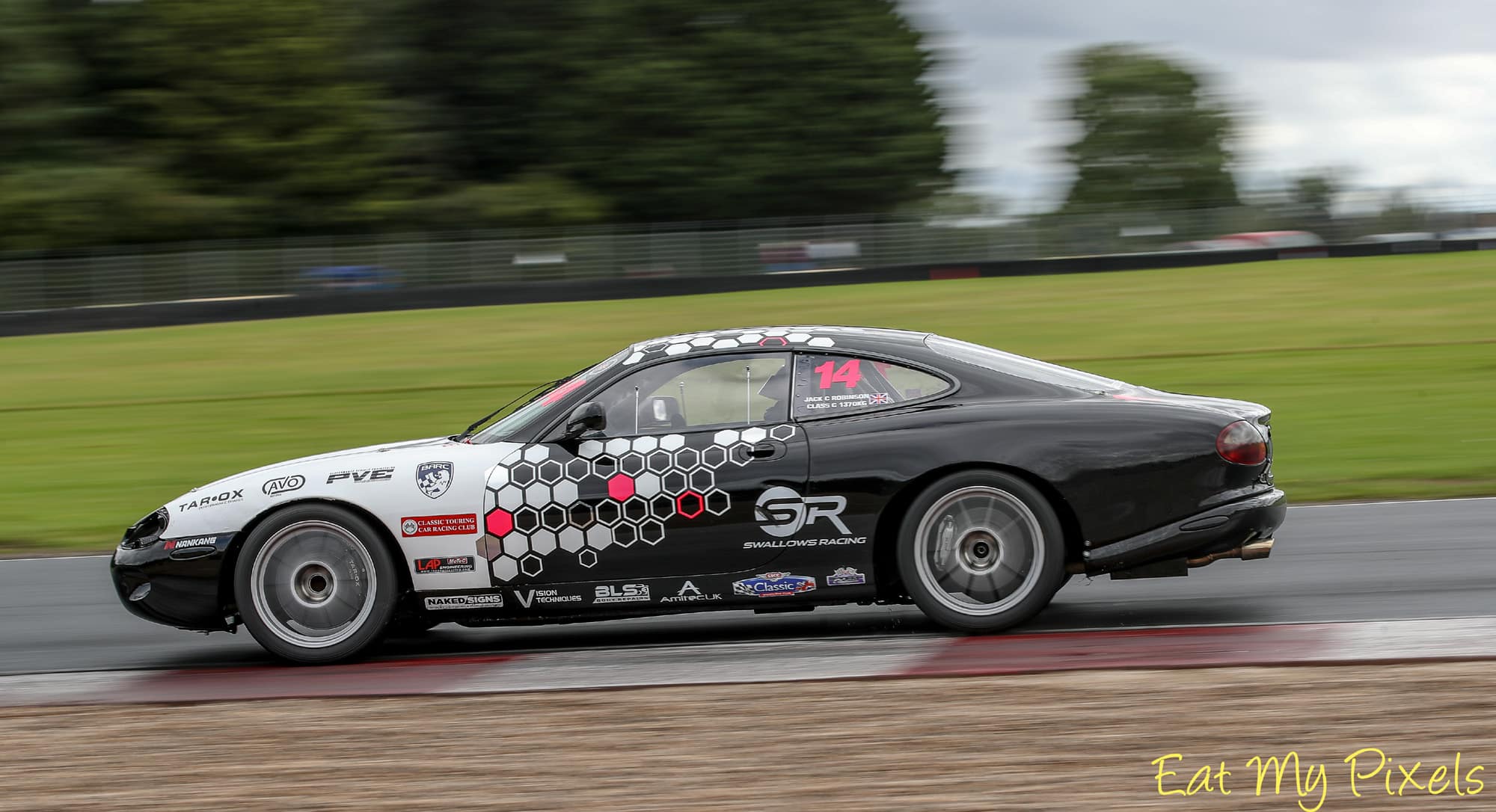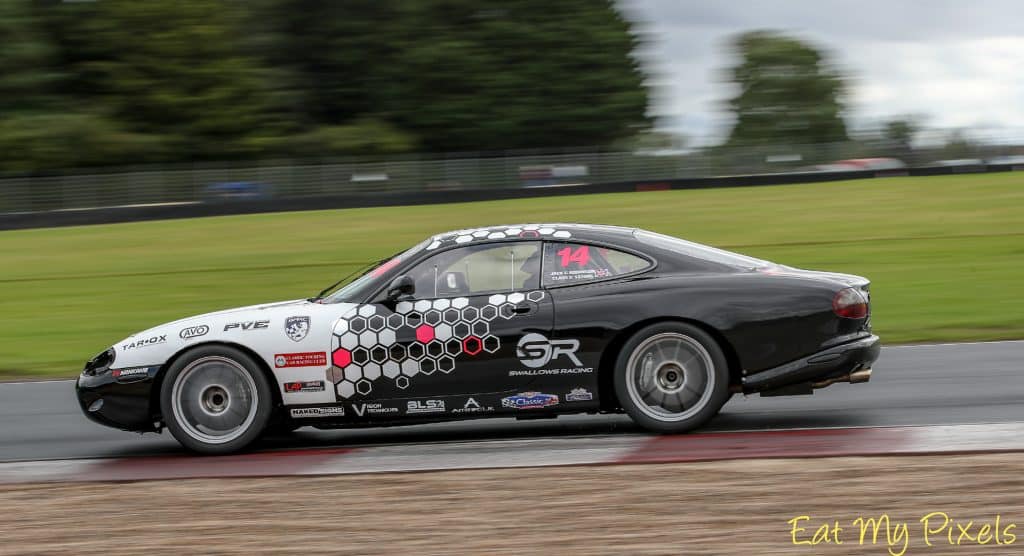 So Philpott took the win, with Robinson second, and Connew getting his beast back on the track to claim third. Harper was fourth, ahead of Boon.
The latter had been demoted by Mike Seabourne, again driving Harper's diesel-powered XJ TDV6, only for Seabourne's bad luck to strike again. The Auto Reserve crew had been forced into an engine change on Friday, and it appeared that the ECU wasn't getting on with the new motor.
Michael Atkinson also lost what would likely have turned out to be second in Class C when a wheel departed his X300 in the Complex on the second lap, ending his weekend.
A good scrap between Simon Lewis's XJ6 and the XJ40 of Andrew Maynard was sadly effectively rendered only a virtual battle, as Lewis's car wasn't timed because it had no working transponder.
Changing to a different set of tyres brought a significant pace improvement for Harper in race two, allowing him to join the lead group that was once again headed by Philpott.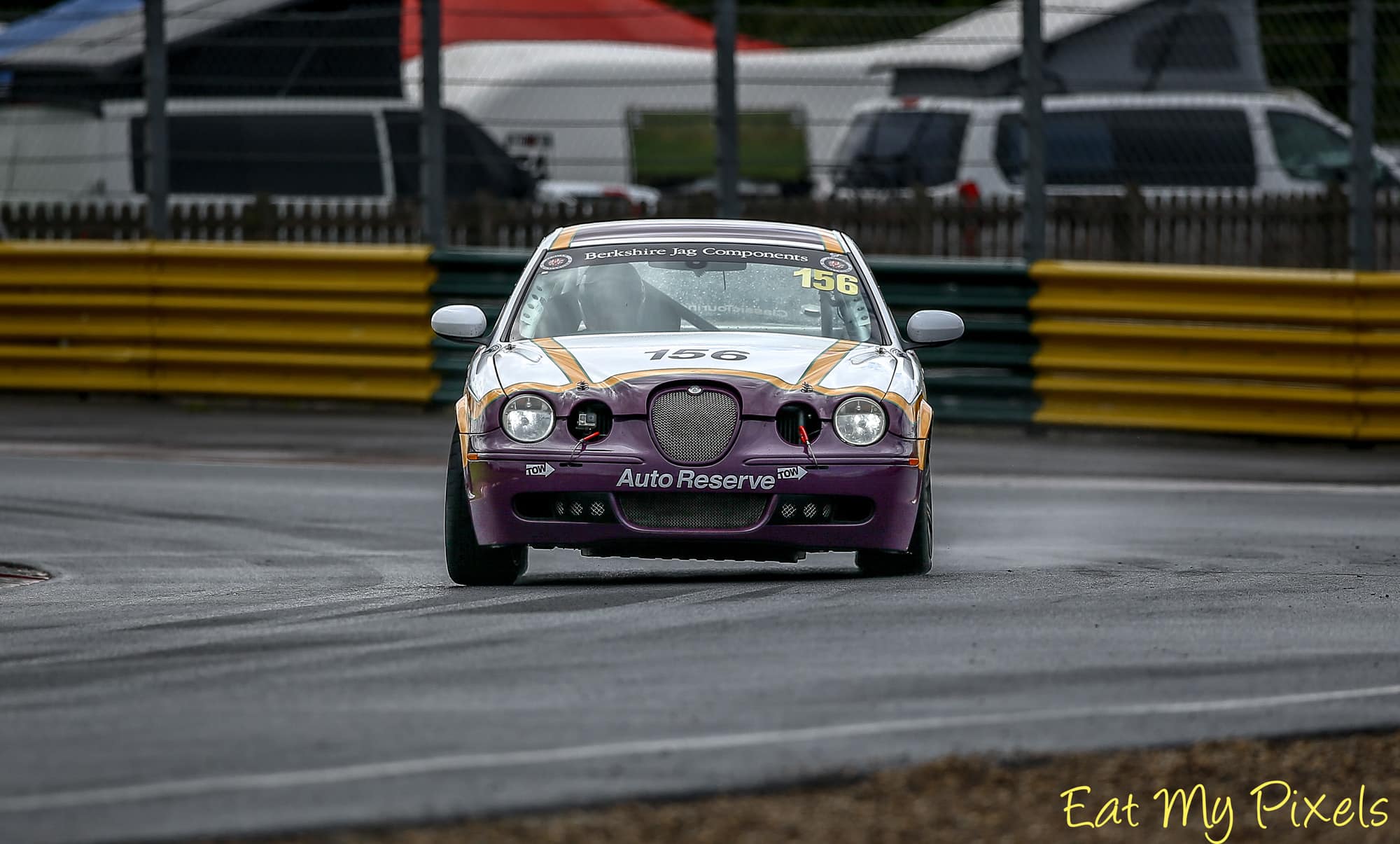 Connew passed Robinson for second early on, and then Harper demoted the XK to fourth through the opening sequence of the second lap. Thereafter the lead quartet remained close for most of the race, but there were no further positional changes among them.
Philpott secured his sixth overall win of the season, although he remains well adrift in the championship standings owing to a lack of Class B entries this year. Connew and Harper, who dropped back to the tune of 4s, completed the podium, with Robinson fourth.
"Kept me on my toes!" admitted Philpott, while Harper and Robinson had clearly enjoyed the hard-fought but very fair battle for third.
Behind them, Boon was fifth. He had a solitary race after Seabourne's diesel engine gave up. Maynard was sixth, shaking off Ieuan Spooner after the latter accidentally hit the kill switch on his XJS. After losing around 15s, Spooner recovered to reclaim seventh from Charles Jackson's XJ on the final lap.
Connew, Philpott and Robinson took class honours in Classes A, B and C in each race, and Jackson did likewise in Class D.
Edmundson Electrical Classic Thunder
With a number of regulars skipping this event, there was a chance for some different drivers to challenge for overall victories, including local BMW M3 E36 pairing Kirk Armitage and Mike Cutt.
In the end, a pair of dramatic races featured Neil Philpotts's Mitsubishi Starion leading the most laps, but it was Pre-'93 driver Ian Bower and Nick Vaughan (Audi A3 Turbo) who took the wins.
It was Armitage who put his Bimmer on pole, with Vaughan alongside. Andy Robinson (Ford Falcon AU) and Cutt made up row two, with Cutt continuing to use the standard treaded rubber he runs in his regular series.
A shower on the green flag lap made things tricky for the very powerful machinery, and three-time champion Robinson was among those to suffer an early spin. He would later pull off after a suspension bolt sheared and sliced clean through the Falcon's wheel.
With his rubber perhaps giving him an early advantage, Cutt took the lead, chased by Armitage and Vaughan. The real drama started at the end of the second lap. As Cutt and Armitage powered down the start-finish straight almost side-by-side, Vaughan sensed an opening on the outside line on the run to Clervaux.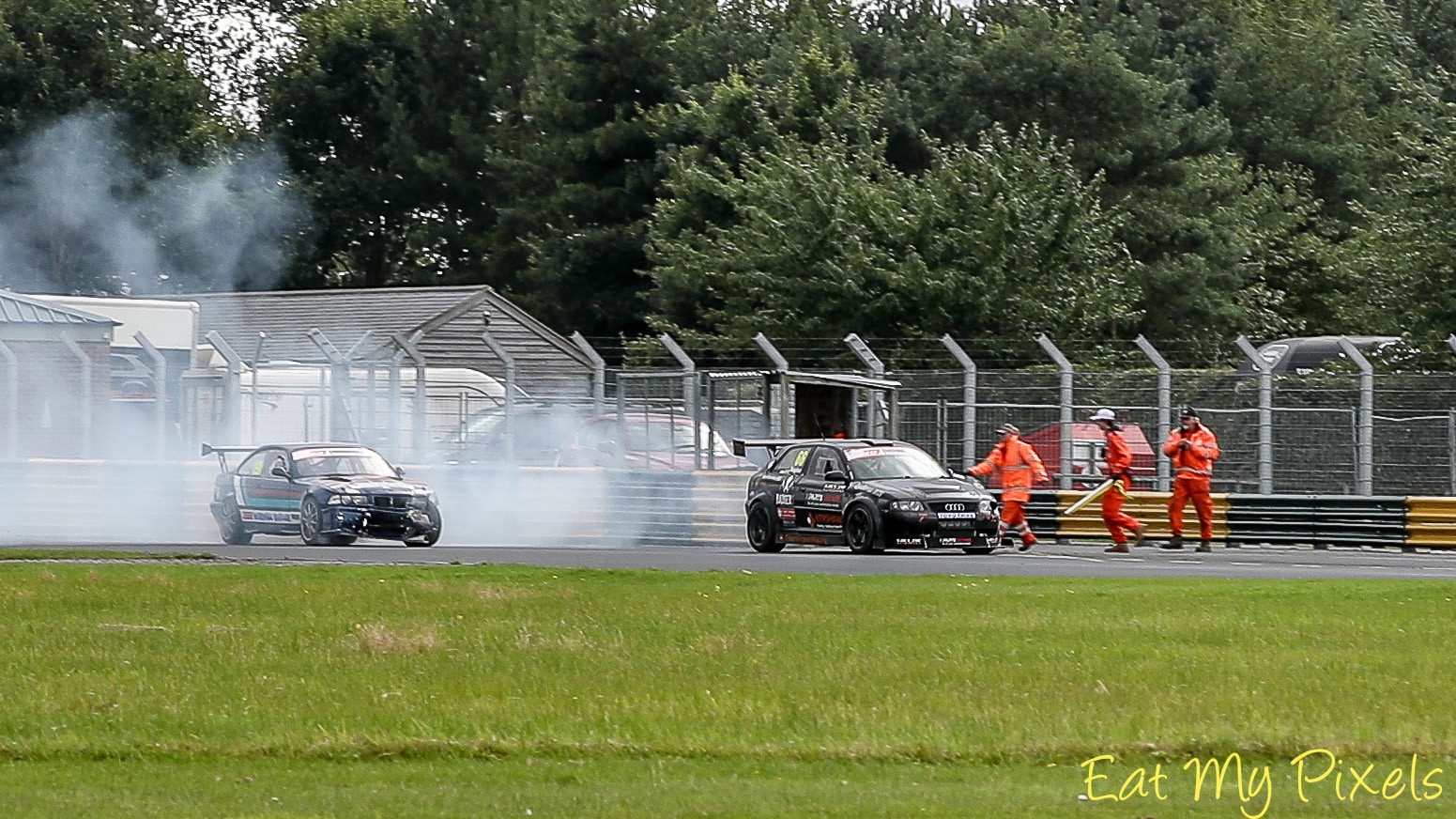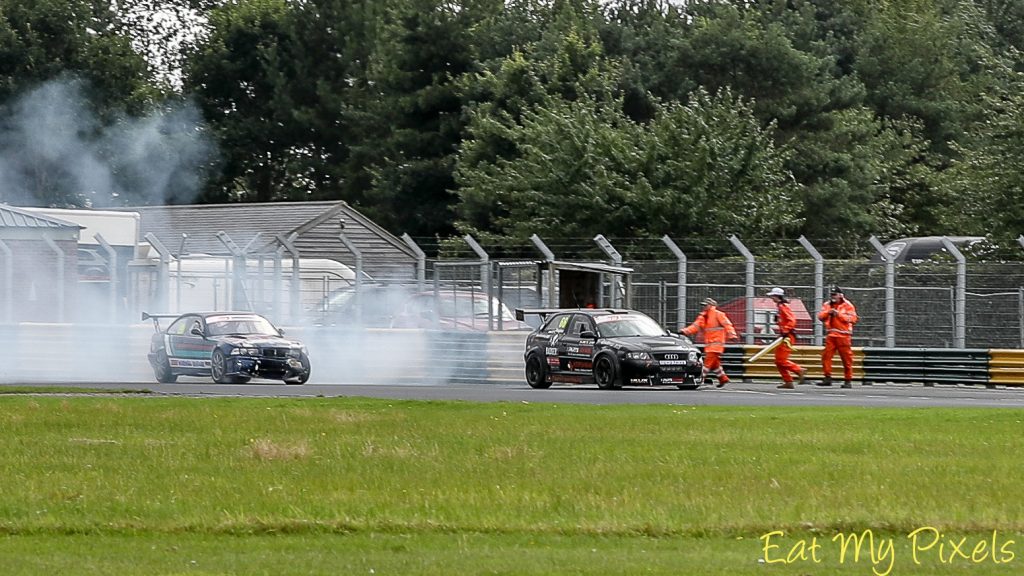 However, the gap was already closing, contact was made and Armitage was turned heavily into the pitwall. Armitage and Vaughan were out on the spot, with the heavy front-end damage sadly ending Armitage's weekend and possibly his season.
Cutt avoided the trouble but lasted barely half a lap longer as he had a front suspension arm fail at Tower. Suddenly, Bower was promoted to the lead ahead of Philpotts, who had picked up some splitter damage with an off at the Complex.
Philpotts used the power of his Lancer Evolution engine to blast past Bower and into the lead, but he couldn't shake off the CibiEmme Castrol-liveried machine.
On the final lap, with the finish line virtually in sight, the Starion suddenly slowed. Caught out, Bower rammed into the back of the stricken machine but was then able to round it and take an unlikely victory.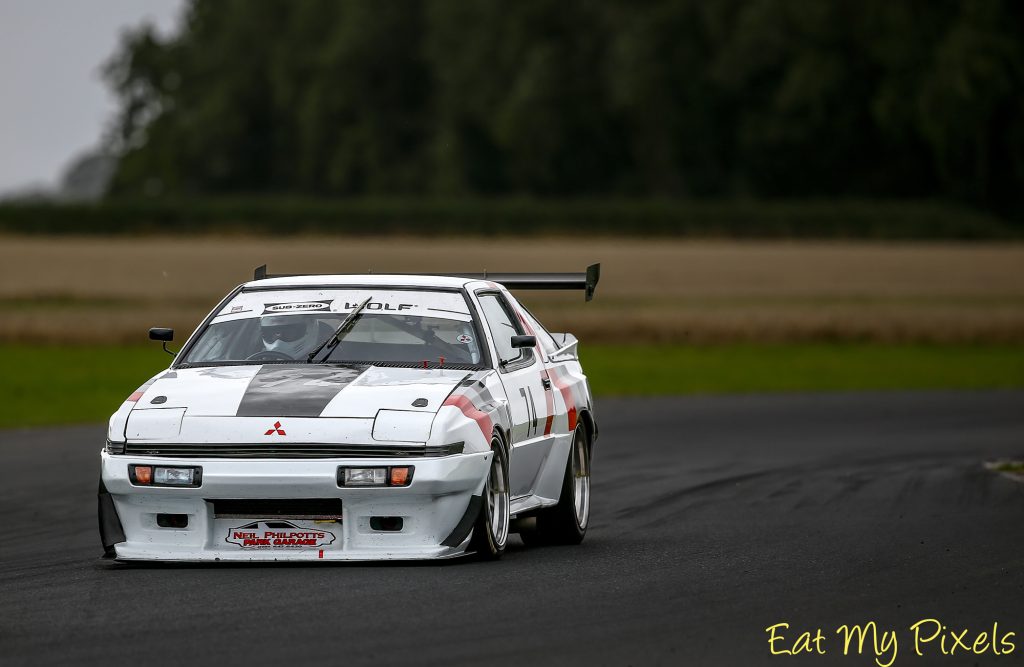 "I think I had quite a bit of luck in that race," Bower admitted. "I think that's the first and last win I'll ever get in Thunder but I'll take it!"
Philpotts's throttle body – newly replaced in an ironic attempt to improve reliability – had failed, and the Wirral driver was unable to drag the Starion across the line. Ian Craig's BMW M3 CSL was the grateful recipient of second.
It might have been a race of attrition, but it was a hard-earned result for the Aligned Concept Engineering team, after the car "was in bits" just 48 hours earlier.
All the casualties except Armitage were able to repair their cars for Sunday's races, setting up an exciting prospect as they fought their way through from the rear of the grid. A pre-race shower again added further spice.
It was Philpotts who made the best early progress, powering through to pass Bower for the lead on just the second lap of 10. Just behind, Cutt got inside Robinson for third at Sunny. A lap later, Vaughan further demoted the Aussie V8 machine as he went around the outside at the Complex.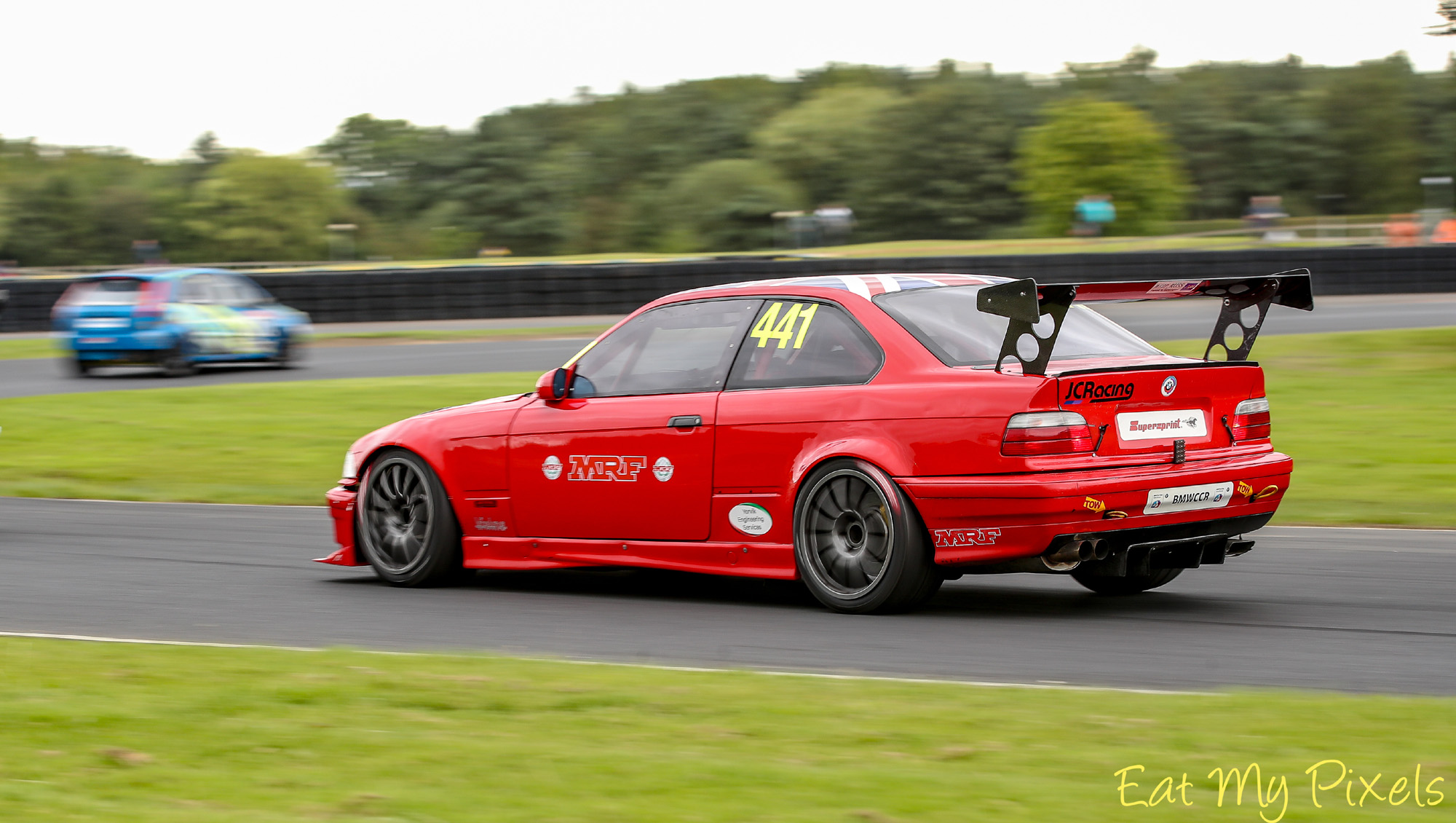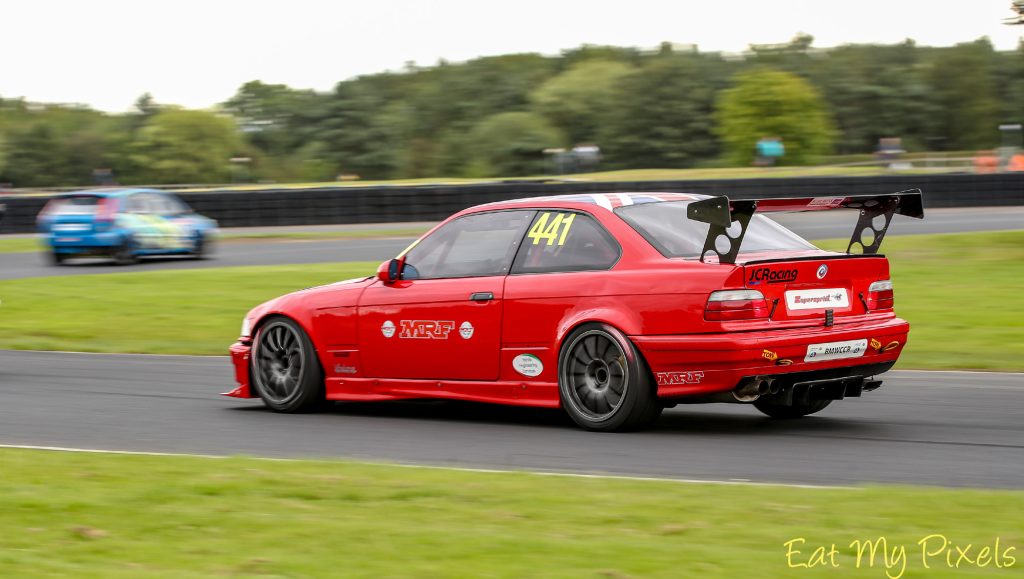 Philpotts's Mitsubishi and Bower's BMW clearly had different strengths, allowing Philpotts to pull clear in the first half of the lap, before Bower closed back in. But as Philpotts eked out a gap, Cutt put the pressure on Bower and took second mid-race.
Vaughan also got ahead of the first-race winner a couple of laps later. With the Audi's tyres and brakes fully up to temperature, it then caught and passed Cutt for second and began reeling in the leader.
Vaughan passed Philpotts at Barcroft, the fast right-hander after the Jim Clark Esses, on the penultimate lap and was immediately followed by Cutt.
The Yorkshireman spent the final lap harrying his Hampshire rival, but Vaughan held on to secure his second win. "I bided my time a bit after yesterday's unfortunate incident, and finally got the win," said Vaughan, for whom it was a maiden victory, having been stripped of his Brands Hatch success in the week after the event, for a yellow-flag infringement.
Disappointed with second, Cutt had still enjoyed the racing and vowed to return to the series before the end of the season. Philpotts meanwhile was hit by late heartbreak again. This time it was the throttle spring that failed, although he was able to limp home sixth, behind Robinson, Bower and Craig.
Burton Power Blue Oval Saloons Series
BOSS was the hardest hit by clashes, holidays and other absences, leaving just a four-car field of Fords. It was further depleted when Piers Grange's Mk2 Escort sprung a hole in its differential in qualifying, ending its weekend.
So the Fiestas of James Dunkley (Zetec-powered XR2), Sam Daffin (Ecoboost-motivated Mk3) and Will Hunt (Mk6) were left to scrap among themselves alongside the Classic Thunder machinery.
Scrap they did, with two cracking races in which all three cars had spells in every position. Ultimately, Hunt took both wins, his first BOSS victories.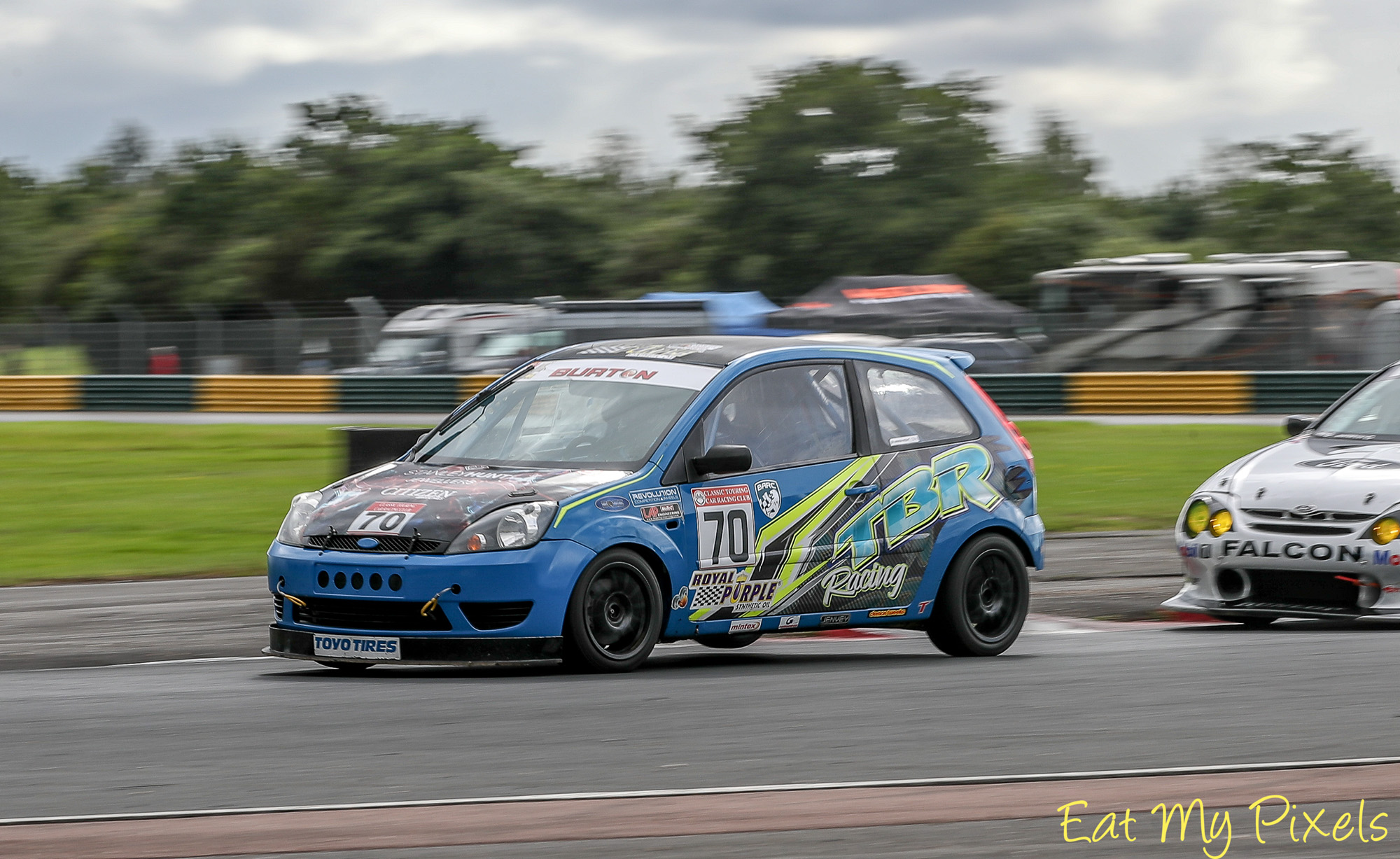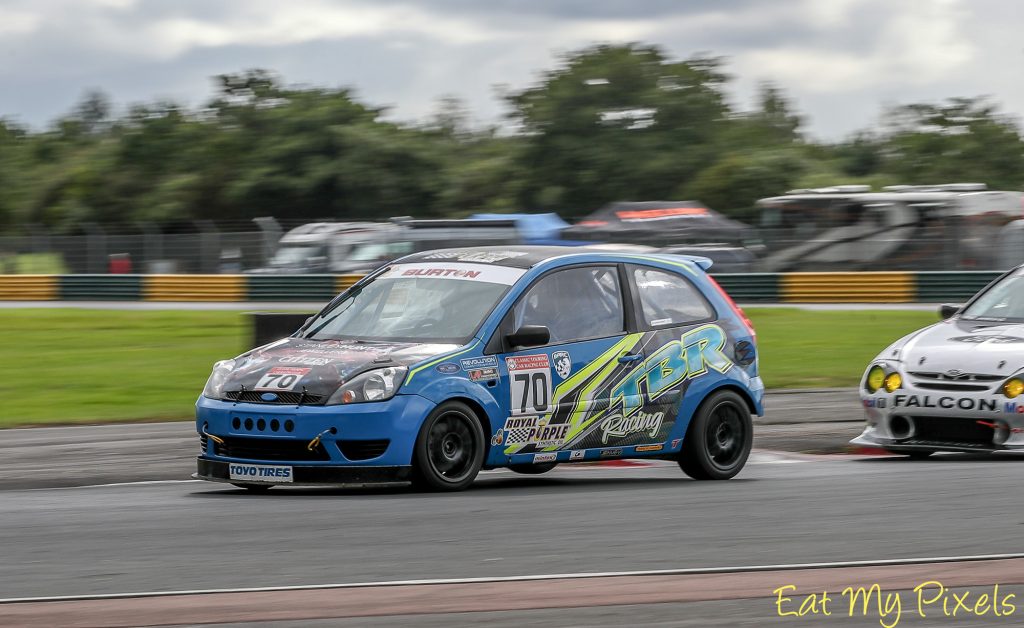 In the first race, Hunt withstood pressure from Dunkley to win by 1.2s. The second was even closer, Hunt snatching victory from Dunkley on the line by just 0.187s. "That was one of the best races of the year so far," enthused Hunt.
After a sterling effort to repair Friday testing crash damage, Daffin suffered from overheating in both races that forced him to back off in the closing stages. His third engine in three meetings, this one a two-litre version, was steaming away and Daffin did well to bring the car home in each race.
Orange Aero Pre-'83 Group 1 Touring Cars
While the Pre-'83 Group 1 Touring Car field was another that was thinner than usual, the championship pacesetters were all in action. Form driver Will Davison scored a double to move ahead in the title chase.
It was Jonathan Corker's Datsun 510 that qualified on pole position by more than half a second, and he led the opening laps under pressure from Davison's BMW E30.
Davison briefly moved ahead through the Complex on lap two of nine but Corker got a run down the start-finish straight to retake the lead into Clervaux.
However, a missed gear on the run to Tower on lap five cost Corker, and allowed Davison to snatch a lead he would hold to the flag.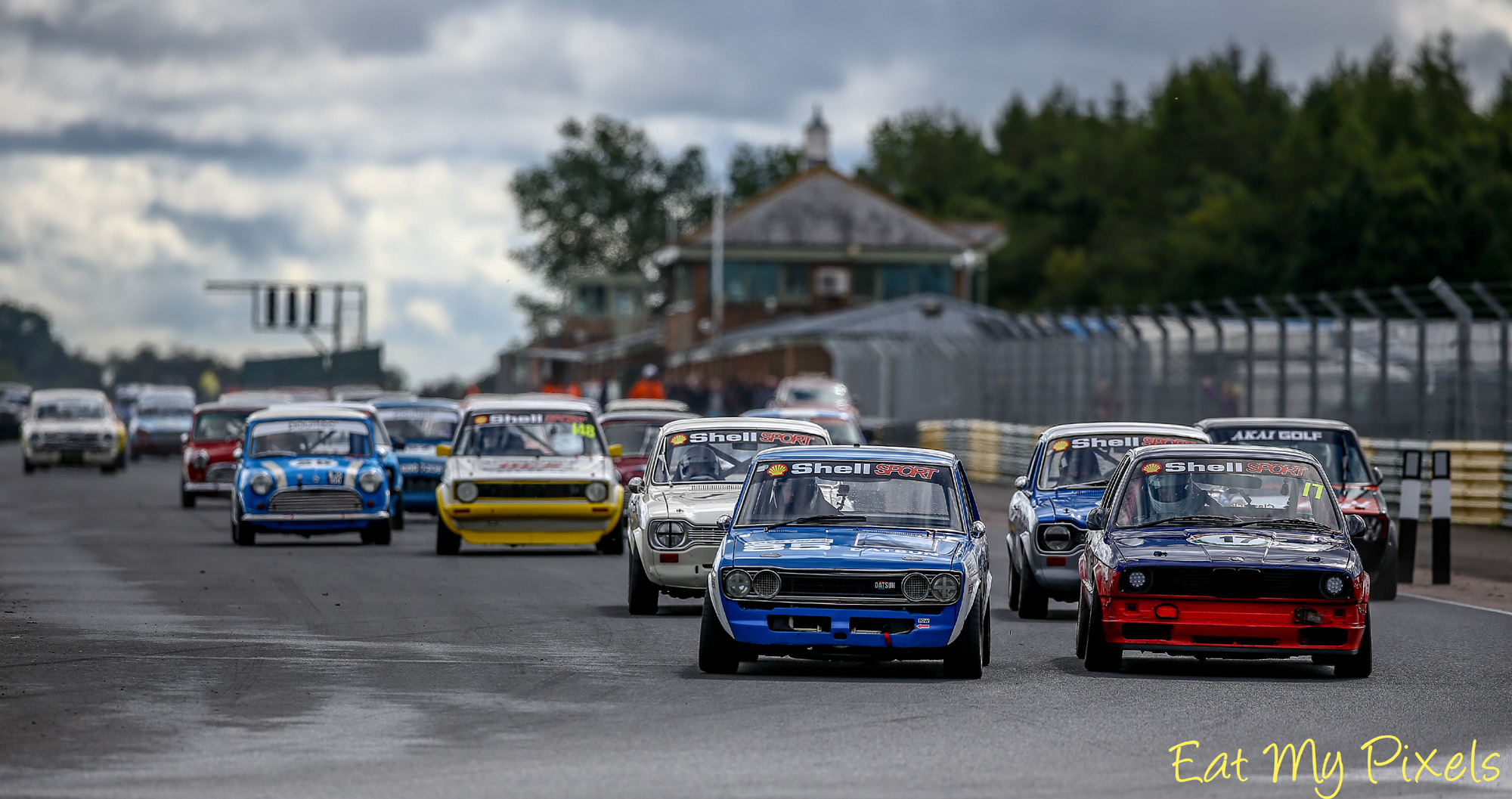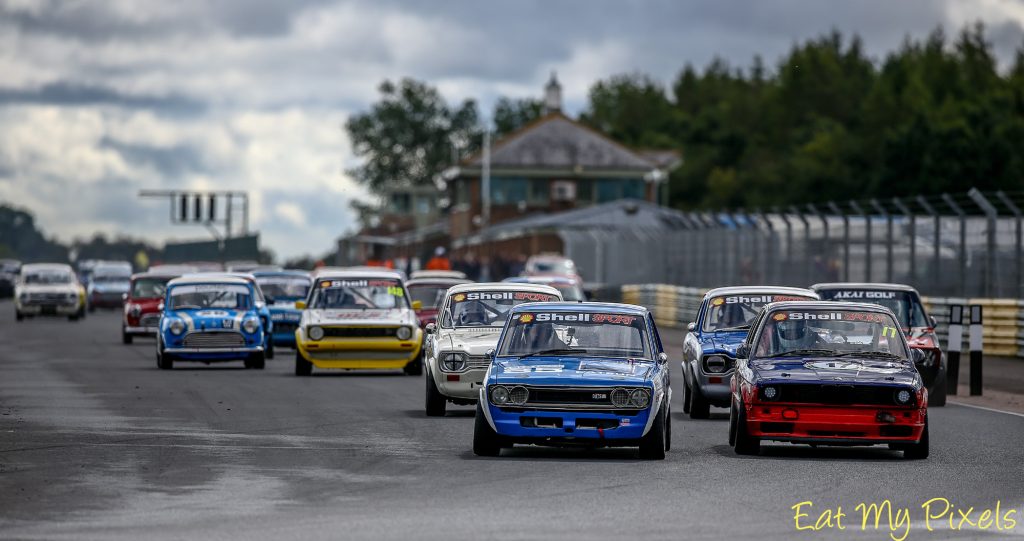 Behind the lead pair, Mark Cholerton's Ford Escort RS2000 was an early casualty when a rocker post broke, and a similar problem would force him out of race two as well.
Reigning champion Stephen Primett was also struggling aboard his Mk1 RS2000. From third on the grid, he slipped backwards throughout the race with a lack of power. Primett managed to limp home sixth in Pre-'83, a distributor problem later diagnosed as the culprit.
Jason Christie's similar Mk1 ran third for most of the race, with the Volkswagen Golf GTIs of Simon Jeffs and Don Hughes snapping at his heels. But a mistake at the hairpin cost Christie, as Jeffs was able to get a run and secure third. It was his first finish of the year after a catalogue of problems.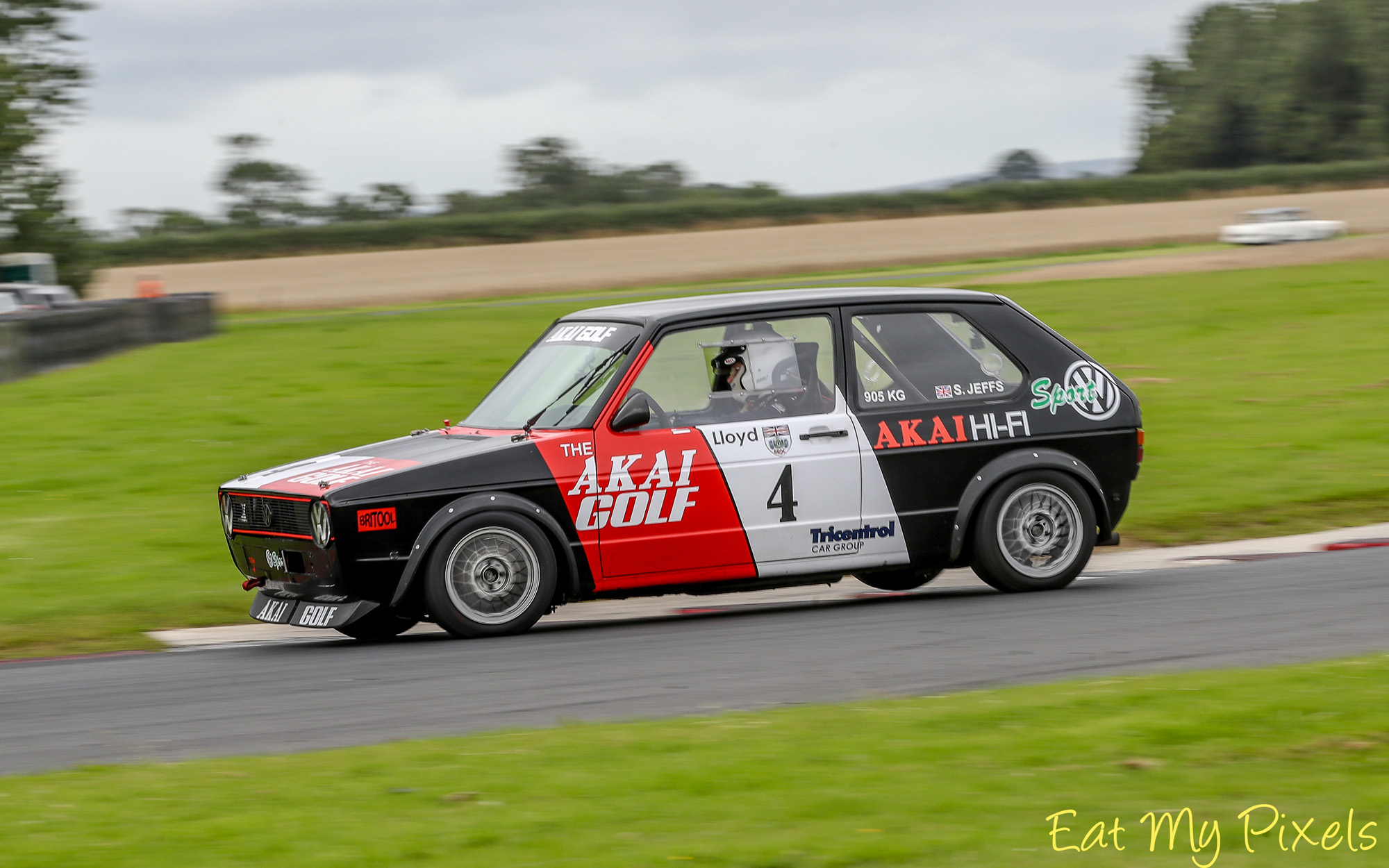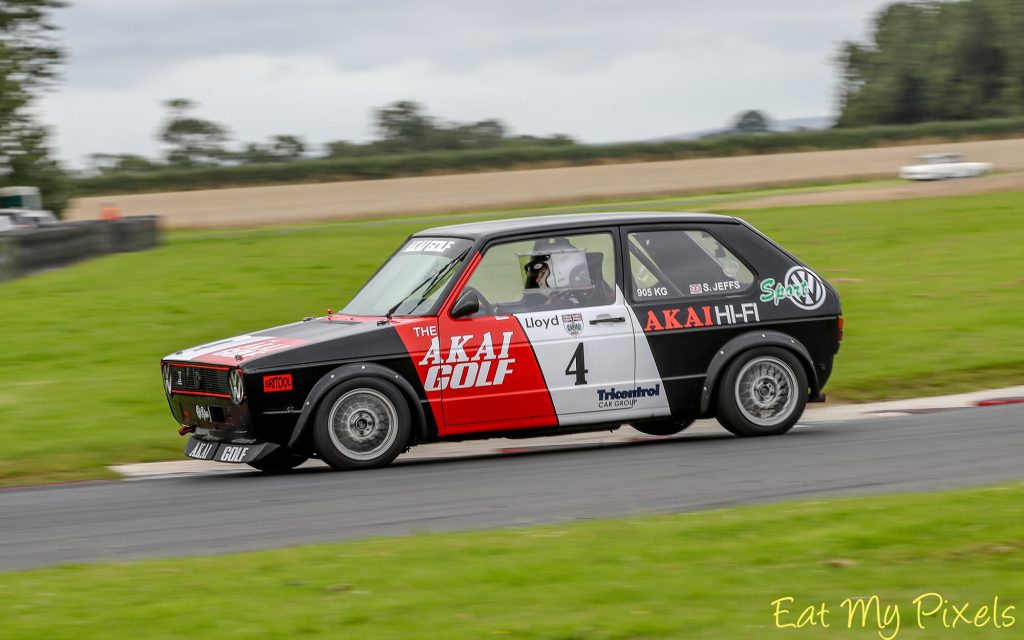 Christie was fourth ahead of Class D winner Hughes. Behind Primett in fifth, newcomer Ken Briddon completed the Pre-'83 finishers in a sister car to Davison's.
Frustratingly for him, Corker was again denied a second career victory in Sunday's sequel. Again he led the way until the second half of the race when the little Datsun slowed through the Jim Clark Esses and Barcroft.
A grateful Davison swept past for a fourth consecutive overall win, lifting him above Primett into the points lead with just two meetings remaining. An ignition switch problem had slowed Corker but after losing a few seconds he got back up to speed and was still able to secure second.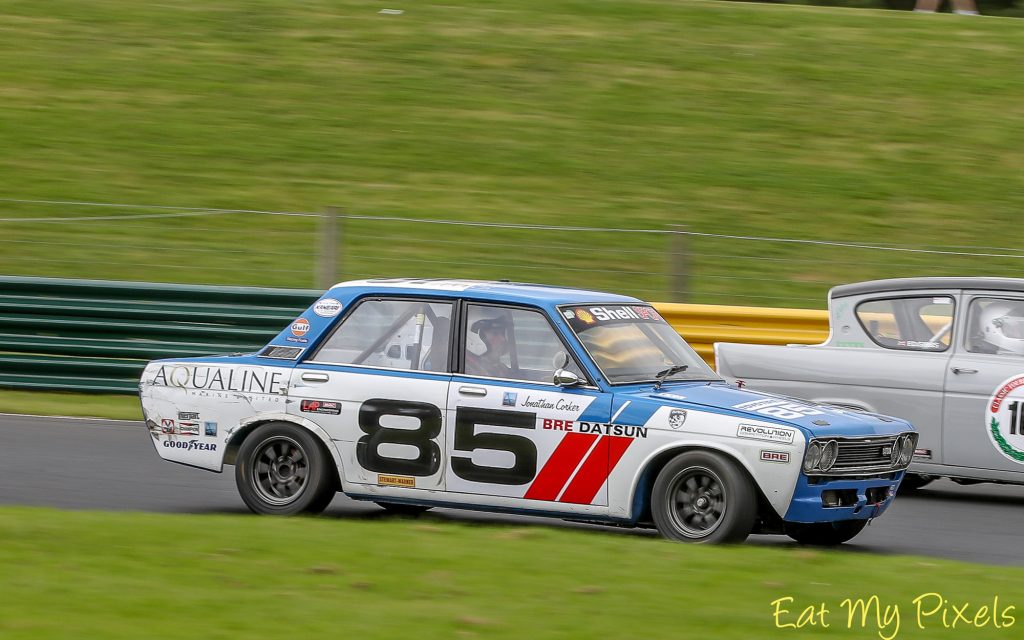 Jeffs claimed his second podium of the weekend ahead of Primett who worked his way forward with his successful Escort back on song. But Dagenham's finest just wasn't a match for the more sophisticated rear suspension on the BMW and Datsun through Croft's fast corners.
Christie lost ground and slipped to fifth in Pre-'83 with a rough sounding engine, a bent valve the suspected culprit. Briddon again completed the Pre-'83 runners after Hughes was forced out early on with a CV joint failure.
Sole Class B runner Stuart Caie suffered fuel-pressure regulator problems on his Ford Capri all weekend and was unable to finish either race.
Poultec Pre-'66 Touring Cars
The venerable machinery in Pre-'66 Touring Cars shared track time with their Pre-'83 counterparts. It proved to be a very successful weekend for reigning Class C champion – and Croft instructor – Barry Sime who won both races in his family's long-serving Morris Mini Cooper S.
Sime qualified fastest, ahead of Phil House's similar Mini, and was looking forward to a duel with his fellow Croft expert. But House's car succumbed to gearbox problems early in the first race.
That left Sime out front, while the only driver who could get close to his pace worked his way through from the back of the field. James Everard had had to qualify his Alfa Romeo Sprint GT out of session, but carved through to second, just 6s shy of Sime.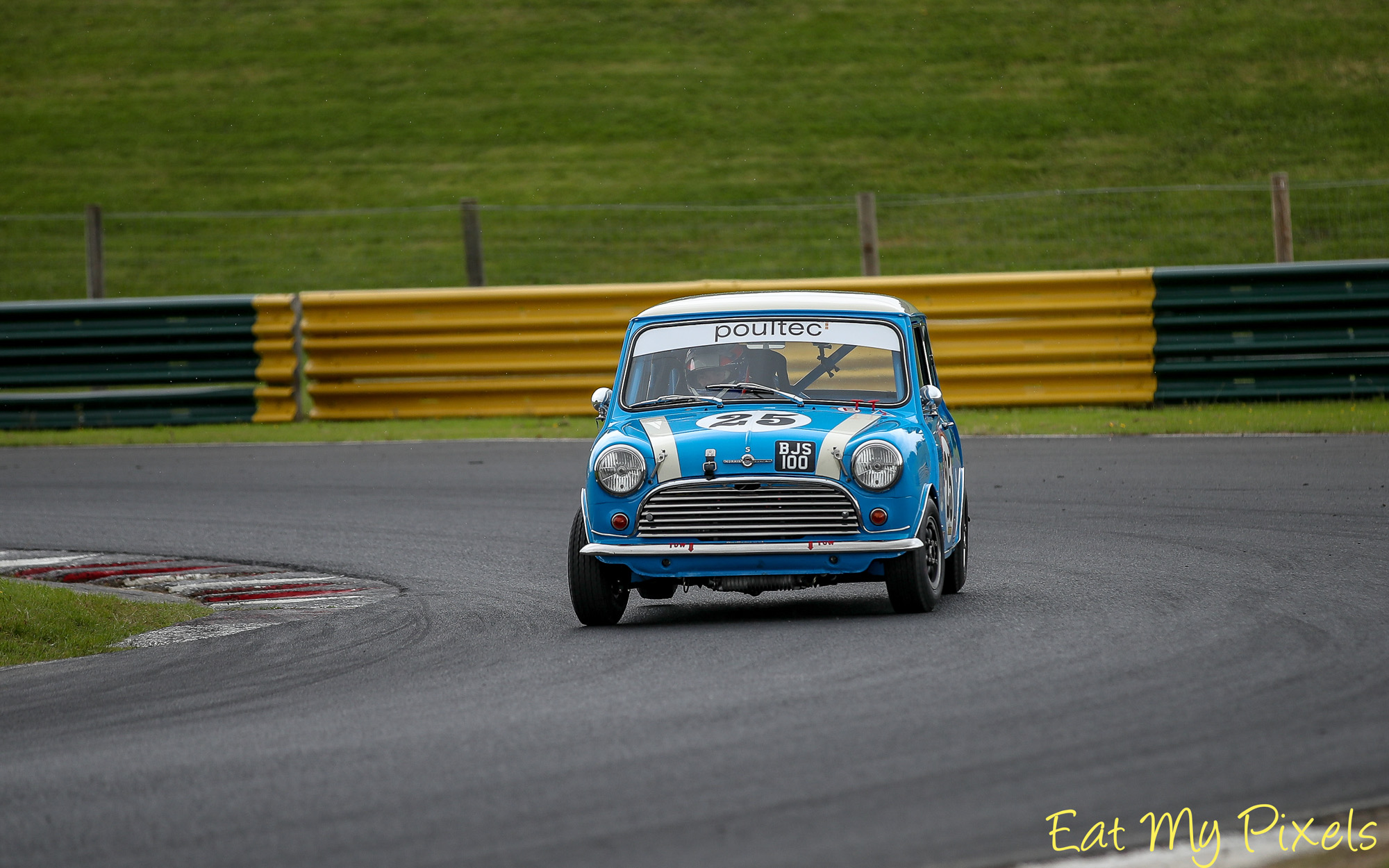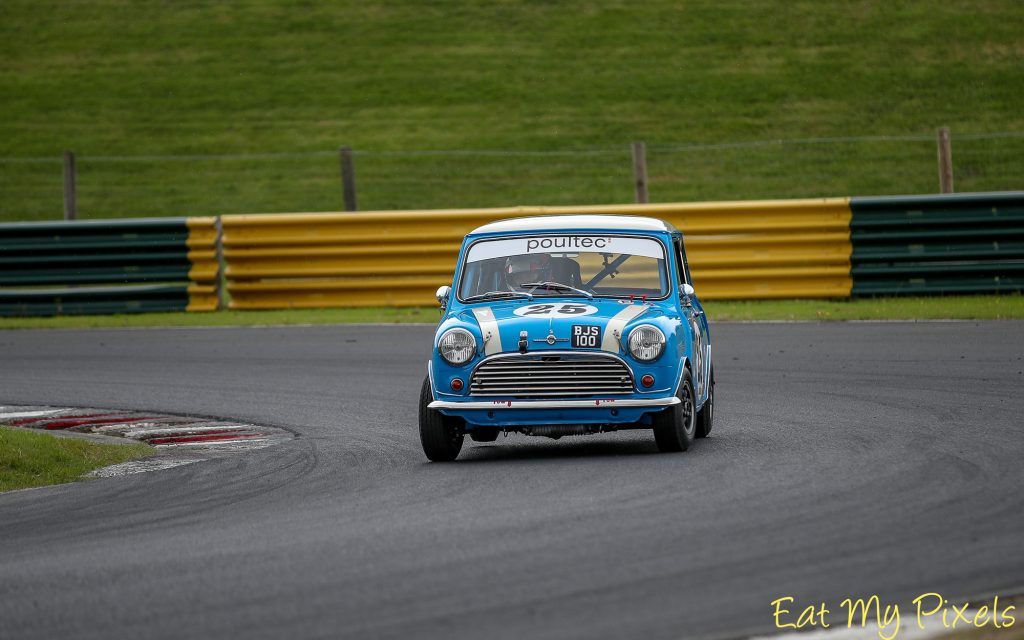 Starting the second race from second in Pre-'66, Hull-based Everard may have fancied his chances. But Sime kept the upper hand at the start and managed to keep the orange Alfa at bay.
The pair put on a thrilling spectacle, throwing their cars through the corners. Everard admitted to having to back out on occasion to avoid swiping the Mini with the Alfa's loose tail.
Championship leader Billy Kenneally – on his Croft debut, like many others over the weekend – took his Ford Anglia to third in both races, ahead of father Pat's Class F-winning Lotus Cortina.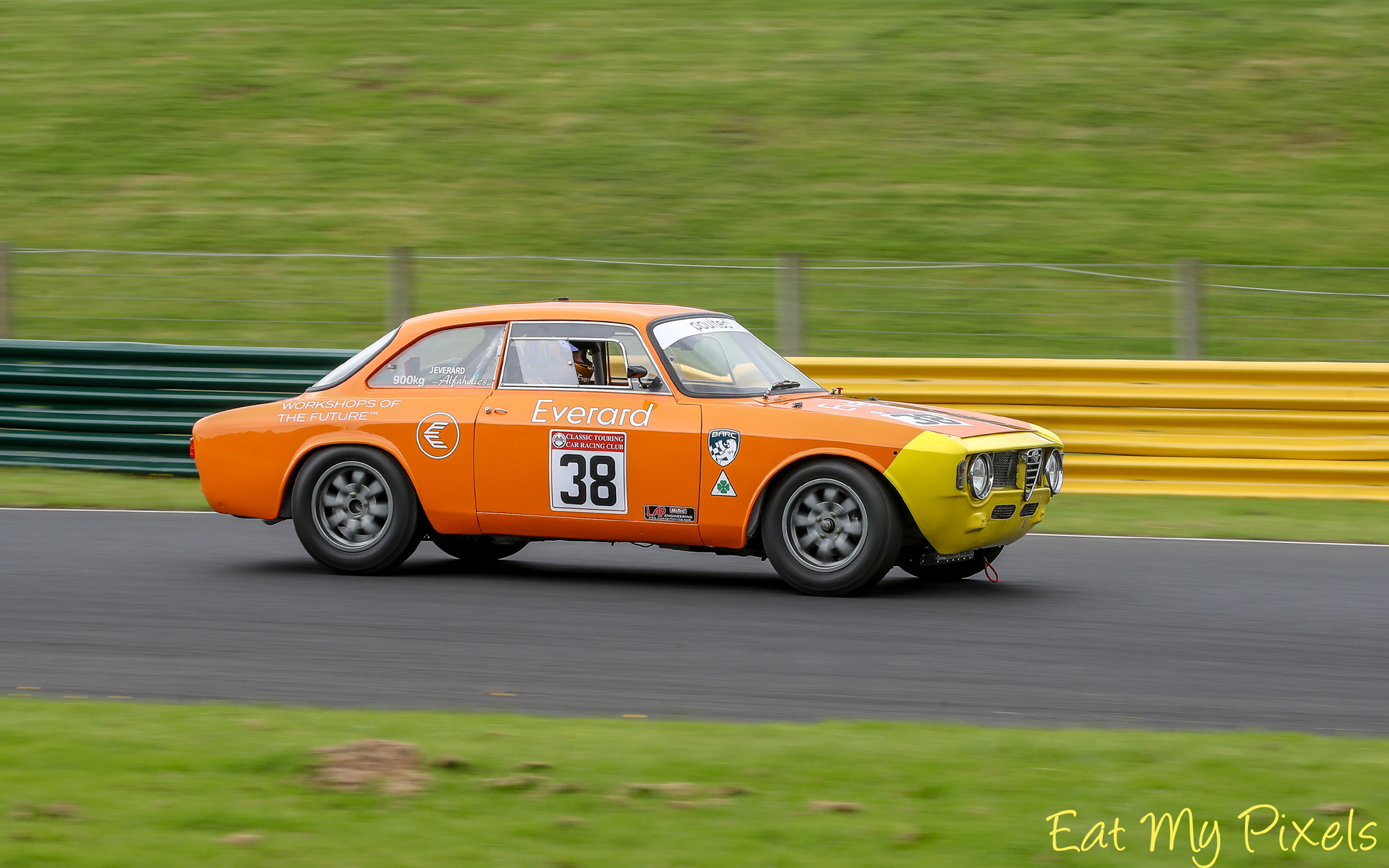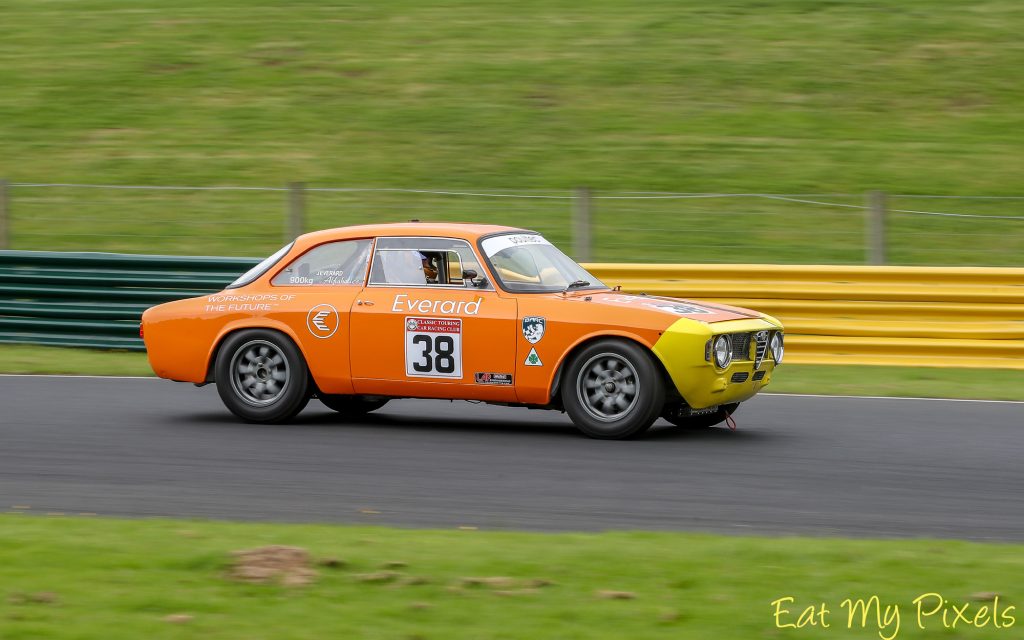 Piers Grange (Ford Mustang) twice took Class A honours, albeit some way down the order in Saturday's encounter after a missed gear caused him to spin onto the wet grass at Tower.
Among the smaller cars, Jim Henshaw (Morris Minor) twice beat Brian Bedford (Austin A40) to the laurels in Class D, as reigning champion Luc Wilson struggled with his A40's spare engine not running right.
Michael Loveland (Hillman Imp) was victorious in Class E on both days but, as the only runner, half points meant he gained no ground on Kenneally in the overall championship race.
Full results are available via the TSL website.
All images courtesy of CTCRC official photographer Steve Jackman/Eat My Pixels