The Classic Touring Car Racing Club wishes to express its gratitude to everyone who contributed to Super Touring Power being such an incredibly special event.
Here, for posterity, is a full rundown of the 18 Super Touring cars and two BTC-T cars that took part in the weekend's Super Tourers races. Note, a race report is already available on this website.
#5 Jason Hughes (Vauxhall Vectra)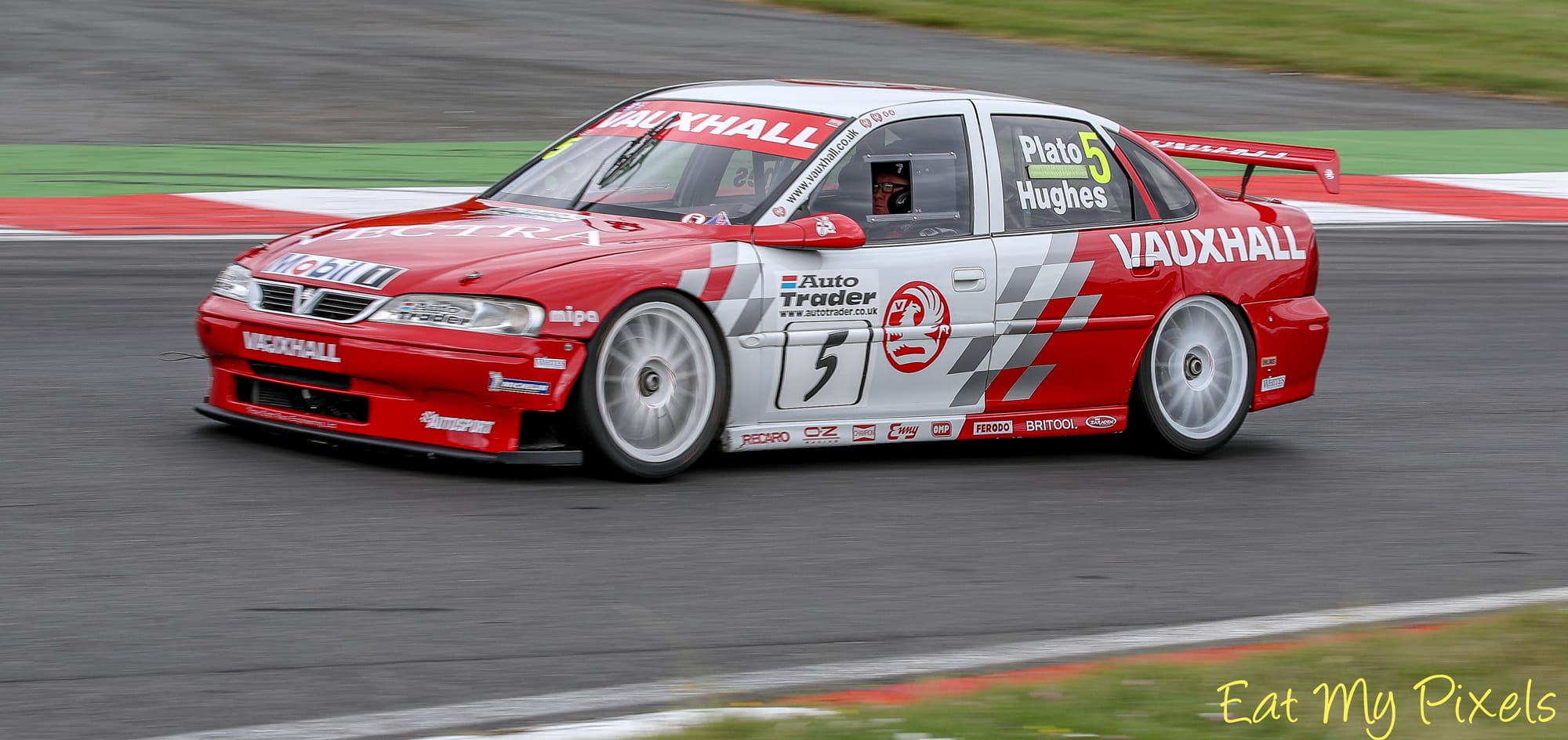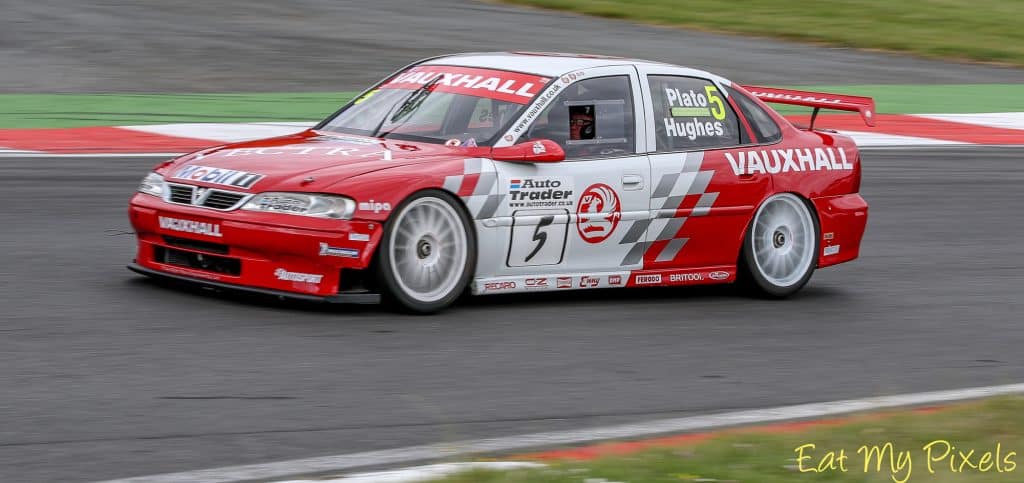 Jason Hughes's Vauxhall Vectra is from 2000, the last year that the BTCC ran to Super Touring regulations. It was built by Triple Eight Racing Engineering and used as the team's spare chassis that year.
Hughes is himself a former BTCC driver, and races the car regularly in the CTCRC Super Tourers championship. He was a prime-mover in setting the series up, having taken the car to the 2021 Classic Thunder title.
#6 AJ Owen (Ford Mondeo Si)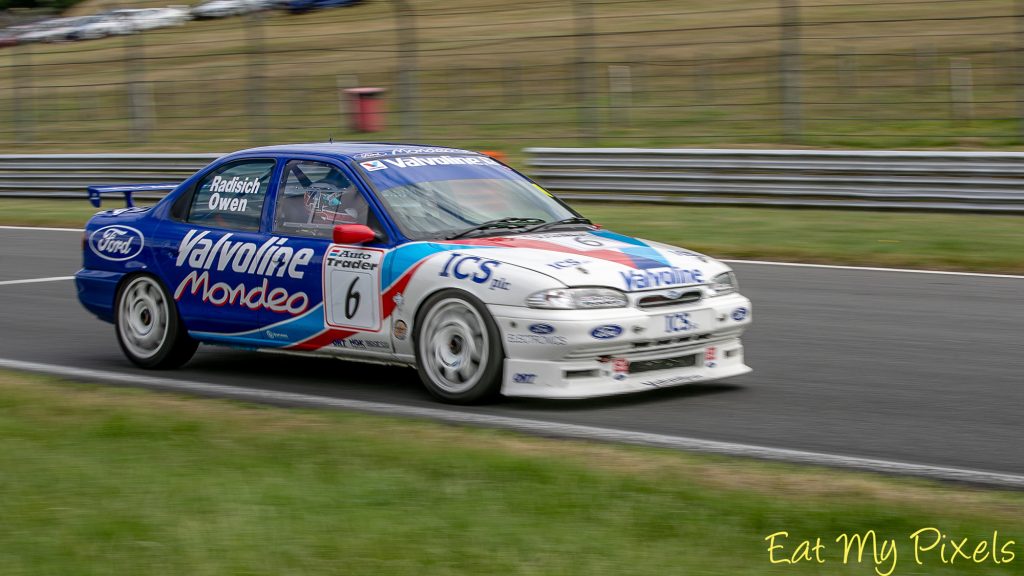 CTCRC stalwart AJ Owen competed in his family's 1993 Ford Mondeo, running in 1995/96 livery. It was last raced by his father Craig back in 2011, in Classic Thunder, and now runs a Duratec 4-cylinder in place of the original V6.
There is some debate over the chassis's race history, but it was built by Andy Rouse Engineering and is believed to have been one of the original rear-wheel-drive development cars, converted to front-wheel drive after the concept was abandoned. It was subsequently used as a show car by West Surrey Racing; hence the updated livery.
#8 Richard Wheeler (Nissan Primera GT)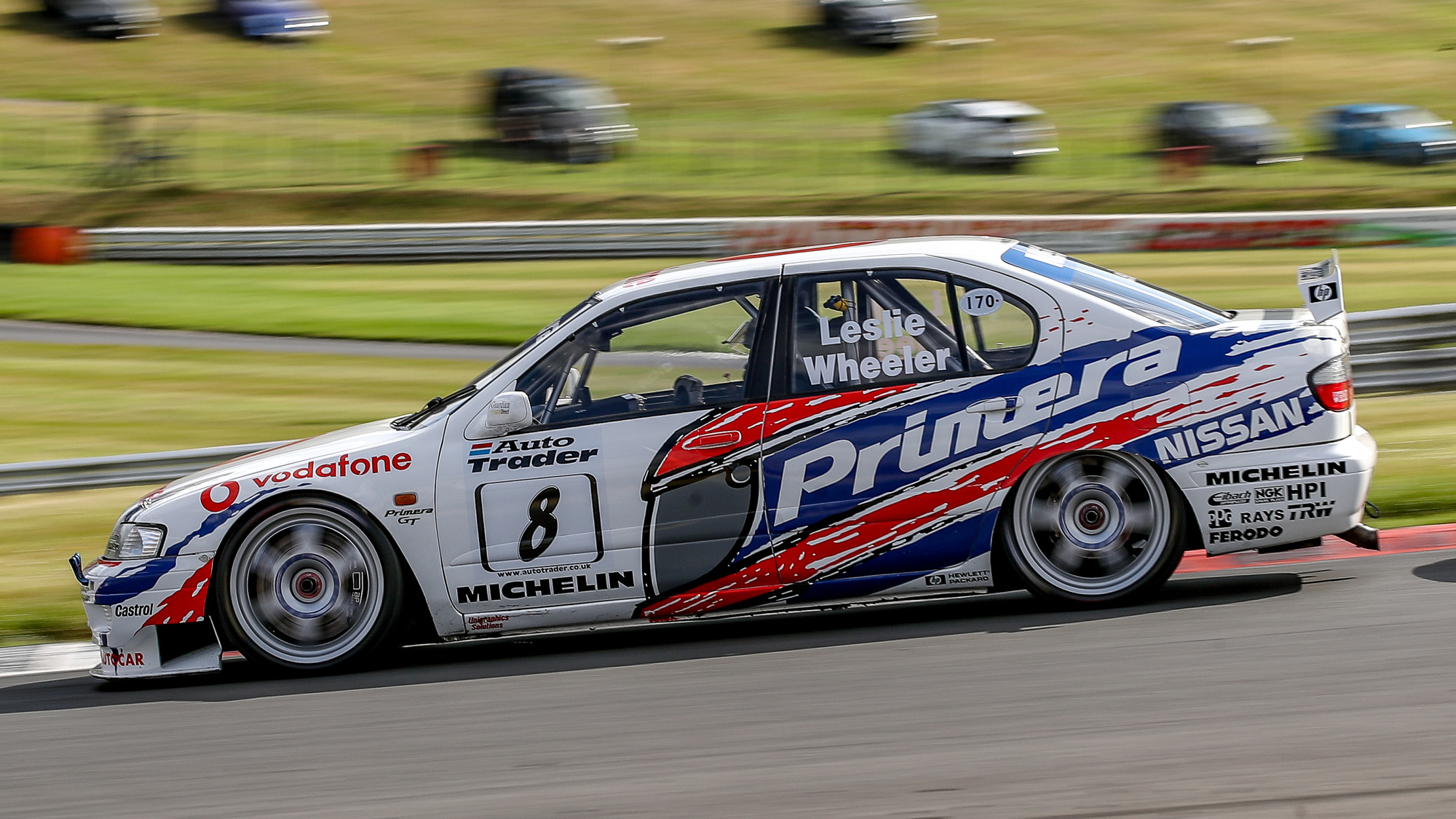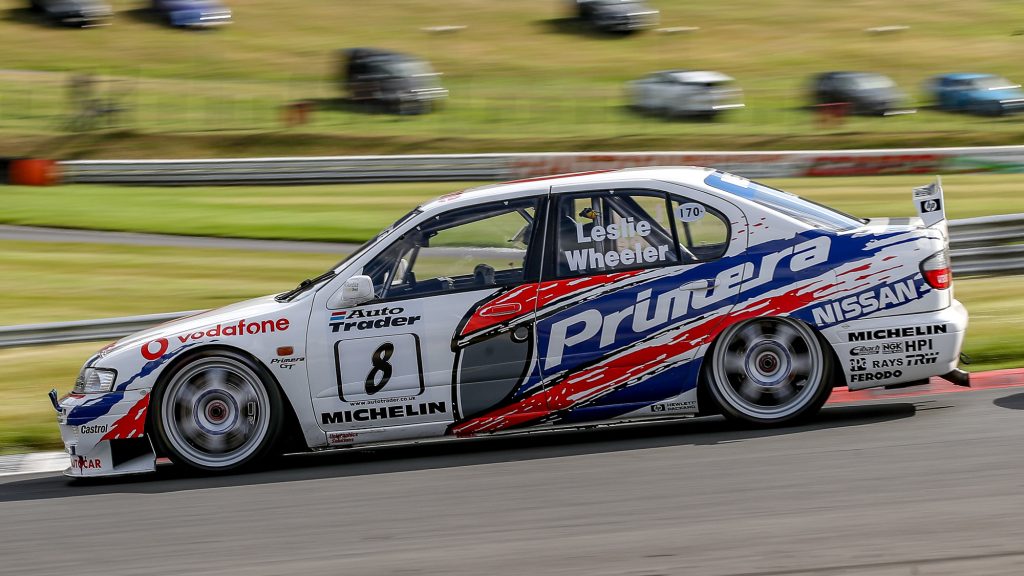 The 2021 Super Tourers champion Richard Wheeler supplied three ex-RML works Nissan Primeras, including this 1999 chassis that he races himself, fulfilling a teenage dream.
The car has an extensive history, having been used by David Leslie in Nissan's all-conquering 1999 season. It was then a winner in Swedish Touring Cars in Tommy Rustad's hands before being raced regularly at club level ever since.
#9 David Power (Ford Mondeo)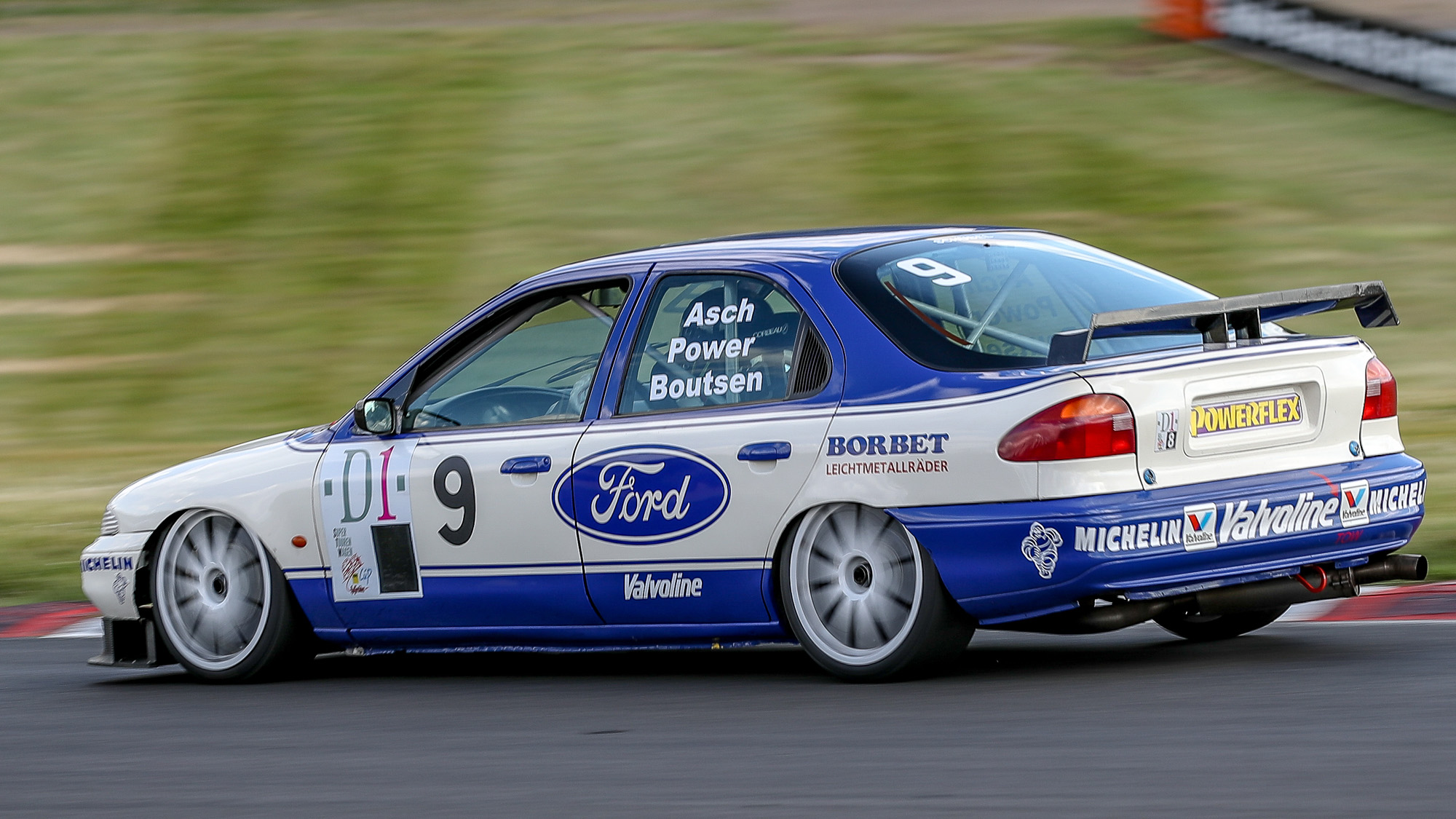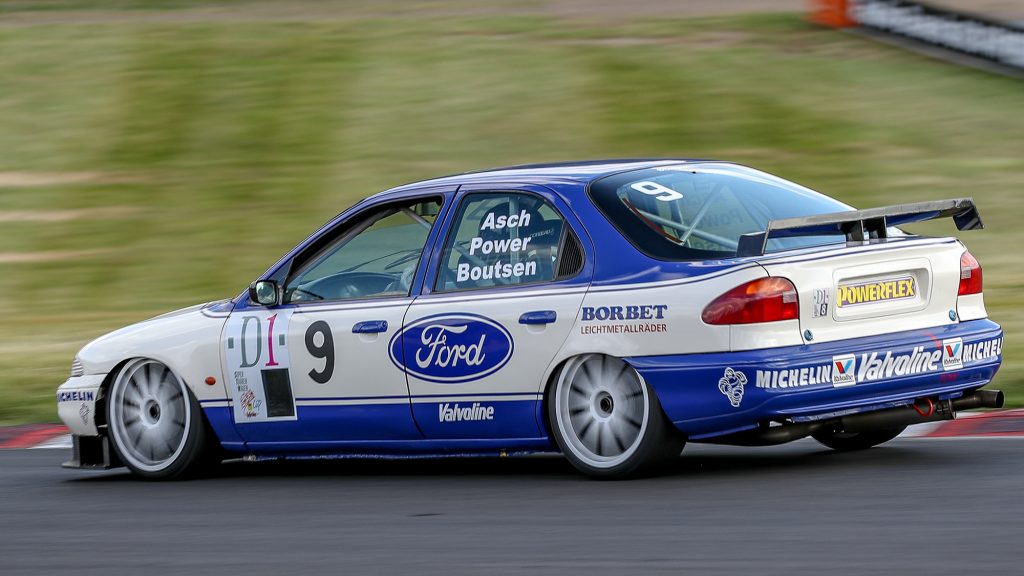 David Power's 1996 Mondeo is not one that raced in Britain in period. It was built for the German SuperTourenWagen Cup by Schubel Engineering, and likely saw action in the hands of Roland Asch and former Formula 1 driver Thierry Boutsen.
It was then used in Sweden by 1984 World Rally champion Stig Blomqvist and remained in Scandinavia for much of its life before being acquired by Power. Sadly, it suffered a heavy accident in the event at Brands Hatch.
#14 Ali McMillan (Nissan Primera PX4)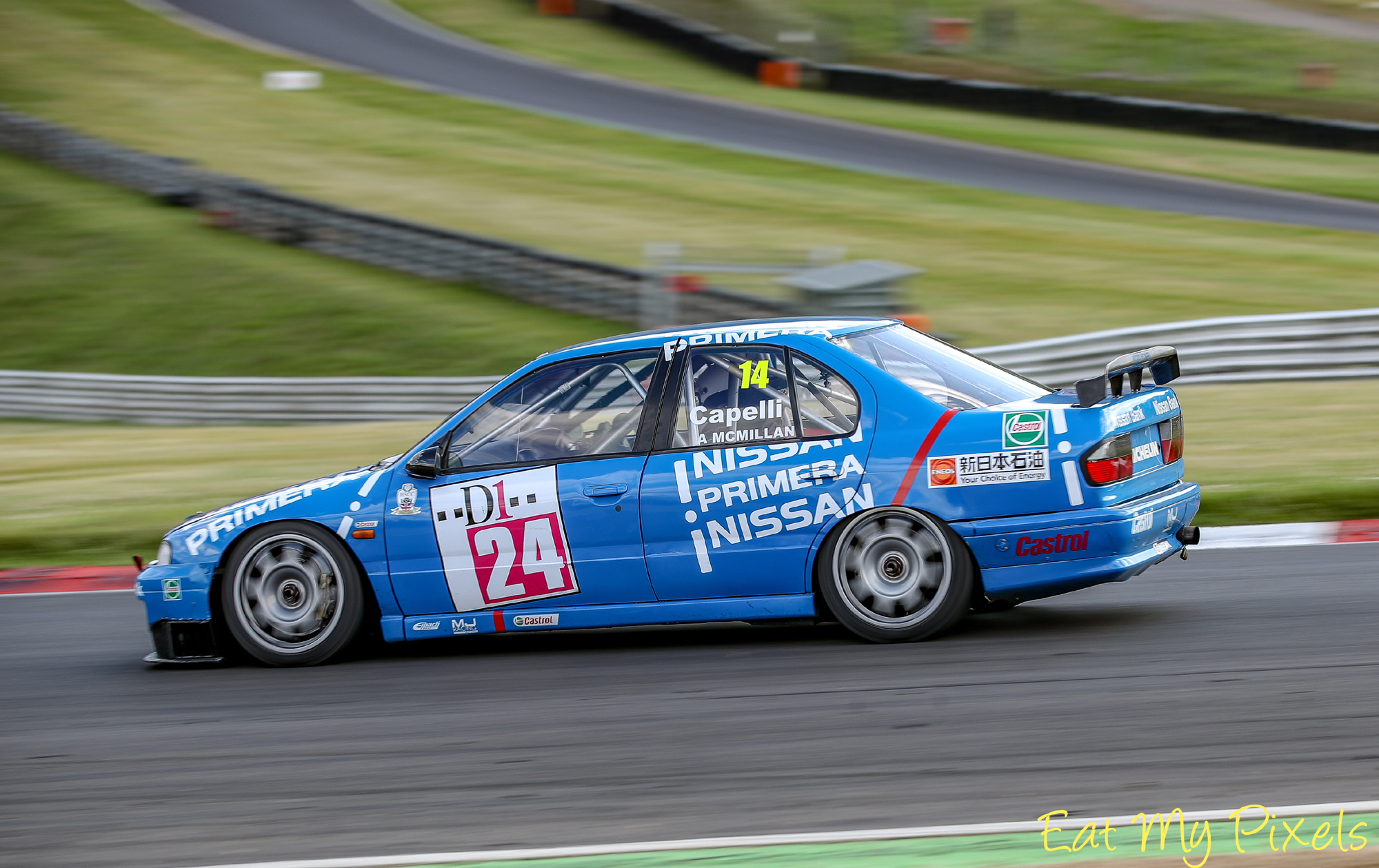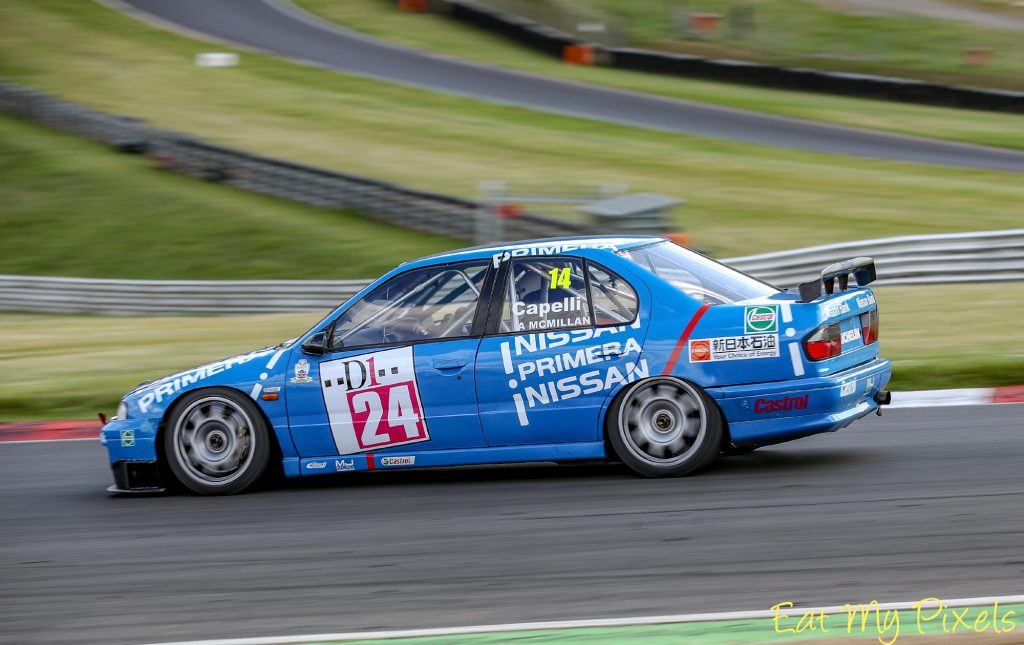 Another German STW car, this four-wheel-drive model was built by Nissan Motorsport Europe in 1995 and raced by ex-F1 driver Ivan Capelli, albeit with little success.
Believed to be the sole surviving 4WD Primera, it was raced successfully at club level by Graham Coomes, winning the Formula Saloon Championship in 2002. Scotsman Ali McMillan has campaigned the car mostly at Knockhill, and occasionally in England, for the past decade.
#17 James Kellett (Mazda 323F)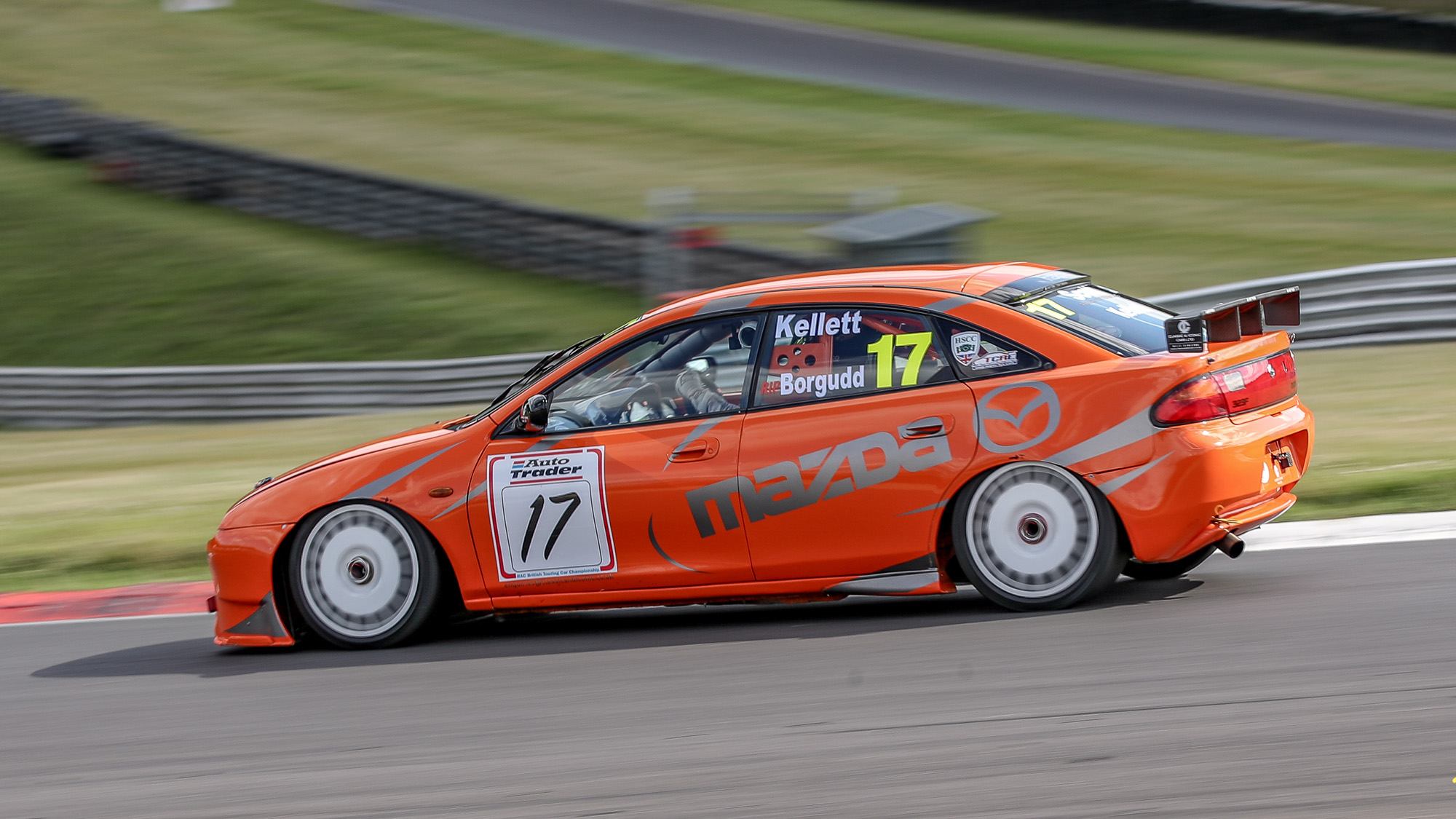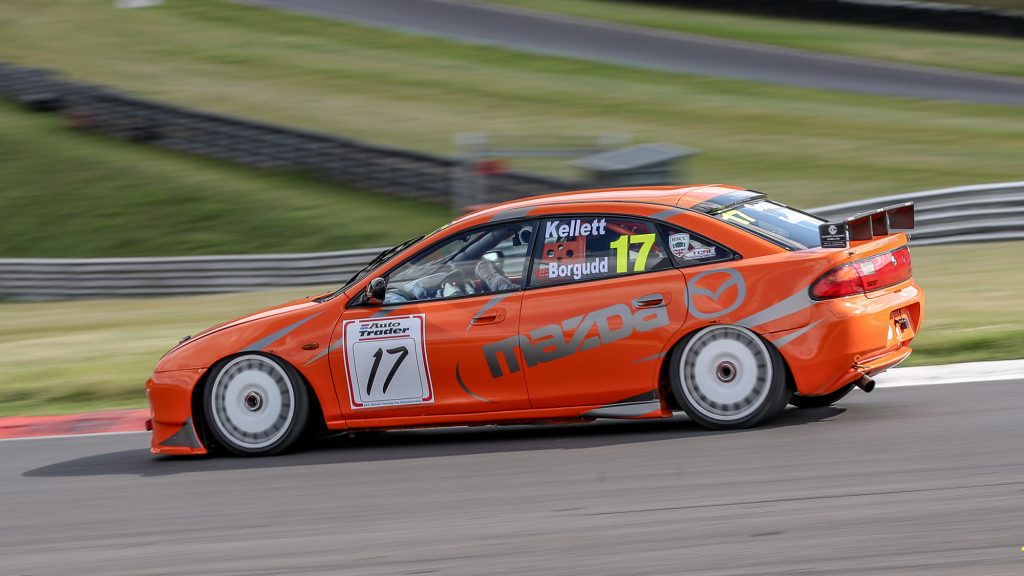 The Roger Dowson-built Mazda 323F holds the distinction of never racing in period, after a deal with ex-F1 driver (and Abba drummer) Slim Borgudd for 1995 fell through. It uses the same V6 powerplant as the Ford Mondeo.
The car has been through several hands while racing at club level for more than 20 years, and is currently owned by New Zealander Allan Scott, the long-time Tom Walkinshaw Racing engine division manager. Invited by Scott to race the car at Brands, Porsche Carrera Cup GB star James Kellett shone against more modern machinery.
#23 Anthony Reid (Nissan Primera GT)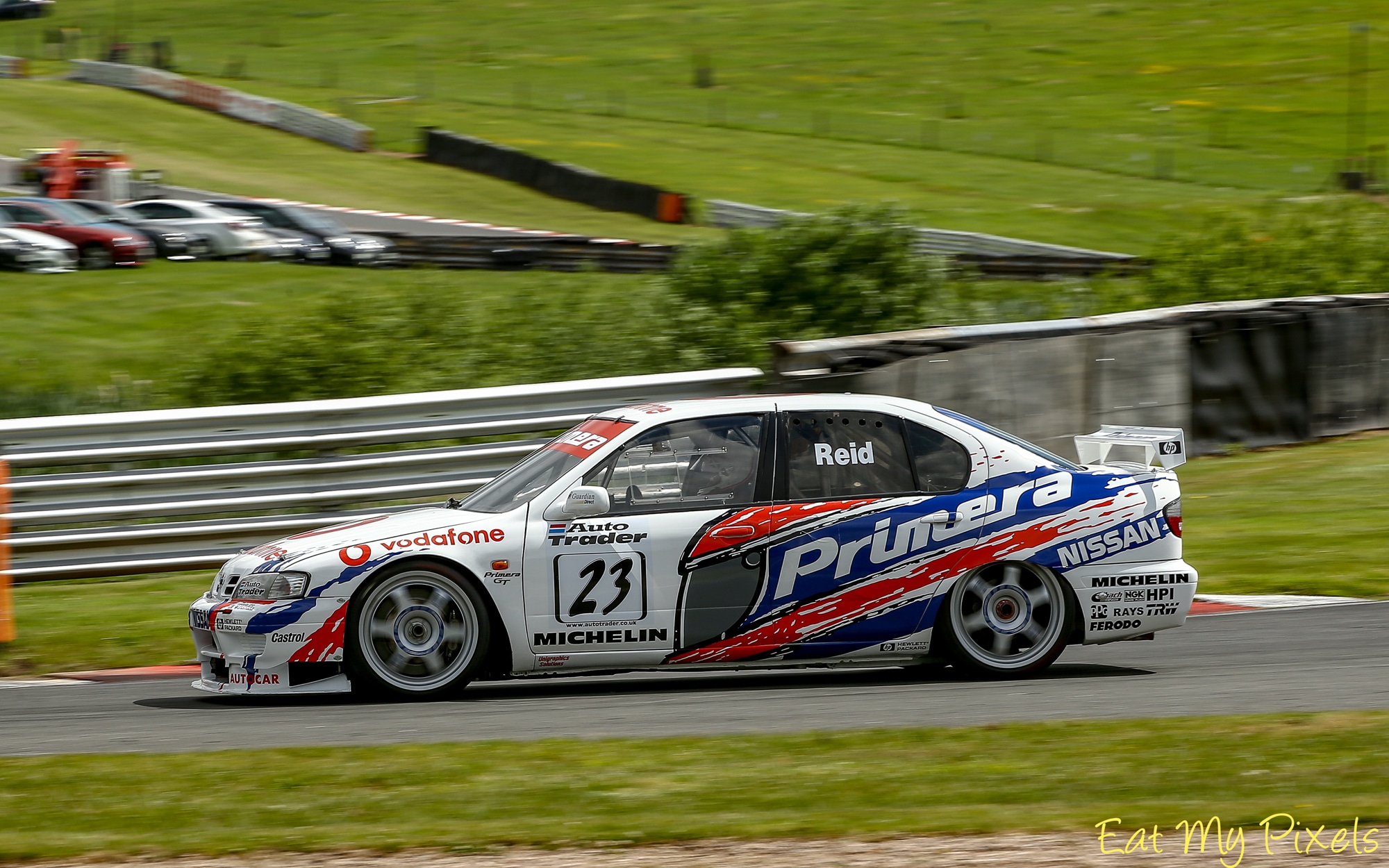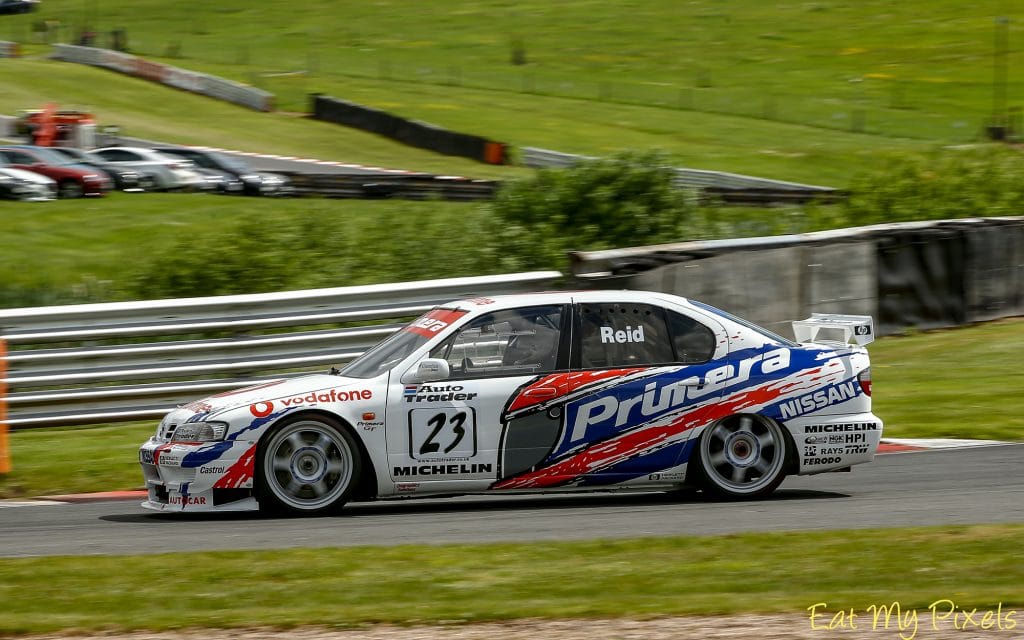 The second car in Richard Wheeler's stable (pictured at Oulton Park) is a 1998 RML chassis. A sister to the car Anthony Reid himself drove successfully in the BTCC, it is believed to have been a German STW car.
Featuring mutli-link suspension that makes the car more snappy to drive than with the beam axle on the more more refined 1999 model, it was subsequently raced successfully by Formula Saloons prime-mover Garry Woodwoock, winning the 2001 title. It was driven by Graeme and James Dodd in the HSCC's championship before being acquired by Wheeler and regularly raced by Reid, taking three wins in 2022.
#24 Jake Hill (Nissan Primera GT)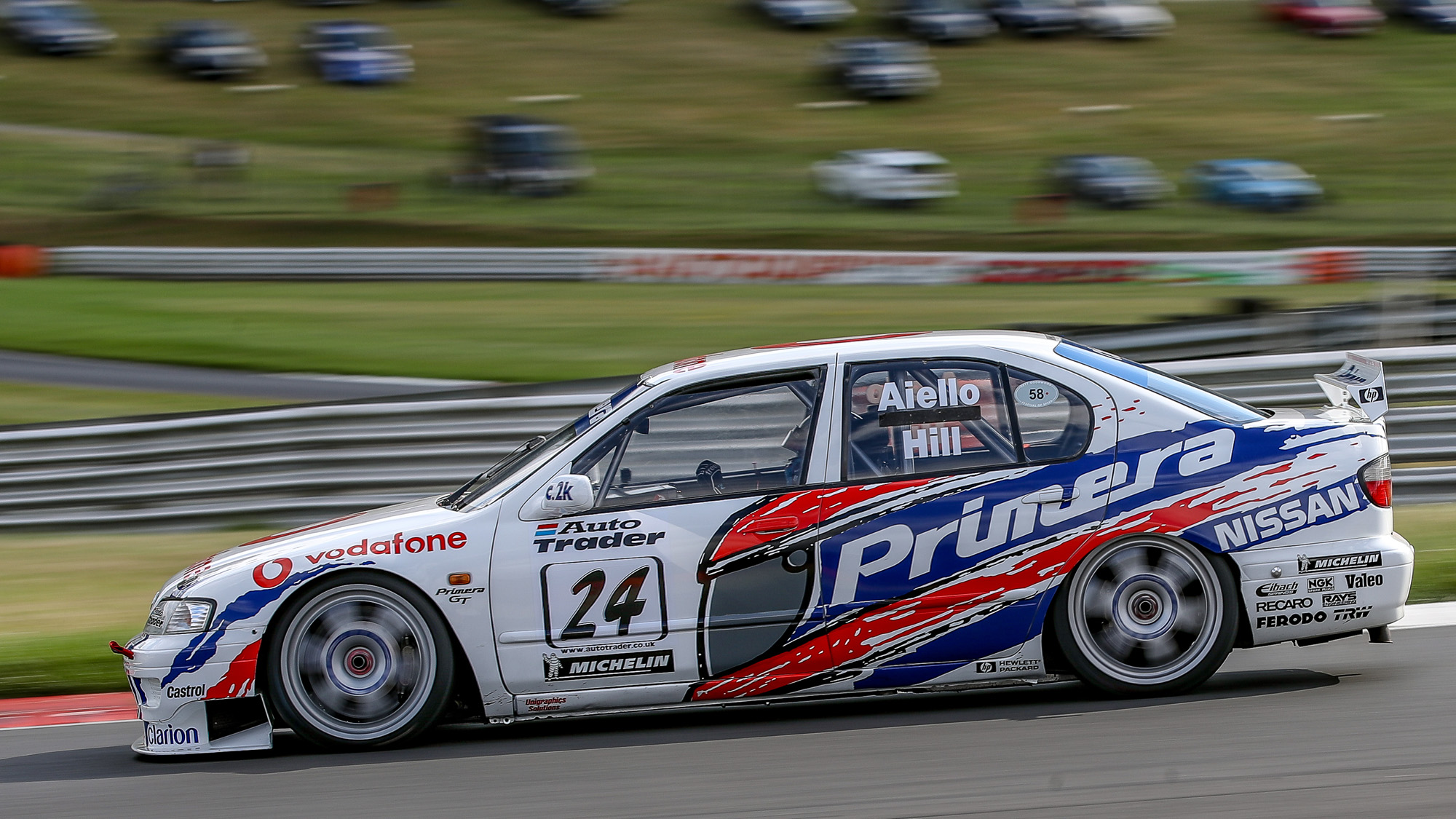 Completing Wheeler's fleet of Nissans is the 1999 championship-winning car, as raced by Laurent Aiello/David Leslie.
It was then given the Primera's facelift and raced in Sweden before competing regularly at club level in this country. Wheeler has ensured the car is fully back to 1999 specification and livery, and invited current BTCC star Jake Hill to demonstrate the car's – and his own – prowess at Super Touring Power.
#26 Colin Sowter (Peugeot 406)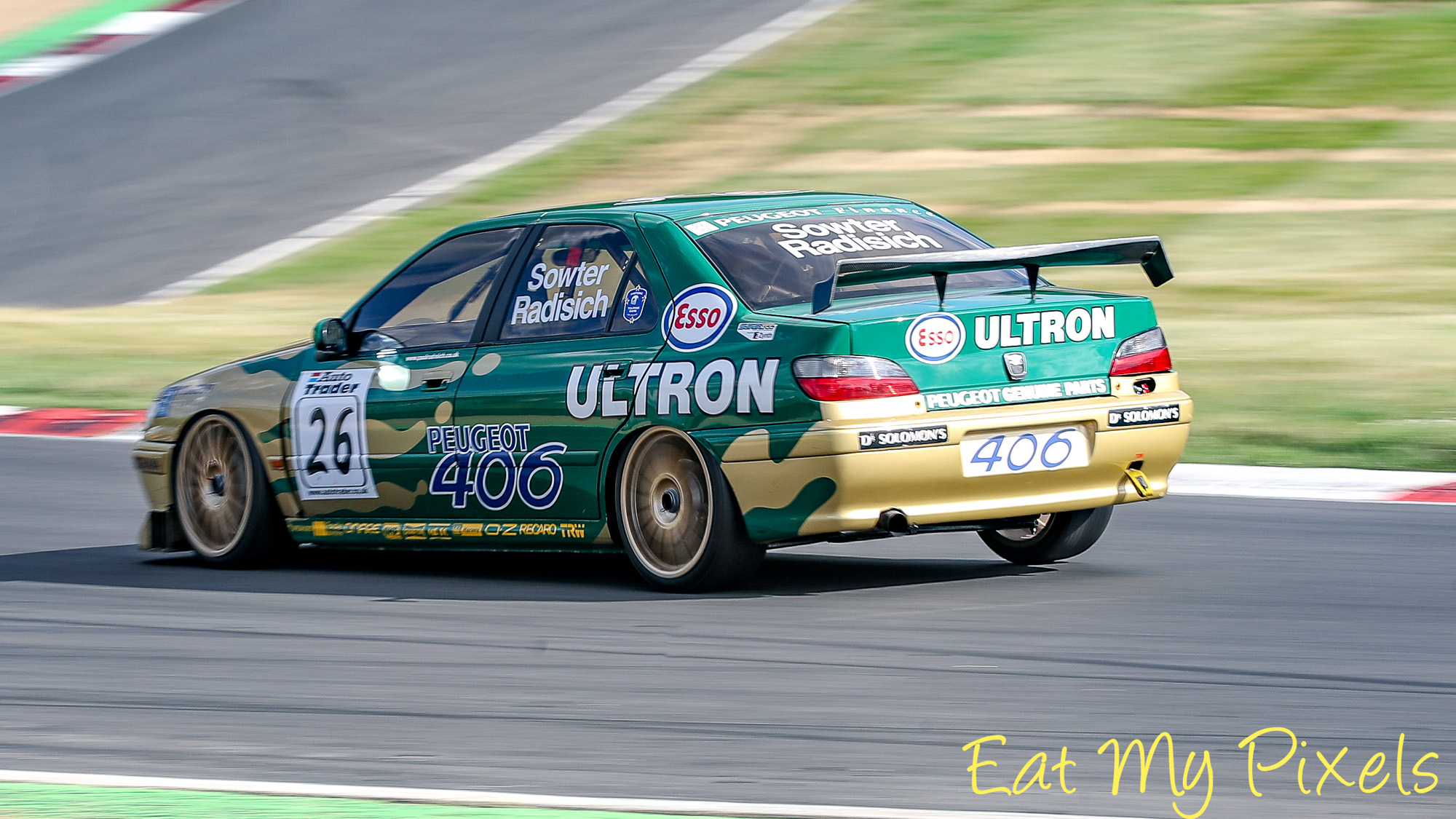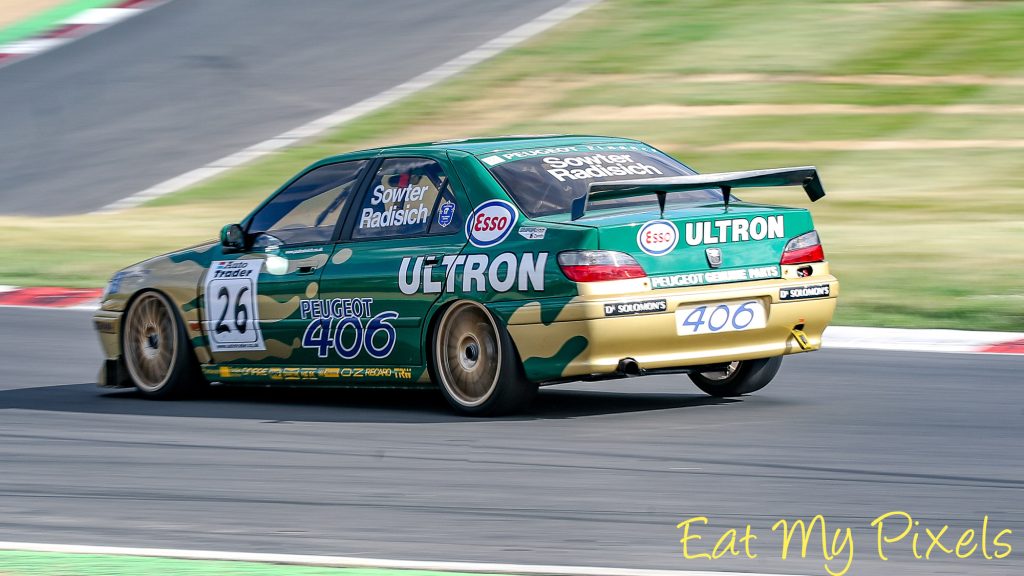 Motor Sport Development's 1998 Peugeot 406 might have looked fantastic but it was not especially successful in period, with Paul Radisich scoring a best result of fourth (in the wet) on his way to 14th in the standings.
In recent years the car has been raced by Stephen Grellet in New Zealand, after spells in Australia and back in the UK, before Superperformance parts supplier Colin Sowter brought it back to Britain. After engine problems in testing, Sowter made his front-wheel drive race debut in the 406 at Super Touring Power but was hampered by brake trouble.
#31 Paul Radisich (Ford Mondeo Si)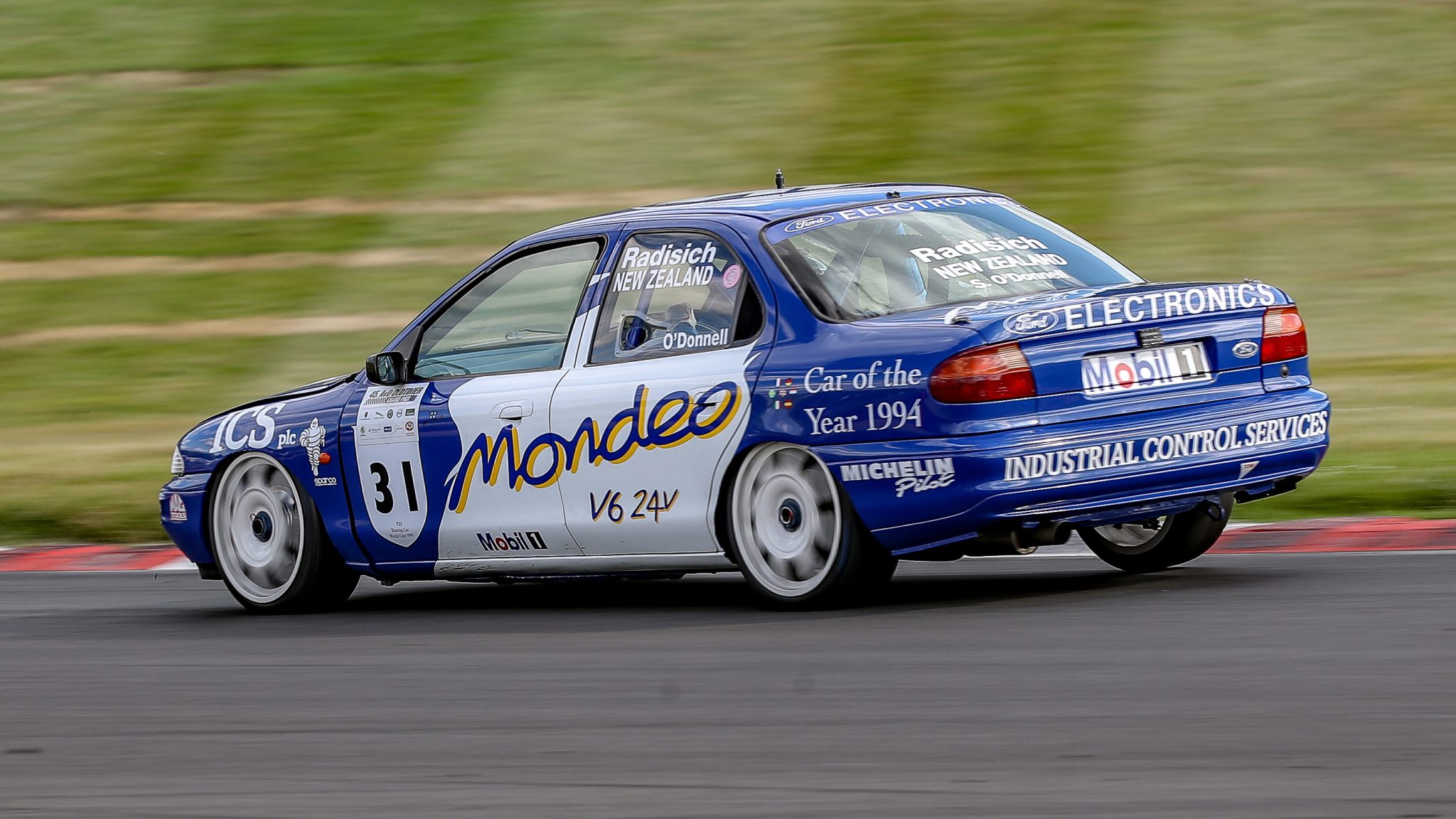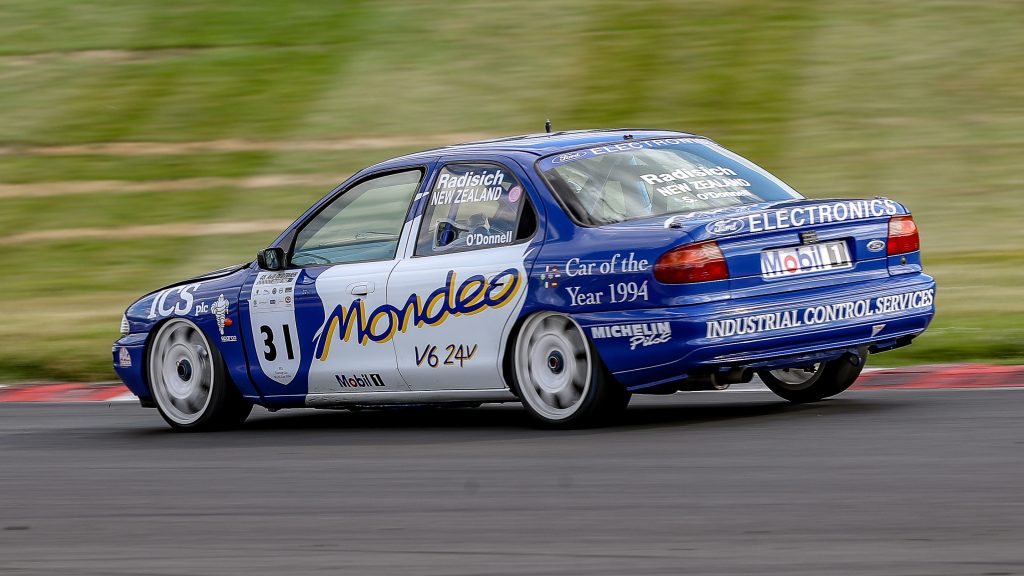 Two-time Touring Car World Cup winner Paul Radisich was back at the wheel of the car he took to glory in the 1994 edition of the big race at Donington Park. The V6-engined model is very similar to the original '93 Mondeo that took the series by storm from mid-season.
It was subsequently raced in the North American series before going to Australia where it was updated to a later spec. The car has been based in New Zealand for several years, where it was converted back to its World Cup-winning guise, albeit now running with power-steering. Current owner Scott O'Donnell has raced the car himself, as well as getting Radisich back in the seat, and shipped it back to Britain especially for Super Touring Power.
#33 Conrad Timms (Ford Mondeo Ghia)
A second Mondeo piloted by a Kiwi and shipped from New Zealand for the event, Conrad Timms's is a 1995 Andy Rouse-built model. It is believed to be the car that Kelvin Burt to victory at Snetterton that year as well as finishing sixth at the Paul Ricard-staged World Cup.
It was subsequently raced in Malaysia where it was fitted with a 4-cylinder Cosworth YB motor, before Timms acquired the car. He has restored it to its original livery and races it in New Zealand before playing a key role in the overseas interest in Super Touring Power.
#40 Steven Richards (Volvo S40)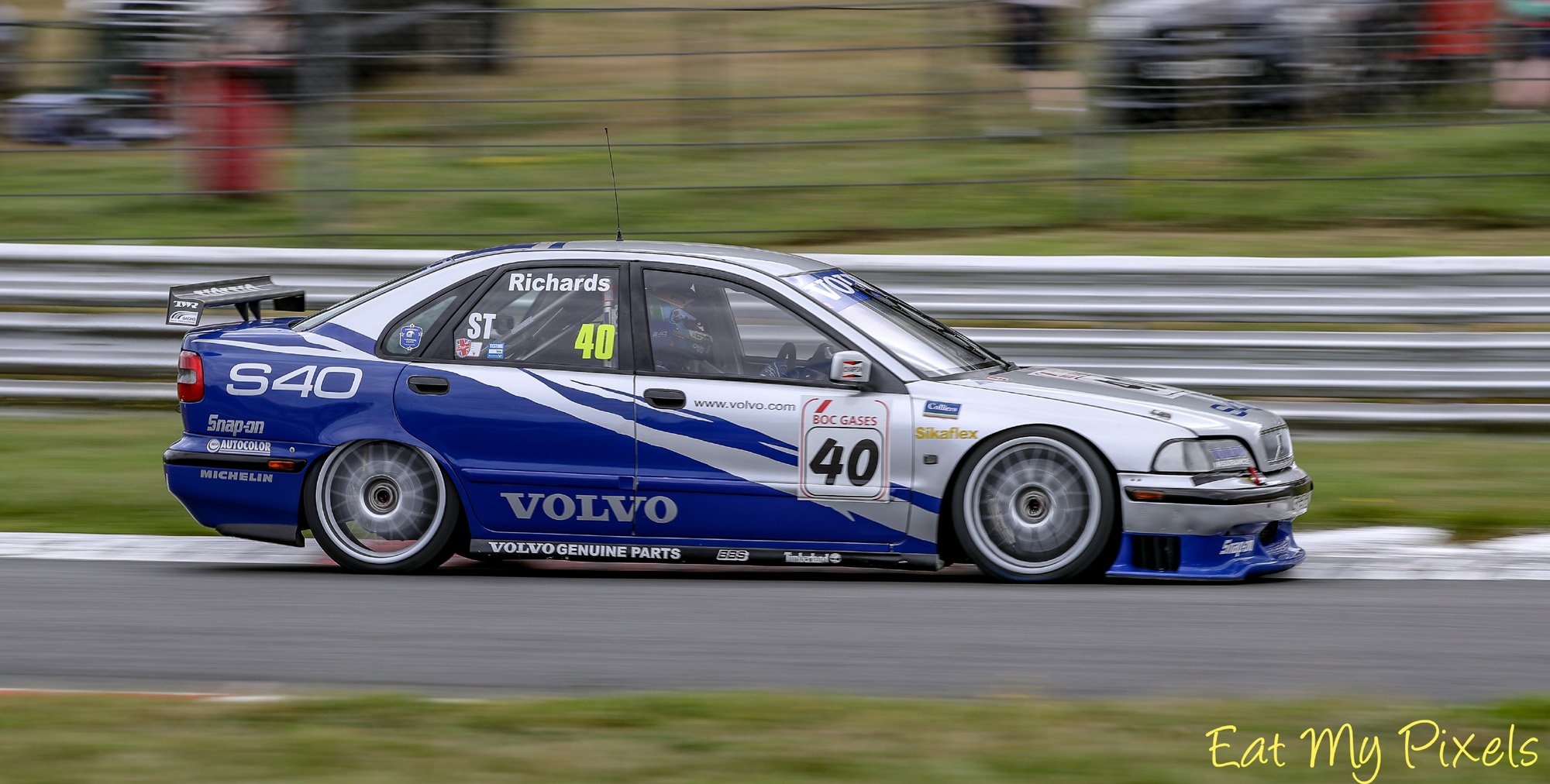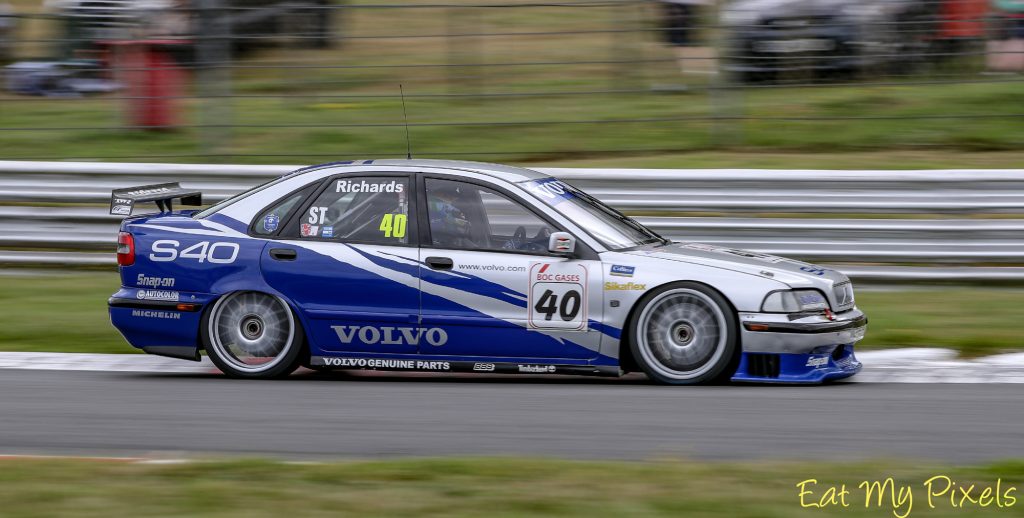 Another car shipped from New Zealand for Super Touring Power, this 1997-spec Volvo S40 was built by Tom Walkinshaw Racing and raced by Kelvin Burt in the BTCC. It was then campaigned in the Australian championship by NZ great Jim Richards, who went on to win the Bathurst 1000 alongside BTCC champion Rickard Rydell in a '98-spec model.
After a second season in Australia – when Craig Baird and Matthew Coleman finished third at Bathurst – it went to Sweden, before heading back Down Under when New Zealander Lindsay O'Donnell (Scott's uncle) acquired the car. Lindsay has raced the car himself, as well as putting Jim's son Steven – himself an Aussie V8 great with five Bathurst wins to his name – behind the wheel.
#44 Stuart Caie (Vauxhall Cavalier 16v)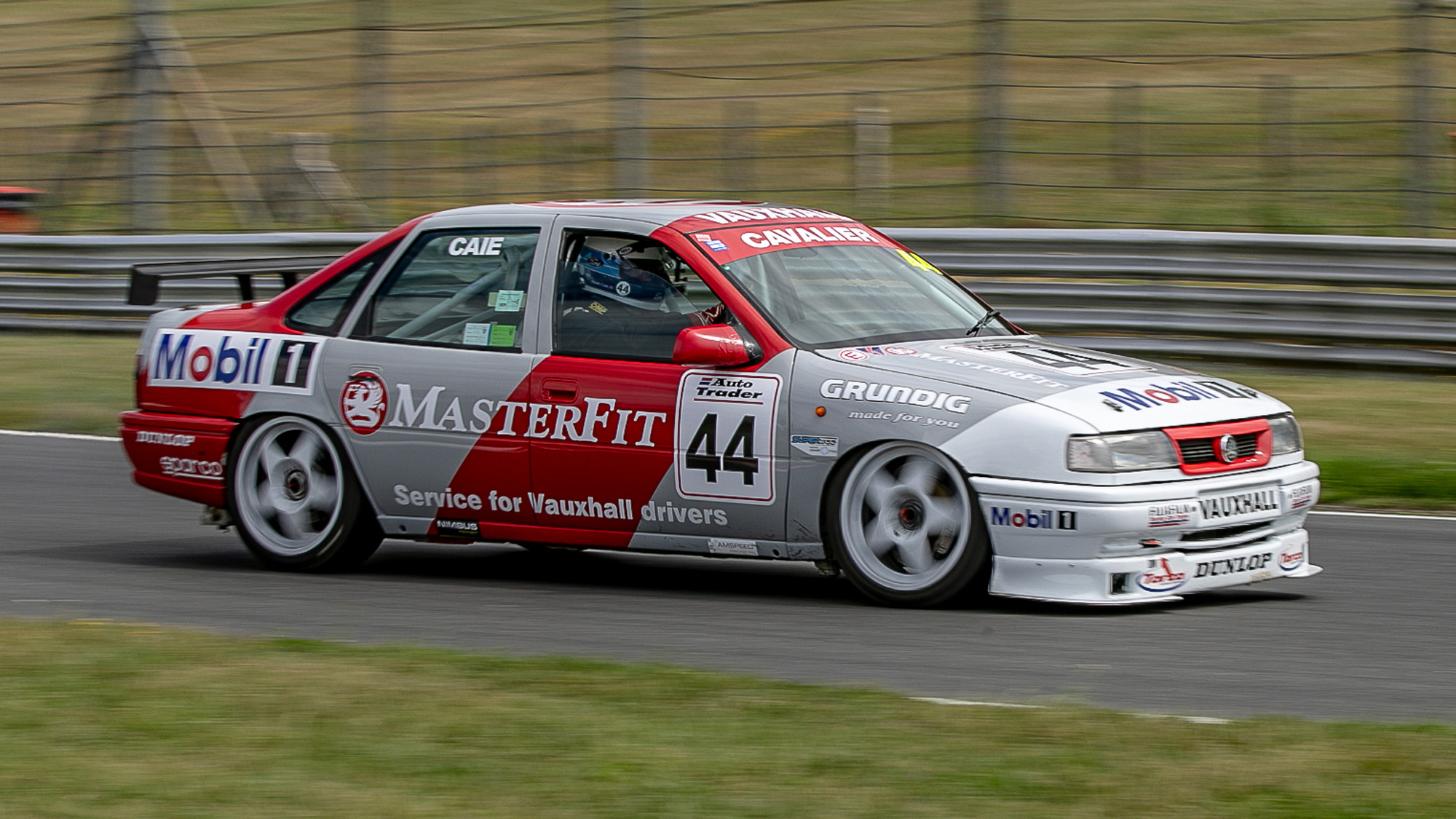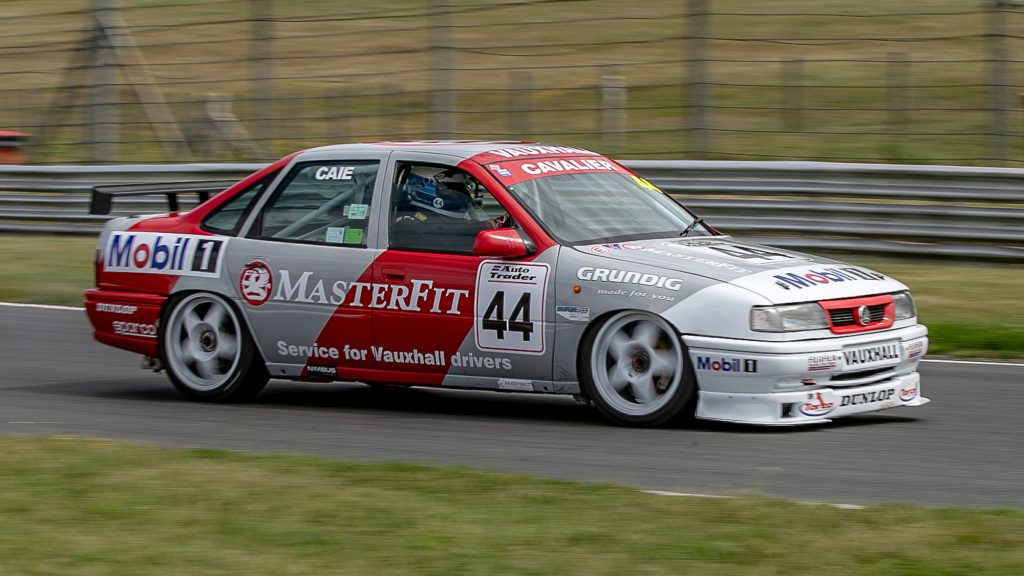 Keen to take part in the CTCRC's flagship event, club chairman Stuart Caie acquired his 1994 Vauxhall Cavalier from fellow racer Mark Jones. The car was built by RML, which took over the works Vauxhall team from Dave Cook after impressive performances under the Ecurie Ecosse banner in 1993.
The car runs in Jeff Allam's '94 livery, and is believed to have been used by John Cleland in that year's World Cup at Donington Park. It went on to 1995 South African Touring Car Championship glory (badged as an Opel Vectra) in Mike Briggs's hands and subsequently saw action in Australia before Jones raced it for a few years in this country.
#50 Jim Pocklington (Vauxhall Cavalier GSi)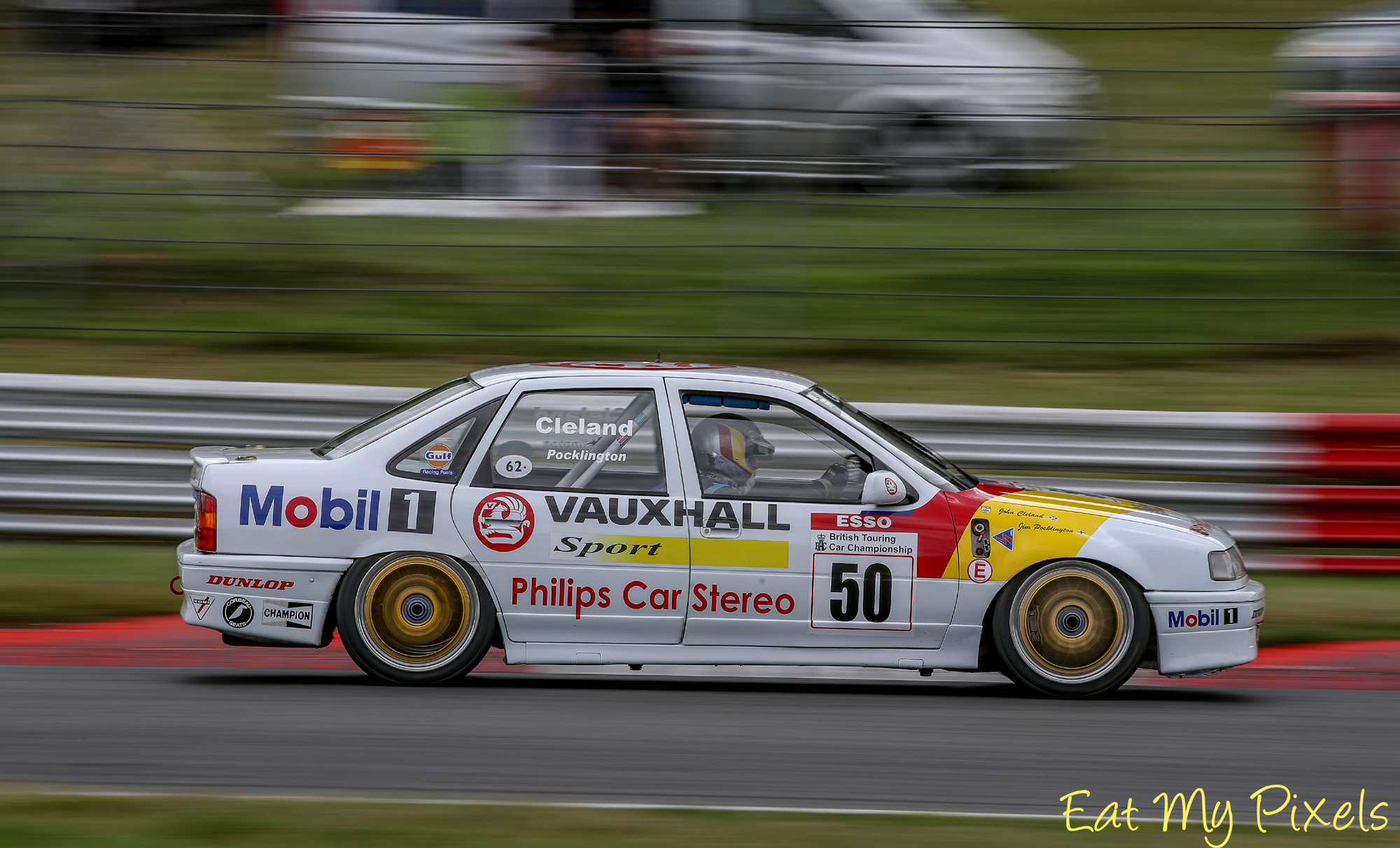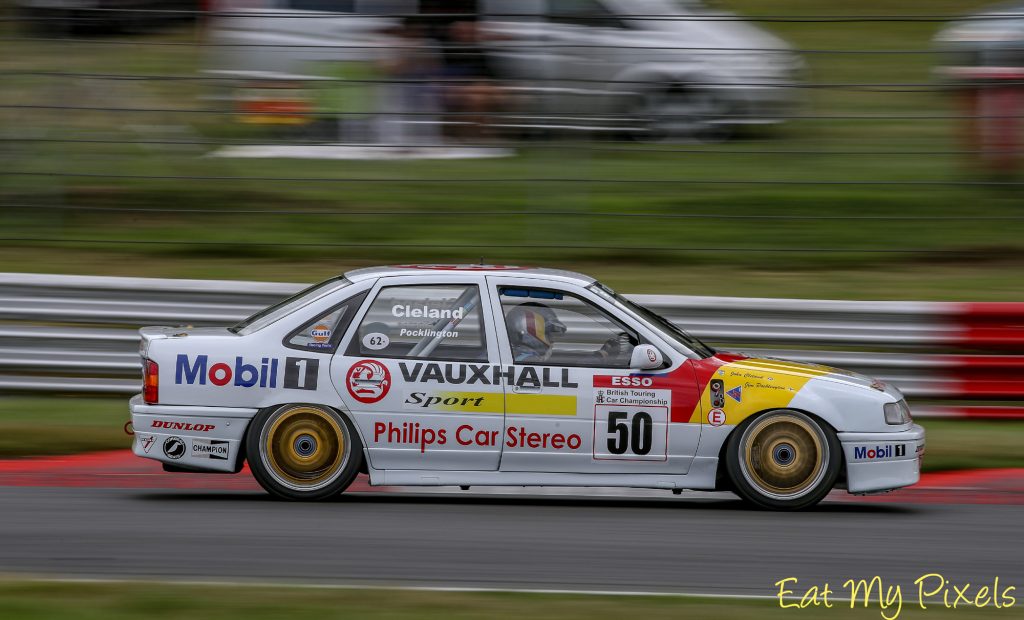 Jim Pocklington's Vauxhall Cavalier is one of the very first Super Touring cars, from before that name even existed. It was built by Vauxhall works team Dave Cook Racing for the BTCC's new two-litre class in 1990 and – similar to AJ Owen's early Ford Mondeo – used to experiment with different drive layouts.
Two-time BTCC champion Chris Hodgetts drove the car in RWD and 4WD format, and it was FWD when used by John Cleland in the latter part of 1991, scoring two wins. The car continued its life in privateer hands, then spent several years in British club racing with Andy Clarkin before being acquired by Pocklington more than 20 years ago.
#55 Alex Morgan (Vauxhall Astra Sport Hatch)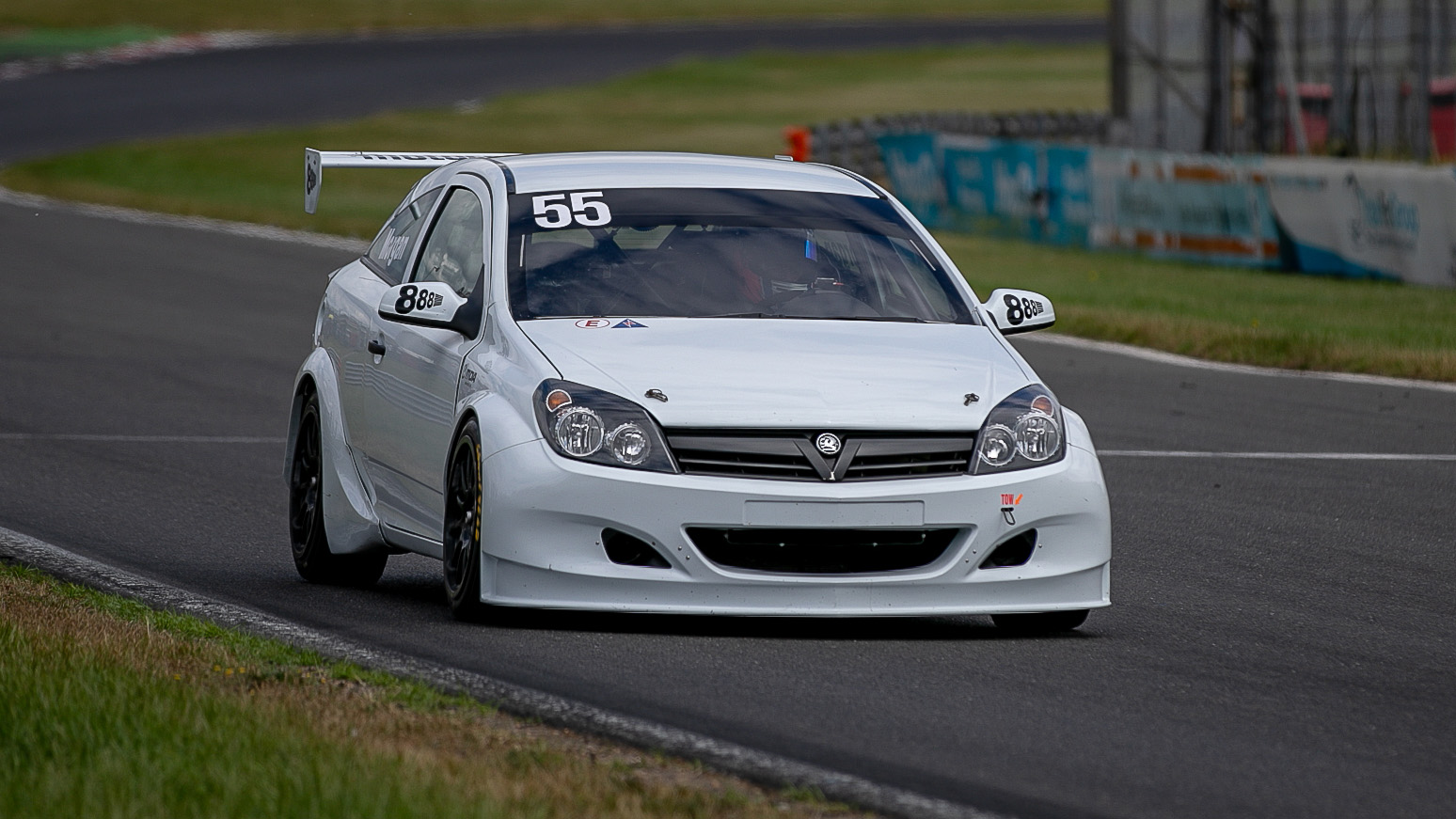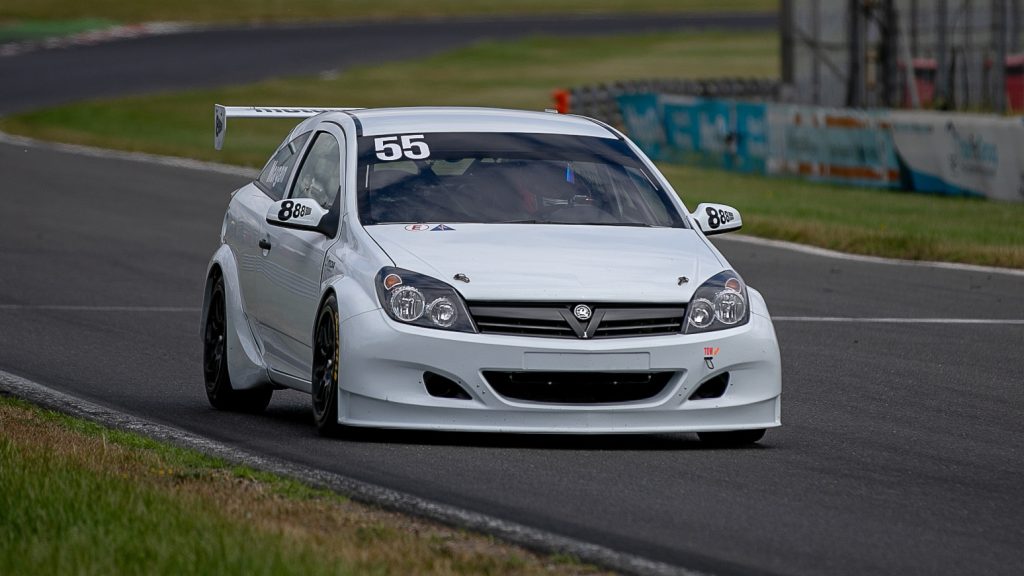 A car from the BTCC's immediate post-Super Touring era, the BTC-T spec Vauxhall Astra Sport Hatch was built by works team Triple Eight to replace its ultra-successful Astra Coupe that had taken four consecutive titles.
This example was raced in 2005-06 by Colin Turkington and Tom Chilton before being bought by British Rally champion Mark Higgins for his rally school. Ultimately not used for that purpose, Philip Morgan acquired the car which has been recommissioned by Power Maxed Racing, led by former Triple Eight engineer Martin Broadhurst, with Neil Peters's Midland Speedshop performing the engine work. Morgan's son Alex, a former Renault UK Clio Cup frontrunner and TCR driver, gave the car its first outing back on track, with two sister examples on their way.
#62 Nigel Arkell (Honda Accord)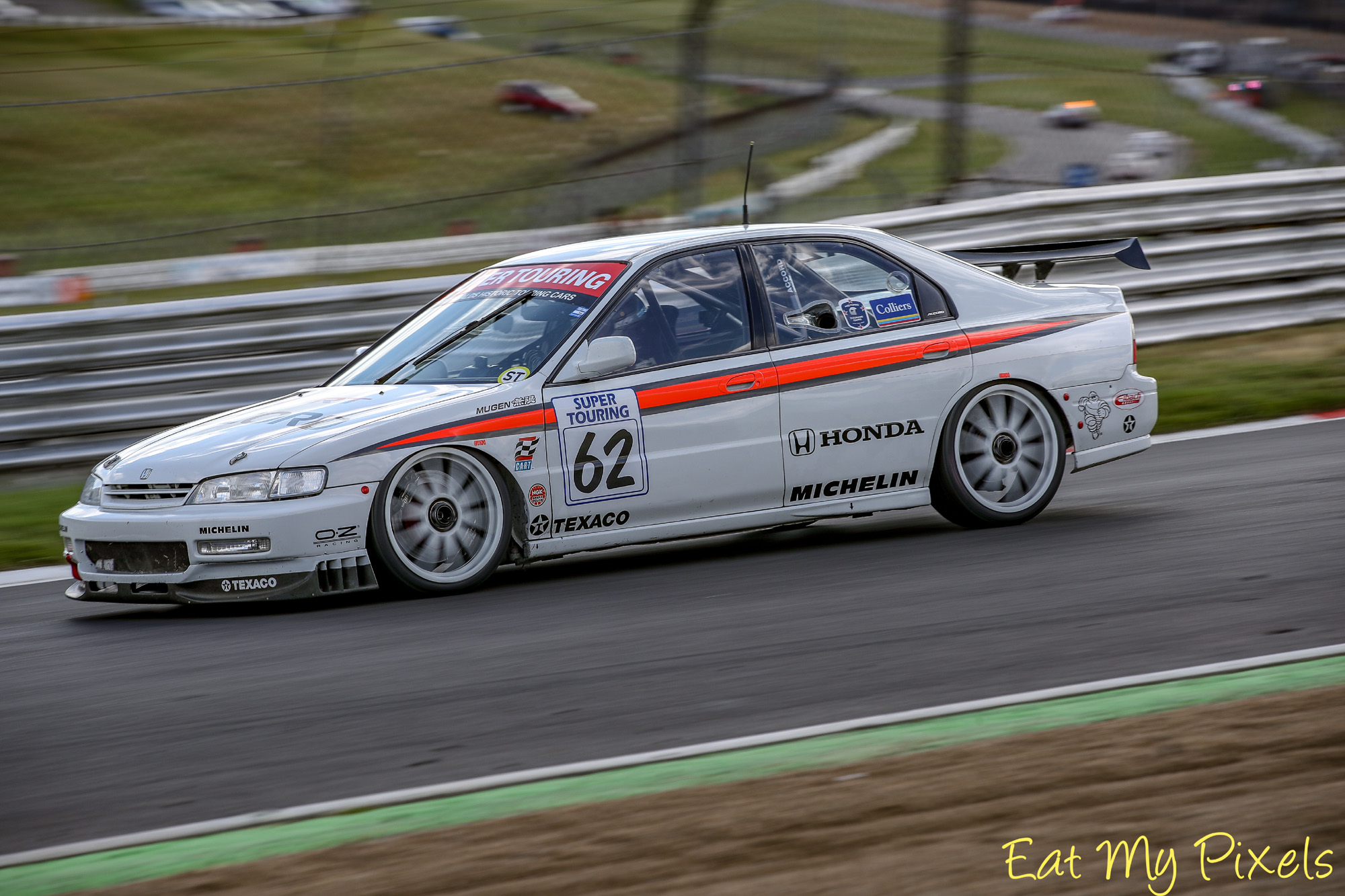 Another Kiwi visitor, Nigel Arkell's Honda Accord is of 1996 vintage, built by the manufacturer's BTCC works team at the time, Motor Sport Developments. But it is a Japanese-spec chassis and was used there as a test car before running in the North American championship.
After being laid up for many years, Arkell acquired the car and has raced it regularly in his native New Zealand before bringing it to Super Touring Power.
#70 Stewart Whyte (Honda Accord)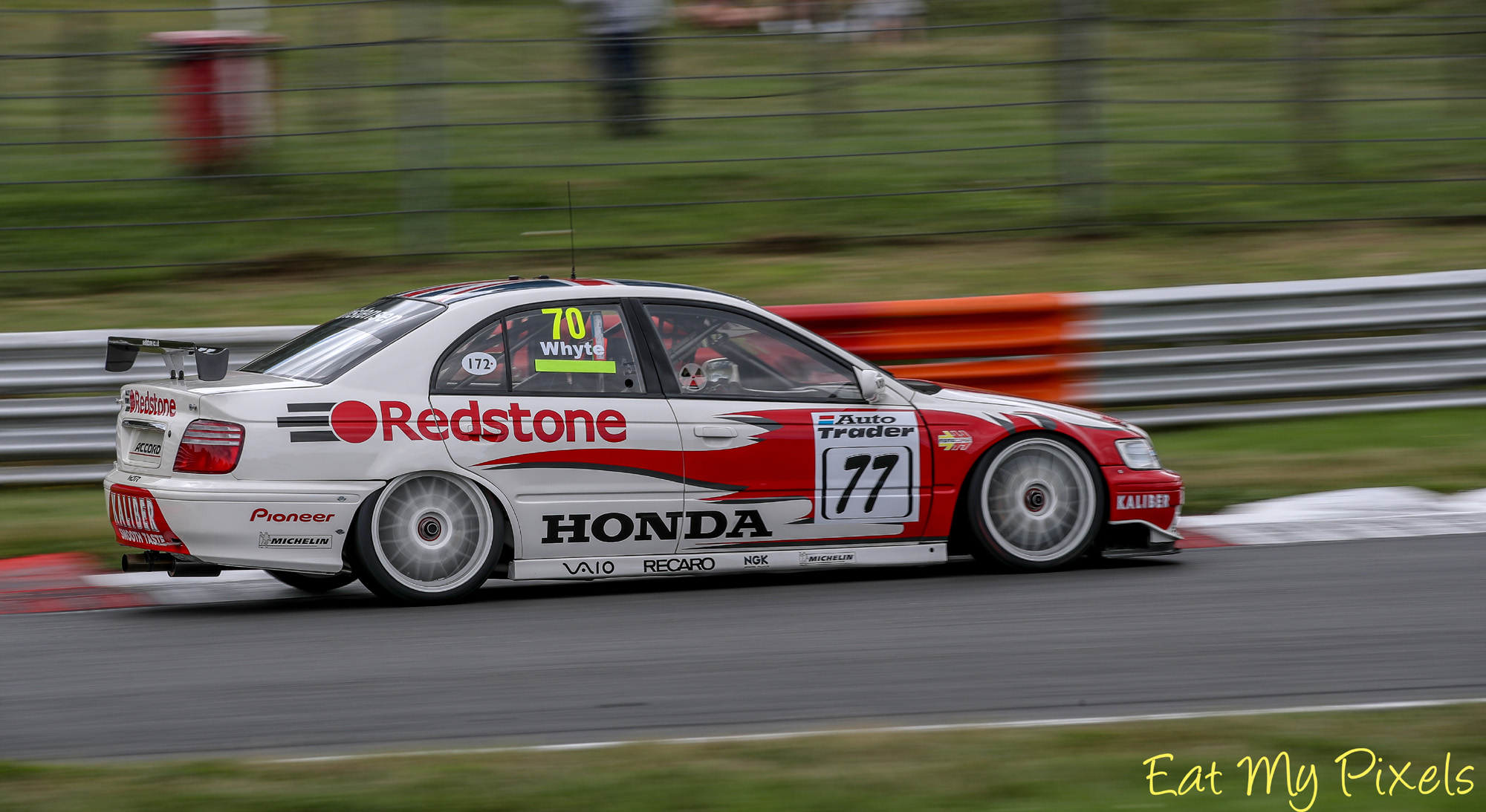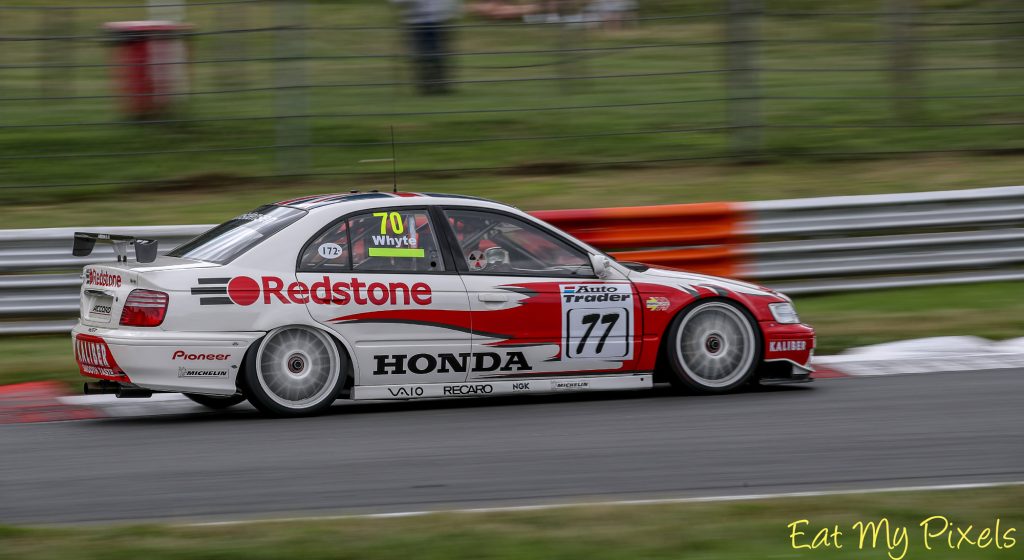 Stewart Whyte's Honda Accord holds the distinction of being the last car to win a BTCC race run to Super Touring regulations, when Le Mans legend Tom Kristensen swept to a double at Silverstone's 2000 season finale.
It was then raced in the European championship before former SEAT Cupra Cup racer Whyte replaced his earlier model with it, winning the 2015 HSCC series.
#77 Greg Murphy (Nissan Primera GT)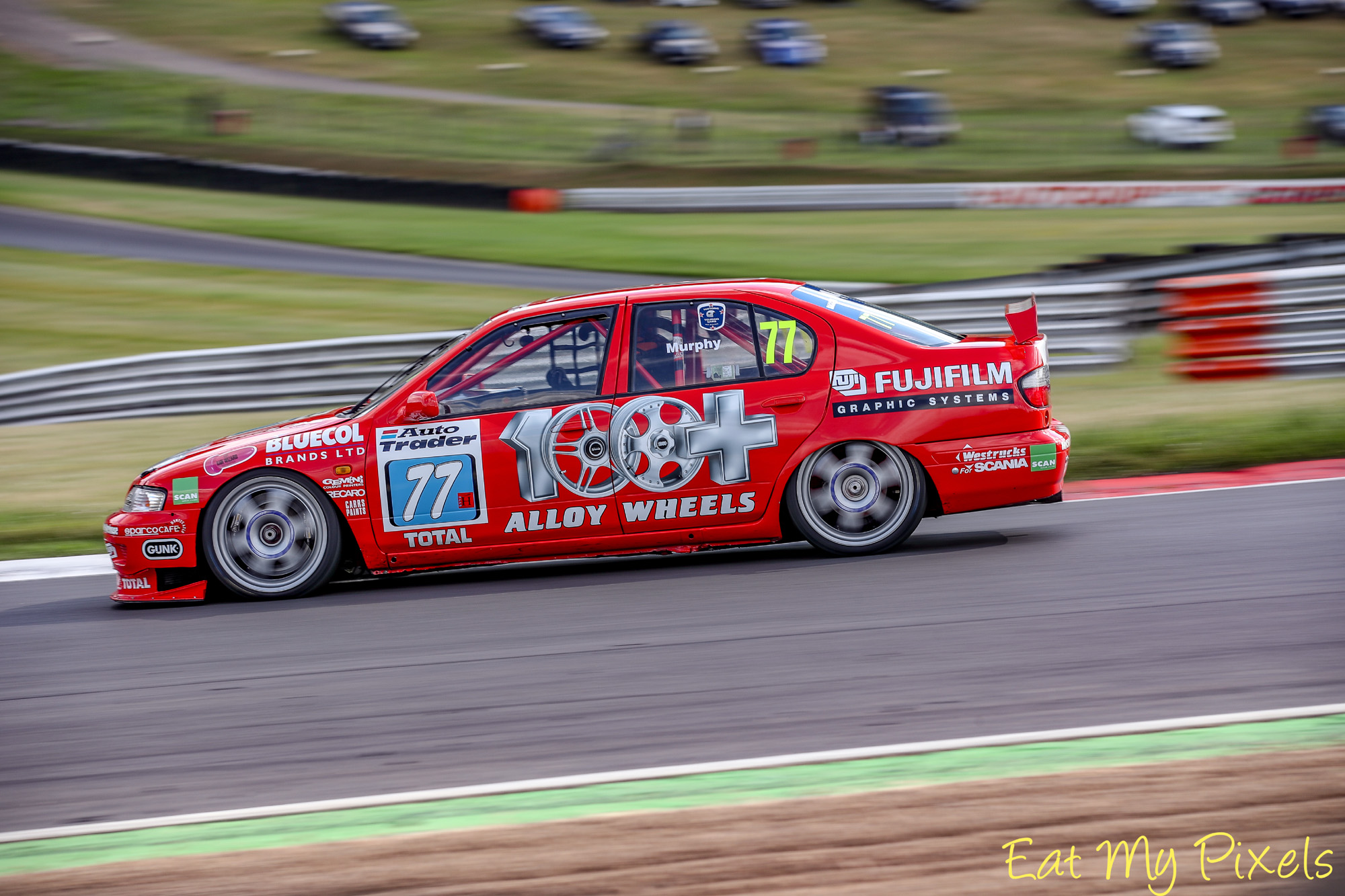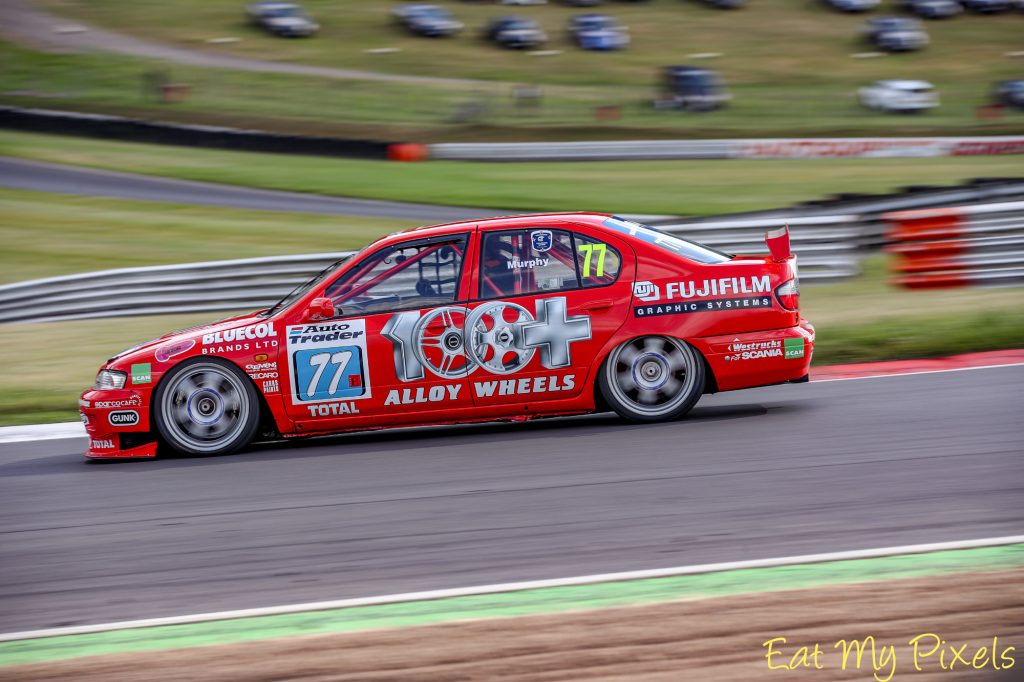 The fifth car shipped from New Zealand for the event was Pete Sturgeon's ex-Matt Neal Team Dynamics Nissan Primera. The car was built up by Dynamics from a 1997 RML shell for Neal to race in '98. It was subsequently raced at club level by Brian Chatfield and Dave Jarman before heading Down Under.
Steven Richards, who drove a similar car in 1997-98, including alongside Neal at Bathurst, has been among those to race it in the Land of the Long White Cloud but it was fellow Bathurst great, four-time winner Greg Murphy who took the wheel at Brands Hatch, spannered by crew chief Nigel Barclay.
#79 Mark Jones (Renault Laguna)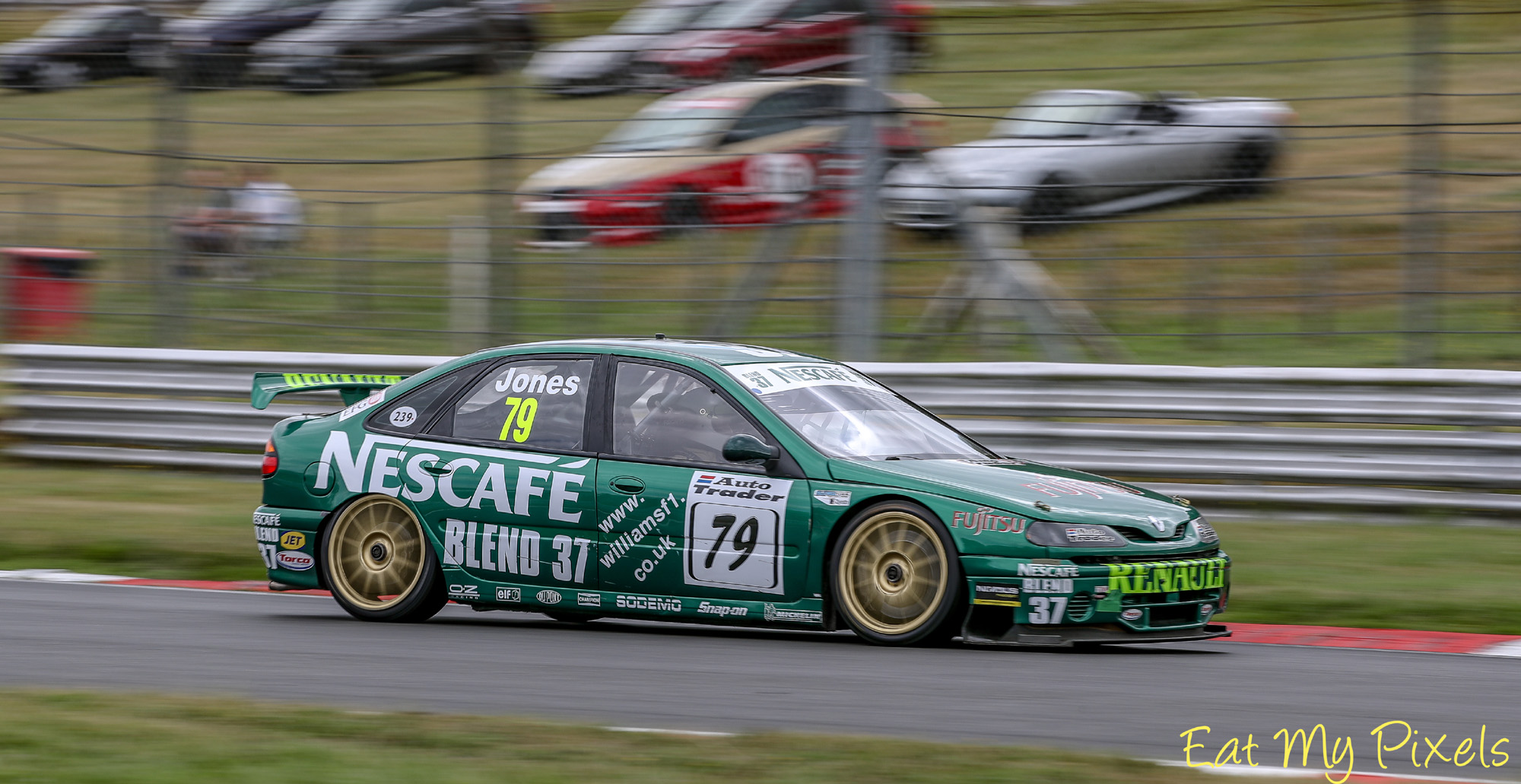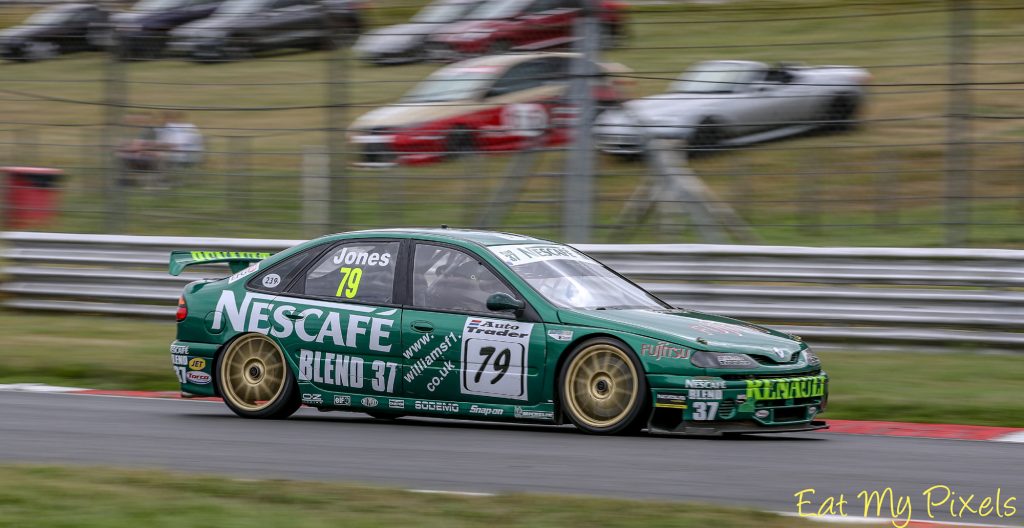 The 1999 Renault Laguna was the last of its kind, built by Williams Touring Car Engineering, sister squad to the F1 team. This model was driven in the BTCC by Jason Plato on his way to fifth in the championship standings.
It spent a few years in Serbia before coming back to the UK, where Mark Jones has campaigned it – with the help of his father, engine guru Bob – for nearly a decade, scoring podium finishes in the CTCRC Super Tourers series last year.
#85 Adam Woods (Honda Civic Type-R)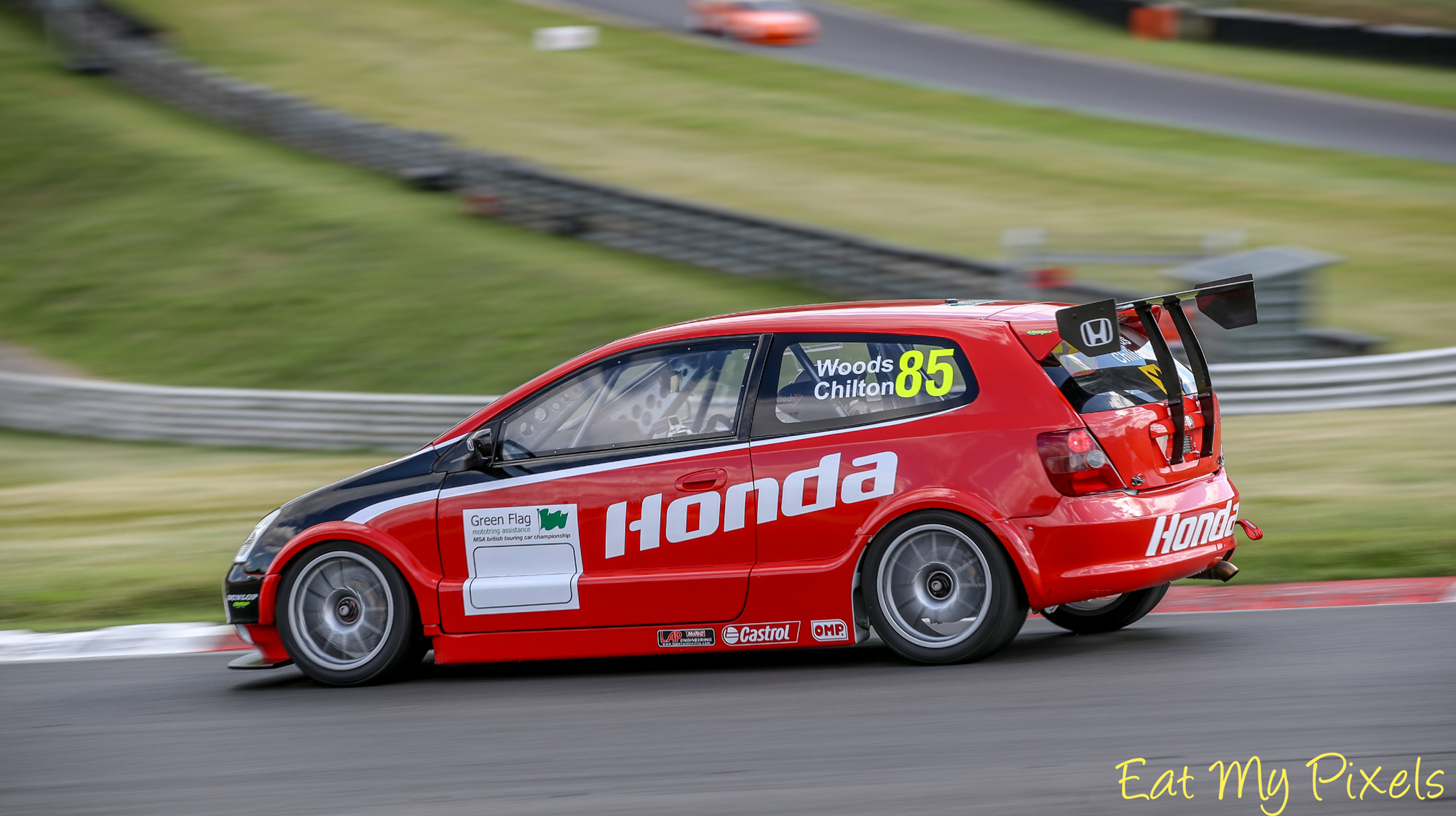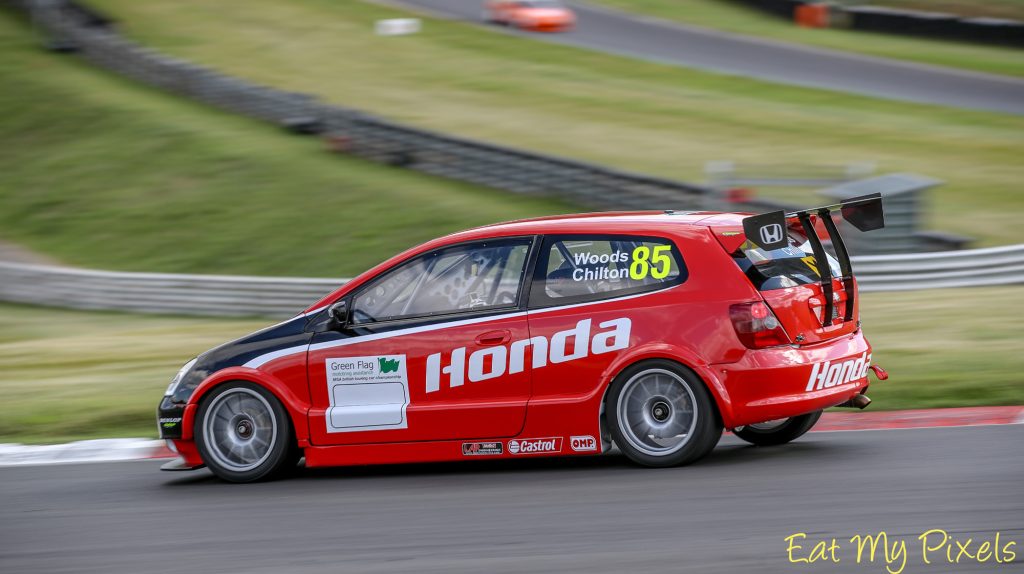 Newcomer to racing Adam Woods acquired his ex-Tom Chilton 2002 Honda Civic last year and plans to race it regularly after debuting at Super Touring Power.
The second BTC-T car in the field, it was run by ex-F1 team boss Mike Earle's Arena Motorsport outfit in period, and retains an original Neil Brown engine. The car encountered some teething trouble at Brands, including with its battery, but Woods enjoyed scrapping with the likes of Jim Pocklington and broke into the top 10 in the finale.
All images courtesy of CTCRC official photographer Steve Jackman/Eat My Pixels