There was plenty of Easter excitement in the Classic Touring Car Racing Club's second meeting of the season, held in glorious weather at Brands Hatch. Dave Griffin (Pre-'93 Touring Cars) and Tom Robinson (Jaguar Challenge) maintained their unbeaten starts to the season.
Laser Tools Pre-'93 Touring Cars
Despite being beaten off the line in both races, Dave Griffin continued his fine start to the season in Pre-'93 Touring Cars with another double victory.
Griffin planted his West Suffolk Racing BMW E36 M3 on pole by a massive two seconds from defending champion Ian Bower's similar example. But while a fuel-pump failure for Bower left Griffin alone on the front row, his customary tardy getaway allowed the fast-starting Andy Cripps into the lead from Mike Dugdale, both also in E36s.
Griffin picked off Dugdale into Surtees on the opening tour, then powered past Cripps after a safety-car intervention. He eased to a 4s win over Cripps, who in turn held a comfortable advantage over Dugdale. Kevin Willis, the invitational-class Mark Fowler and Robert Crisell completed a clean sweep of the top six for E36 M3s.
Griffin's only real challenge had been to deal with backmarker traffic from the concurrently-run Pre-'83 Touring Cars.
"The 'flaggies' have done such a sensational job," said the East Anglian-domiciled Aussie, full of praise for the marshals. "It's not an easy place to flag, Brands Hatch, and there's so many really cool cars you're trying to lap at the same time as they're having their own race so it was action-packed!"
A better start by Griffin in race two still wasn't enough to prevent Willis rounding him through Paddock Hill Bend but Griffin returned the favour at the same place two laps later. Dugdale managed to pass Willis as they lapped traffic in the second half of the race, with Cripps further demoting Willis who remained ahead of Crisell in a distant fifth.
"If you can get in front it's the most fun you'll ever have in your entire life," beamed the winner.
Andy Sheraton twice claimed Class D honours in his older E30-shape BMW 325i, while Simon Goodwin-Laidler's Vauxhall Astra GTE was victorious in Class C on Sunday having been a late retirement a day earlier.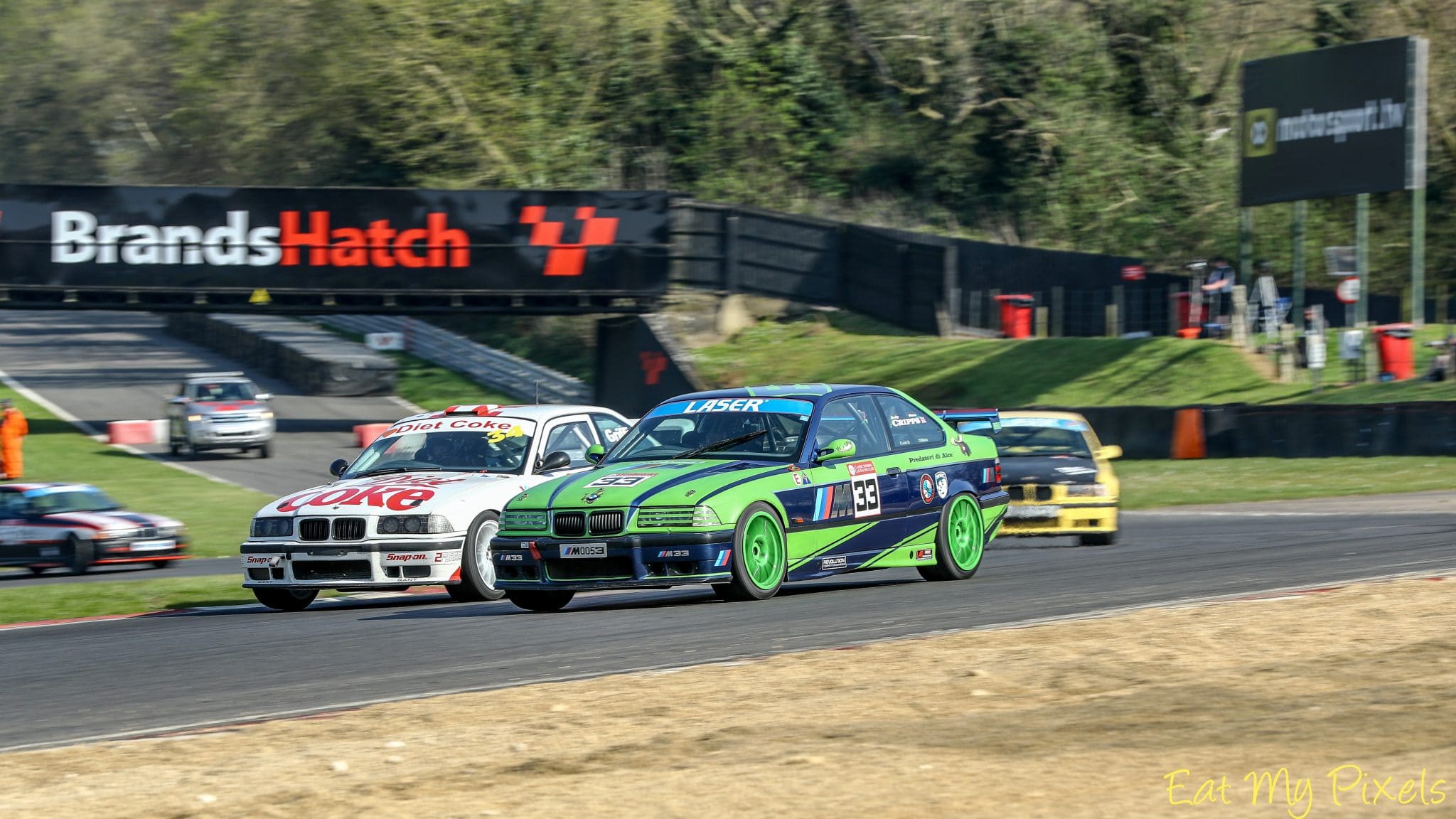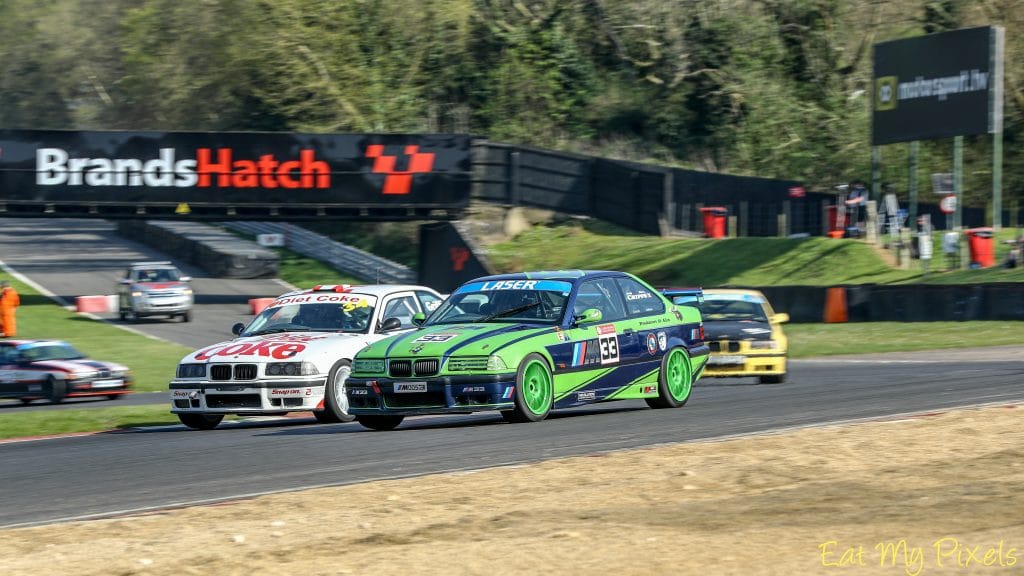 Orange Aero Pre-'83 Group 1 Touring Cars
There was a new winner in Pre-'83 Touring Cars as Jon Corker took his Datsun 510 to its first victory, while Stephen Primett extended his championship lead.
Having pipped Mark Cholerton in qualifying, Primett's Ford Escort Mk1 led the way during Saturday's race but he was shadowed throughout by Corker. When Primett was accidentally baulked by a backmarker on the final lap, Corker was there to pounce and claim a maiden win in the little Datsun he has campaigned since converting the Australian trackday import into a race car in 2019.
Primett only just held on to second as Mark Thomas's Ford Capri Mk3, having failed to set a time in qualifying, bore down on them – setting a Class B lap record in the process – while taking class honours ahead of his father Dave's Mk1 version.
Corker was a little too eager for a repeat in race two, jumping the start before stopping again and delaying himself. He would finish third on the road but dropped to fourth behind Jason Christie's Escort RS when a 10s penalty was applied.
In front of them, Primett and Thomas Jr enjoyed a terrific scrap until Thomas's increasingly smoky Capri was given a black-and-orange flag. Just as at Silverstone, gearbox oil was the culprit but Thomas was at least able to rejoin and claim a finish, two laps down.
Cholerton's Escort inherited second, his best finish of a difficult season so far. Anton Martin's Ford Escort RS1600i won Class D in Sunday's race after Age Harvey's Mk1 version had done so the day before.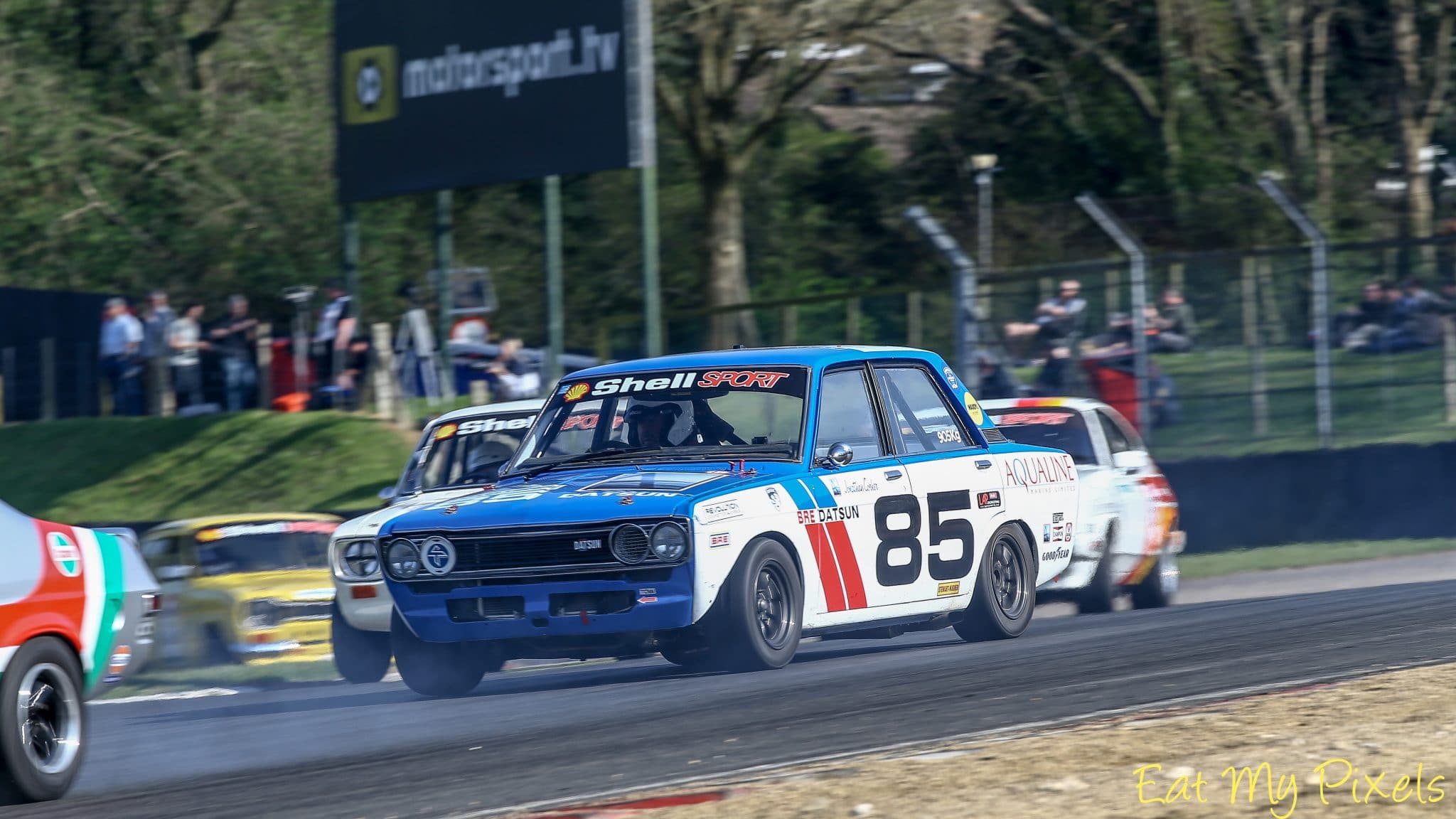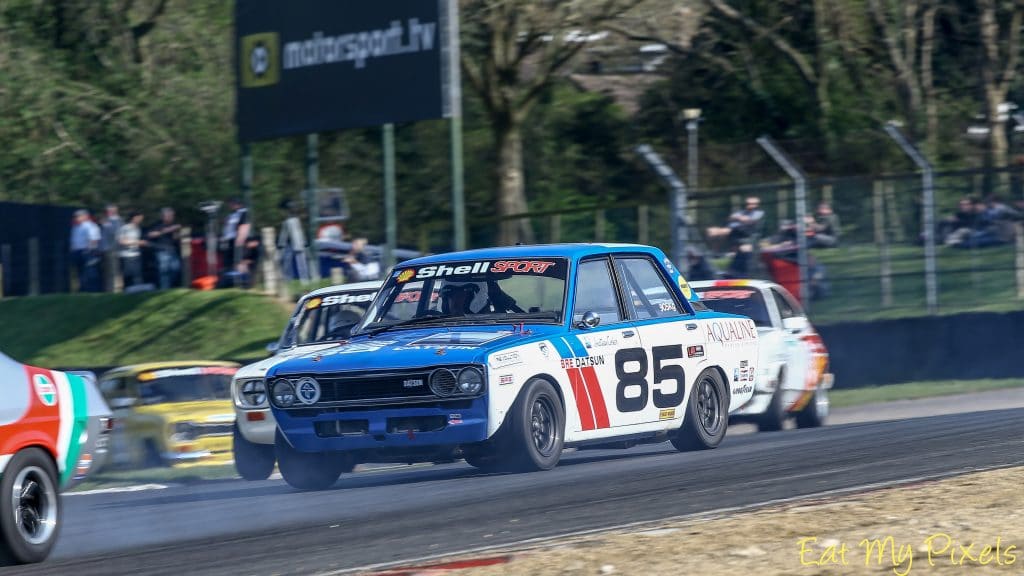 Edmundson Electrical Classic Thunder
Andy Wilson made the power of his mighty Holden Monaro count as he fought back from slow starts to sweep to a double success in Classic Thunder.
The polesitting Holden was jumped off the line in the opener by Colin Voyce's Duratec-powered Ford Escort Mk1. As he struggled to work temperature into the big V8's hard tyres, Wilson also lost out to Brands Hatch local Rod Birley (BMW E36) at Graham Hill Bend as well as Malcolm Harding's BOSS entry.
Once his tyres came in, Wilson cleared that pair by half-distance and set about chasing down the impressive 6s lead that Voyce had built. As Wilson increased his pace, Voyce began to ease his, wary of oil on track at Clark Curve spilled by Paul Eaton's Holden Commodore.
Wilson passed Voyce into Paddock Hill Bend on lap 10 of 15, then pulled away for a 3s win, despite his engine dropping to seven cylinders. The top three was completed by James Janicki's Nissan Skyline, the Norfolk man making his first appearance for 18 months.
After Birley had pitted with bodywork fouling a tyre, next home was Jason Waterman's Peugeot 205, winning the class for space-frame cars, as he would on Sunday. Waterman passed Tony Davies on the final lap as the latter nursed his car home with a broken wheel hub that would sideline him the following day.
"I had to work for that one," admitted Wilson. "Using all that power is fairly hard work!"
Sunday's race started similarly, with Voyce getting the jump, joined by Harding, who passed him into Druids on lap four. Voyce remained the Classic Thunder leader until he slowed and toured in to retirement on lap six. His alternator cable was slightly loose and had started to wear through. It was a frustrating end for the Essex veteran who, with a new exhaust, re-mapped engine and improved suspension, has found increased pace this year.
Initially inheriting the Classic Thunder lead was the impressive Ryan Steel in his 2.2-litre Peugeot EW-powered Citroen Saxo. The former Cannon's Tin Tops man used the lightweight machine to great effect before being overpowered by Wilson and Janicki, who both also cleared Harding, to finish first and second.
Steel held on to third and won Class C, as he had done on Saturday. Class B honours were split between Ian Craig (BMW M3 CSL) in Saturday's race and Nick Vaughan (Audi A3) on Sunday.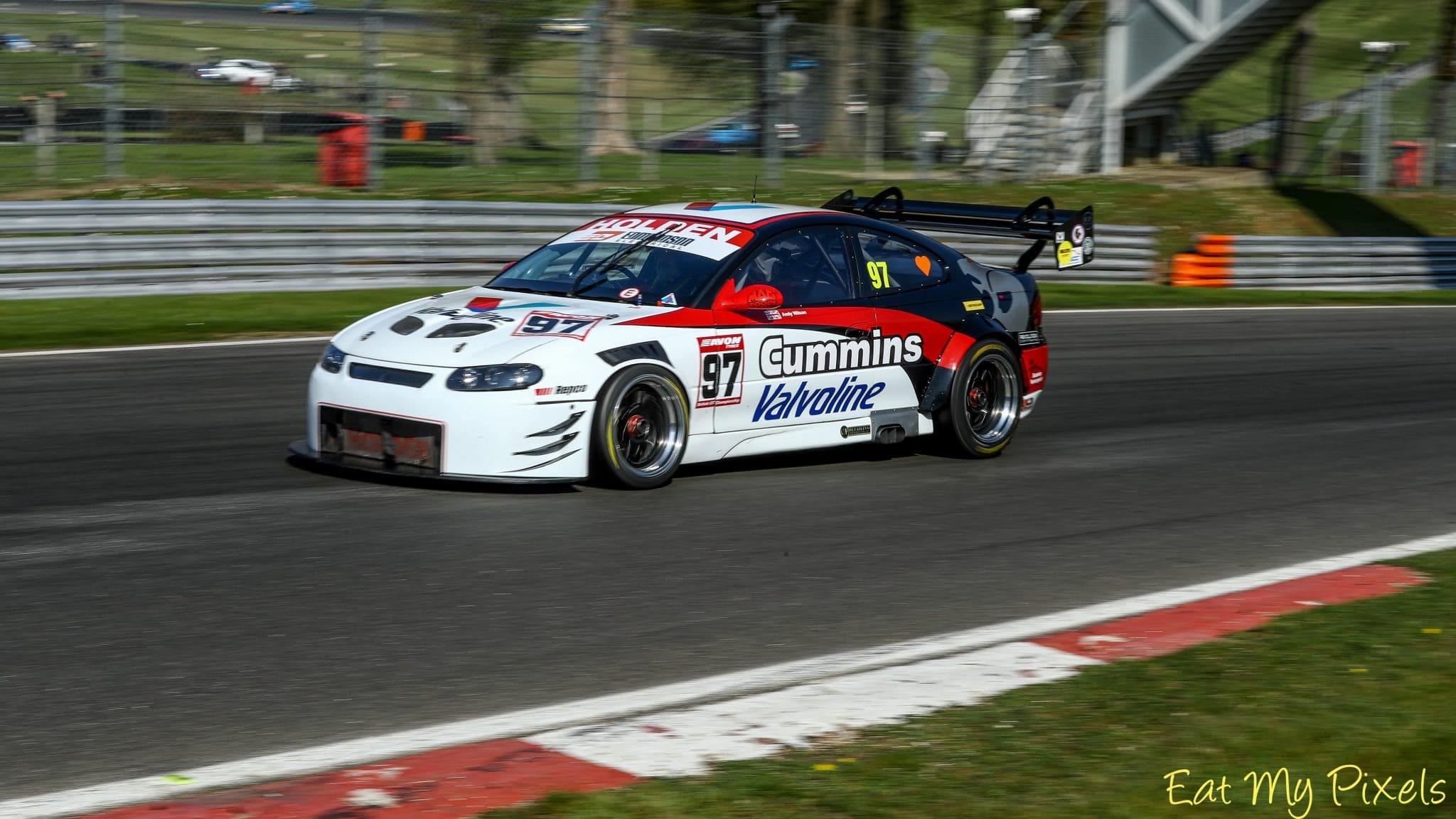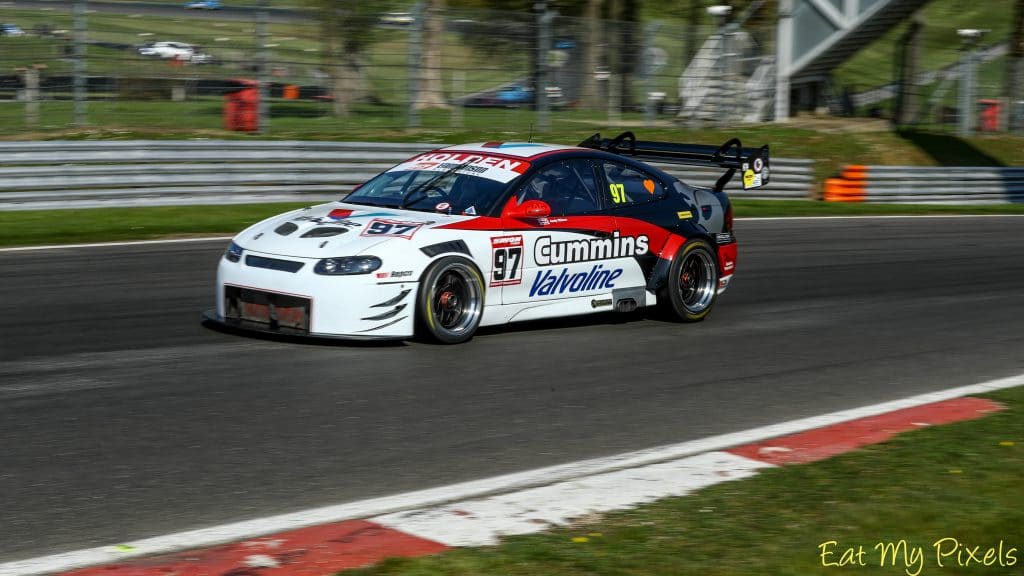 Burton Power Blue Oval Saloons Series
On his local circuit, Malcolm Harding was in a class of his own as his Mk2 Escort twice claimed BOSS honours.
Harding was able to battle with the leading Classic Thunder cars throughout, even taking to the grass at Surtees as he jostled with Andy Wilson's Holden in Saturday's race. While Mike Manning also mixed it with the Classic Thunder pack, alternator failure on his Sierra RS500 left Harding with an easy run to victory, albeit being pipped on the line by James Janicki's Nissan Skyline for third overall in the combined classification.
Over half a minute behind, Martin Reynolds's Mk2 Escort inherited second, while third in BOSS – and Class D winner – was James Dunkley's Fiesta XR2 after Alan Breck's 5-litre Jagermeister-liveried Capri retired in the closing stages.
Harding's beautiful Zakspeed-styled car dominated again on Sunday, but Manning's hastily fitted extra-large battery kept him running to the flag in a comfortable second in BOSS, with Reynolds third.
Dunkley's XR2 again took Class D, while Sam Daffin's more modern Fiesta claimed Class C honours in both races.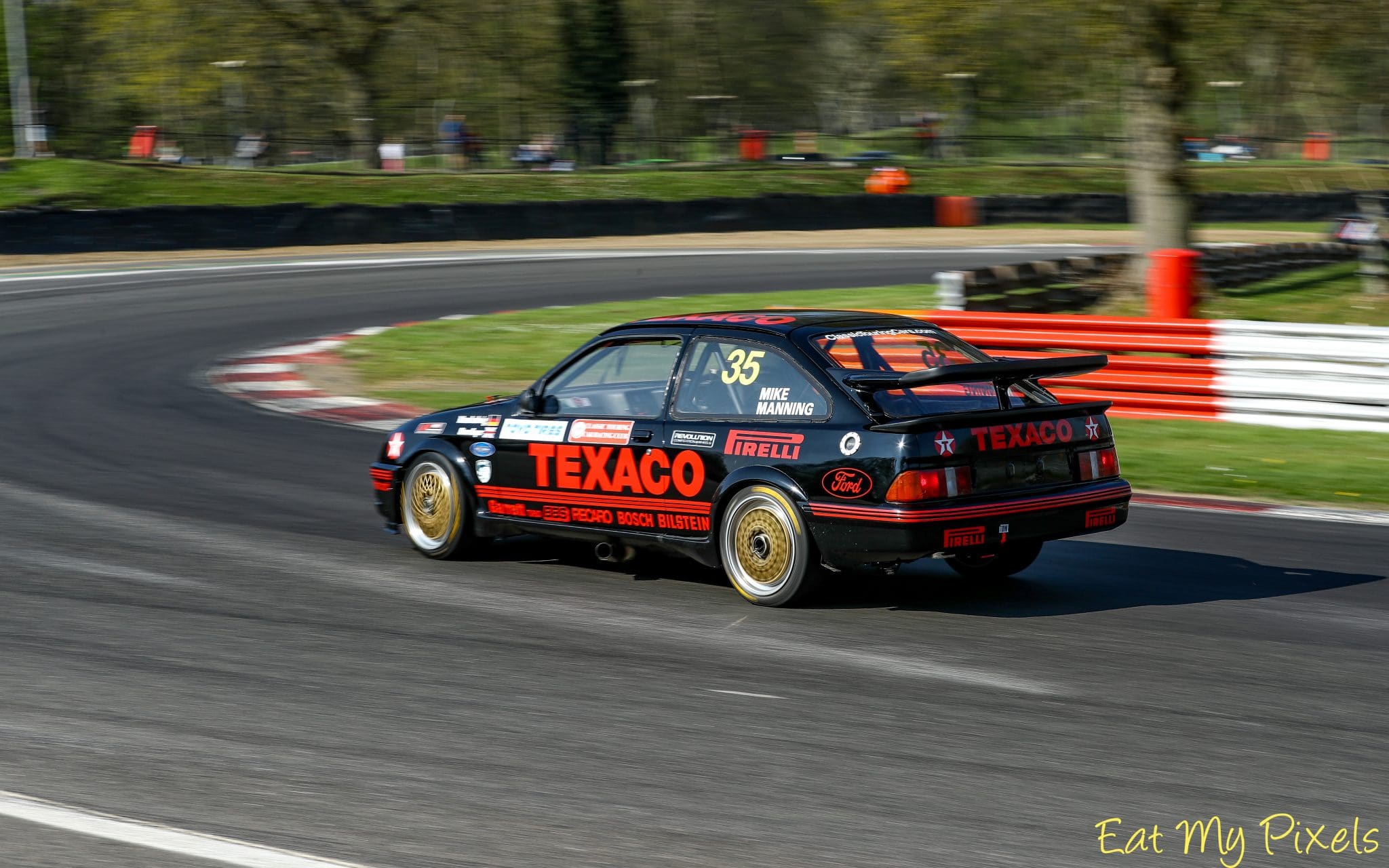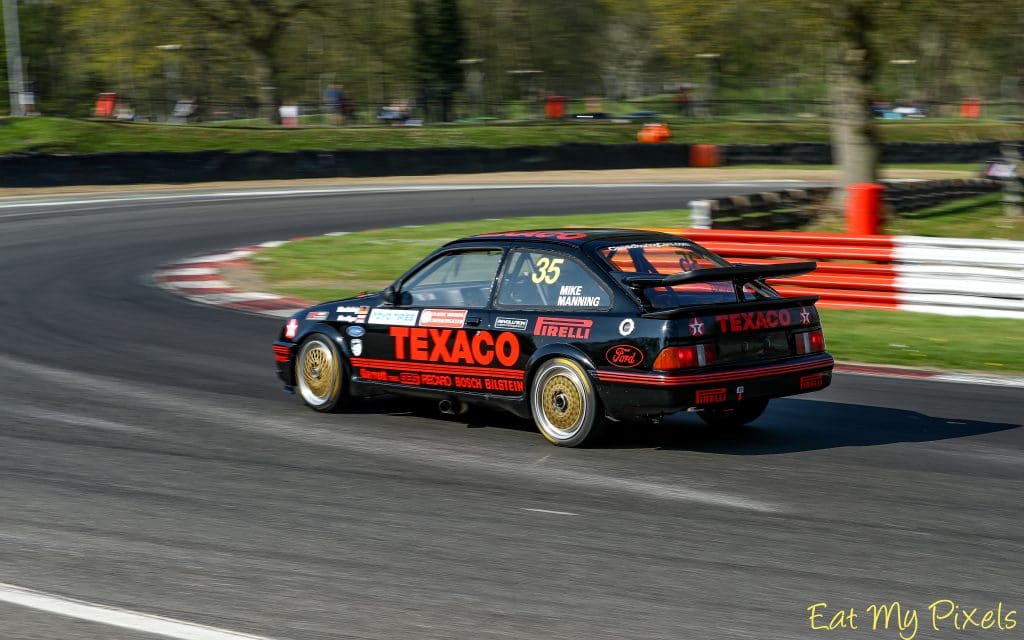 Burty Haulage Pre-'03 Touring Cars
Another new name came to the fore in Pre-'03 Touring Cars, with Don Hughes taking his smart little Peugeot 306 XSi to a pair of wins.
After polesitter Gary Prebble's Honda Civic made a sluggish start and was elbowed aside by some of the Jaguar Challenge cars, Ross Craig was able to build an initial advantage in his Civic Type R. It didn't take long for Prebble to clear the leading Jaguars though and he quickly chased down Craig's near 2s lead before powering past on the Brabham Straight at the end of lap four of 11.
But Prebble wouldn't be adding to his Silverstone victories, as his car developed a bad misfire and slipped to fifth by the time a red flag brought the race to a premature conclusion. He was lucky to bring it home at all after earlier contact with a Jaguar had sliced through several spokes on his wheel.
Meantime, Hughes had recovered from his poor start to catch and pass Craig – who was struggling with a loose rear end following contact off the line – mid-race, before inheriting the lead when Prebble's pace slowed.
From pole position, Hughes was able to build an early advantage in race two, keeping the leading Jaguar of Tom Robinson between his Peugeot and the chasing Honda of Craig, as Prebble worked his way through from row five.
Prebble cut inside Robinson's Jaguar at Druids on the fourth lap and set about carving into Hughes's 3.5s lead with a series of quick laps. But just as it looked like a grandstand finish was on the cards, the gremlins struck Prebble's machine again.
Prebble's pace slowed dramatically as he plummeted to seventh and Hughes escaped to a huge 17s second win over Craig, with James Alford's Civic more than half a minute behind in third.
"I could see Gary's headlights in the background so I thought, 'He's coming, so you just need to keep on it'," said Hughes. "It would have been a fantastic battle because by the time he'd hit me it would have probably been a few laps to go, which would have been a really good fight."
Though he lost out to Alford, John Hillyer's BMW E36 Touring – which had been third overall on Saturday – completed a double win in Class C by keeping out of reach of Cavan Grainger's BMW E46 330ci.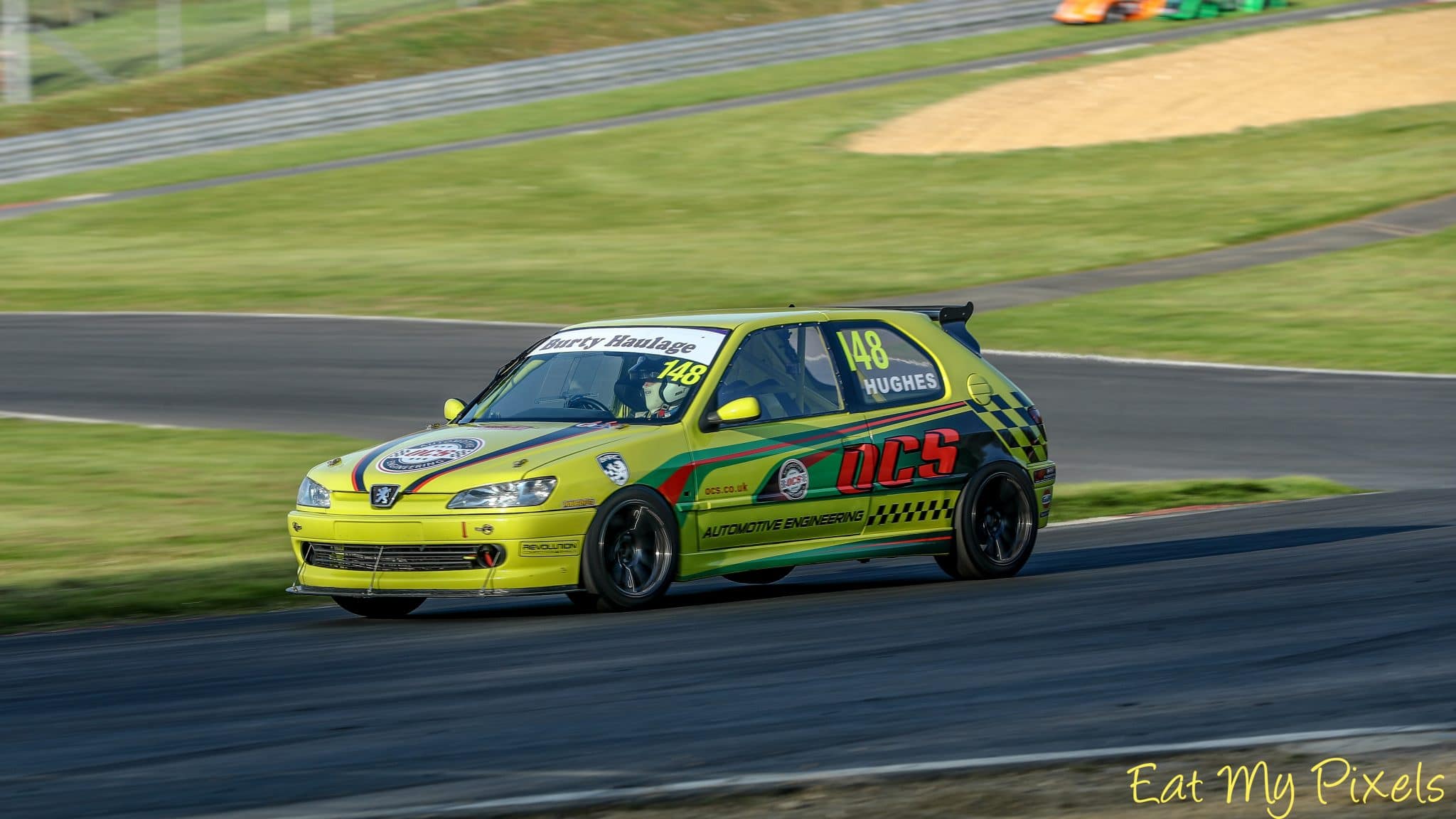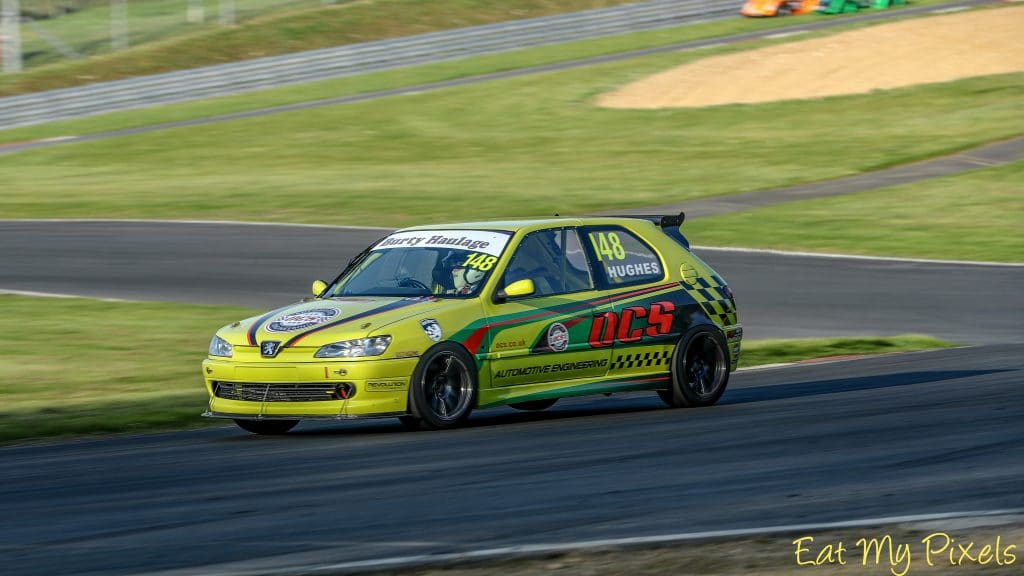 Berkshire Jag Compents Jaguar Challenge
Tom Robinson managed to tame his big Jaguar XJR6 saloon around the tight confines of the Indy circuit as he remained unbeaten in 2022.
Robinson had to battle back after bogging down at the start of Saturday's race, which was led by Colin Philpott's XJS until he was forced out with gearbox issues after a couple of laps.
That let James Ramm's XJS into the lead before Robinson hunted down the Essex driver. After almost drawing alongside heading into Paddock Hill Bend, Robinson attempted to cut back on the inside into Druids. Relatively light contact was made and Robinson swept through on the inside into a lead he wouldn't relinquish.
Michael Holt completed the overall podium and won Class C in his X300, ahead of Tom Butterfield's XJS. Fifth overall and first in Class B was the XJS of Mike Seabourne, who had found more pace in his car via some set-up changes, only to lose grip as the race wore on.
A much better start by Robinson in Sunday's sequel gave the Somerset racer an easier ride on his way to a second victory on a track at which he has little experience. Robinson instead enjoyed a scrap with Ross Craig's Pre-'03 machine until he ran out of grip in the closing stages. That allowed Ramm to close in but Robinson held on to victory.
Behind them, Seabourne and Butterfield enjoyed a good battle for third, which included some synchronised sliding through Surtees, until Butterfield suddenly slowed into retirement with a couple of laps to go.
Simon Lewis claimed a second Class A success of the weekend in his XJ6, just edging Tim Morrant's Daimler version.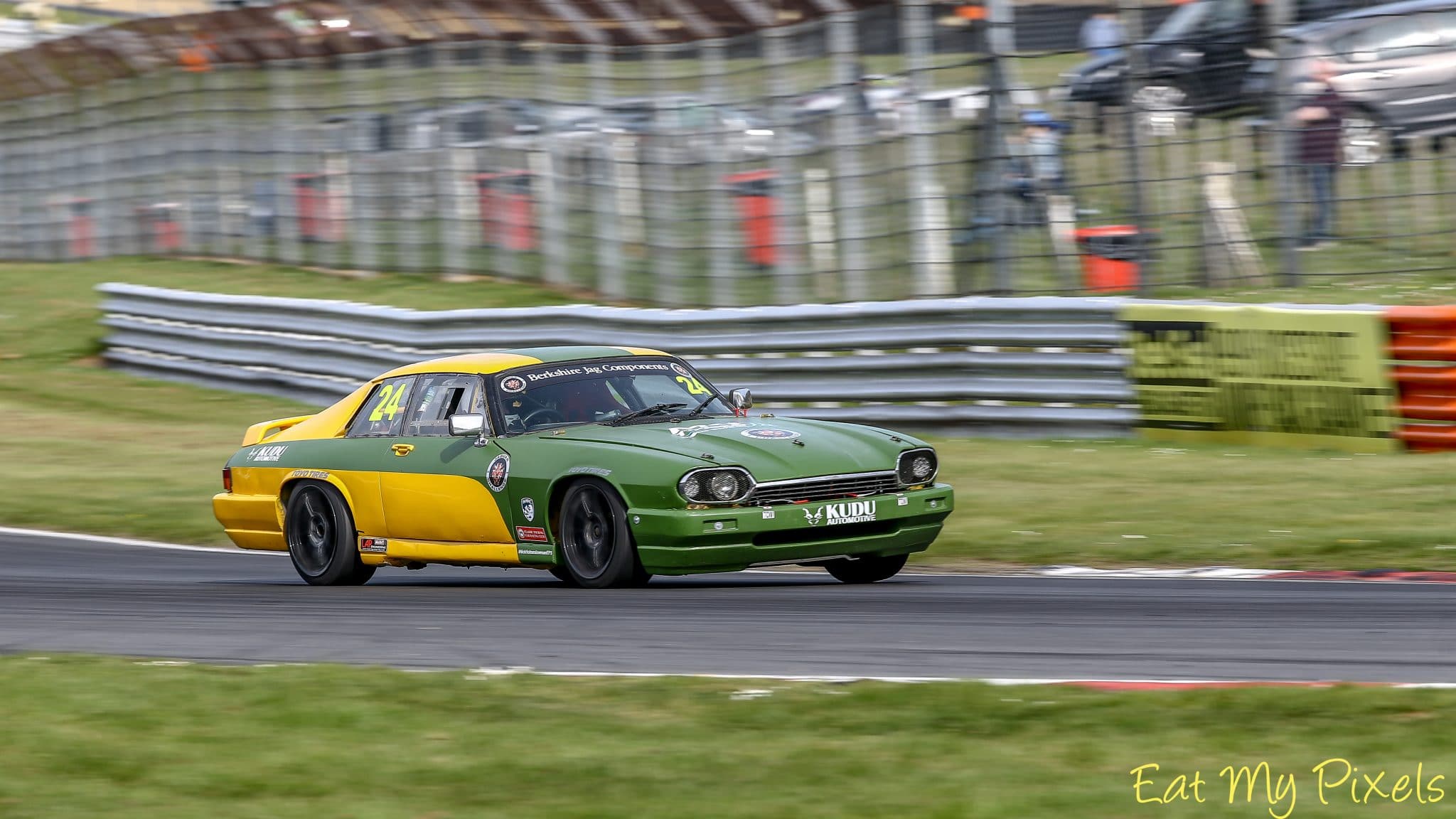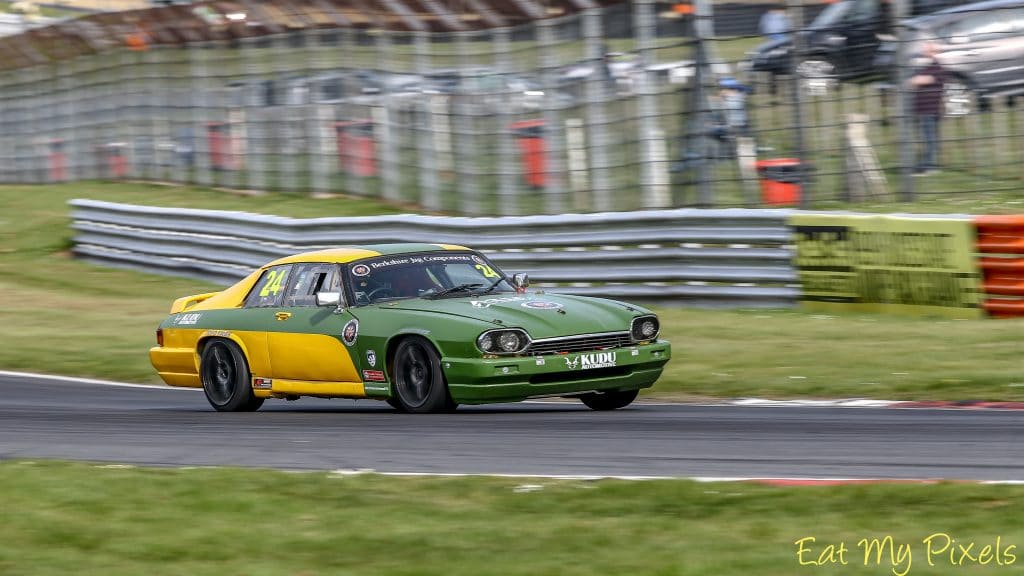 Poultec Pre-'66 Touring Cars
The big American V8s of Piers Grange and Alan Greenhalgh took the honours in Pre-'66 Touring Cars but they had their work cut out fending off the smaller cars.
In Saturday's opener, it was Robyn Slater's Ford Anglia and the Hillman Imp of James Ibbotson on row three that made the best starts, and while they jumped the Minis of Barry Sime and Mike Davies, they couldn't find a way past the huge Yank tanks on the front row.
Scotsman Sime had the quickest car in the early stages and picked off Ibbotson at Surtees on the first lap and Slater at Druids on the next tour before hassling Grange's Ford Mustang which in turn was putting pressure on Greenhalgh's Ford Falcon.
When Greenhalgh made a slight mistake at Surtees on lap 11 of 15, Grange knew if he braked in avoidance then Sime would be past him in a flash, so he only lifted off. The Mustang nudged into the back of the Falcon at McLaren and was through as they entered Clearways, with Greenhalgh just managing to keep Sime behind as he powered out of the corner.
The positions were unchanged thereafter, with multiple BOSS champion Grange taking his first Pre-'66 win by a quarter of a second from Greenhalgh, as both struggled with their brakes. Sime dropped a couple of seconds back in third, the Class C winner.
Slater also slowed in the closing stages but held fourth from Davies, while Pat Kenneally won the Lotus Cortina class ahead of Nigel Cox. Ibbotson, while initially showing strong pace with his new 1040cc engine, slipped back as he nursed a misfire but still took a comfortable victory in Class E.
"Unfortunately I tapped Alan which helped me through," admitted Grange, "which is a bit of a shame really because you don't want to win like that."
Wheelspin for Greenhalgh at the start of race two helped Grange convert pole into the race lead, with Slater initially slotting into second. But Greenhalgh powered past the Anglia up Hailwood Hill then dived inside Grange at Surtees.
Sadly, there would be no repeat of the V8s' previous race-long tussle as a heavy vibration from the Mustang's transmission forced Grange into retirement.
Sime moved into second as Slater slowed with a misfire in the second half of the race. The Scot closed up to Greenhalgh but could find no way through so had to settle for second and another class win.
Slater dropped to fourth on the road behind Kenneally's Cortina but was promoted to the podium via a 15s track-limits penalty for Kenneally, which also cost the latter class victory. That instead went to Cox.
David Heale's Hillman Imp won Class E after Ibbotson's car dropped onto three cylinders, forcing him out, while Luc Wilson's Austin A40 was a double victor in Class D.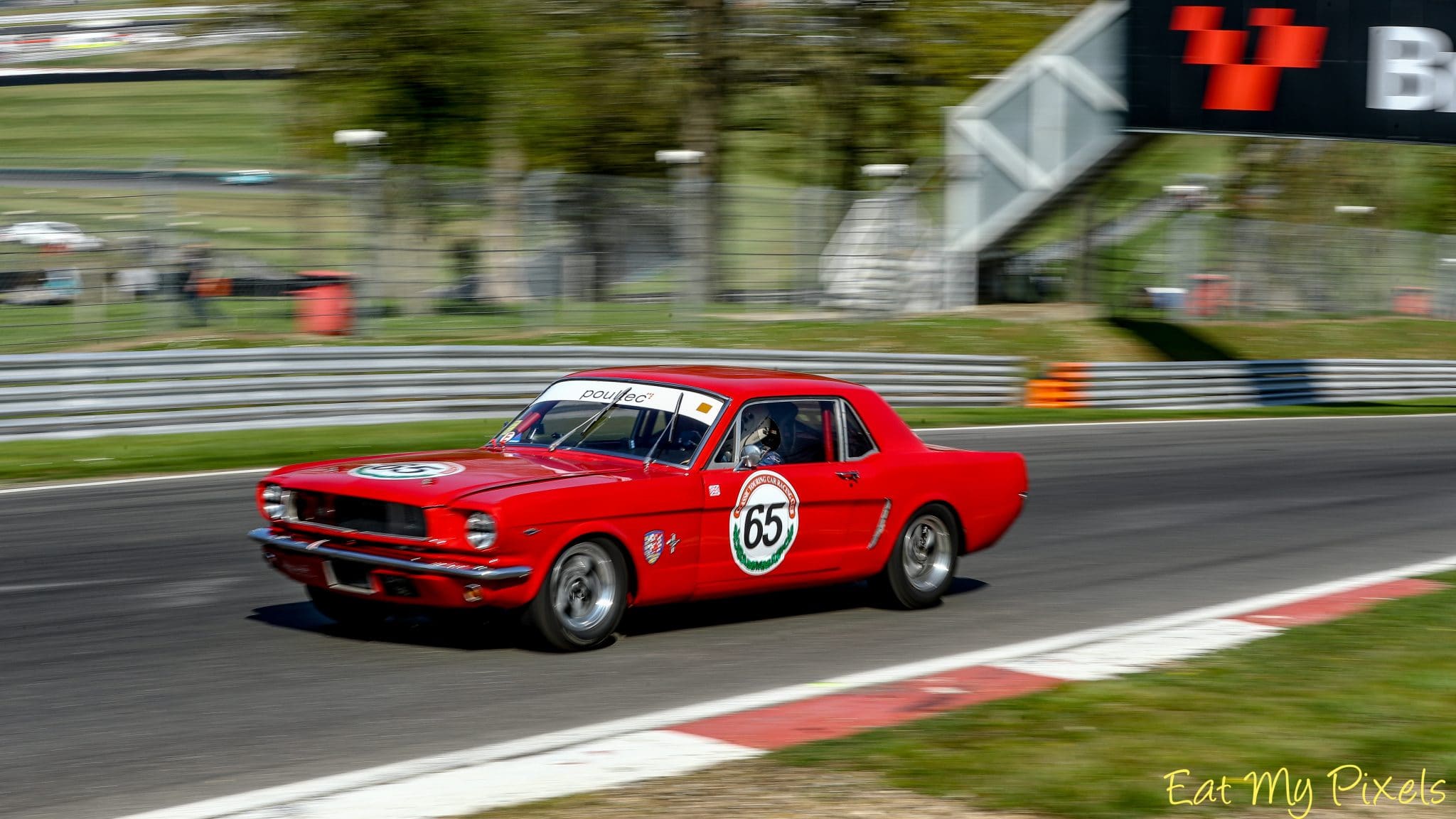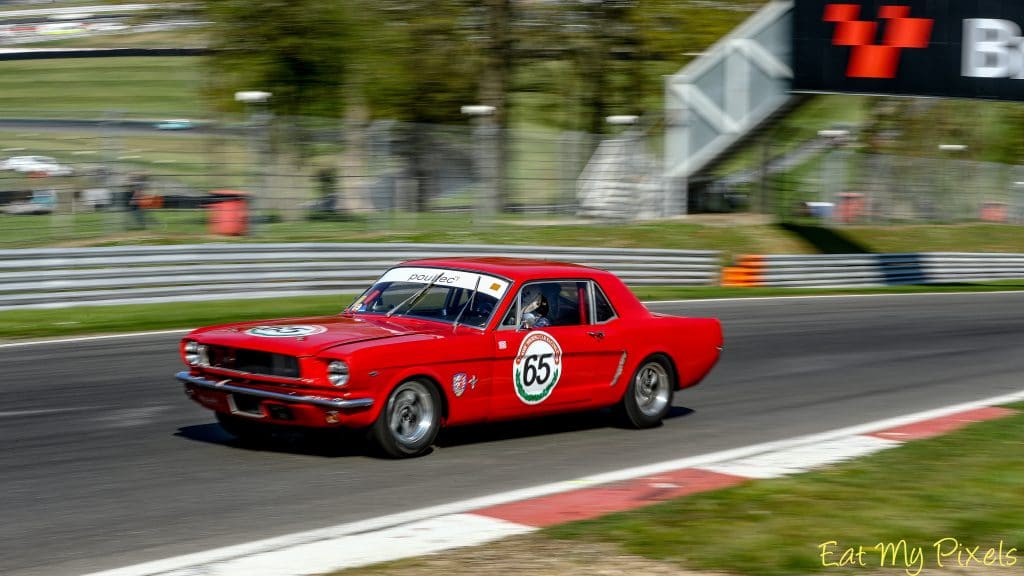 Full results are available via the TSL website.
All images courtesy of CTCRC official photographer Steve Jackman/Eat My Pixels