Ahead of Round 3 of the 2022 season at Oulton Park on 28 May, Champions' Chatter hears from Gary Prebble, winner of the 2021 Pre-'03 Touring Car Championship.
Name: Gary Prebble
Age: 51
Hometown: Wickham, Hampshire
Occupation: Company director
Championship: Burty Haulage Pre-'03 Touring Cars
Car: Honda Civic EG
Sponsors: Nitron (suspension suppliers), Anderson Racing Engines, Acuity (specialist Honda instrument suppliers), Racing Wheels EU
Career highlights: Outright championship wins in Castle Combe Saloons (2002), Castle Combe GT (2012 & 2014) and CTCRC Pre-'03 Touring Cars (2021), as well as numerous class titles and topping the Autosport National Driver Rankings in 2020 – that was a lot of racing that year with two cars!
One of my highlights was also racing alongside the Super Tourers, with the likes of John Cleland and Colin Turkington, at Silverstone this year – it was amazing.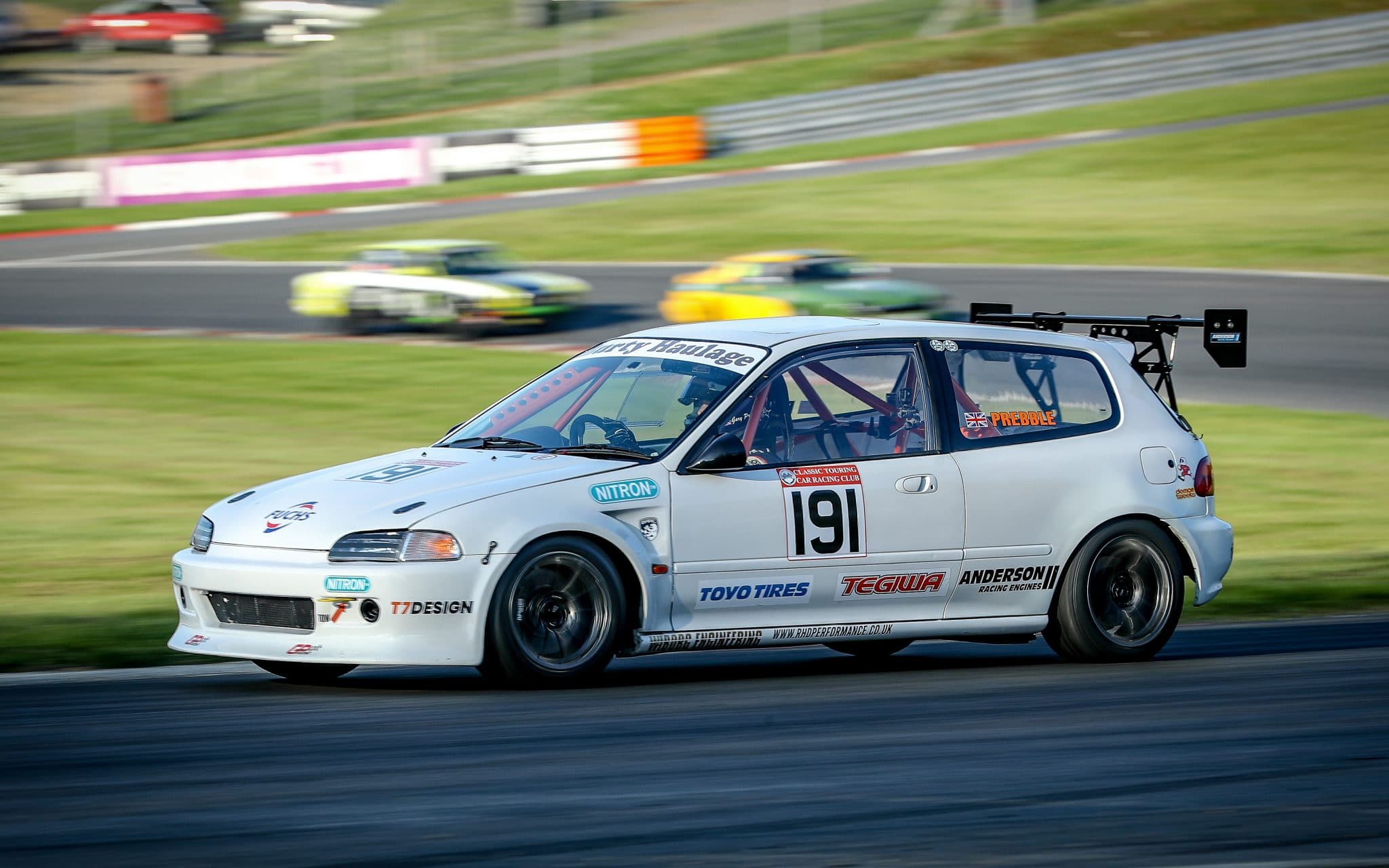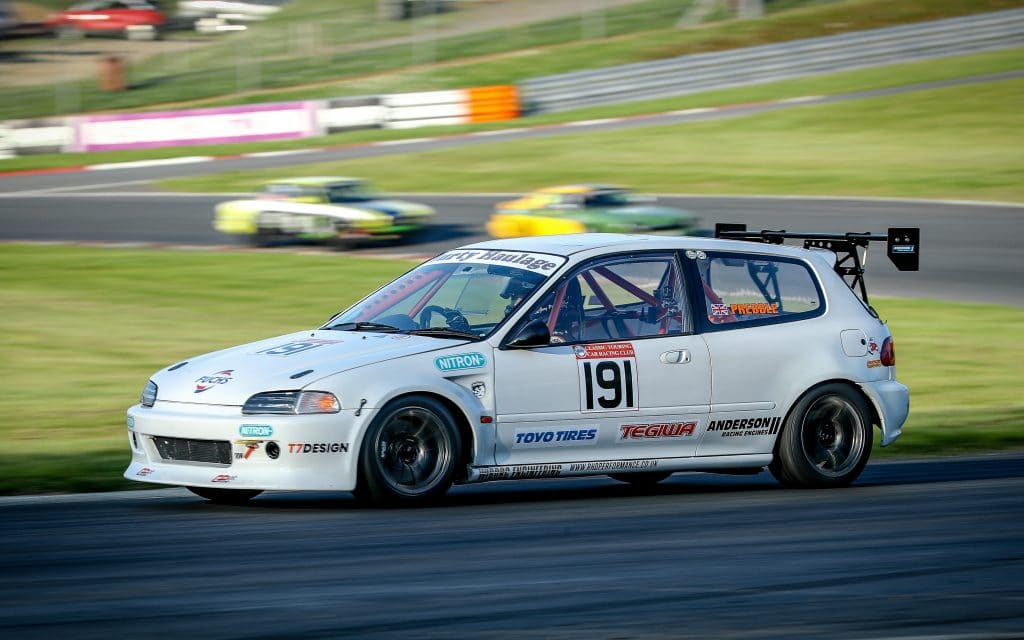 What brought you to the CTCRC Burty Haulage Pre-'03 Touring Cars?
I heard that it was a well run championship and had previously been tipped off that it was a friendly club, which was more important. And obviously I'd been used to Castle Combe which has got that same kind of family-friendly feel about it.
We previously did 750MC Hot Hatch, and dominated that, and then they changed the power-to-weight rules which made my car ineligible. So I said, 'Look, let's try a new challenge'. I started looking at what was about, and came across the CTCRC.
I rang Colin [Gibbons, competitions secretary] to see if the car was eligible, so we had some lengthy discussions over what I had and he said, 'Yep, that ticks all the boxes.' And from that day we got welcomed into the club.
Sonia [Gibbons, club secretary], Colin and Stuart [Caie, club chairman] are absolutely fantastic. From day one they've been very warm, welcoming and we just got on really well. It's a lovely atmosphere, to be honest.
Tell us about your car
It's a 1994 Honda Civic EG and I've had it three or four years.
I had a Peugeot 205 GTi before the Honda but that was getting to the point it wasn't very competitive in Hot Hatch anymore. I'd developed it as far as it was going to go, and had an opportunity to sell it. So I sold it, bought the Honda and enjoyed developing the Honda.
I bought it from a guy in Wales. He had it as a track car and a road car, and it had a supercharger on it, running around 400bhp! So it was eligible for absolutely nothing but the shell was already seam-welded and it already had the K20 engine in it and it had a rollcage.
So it ticked a lot of the boxes rather than starting afresh with another car. I made a bit of money back on the supercharger, and then had to fit the kill switch and fire extinguisher, etc, and do all the fuel system to make it eligible for racing.
Over the last two years we've been developing it like crazy. This winter it had an extensive rebuild with the engine out. We went to town on it, with the help of a lot of sponsors.
We put a proper pedal box in it, some AP brakes, new suspension, all new lower arms and did away with all the bushes so it's now on full spherical bearings. It's got a standalone ECU now, new dash, new loom. A proper race car.
All of the mechanical work I carry out myself, all the geometry work I carry out myself. The only thing I don't do myself is the engine which is done by Anderson Racing Engines.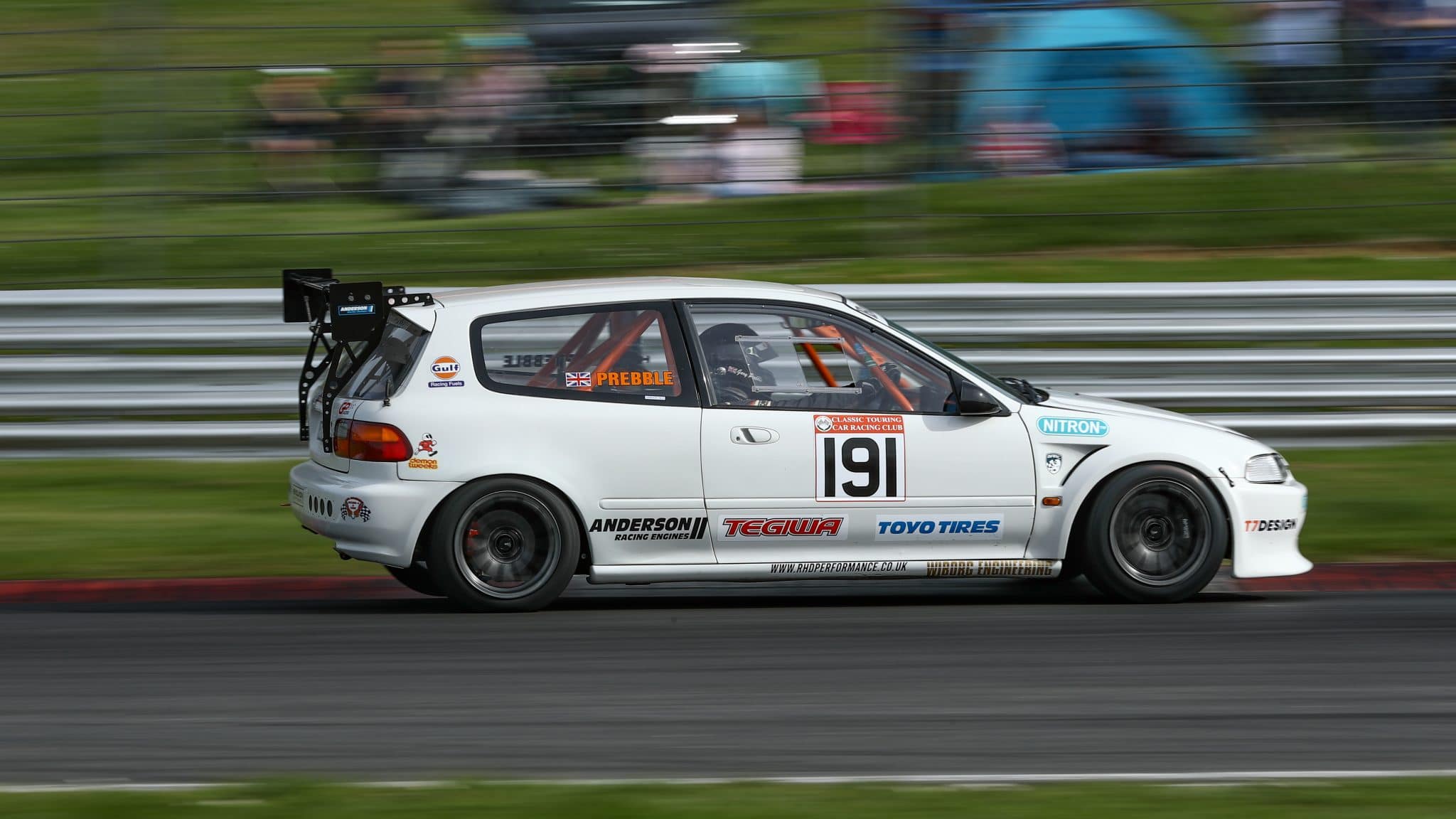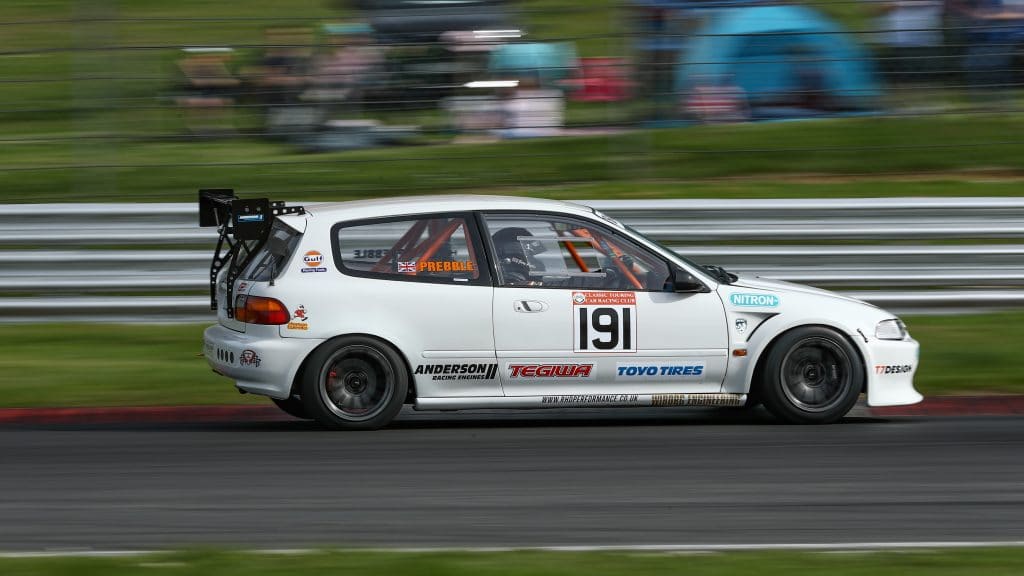 How is this season going?
It's almost like having a new race car and starting over afresh. I said to my other half, Jodie, 'Don't be surprised if we go out and get one or two teething issues.' Like with any new build, there's a couple of things that have cropped up, but the car has showed great pace and we had two wins at Silverstone.
We've had to put on another 40kg this year, for the power-to-weight ratio, and it's showing very similar pace to last year. So I think the improvements that we carried out over the winter have paid dividends.
But we've had one or two little electrical gremlins through harmonics and vibrations which dropped me back at Brands Hatch.
We think we've got to the bottom of them now. We're hoping so anyway! We think it all transpired back to a clutch issue. There was a clutch plate that was fouling on the back of the gearbox and causing a vibration through the car, and we think that's what's been causing the issues with these harmonics. So it's all come out, it's all been rebalanced and had new sensors.
Since then, touch wood, it hasn't missed a beat in a brief test up and down the road. Although it's a race car it still's got an MOT and you can put reg plates on it and whizz it up the road.
Oulton Park's going to be its big test. We're looking positive towards it, and hope to have a good shakedown with the Super Tourers again – that'd be fantastic.
All images courtesy of CTCRC official photographer Steve Jackman/Eat My Pixels