Anthony Reid and Richard Wheeler shared the honours in their stunning Nissan Primeras as the Super Tourers starred at Oulton Park. Barry Sime's giantkilling performance in his Mini and Ric Wood's Holden Commodore thundering to a double success were further highlights of a cracking day's racing in Cheshire.
Laser Tools Super Tourers
In their second outing with the club, the crowd-pleasing high-tech Super Touring cars of the 1990s once again lived up to expectations. Richard Wheeler climbed from fifth to first in race two after period star Anthony Reid had won a truncated opener.
Series newcomer Mark Jones claimed pole position in his ex-Jason Plato Renault Laguna in the dying moments of the session, just pipping Wheeler's 1999-spec Nissan Primera. Racing at the circuit for the first time, Wheeler had surprised himself by usurping the slightly less compliant '98 sister machine piloted by Reid who pitted, unaware that their Avon tyres were less peaky than the confidential Michelin rubber used at the height of the formula's boom period. His fellow veteran Scot John Cleland (Vauxhall Vectra) was fourth fastest.
From the rolling start, Jones and Wheeler ran side by side through Old Hall, leaving Reid no room to challenge, before Wheeler edged ahead into Cascades. Reid then joined his Brisky Racing team-mate out front by passing Jones around the outside at Lodge.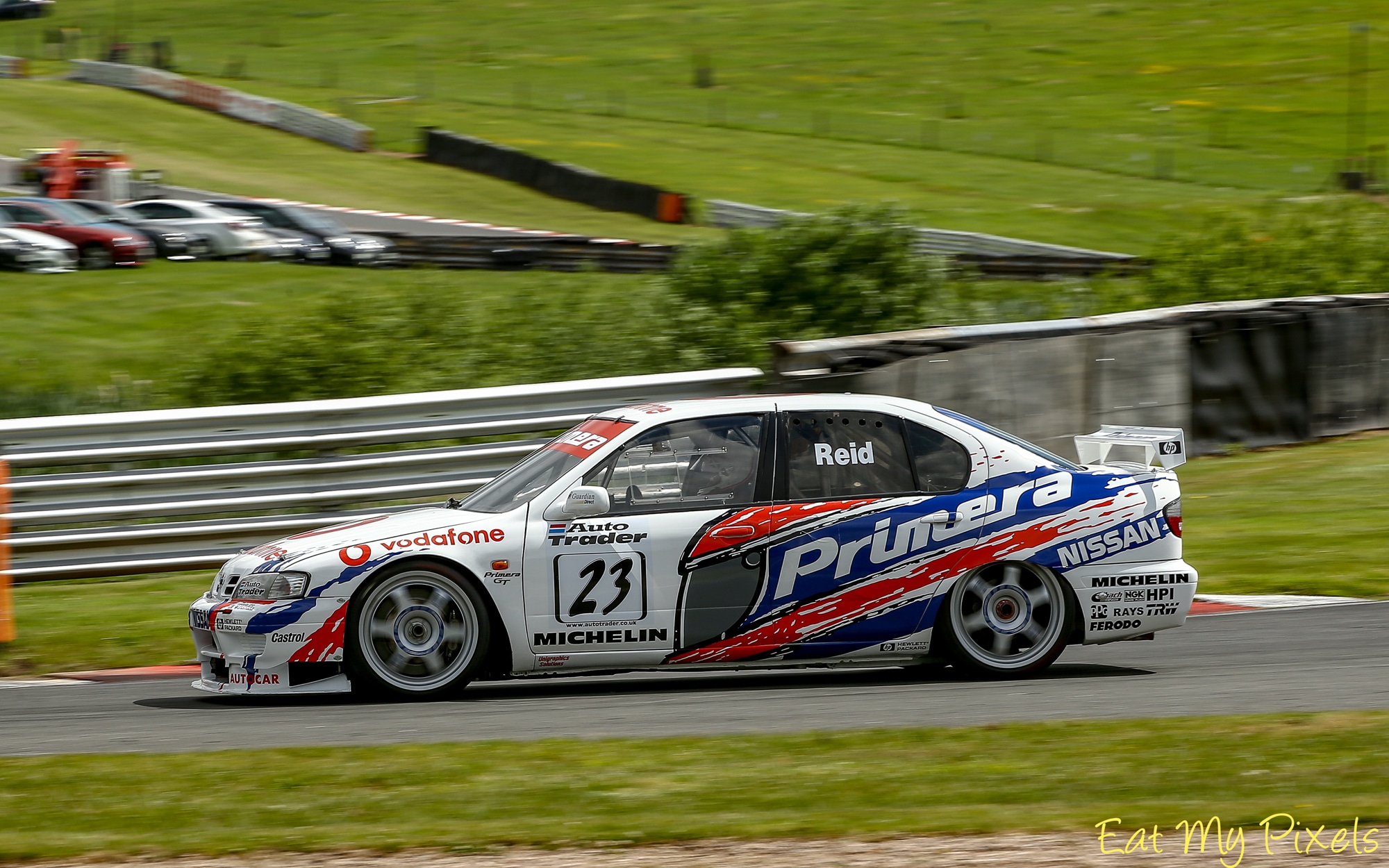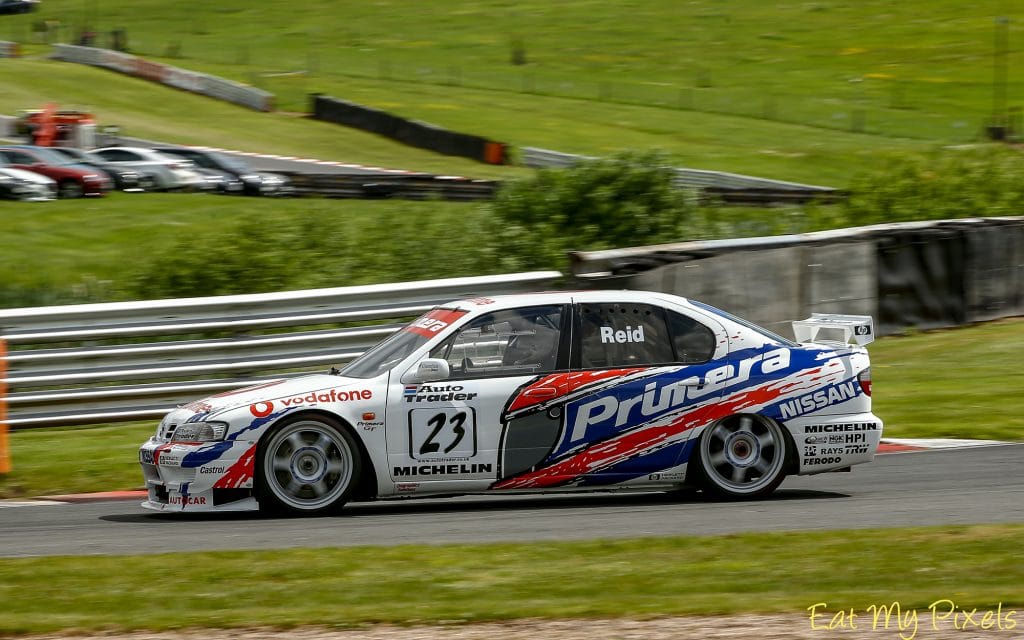 But the Nissan 1-2 wouldn't last long as Wheeler's Primera snapped away from him under braking for Old Hall at the start of the second lap, a combination of cool tyres and a rearward brake bias catching him out. He rejoined at the rear of the field, only for a safety car and then red flags to halt the race as Andrew Strachan's Andy Rouse Engineering-built Ford Mondeo had crashed at Druids.
Only a single lap of green-flag running was possible in the restarted race after a spin for Robert Salisbury's Honda Accord exiting Knickerbrook brought out the safety car. That handed Reid the win from Jones and Cleland as Wheeler recovered to fifth – clinging on to another lairy moment at Lodge – behind Tony Absolom's Vauxhall Cavalier.
Wheeler jumped Absolom when the lights went out for race two, joining the four-car pack of pacesetters headed by Reid from Jones and Cleland. Wheeler's Nissan dived inside Cleland at Druids on lap three of nine, then pulled off a similar move on Jones just over a lap later at Lodge.
The former Britcar racer then took only a couple more laps to outbrake Reid – who had shown him the lines around the circuit in Friday testing – into Hislop's to complete a fantastic drive.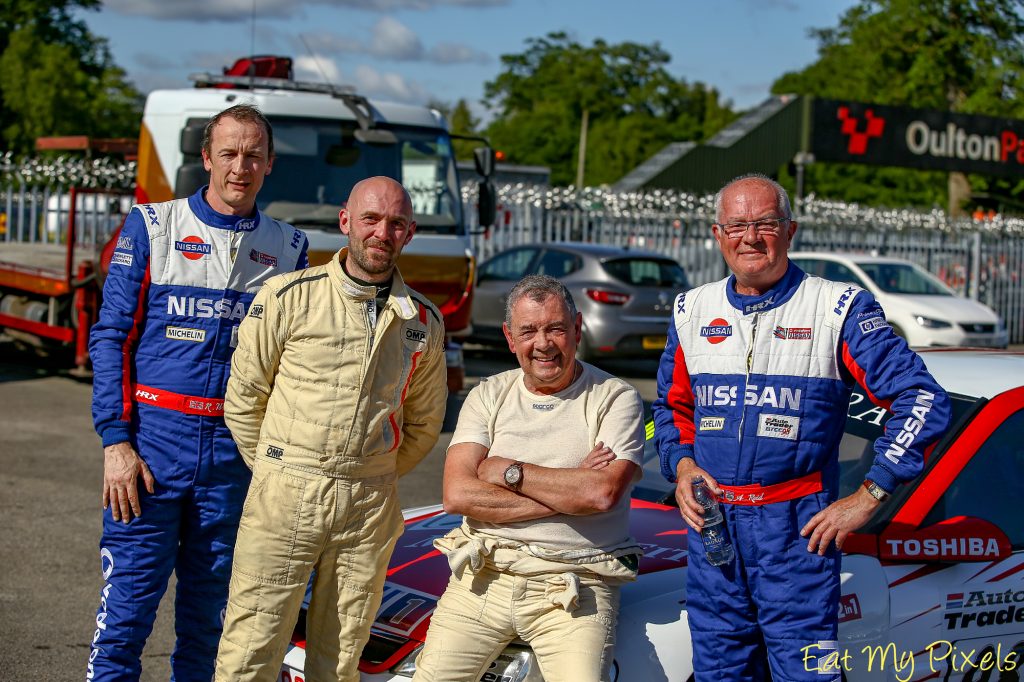 "To go from fifth, past Cleland and Reid and the Renault… it hasn't sunk in yet," said Wheeler, whose performance had stunned himself. "I'm just in shock I think! I was making up nearly everything on the brakes. I could see I was nibbling a quarter or a third of a car length every time I came into braking zones.
"It's a bit surreal," continued Wheeler, whose support for the series, running a two-car team, is second to none. "To come from watching touring cars years ago, to driving them, and then be out with those guys and actually win a race… what can you say?"
The team would be denied a 1-2 once again, as Reid's brake pedal went long. It caused him to lock the rears and spin into the gravel at Cascades on the final lap. He did manage to extricate himself and brought the car home fourth.
Double British Touring Car champion Cleland scored his best result in the series so far with second position, two seconds shy of Wheeler, setting the fastest lap as he overhauled Jones and put the pressure on Reid.
Burty Haulage Pre-'03 Touring Cars
Joining the Super Tourers on track, to provide a 'Super Production' flavour to the action, were the Pre-'03 Touring Cars, with Gary Prebble scorching to a double success in his Honda Civic EG.
Such was Prebble's qualifying pace that he was fifth fastest overall, less than 0.1s slower than John Cleland's Super Touring Vauxhall Vectra. The two series start on separate grids but Prebble was still able to get among the Super Tourers in the second race, enjoying a cracking battle with Tony Absolom's former Mint Motorsport machine. That was despite Prebble's engine dropping onto three cylinders and his car running on treaded tyres.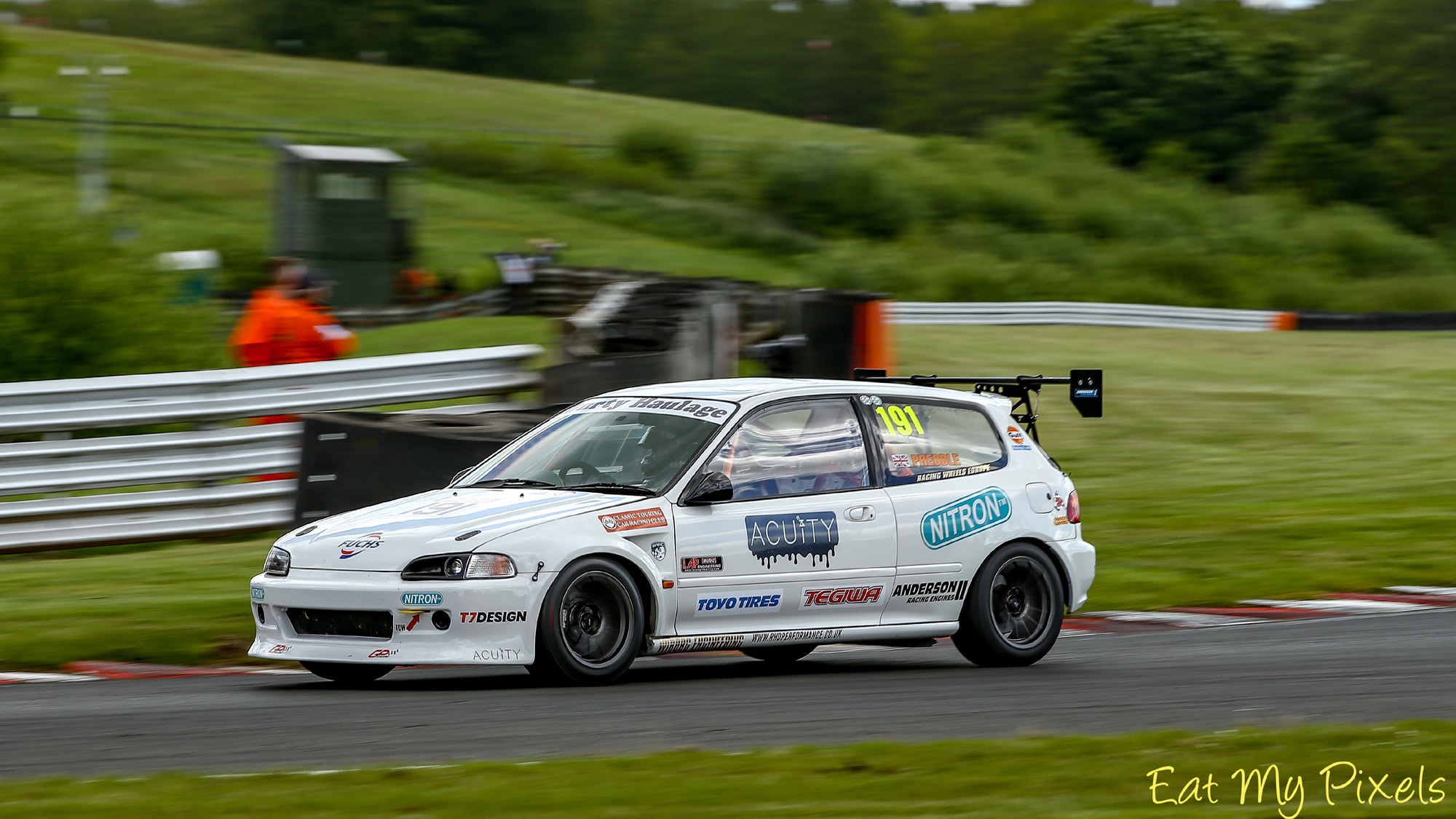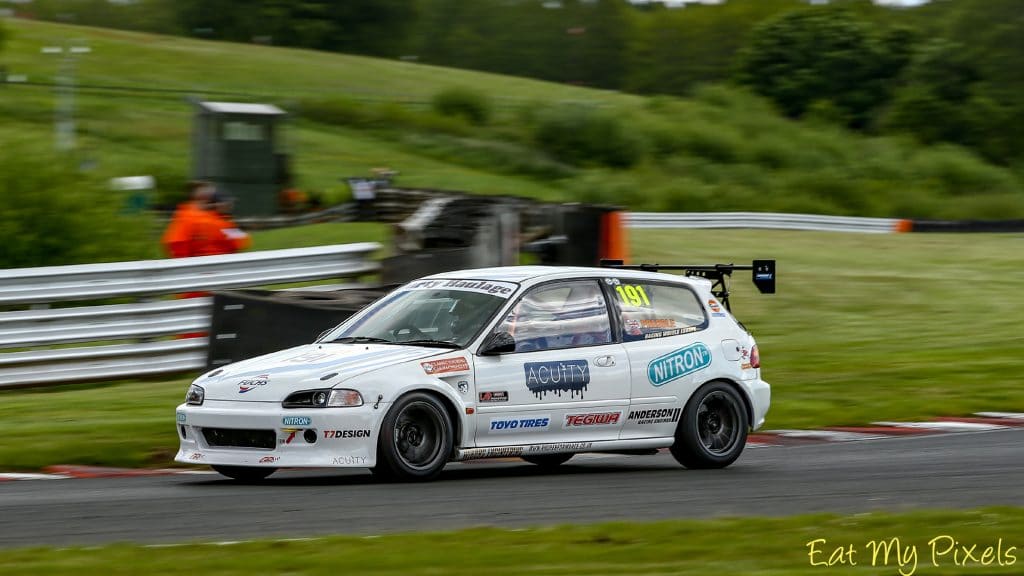 "It's fantastic to have the opportunity to race with the Super Tourers," said Prebble. "[Absolom] came and thanked me at the end of the race for keeping it so clean. I said, 'Look, I've probably got more respect for your car than you've got for it!'
"The car's showing great potential still. I think once we can get these gremlins out the way, it's going to be a brilliant little car."
Brands Hatch winner Don Hughes (Peugeot 306 XSi) and Ross Craig's Honda Civic Type R completed the podium in each outing, while Simon Mann was pleased to put engine problems behind him to twice claim Class A honours in his BMW E46.
Poultec Pre-'66 Touring Cars
A classic little-and-large contest between a trio of Yank tanks and Barry Sime's plucky Morris Mini Cooper S provided a thrilling spectacle of Pre-'66 Touring Cars. Having lost out to Alan Greenhalgh's Ford Falcon in a tense opener, Sime turned the tables in an excellent race later in the day featuring close battles throughout the 29-car field.
Polesitter Greenhalgh kept Sime at arm's length for most of the opening race, but he felt the constant pressure of the Class C-winning Mini. Piers Grange's Ford Mustang had to fight back past Tim Scott Andrews's Falcon – on its first appearance of the season – and the Lotus Cortina of Roger Stanford to secure third. The Crewe racer felt it could have been more, as he was edging towards the leading duo before a mistake at Lodge.
Stanford, just pipped by Scott Andrews to fourth on the road, then lost his Class F victory to a 10s jump-start penalty, Nigel Cox the beneficiary. James Ibbotson's Class E Hillman Imp – now with a slightly less powerful engine after his Brands Hatch woes – mixed it among the Lotus Cortina pack as he took a comfortable class win on his first appearance at the circuit.
Further back, 2018 champion Luc Wilson put a qualifying oil leak behind him to pull clear of a thrilling mid-pack scrap to claim Class D honours in his Austin A40, its handling transformed by new dampers.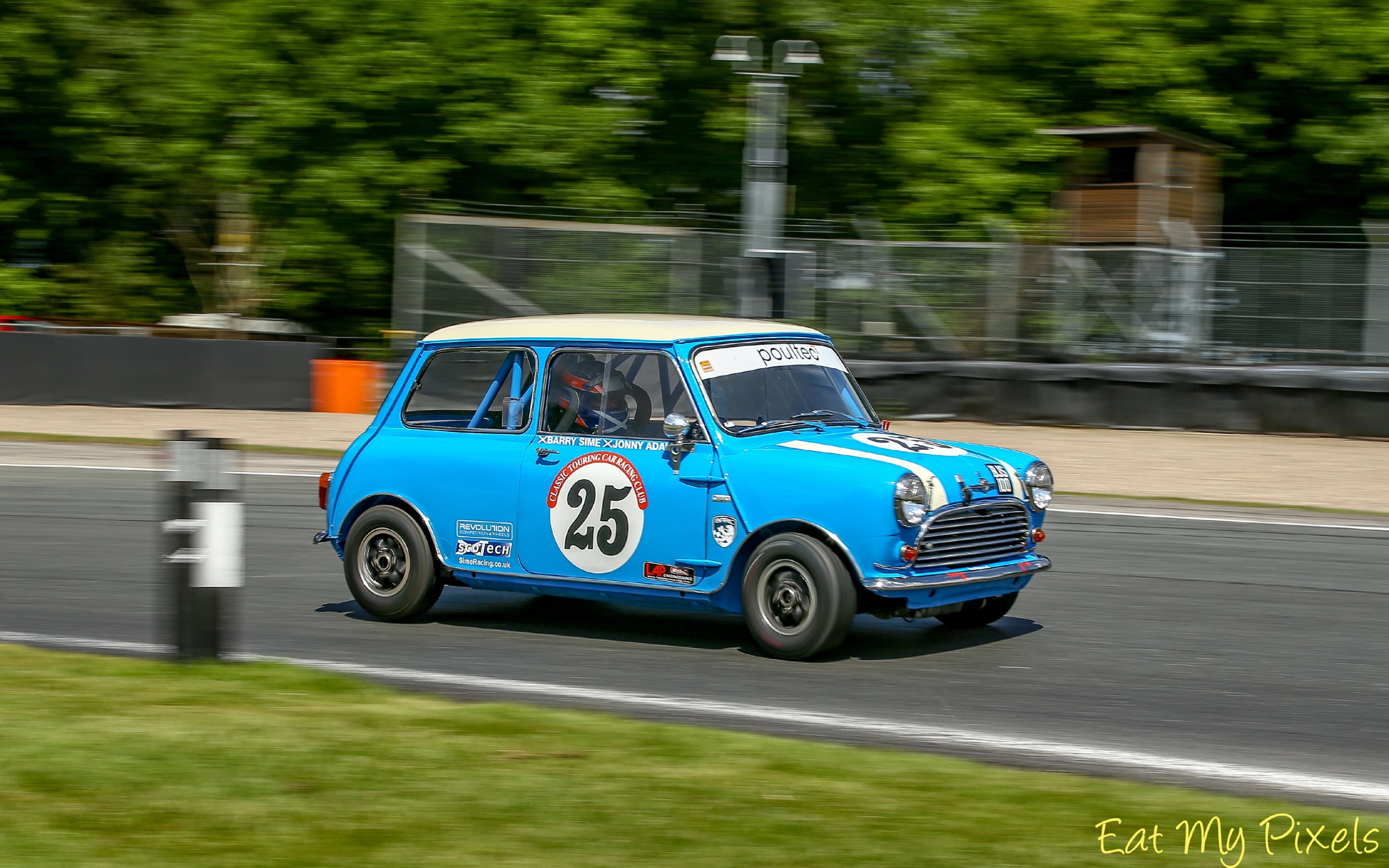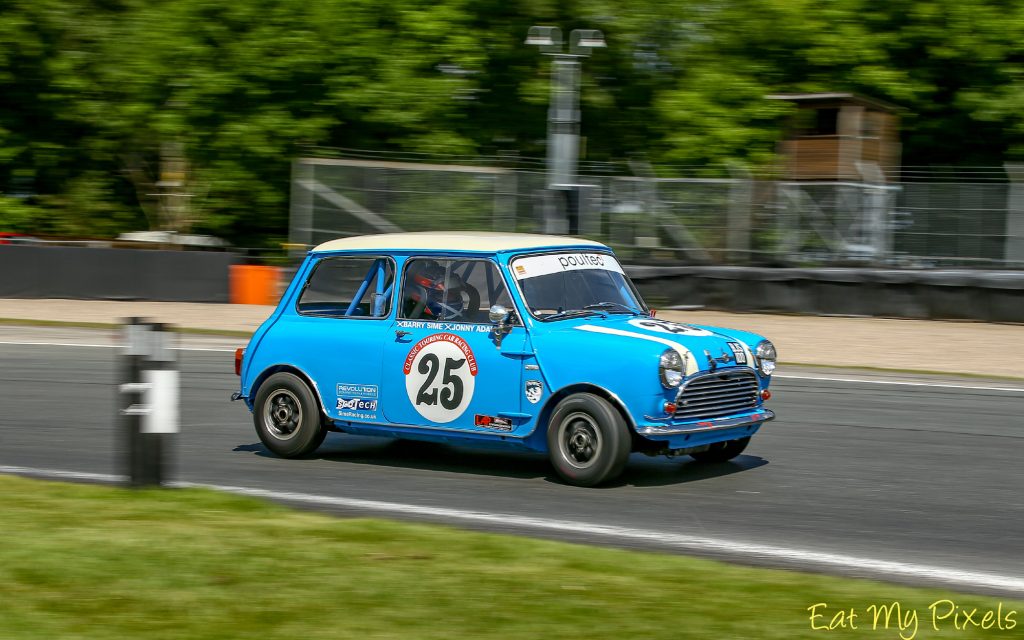 A blistering start from Scott Andrews gave him the lead of race two, as Sime hung on around the outside for second ahead of Greenhalgh. The Mini then dived inside Scott Andrews's Falcon at Cascades, with Greenhalgh also powering his similar machine past on the exit before Scott Andrews gradually faded.
Greenhalgh thundered past Sime out of Deer Leap at the end of the second lap but the Scotsman came back through under braking for Old Hall, the Mini picking up some war wounds for its troubles as Greenhalgh's massive motor wallowed through the bend.
That spurred Sime on further, but he would face an almost identical challenge from Grange, who traded second with Greenhalgh, a few laps later. Again, the East Kilbride racer was able to brake much later to reclaim the lead.
Sime started what would have been the last lap with only a couple of seconds left on the clock. As it transpired, a number of drivers were left wishing the race had been cut slightly short after a bruising sequence of events.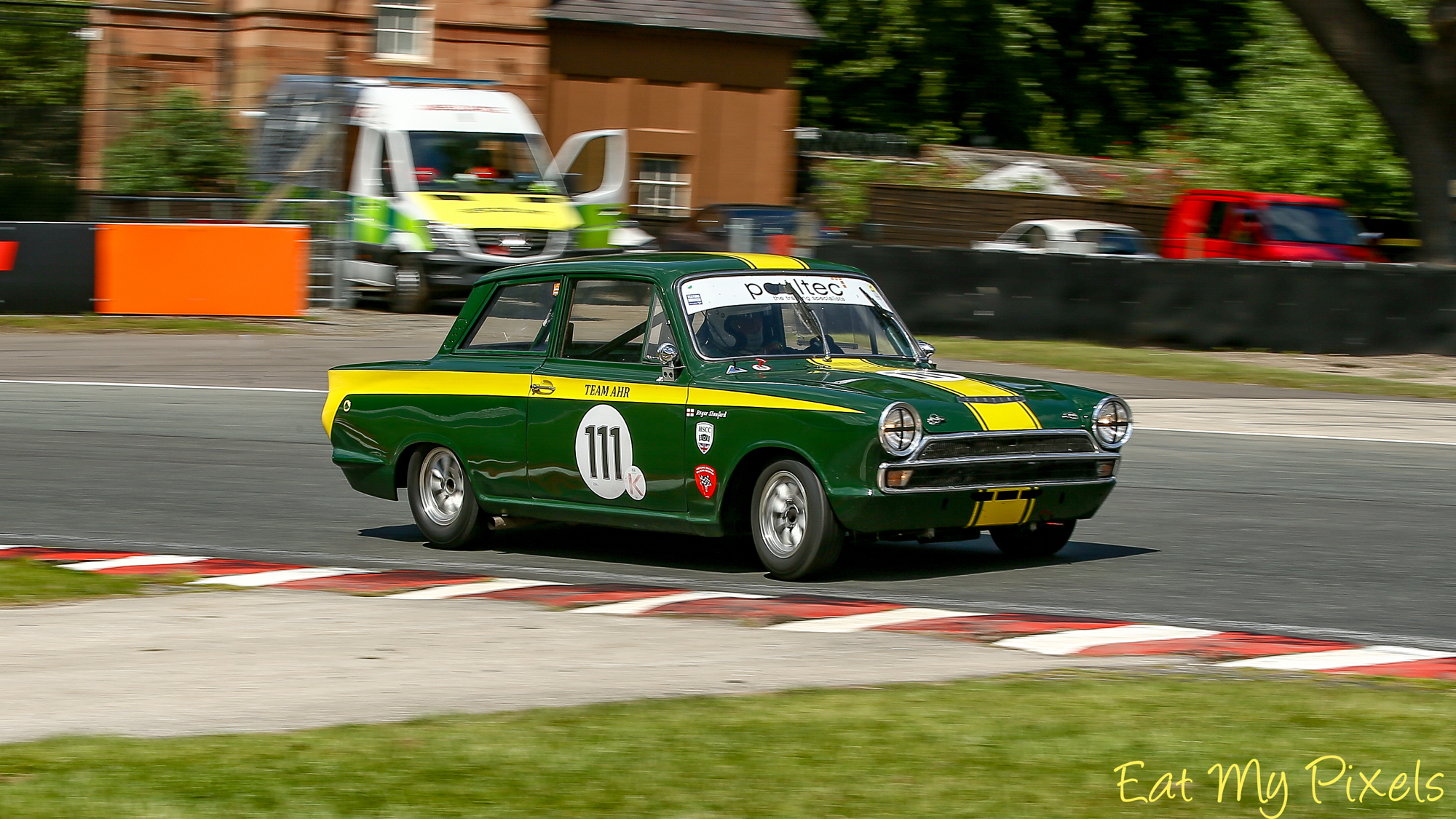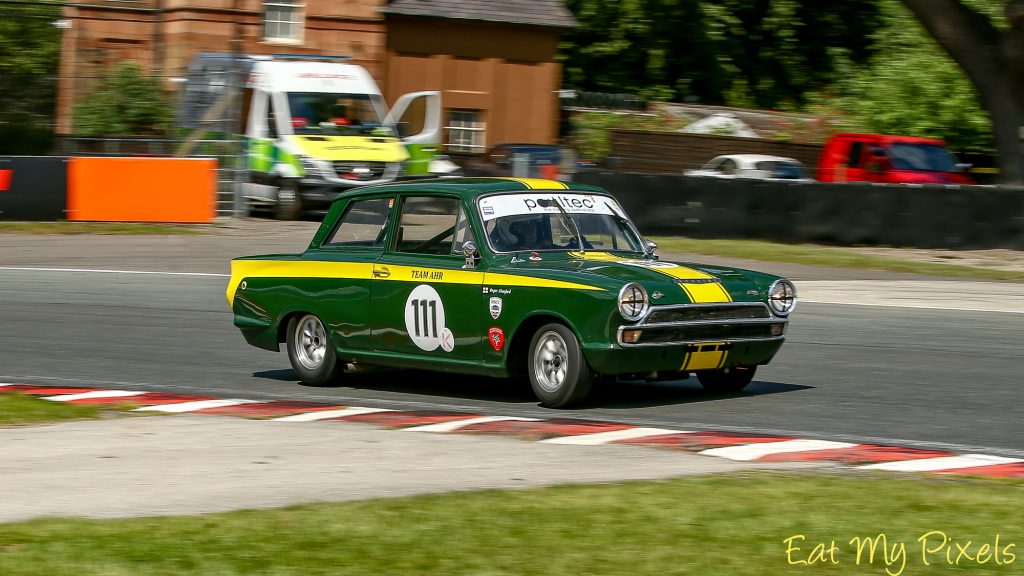 Greenhalgh ran over the grass in his last-gasp challenge for the lead up Clay Hill whereupon a bump kicked his car sideways and into the barriers. Almost simultaneously, a little further back, the driveshaft on Grange's Mustang freed itself at Knickerbrook, taking the right-rear wheel with it.
The pursuing Stanford swerved in avoidance but ran into the barriers and was flicked into a violent roll, bringing out red flags. Thankfully, Stanford was soon out of the car but had a trip to hospital for treatment to suspected broken ribs.
The unfortunate ending shouldn't detract from Sime's victory in what had been a superb race to that point. "I think all the spectators like to see the Mini come out on top," he smiled. "It doesn't often happen in the dry."
Stanford was awarded second (and Class F victory) on countback after a 10s penalty for rolling at the start was applied to Greenhalgh, classified third. Robyn Slater's Ford Anglia and the battling Lotus Cortinas of Pat Kenneally and John McGurk completed the top six.
Ibbotson took another Class E win in seventh overall, while this time Wilson was pipped to Class D honours by Patrick Harris's Morris Minor by just 0.2s on countback.
Berkshire Jag Components Jaguar Challenge
Tom Robinson's supercharged XJR6 claimed its fifth successive victory in the opening Jaguar Challenge race. But James Ramm (XJS) ended its streak later in the day.
Ramm jumped polesitter Robinson at the start of race one, but Robinson powered back ahead on the Lakeside straight on the second tour. The order then remained unchanged but Robinson was under pressure in the closing stages as his car slid around on its own power-steering fluid.
Colin Philpott (XJS) kept a watching brief in third, winning Class C, with Michael Holt's X300 fourth. The XJSs of Class B winner Mike Seabourne and Tom Lenthall completed the top six.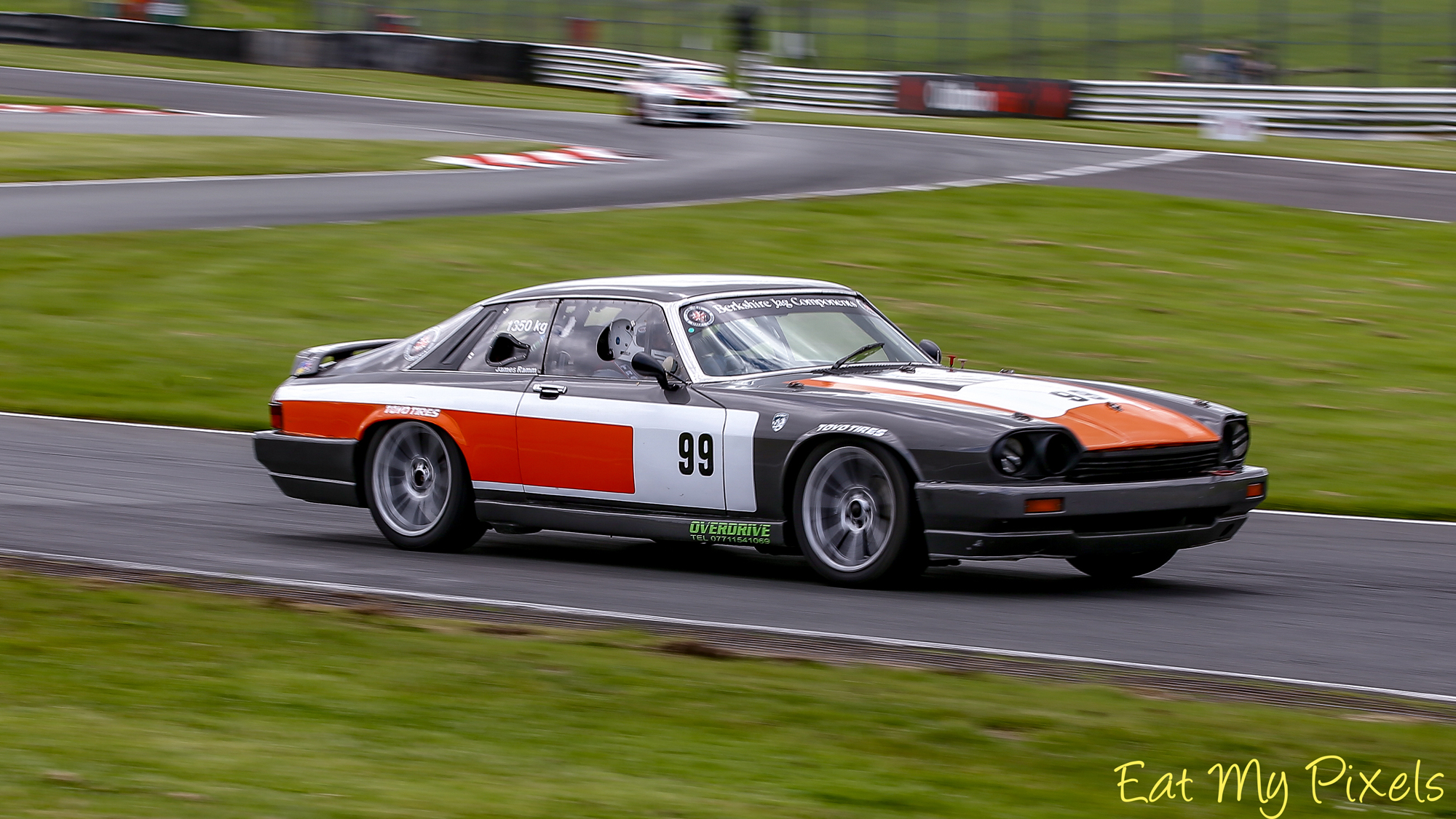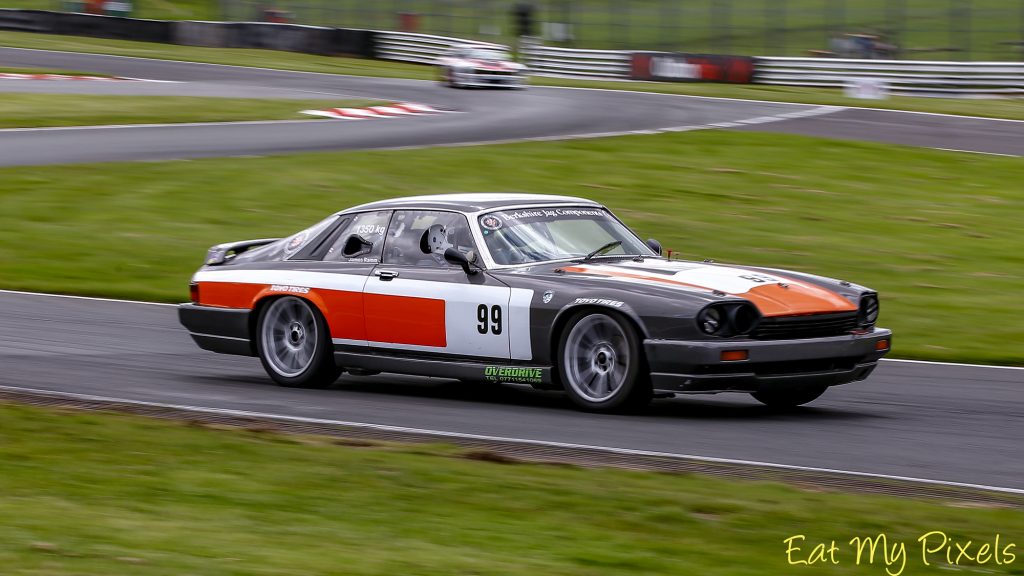 Race two required a complete restart after Rick Walker's XJS smote the barriers exiting Cascades on the opening lap, leaving it in a sorry looking state. Robinson would have been grateful for a second attempt, having made a poor getaway at the first time of asking. But he did no better second time around, as Ramm led from Holt and Philpott.
As Ramm escaped, Robinson – now having to manhandle his Big Cat with no power-steering – struggled to find a way past the two cars ahead. Philpott got inside Holt for second at Old Hall on the third lap, with Robinson following through shortly afterwards. But Robinson could not find a way past Philpott as Ramm took a 5.5s victory, his first for a year.
"It's been a while," admitted the Essex racer. "But we've been comfortable here all weekend and the car was absolutely on fire so I'm really delighted. When I looked at the times after the first race I felt that the race pace looked quite strong and I thought if I can just keep him behind me… What did me a favour in the second race was Michael and Colin Philpott got round him."
Behind the lead quartet, Lenthall was fifth ahead of Tim Morrant's Daimler Series 1 XJS, which claimed its second Class A win of the day. Seabourne had an eventful run to 10th after a couple of offs, but still just held off Michael Atkinson's X300 for Class B honours.
Edmundson Electrical Classic Thunder
On his first appearance in Classic Thunder this season, local man Ric Wood powered his Holden Commodore to a double victory over Jason Craig's Ford Sierra Cosworth.
Wood's run in the first race was made more straightforward after Davies hit trouble in qualifying, shedding a power-steering belt and leaving him eighth on the grid. The Welshman picked off those in front, powering past Kevin Clarke's BMW M3 CSL exiting Deer Leap on the first lap to run second. But Wood's five-litre V8 machine was already nearly 5s to the good.
The Stockport-based engine specialist eased to victory, with an eventual margin of more than 20s after Davies's engine cut out on the run to the flag. He clung on to a class-winning second ahead of Clarke, Nick Vaughan (Audi A3) and Class C victor Frazer Huntley in his Honda-engined Nissan Primera Super Tourer.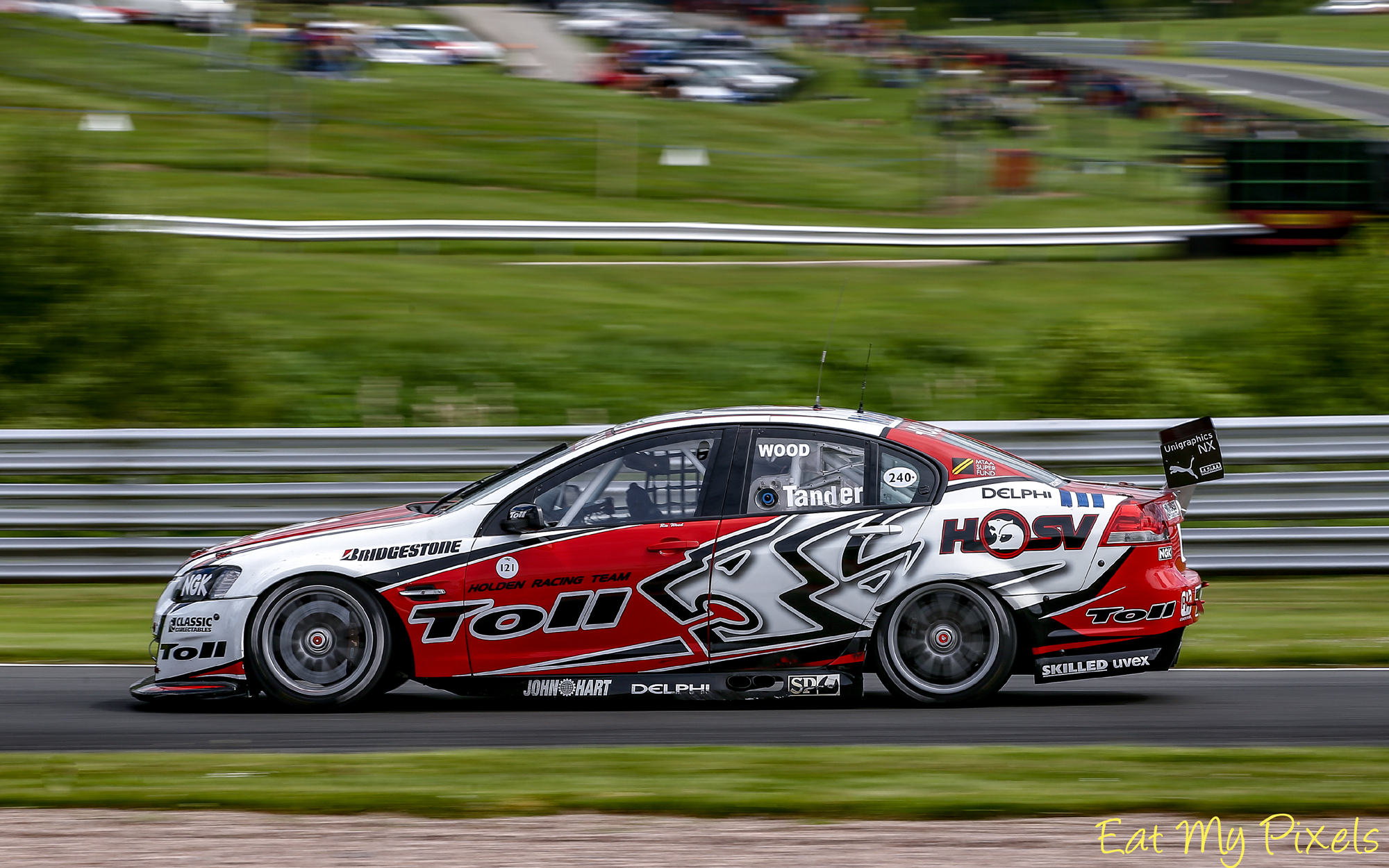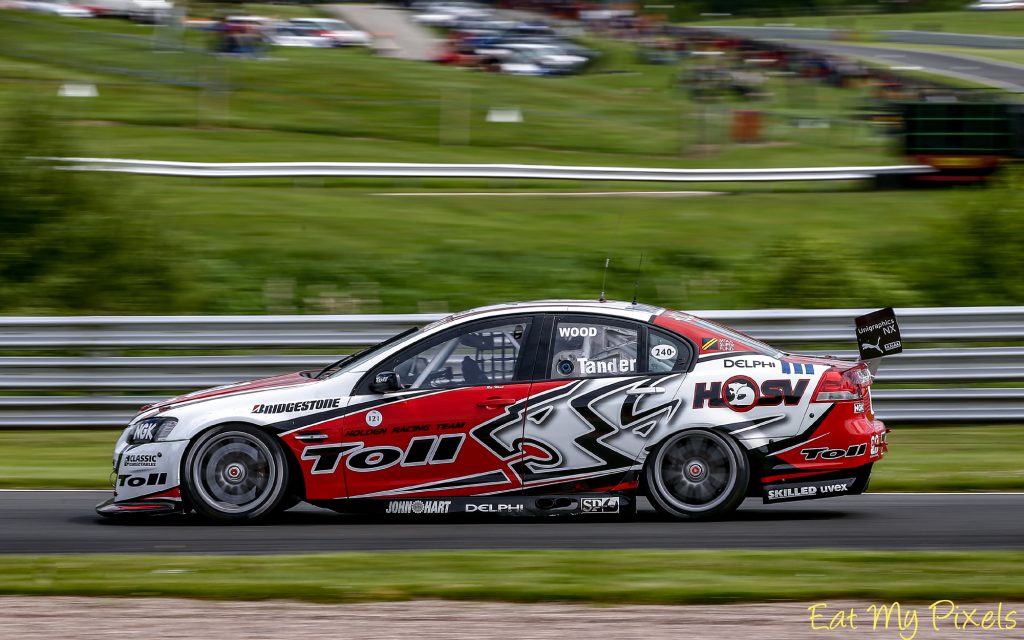 From second on the grid, Davies was able to give Wood more of a contest in race two. The pair ran side by side through Old Hall, before Davies made the inside line count into Cascades. He led by over 1s at the end of the first lap, but the experienced Wood gradually reeled the Cosworth in and charged around the outside of Old Hall on lap seven of nine.
"The Cossies are quick because they wind their boost up," explained Wood. "He's quicker in a straight line but mine's nice and stable. And when he got past I thought, 'Oh, that's no problem, I'll just sit behind him, see what he's got.' And within three or four laps, usual kind of thing – turbo's falling off, they're misfiring. Just picked my moment and off I went.
"He's a good driver," Wood continued. "Dead clean, good drive."
As Davies's car faded, the margin extended to more than 20s again, with Vaughan claiming a maiden overall podium in third.
Bradley Gelman (Sierra Cosworth) and James Janicki (Nissan Skyline) came next, Janicki carving through from the back after splitting an oil filter in the earlier race. With Huntley a non-starter, multiple Pre-'03 champion AJ Owen took Class C honours.
Burton Power Blue Oval Saloons Series
Three-time BOSS champion Piers Grange made a winning return to the series before sitting out the second race won by Martin Reynolds.
Grange qualified nearly 7s clear of the BOSS field in his Smith & Jones-powered Mk2 Escort, and maintained a healthy advantage throughout the first race as he mixed it with the Classic Thunder runners.
Mike Manning's Sierra RS500 was second, despite a spin, with Reynolds third. The Norfolk racer – last year's champion aboard an Anglia – was running a less powerful Holbay motor in his Mk2 Escort as his own Smith & Jones unit awaits repairs.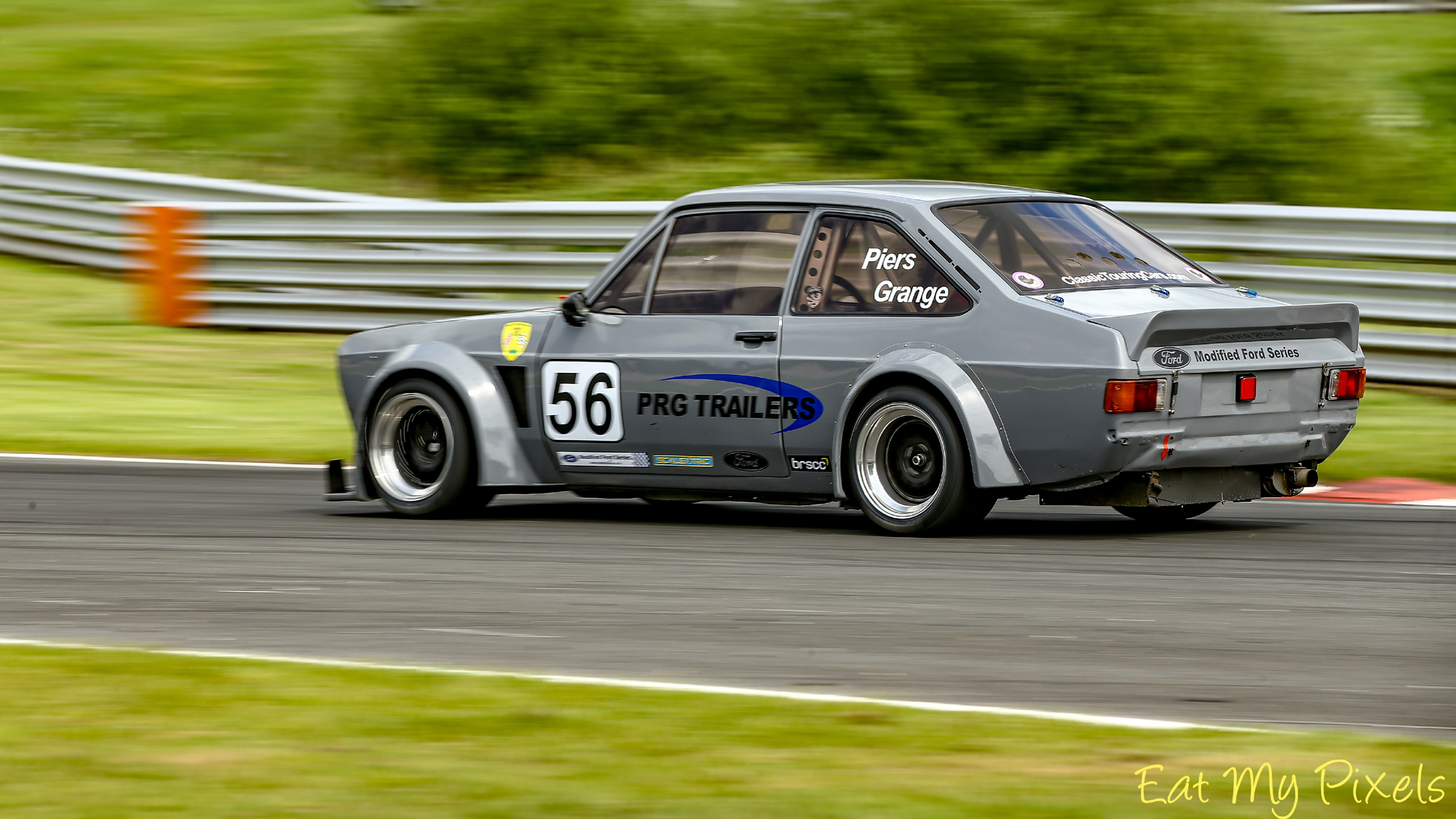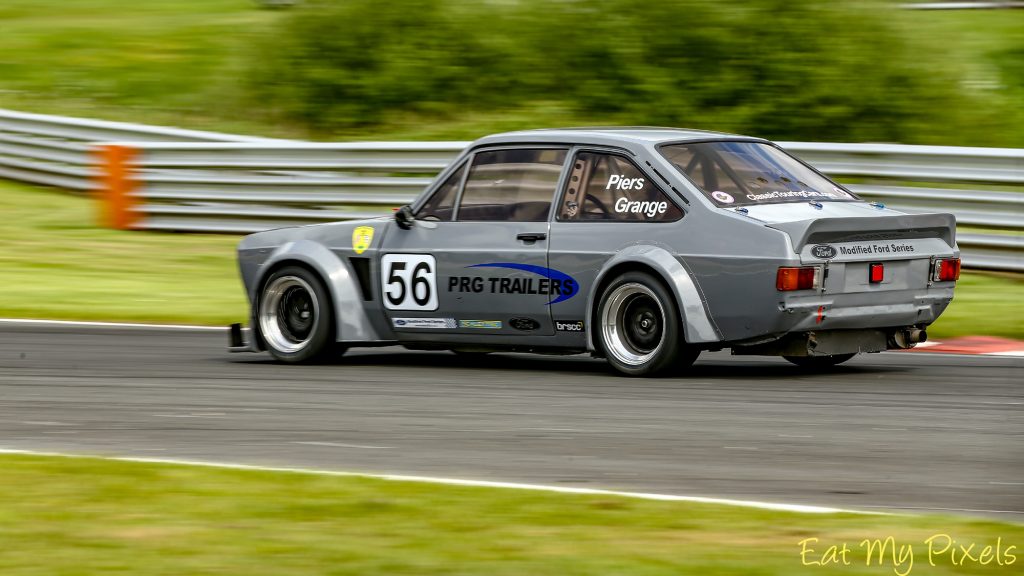 With BOSS timetabled immediately before the Pre-'66 races, Grange chose to skip the second stanza. Manning therefore looked set for a dominant victory until the RS500 slowed to retirement in the second half of the race. That gifted Reynolds his second outright victory of the season.
Second overall, just 3s back, was James Dunkley's little Ford Fiesta XR2. It was Dunkley's fifth consecutive Class D win, lifting him ahead of Malcolm Harding – who was racing closer to home – into the overall championship lead. Sam Daffin's Gulf-liveried Mk3 Fiesta took Class C honours in both races as the sole runner.
Laser Tools Pre-'93 Touring Cars
A dominant Dave Griffin was uncatchable in Pre-'93 Touring Cars. Having planted his E36 BMW M3 on pole position for the combined Pre-'93/Pre-'83 race by an incredible 9s, he never looked like being beaten.
Griffin employed the traditional motorsport tactic of winning at the slowest possible pace as he kept out of reach of leading Pre-'83 runner Stephen Primett. Having suffered a few car failures while racing in other series recently, Griffin was back to using the spare engine that had served him well last season and didn't want to risk losing that too.
Doubling up from the Jaguar Challenge, Mike Seabourne overhauled the returning Stuart Tranter for second in Pre-'93 and Class A honours. Tranter's turbocharged Rover 220 Tomcat was a non-finisher after side-to-side contact with Sam Goodwin-Laidler (Vauxhall Astra GTE). That allowed 2019 champion Graham Myers into third, despite still running his spare (more standard) E36.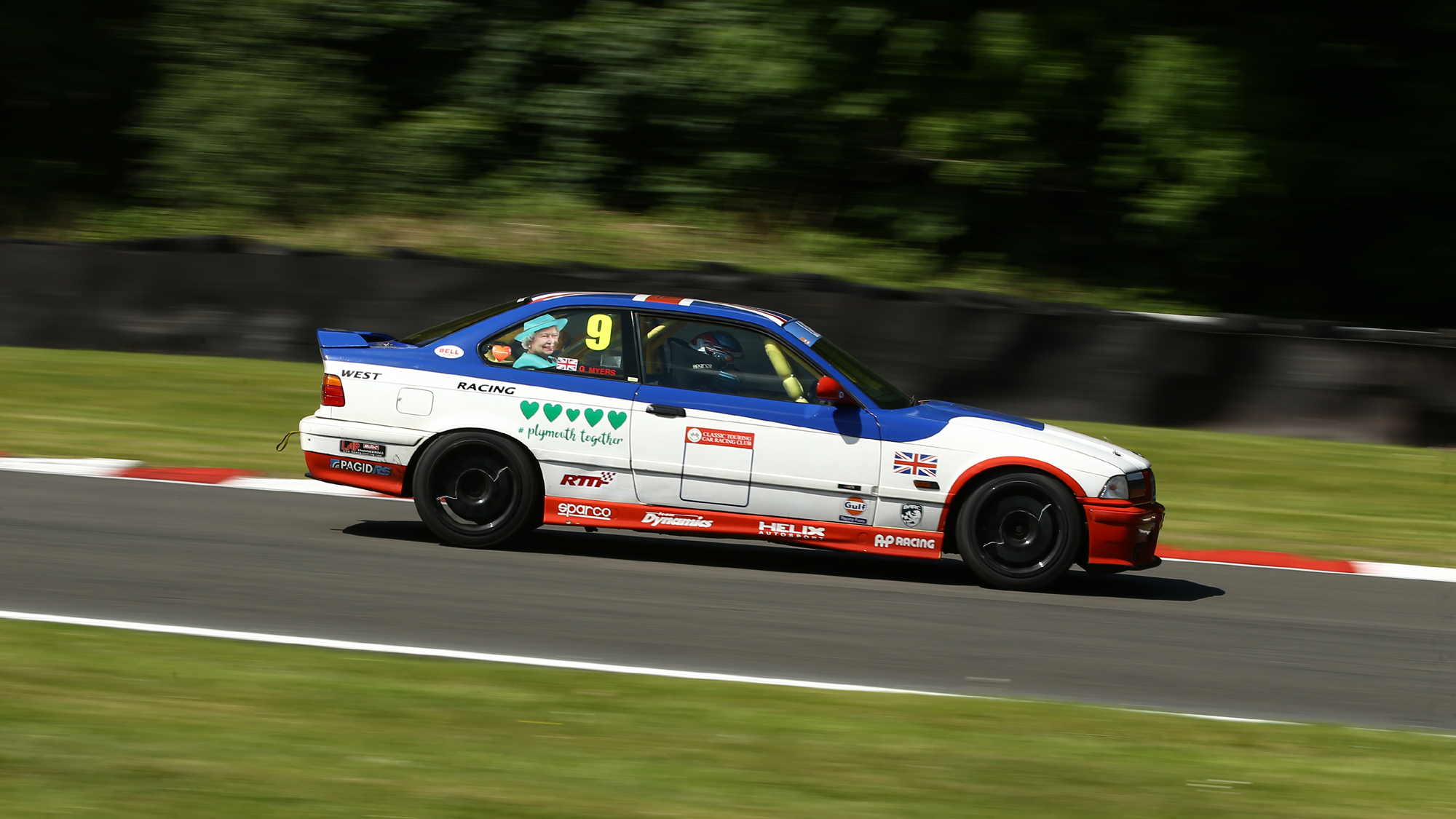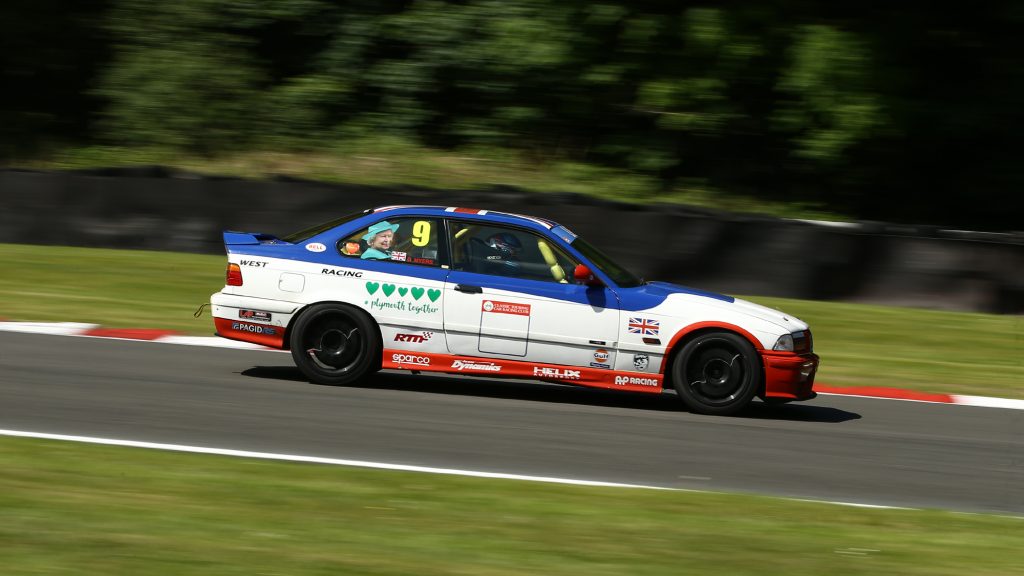 Goodwin-Laidler took the spoils in Class C, with Andy Sheraton (BMW 325i E30) the Class D winner. Veteran racer Andrew Smith, the sole Class E runner, enjoyed a good scrap with Pre-'83 machinery as he brought his Honda Civic EG home.
Sadly, the second race had to be cancelled after earlier delays and the race-ending accident in Pre-'66 Touring Cars. It will hopefully be rescheduled at a meeting later in the season.
Orange Aero Pre-'83 Group 1 Touring Cars
Reigning champion Stephen Primett was as comfortable as Dave Griffin in the Pre-'83 Touring Cars sharing the same grid.
The Ford Escort Mk1 driver kept Griffin in sight, and finished nearly 20s clear of the next Pre-'83 runner in another impressive display. "It was quite big of Dave Griffin to drive very slowly, make it look like a race," smiled the multi-champion.
Mark Spence's beautiful Mazda RX-7, the second fastest qualifier, was edged onto the grass as the cars ran three-wide through the first corner, and slipped down the order.
That put Jason Christie's Mk2 Escort RS2000 ahead in the battle for second, with Mark Osborne (Triumph Dolomite Sprint) and Mark Cholerton (Mk2 Escort) just behind.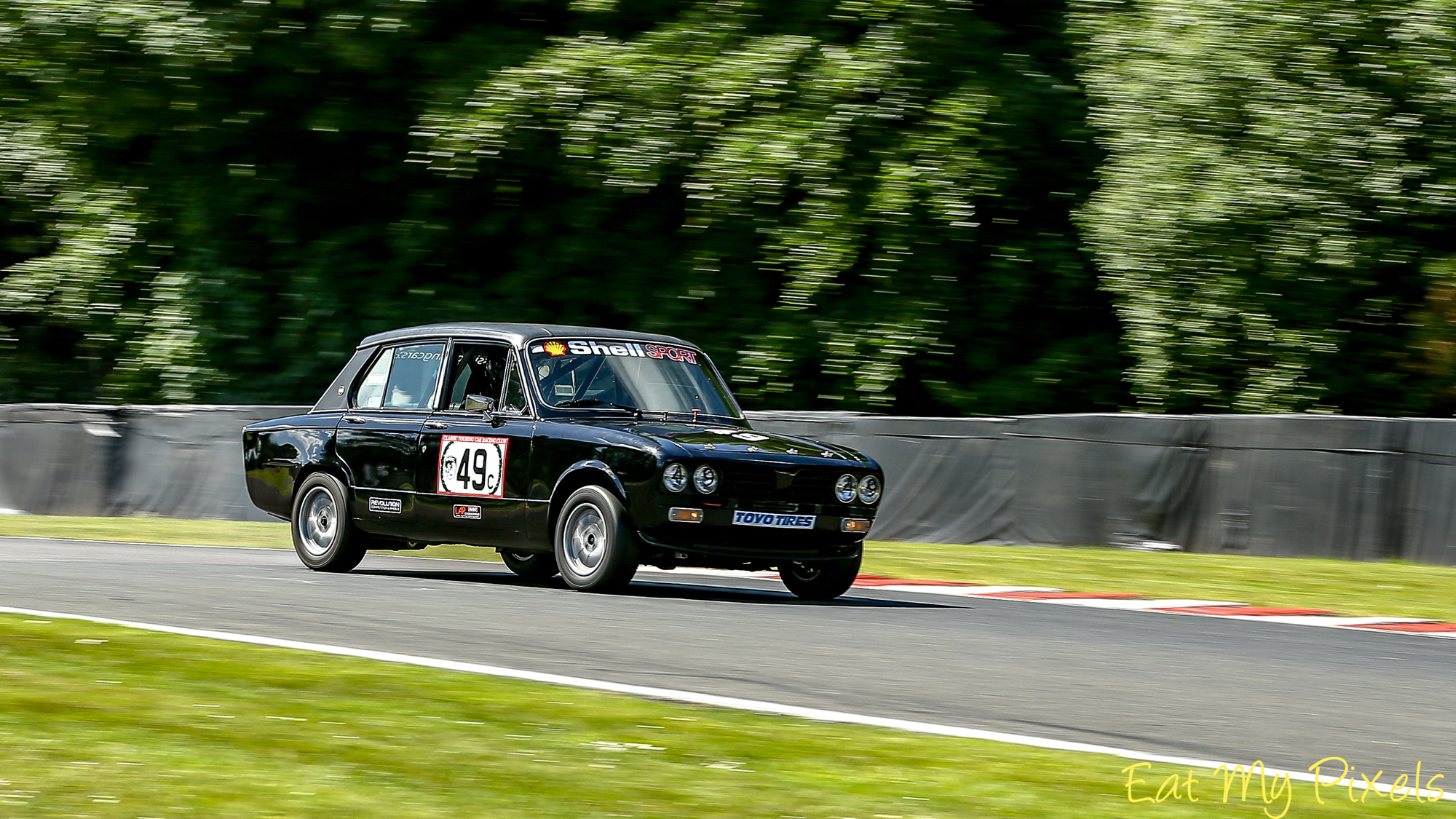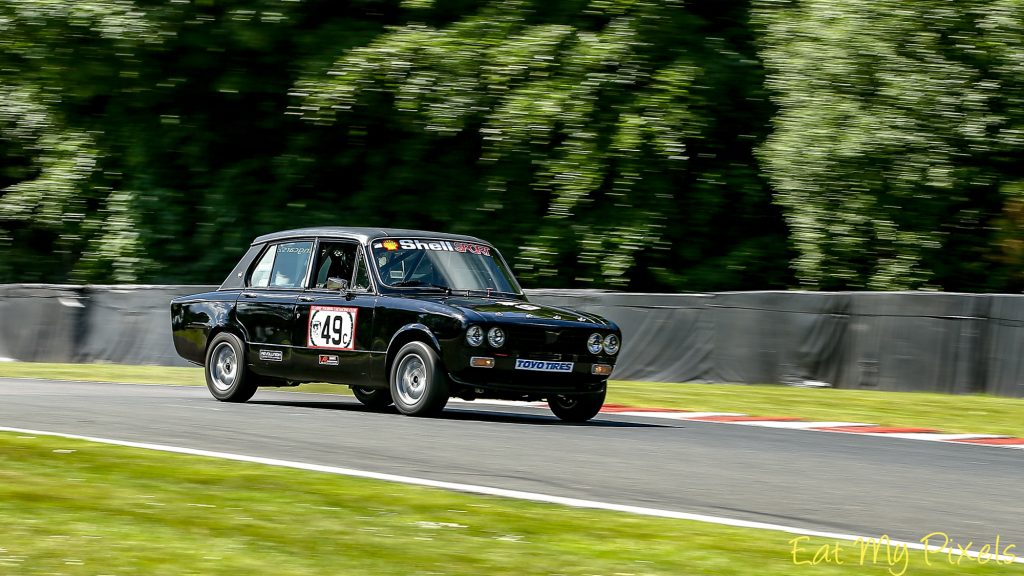 Christie slipped behind that pair, who remained in close order as they passed a couple of Pre-'93 cars, Osborne holding second from Cholerton by less than 1s at the flag.
Meanwhile, Christie ran wide at Island while trying to cling on, dropping to sixth and promoting Spence back to fourth, with Will Davison's BMW E3 between them.
As the only runner in Class D, Anton Martin's Mk3 Escort RS1600i was guaranteed the class win but could not score full points, dropping him further behind Primett in the chase for the overall title.
Full results are available via the TSL website.
All images courtesy of CTCRC official photographer Steve Jackman/Eat My Pixels