The Classic Touring Car Racing Club's first visit to the famed Brands Hatch Grand Prix circuit went down a storm, with packed grids on a scorching summer's day. Highlights included terrific battles between Graham 'Skid' Scarborough and Stephen Primett in Pre-'83 Group 1 Touring Cars and Alex Sidwell's Holden Commodore thundering to a double victory.
Orange Aero Pre-'83 Group 1 Touring Cars
On his 70th birthday, period star Graham 'Skid' Scarborough had plenty to celebrate, bouncing back from his Thruxton disappointment to split the wins with Stephen Primett. It was Scarborough's first victory since returning to the original championship for Group 1 Touring Cars.
Scarborough's Mk3 Ford Capri was beaten to pole position by the Ford Escort Mk1 of reigning champion Primett. Mk1 Escorts also locked out row two, Jason Christie ahead of Mark Lucock.
The returning Lucock's beautifully rebuilt machine had set the fastest time of all, before it was disallowed for exceeding track limits.
The opener featured only two-and-a-half racing laps, due to a lengthy safety-car period, but the racers packed plenty of action into them. Scarborough was beaten away by the Escorts, with Lucock and Christie slotting into second and third behind Primett.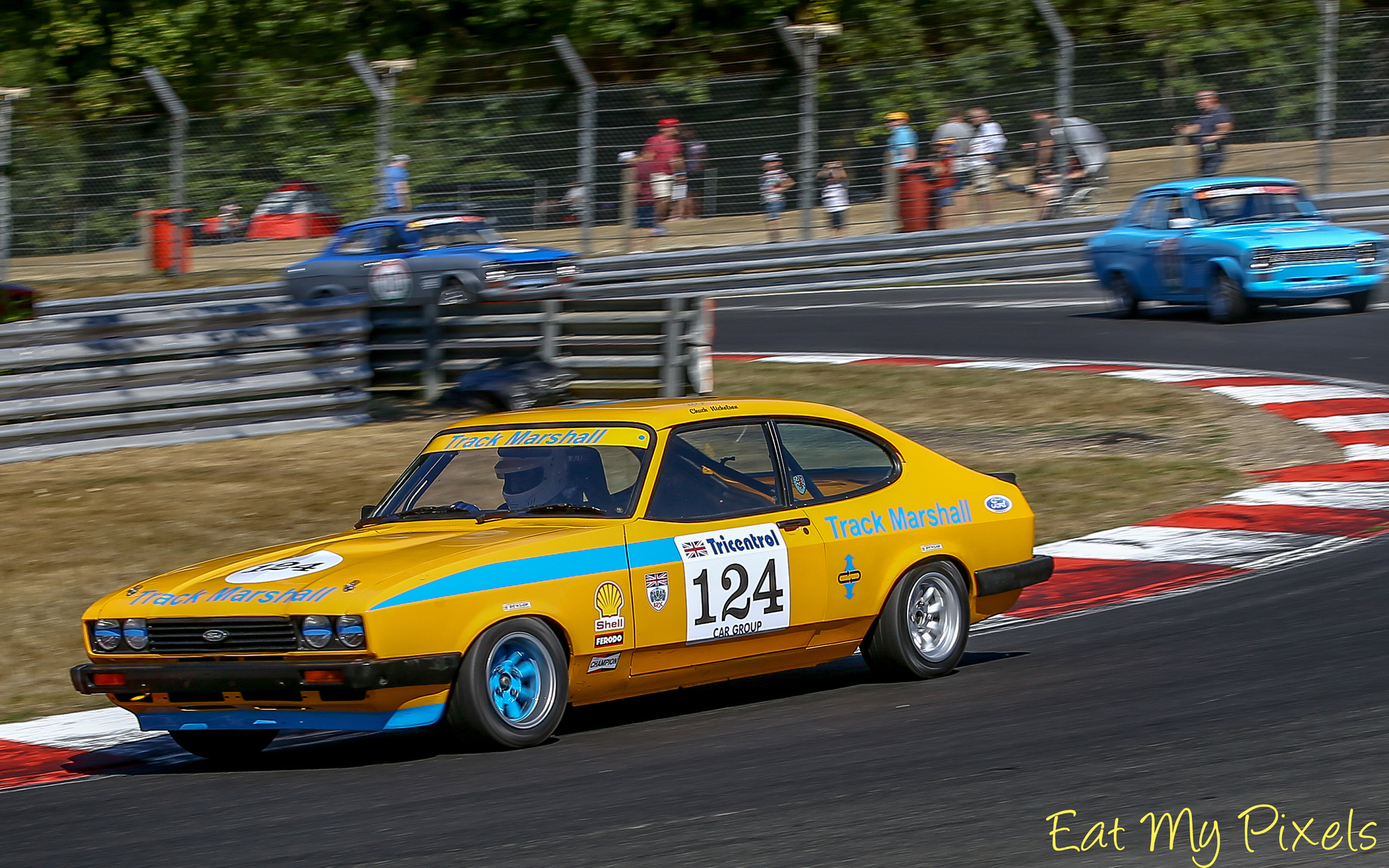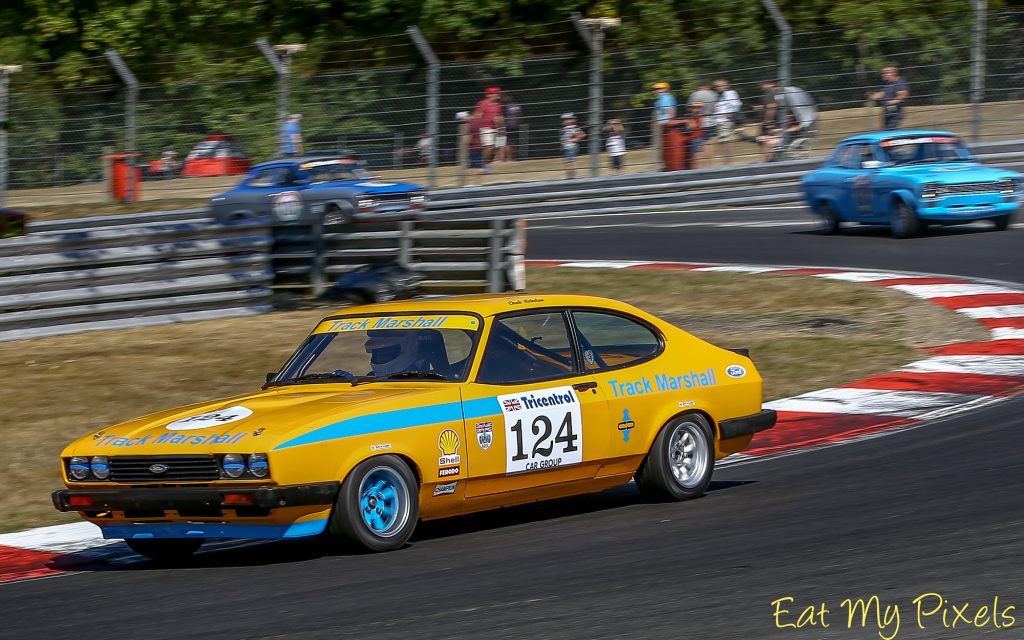 But Mark Osborne was the man on the move in his Triumph Dolomite Sprint. He dispatched Scarborough and Christie before getting inside Lucock for second at Hawthorns.
Scarborough powered back past Christie and Lucock, then overtook Osborne under braking into Graham Hill Bend to reclaim second just before the safety car came out for an accident in the concurrent Pre-'66 field.
The race boiled down to a one-lap dash, with the front four almost forming a two-by-two restart, such was their eagerness to get going. Primett just managed to hold off Scarborough's charge by 0.029 seconds at the flag, while Christie claimed third after a last-lap sort out.
Contact between Osborne and Lucock sadly left the latter's Escort looking much less than pristine in the barriers at the end of the Cooper Straight, while Osborne slipped to eighth.
Will Davison (BMW E30) claimed his best result in fourth, ahead of Malcolm Jeffs (Volkswagen Golf GTi Mk1), who was making his first appearance since March after borrowing parts from his brother's sidelined car.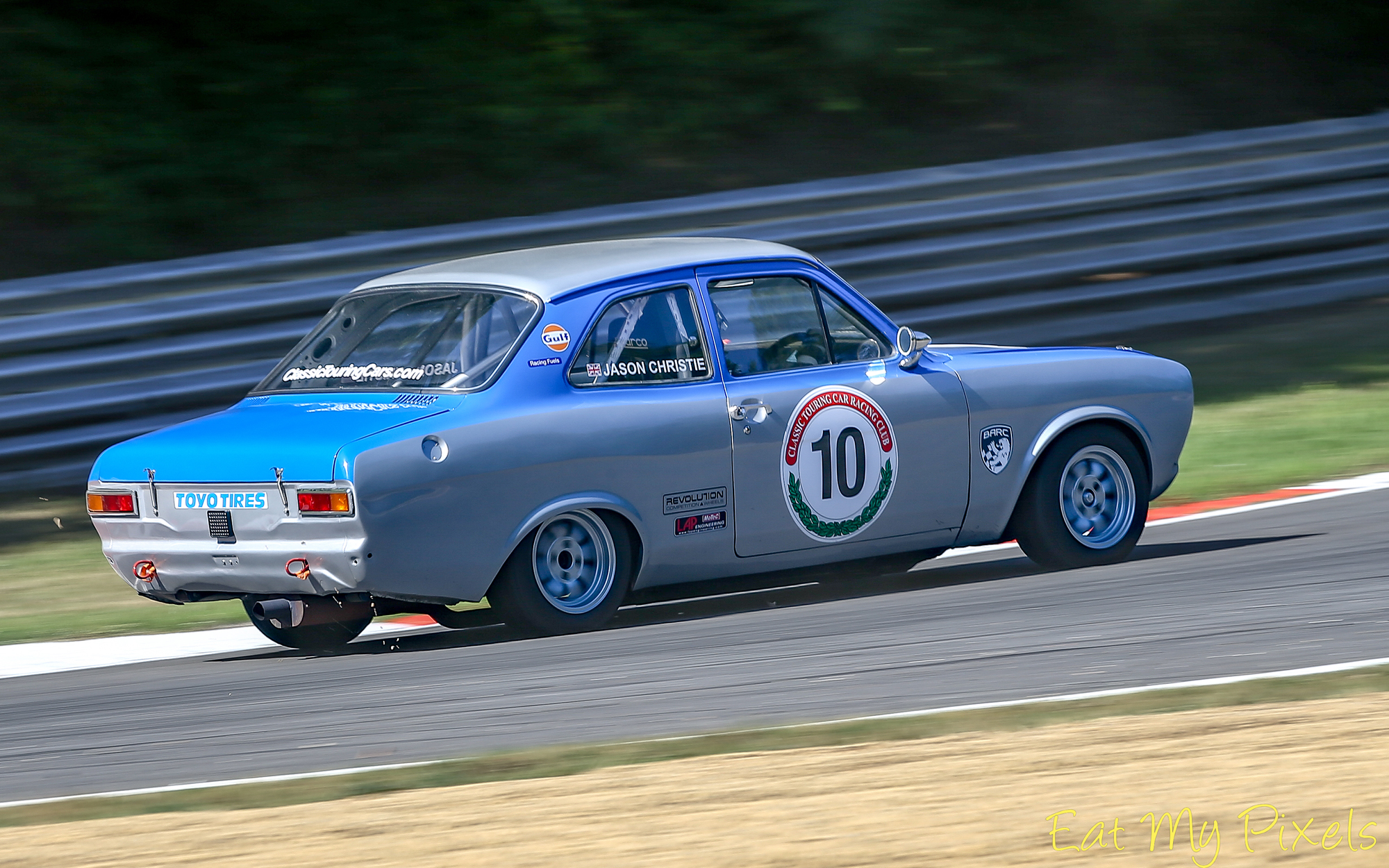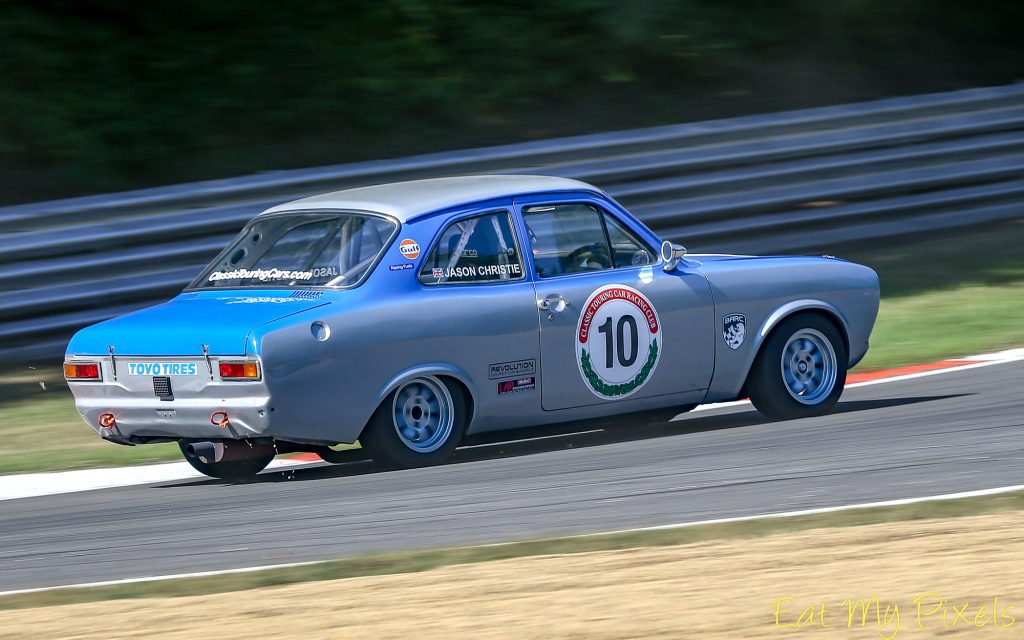 The leading duo reprised their battle in race two. Primett maintained the lead either side of a brief safety-car interruption as Scarborough sought a way past.
The veteran campaigner got a run down the Brabham Straight on half-distance and managed to complete the move before entering the fast, sweeping downhill right-hander at Paddock Hill.
'Skid' then eked out a margin of 1.6s, setting the fastest lap on the final tour, to take the victory. "It was a great battle," said Scarborough. "He knows how to drive a car defensively, that's for sure. I think the grunt of the Capri just told in the end."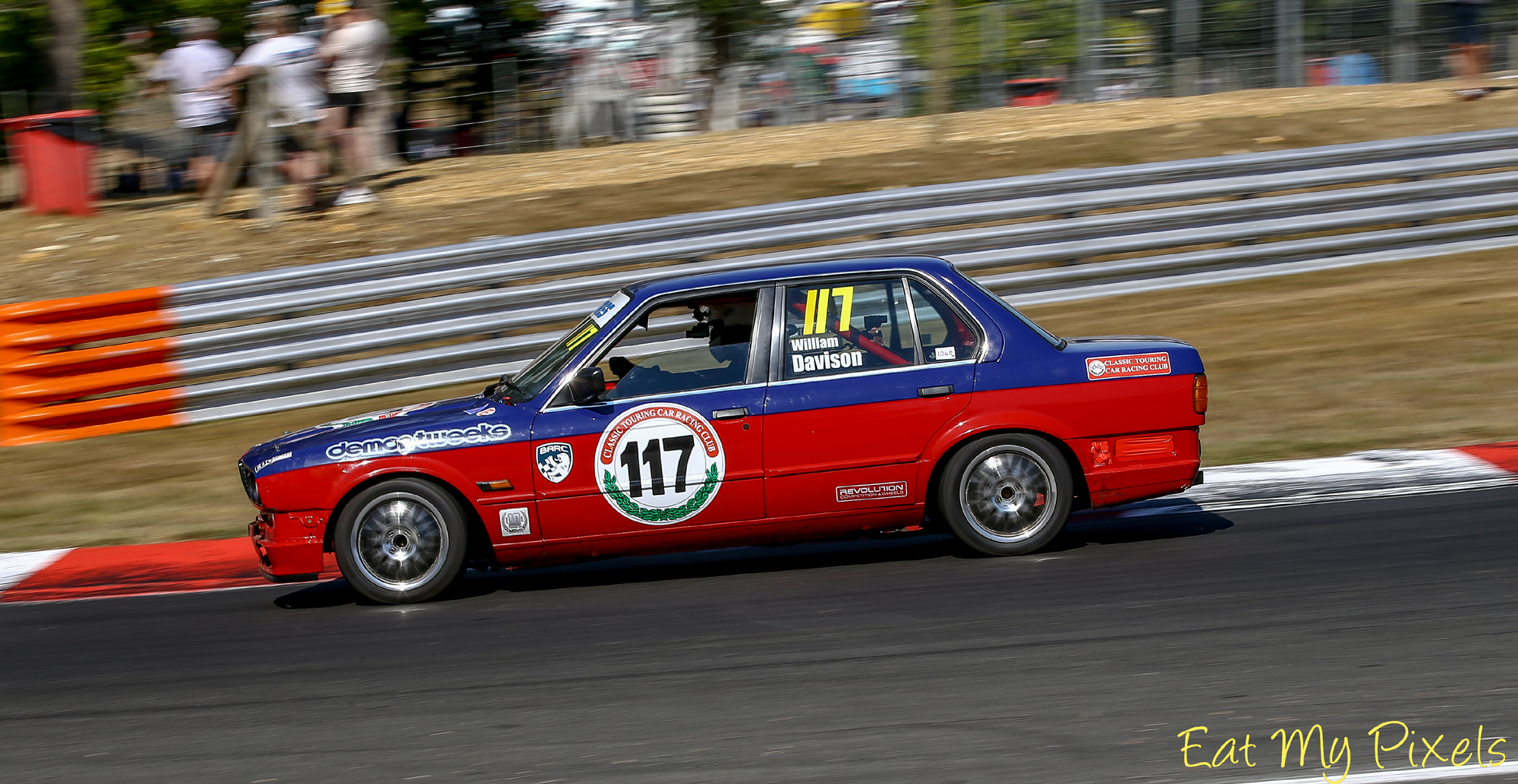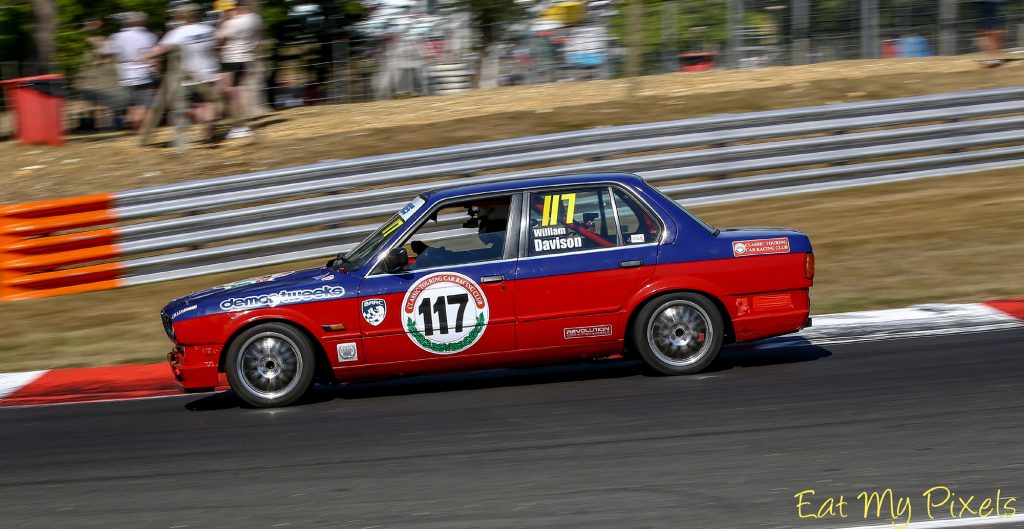 Behind Primett, Osborne used his slightly smoky Dolly's pace to climb to third ahead of Davison and the Mk2 Escorts of Mark Cholerton and Steve Cripps.
The class win for Primett puts him within touching distance of a 10th overall championship crown while Anton Martin (Ford Escort RS1600i) kept his slender hopes alive with another double success in Class D.
Poultec Pre-'66 Touring Cars
Sharing a grid with their more recent counterparts, a large entry of Pre-'66 Touring Cars also entertained. Pete Hallford's Ford Mustang twice took the honours over the similarly mounted Piers Grange.
On his first appearance with the club for some time, Hallford made his experience of the Grand Prix circuit count as he ran among the Pre-'83 frontrunners, qualifying sixth overall.
Wheelspin at the start left Hallford losing ground, but he crucially kept a Pre-'83 runner between himself and Grange before the safety car was called out.
David Heale (Hillman Super Imp) had taken a heavy hit after spinning into the barriers at the end of the Brabham Straight. Heale extracted himself from the car but, feeling the effect of the impact, received attention from the expert medical crew.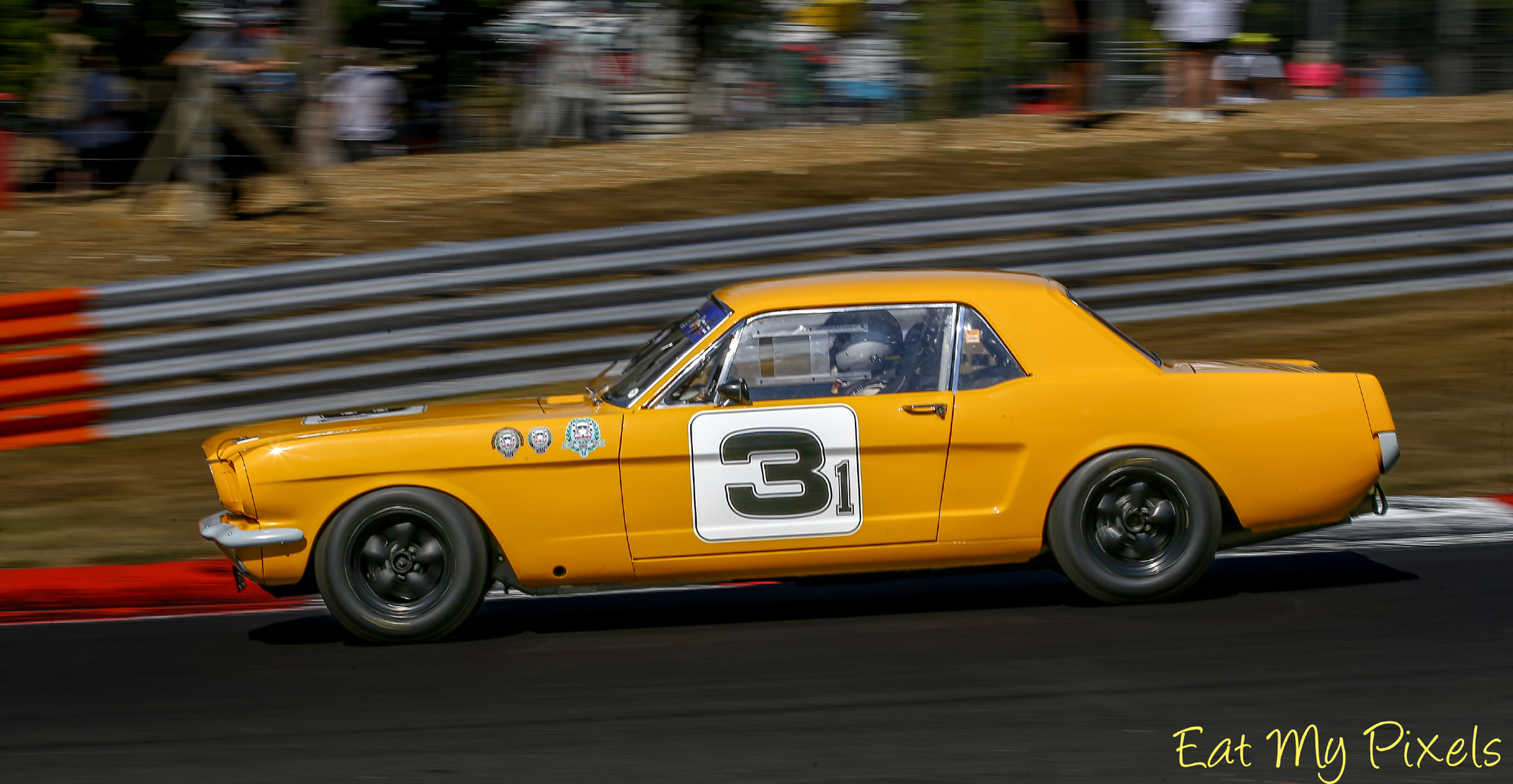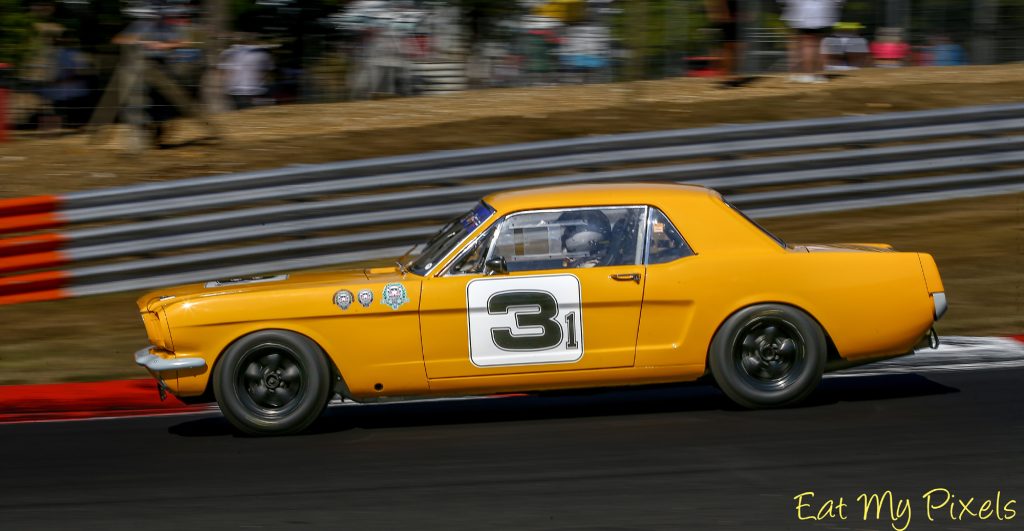 Hallford had enough pace in his ex-Jackie Oliver Mustang to ace the consequent one-lap dash and head Grange home by over 3s.
Third overall and first in Class F was the Lotus Cortina of Nigel Cox, ahead of Robyn Slater's similar example, making its first appearance in the championship after previous outings elsewhere.
Still awaiting parts for his Pre-'93 BMW E30, James Everard instead wheeled out the family Alfa Romeo Sprint GT. He took the glorious machine to fifth overall and first in Class C.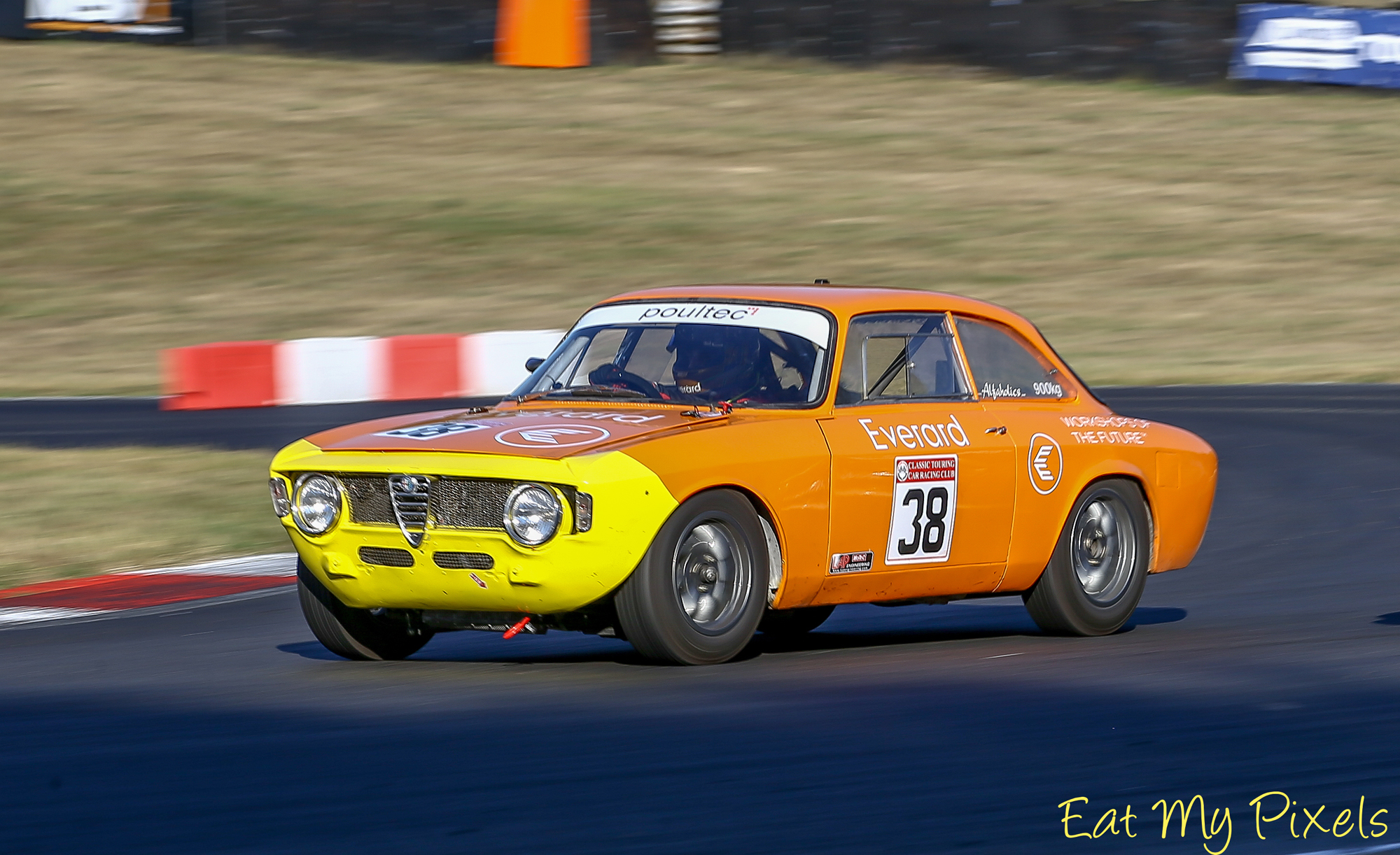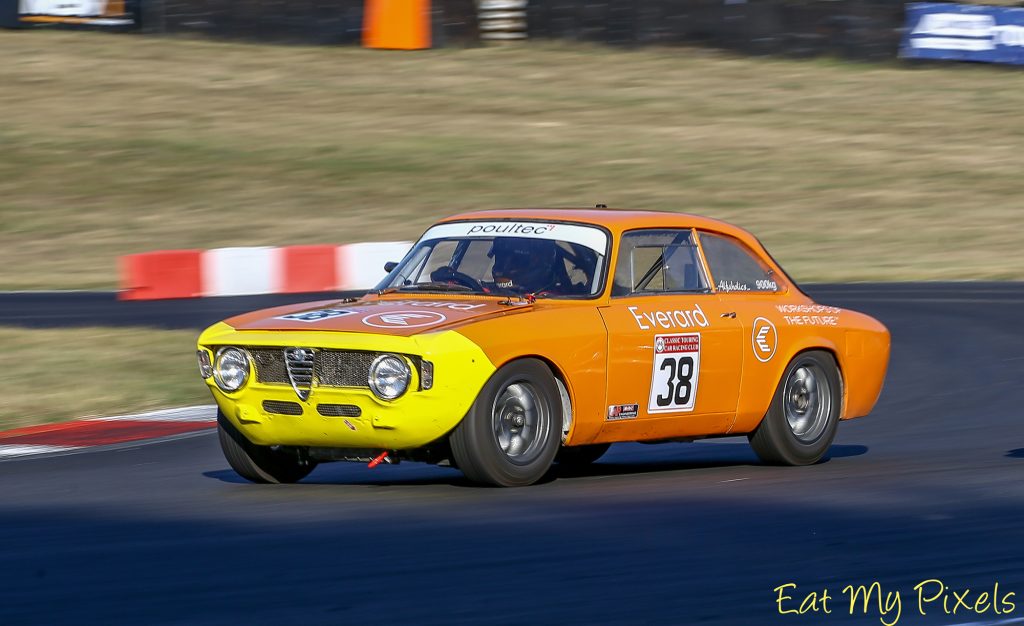 Grange jumped Hallford at the start of the slightly shortened race two, but passed him after the safety-car interlude to complete a double success.
"I didn't think it was going to happen again when he got the start he did," said Hallford. But triple BOSS champion Grange, still getting to grips with his Mustang, admitted: "He's just too quick for me."
Behind the lead pair, a great opening lap from Pat Kenneally (Lotus Cortina) took him to third overall and Class F honours. He beat Cox by less than a second to complete a fine comeback after qualifying woes.
Everard again claimed Class C in fifth overall, while Luc Wilson (Austin A40) strengthened his championship hand with a second Class D victory of the day. Reigning champion James Ibbotson also topped Class E for the second time but it was much closer than earlier.
After a trip onto the grass between Druids and Graham Hill Bend on the opening tour, Ibbotson enjoyed a race-long scrap with the similar Imp of Michael Loveland, reclaiming the lead on the final lap.
Edmundson Electrical Classic Thunder
With Andy Wilson's Holden Monaro beset with electrical gremlins, guest driver Alex Sidwell upheld honour for the Australian marque with a pair of victories in his Holden Commodore VF.
Both Sidwell's wins required an element of fortune, however, as Jason Davies and then Kevin Clarke hit trouble.
Championship leader Davies qualified his Sapphire-shaped Ford Sierra Cosworth on pole position and set a blistering early pace. But his front-left wheel flange failed and pitched his car into the Clark Curve gravel at the end of the second lap.
Sidwell's Garry Rogers Motorsport-built Aussie V8 inherited the lead and claimed victory in what became a shortened race. "If I'm honest, I don't think I would have won if he [Davies] hadn't gone off," admitted Sidwell.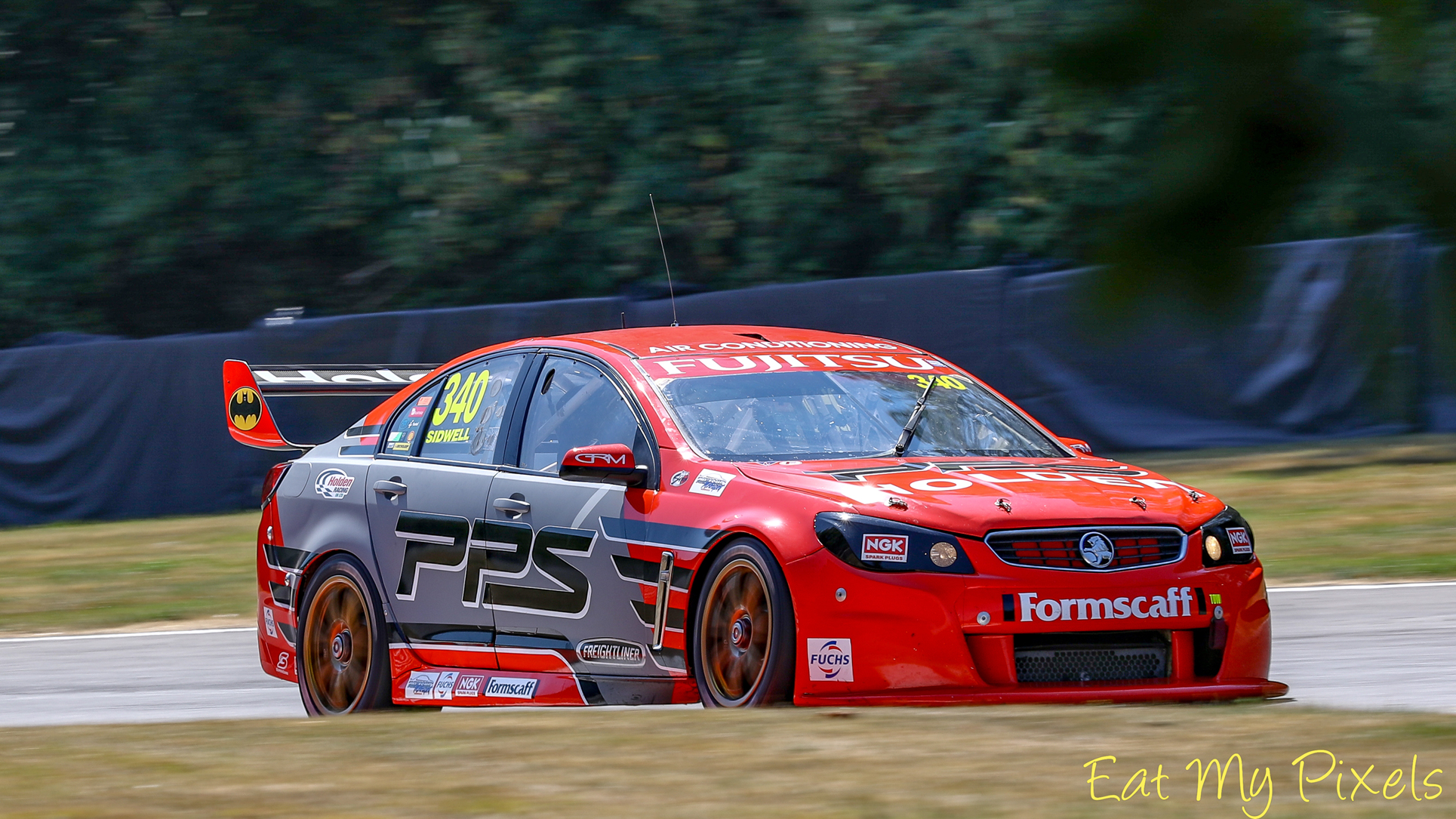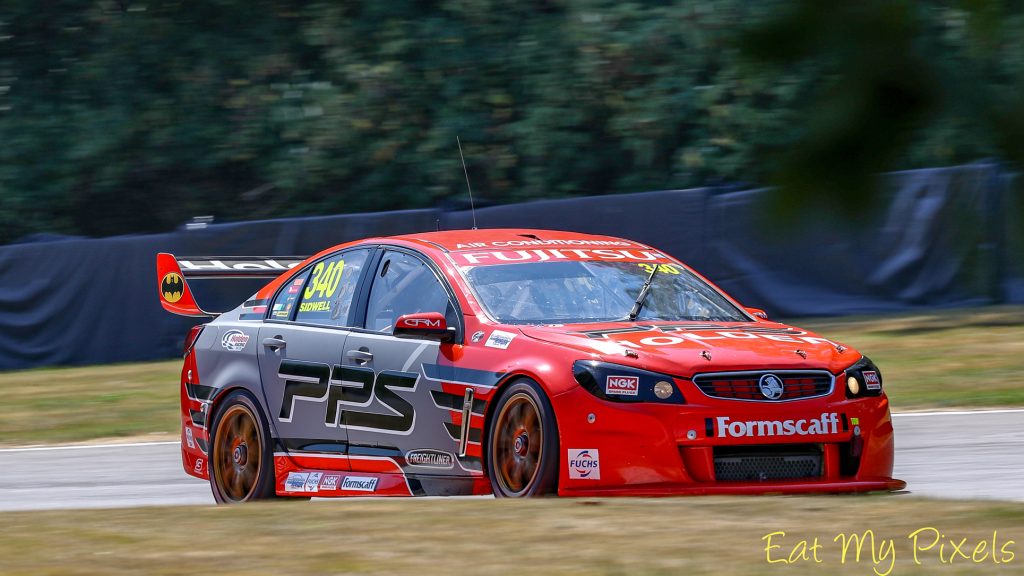 A safety car had been required after three laps when James Janicki's Nissan Skyline ran a touch wide exiting Surtees and then got spat back across the track head on into the barriers. The chequered flag was shown early when it became clear that there wasn't enough time for racing to resume.
Janicki escaped unhurt, full of praise for the circuit staff, but hefty front-end damage may leave his Skyline sidelined for some time.
West Midlands veteran Clarke's BMW M3 CSL – winner of an Ultimate BMW race at Donington Park a week earlier – was second, and winner of Class B, ahead of Nick Vaughan's Audi A3 turbo.
Clarke outbraked Sidwell on the outside line into Paddock Hill Bend to lead race two but, like Davies earlier, lost out at the end of the second lap.
In his case, the car cut out so Clarke was able to resume after a quick reset in third place, albeit some 5s behind Sidwell's ex-Alex Premat machine.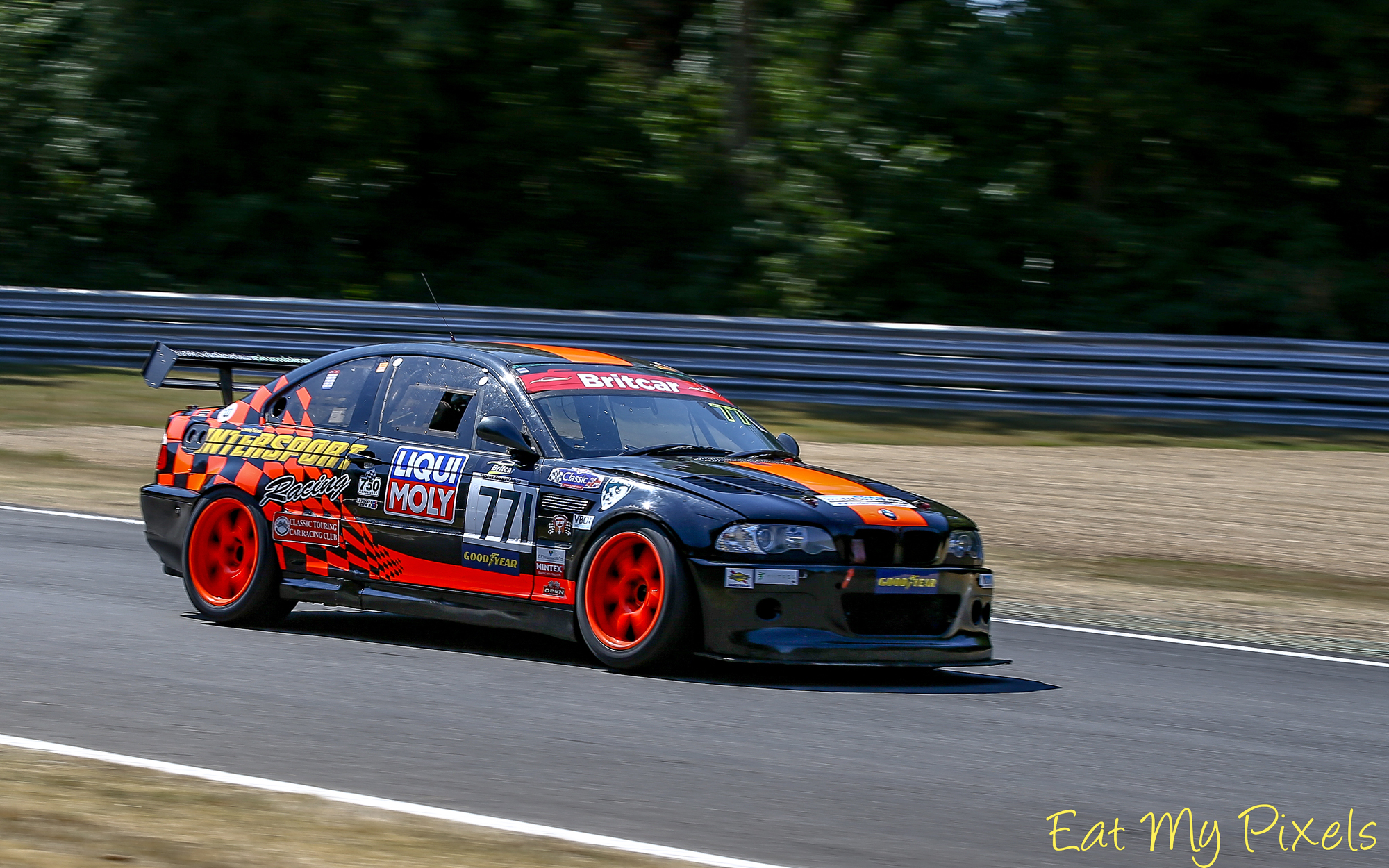 The former Eurocar V8 champion quickly picked off Vaughan and fired in some super-quick laps as he closed in on Sidwell, but fell 0.4s short at the flag.
"I was carrying a lot more speed than I was really comfortable with round the corners," confessed Clarke.
Meantime, Davies had been charging through from the very back of the field. He relieved Vaughan of third on lap six of eight, but couldn't catch the leading two, doing enough to maintain his championship lead.
Ryan Steele's giantkilling Citroen Saxo, returning to the series after missing the previous two rounds, added seventh overall to his earlier fifth, winning Class C on each occasion.
Berkshie Jag Components Jaguar Challenge
Season-long pacesetter Tom Robinson took another couple of steps towards a maiden Jaguar title – particularly with James Ramm unable to compete this weekend – but he had to share the overall race honours with Colin Philpott.
Robinson's Grand Prix circuit debut got off to an imperfect start when an isolator switch was triggered after only a single flying lap in qualifying.
It stranded his car and consigned Swallows Racing's supercharged XJR6 to fourth fastest among the Jaguars which were sharing track time with Classic Thunder.
But a quick start jumped Robinson to second and he then charged past Michael Holt's X300 on the run to Hawthorns. Holt then lost second – and, crucially, the Class C lead – to Philpott's XJS just before the full-course caution lights came on.
Polesitter Chris Boon's Cov Cats XK8 slipped to fourth overall, with Tom Lenthall (XJS) fifth. Sixth overall was Michael Atkinson, who took Class B honours for the first time this season.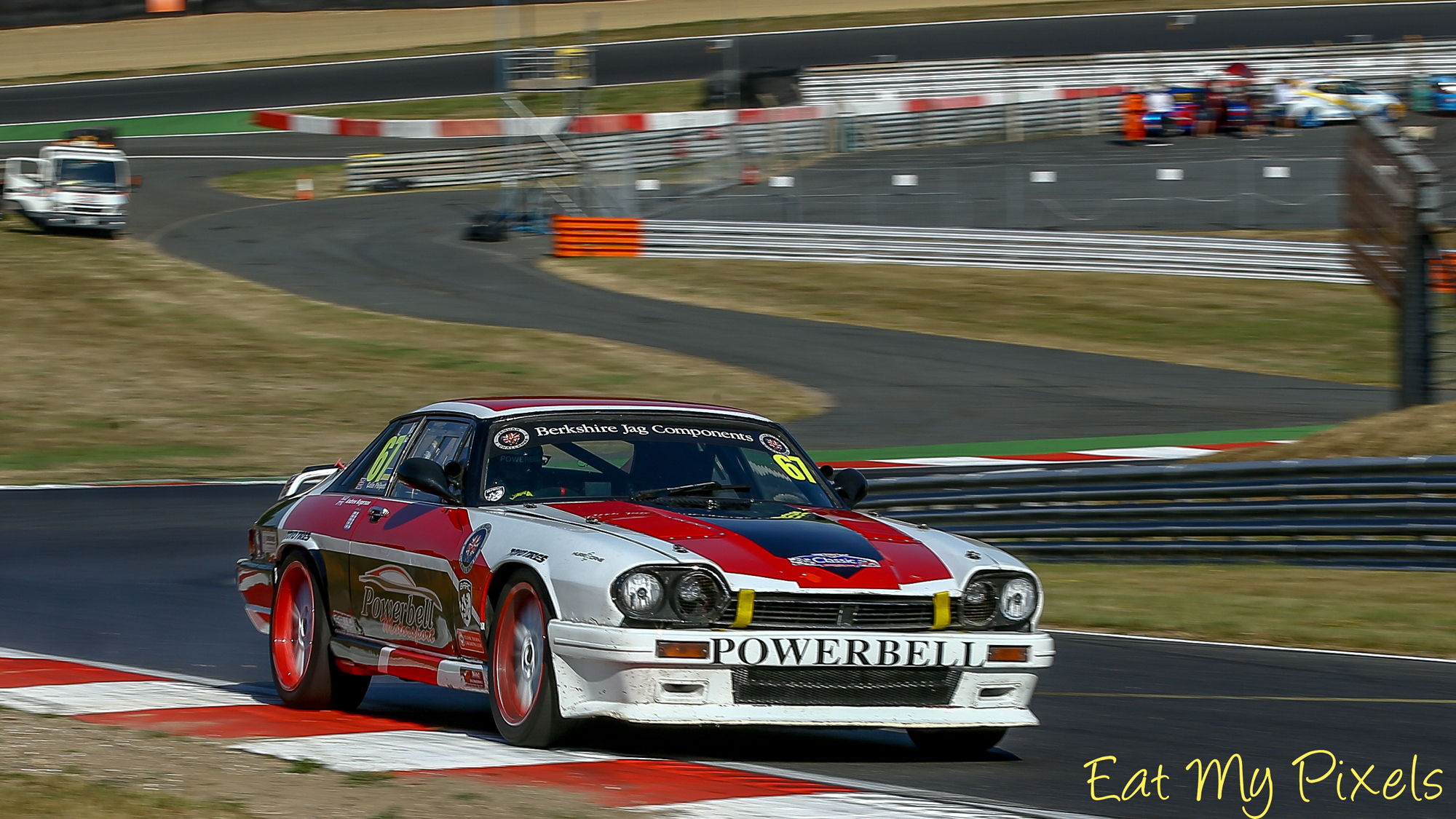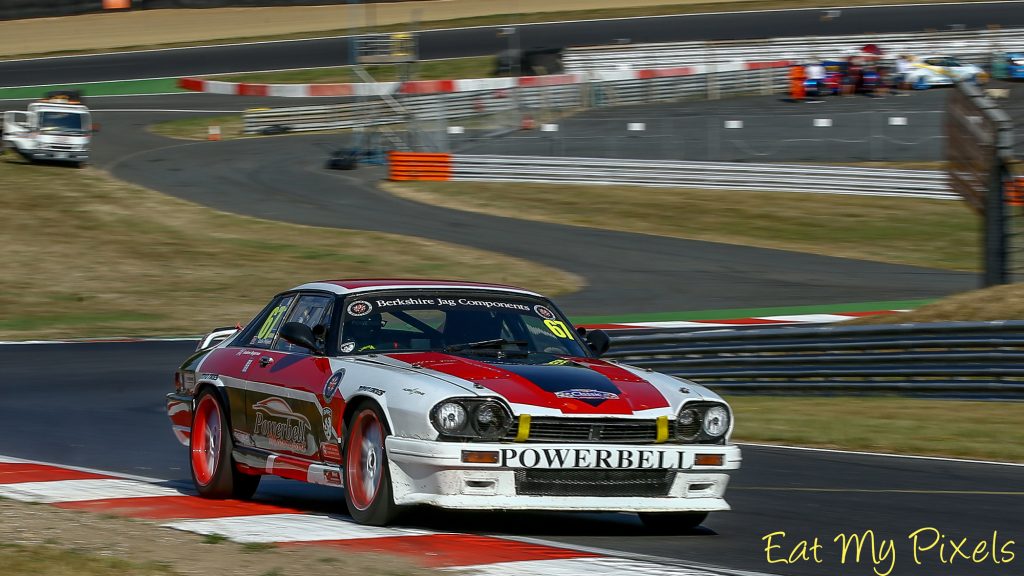 Robinson led the first three laps of race two but was losing power after his exhaust box failed. Trying to compensate by carrying more speed through the corners, he had a moment in Paddock Hill Bend and ran through the gravel, allowing Philpott through for his first overall win of the season.
The erstwhile leader held on to second, and maximum points as the Class D winner. "I'm just really glad we didn't get the black flag because it sounded deafening in the car," said a relieved Robinson.
Boon held off Holt for third overall, while Lenthall retired to the pits from fifth. That promoted Class B winner Mike Seabourne to the position after the reigning champion had suffered brake servo issues and rear-brake pipe failure in qualifying and the first race.
Burton Power Blue Oval Saloons Series
A rare occasion when the BOSS category ran separately from Classic Thunder gave the Fords a chance to take more of the limelight. Malcolm Harding – a man who's used to mixing it with the Classic Thunder frontrunners anyway – produced a pair of dominant displays.
With more experience of the Grand Prix circuit than many, Harding planted his Zakspeed-styled, Smith & Jones-engined Escort Mk2 on pole position. He was more than 4s faster than the next fastest BOSS runner, Mike Manning's Sierra RS500.
The Sussex racer then led every race lap, and twice claimed the fastest lap in a perfect weekend, despite having to replace his clutch between races.
"I prefer it with the Thunder, if I'm honest," admitted the jovial racer who, in the absence of Class D pacestter James Dunkley, assumed the lead of the overall championship.
Welshman Manning twice finished second, better able to keep Harding in sight in the rematch before easing back in the closing stages, delighted to have had a trouble-free run for once.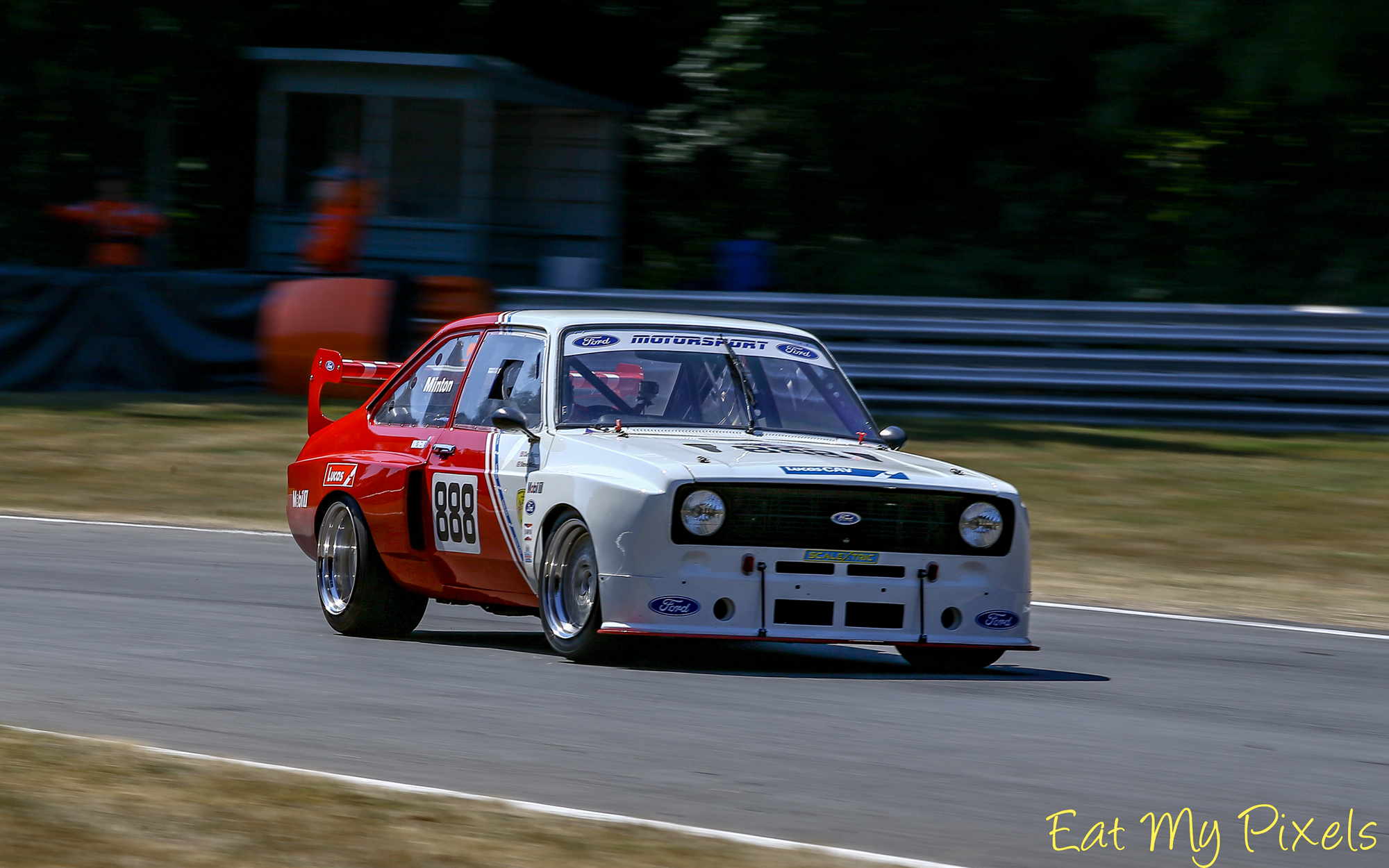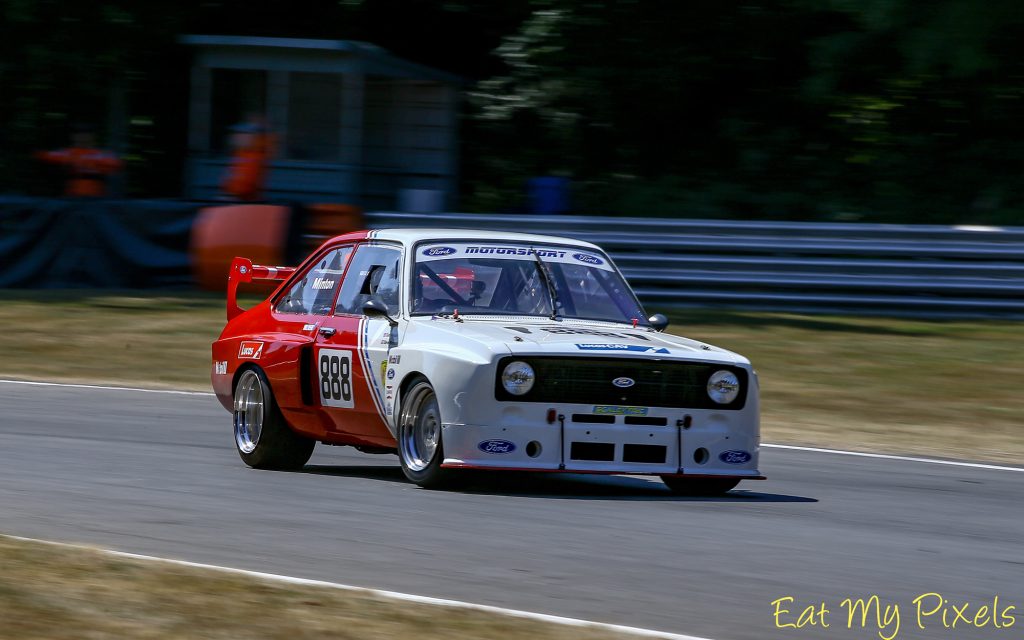 The other man who might have given Harding a run for his money was Dan Minton in the family Mk2 Escort, a genuine period Thundersaloon. After problems in qualifying, Harding provided an alternator to help get his competition back on track.
Minton responded with lightning pace bettered only by Harding, despite contending with traffic as he carved through from the back of the field, before fuel vaporisation forced him out.
With more insulation packed around the exhaust in race two, dad Steve wasn't quite as ruthless and had a quick trip through the gravel but brought the car home eighth in BOSS.
With Dunkley on holiday, Chris Brown took up the mantle of Class D giantkiller. He claimed third in the opener and fourth in race two in his Duratec-engined Fiesta XR2.
Martin Reynolds (Holbay-powered Escort Mk2), who was another driver on a burn from the stern after an exhaust failure in qualifying, denied Brown a second overall podium on the final lap.
Laser Tools Pre-'93 Touring Cars
After missing the previous rounds at Thruxton, Dave Griffin picked up where he'd left off at Oulton Park with two comprehensive Pre-'93 victories in his Paul Morris evocation BMW E36 M3.
Griffin and the similarly-mounted Mike Dugdale qualified among the BOSS frontrunners and, as part of a lead quartet, briefly ran four-wide on the approach to Paddock Hill Bend before the BMWs settled in behind the Fords.
Thereafter, while Griffin stayed with Mike Manning's RS500, Dugdale's pace was a little slower and he had to settle for second.
Andy Cripps completed the podium in another E36, while reigning champion Ian Bower lost significant time with his example cutting out intermittently as he struggled to fifth behind Robert Crisell.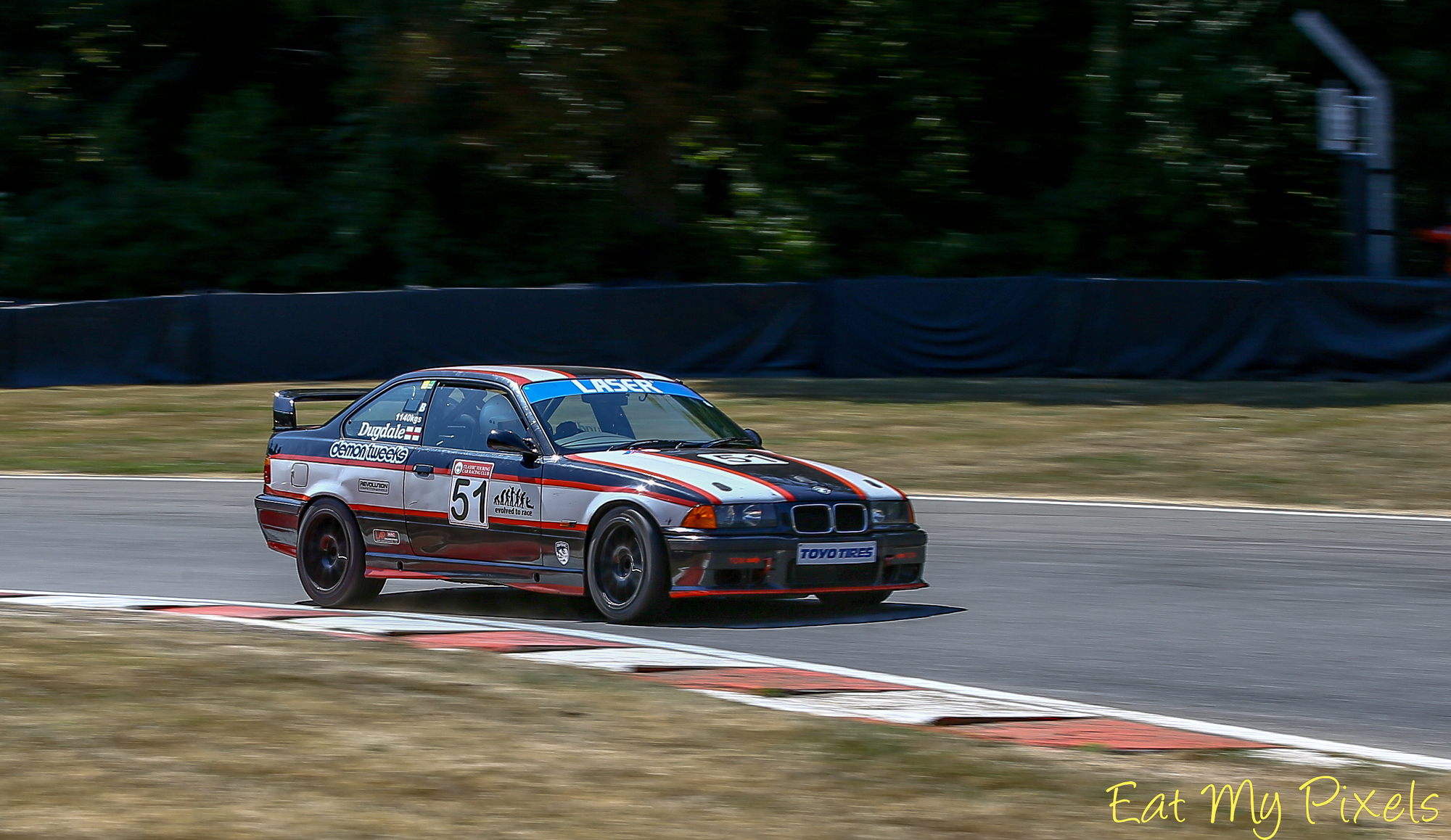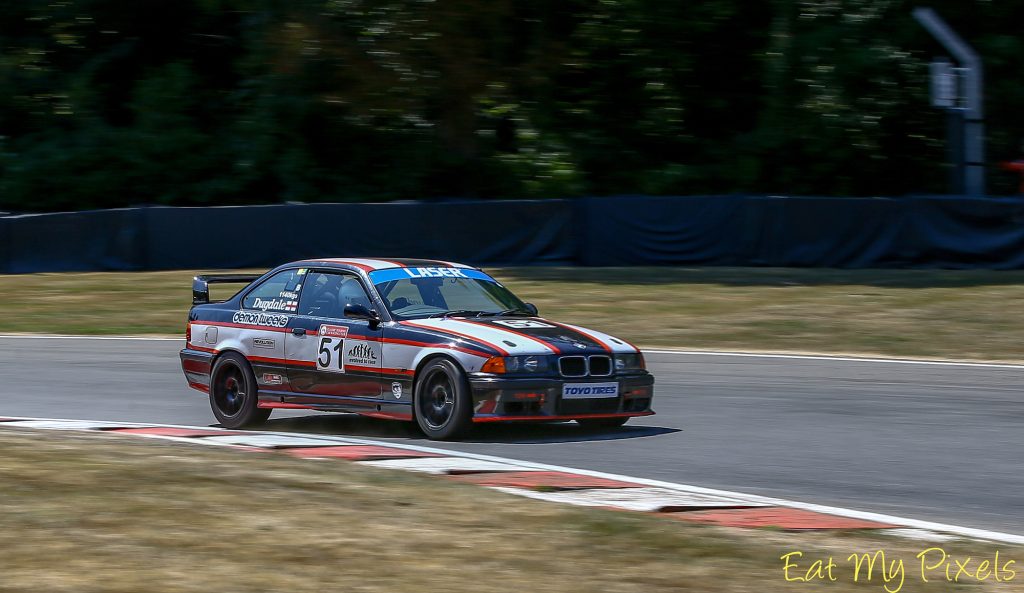 A blistering start from Cripps gave him the lead of race two before Griffin got a run down Cooper Straight on the second lap.
Dugdale then further demoted Cripps, but couldn't shake him off, as the podium places – and indeed the whole of the top six – finished in a repeat of the earlier race.
"We just drove the wheels off it to start with and then it kind of ran out of wheels to drive off it towards the end," said Griffin, who eased his pace back to win by only 1.5s.
Two Class D wins in his BMW 325i E30 kept Andy Sheraton's championship hopes alive. Dave Nixon (Rover Tomcat) and Andy Smith (Honda Civic EG) were unchallenged on their way to doubles in Classes C and E, respectively.
Burty Haulage Pre-'03 Touring Cars
With none of this year's previous winners on the grid, Chris Southcott and Ross Craig scooped their first Pre-'03 victories of the season.
Southcott was making his first appearance since the season-opener in March when he had challenged category benchmark – and near neighbour – Gary Prebble before gearbox problems intervened.
The Southampton man's Honda Civic EK3 dominated Pre-'03 in the opener, winning by nearly 15s from Craig's EP3-model Civic Type R, and he instead focused on tussling among the Pre-'93 frontrunners.
"It was great mixing us all together and nice to battle with the BMWs," enthused the victor. "Certain cars were quicker on different areas of the track."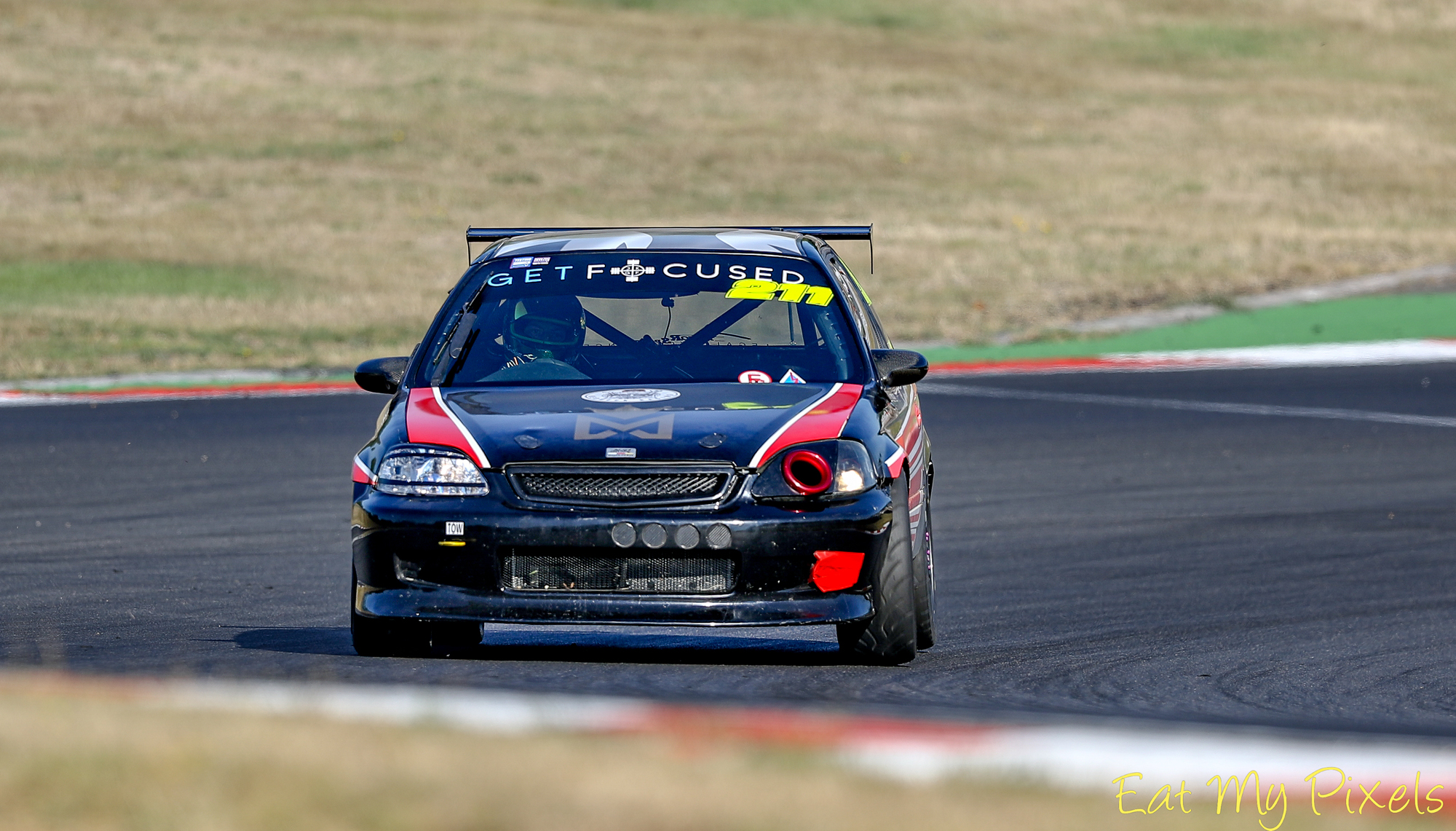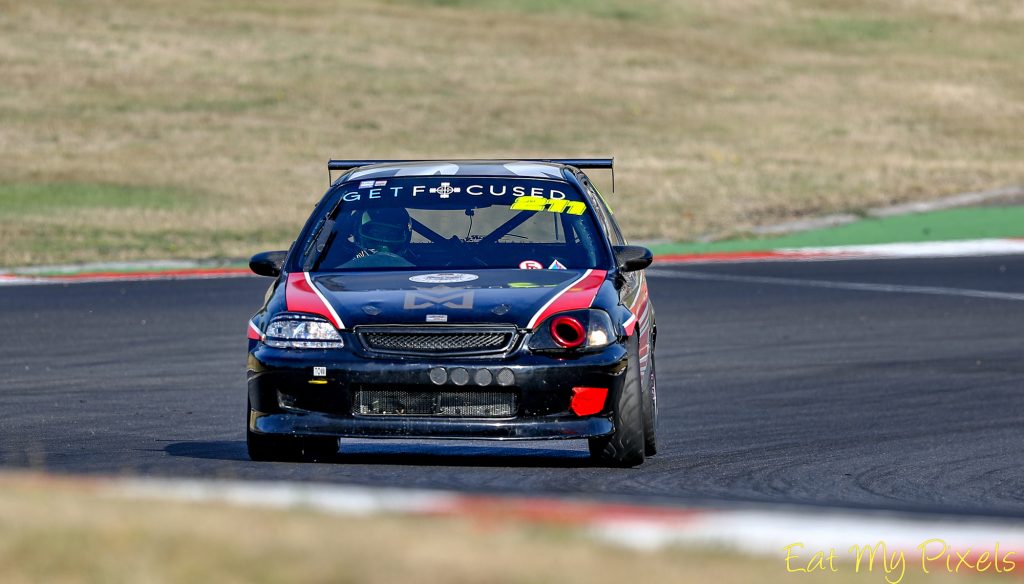 Owen Hillman, following Matthew Cripps's Thruxton example to bring his Civic Cup-spec car along, drove a strong race to complete the podium, just pipping James Alford.
Southcott looked set for a double until he was forced to pull off mid-race in the sequel, unable to downshift after his clutch fluid had boiled. Hopefully he will be back for a showdown with Prebble – currently awaiting engine parts – at Snetterton next month.
Southcott's demise gave Craig a clear run to his first Pre-'03 win since Cadwell Park last August. But it wasn't plain sailing for the Peterborough racer, who could feel his driveshaft failing in the closing stages.
Hillman again edged Alford, who was racing his EK9-model Civic for the first time. Fourth, and first non-Honda home, was Cavan Grainger in his BMW E46 E330ci.
Full results are available via the TSL website.
All images courtesy of CTCRC official photographer Steve Jackman/Eat My Pixels