A stunning spectacle was provided by all eight Classic Touring Car Racing Club categories, headlined by Super Tourers victories for Jon Minshaw and Anthony Reid. British Touring Car Championship stars, packed grids of stunning cars, mega racing and glorious sunshine all contributed to a feel-good atmosphere as the 2022 racing season got under way.
Laser Tools Super Tourers
Making their CTCRC debut, the Super Tourers thrilled with two races featuring overtaking galore as the BTCC megastars put on a show for an expectant crowd.
First blood went to Jason Minshaw in his ex-Rickard Rydell title-winning Volvo S40 as he pipped Anthony Reid – Rydell's closest challenger back in his 1998 Nissan Primera after 24 years – to pole position. 1995 BTCC champion John Cleland put his '97 Vauxhall Vectra on row two, and was set to be joined by a delighted Richard Wheeler (ex-David Leslie Primera), the Brisky Racing boss even having sourced original teamwear for the crew of his two-car Nissan team.
Engine issues sadly sidelined Wheeler for the rest of the weekend, promoting four-time BTCC champion Colin Turkington to start alongside Cleland in Jason Hughes's MG ZS, the same BTC-T model that launched Turkington's top-line career 20 years earlier.
The front four then put on a mesmerising display of close-quarters clean racing, constantly changing places over the opening laps as they got their slick tyres up to temperature. Cleland had just dived inside Reid for the lead at Abbey when Reid suffered wheel-bearing failure.
The Vauxhall then traded the lead with Minshaw's Volvo before Minshaw eked out a small lead in traffic and Cleland toured in to retire. Knocking in his Vectra's transmission was later diagnosed as a broken tooth on the final drive.
That promoted Turkington to second before he too had to retire his increasingly smoky MG with head-gasket failure.
So Minshaw ended up taking victory by an unrepresentatively large margin of 17 seconds over Tony Absolom's '95 Vauxhall Cavalier, which just pipped Darren Fielding's '93 example after the latter was boxed in at Club. That move wasn't decisive though, as Fielding was hit with a 15s penalty for track-limits offences.
"It's quick, isn't it?" beamed Minshaw. "On these [Michelin] tyres you just get confidence, confidence and feel like you can go quicker next time. Hopefully it will drag some more out because they're just mega cars."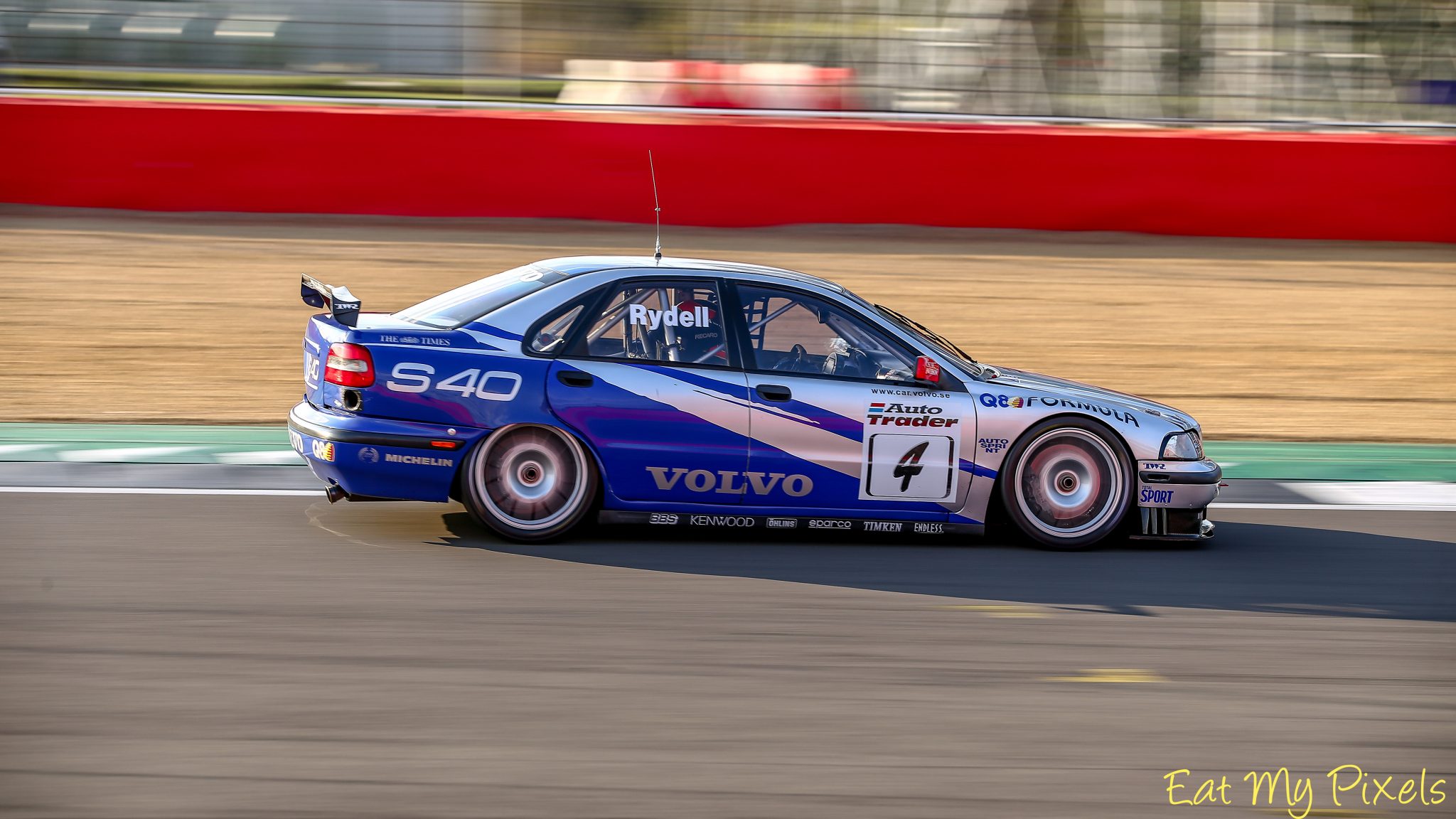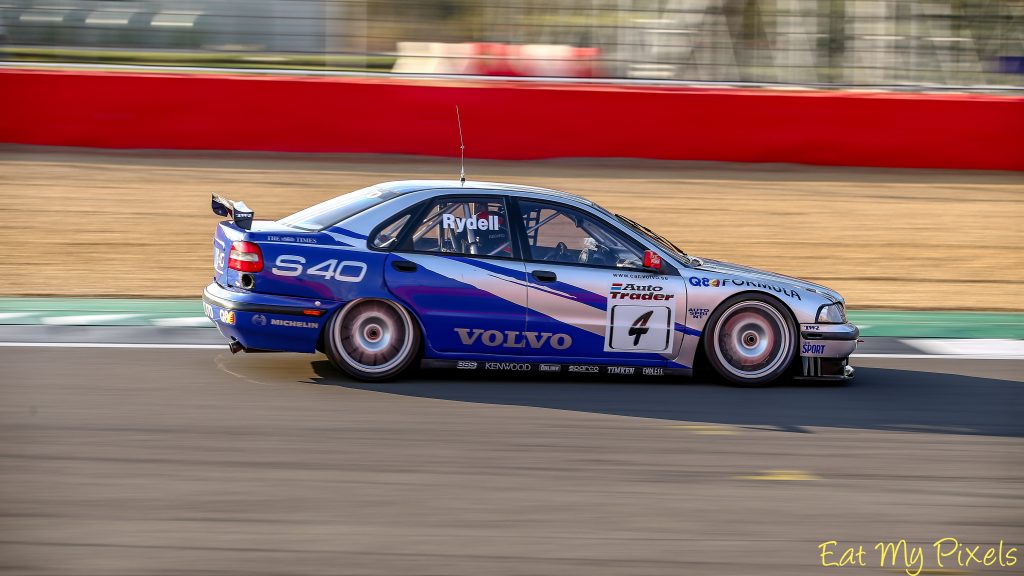 Repairs for Reid and a new gearbox for Cleland got them back on the grid for Sunday's race as battle recommenced without the MG which Hughes had been due to pilot himself.
The lead trio again exchanged places throughout, their fastest laps separated by less than 0.1s. In a thrilling finish, Reid and Minshaw ran side by side through Stowe, Vale and into Club, where Reid made the inside line count for the long right-hander, along with a little rubbing, to win by just 0.27s.
"It was epic fun," was the veteran Scot's succinct summary. "Do you know, it was one of the toughest races I've had in the last… well, since I was racing in period!"
"They're quite handy still, these old boys, aren't they?" smiled Minshaw. Pointing to a dent in his car door, he added: "We've got a bit of Anthony Reid-ness here!" Less than a second behind, Cleland completed the podium, ahead of Absolom and Andrew Strachan's Ford Mondeo, restored by his father Alan after he'd been part of the Andy Rouse Engineering team that built it in period.
Burty Haulage Pre-'03 Touring Cars
Adding a 'Super Production' feel to a grid shared with the Super Tourers, the Pre-'03 Touring Cars opened their 2022 season with a double win for defending champion Gary Prebble.
After extensive work on his Honda Civic EG over the winter, Prebble showed terrific pace to qualify within 4s of the polesitting Super Tourer and keep up with the high-tech machines in the opening laps.
A few gremlins in the electronics caused a mid-race misfire which allowed Chris Southcott's EK3 model to challenge Prebble, with Southcott briefly heading his fellow Hampshire man after passing on the inside at Stowe. As the misfire eased, Prebble responded and pulled clear for a 6s win, with Southcott a class-winning second and Don Hughes completing the overall podium in his Peugeot 306 XSi.
With Southcott unable to start race two, Prebble had an easier ride, once again mixing it with the Super Tourers in the opening laps before heading home Hughes and the Civic of Ross Craig. Cavan Grainger's BMW E46 took Class C honours in fourth overall.
"A lot of sleepness nights with worrying about even being here today," said a relieved Prebble, whose hard work had paid off. "It's got a few gremlins, basically software issues that we're still working our way through but I'm just really pleased to get out this weekend. It was fantastic having the opportunity to race with the Super Tourers, and even better in the earlier laps to be up with them before their tyres came in. It was brilliant."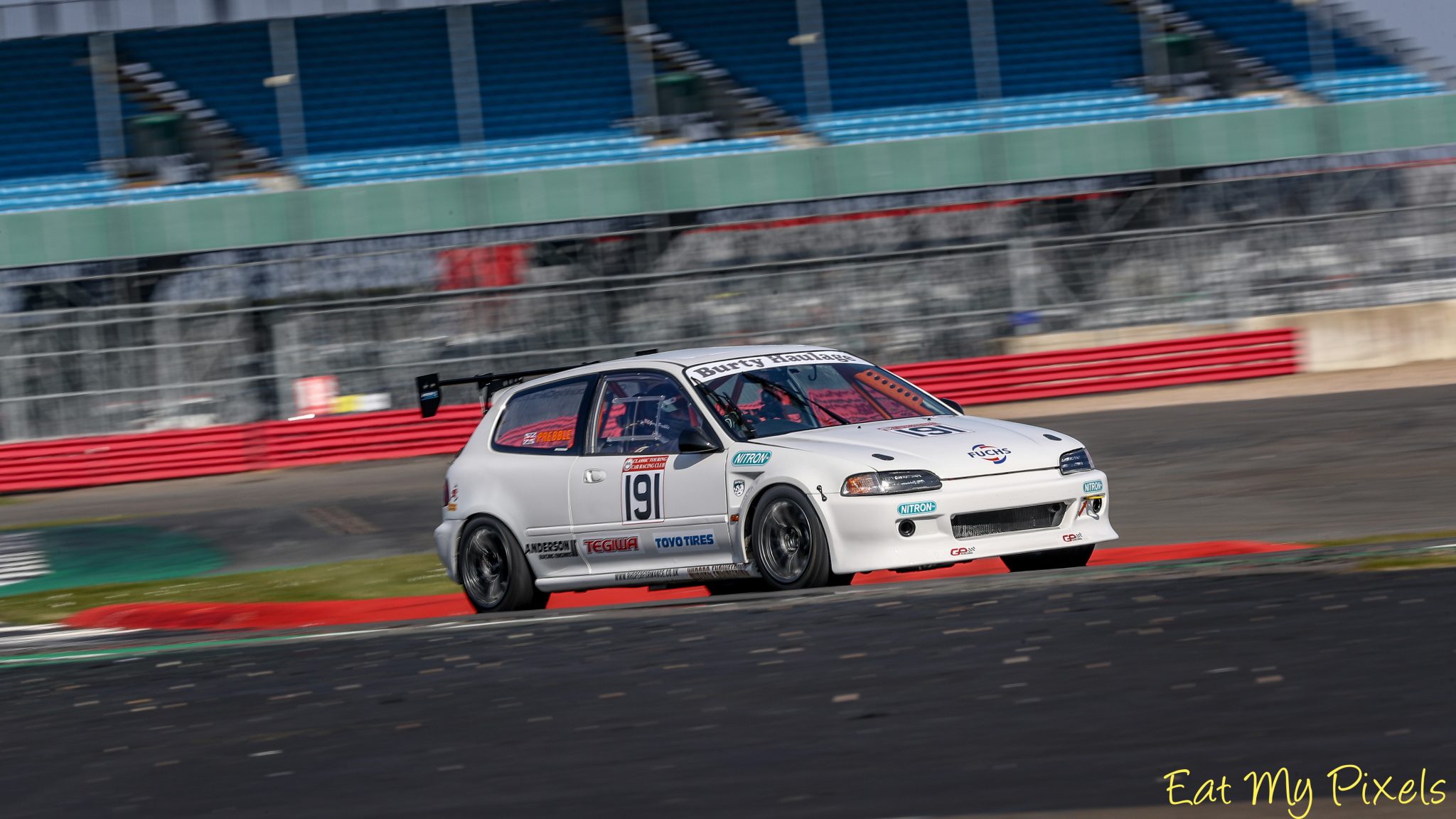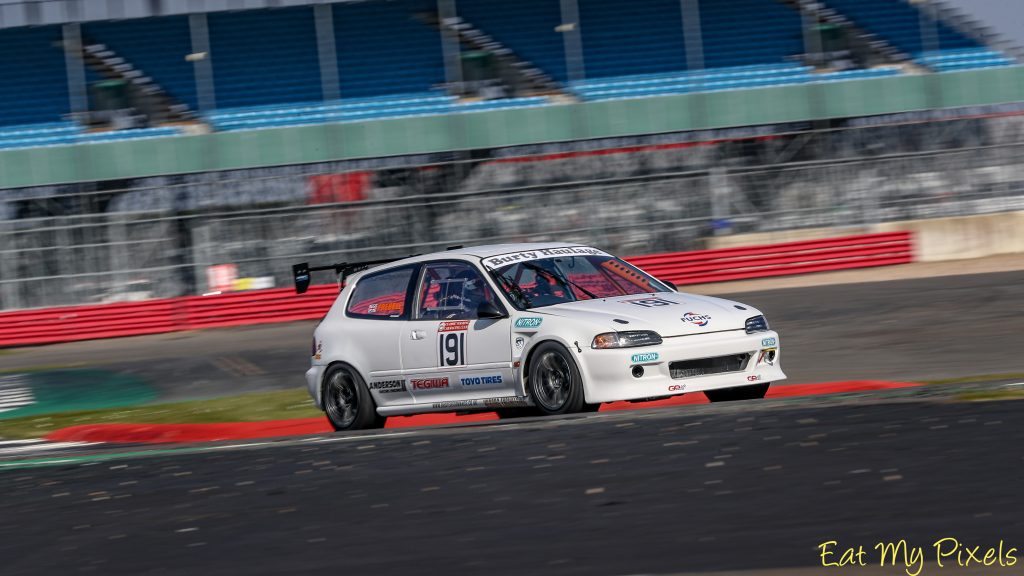 Orange Aero Pre-'83 Group 1 Touring Cars
Stephen Primett kicked off his Pre-'83 title defence in perfect fashion with a pair of wins. But they could hardly have come in more contrasting fashion. Primett hit the front early in the opener on his way to a commanding win, before having to fight through from the very back in Sunday's sequel.
After more than two years out of action, Malcolm Jeffs returned in style by putting his VW Golf GTI on pole, with running mate Duncan Leftley third, sandwiching Primett's Ford Escort Mk1.
All three were jumped off the line by the Pre-'66 Ford Mustang of Rob Gray, but Primett got through on the inside of Club to lead by the end of the first lap. From there, Primett checked out to take a 10s win over the Eichberg-inspired Ford Capri of Mark Thomas, the Class B winner.
While Jeffs fell back and then pulled off with a master-switch issue, completing the podium was Mark Osborne's Triumph Dolomite Sprint after a stirring drive from the back of the 42-car field. An electrical issue meant the Welshman had had to qualify out of session.
Osborne's drive had been fantastic, but Primett managed to top it in race two. The polesitter stalled at the start, thankfully being avoided by the entire field despite some close calls. He resumed stone last and began his charge as Osborne led the way from the increasingly smoky Capri of Thomas.
By the time of a second-lap safety car, for Jeffs' stranded Golf, Primett was already 10th overall. He then continued to pick off those ahead, passing Thomas on the inside at Stowe on the penultimate lap to take second, before Thomas's gearbox woes eventually forced him to pull off.
Amid backmarker traffic on the final lap, Primett got a better run onto the Hanger Straight and rounded Osborne at Stowe to take a terrific victory.
Describing being a sitting duck on the grid as "terrifying", Primett added: "The funny thing is, I didn't think to restart. I was just sitting there thinking, 'No, no, no!' looking in the mirror. But as the last car was coming past me I thought, 'Oh yeah, start.'
"I was over the limit initially, and when the safety car came out I calmed down because I was locking brakes, missing apexes, sideways, and I was going, 'Calm down, calm down'. Then I thought: 'We're going to get in the top few here.' I didn't dream I could win though. I just can't believe it, I'm just bursting with adrenaline!"
Nic Strong's earlier Capri took Class B honours, while Nigel Garrett (Chevrolet Camaro Z28) was twice victorious in Class A on his return to the championship. Steve Yates's Ford Escort RS1600i pipped the similar machine of Anton Martin to claim Class D honours, as he had a day earlier.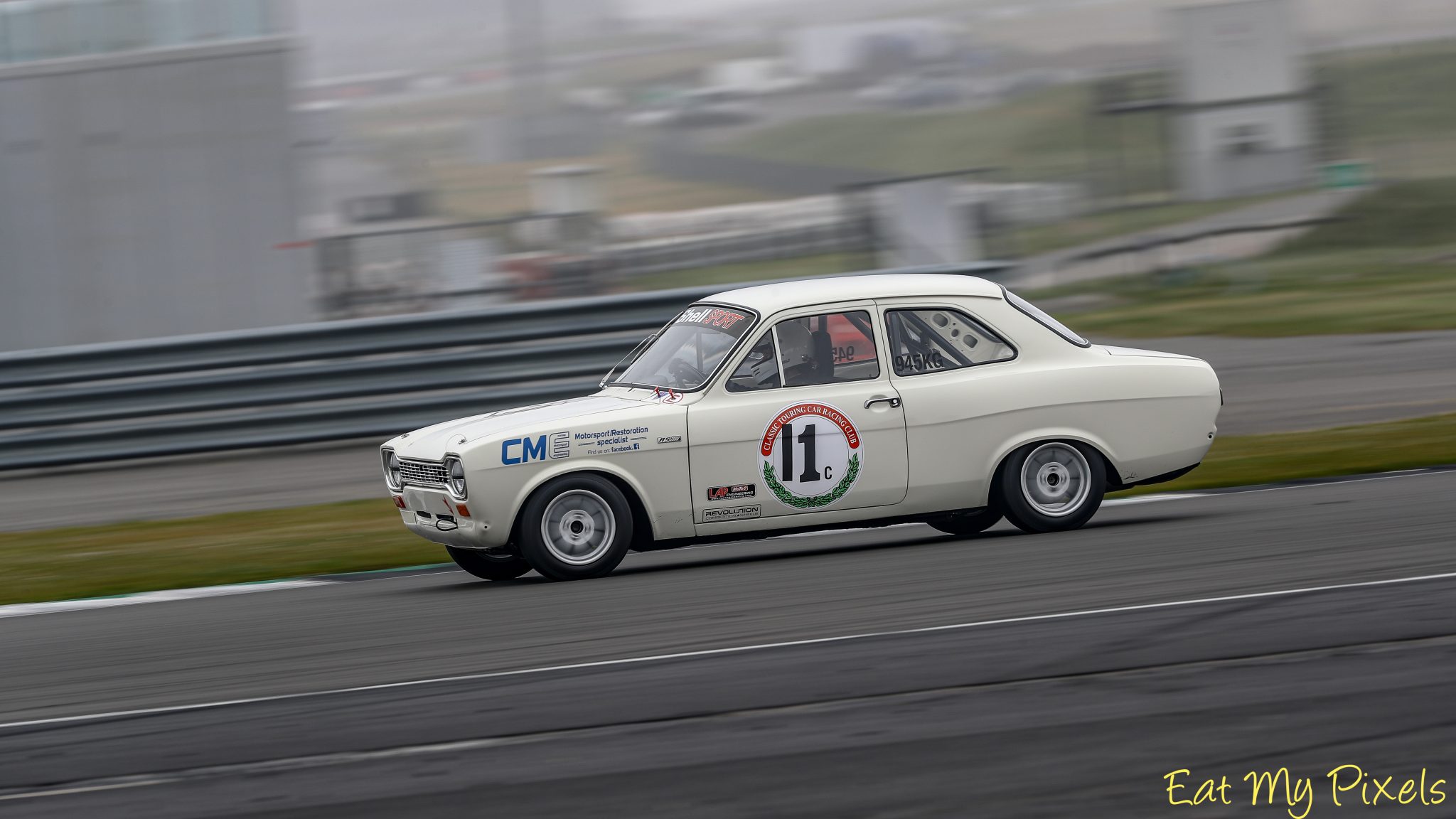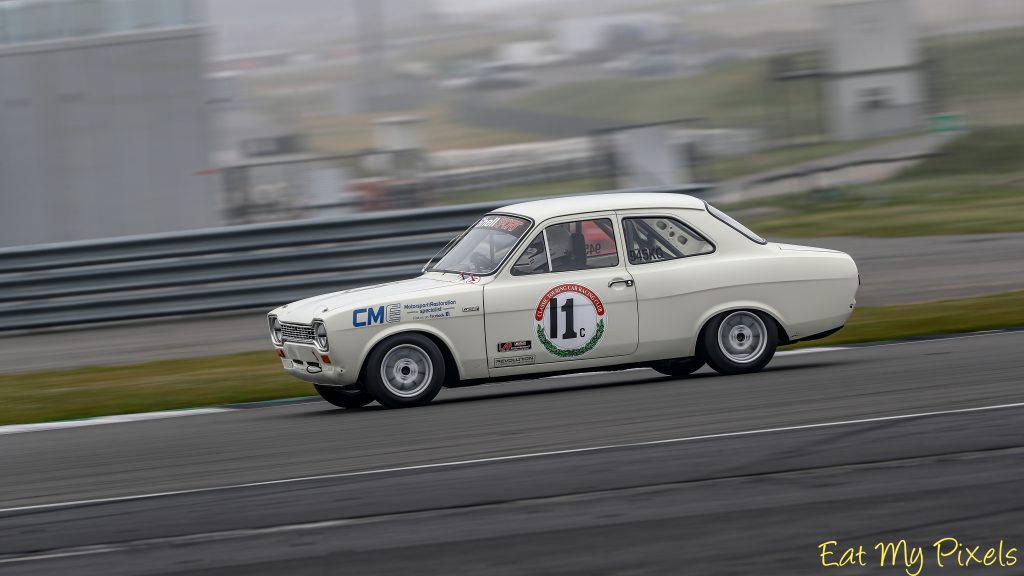 Poultech Pre-'66 Touring Cars
Running alongside their slightly more recent counterparts, Pre-'66 honours went to the Mini Cooper S of Phil Bullen-Brown and Alan Greenhalgh's Ford Falcon.
However, the pace was set by David Rahal's new Ford Mustang in the hands of Rob Gray. The former BOSS Formula frontrunner (when he drove a Formula 1 Tyrrell) qualified among the Pre-'83 runners then jumped into the race lead, before slipping to fourth overall at the flag. Unfortunately, he was then excluded for running non-regulation tyres.
That handed Pre-'66 victory to Bullen-Brown from the similar Mini of Jonathan Page, with Piers Grange's Mustang third in Pre-'66 and Class A winner.
Bullen-Brown was also contesting the weekend's Mini Miglia contests, which meant he elected to skip Sunday's second race due to the tight timetable. As a result, Page was a comfortable winner of the class but slipped to third in Pre-'66 after duking it out with Grange and Greenhalgh. Former BTCC man Greenhalgh took the honours after suffering a spin the previous day.
Gray managed fourth in Pre-'66, now running in an invitational class having been unable to source regulation tyres overnight, while top Lotus Cortina man Pat Kenneally was fifth having lost out to Nigel Cox in the class on Saturday.
Reigning champion James Ibbotson enjoyed two race-long scraps with the similar Hillman Imp of David Heale, the pair taking a class win each, while previous champion Luc Wilson twice took his Austin A40 to Class D honours.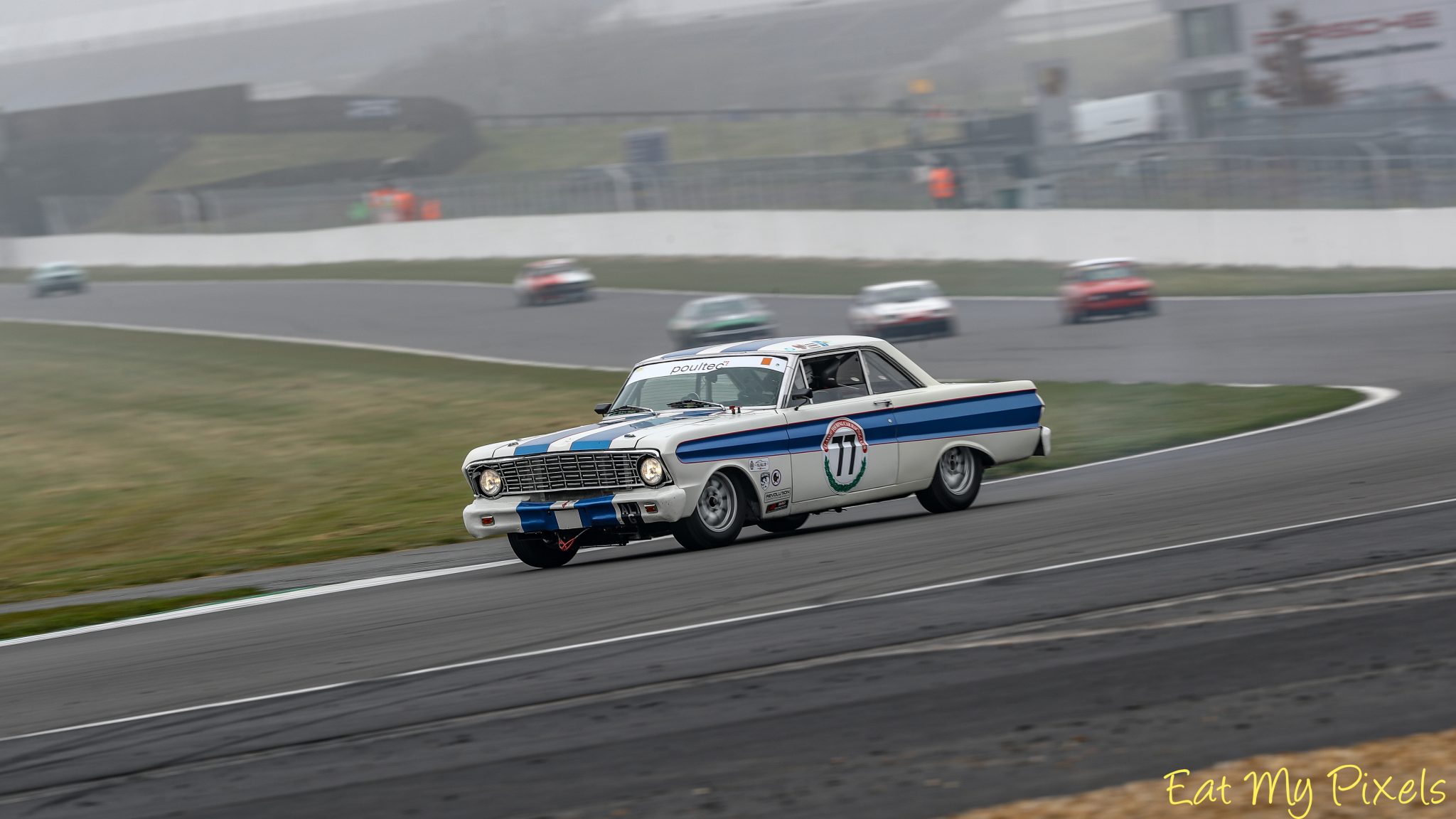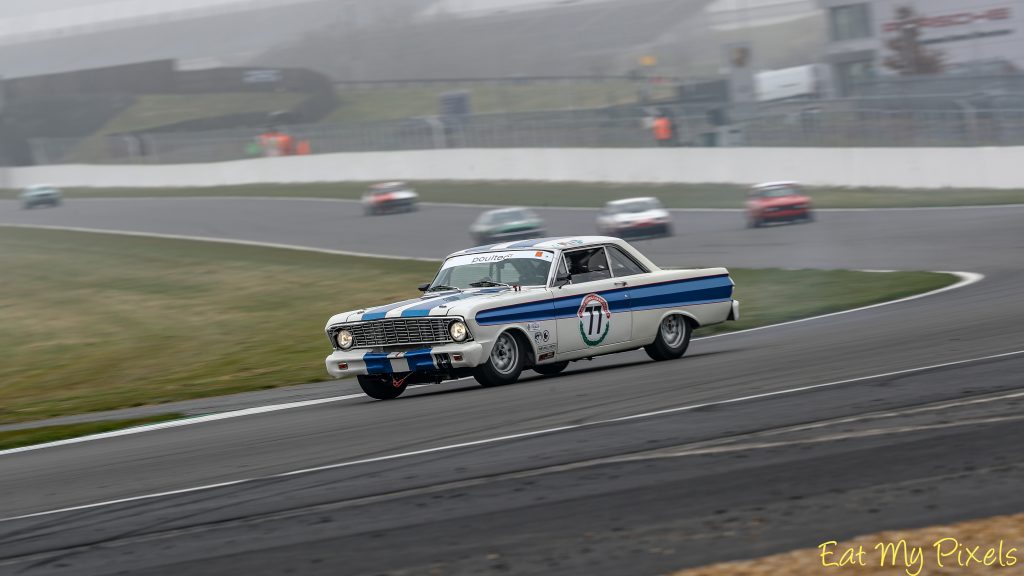 Edmundson Electrical Classic Thunder
There was a dream return to the CTCRC for Jason Davies who scored a double Classic Thunder victory in his heavily developed Ford Sierra Cosworth with outlandish aero.
With polesitter Andy Wilson's ex-British GT Holden Monaro missing from the grid due to a broken sparkplug, it was his fellow Aussie V8 runner Andy Robinson (Ford Falcon) who used his massive power to jump into the lead from the third row of the grid. Robinson was then ambushed by Davies and Jason West's BMW E46 M3 which were quicker through the corners.
The trio finished in that order, with Class A winner Robinson having his work cut out to hold off Colin Voyce in his historic-class Ford Escort Mk1 and Neil Argrave's ex-Piers Grange Chevrolet-engined Ford Sierra XR8 which was an early spinner.
"Absolutely delighted," said Davies, whose win came despite suffering an alternator failure and brake issues. "Couldn't have wished for more. Me and Jason were having a chat after the race and we were saying it was a shame that Andy Wilson couldn't be there to have a scrap as well.
"I don't think there's an area we haven't touched incrementally over the last few years," he added on the car's development.
Race two played out similarly, with Robinson getting the jump before West and BOSS runner Malcolm Harding moved ahead. Robinson and Davies then dived inside Harding simultaneously at Vale, with Harding losing out spectacularly as they found three into one doesn't go.
Once racing had resumed from the resultant safety car, Davies powered past West on the Hanger Straight and went on to take his second win of the weekend. West was comfortable in second, despite carrying damage from the earlier Kumho BMW race, while Wilson carved through from the back to a class-winning third overall.
Frazer Huntley, driving the Janspeed-built Nissan Super Tourer that had then been used as a show car by Team Dynamics, and is now Honda-powered, twice took Class C honours.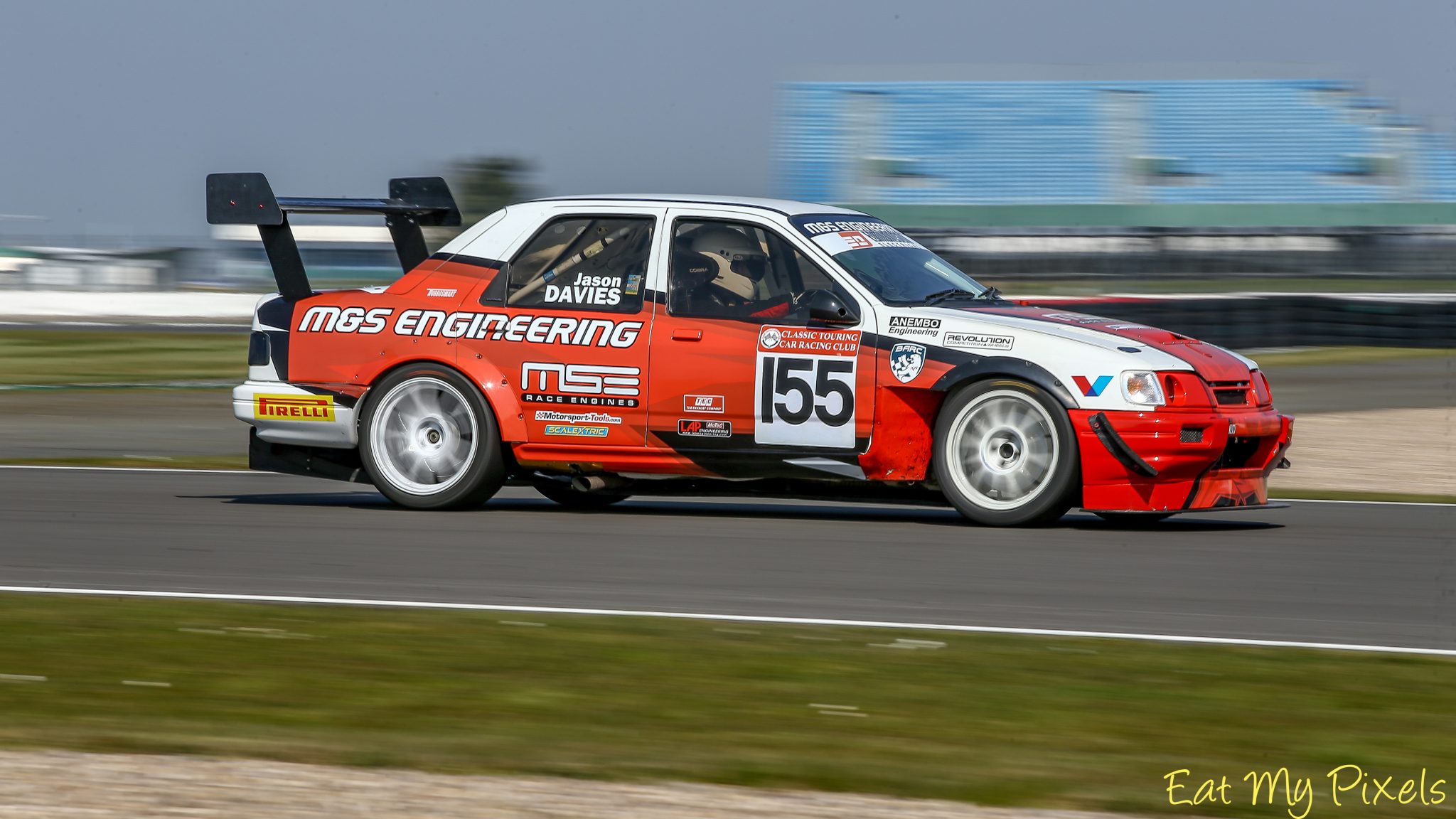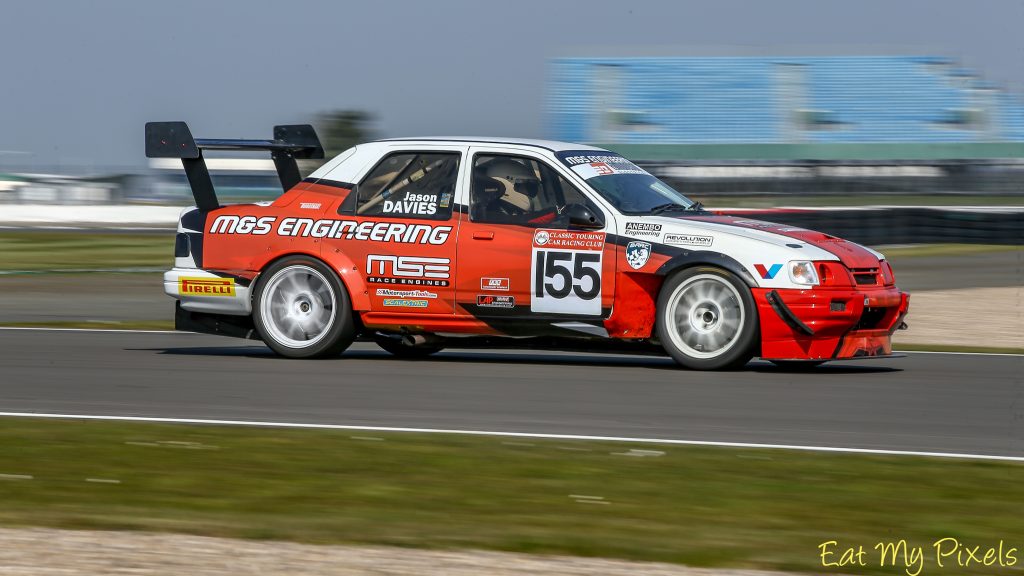 Burton Power Blue Oval Saloons Series
Joining Classic Thunder on track, the BOSS category was won in dominant fashion on Saturday by Malcolm Harding in his Zakspeed-styled Escort Mk2 with a Smith & Jones powerplant.
Former rallycross and Eurocar man Mike Manning was second – and first in the class for slick-shod runners – in his Mark Wright-built Sierra RS500, its Eggenberger Texaco livery a nod to a former role running a Texaco filling station. Third was Martin Reynolds's Mk2 Escort, while Chris Brown edged James Dunkley's similar XR2 for Class D honours.
Despite a great start, Harding's race didn't go as well on Sunday. As Classic Thunder runners Andy Robinson and Jason Davies dived inside him at Vale, his car was flipped up and over, bouncing onto its roof before landing back on its wheels, facing the wrong way.
Amazingly, the car obtained only light damage and, after taking a few moments to regain his composure, Harding fired it up and returned to the race. Charging back through the field, he climbed to third overall.
The win had looked set to go to Manning until he slowed on the final lap with a left-rear failure that left his wheel wobbling drunkenly. Manning was able to bring the car home but not before reigning champion Reynolds had slipped by to snatch the win. Dunkley reversed the previous day's result to win Class D.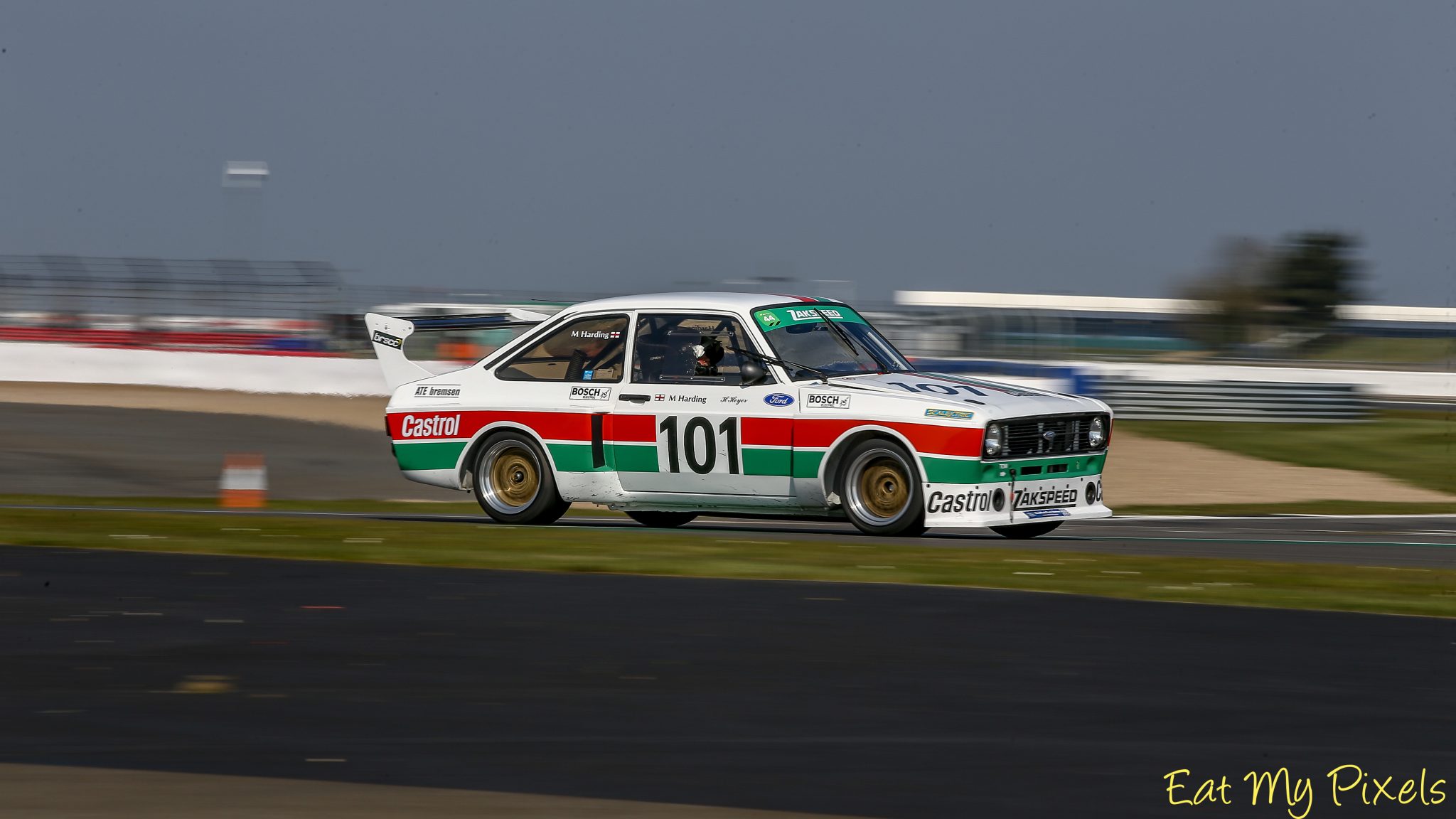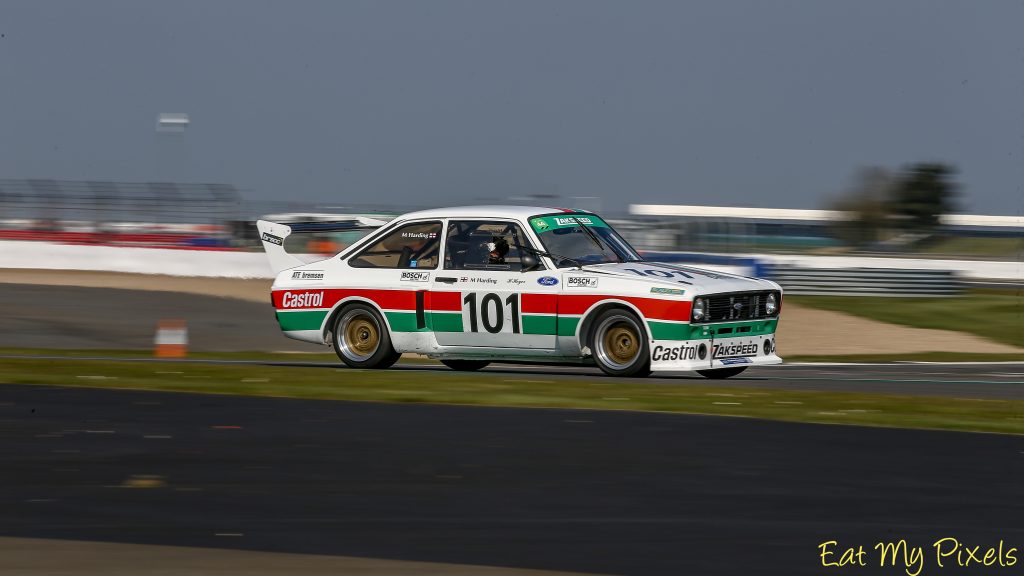 Laser Tools Pre-'93 Touring Cars
Dave Griffin set out his stall as the man to beat this year in Pre-'93 Touring Cars with an untroubled pair of victories.
Having got his preferred engine back up and running over the winter, the expat Aussie put his BMW E36 M3 on pole by over 3s from the similar machine of Andy Cripps. But with Griffin making his "trademark bad start" – his height making it difficult to see the start-light gantry – it was Cripps who led away from the similarly motivated Mike Dugdale.
It didn't take Griffin long to resume the lead though, before powering to a comfortable victory in the race shortened by a red flag with one of the Jaguar Challenge runners beached in the gravel.
Cripps and Dugdale completed the podium, with reigning champion Ian Bower fourth, in what appeared to be an ill-handling car. 2019 champion Graham Myers brought his Jagermeister-liveried M3 home in fifth.
Griffin, delighted with the work done on his car over the winter, managed to nail the start in Sunday's race and never looked back on his way to an 8s win over Cripps. His only difficulty was negotiating backmarking traffic. Dugdale and Bower also repeated their Saturday results.
Ian Knight's VW Golf GTI twice took Class C honours. Class D fell to Andy Sheraton's Laser Tools BMW 325i E30 on Sunday after Byron Aldous, returning to racing after a two-decade absence, had won the class in his VW Corrado a day earlier.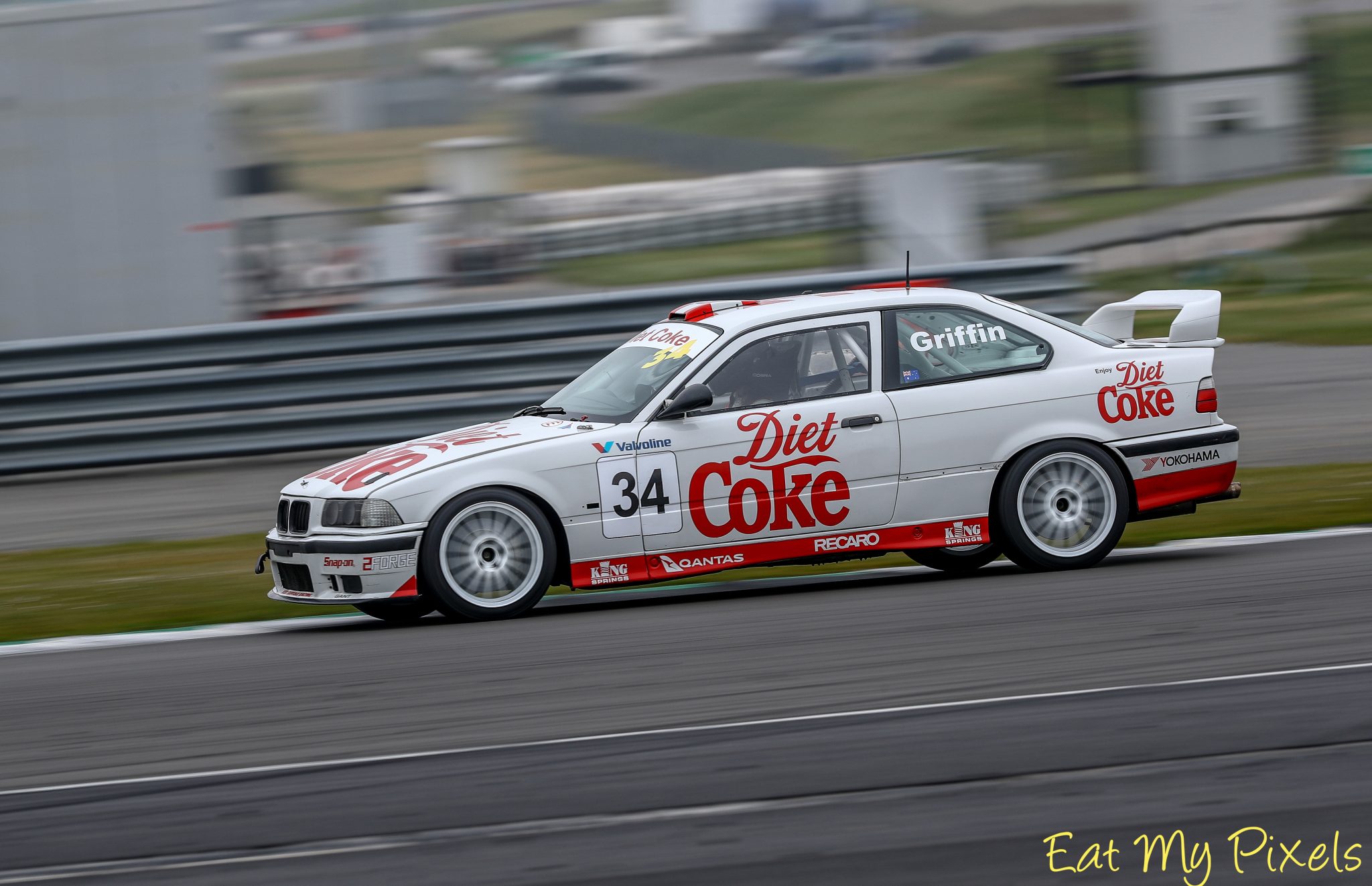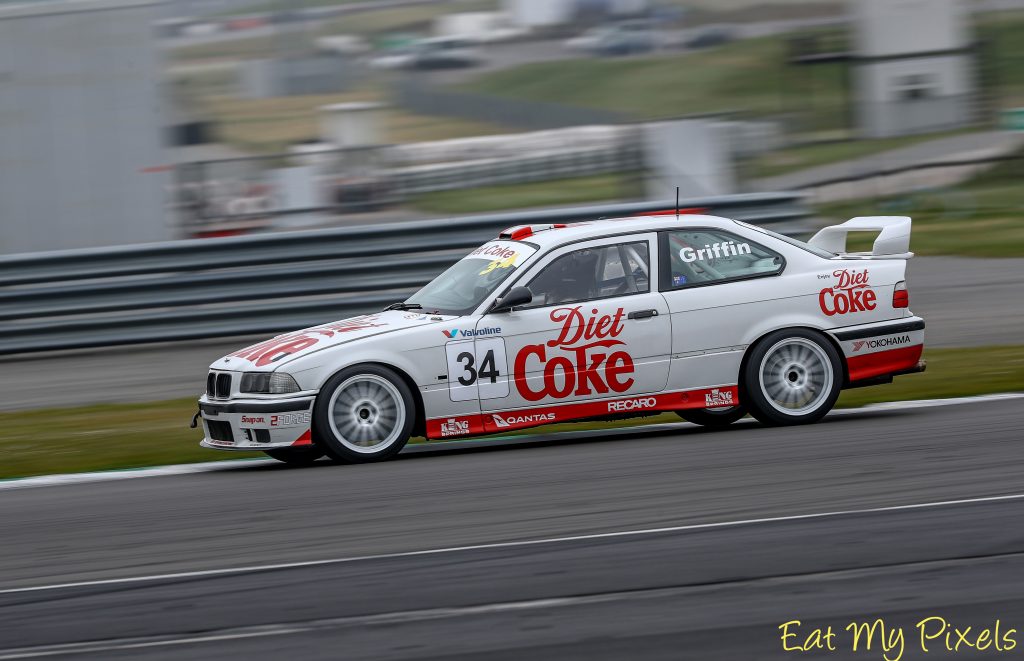 Berkshire Jag Components Jaguar Challenge
The Jaguar Challenge made its debut as a CTCRC category with a very encouraging 24-car field sharing a grid with the Pre-'93 Touring Cars. Regular pacesetter Tom Robinson opened his account with a double victory.
Robinson's supercharged XJR6 was pushed hard by the returning Colin Philpott (XJS) in Saturday's opener. After Robinson held the early advantage, Philpott – who was just 0.1s slower in qualifying despite suffering a tyre failure – closed in before dropping back as his engine started cutting out intermittently.
Philpott then had to turn his attention to successfully fending off James Ramm's more modified XJS, which was charging through the field after a throttle cable problem in qualifying, claiming Class C honours in the process.
The top three repeated their results in Sunday's second race, with Robinson's margin of victory more comprehensive in the cooler temperatures after curing the oversteer he had been suffering with on Saturday. Philpott once again edged Ramm, by just a quarter of a second.
Tim Morrant took his Daimler Series 1 XJ6 to a double Class A win while Class B honours were split between Derek Pearce (XK8) and reigning champion Mike Seabourne (XJS), who started Sunday's race from the back after changing his gearbox overnight.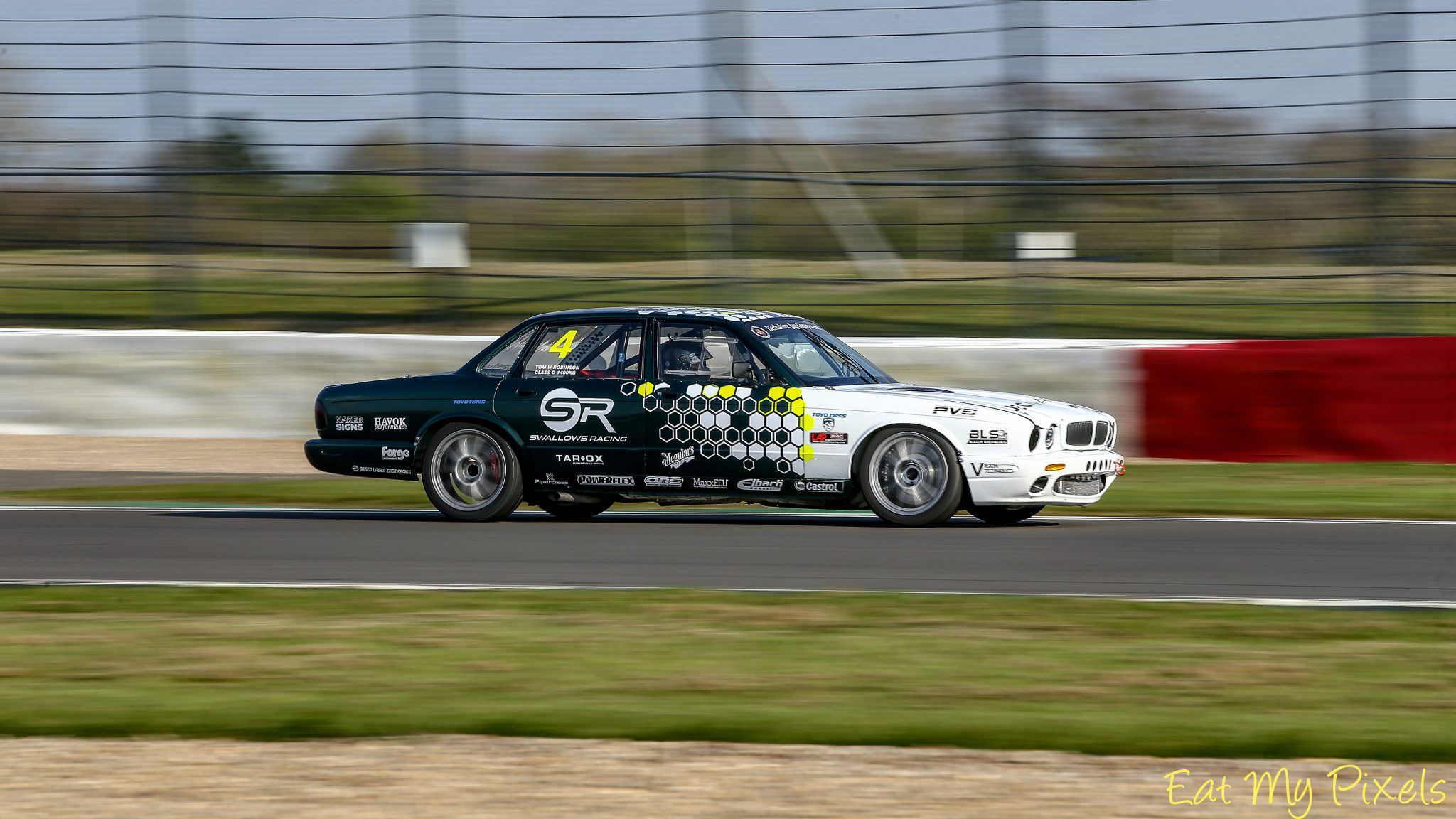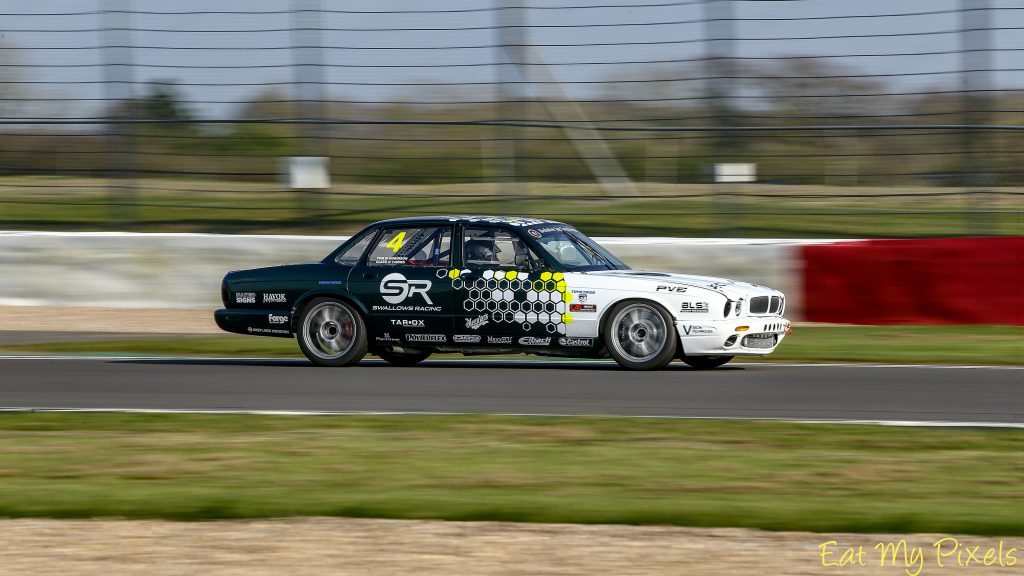 Full results are available via the TSL website.
All images courtesy of CTCRC official photographer Steve Jackman/Eat My Pixels