James Everard wowed with his fine drives in two stunning cars as the Classic Touring Car Racing Club travelled east to Snetterton. Two titles were provisionally decided in the penultimate meeting of the season, including Stephen Primett celebrating an astonishing tenth crown by topping the Pre-'83 Group 1 Touring Car championship.
Tom Robinson (Jaguar Challenge) provisionally sealed his maiden title. Further highlights were provided by James Ibbotson's giantkilling acts in his Hillman Imp as he claimed his maiden outright wins in Pre-'66 Touring Cars.
Laser Tools Pre-'93 Touring Cars
Differential failure denied James Everard what would have been a dominant double on his first appearance of the season in Pre-'93 Touring Cars.
Everard, who ran well in his ex-Roger Stanford BMW M3 E30 last season, has upgraded his mount to full Group A spec for this year, as well as giving it a striking new period livery. But engine problems had prevented him racing the car yet this year.
Gremlins finally banished – with assistance from Dutch specialist Bosch Performance – Everard brought the car back across the North Sea and promptly plonked it on pole.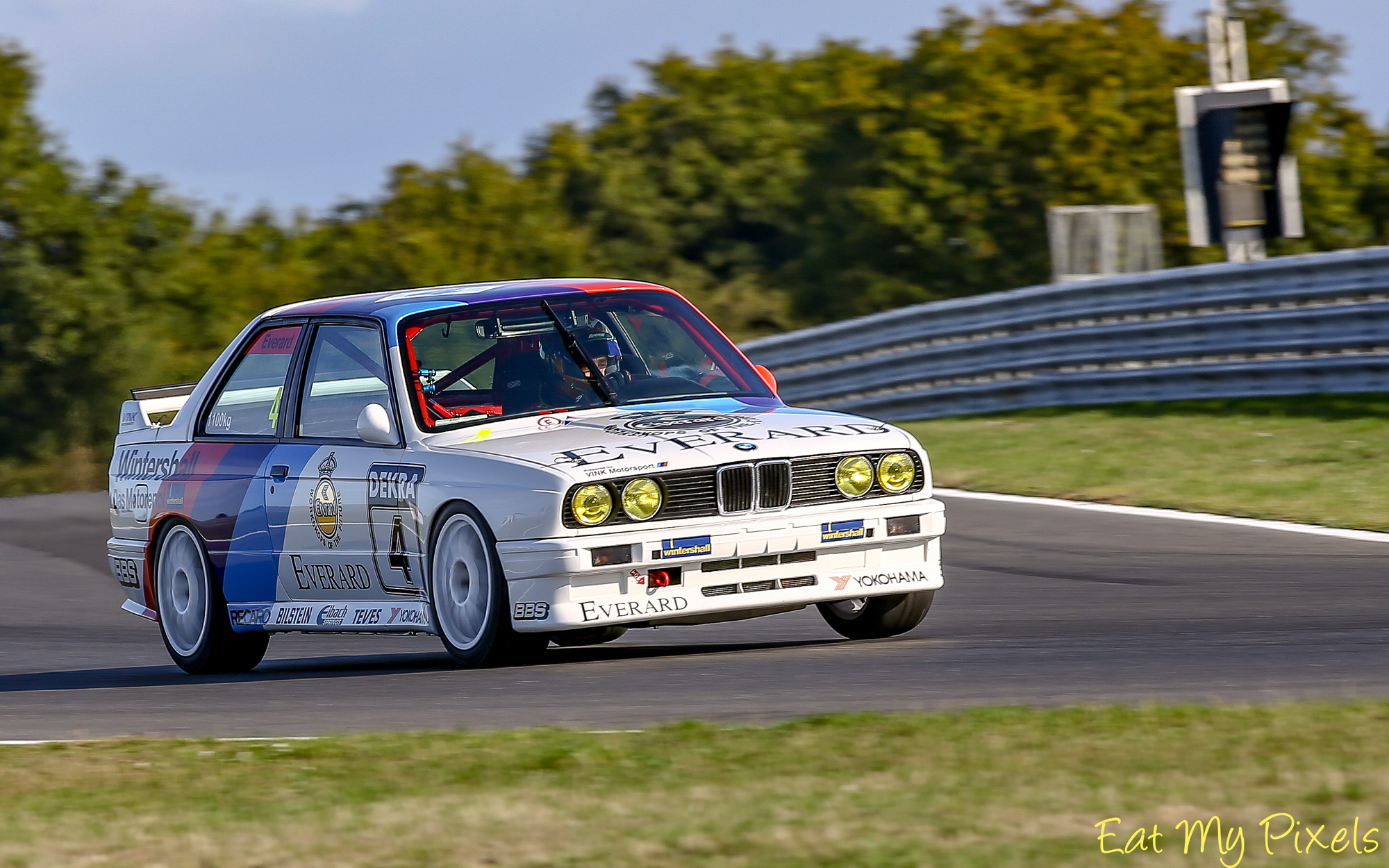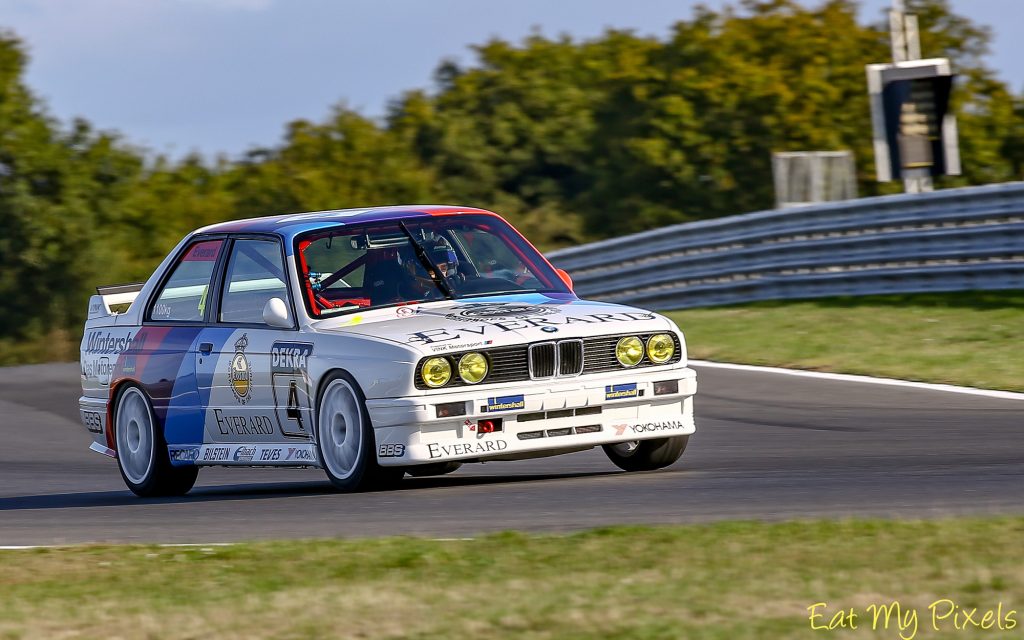 His 83.13mph lap around the 2.99-mile Snetterton circuit was 2.8 seconds clear of defending champion Ian Bower's E36 model.
Bower jumped Everard at the start but the 2.3-litre E30 was back ahead before the left-hander at Palmer. An accident among the Pre-'03 field brought out a safety car and, once restarted, the race boiled down to a two-lap sprint.
Everard pulled clear to record his maiden outright race win (although he had been the first Pre-'93 car home in a combined race at Mallory Park last year), nearly 5s ahead of Bower.
Rob Crisell scored a maiden podium in his E36, beating the similar cars of Andy Cripps and Mark Fowler, who had to work his way through the field after problems in qualifying.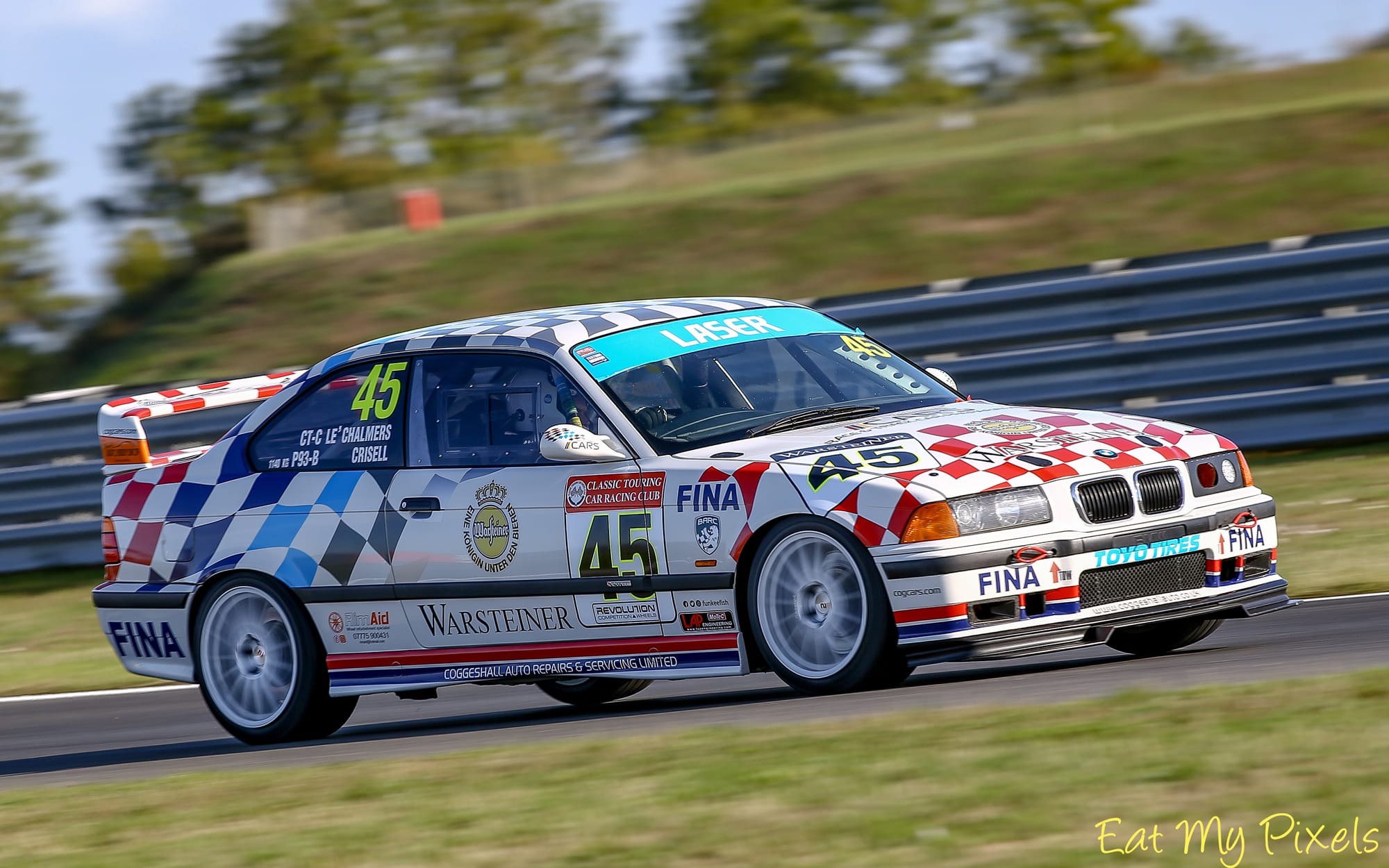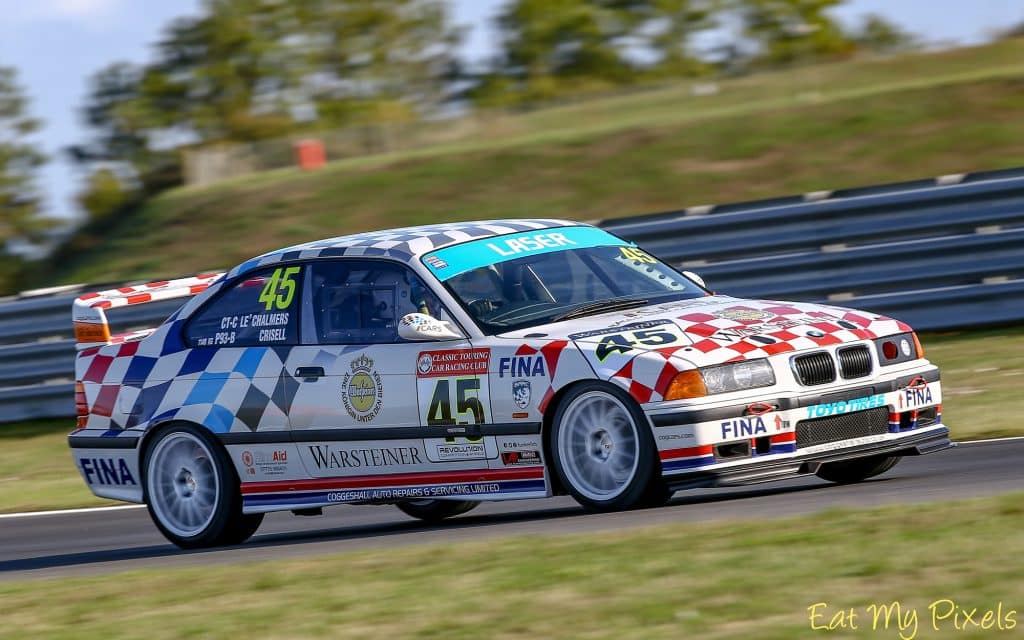 Getting to grips with the E30's tricky dog box transmission, Everard set a blistering pace in race two. More than 12s clear within two laps, the Hull man then eased back but was 15s to the good when his differential blew on lap six of seven.
What had been an excellent three-way scrap for second between Bower, Fowler and Crisell was reduced to two when Bower ran wide at Hamilton and subsequently pulled off. Fowler then spun at the same corner a lap later and, like Bower, pulled off later in the lap.
So when Everard retired, Crisell inherited the lead. In his first season of racing, Crisell was able to draw on knowledge of his local track to head home Cripps for a maiden win.
Crisell said: "The first race was my sixth race and obviously the second my seventh. So to get two podiums and the win today I was delighted."
With Mike Dugdale missing the event, Cripps now holds a healthy championship lead ahead of the season finale at Donington Park next month.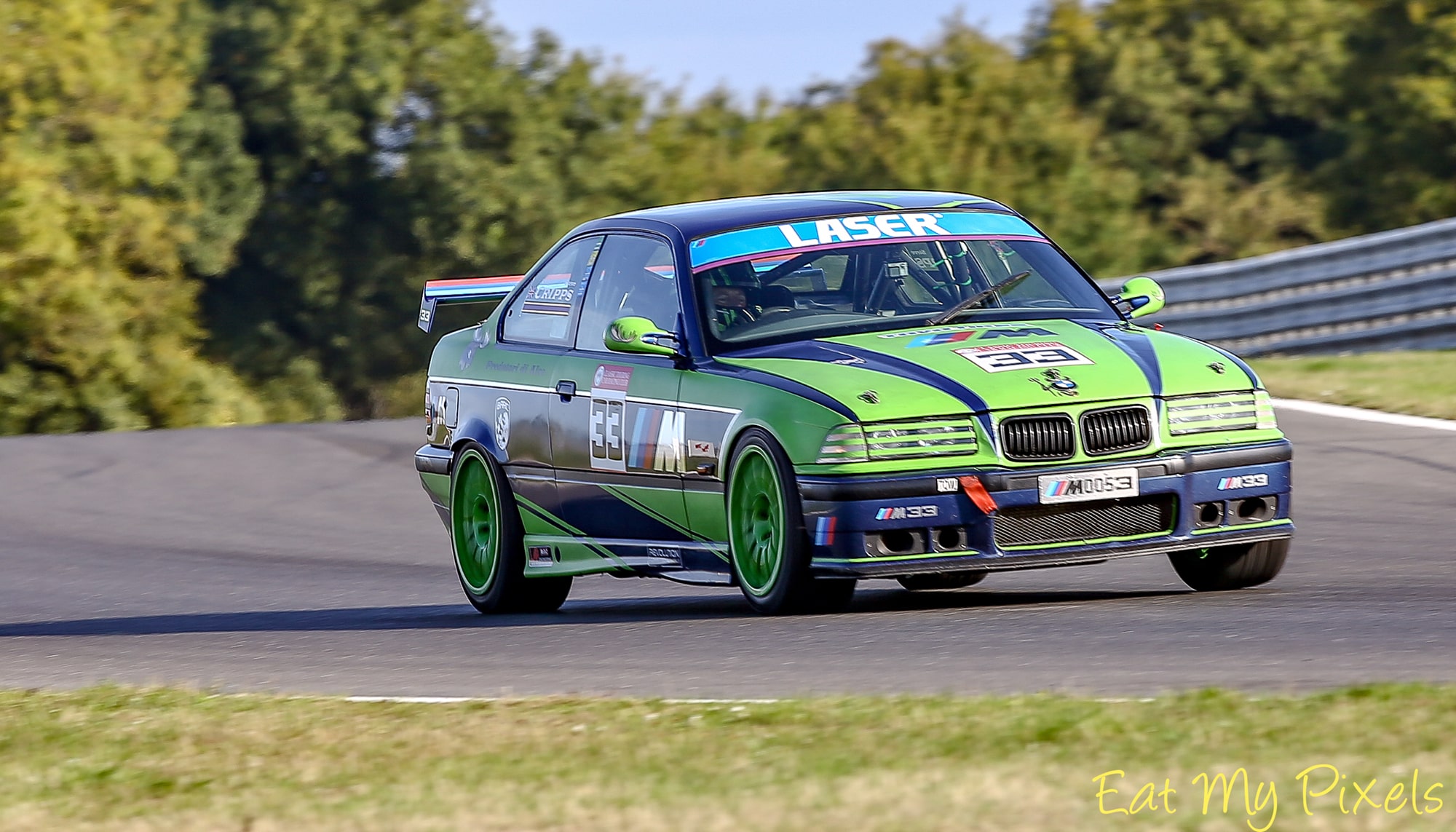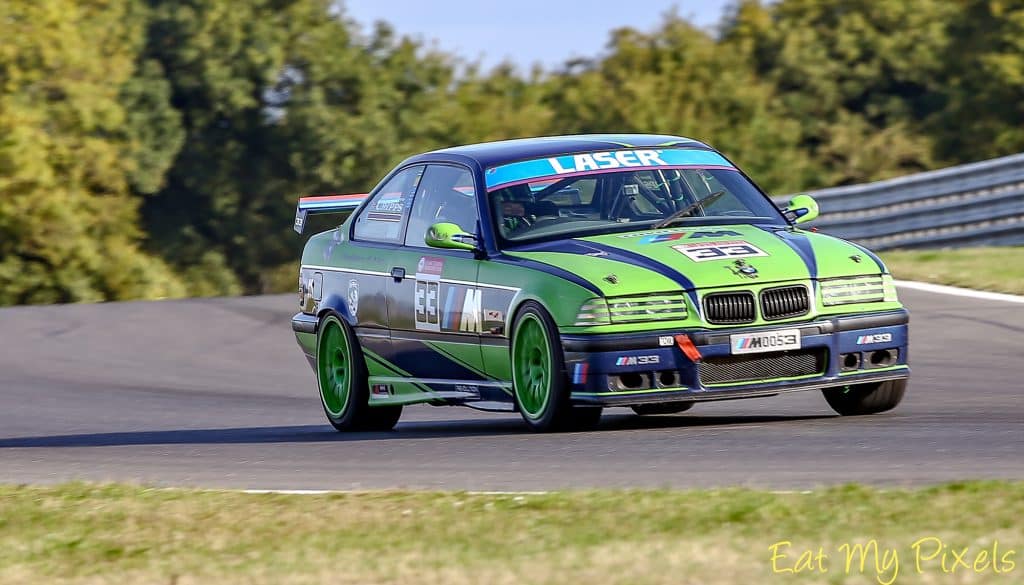 Burty Haulage Pre-'03 Touring Cars
On his annual Snetterton appearance with the club, Scott Smith took a double win in Pre-'03 Touring Cars aboard his Honda Civic EP3.
Smith qualified third, behind the Civics of Ross Craig (EP3) and James Alford (EK9) but the race was blown wide open at the second corner.
John Hillyer (BMW E36 Touring) missed his braking for the Wilson hairpin and harpooned the side of Craig's car, spinning him round. Much of the field were either caught up in or delayed by the incident which brought out a safety car.
Sadly for Craig, second in the championship coming in to the event, damage to his gearbox and a trailing arm ripping out meant that his weekend was done.
Once racing resumed, Alford continued to lead until the last lap when an engine management issue struck and he dropped behind Smith and Class A winner Cavan Grainger in his BMW E46 330ci.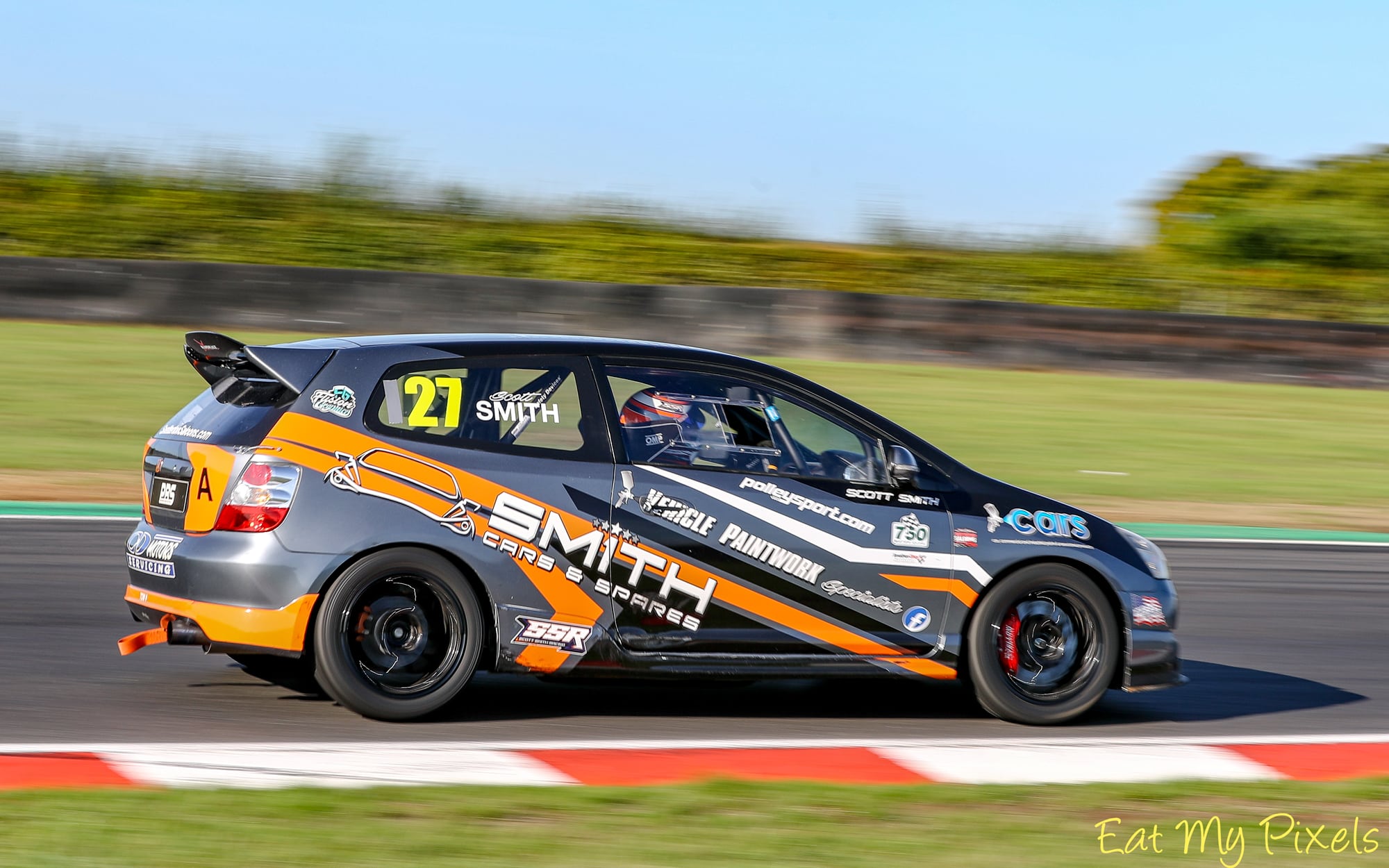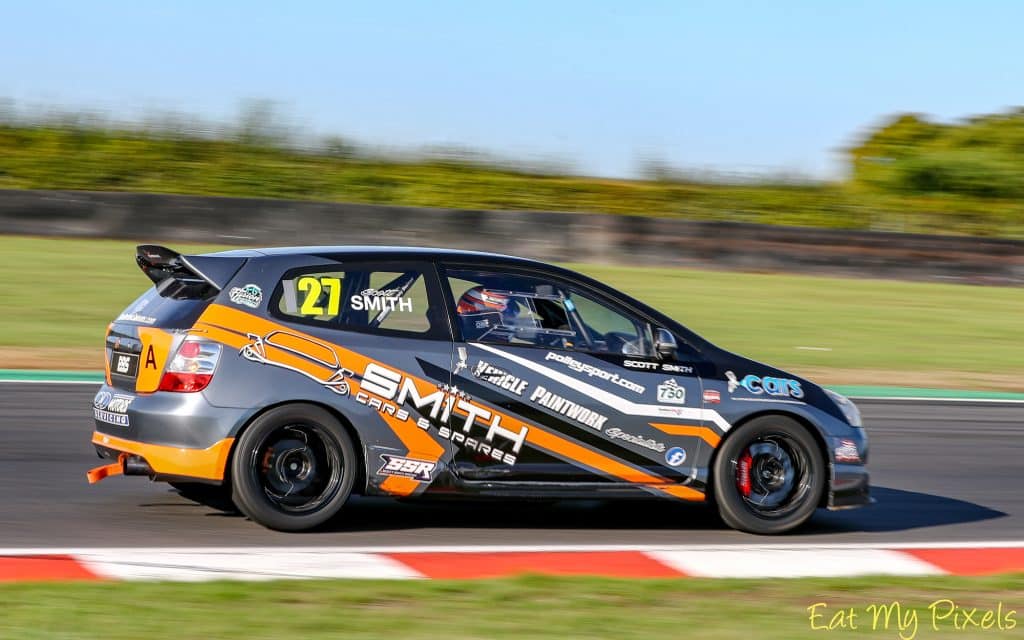 Smith and Alford put on a first-class display of racing in the sequel. Smith led most of the way but couldn't shake off the attentions of Alford.
The latter found a way through at Williams, the right-hander leading onto the back straight, in the second half of the race. But Smith got back ahead at Brundle, the first part of the esses.
Ducking out of the slipstream on the run to the chequered flag, Alford almost managed to snatch the victory, falling short by just 0.154s.
Grainger was again third, his two class wins strengthening his championship lead and meaning that Alford may be the only man who can deny him the crown at Donington.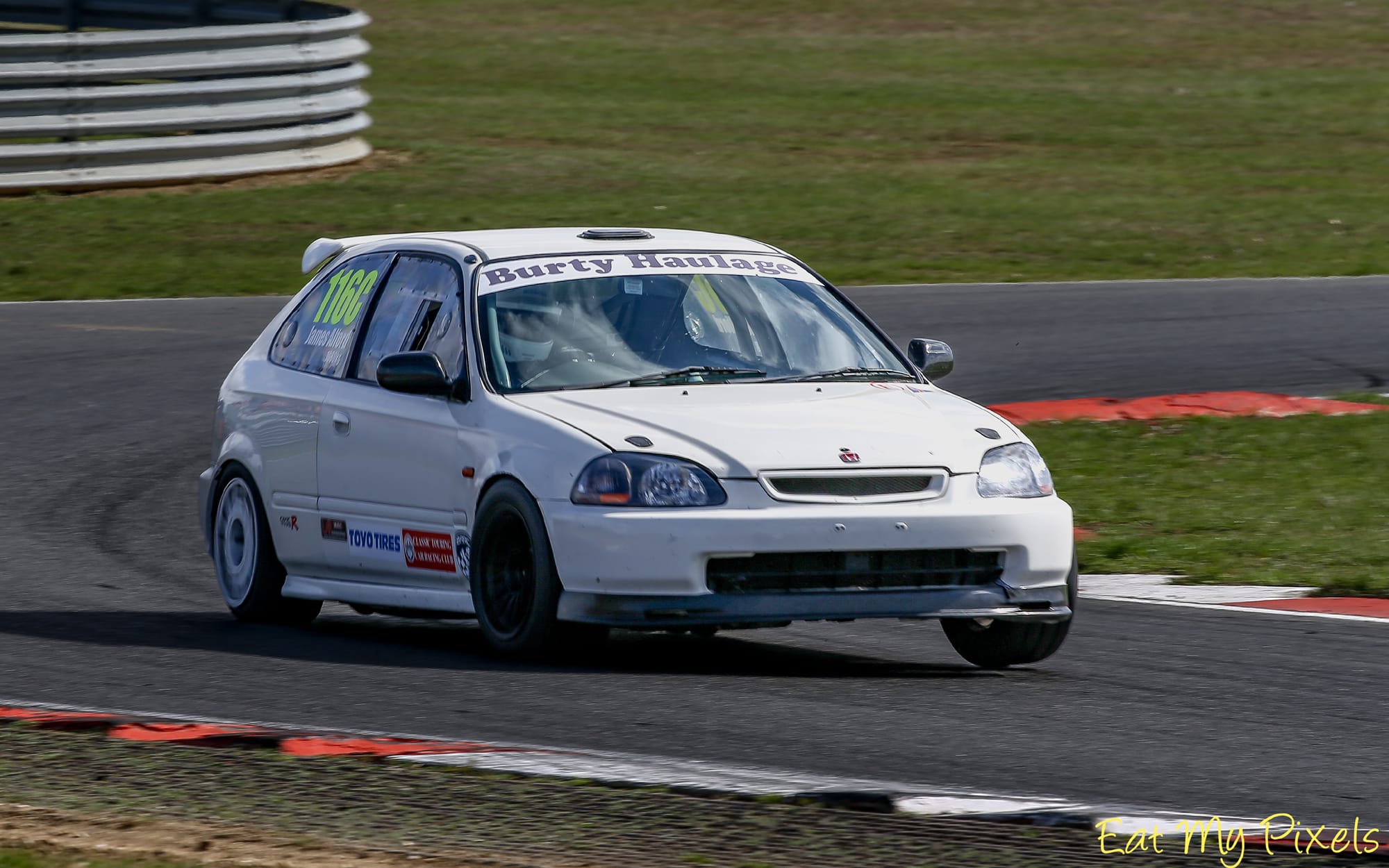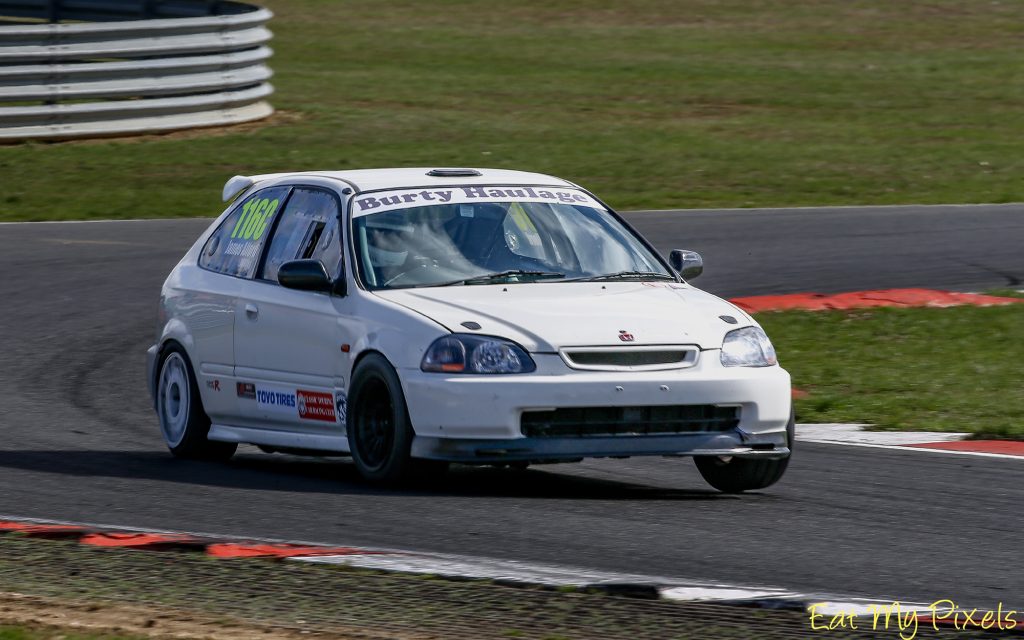 Orange Aero Pre-'83 Group 1 Touring Cars
Another two wins in Group 1 Touring Cars, making it eight from 11 races this year, provisionally clinched a 10th Classic Touring Car crown for Stephen Primett.
Although both wins were by comfortable margins, Primett didn't have it all his own way. A flying start by Mark Osborne (Triumph Dolomite Sprint) propelled him into the lead of the first race.
But a lap-and-a-half later, a misfire caused Osborne to wave Primett's Ford Escort Mk1 back through as he slowed and brought the Dolly in to retirement.
Primett was unchallenged thereafter as Mark Cholerton (Escort Mk2) had to focus on fending off the attentions of Jason Christie's Mk1. He managed to do so, by less than half a second, to complete an Escort 1-2-3.
"Just a bit surreal really," said Primett, having scored the points he needed for a 10th title, subject to confirmation. "I really can't believe I can have racked up that many."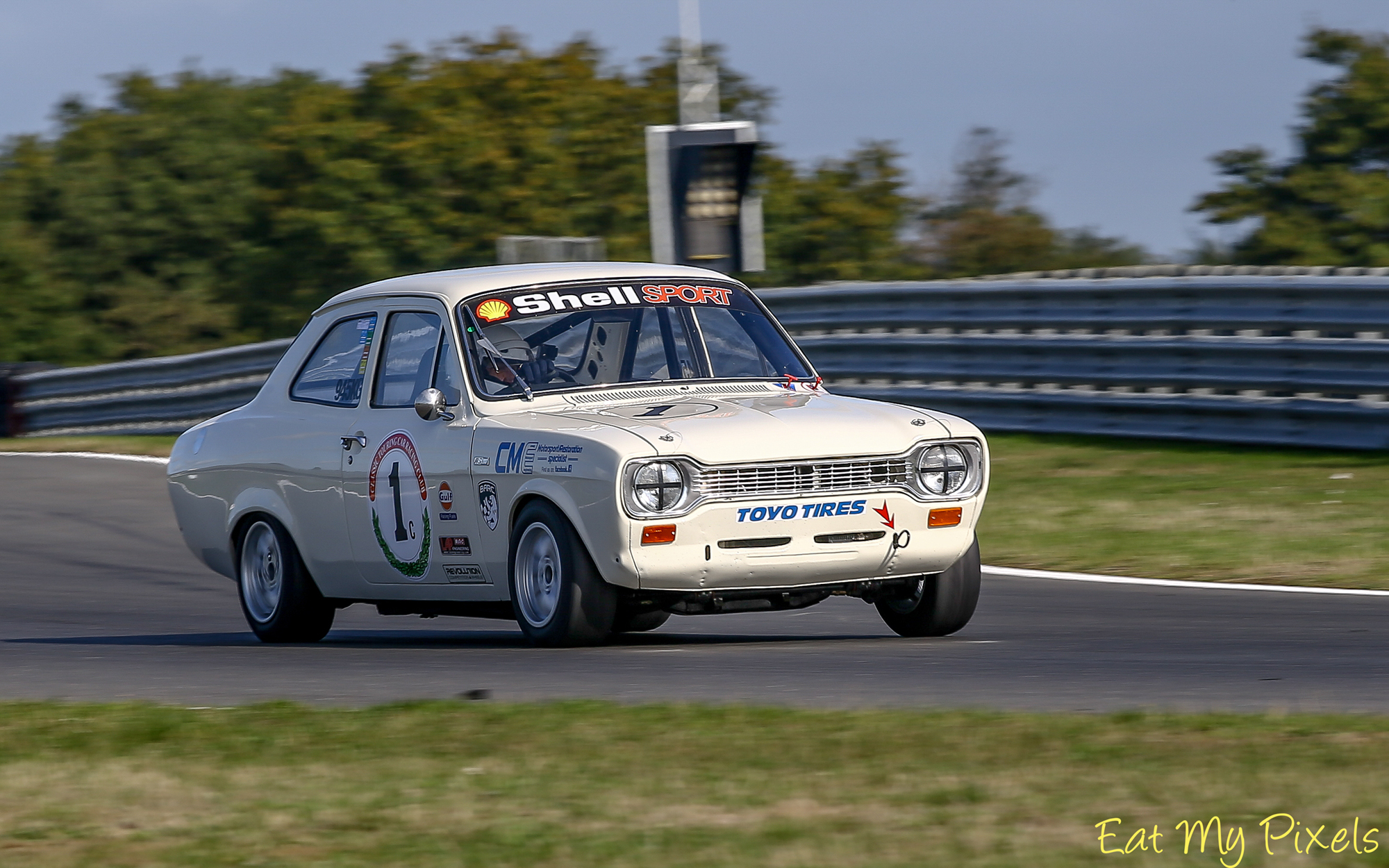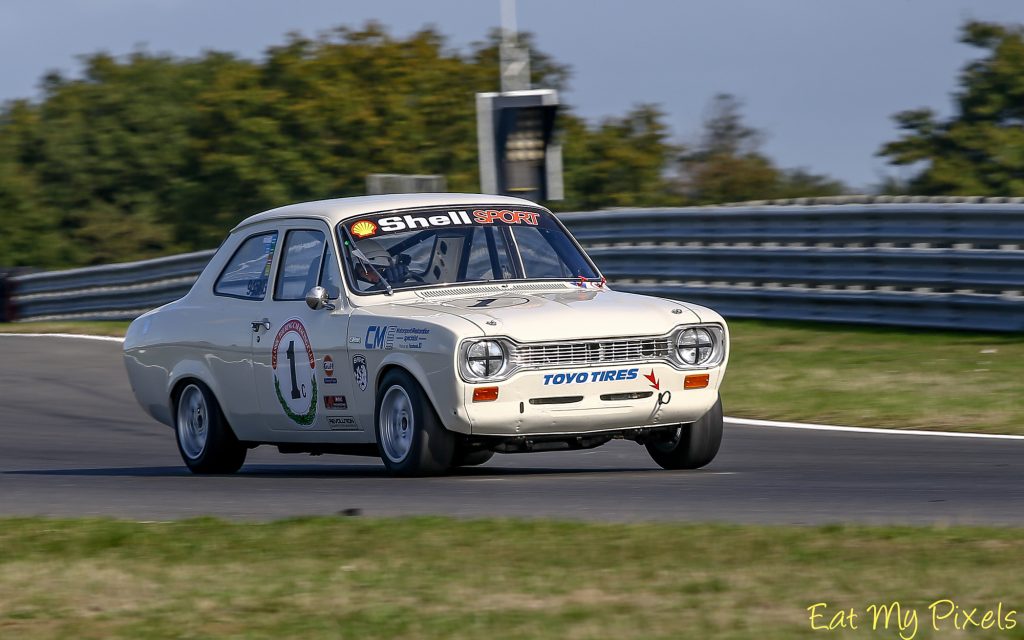 Carl Shreeve (Dolomite), on his first appearance of the season, managed to withstand pressure from Graham Smith's Escort for fourth. Sixth was Duncan Leftley's VW Golf GTI, out for the first time since the Silverstone season-opener, well clear of Class B winner Malc Best (Ford Capri).
Osborne again showed he had the pace to give Primett something to think about in race two, only for the Dolly to expire once more.
From the back of the grid, Osborne had incredibly risen to third within four corners. But the Welshman slowed on the second lap with a loose axle and suspension arm failure.
Primett charged to victory by 10s, with Cholerton again edging Christie by less than half a second. Smith managed to get the better of Shreeve for fourth.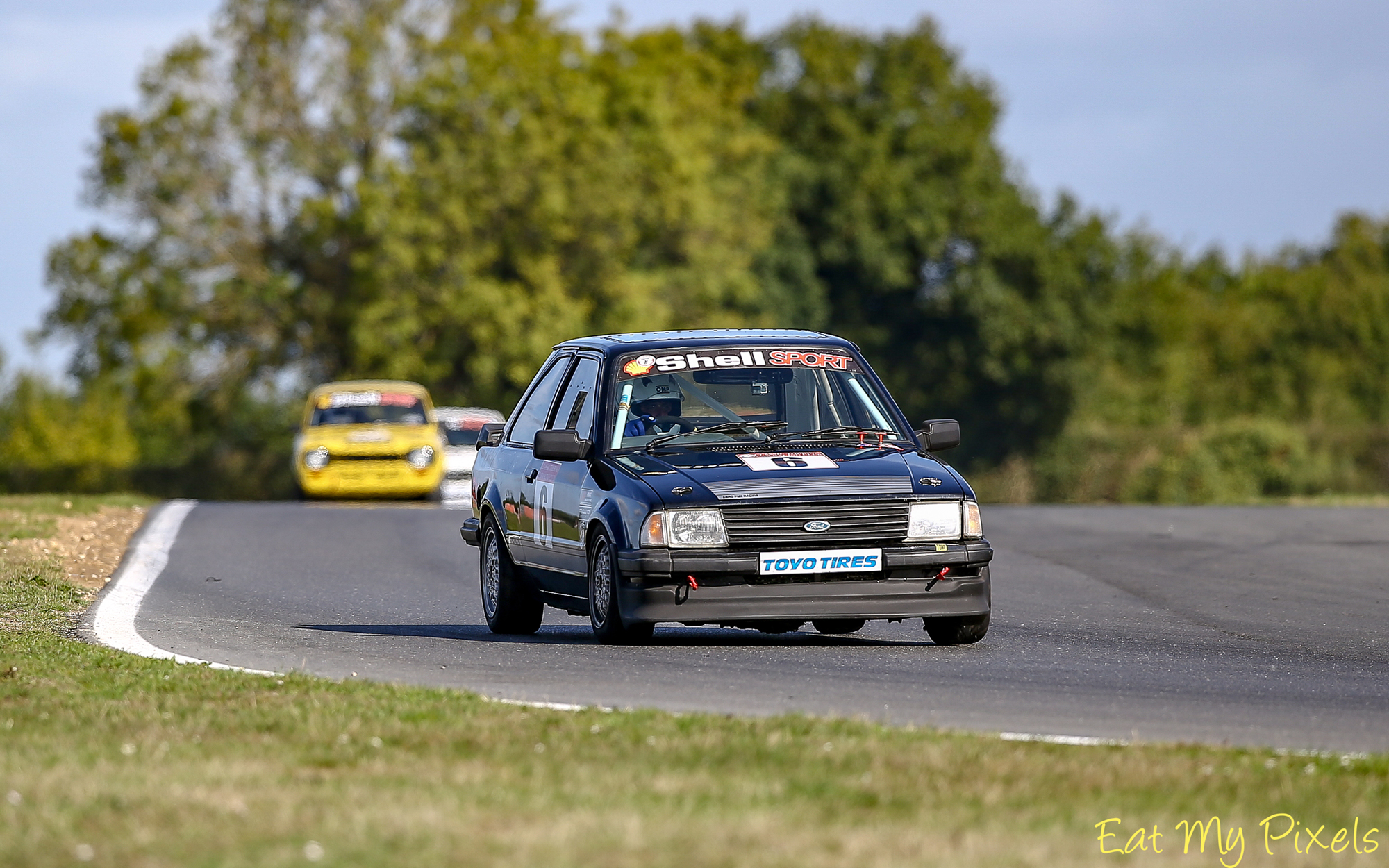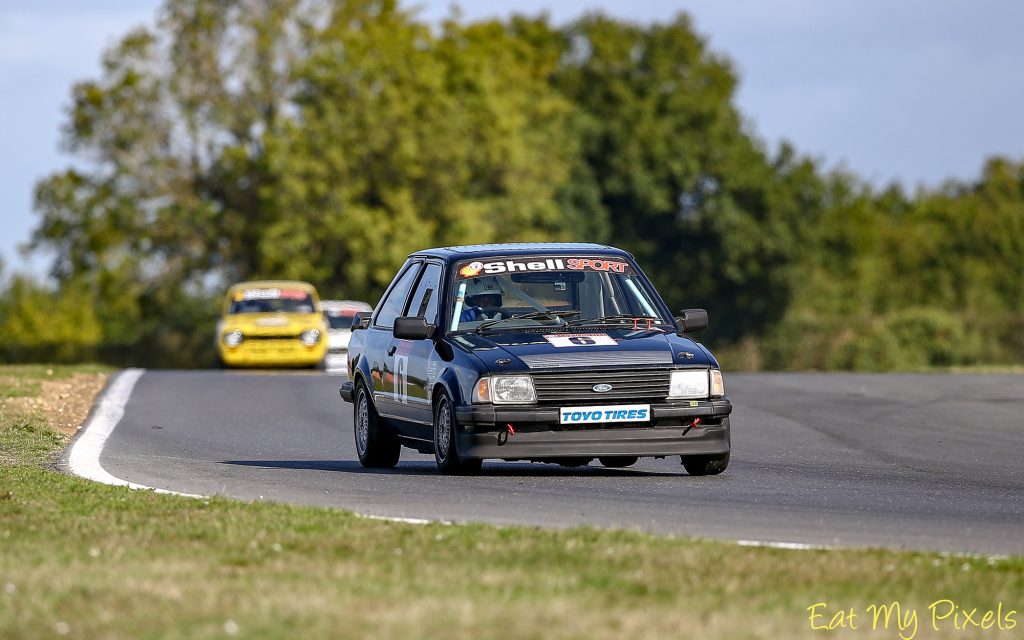 After retiring from race one, David Claxton showed strong pace in his Dolomite to climb to fifth on his local circuit, only to for the car to expire again.
Leftley also missed out on a top-six result with a brake failure that sent him on a wild ride over the grass at the esses.
In a difficult weekend for the team, Malcolm Jeffs' sister car suffered its second retirement as overheating woes followed the previous day's wheel failure and meant a six-hour round trip to fetch a new set of rims sadly went unrewarded.
From the same stable, Richard Woolford was also denied a race outing in his eye-catching Opel Kadett after engine trouble in qualifying.
It was Lewis Judd's Mk1 Escort that would complete the top six ahead of Best, who was this time the sole Class B starter. Anton Martin's two Class D wins in his Escort RS1600i put him in a very strong position to clinch second overall in the championship at Donington next month.
Poultec Pre-'66 Touring Cars
Two fantastic drives from James Ibbotson secured his first-ever overall race wins in his Class E Hillman Imp Super.
Ibbotson was beaten to pole position by sole Class A entrant Piers Grange. But the Ford Mustang was blowing out blue smoke in the assembly area so Grange elected not to risk the big V8 in the races.
A rapid start and strong first lap by Ibbotson put him more than 4s clear at the end of the opening circuit. His biggest challenger would be James Everard's Alfa Romeo GT Sprint but a clutch slave cylinder problem in qualifying meant that Everard had to start from the back of the grid.
Everard rapidly carved through the field and was second by the end of lap two of six. His rise included some fine passes including outbraking Nigel Cox's Lotus Cortina for third at the Agostini hairpin.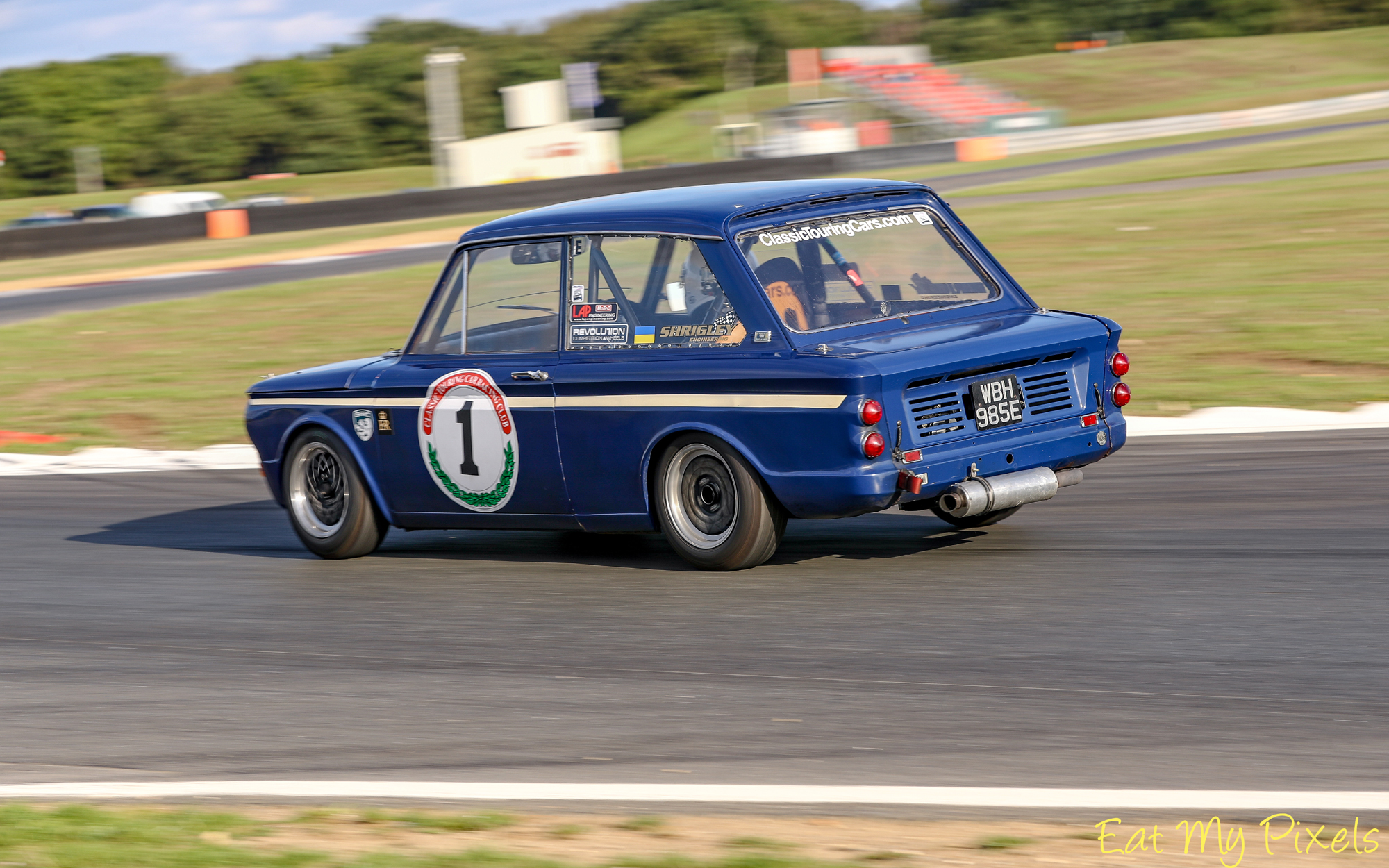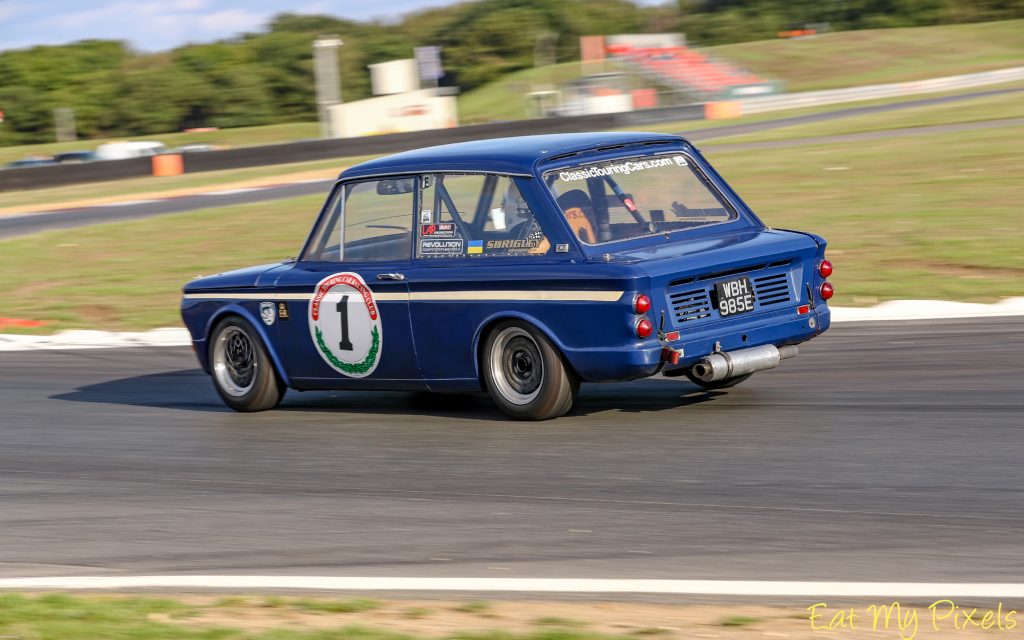 But Ibbotson was eight seconds clear and could ease to an amazing first victory for his one-litre machine.
"I never expected the Imp to stay out in front," said the winner. "It always seems to happen at the most bizarre circuits. I kept thinking it was going to happen at Brands Indy or somewhere like that.
"I always thought it would be Cadwell in the wet or something, and that would be the only way I could ever win.
"We got off the line so well – I watched the live stream back and it just goes off like a rocket and leaves everyone else standing. I thought I'll try and go through the infield bit as quick as I can to try and give me enough of a gap down [the straights], and managed to control it from there."
Behind Class C winner Everard, Billy Kenneally – in only his third meeting in the ex-Robyn Slater Ford Anglia – claimed third overall. The similarly-mounted Kevin Swann just held off Mike Davies's Mini for fourth.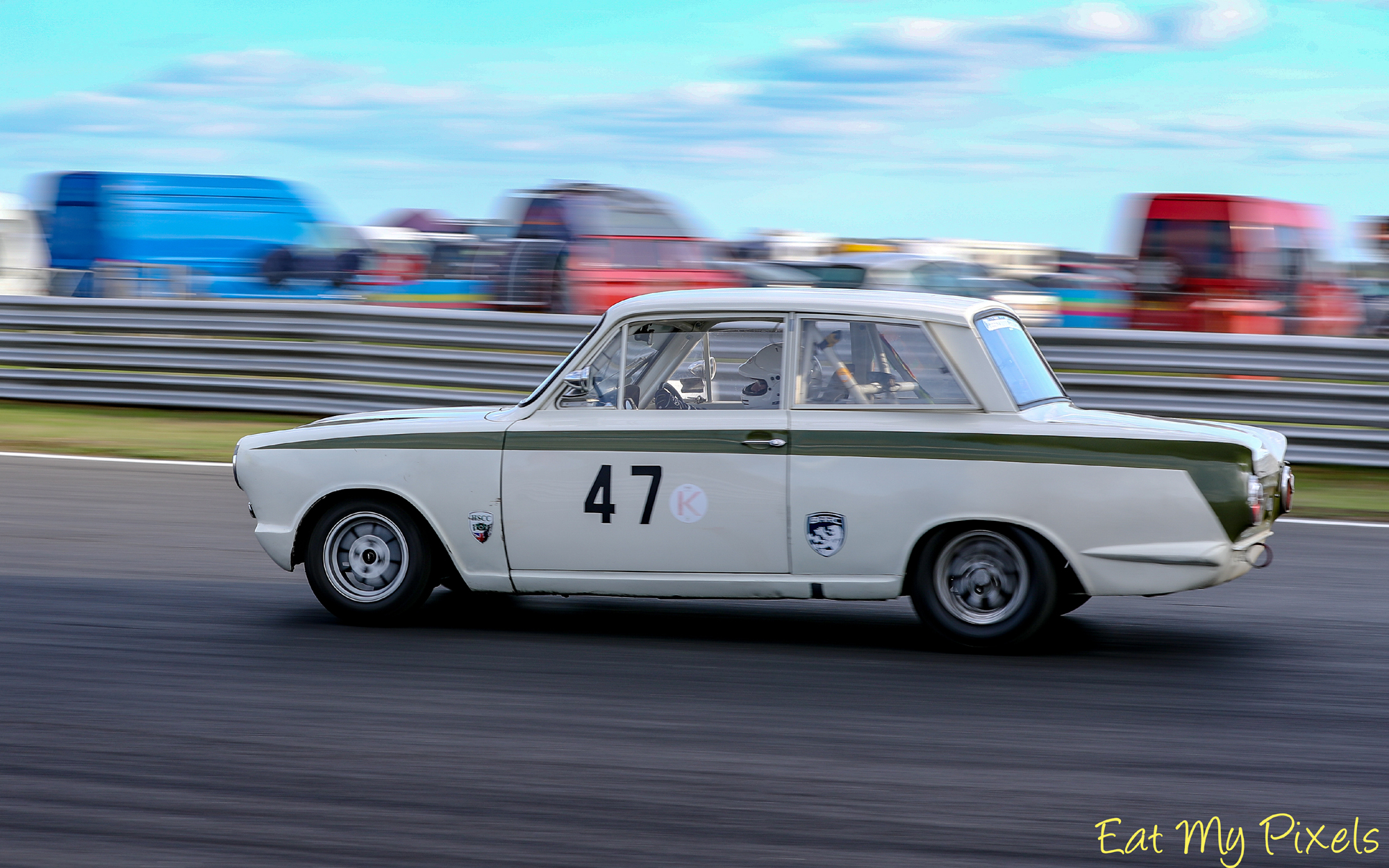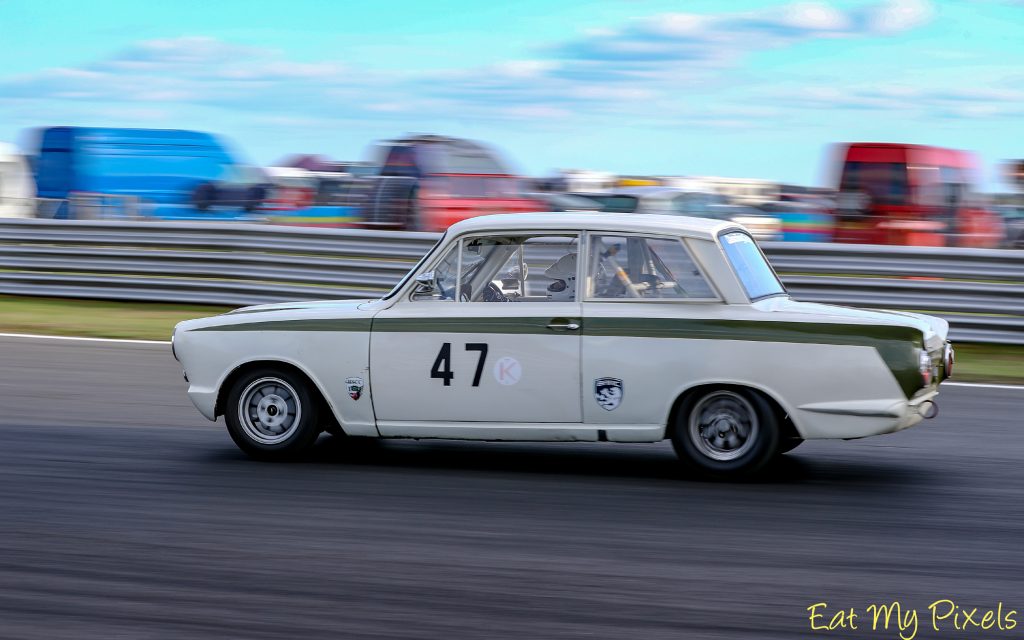 Cox dropped to sixth but still won Class F after Pat Kenneally's Cortina, which had been running second overall, expired.
In race two, Ibbotson had to shake off the challenge of Billy Kenneally over the opening few corners before pulling clear to record a victory of more than six seconds.
Ibbotson's exuberant style, and worn out tyres, meant there were a few sideways moments to entertain onlookers on the way.
With his own Pre-'83 Datsun sidelined after its Brands Hatch engine failure, Jon Corker was sharing Everard's Alfa this weekend and so – like its owner – had to start from the back of the grid. He almost repeated Everard's performance too.
Corker managed to climb up to second before a couple of final-lap moments at Hamilton and Oggies on the infield section let the Anglias of Kenneally and Swann ahead. That pair had enjoyed a race-long scrap, swapping places on multiple occasions.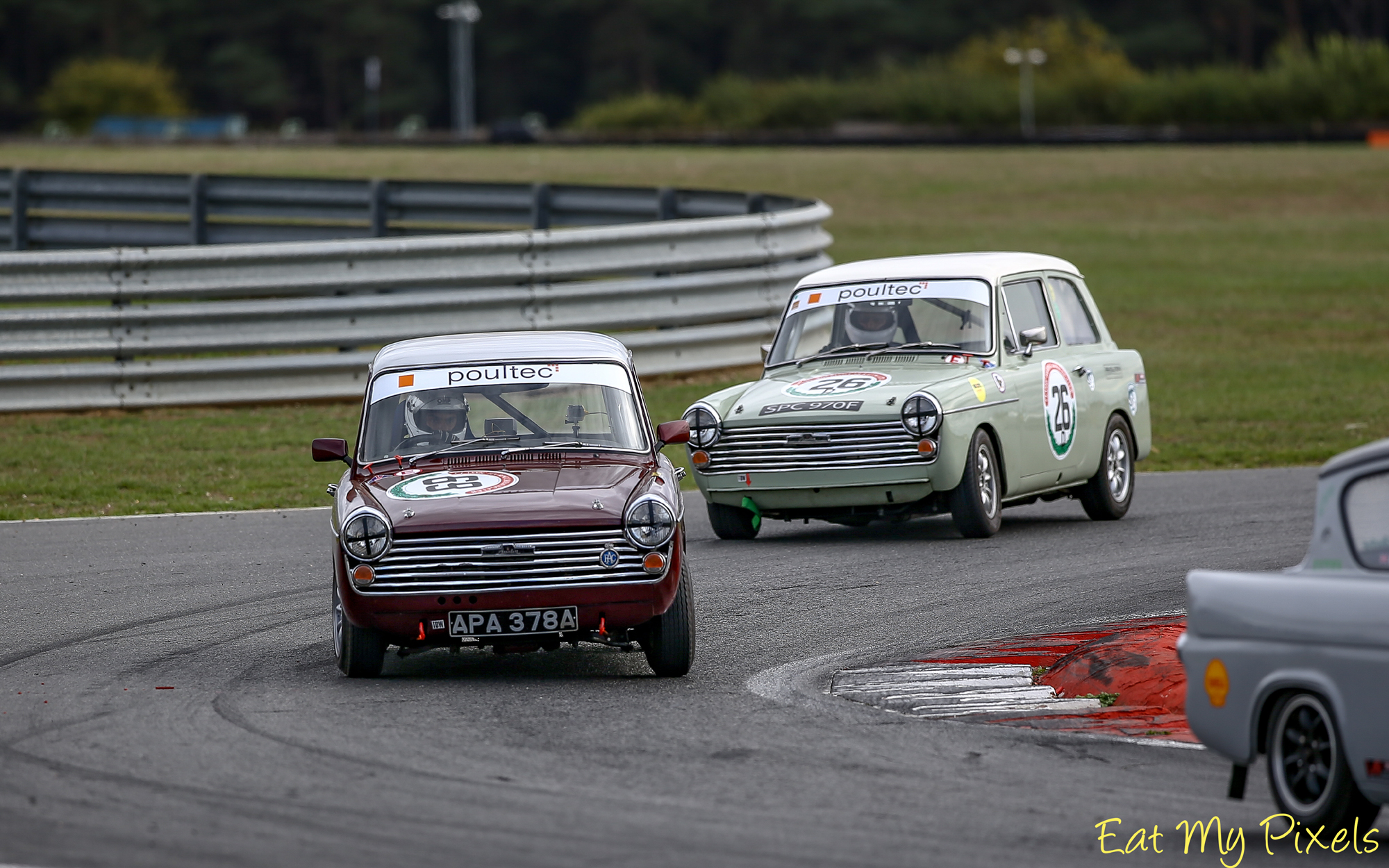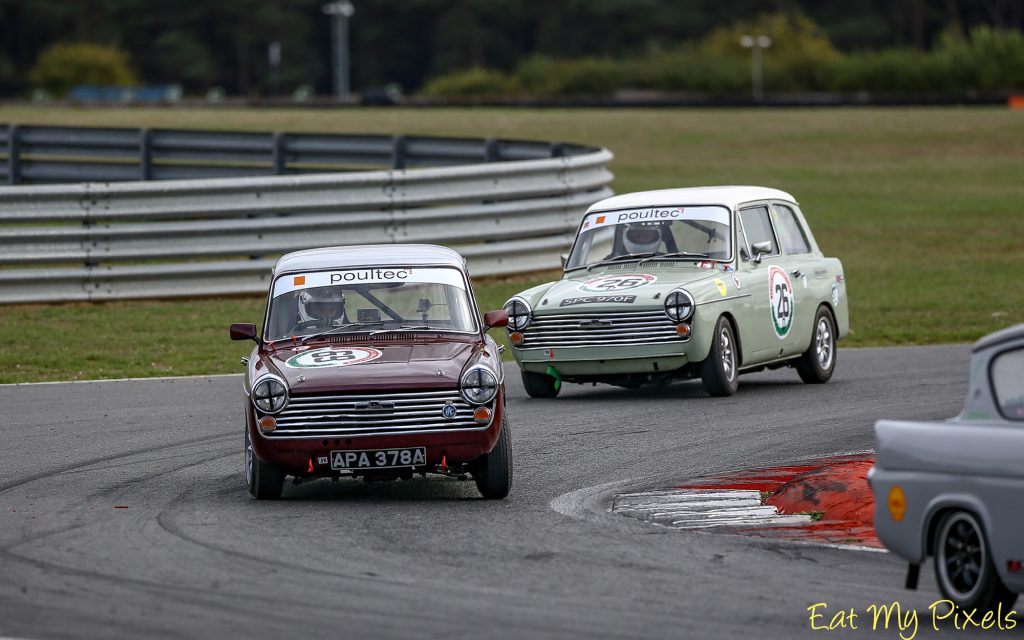 Tony Davies, taking a rare turn in the family Mini with his Vauxhall Firenza Thundersaloon currently sidelined, was fifth overall ahead of Cox, who again won Class F in sixth.
In Class D, two absorbing battles between the Austin A40s of Luc Wilson and Brian Bedford were eventually drawn, one win apiece.
With a shortfall in entries leading to reduced points in Class E this weekend, it meant that Wilson was able to extend his advantage over defending champion Ibbotson in the overall championship standings as he seeks to regain the title.
Edmundson Electrical Classic Thunder
In two races hit by red flags, there was no denying that Jason Davies was the class of the field. Two more outright victories, allied to misfortune for Nick Vaughan, gives him a healthy points lead ahead of the final round of the season.
Davies's Ford Sierra Cosworth ran wide at the Wilson hairpin on the opening tour of race one, which let Vaughan slip his turbocharged Audi A3 into the lead. But Davies was quickly back in front, passing at Hamilton on the infield section.
Vaughan was then hit with a devastating blow on the long Bentley Straight as a suspected blown valve dropped his engine on to two cylinders and put him out for the weekend. "All I can see is pound signs," the Eastleigh-based driver later sadly surmised.
Davies had already lost one potential challenger when Andy Wilson's Holden Monaro stripped the teeth off its crownwheel and pinion in qualifying.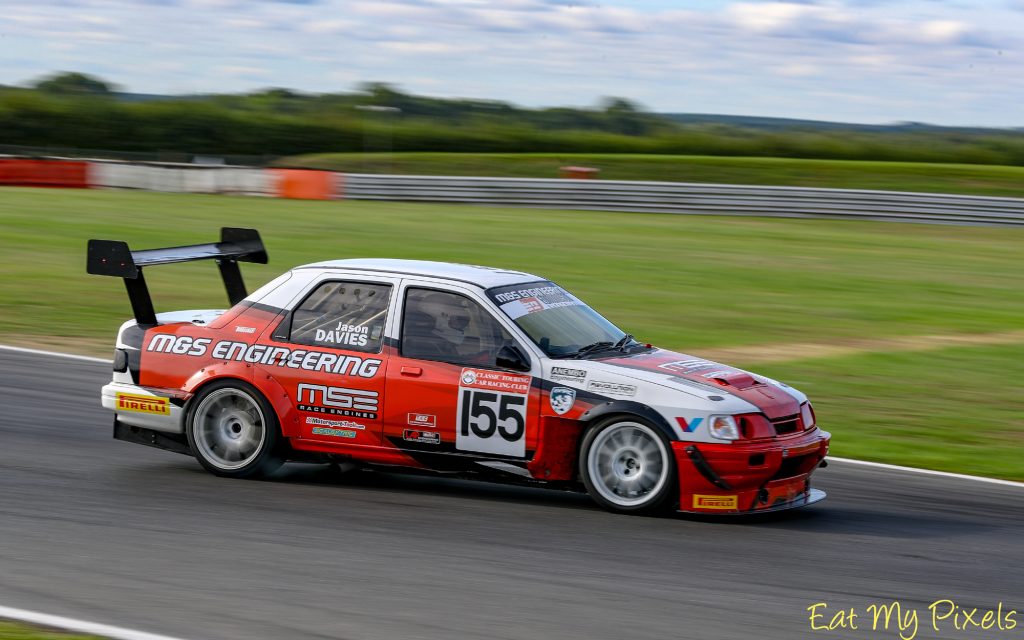 He could now stroke his Sapphire-shaped Cossie home but would have to make another race start after red flags flew at the end of an eventful first lap.
Don Hughes's Peugeot 306 XSi had bounced over the grass avoiding some of the early skirmishes. The extra strain it put through the transmission then caused his gearbox to seize exiting the Bomb Hole.
The resulting sea of oil caused chaos with plenty of spins and grassy excursions. Thankfully everyone avoided an accident but a stoppage was required to treat the slick.
In a restarted race shortened to 10 minutes, Davies was able to take a comfortable win over the E46-shape BMW M3s of Niall Bradley and Graham Crowhurst.
Fourth overall, and first in Class C, was 2021 champion Jason Hughes. The former British Touring Car man's Vauxhall Vectra Super Tourer was making its first appearance of the season after a lengthy wait for engine parts.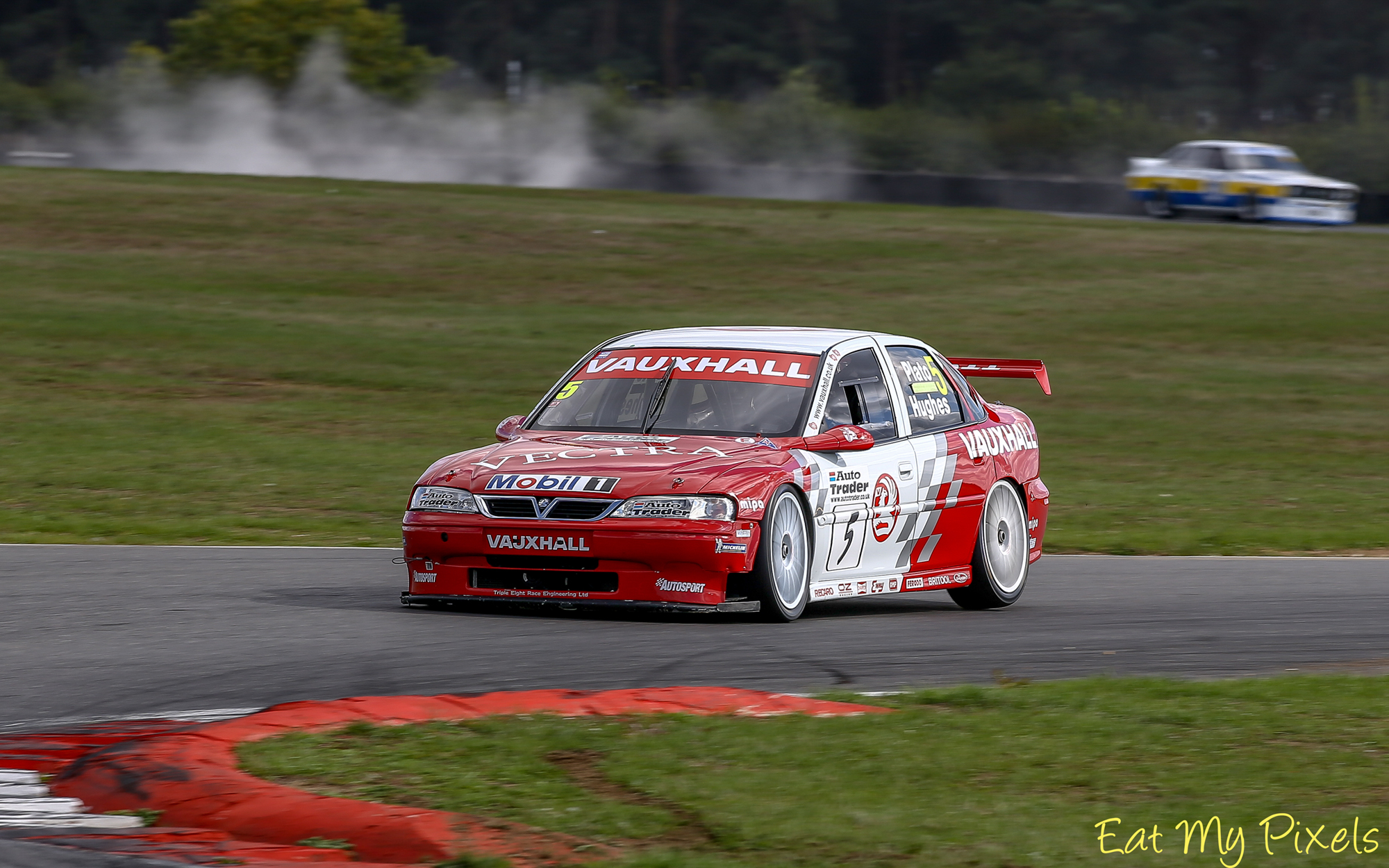 Race two was similarly stopped on the first tour, this time after oil was dropped by one of the cars in the concurrently-run Jaguar Challenge. Sadly, Bradley was unable to take the restart after a rocker cover gasket popped off his BMW's engine. The Kent-based Irishman was left disappointed, feeling he might have been able to threaten Davies.
Two more that might have challenged Davies, but for having to start at the back of the grid, were Wilson and Bryan Bransom.
With Wilson's crew chief Philip Seaman based up the road in Norwich, the team had effected an overnight diff change to allow the Monaro to start Sunday's stanza. He rewarded their work with a charge to seventh overall, with Bransom going one better in sixth.
Out front, Davies marched to an 8s victory over Crowhurst, with Jason Hughes completing the podium and once again winning Class C.
In the Historic classes, Colin Voyce (Ford Escort Mk1) beat Sam Wilson (in Rikki Cann's Aston Martin V8 Vantage) to an impressive sixth overall in race one. Voyce then improved to fourth in race two as Cann worked his way into the midfield from the back of the grid.
Burton Power Blue Oval Saloons Series
Reigning BOSS champion Martin Reynolds had his best weekend of the season, taking his Escort Mk2 to a pair of wins and keeping his title hopes alive in the process.
The pacesetter, however, was three-time champion Piers Grange. Debuting a large new rear wing on his own Mk2 Escort, Grange had a massive 5s advantage over second-fastest Malcolm Harding (Escort Mk2) in qualifying.
The Cheshire driver was then mixing it among the Classic Thunder frontrunners on the shared grid in race one until his steering failed.
That handed the initiative to Harding. But the Sussex racer was struggling with a loose bearing in his Escort's suspension arm, as he had done in qualifying.
The Holbay-powered Reynolds usurped his Smith & Jones-motivated rival on the second lap of the restarted race. But Harding got back in front on the penultimate tour, only to spin at Nelson on the final lap and let Reynolds escape to victory.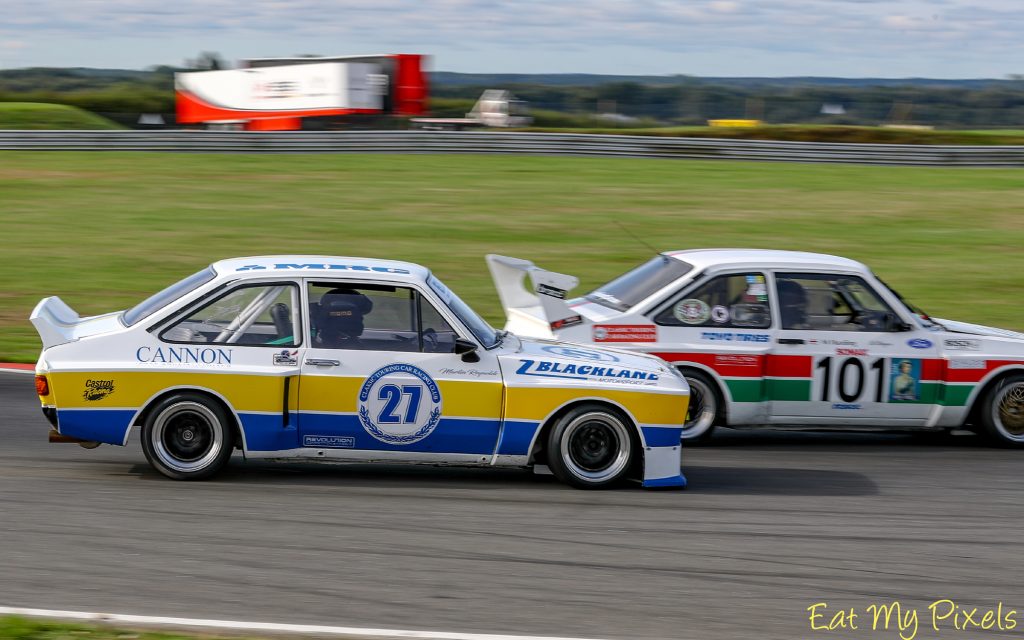 The third regular frontrunner in Class S (for slick-shod cars), Mike Manning, was unable to take the restart after his RS500 picked up damage after a wild moment on the oil.
That left the way clear for Joey Binks to claim third overall in his RS500 replica, a year on from his debut, ahead of Class D winner Chris Brown's Duratec-powered Fiesta XR2.
Harding wasn't able to change his worn bearing between qualifying and the first race but did so for Sunday's rematch. He made a good start to lead the field on the opening tour and put a Jaguar between himself and the pursuing Reynolds.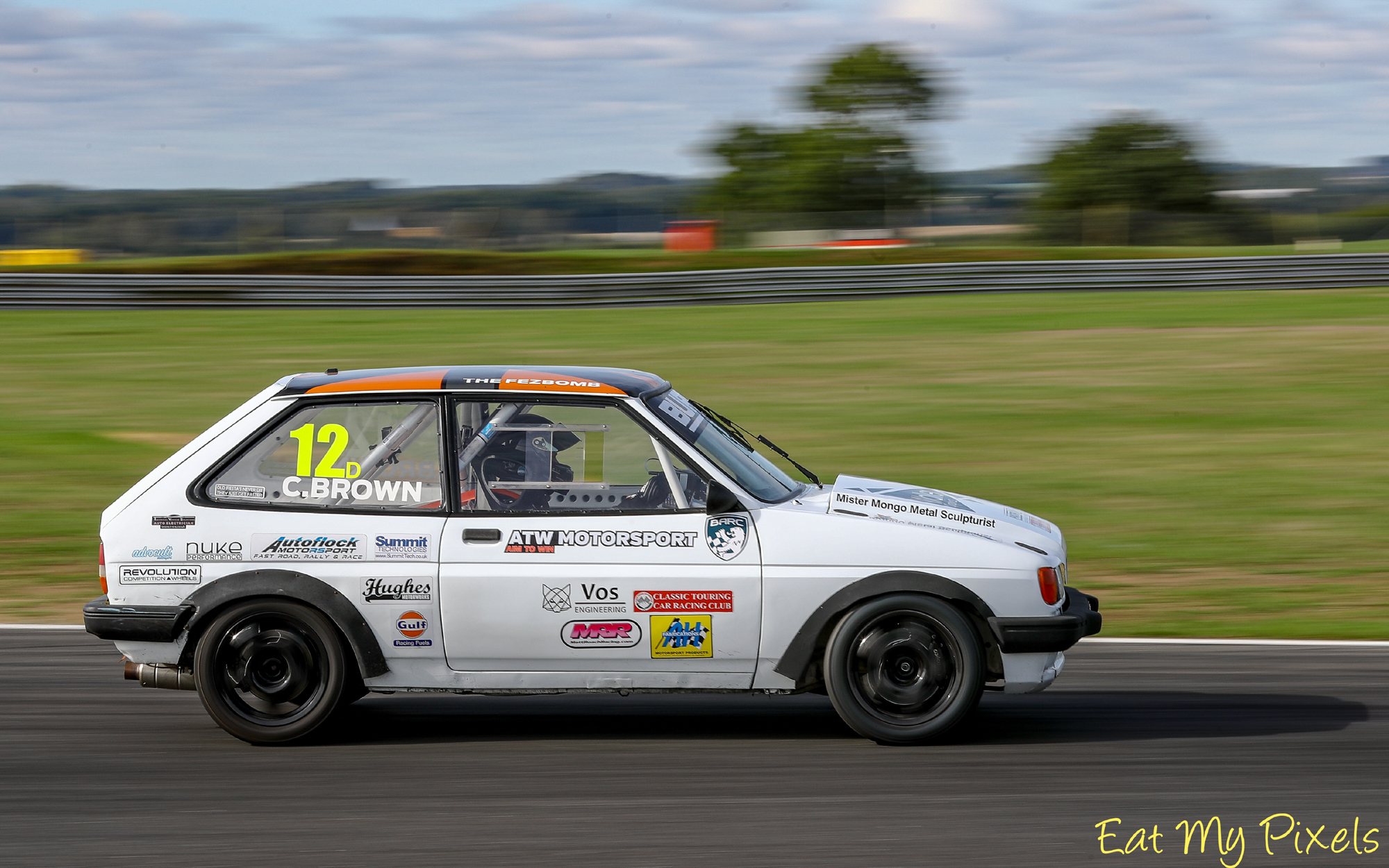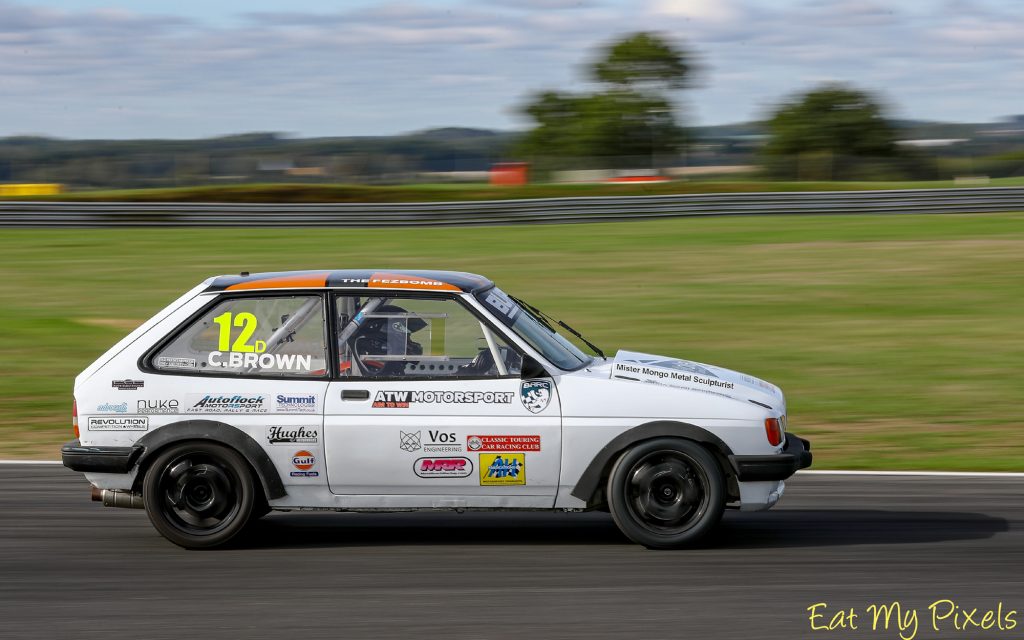 But Harding slowed on the third lap of five and pulled off next time around, with no throttle response. A mysteriously loose throttle pedal would at least be cheaper to fix than the blown engine Harding feared but nevertheless cost him the lead of the championship.
So Reynolds was unchallenged for the remainder of the race en route to victory. Binks was another casualty, letting Brown into second overall ahead of fellow Class D runner James Dunkley in a similar XR2, albeit with a less powerful Zetec motor.
Dunkley now holds a small advantage over Harding going into the final round of the championship at Donington Park, with Reynolds also in contention.
Berkshire Jag Components Jaguar Challenge
Another double success for Tom Robinson, his ninth and 10th victories of the season, provisionally clinched the inaugural Jaguar Challenge crown for the Somerset man.
A clash with the Goodwood Revival meeting hit the entry of Big Cats, which shared a grid with Classic Thunder and BOSS. It meant that few of the Jags were actually together on track, but all had cars from the other two series to enjoy scraps with.
Robinson was imperious, marching to a pair of comprehensive victories in his supercharged XJR6, and – subject to official confirmation – sealing the crown after years of trying in the Jaguar Enthusiasts' Club predecessor championship.
"Five years, with the same car as well," said the Swallows Racing boss. "I've been close a couple of times.
"Last year I thought it was our season and we didn't have quite enough entries in class [to score full points] for a few of the rounds and I had few reliability issues with the car. To finally get there is great. A bit of a relief!"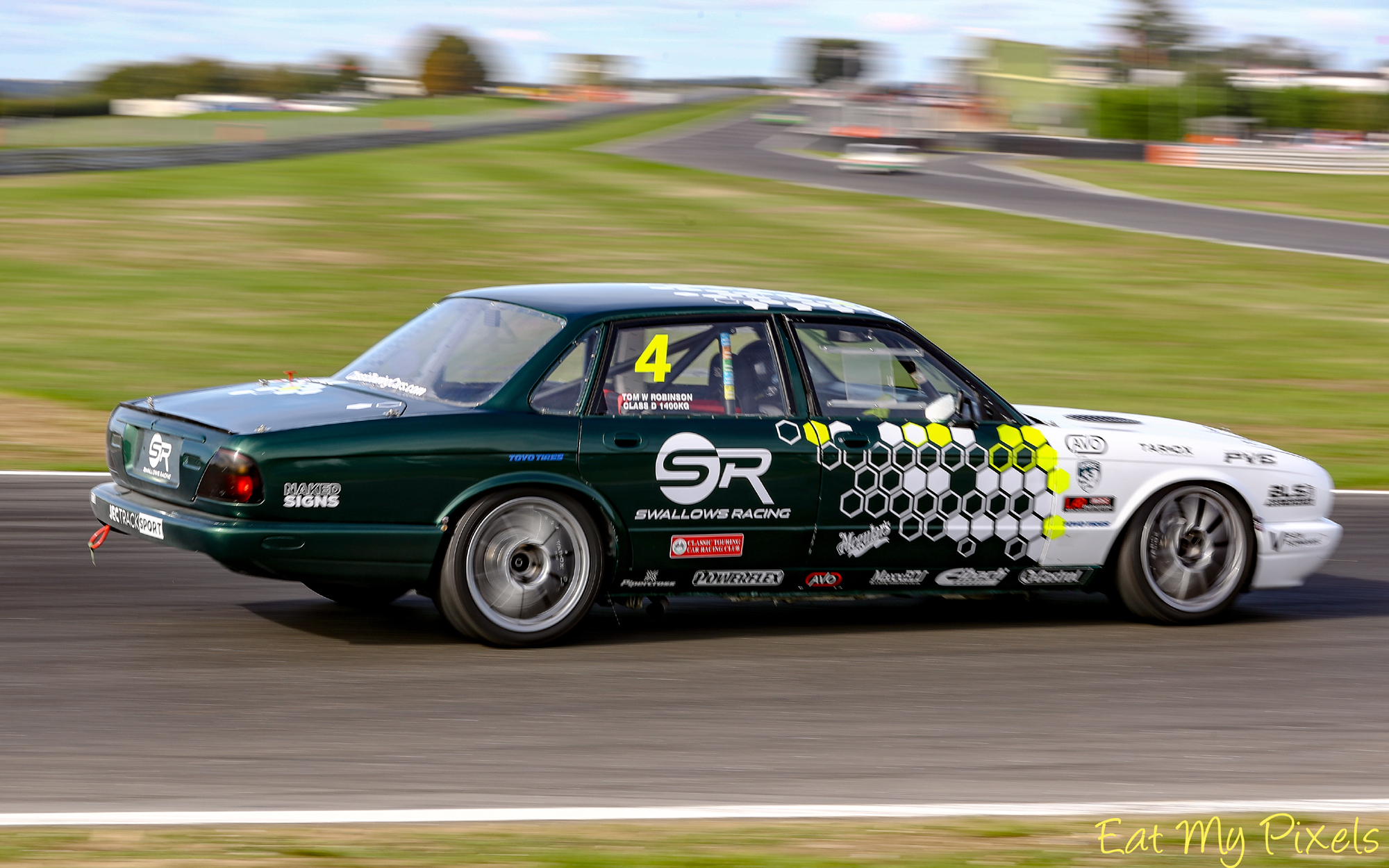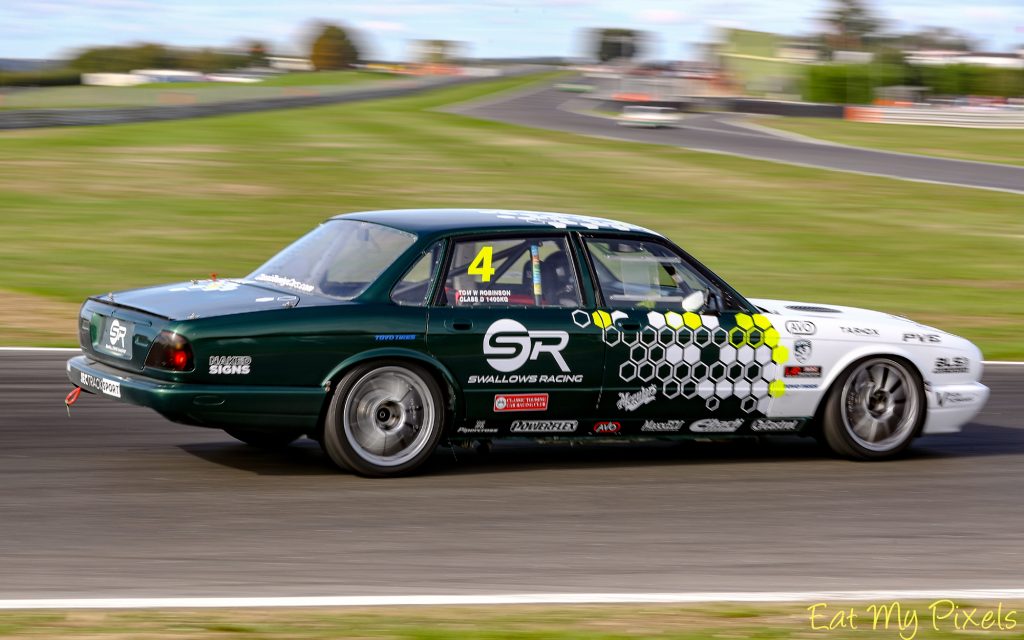 Chris Boon's Jaguar XK8 was second in the opener, with Class B winner Andrew Harper (XJ TDV6) just beating Stephen Dowell's XKR to third overall.
Jack Robinson – in his second outing in Matthew Davies's XJR6 – had been running third until a blockage led to a lot of oil escaping the engine bay, earning him a black and orange flag.
Race two's red flag was caused by Boon's XK8 dumping its oil on track, thankfully caused by nothing more serious than a pipe blowing off.
That assisted Class C runner Colin Philpott (XJS) on his climb to second overall after non-starting the opener due to a headgasket issue. Dowell completed the top three while Harper again took Class B honours.
Full results are available via the TSL website.
All images courtesy of CTCRC official photographer Steve Jackman/Eat My Pixels