Period racer Anthony Reid scored his third win in as many events as the Super Tourers took on the fast sweeps of Thruxton. Pre-'83 Group 1 Touring Cars also starred, with Steve Cripps winning the race of the year so far.
Laser Tools Super Tourers
Pre-existing commitments and delays with parts contributed to a lower than usual grid size, but Brisky Racing duo Anthony Reid and Richard Wheeler once again put on a show at the head of the field in their Nissan Primeras.
In race one, as they got their slicks up to operating temperature, the pair actually dropped behind the leading Pre-'93 Touring Car runners in the opening stages before reasserting their authority on lap three of eight.
Polesitter Reid, in the 1998 car, and team boss Wheeler (in the '99 version) exchanged the lead on multiple occasions before Reid upped his pace in the second half of the race, setting a series of fastest laps as he secured his third win of the season by 2.2 seconds.
"Racing here today takes me back all the way to 24 years ago when I was on the front row with Rickard [Rydell] and we were going at it hammer and tongs," enthused Reid. "It's a wild ride in a touring car, the whole lap, because you're never really in a straight line.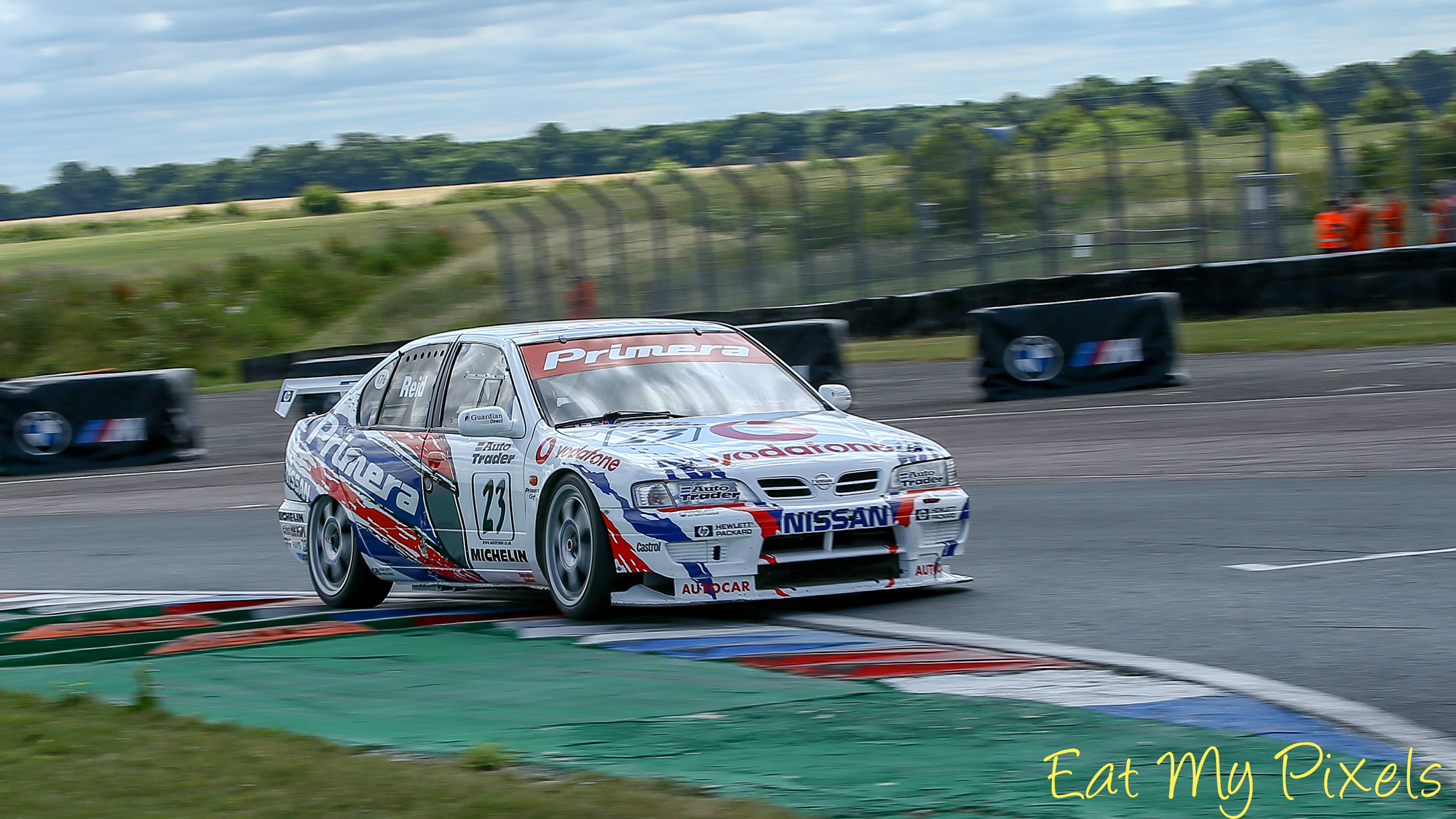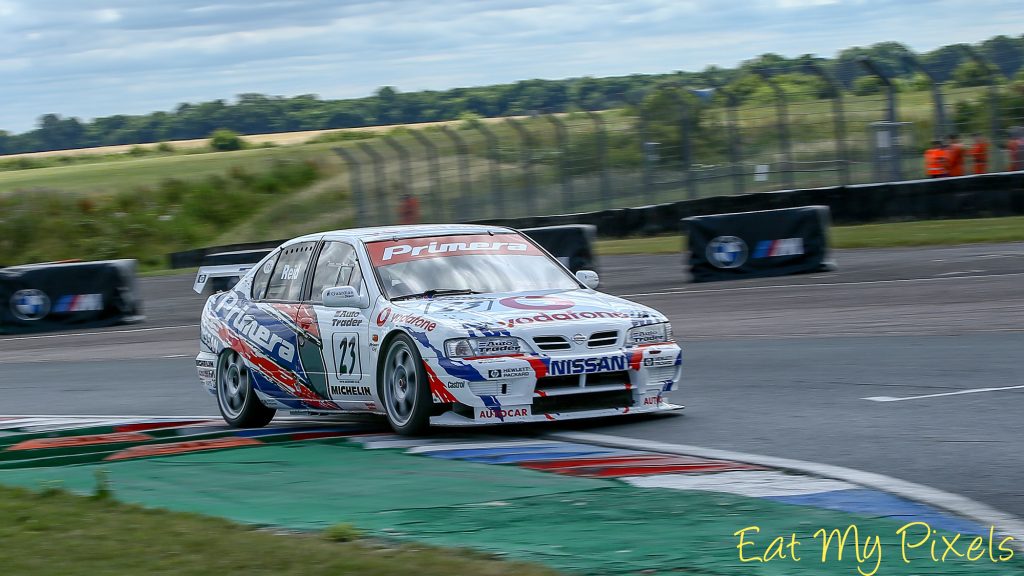 "They're really hard slicks which are designed for the Ferrari Challenge," Reid added. "The cars there are a lot heavier so it takes a few laps to get the temperature particularly in the rear tyres. But then once it's switched on, we just let rip."
Tony Absolom (1995 Vauxhall Cavalier) made it three RML-built cars on the podium, while fourth was Rob Salisbury's best result of the season in his 1998 Honda Accord. Jim Pocklington finished fifth in his much earlier Cavalier.
Reid had to recover from dropping well down the order at the start of race two. "I had this terrible misfire – I had to reset the whole master switch and that fixed it," he explained.
Having dropped some 7s to Wheeler, he picked his way back through the field, and closed up to the sister car on lap seven of 11.
Reid got a run up Woodham Hill a couple of laps later and passed Wheeler into the Club chicane. But, after going off line and having a moment, Wheeler closed back in.
Reid left the door open into Church on the final lap and Wheeler needed no second invitation to retake the lead. He then held the inside line into Club as Reid got loose on the outside to complete another 1-2 for the team.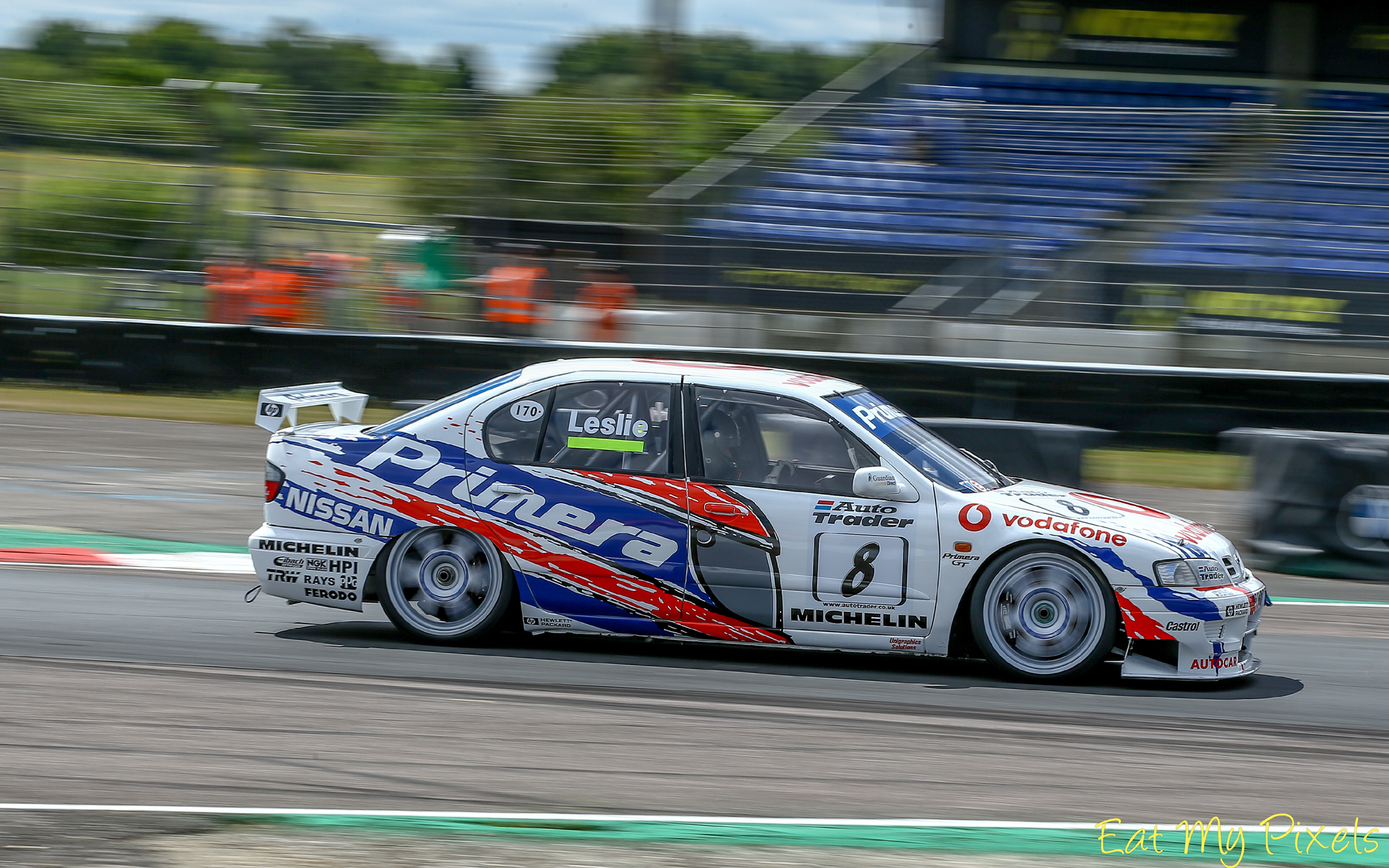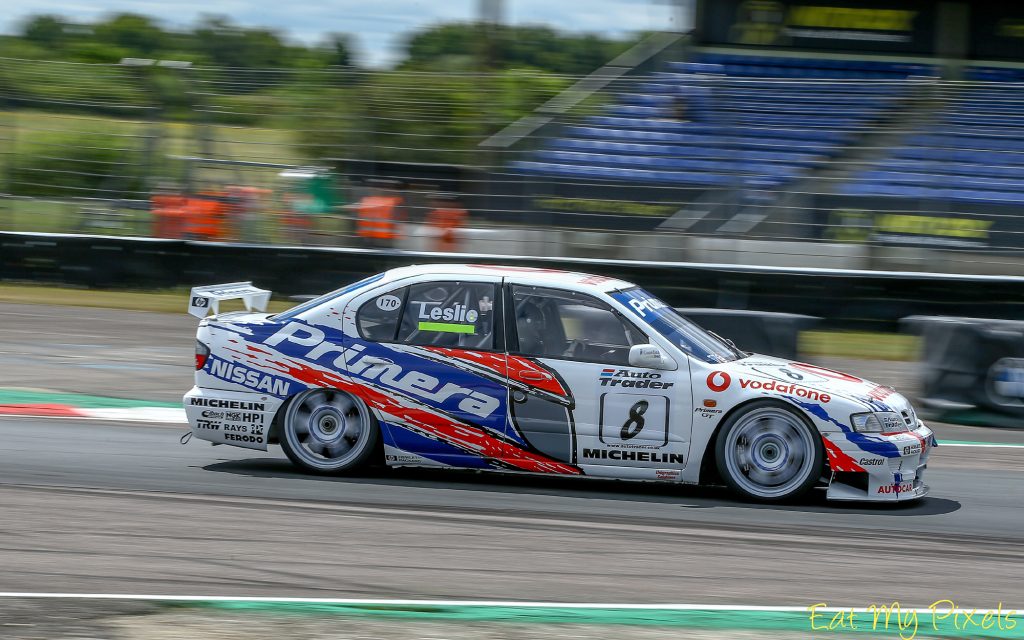 "It was hard work, that was," Wheeler puffed. "If anyone thinks we're playing out there – no, we're really not."
Behind the Nissans, Absolom and Salisbury repeated their results from a day earlier.
Orange Aero Pre-'83 Group 1 Touring Cars
Reigning champion Stephen Primett continued his fine form and Steve Cripps made a winning return as the original championship for Group 1 Touring Cars served up the finest racing you will see anywhere.
Primett took the opener in his immaculate Ford Escort Mk1 but it could have been different had fortune not looked unfavourably on period star Graham 'Skid' Scarborough.
On his first appearance in the series for many years, Scarborough qualified his Ford Capri on pole, just 0.003s ahead of Primett. Scarborough eked out a 4s lead over the first four laps before a front-left puncture pitched him into the tyre barrier at Allard.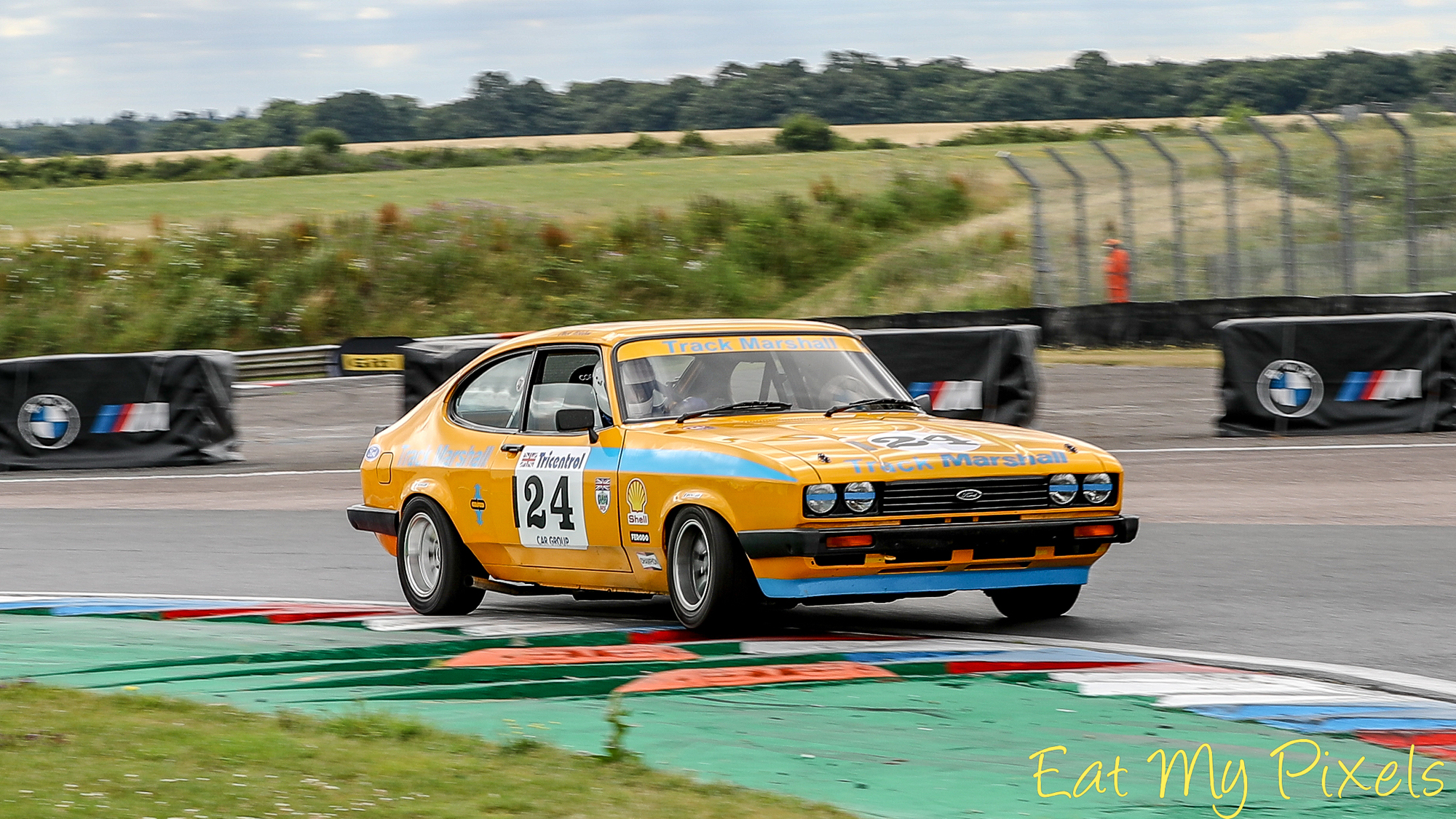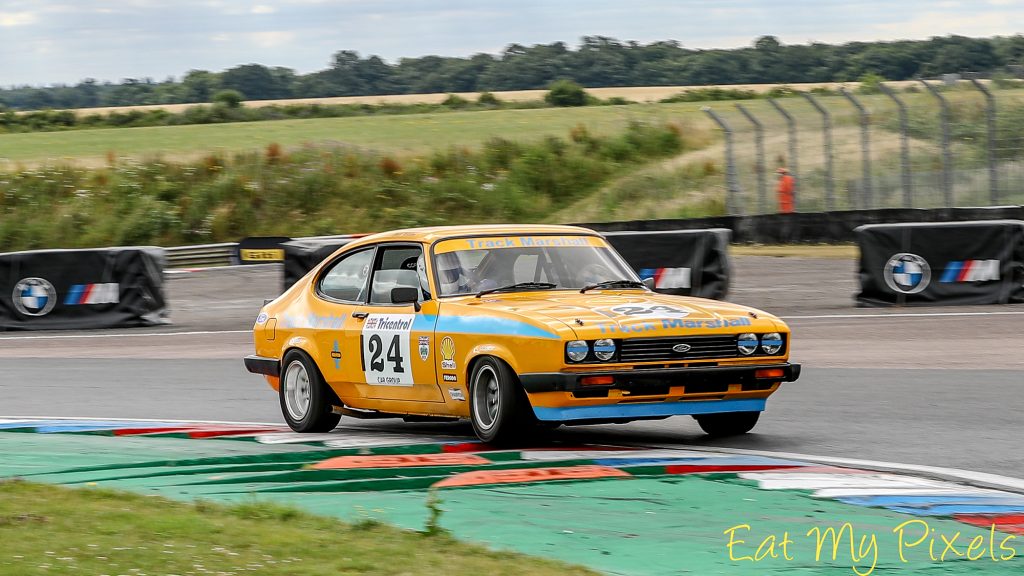 With the Volkswagen Golf GTI of Simon Jeffs – making his first appearance of the season – also having expired from fourth, a safety car was called which was then upgraded to a red flag to allow for barrier repairs.
So Primett inherited a fifth victory of the season ahead of Jonathan Corker's Datsun 510. "It's a bit of a shallow win," admitted Primett. "Skid had the legs on me quite comfortably. He was really clean and I was having a job hanging on to my car."
Mark Cholerton's Mk2 Escort topped the entertaining multi-car battle for third over Jason Christie (Mk1), Mark Osborne (Triumph Dolomite Sprint) and Steve Cripps (Mk2 RS2000). Scarborough's demise promoted Stuart Caie's similar Capri to Class B honours.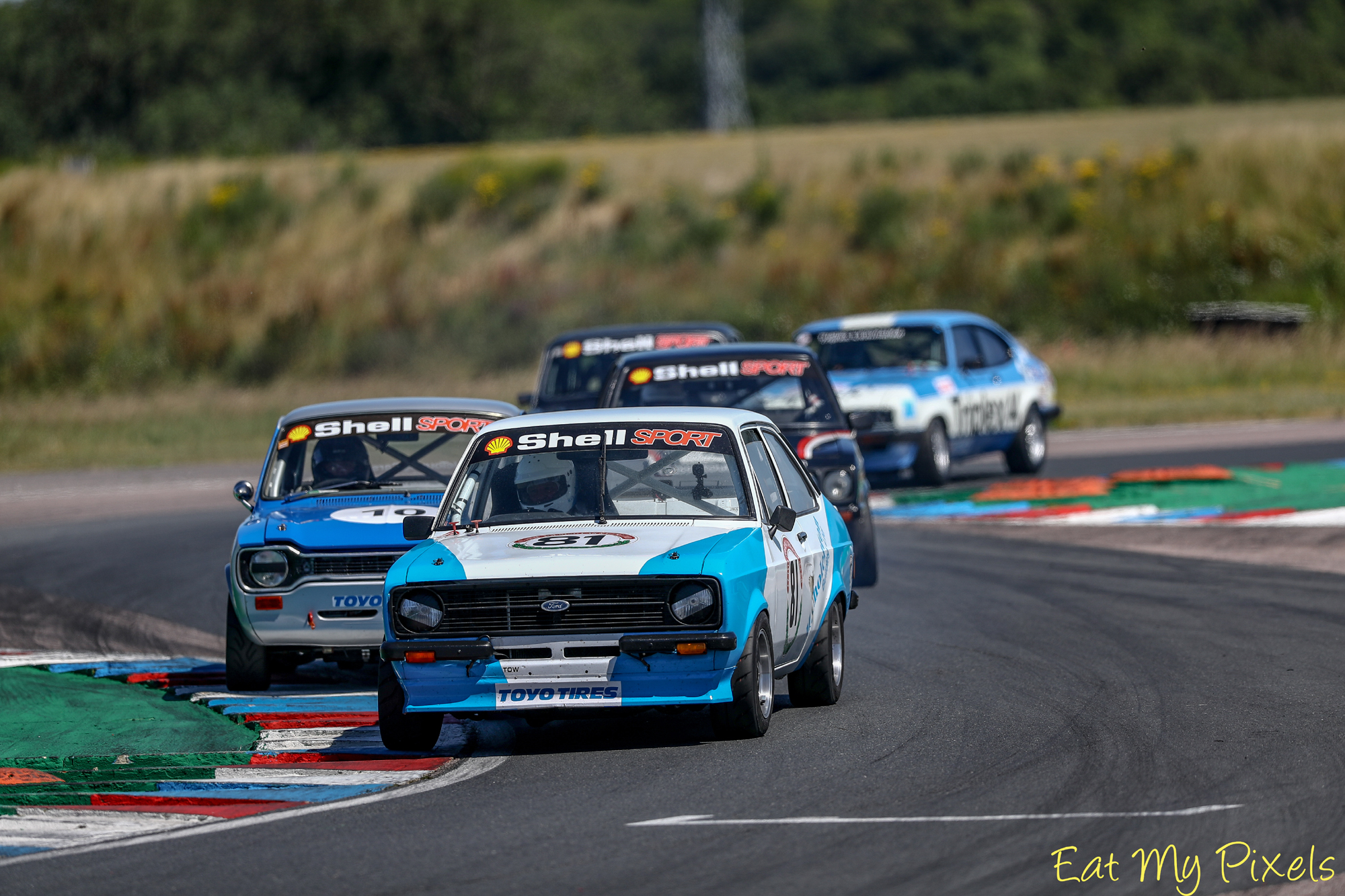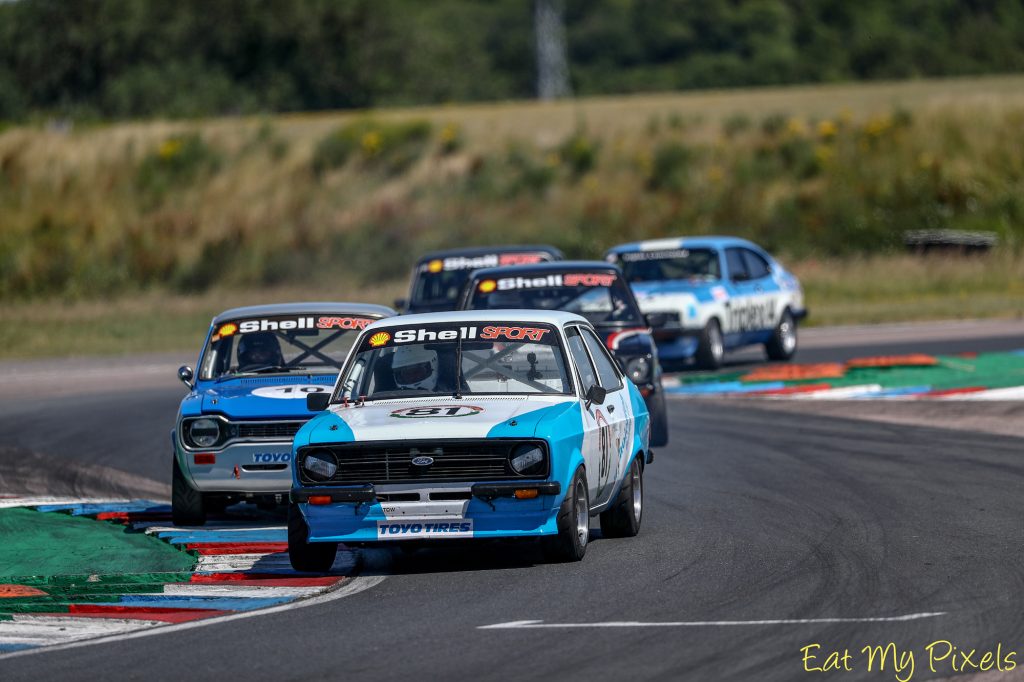 If the opening race was good, Sunday's rematch took things to another level. Primett's role in the action was unfortunately short-lived as, after leading away, he was forced out on the second lap when a rocker in his engine's valvetrain went.
That handed the lead to Corker, whose Datsun was also suffering on the high-speed circuit. A misfire restricted his pace on the drag up Woodham Hill and lap after lap he would be outdragged by the Escorts – headed initially by Christie – only to retake the lead into Allard.
As Corker, Christie, Cholerton and Cripps diced, constantly changing places, the decisive move happened on lap five of eight. Cholerton got underneath Corker exiting the fearsome Church, while Christie went for the outside.
But with their momentum slightly checked, Cripps got a run on all three to take the lead into the Club chicane.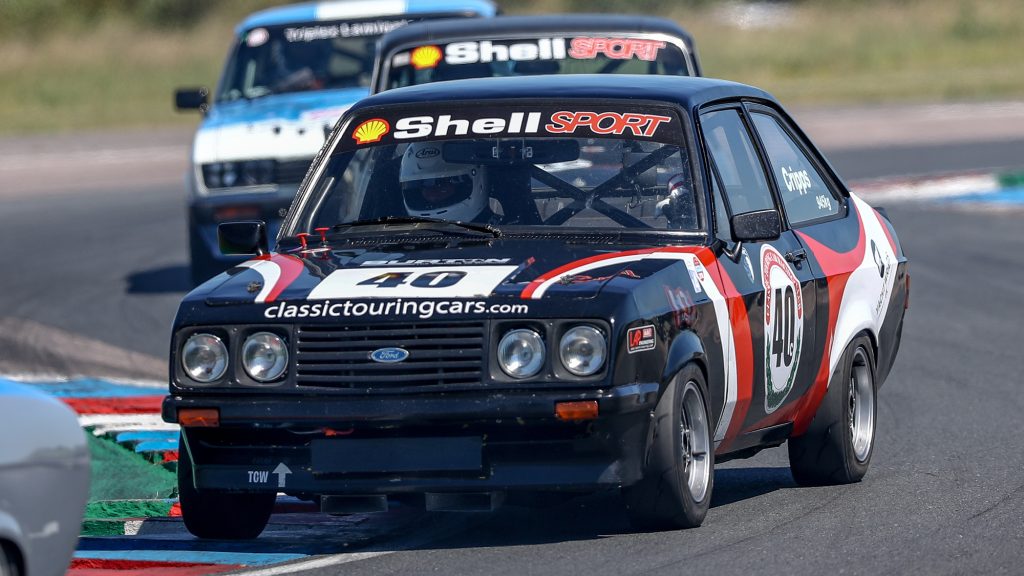 "They were all fighting for the outside and I thought, 'Well, I'll have some of the inside then, thank you very much!' smiled Cripps, who was making his first appearance for several years after concentrating on son Matthew's fledgling career.
The battle continued to rage but Cripps held on to win from Cholerton, Christie and Corker. "From start to finish, it was just a battle right the way through," said the victor. "It was close, door handle to door handle and I don't think any of us touched each other which is even better."
The lead scrap brought Caie into contention but he had to settle for fifth, and Class B honours. "The best race I've ever had," he beamed, as all agreed they'd been part of something special.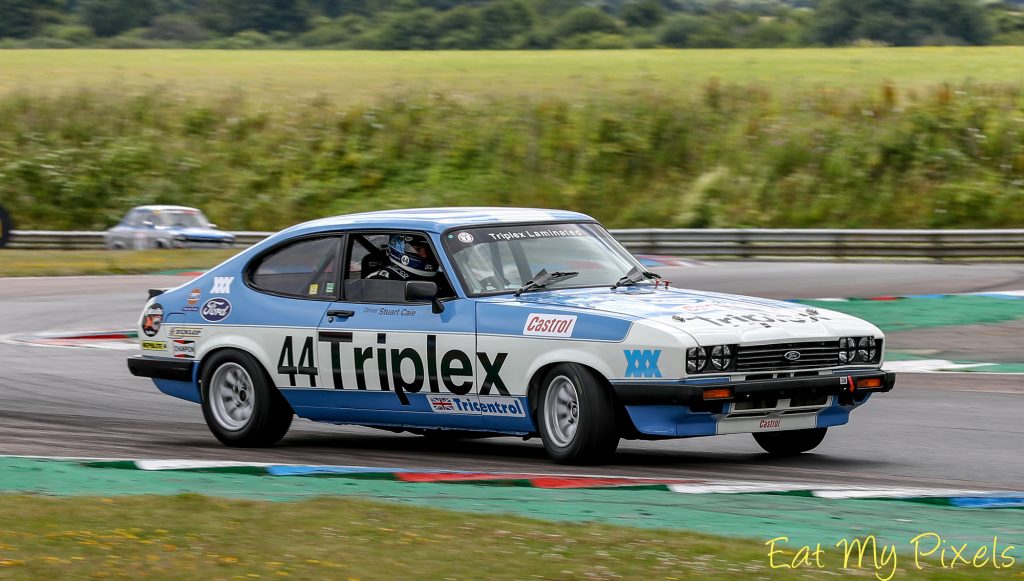 Sixth was Alex Thistlethwayte's Capri, making its race debut. The ex-Serge Power Bastos machine, recommissioned by Ric Wood, set fastest lap on its charge from the back of the grid having missed Saturday's race.
Don Hughes claimed his second Class D win of the weekend in seventh, his former championship-winning Mk1 Golf in its first outing for more than a decade.
Burty Haulage Pre-'03 Touring Cars
There was a dream double win on his Pre-'03 Touring Car debut – and only the third meeting of his senior career – for Matthew Cripps.
Reigning champion Gary Prebble (Honda Civic EG) looked set to add to his victory tally when he qualified on pole by nearly 4s – outpacing all but two of the Super Tourers in the process – but he blew his engine at the end of the session and was forced to watch both races.
In his first year of senior racing, Cripps qualified his EP3-shape Honda Civic Type R – which he usually campaigns in the Civic Cup – second and simply drove away from the other Pre-'03 machinery in the races.
The 18-year-old instead enjoyed a scrap with some of the Pre-'93 cars as he recorded victories of more than 30s in both races.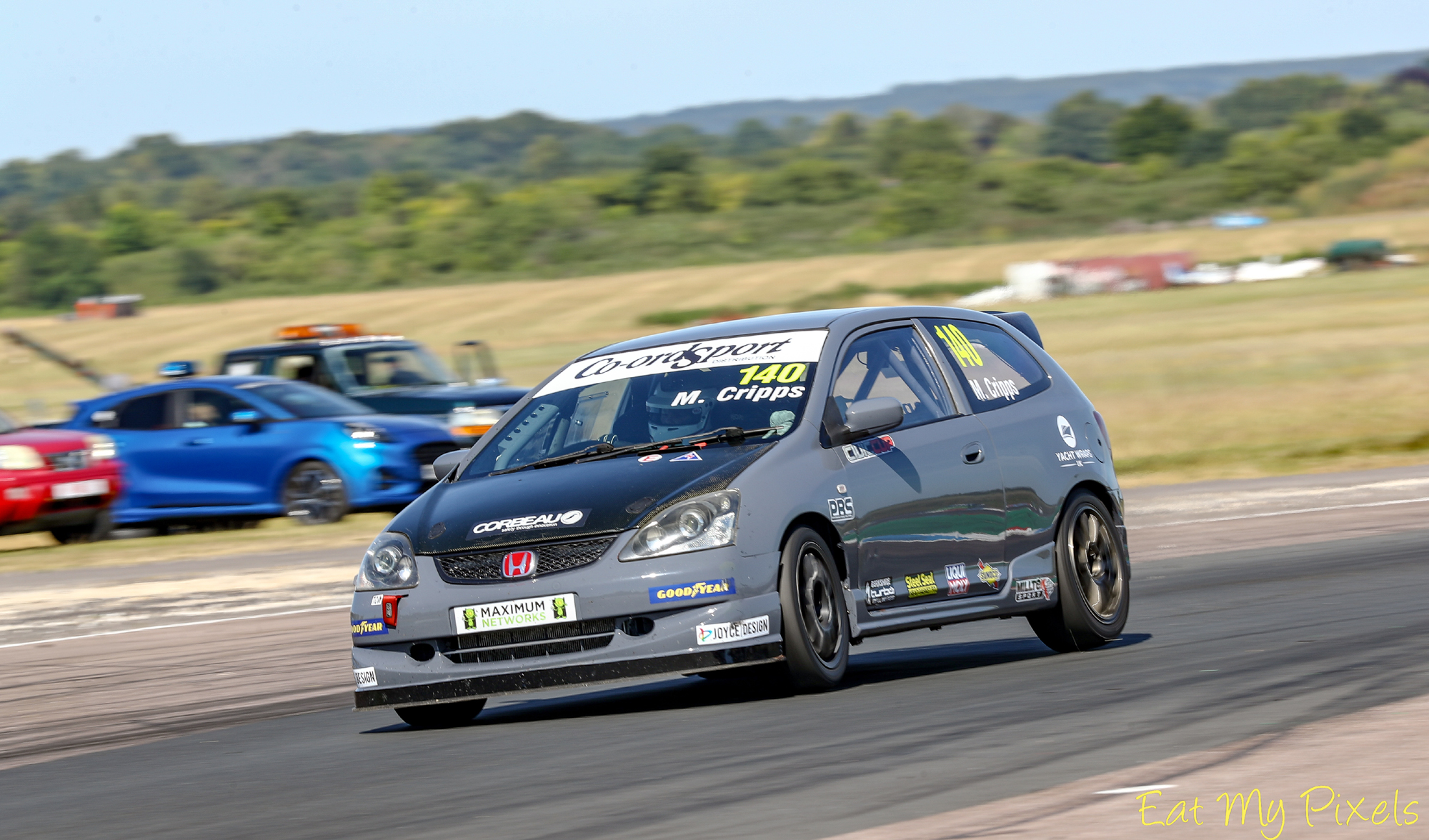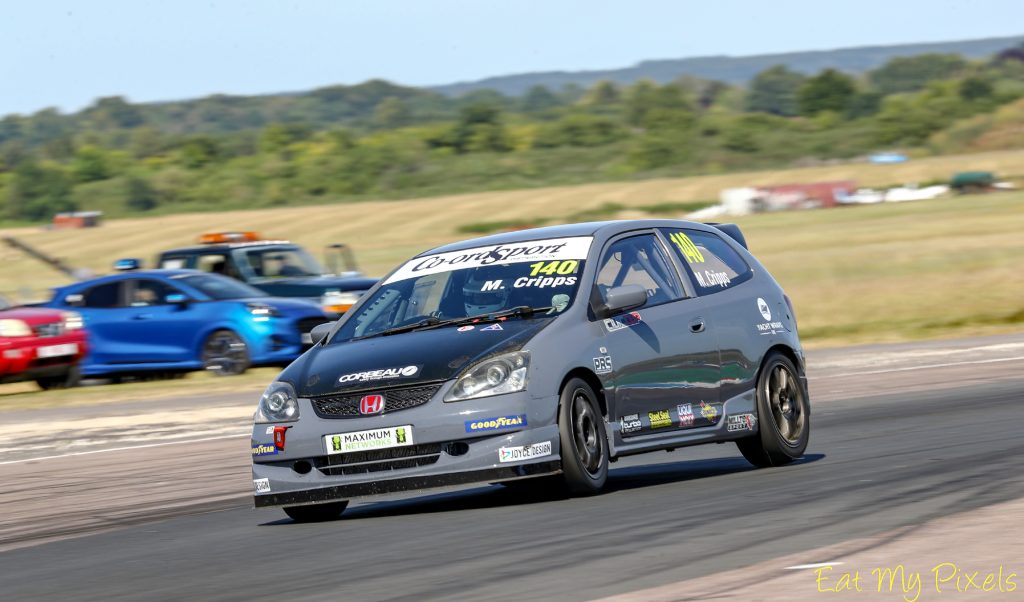 "It was quite good – I enjoyed it," said an understated Cripps who was racing alongside his father Steve and uncle Andy (both in the Pre-'93 classification) for the first time. "I went past my uncle on the start."
After taking his own win in Pre-'83 Touring Cars on Sunday, Cripps Sr added: "For Matthew to get an overall win and follow that up with this, it was brilliant, absolutely brilliant. You couldn't have written it."
Cavan Grainger's E46 BMW edged John Hillyer (E36 Touring) for second by just 0.04s on Saturday. He was more comfortable in the position a day later, as James Alford (Civic) completed the podium and took Class D honours in both races for the first time season.
Laser Tools Pre-'93 Touring Cars
The Pre-'93 Touring Cars got to share a track with the Super Tourers for the first time, and it was a Super Tourer lookalike that did the winning. Reigning champion Ian Bower took his CiBiEmme-styled BMW M3 E36 to a pair of victories, his first of the season.
Bower was outqualified by the similar car of local specialist Stuart Waite, then followed the former Production BMW champion past the leading Super Tourers. The order remained unchanged until mid-race when Bower made his move before pulling clear for an 8s victory.
"He [Waite] instructs here, so I knew he was going to be hard work because this is his local track and we're in the same cars," said Bower. "So I was really happy to get past him and then put some time into him."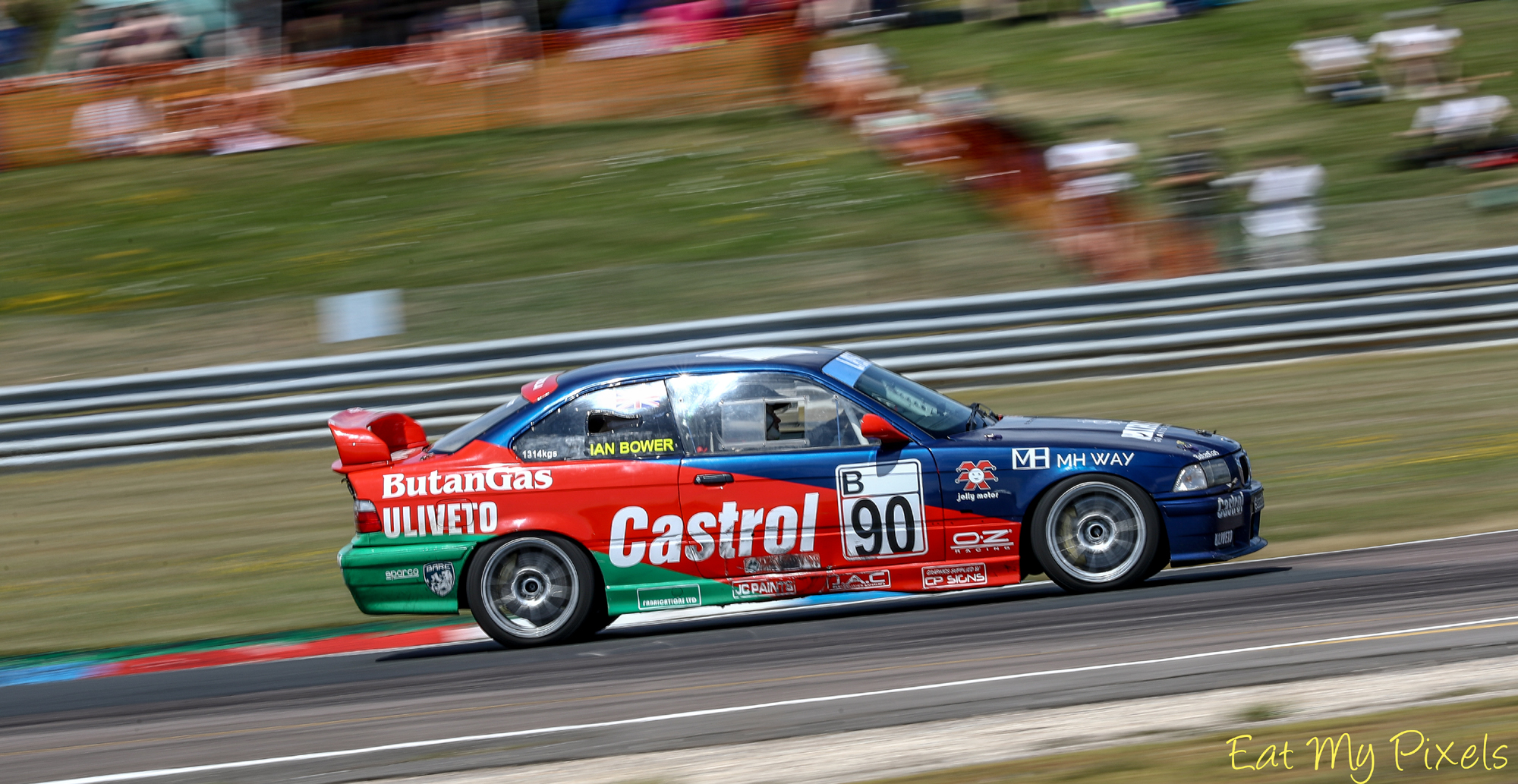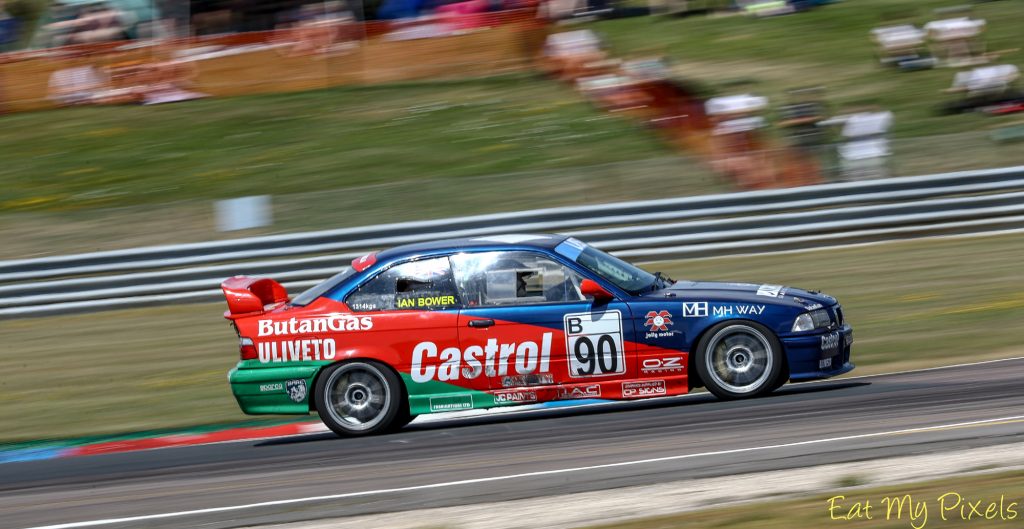 Behind the front two, Kevin Willis and Mike Dugdale enjoyed a scrap with Pre-'03 leader Matthew Cripps, before finishing in that order, with Andy Cripps completing an all-BMW top five.
Bower led Wait all the way in race two for an even more comprehensive victory, as Andy Cripps beat Willis to third, with Dugdale fifth.
Poultec Pre-'66 Touring Cars
The oldest cars in the CTCRC's portfolio joined their Pre-'83 cousins on track. Honours were shared between the big V8s of Alan Greenhalgh and Piers Grange although they came close to being toppled by something much smaller in Sunday's second race.
Greenhalgh's Ford Falcon Sprint led the opener all the way from pole position, chased initially by the Lotus Cortina of Rob Kerkhoven. But the fastest car on track was Piers Grange's Ford Mustang.
On his first visit to the circuit in a decade, Grange qualified only fifth, but worked his way through the field and was lining up a move on Greenhalgh when the safety car was called. "I was just about to overtake him!" rued the Cheshire racer.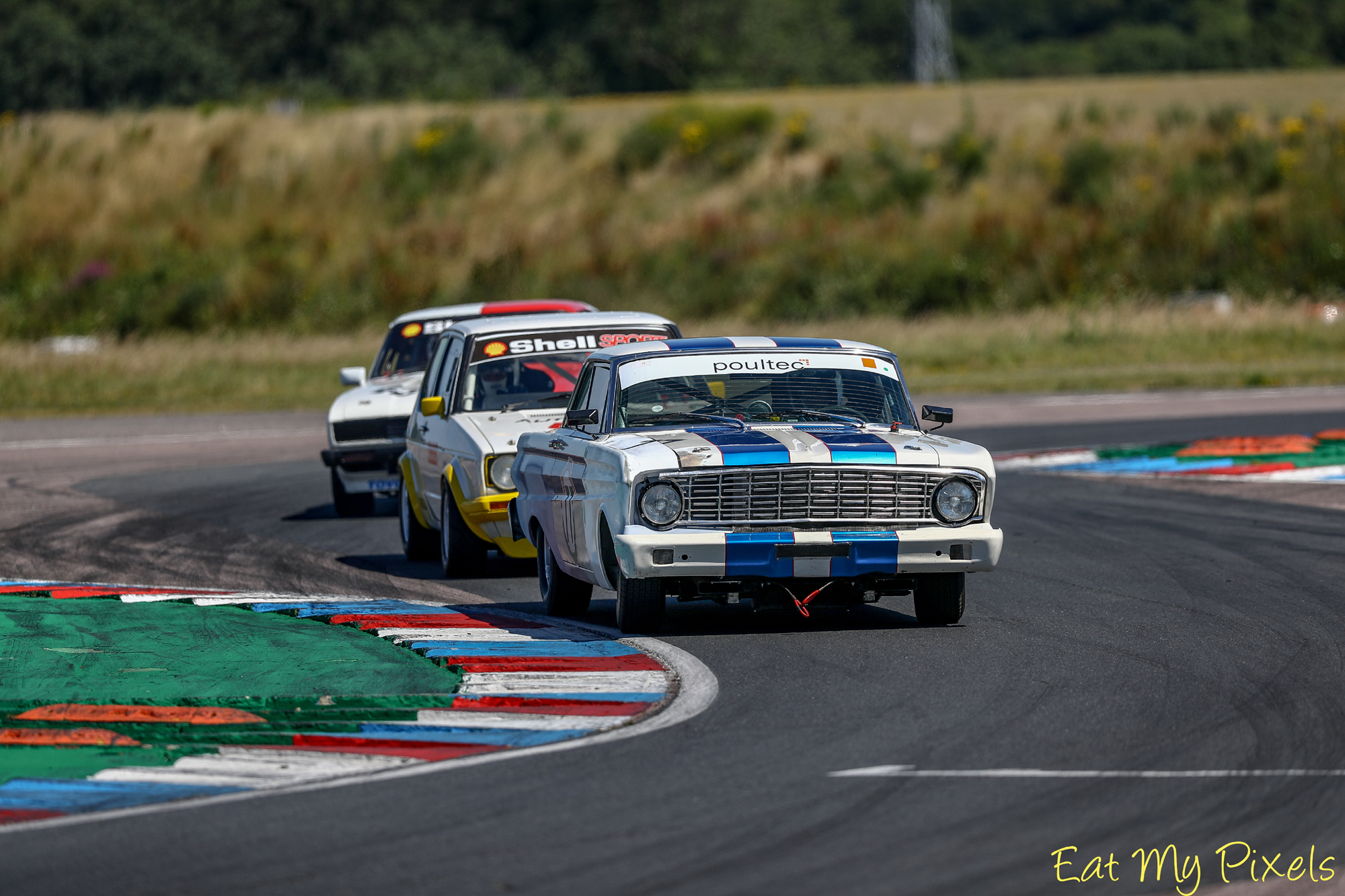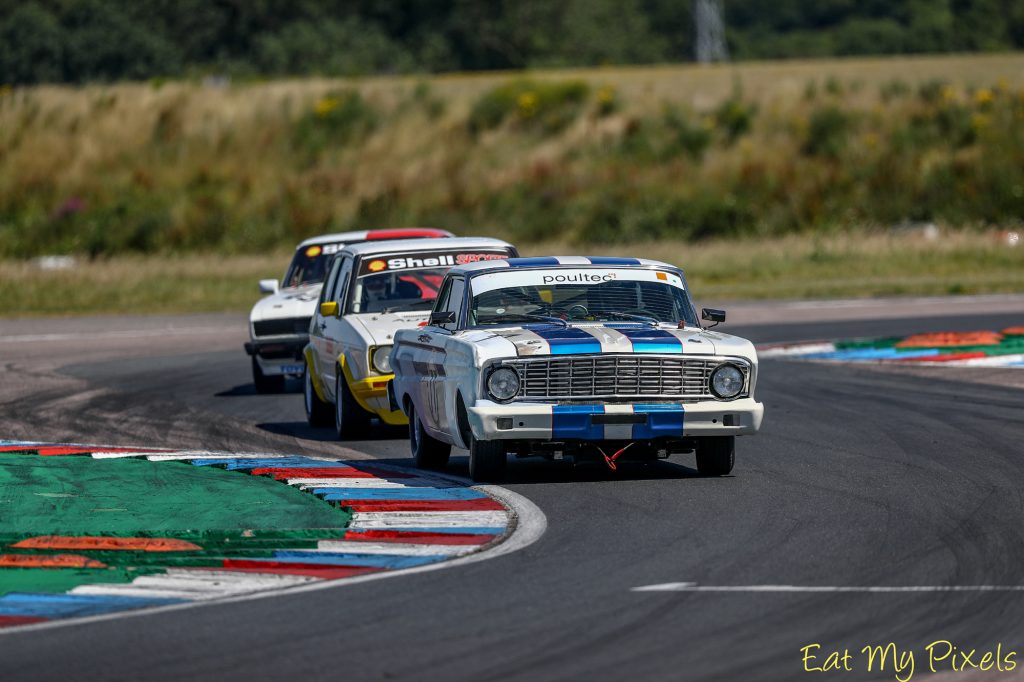 Grange was forced to settle for second, with Kerkhoven beating David Hall to Class F honours in third. Reigning champion and circuit debutant James Ibbotson (Hillman Imp) was in a similar position to Grange, losing out to David Heale's Imp for the Class E win on countback.
A terrific start by Ibbotson in race two put him into the overall lead and he was handed a buffer when Grange tangled with a Pre-'83 car in the complex, with Greenhalgh and Heale running over the grass in avoidance.
Grange was only nibbling into Ibbotson's lead over the next few laps before a fuel starvation issue struck the leader. Ibbotson's Imp, running a standard gearbox this weekend because of the need for longer ratios at Thruxton, was losing power up Woodham Hill. With his pace dropping by 2-3s per lap, he eventually fell to fourth behind Grange, Greenhalgh and Class F winner Hall.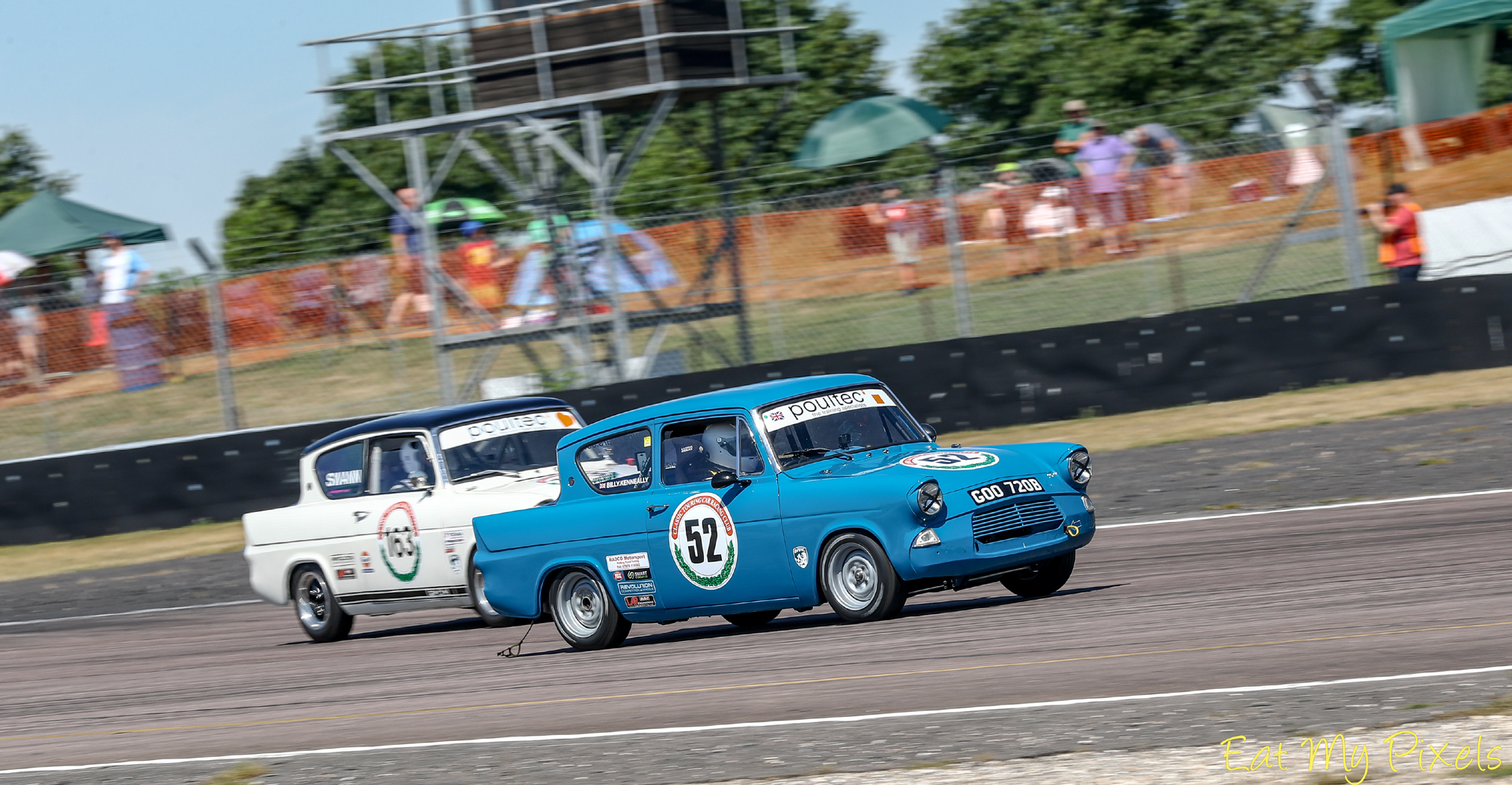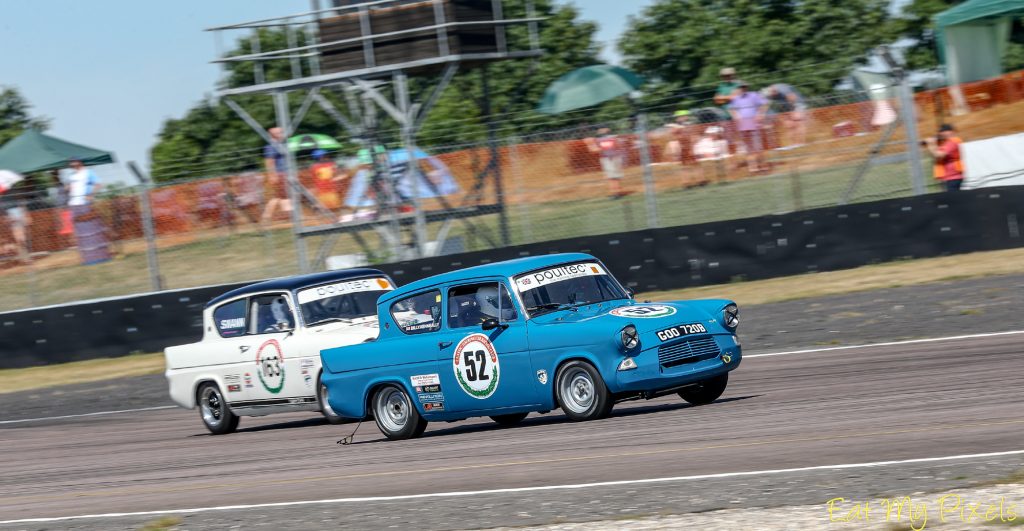 "I can't believe I was anywhere [near the pace]," said a dumbfounded Ibbotson. "It's completely the wrong circuit for the Imp!"
Having qualified third on only his second race weekend, a poor start in the opener left Jake Swann playing catch-up in the Ford Anglia in which he alternates with father Kevin. Debutant Billy Kenneally thus took Class C honours in the ex-Robyn Slater Anglia before Swann turned the tables in race two.
Class D wins went to championship leader Luc Wilson (Austin A40) and fellow previous champion Patrick Harris (Morris Minor).
Edmundson Electrical Classic Thunder
Jason Davies extended his lead in the Classic Thunder championship standings with a pair of victories in his highly modified Sapphire-shaped Ford Sierra Cosworth.
On his first time racing at the super-fast Hampshire circuit, Davies qualified second behind first-time polesitter Nick Vaughan. The local man recorded an impressive 105mph lap with his turbocharged Audi A3.
Davies got the jump at the start and built a decisive lead that he extended to 17s before easing back and matching Vaughan's pace over the closing stages.
Behind them, Andy Wilson's mighty Holden Monaro ran third until the ex-British GT machine's alternator failed and sidelined the Brands Hatch double winner. So James Janicki's Nissan Skyline came through to third overall, and first in Class A.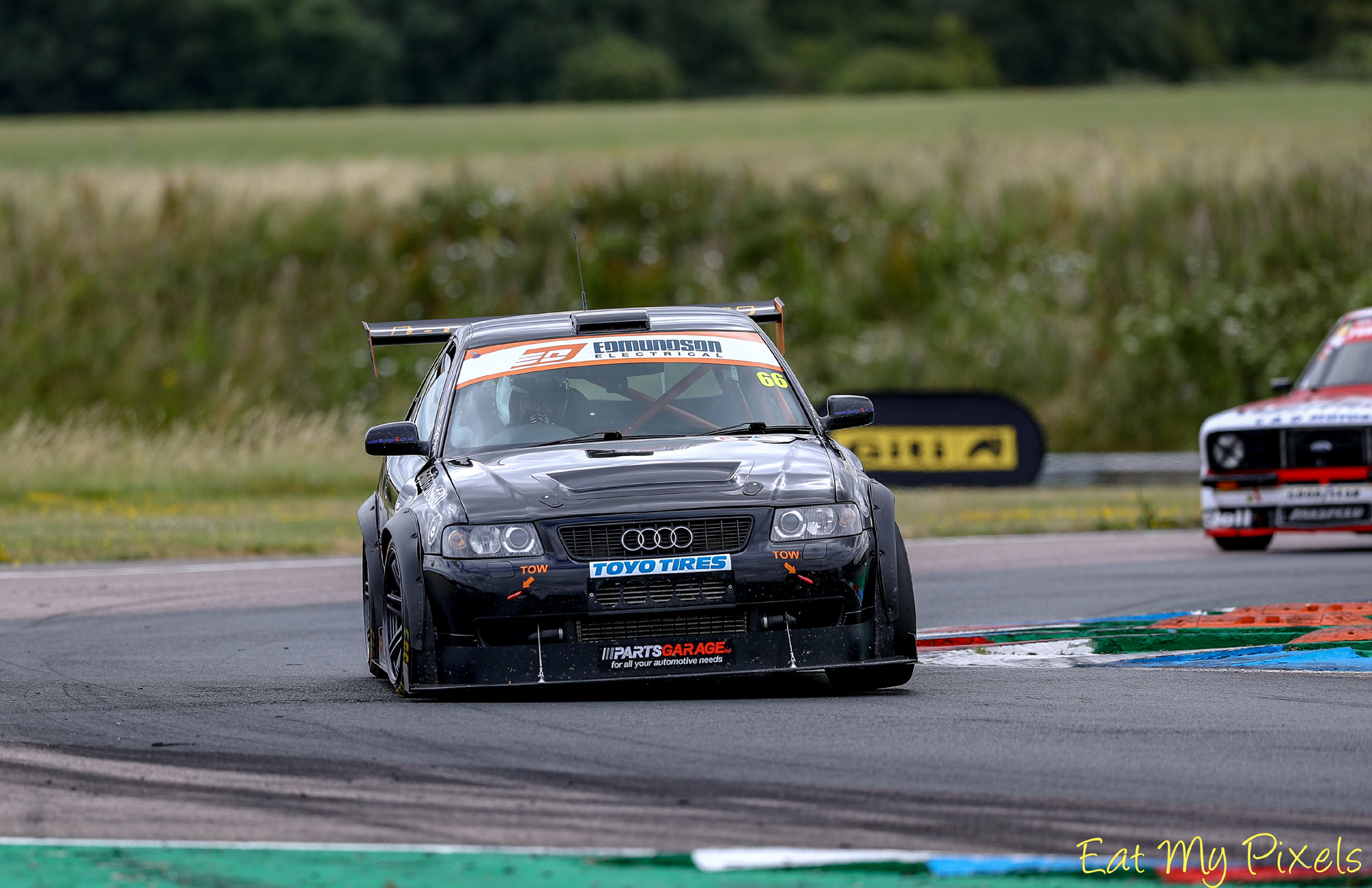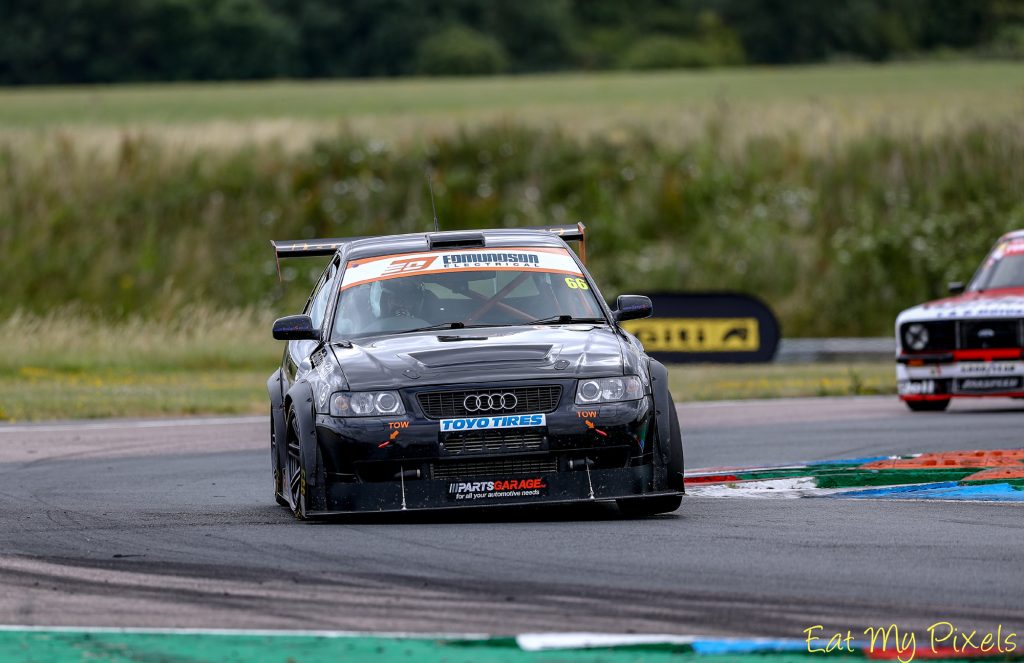 Ian Bower, doubling up from the Pre-'93 Touring Cars, took Class C and fourth overall in Classic Thunder after passing AJ Owen's little Honda Civic Type R just after half-distance. Both had been headed by Craig Tomkinson's two-litre Vauxhall Nova until the Salisbury racer had a couple of offs.
"Off the line, I was going to start on low boost, but I thought, 'Bugger it, let's see if it will take high boost'," said winner Davies. "It took it and I just ran for my life!"
The first race podium repeated itself on Sunday, although Davies's margin of victory stretched to half a minute after Vaughan had a wheel issue on the last couple of laps. Janicki had to fend off an early attack from Bower, who ran wide onto the grass as he challenged, to hold third.
Behind Bower, Wilson was fifth despite lacking pace due to an electrical issue caused by the resonance characteristics of the circuit. The Doncaster racer inherited the position from Owen, who while enjoying another battle with Mike Manning's BOSS car, "got greedy" over the kerbs.
Having been surprised how well his Civic rode the kerb at Club when he accidentally hit it, Owen tried it again the next lap and suffered a race-ending puncture.
Burton Power Blue Oval Saloons Series
A brace of victories for Malcolm Harding showed that he and his Escort Mk2 remain the combination to beat in BOSS.
In the first race, Harding initially ran second to Mike Manning's Sierra RS500. But, after clearing some of the Classic Thunder cars running between the pair, the Zakspeed-styled Escort closed in.
With Manning's Texaco-liveried car down on power due to a turbo problem, Harding pulled off a peach of a move on the inside through Church. "130mph up the inside, it was all right!" smiled the Sussex-based driver.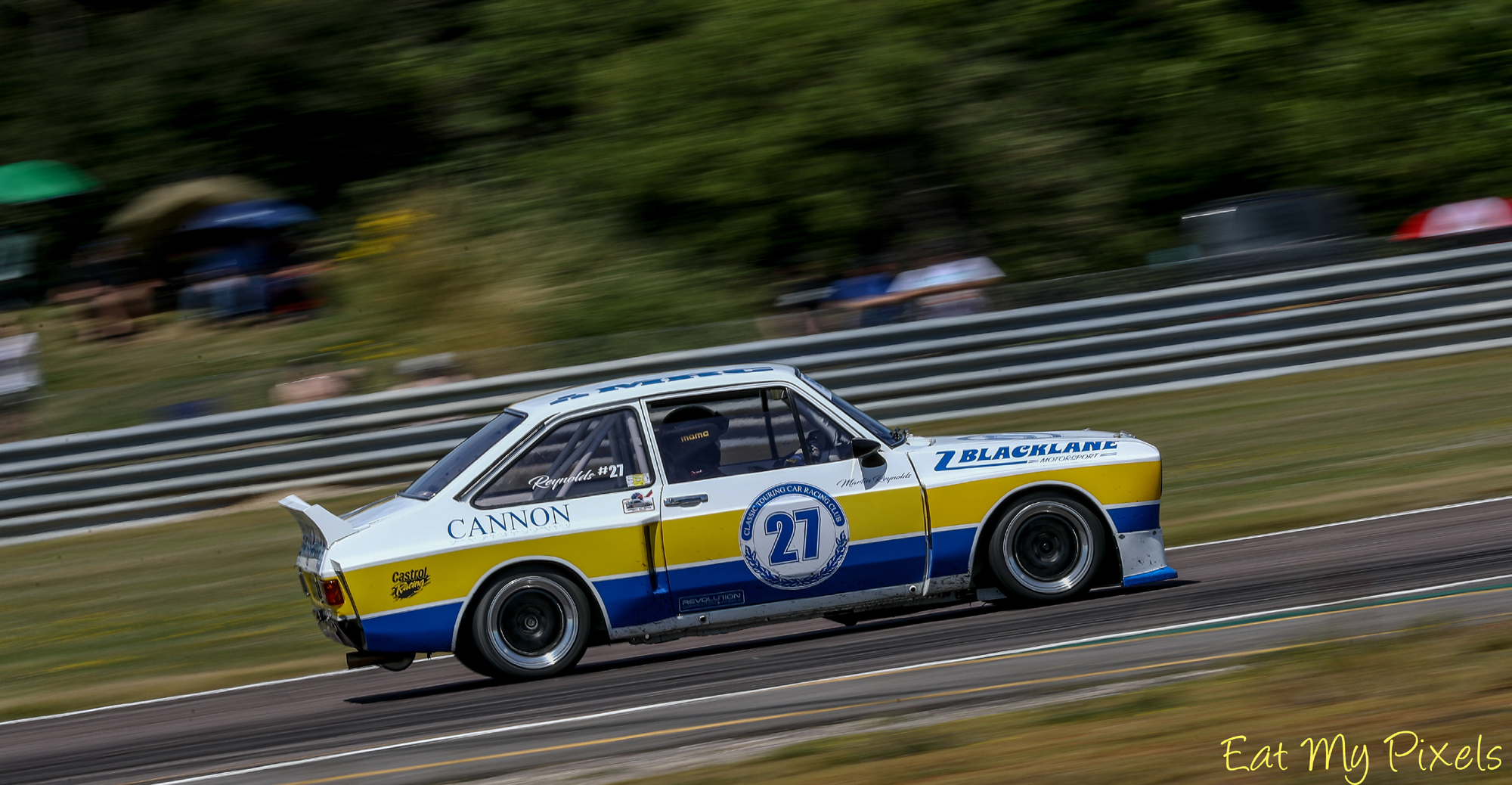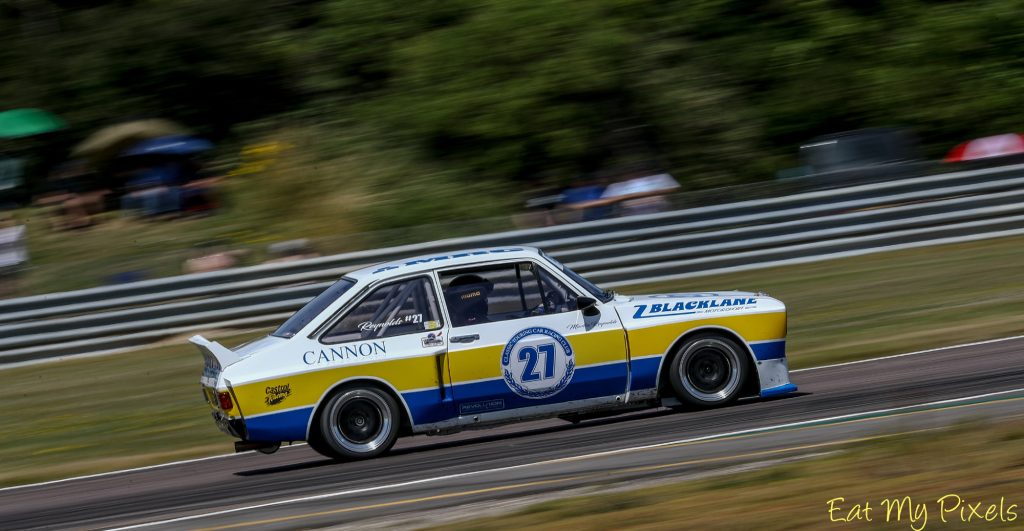 Martin Reynolds's Mk2 Escort completed the podium ahead of Class D winner James Dunkley (Fiesta XR2). Joey Binks's replica RS500 held together long enough for him to record his first finish of the season in fifth.
Harding improved his pace to take a more comprehensive victory in race two. Frustratingly for Manning, his turbo return pipe continued to leak oil, which led to him being called in and gave Reynolds a clear run to second. Reynolds was having to nurse an issue himself, with his oil temperatures hitting 125C.
Another class win for Dunkley's Zetec-engined XR2, third overall, made it seven out of eight for the season and strengthened his championship advantage.
Berkshire Jag Components Jaguar Challenge
Swallows Racing's Tom Robinson scored his sixth and seventh race wins of the season to extend his points lead as he seeks a first overall title.
Robinson was hardly challenged in the opener but had to work a little harder on Sunday afternoon. In that second race, Robinson's supercharged XJR6 was jumped off the line by James Ramm's XJS, with Colin Philpott's similar car also challenging into the complex for the first time.
Slight contact between Robinson and Ramm unsettled the latter's car and sent him out of shape, which put Philpott wide. Ramm maintained the lead but he was only able to hold it until Woodham Hill on the opening tour where Robinson powered past.
The race then settled down into something of a repeat of the opener. Robinson eased to victory over Ramm, with Philpott completing the podium – and taking Class C honours – having overcome the challenge of Mike Seabourne's Class B XJS.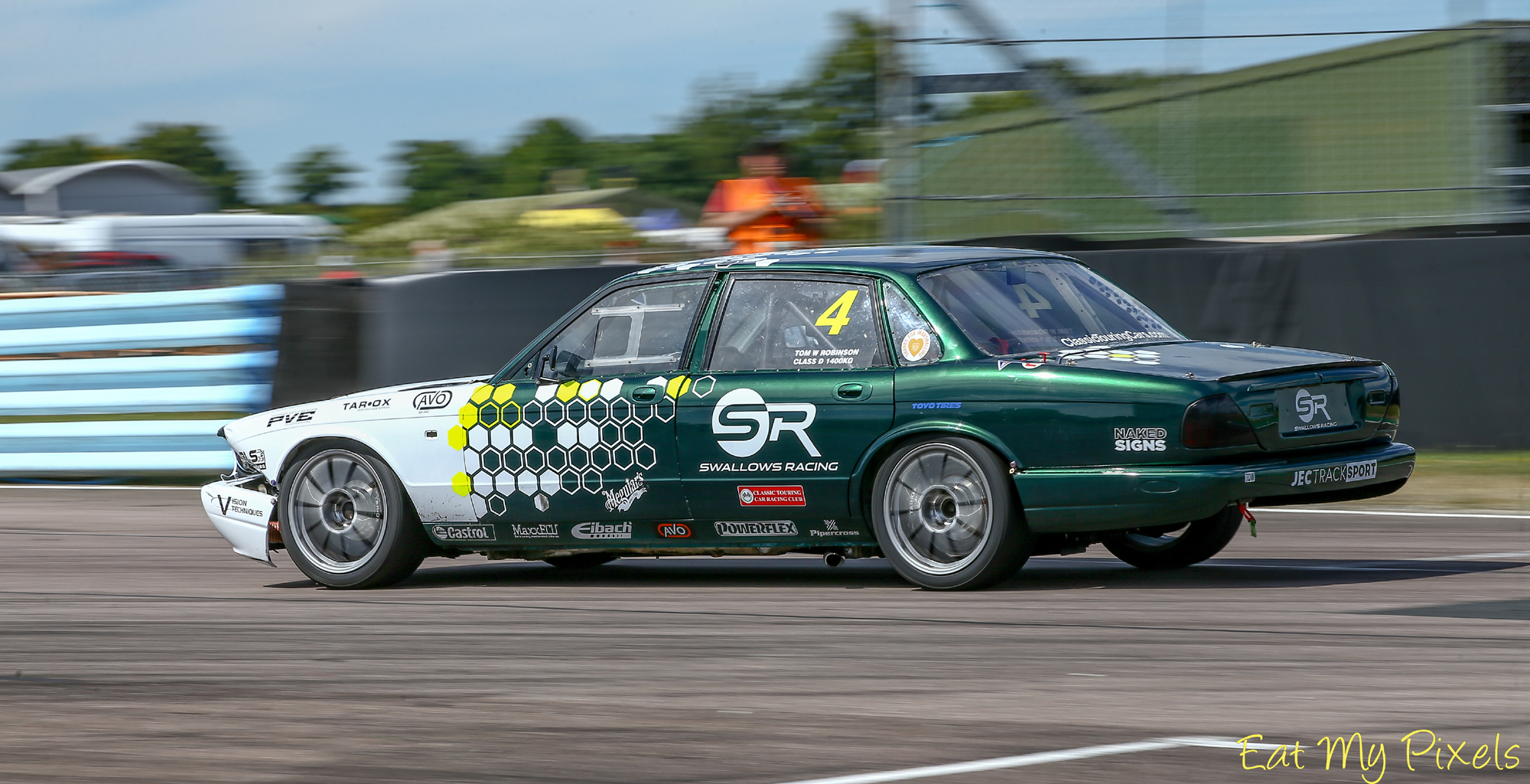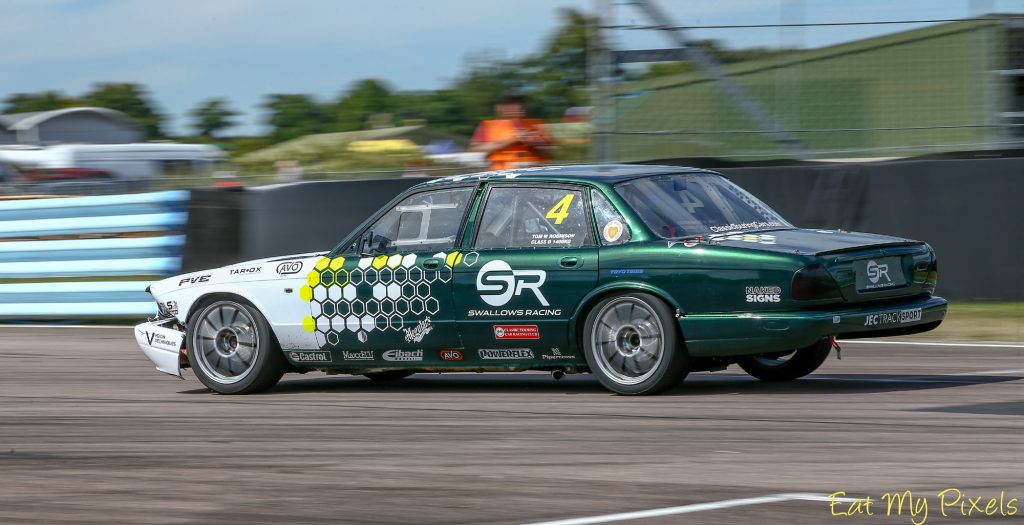 "The Saloon is stable at speed, it's the perfect circuit for it," said Robinson. "So it's just [a case of] getting in a rhythm, keeping it consistent. I'm really pleased with that, I think it's the quickest time I've ever done round here."
Seabourne's car was found to be underweight after race two and he was excluded from the result, denting his championship challenge.
That handed race two's Class B win to the X300 of Alasdair McGregor, racing for the first time since 2019. McGregor enjoyed a close race with brother-in-law Tom Butterfield (XJS) in the opener before Butterfield spun on the final lap. Butterfield ensured that honours were even in the family tussle with fourth overall in race two.
Class A twice fell to Tim Morrant's Daimler-badged Series 1 XJ6 with impressive runs to seventh and sixth overall. Having won the class in six of eight races this year, Morrant is now Robinson's closest challenger in the overall points standings.
Full results are available via the TSL website.
All images courtesy of CTCRC official photographer Steve Jackman/Eat My Pixels